How To Fish Carters Lake | Your Carters Lake Fishing Report
Carters Lake is a large lake that sits 80 miles away from Atlanta and 270 miles away from Savannah. However, the largest town it's near is Gilmer county.
Overall, it's a popular lake, and sometimes fishing at Carters Lake can be absolutely amazing. However, knowing how to fish Carters Lake can be very difficult. But luckily for you, in this post you're going to be given the blueprint to fish this lake.
So what are the best tips for fishing Carters Lake?  There are three important factors you must know if you want to know how to fish Carters Lake successfully. First, you need to know what kind of fish is in Carters Lake. Second, it's important for you to know which part of the lake each species can be found. Lastly, knowing what are the best baits for Carters Lake is vital.  However, tactics, lures, and locations will be different for each type of fish that you target. So let's talk about the steps you need to take in order to give you the best chance of catching a fish on Carters Lake.
This lake gives locals and visitors the opportunity to test their luck in catching one of the many game species this lake has to offer, such as bass, catfish, bluegill, and much, much more!
Here are some additional fast and helpful tips just for you: 
The easiest way to fish this lake is by boat, but there are areas to fish from the bank, or by kayak or float tube.
There are public boat ramps to use.
Camping and RV parking is available.
You can buy tackle and groceries at the lake or at one of the tackle shops listed in this article below.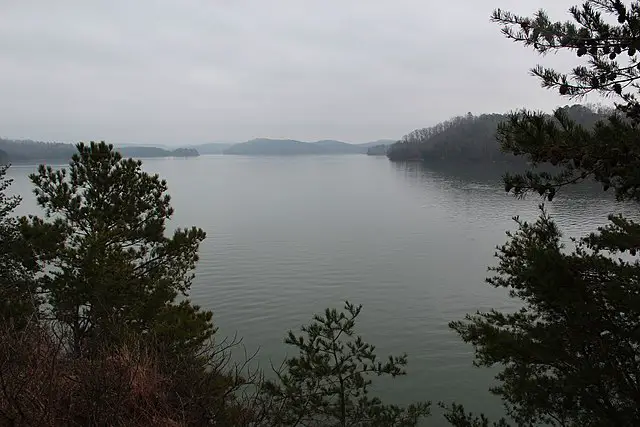 Carters Lake is a deep body of water with an average depth of 200 feet and a maximum depth of 450 feet when the lake is completely full. Furthermore, it's about 20 miles long.
It's farther up into the mountains providing you that much needed get away from all the busy city life. 
Although not as busy as West Point Lake or Lake Lanier, it can still get busy on the summer weekends, so be prepared for that.
It was originally created for flood control and power. Needless to say, Carters Lake fishing can go gangbusters when you have 3,200 acres and 62 miles of shoreline to fish!
What Kind Of Fish Are In Carters Lake
Largemouth Bass

Spotted Bass

Striped Bass

Hybrid Striped Bass

Yellow Bass

Channel Catfish

Flathead Catfish

Blue Catfish

Black Crappie

Bluegill

Redbreast Sunfish

Redear Sunfish

Walleye

Common Carp
Carters Lake Fishing Tips & General Strategies
It can be a challenge to break down this body of water… So that's why I created this Carters Lake Fishing Report to help you start catching fish fast! 
Getting started, Carters Lake fishing can be tough… the water is clear-to-slightly stained and it can get pretty windy… 
It is highly recommended that you target a specific species of fishing Carters Lake that will give you the best chances of success.
Anglers fishing from a boat will have a greater likelihood of success than those fishing from the land or from something else like a boat dock. 
There are many different kinds of fish in Carters Lake, but the primary game fish are largemouth bass, striped bass, crappie, catfish, and panfish.  
There are two general classifications of structure where you can expect to catch bass in Carters Lake and they are near the shoreline and offshore.
My personal Top 5 shoreline structures to catch as bass are: 
Offshore structures include: 
Weed beds are prevalent throughout Carters Lake and can be fished year round.  The key to fishing weed beds is to find weed beds that are either near a ledge, near a channel swing. 
Furthermore, you can also be successful if you find a hard structure (like a rock pile, rocky ridge, or a high spot) within the weed bed flat. 
Overall the best time to fish for bass in this lake is April, May, and June. 
The most productive weed beds on the western side of the lake are 5-10-feet deep. 
There are also several feeder creeks located throughout the lake. These areas are notorious for growing thick with weeds and submerged vegetation. This gives Largemouth bass anglers a prime location to target those fish.
High winds and breezy conditions are very common when fishing Carters Lake. 
Most of the fish such as bass, bluegill, crappie, and catfish will spawn in the spring.  Bass will spawn in 1'-15'-feet of water notably on rocky structure, gravel flats, humps, and small creek inlets and cuts.  
When the summer heat sets in, the bass, bluegill, and crappie will move to deeper water to approximately 15'-30'-feet of water. 
Focus on drops offs, channels, points, submerged humps. Deeper areas with chunk rock ranging from baseball to basketball size will attract predatory fish like bass, crappie and catfish because it provides a safe area the prey (crayfish, bream, and minnows) can hide.
If you can find the ideal spot at the ideal depth then it will most likely assist you in catching fish.
But Where Are The Best Places To Fish At Carters Lake?
And in no particular order here is that list of the best fishing spots at Carters Lake.
DISCLAIMER:  The material provided is for general information purposes only. It's important to understand that any information provided in this article can change at any time. Any maps or graphics featured are not to be used as navigational aids. Fishing Blueprint will not be responsible for any personal injury or property damage from any misuse of the maps or graphics provided.   It's completely impossible to give you every single spot where you can potentially catch a fish.  But, what this list does do is to give you a helping hand and narrow down to the most productive fishing spots.
Boat Ramps & Public Fishing Areas
Luckily there are several options to fish this lake. Here is a list of where the general public can fish in this lake: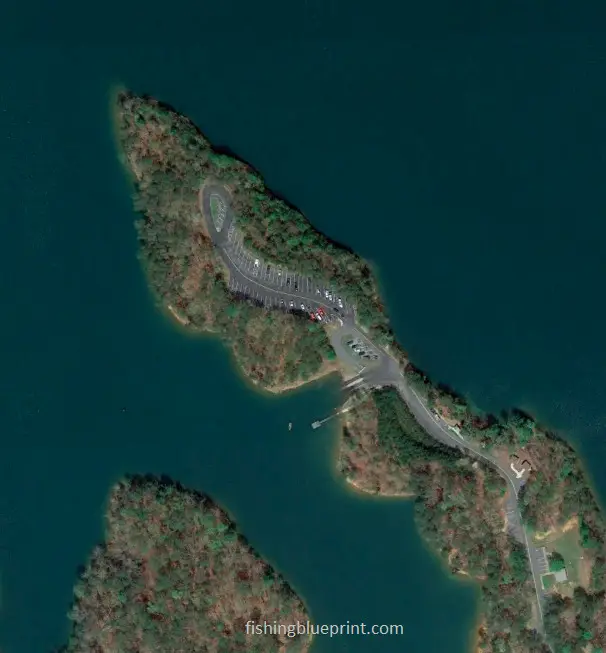 Dam Site
Phone number: (706) 334-2248
Boat Ramp: Yes. 2 lanes
Amenities: Dock, Restroom, Parking, Picnic Area, Bank Fishing
Google directions link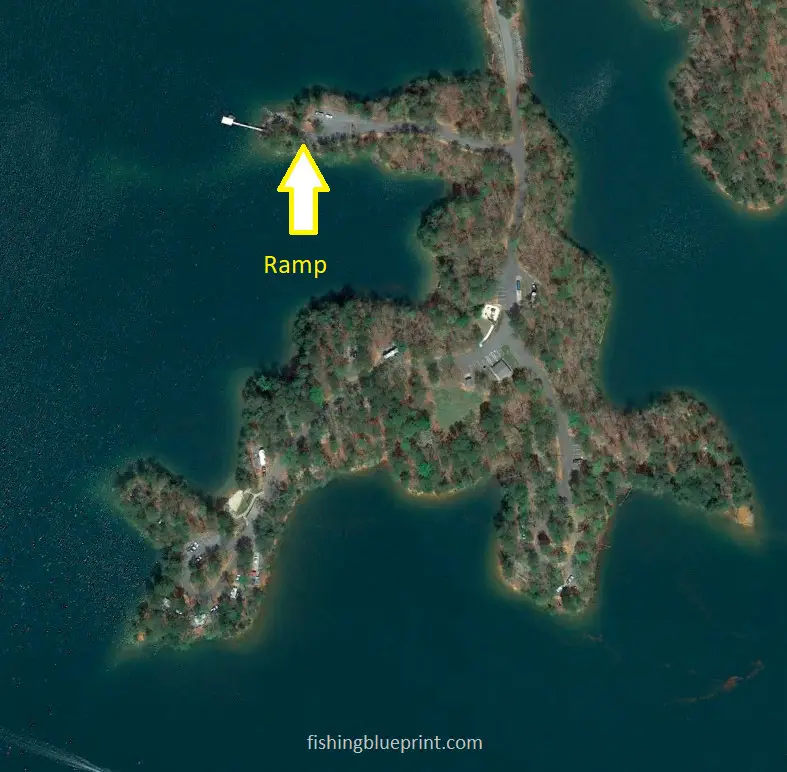 Woodring Branch Camping Area & Boat Ramp – West
Phone number: (706) 334-2248
Boat Ramp: Yes, 1 lane
Amenities: Dock, Restroom, Parking, Picnic Area, Bank Fishing
Google directions link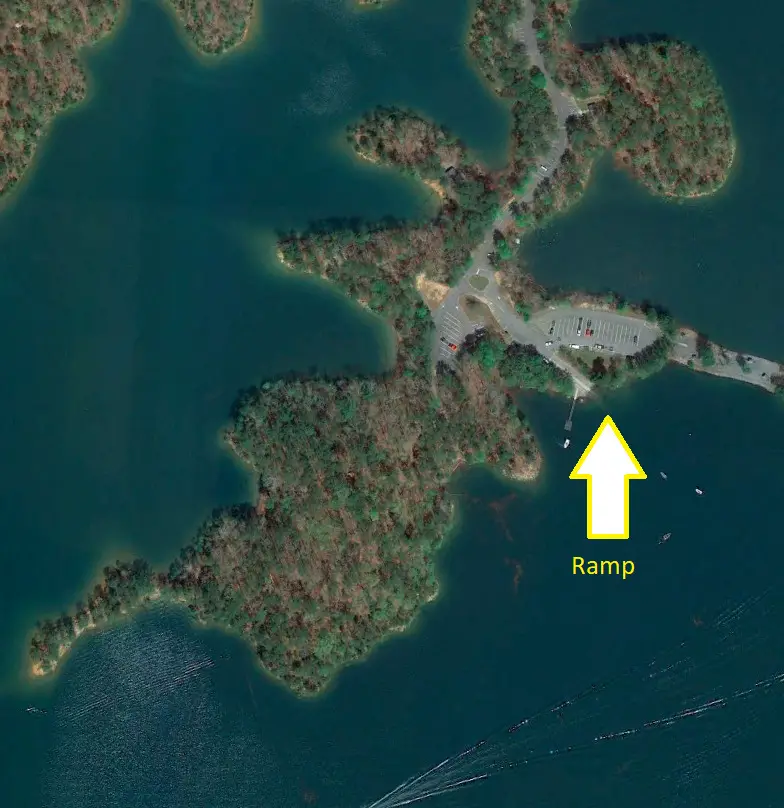 Woodring Branch Day Use Area & Boat Ramp – East
Phone number: (706) 334-2248
Boat Ramp: Yes, 2 lanes
Amenities: Dock, Restroom, Parking, Picnic Area, Bank Fishing
Google directions link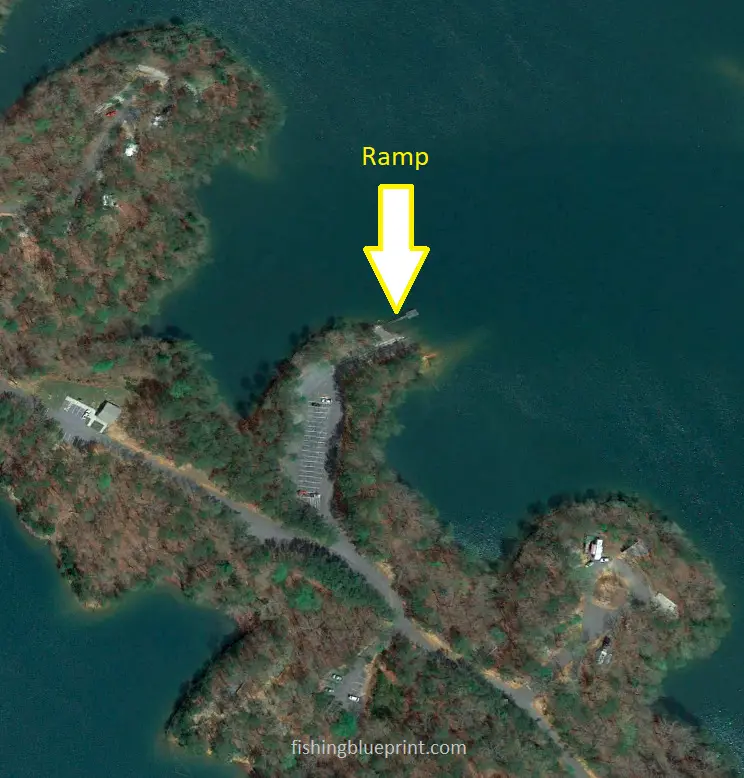 Doll Mountain Campgrounds and Boat Ramp
Phone number: (706) 334-2248
Boat Ramp: Yes, 2 lanes
Amenities: Dock, Restroom, Parking, Picnic Area, Bank Fishing
Google directions link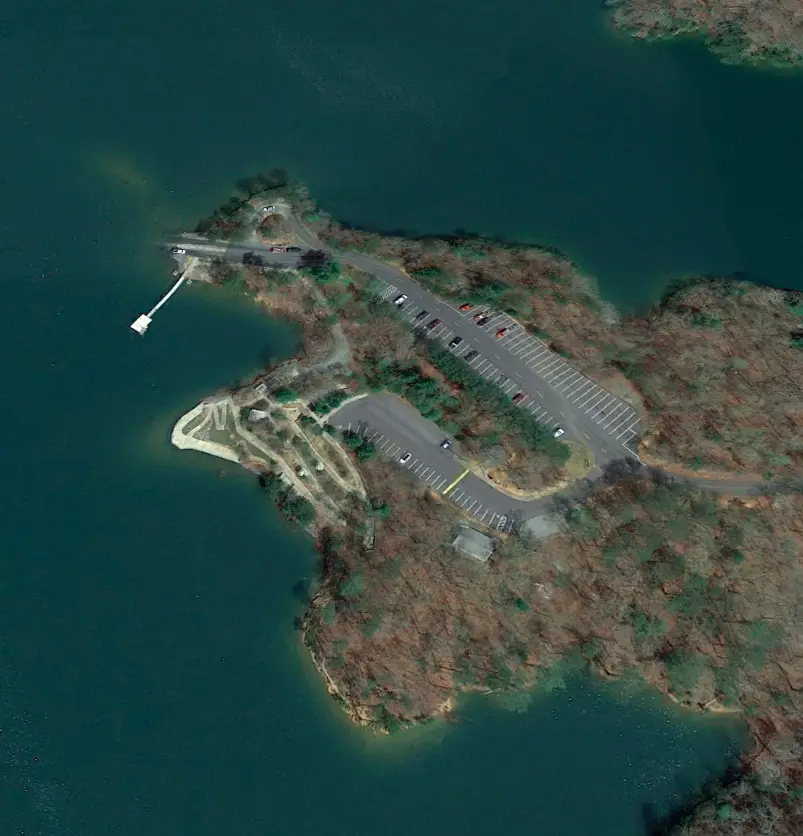 Doll Mountain Day Use and Boat Ramp
Phone number: (706) 334-2248
Boat Ramp: Yes, 2 lanes
Amenities: Dock, Restroom, Parking, Picnic Area, Bank Fishing
Google directions link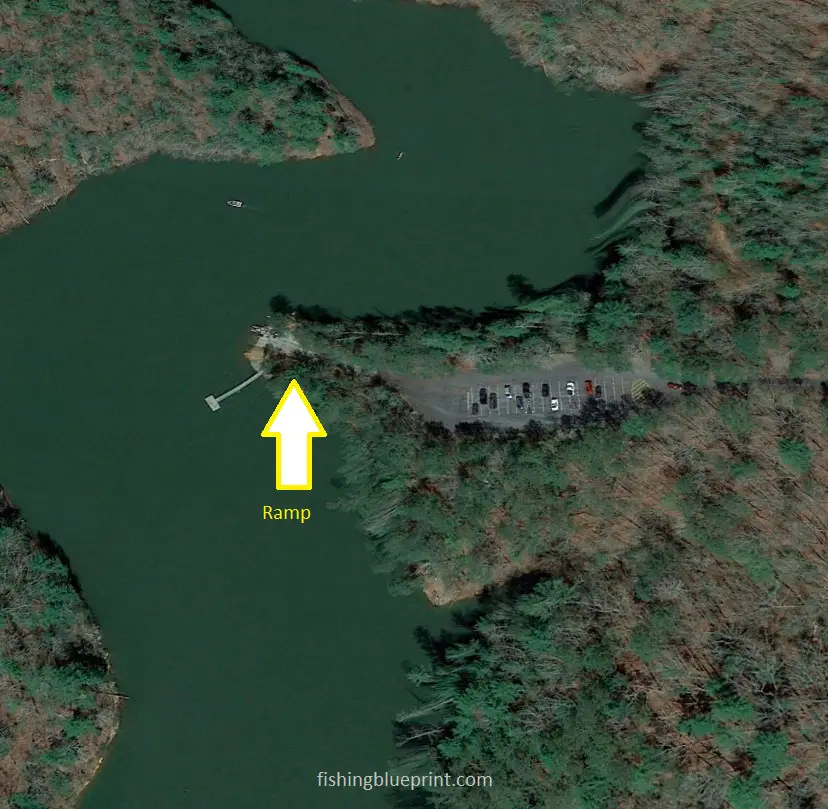 Ridgeway Day Use and Boat Ramp
Phone number: (706) 334-2248
Boat Ramp: Yes
Amenities: Dock, Parking, Picnic Area, Bank Fishing
Google directions link
How To Catch Fish In Carters Lake?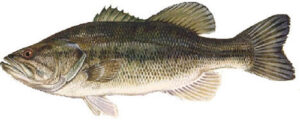 You may be wondering… How do you fish for bass in Carters Lake?
Largemouth bass is a carnivorous member of the sunfish family.
Georgia grows some MONSTER bass.  At any time you could hook into a bass that could be your all-time personal best…
In fact it's the official fish of Georgia!  Cool, right?
In general, if the water clarity is clear to a slightly stained lake. Meaning finesse techniques (like drop shot fishing), small lures (like football jigs), and thin diameter line gets you the most bites when the wind is calm. 
On the other hand, if the water is moderately stained or murky, then you need to choose darker lures. This also means you can get away with using thicker diameter line.
We get many questions like, does Georgia have Florida-strain largemouth bass?  The answer is complicated.  Georgia has some bass that have some Florida-strain genetics.  Why? It's because the Florida-strain largies cannot tolerate the cold water that Georgia can have.  So, the scientists have to blend the genetics. 
Even if this lake doesn't have any trout, you can still catch a giant bass by lobbying large swimbaits for glide baits in trout patterns. 
Once your arm gets tired you can still catch a ton of fish by throwing a drop shot rig, small crankbait, or dragging a Texas rigged Senko around a fish attracting structure.
If that doesn't catchem, you can switch to either a drop shot rig or a Neko rig and target points, boulders, or channel swings. 
That's why we wrote this Carters Lake Fishing Report for you… so you can get the inside scoop about the top spots and best lures to use to help you out…
If you're still not sure how to catch a bass, don't worry. A complete section on Bass Fishing 101 was written to help you out. In that section, you'll learn about the top ways to get you catching bass fast.
With this in mind, my team and I published a quick-read review of 5 Best Bass Lures Every Angler Must Own, or you can opt to read the complete report, Bass Fishing Lures: A Complete Guide.
Over the past several years my team and I also tested and reviewed a variety of products, including best bass fishing rod, best bass fishing line, best tackle bag and even best fish finder for bank fishermen!
Read more: Beginner's Guide To Bass Fishing Basics – Tips, Secrets & Things To Avoid
General Largemouth Bass Details
Spawn: Spring, March-May
Food: Shad, minnows, small trout, small salmon, bluegill, perch, crayfish
Georgia State Record: 22 lb, 4 oz. Caught in Montgomery Lake on June 2, 1932.
Table Quality: Decent. Firm white meat. 
Angling techniques: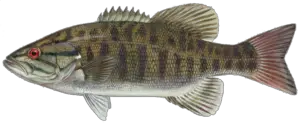 Smallmouth bass are a sibling species closely related to largemouth bass. They have a pretty brown/golden color and carry the nickname of "bronzeback". There are a few physical features that make it different from the largemouth bass. Aside from being bronze in color, they will have gray-brown vertical bands and the most defining feature is the jaw does not extend past its eye. 
Overall, smallmouth bass are most likely going about half the size of largemouth bass. However, pound for pound, a smallmouth can be incredibly aggressive and will put up an amazing fight. 
General Smallmouth Bass Details
Spawn: March-May
Food: fish, crustaceans. 
Georgia State Record: 7 lb, 2 oz. Caught in Lake Chatuge on March 28, 1973.
Table Quality: Similar to a largemouth bass it's firm, white, flaky, mild-tasting
Angling techniques:
Streamer flies. 

Live baits: minnows, hellgrammites, and crayfish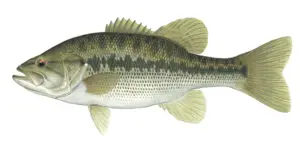 Spotted bass is a cousin to a largemouth bass and shares some similarities and differences. 
Both are extremely hard fighters and very fun to catch. 
A spotted bass' jaw does not reach over its eye line. The jaw of a largemouth bass is longer and extends over the eye line.
On a spotted bass, the dorsal fin is clearly attached and has a mild slope. The dorsal fin of a largemouth bass is separate, or nearly so. This is most likely the most important difference between the two species.
A connected irregular dark lateral line runs along the side of a Spotted Bass. There is no discernible lateral line in largemouth bass.
Drop shot, tubes, Ned rig, Neko rig, and Mojo rig (which is a modified split shot rig that won't damage your line) around fallen trees or rock piles. Senko's along with peanut butter and jelly colored jigs are a great color all year round. 
General Spotted Bass Details
Spawn: March-May
Food: fish, crustaceans. 
Georgia State Record: 8 lb, 2 oz. Caught in Lake Burton on February 23, 2005.
Table Quality: Similar to a largemouth bass it's firm, white, flaky, mild-tasting
Angling techniques:
Streamer flies. 

Live baits: minnows, hellgrammites, and crayfish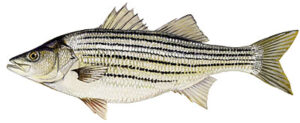 Commonly known as "stripers", striped bass travel into freshwater streams to reproduce, yet they are saltwater natives.
Most landlocked striped bass will grow to an average size of 12-20 inches and weigh 1-3 pounds. However, some striped bass can grow to become enormous and can weigh as much as 70+ pounds! 
Because their eggs need to move in order to hatch, stripers prefer freshwater rivers and streams as spawning places.
Once a lake or river is dammed off, the area is often inundated by landlocked stripers.
When targeting stripers, focus the majority of your fishing on the deepest water the lake has to offer. Stripers are typically nearby if you can find schools of shad.
It's strongly recommended you invest in a good fish finder/ sonar unit. Bait fish will appear as a clump of tiny dots suspended in the water column.  Additionally, striped bass will appear as larger arcs below or near the school of shad.  If you see striped bass near the school of shad you need to fish it.
Stripers may be caught on a variety of baits such as minnow baits, jointed crankbaits, umbrella rigs, or swimming spoons at proper depths when the baitfish are suspended over the deep water.
If you notice any surface feeding action, using topwater baits such as walking baits, or surface prop baits such as whopper ploppers make fishing an absolute blast. 
Jigging spoons perform insanely well when the stripers are deep.
Striped bass can often be found in medium to deep water coves and secondary lake arms. One of the first places to find striped bass is to look at your fishing map and find distinct changes in depth such as drop offs or river channel swings.
Striped bass can always be caught using live bait, cut bait (such as frozen anchovy, shad, shrimp, or squid – yep even in lakes), as well as chicken livers.
Lastly, trolling is another great approach to catch stripers. Use larger sizes of flashing lures. Stripers may be caught on a variety of baits such as minnow baits, jointed crankbaits, umbrella rigs, or swimming spoons
General Striped Bass Details
Spawn: April – mid-June in flowing water, current or rivers
Food: Shad, dead or alive. 
Georgia State Record: TIE. 63 lb. Kelly A. Ward in Oconee River on May 30, 1967. And Terry McConnell Lake Richard B. Russell April 3, 2009
Table Quality: The meat is excellent. It's firm, flaky and white. There is a red lateral line that must be removed otherwise it gives off a strong "fishy" taste. Otherwise, these make excellent fish fry meals.
Angling techniques:
Frozen shad or anchovies as "cut bait"

Small soft plastic swimbait

Spoons

Streamer flies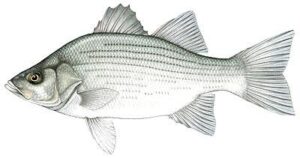 White bass 4 to 7 dark horizontal lines and are silver-white. They are also a member of the "true bass" family.
Ferocious eaters, the white bass hunt in schools pursuing schools of threadfin shad. Like striped bass and largemouth bass, the white bass will also corral the shad near the surface and cause the shad to jump out of the water called "boiling".
If you see a "shad boil" nearly any small size lure that looks like a shad will be effective to catch a white bass.
Spawn: March to May
Food: Threadfin shad, other smaller minnows and fish, insects. 
Georgia State Record: 5 lb, 1 oz, Caught in Lake Lanier on June 16, 1971
Table Quality: The meat is excellent. It's firm, flaky and white. There is a red lateral line that must be removed otherwise it gives off a strong "fishy" taste. Otherwise these make excellent fish fry meals.
Angling techniques:
Spinners

Spoons

Small soft plastic swimbaits

Small lipless crankbaits

Small topwater poppers and pencil baits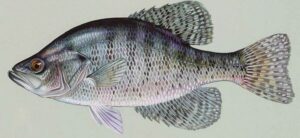 If you like crappie fishing, this lake is filled with them. 
The best time to fish for crappie in this lake and other lakes similar to it is in summertime while you're night using a submerged green light. If you don't know what a green fishing light is, or if you're unfamiliar, then click this link to learn more.
Green light fishing at night in this lake is amazing. If you haven't done it you are missing out. The nights are cool and the night sky is filled with stars…
Anyway, I digress…
White crappie tend to linger over submerged brush and timber and are found in schools. The white crappie are much more tolerant in warmer water than their black crappie cousins. 
White crappie have a more "silvery" appearance and lack the dark vertical bars when compared to the black crappie.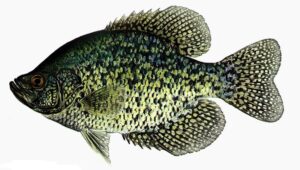 Black crappie can be described as having irregular black dots and blotches on the back and have more of a "silvery-olive" background.
Average weight of a white or black crappie in this lake is probably going to be just under a pound. 
General Crappie Details
Spawn: April – mid-June
Food: Larvae, small fish, and crustaceans. Threadfin shad and minnows make up their main diet. 
Georgia State Record: 
White crappie:

5 lb

.

Theresa Kemp in Bibb County pond on April 10, 1984

Black crappie: TIE.

4 lb, 4 oz

. Shirley Lavender in Acree's Lake on June 1, 1971. And Steve Cheek in Lake Spivey on March 1975 using minnows.
Table Quality: The meat is excellent. It's firm, flaky and white. 
Angling techniques:
Live minnows under bobbers

Crappie jigs

Crappie tubes

Silver spoons

Spinners

There are four species of catfish in Georgia, the blue catfish, bullhead catfish, channel catfish, white catfish.   
Catfish are predatory animals and scavengers. Some can get very big, while others remain small. They tend to spend most of their time on the bottom of the lake versus swimming higher in the water column suspended. 
Catfish can have up to 8 whisker-like barbels by their mouths to help them detect food. 
Blue catfish can get very big. They can weigh more than 100 pounds and grow to around 5 feet long. They have 8 whisker-like barbels by their mouths. They prefer larger cut bait and live bait 
Conversely, bullhead catfish tend to be smaller and will weigh on average about 1-2-pounds, but can grow to around 4-5-pounds. 
Channel catfish weight will range from 0.5-to-15-pounds in this lake, however the average weight will be between 1-4-pounds. 
The smallest of all catfish in North America is the white catfish. These catfish are considered rare by anglers' standards. They average 1-2 pounds and will grow to only about a foot.
All species prefer warmer coves, but can also be found scavenging near the marinas, or around the dam.  
All can be caught with live bait, cut bait or dough bait. Some of the best baits you can use are chicken livers, hotdogs, anchovies, mackerel or sardines, catfish stink-bait/dough baits, or even night crawlers. warm coves or near the dam. 
General Catfish Details
Spawn: March-June
Food: Carp, bluegill
Georgia State Record: 
Blue catfish –  110 lb, 6 oz. Tim Trone in the Chattahoochee River on October 17, 2020.
Bullhead catfish – 4 lb, 15 oz. Glenn Settles in Ogeechee River on October 12, 2003.
Channel catfish –  44 lb, 12 oz. Bobby M. Smithwick in Altamaha River on May 18, 1972.
Flathead catfish –  TIE. 83 lb. Carl Sawyer in Altamaha River on June 22, 2006. And Jim Dieveney in Altamaha River on July 11, 2010.
Table Quality: Soft white meat. In the summer the meat will taste muddy.
Angling techniques:
chicken liver

hotdogs

stink bait

small live bluegill, sunfish, or perch

Frozen cut bait; anchovies, mackerel or sardines.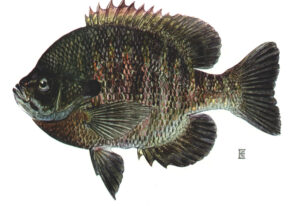 Also known collectively as "panfish" or "bream", these small fish are both predators and prey. They fulfill a mid-tier predator role in the ecosystem. 
Panfish are highly aggressive and eat minnows, bass fry (newly hatched baby bass), and insects. 
The bluegill has teal-blue coloring on the bottom portion of the chin and gill plate. It also has a solid black opercula flap just behind the gill plate.
Fun fact: The oldest reported age for a bluegill is 10 years.
With the exception of appearance and size, the redear sunfish is quite similar to the bluegill. The dorsal fin of the redear sunfish features tiny vertical bands that go downward. It has a black dorsal color and a yellow-green ventral tint. The male's operculum has a cherry-red edge, while the female's has an orange coloring.
These panfish are found on the shoreline and prefer nearby structures. They are incredibly aggressive and will quickly attack anything that looks like it could be eaten. Due to their aggressive behavior, they are one of the easiest fish to catch and are a great way to introduce someone to fishing.
General Bluegill/ Sunfish Details
Spawn: April and May
Food: Small fish and insects
Georgia State Record: 
Bluegill – 3 lb, 5 oz. P.F. Gumm in Shamrock Lake on July 3, 1977.
Sunfish (red ear) – 4 lb, 2 oz. Pat Lawrence in Richmond County pond on June 6, 1995 
Table Quality: Firm, white meat 
Angling techniques: 
Worms

Dough balls

Slim Jim sausages pieces on a small hook (not lying… it really works)

Small spinners

Trout flies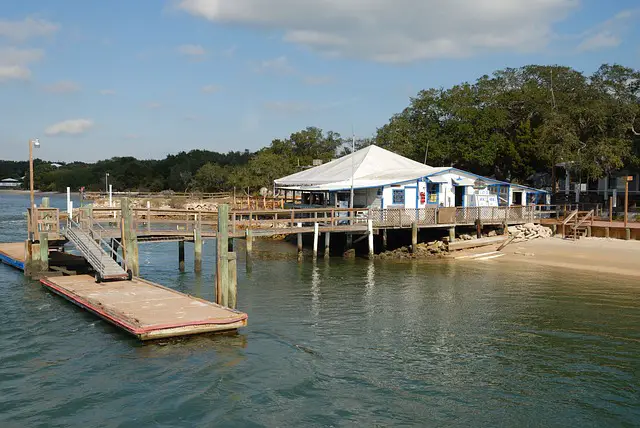 Carters Lake Marina & Resort
Address: 575 Marina Rd, Chatsworth, GA 30705
Telephone number: (706) 457-5408
Open to public or private: Public
Boat launch available lanes: 2
Gas available: Yes
Restaurant/stores available: Yes, food, snacks, water, drinks, ice, and more
Boat rentals available: No
Restrooms available: Yes
Camping areas nearby: Yes
Fish cleaning station: Not listed
Tackle Shops Near Carters Lake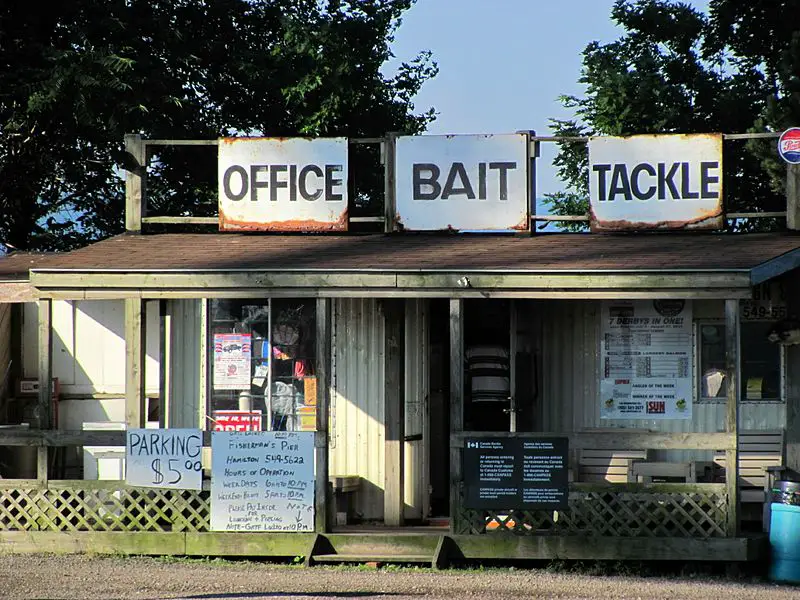 Bart's Bait & Tackle
8126 Hwy 136 W, Talking Rock, GA 30175
(706) 253-2248
Academy Sports + Outdoors
865 Shugart Rd, Dalton, GA 30720
(706) 270-6160
Djayy's Outdoor Tackle
2750 Brown Bridge Rd, Dalton, GA 30721
(706) 218-1604
S & K Sporting Goods
1910 Duvall Rd, Chatsworth, GA 30705
(706) 517-2494
Camping Near Carters Lake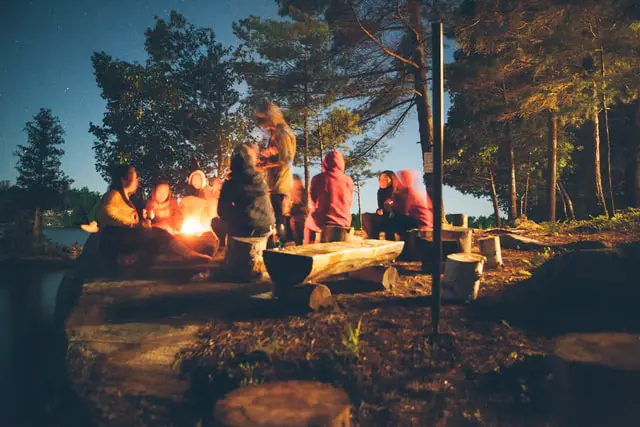 Northbank Day Use Area: for reservations, click here
Carter's lake boat-in campsites: No reservations; first come, first serve
Harris Branch Beach & Campground: for reservations, click here
Woodring Campground Carters Lake: No reservations; first come, first serve
Harris Branch Beach & Campground: for reservations, call (706) 276-4545
Doll Mountain Campground: for reservations, click here
Other Activities You Can Do At Carters Lake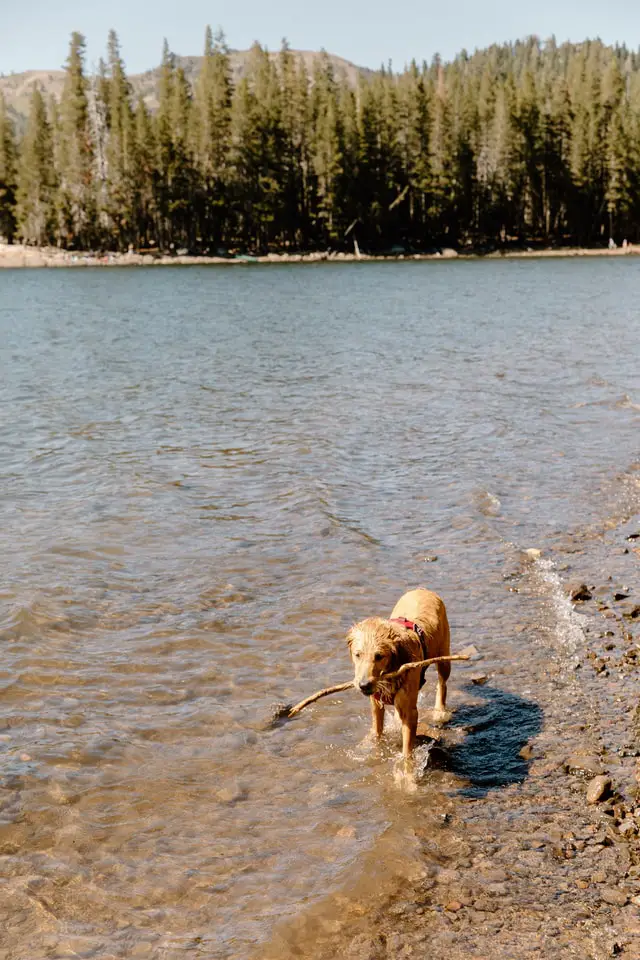 Fishing is not the only thing that brings people to the beautiful body of water. Here's a list of other things you can do!
Biking

Bird watching

Boating

Skiing

Kayaking

Canoeing

Sailing

Swimming

Camping

Horseshoes

Picnicking

Hiking

Gentle walking trails

Nature photography trails

Wildlife viewing

Mountain biking

Stargazing

and most importantly… relaxing.
As you now can see Carters Lake fishing can be tough at times, but it's not impossible and with the help of the Carters Lake Fishing Report… It definitely helps you get started on the right foot quickly and easily, so you can avoid wasting hours wondering where and how to get started.
As fellow fisherman and content creator I thrive on helping others… I feel like I can do the most good by helping others… And frankly… I would feel like I did something wrong if you didn't walk away feeling a little better about this lake.
I truly want to over deliver for you…
So Let Me Ask You Another Question… 
After reading this helpful report:
Can you see how this could change the way you would fish this lake?… To make it easier, faster… and… with less headache, less frustration?
If nothing else, do you now have a better sense of where you can get started, even if you have have been here?
Do you feel that you have a good grasp of what species to expect in this lake?
Do you have a good understanding what baits are needed to catch each of the different species of fish?
Earlier we came up with some helpful spots to catch more fish, can you see yourself considering any one of those spots? Which ones are you the most excited about implementing when you get to the lake?

Is it fair to say that using these spots would give you a significant advantage over someone else who's fishing this lake? 
I Need To Ask A Favor From You And It's Not Going To Cost You A Single Dime… 
If you have gotten anything out of this free report; whether its knowing where to get started, what kinds of fish are in this lake, what baits to use, where to launch your boat, where to buy a frosty beverage, where to camp, and other things to do when you're at this lake…
Then I need you to do something that is going to help you your fellow angler…
And that is share this report.  Please share it to as many people as you can.  It's free to you and it really helps me out as a creator. 
Lastly… thank you for spending your time reading through this report and I hope you have a luck on the water.  
THIS IS WHERE YOU CAN HELP ME THE MOST:  There's a lot of information about this subject you have found helpful, and I'm sure you'll be able to put some of the knowledge bombs to use.  But sharing this report helps drive traffic which in turn helps me at absolutely no cost to you.  I love creating reports like this for you, and you like reading these types of reports please share this with your friends, family, and fellow anglers.   
Click on your favorite social media buttons to share this page now!
Other Georgia Related Fishing Articles
Accessories You'll Need
Fishing Rod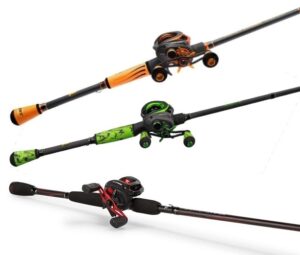 Rod –The popularity of fishing is growing and people are becoming much more conscious of different rods that can help them.
Fishermen want the best technique-specific rod for the money.
Luckily, the report I wrote provides you with detailed information in order for you to make buy the rod for the money, and more importantly which rods to avoid at all costs.
Fishing Reel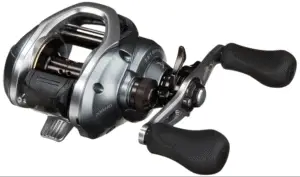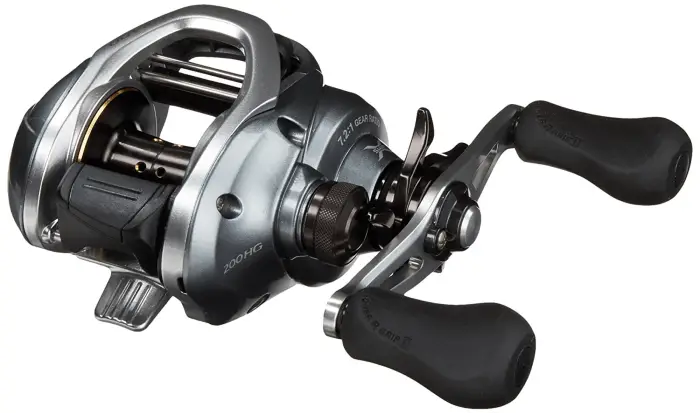 Reel – Having the correct reel to match with your rod is just as important.  A good reel should be light and have a buttery smooth drag. There are several great reels on the market, but I recommend the a quality Shimano  baitcasting reel. It's a great reel packed with great features. So much so that it could easily be priced in the mid $200 range.
Fishing Line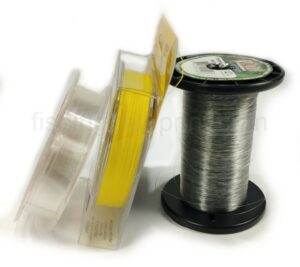 Fishing Line – Having a good line is just as important as having a good rod. I recommend fishing with a good fluorocarbon line. Furthermore, it's super sensitive because it has little to no stretch, and underwater it's invisible to the bass!  If pride or money is on the line I would use Sunline Sniper FC.
Fishing Lures & Baits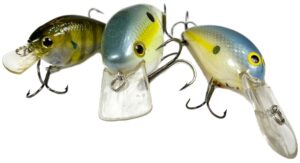 Fishing Lures – It's pretty hard and darn near impossible trying to catch a fish without using some sort of lure or bait.  More importantly these baits you should never forget at home or it could lead to a horrible day on the water
Fish Finder
Finding lunker bass has never been easier when using a fish finding sonar unit.  Packed with additional features to make your day on the water even easier.  Maps that can plan your day or help you find your way back even in the darkest of nights. Bright bold numbers and letters to make reading the maps easy even in the brightest of days, and colors that pop and make it quick and easy to identify fish. 
If you have a boat, kayak, canoe, or float tube, you need a fish finder. 
Here's our choice for the best fish finder between $299-$800:
Humminbird HELIX 7 CHIRP MEGA SI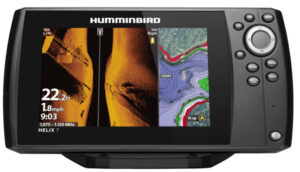 It has all the features for any serious fisherman whether you're an avid weekend warrior, or a tournament angler. This has all the bells and whistles you're looking for. 
>> Click HERE to Read The Reviews About Humminbird HELIX 7 CHIRP MEGA SI now
Here's our choice for the best economic fish finder:
Garmin Stryker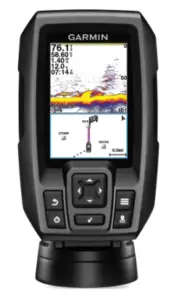 While others look for bites, your fishfinder and GPS plotter help you reach your daily limit. You can mark preferred docks, ramps, and hotspots to easily return to them later and even share waypoints.
Click HERE to Read The Reviews About Garmin Stryker now!
Life Vest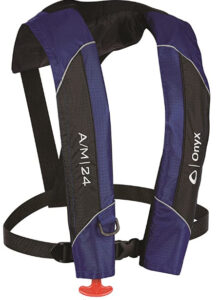 According to Statista, "In the United States, 658 people died as a result of boating accidents and 2,641 people were injured in 2021."
And it gets even worse… The National Safe Boating Council reported, "Where cause of death was known, 81% of fatal boating accident victims drowned."
And if that's not enough the incidence of deaths has climbed dramatically in recent years.
So if you're on the water you NEED to wear your life vest. Protect you, your friends, and your families lives by wearing a life vest every time you're on the water.
I recommend the ONYX PFD. It's comfortable for all day use and there is lots of room for the air to move around so you won't get sweaty.
>>Click HERE to read all the reviews actual customers!
Sunglasses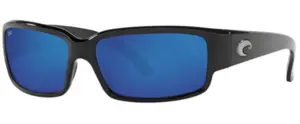 Sunglasses – Do you find yourself fishing in variable light and water conditions? Fishing in open water? Fishing in the bright hot sun? Then, only to leave the lake with eye strain and a splitting headache?
If so, I strongly recommend investing in a pair of Costa Sun Glasses. Thousands of anglers, charter guides, and tournament professionals put their trust into Costa, and so should you. Here's why…
Costa's co-injected bio-based nylon frame material is robust and durable, as well as extremely comfortable to wear for all-day use. TR-90 nylon is an excellent material for sports and performance frames since it is heat and cold-resistant.
Costa builds their glasses with class-leading technology. Their 580G glass lens sets them apart from the competition. These lenses are ideal for long days on the lake or sea since you won't have to worry about scratches on the lens when you wipe the saltwater off. Needless to say they're Costa's most durable lenses.
Anyone who spends time outside, especially on the lake, needs polarized lenses. However, not all polarized sunglasses are the same. Costa is 99.9% polarized, giving it the most effective possible in blocking reflecting glare, and minimizing eye strain and headaches.
Drift Sock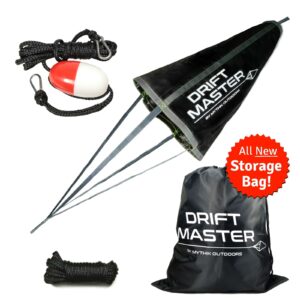 Simply speaking, a drift sock (also known as a drift anchor) is like a parachute for the water. It gives you the ability to silently troll without spooking the fish!
Anyone who fishes out of a boat, canoe, kayak, stand up paddle board, or any other type of floating vessel  should have a drift sock ready to use.
In addition to helping you catch more fish, recreational boaters also like to have 1-2 drift socks handy, just in case their motor goes out on them the drift sock will help slow their drift. This could be instrumental to allow rescuers to find that boat quickly and easily.
I strongly recommend the Drift Master Drift Sock by Mythik Outdoors.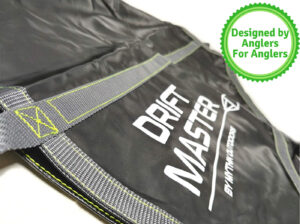 The construction is solid. Holding this in your hands gives you the peace of mind this feels durable and dependable.
I love that it's made from the gorilla-strong "RipStop" high density material, and I like that it's even paired with the high-density nylon strapping.
It's 30% stronger than other competitors who use a cheaper version of the RipStop material, so you never have to worry about his ripping.
Looking closely I can see they even triple stitched the high-tension points which is a good feature.
But best part… the Drift Master comes in a complete kit!
So get yours today and don't leave yourself adrift.
The last thing to note is the Mythik Outdoors Drift Master drift sock kits sell out fast, so make sure you get yours before they're gone!
Landing Net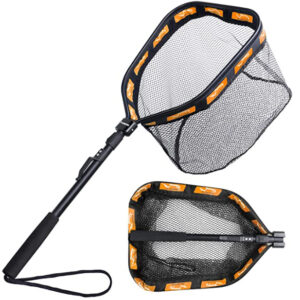 Landing Net – As you are reeling in that monster fish, you don't want to injure yourself or knock the fish off the hook by trying to grab it.
The PLUSINNO floating landing net is designed with foam padding on the hoop and provides buoyancy for fishermen. Now, If the net is dropped or blown overboard, the floating design makes it simple to retrieve – so you won't have to be concerned about losing it! The rubberized net cannot be snagged. It keeps the fish safe for catch-and-release, and the non-absorbent covering avoids waterlogging and odor absorption in the net.  It's collapsing design allows for easy storage.
That's why I recommend a dependable telescopic landing net.
Fishing Weight Scale & Culler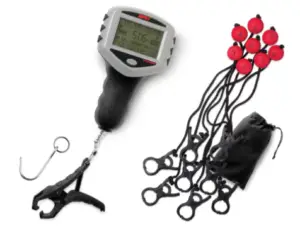 Fishing Weight Scale – Whether you're going to keep your catch or just take a photo of it and brag to your friends it's important to have an accurate scale. The Rapala Tournament Model Touch Screen Scale makes weighing and logging your catch easier and more convenient. The large digital scale has a lot of functions and is easy to use. simply keep track of your current catch and its place in your overall weight. To see the weight, just suspend the catch from the heavy-duty composite clamp or the accompanying stainless steel hook.  Adding the important details to your catch couldn't be easier – simply input your catch's weight and tap on one of the eight storage places. The culling process makes it simple to identify fish that should be released for the greatest overall weight.
I recommend a Rapala Tournament Scale that has a large LED display like this one fishing scale here.
More articles just for you...
A Complete Buyer's Blueprint On The Best Early Summer Bass Lures On The Market Today! When it comes to bass fishing, choosing the right lure
Read More »