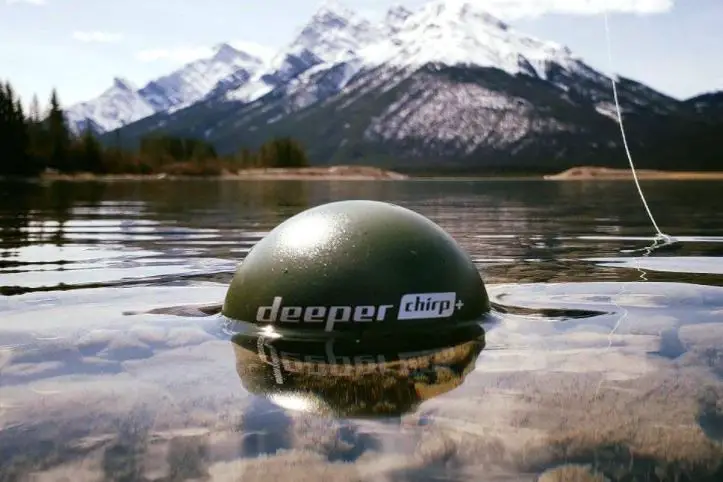 Portable Fish Finder For Bank Fishing - Review Guide
You may have seen portable fishing finders (or 'fish sonar') on market recently and without a doubt they absolutely changed bank fishing forever.  To get the best result out from your time on the water, you need a fish sonar that can tell you exactly where the fish are hiding and what the surrounding underwater structure looks like
Having access to a portable fish finder can change the way you fish a location and can make the difference between catching nothing to filling up your stringer.
However, in order to increase your chances of catching a fish the sonar unit you choose has to actually work as advertised, easy to use and last a full day of fishing.
Finding The Best Portable Fish Finder For The Money
In the early days portable fish finders were bulky, displayed unreliable data, and would burn out of battery power in a matter of an hour or two. 
Luckily, recent advances in technology has allowed some of these systems rival sonar units that can cast a thousand dollars or more!
Sparing no expense, Deeper debuts their top-of-the-line portable fish finder series the Deeper CHIRP series.
Deeper blends technology and functionality into one seamless product…
Best International Newcomer
We used our experiences with the products and looked over hundreds of customer reviews, watched tons of video reviews, and analyzed what the professionals and experts had to say from popular sources like BassMaster Magazine.
We scrutinized the data from the product catalog pages of nearly a dozen manufacturers, and we even tried to interview some of the company representatives to talk shop and get their take.
Together we developed seven key metrics to base our final decision of that the best portable fish finder for bank fisherman is.  Here are the metrics we evaluated: scanning sensitivity/accuracy, scanning depth, battery life, battery recharge time, warranty, user experience, accessories
What type of portable fish finder is best for bank fishing?
There are many factors that go into determining what a great portable fish finder should look and feel like.  All of the fish finders tested and reviewed were able to be cast out in order to be used.  Some of those factors include scanning sensitivity, scanning depth, battery life, re-charge time, sensitivity, warranty, user experience, accessories which we'll explore individually. 
Scanning sensitivity/accuracy – It is very important the angler to be able to get an accurate difference between predator fish or baitfish. A great sonar unit should tell if the fish are hugging the bottom or suspended.
The best fish finders should also be able to tell you the difference between different structures on the bottom, and show you precise contour changes.  
Scanning depth – Fish can be found on at any depth.  A great fish finder should give you the same detailed information if you are fishing in 6-inches or 160-feet!
Battery life – Quality portable fish finders should have a battery life should last all day.  You can't afford to lose out on catching fish if your sonar quits on you only after two hours!
Battery recharge time – Having a battery that can charge in a matter of a couple of hours rather than days is key if you are going to hit the lake that same day.  Keeping a charge is also just as important.
Warranty – Nothing gives you're a better peace of mind that knowing your quality unit has a rock solid warranty should anything happen to it.
User experience – It's one thing to have the best fish finder on the market, but it's another thing to have a fish finder that is hard to work or doesn't pair with the type of phone or tablet you're using.
Accessories – Having additional accessory parts for your new fish finder is a must especially if you're going to use it at night or if you take it out on a small boat or kayak.
We took this opportunity to review and test several of the top portable fish finders on the market
Best Fish Finder For Bank Fishing - Deeper CHIRP+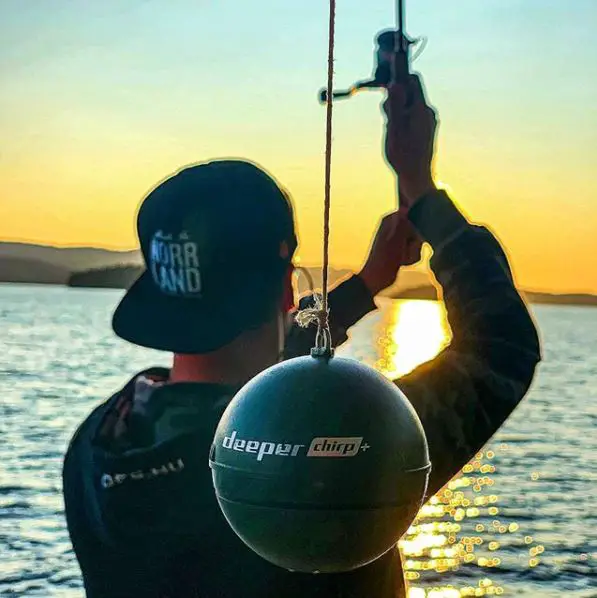 But, why is the Deeper CHIRP fish finder the best for bank fishing?
Sparing no expense, Deeper debuts their top-of-the-line portable fish finder series the Deeper CHIRP series.
Deeper blends technology and functionality into one seamless product…
Taking what you learned from what makes a quality portable fish finder, Deeper combines their own proprietary techniques of blending state-of-the-art technology and functionality into one seamless product…  to give you a gorilla strong sonar unit, and unparalleled durability, and class-leading sensitivity.
How to use Deeper CHIRP+ 💡
The Deeper CHIRP fish finder provides insane target separation. Which means you can easily pinpoint a target species even if they are mixed in a school of bait fish!  How cool is that?!
But that's not all! Deeper also partnered with some of the best professional kayak anglers to give you helpful add-on accessories for you can quickly install and use the Deeper CHIRP sonar on your boat, kayak or stand-up paddle board. 
This gives you unmatched versatility and longevity to your fish finder, so you can use it for years to come.
Backed by their first-rate 5-year warranty, Deeper gives each customer their Superstar Service.
Average Retail Price – New: $299.99,  Used: $249.99
Best Runner Up - Deeper Pro+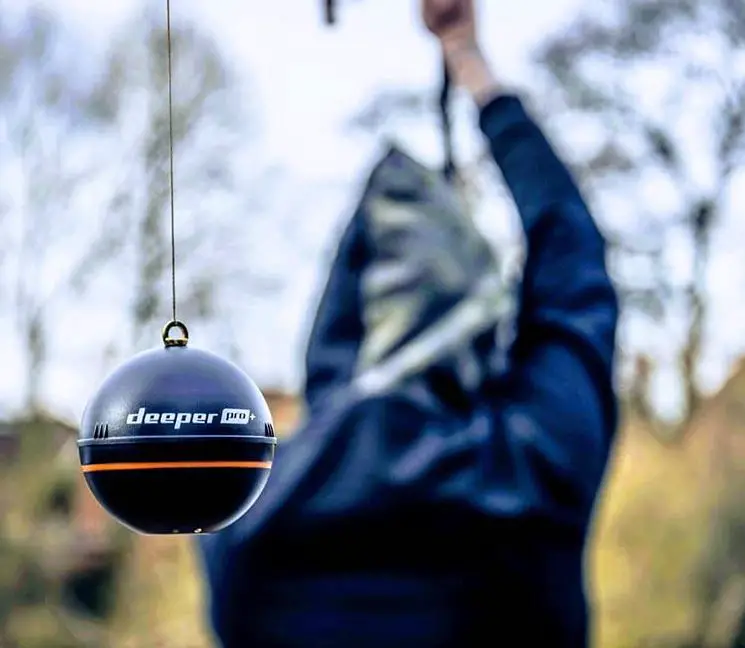 Why did the Deeper Pro+ win the Runner Up choice?
The Deeper Pro+ easily takes our Runner-Up spot.  This castable sonar unit has a Wi-Fi connection up to 330-feet.  Like a set of wireless headphones your phone or tablet will automatically pair with the sonar. Best of all, no internet connection is needed!  
The Deeper Pro+ also gives the angler amazing scanning depth, up to 260-feet.  
The sensitivity is good, however the feature that really shines is its ability to enable GPS and make contour lake maps for you!  These lake maps (called bathymetric maps in the sonar biz) give you a window to find all the hiding and ambush spots.  It's like having your own custom topographic map service at your disposal!
For me, this worked amazing in some backwater river ponds where there are no recorded lake maps of the area.
Simple Guide To The Deeper Pro+ Feature Finder
Simple Guide To The Deeper Pro+
A really cool feature is the Pro+ software will allow the angler the option for wide or narrow scanning, plus it has a sensitivity setting to completely bypass murky water.
Since it displays a live broadcast, you also get to see fish arcs, depth, underwater structure, vegetation lines, and bottom hardness.
The Deeper Pro+ is also super versatile and can be easily fitted be used in a small boat, float tube, canoe, or kayak. 
The downside to the Deeper Pro+ is that it's pretty heavy (like the most of the castable sonars). Its weight comes in at 3.5-ounces. So you'll have to use a stiff rod spooled with high-strength test line.  We recommend a 65-pound braided line because it floats, it's very strong, and it's small diameter makes it easy to cast.
Another hiccup I encountered was completely my fault.  Like a kid on Christmas, I quickly opened the box to my sonar unit and tried to connect my sonar out of the water.  It wouldn't connect to my phone! So I tried my tablet… nothing. I was frustrated, I thought the sonar is broken…
But then I remembered to read the directions. Duh.  The connection will establish once the Deeper Pro+ touches the water!  So I filled a bucket and placed the Deeper Pro+ in and… voila!  It connected!  Sometimes I'm too much of in a hurry to read the directions… don't judge.  😄
Average Retail Price – New: $199.99,  Used: $145.99
Best Budget Sonar - LUCKY Handheld Entry Portable Fish Finder
This fish finder manufacturer has been in business for years but recently start to sell on Amazon.com.
The LUCKY brand around selling affordable fishing sonars, and the LUCKY FFC1108-1 handheld fish finder gives you the opportunity to get a sonar unit and catch more fish, but at a price-point that anyone can appreciate.
We chose this specific sonar unit as the best budget fish finder because of all the great reviews and ease of use.  
When compared to other entry level manufacturers portable fish finder LUCKY prices their produces 35% cheaper than the leading competitors. This means you get a fish finder that will saves you money! 
The LUCKY portable fish finder is built with a rigid plastic case and a color LCD display. It also has economic side grips so it won't slip out of your hand if you need to reposition it with wet hands.
Essential features you want
Very easy to use – This unit is quick to set up and use in a matter of minutes. Other anglers also said this rod can easily pull in a 30+ pound catfish!
Versatile – You can use unit floating on the surface or attach it to the side of a kayak or even use it when ice fishing.
Color LCD display – The color screen is bright and shapes are crisp and easy to make out.
Average Retail Price – New: $40.99,  Used: $23.88
Best International Newcomer - LUCKY

Wired & Wireless Portable Fishing Sonar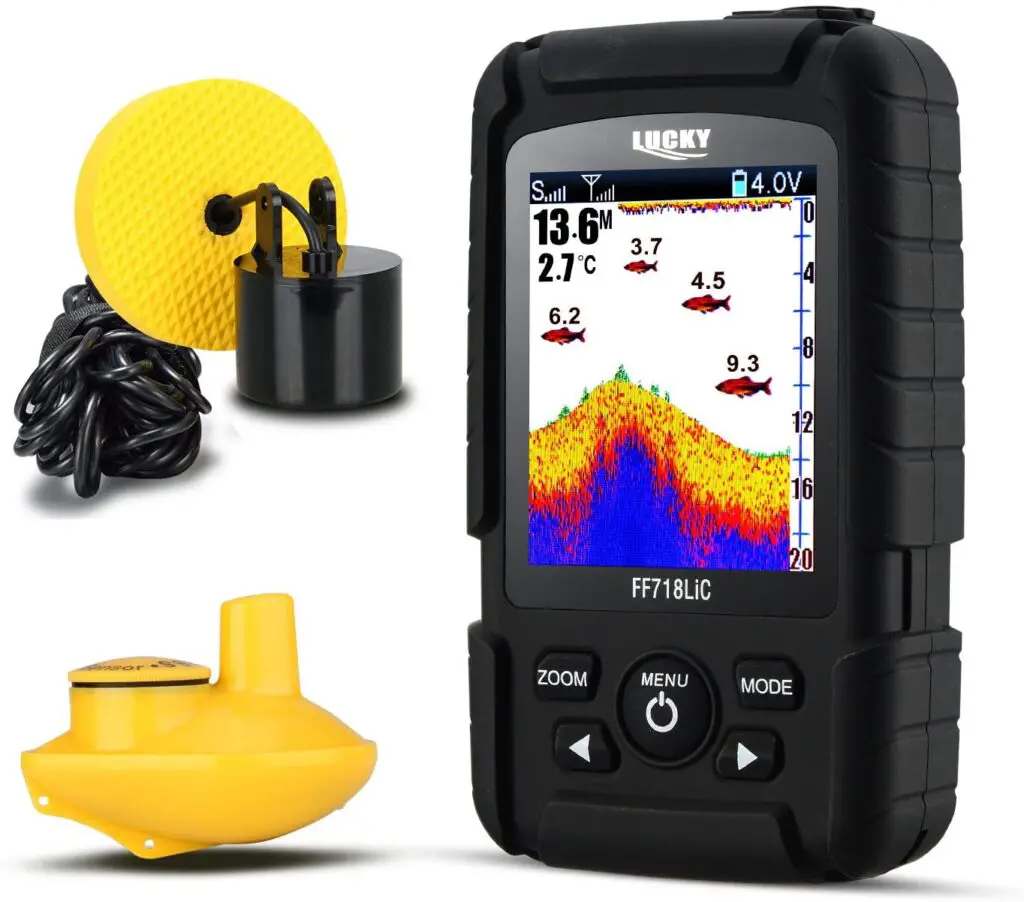 What caught the attention of thousands of anglers is this unit has dual functions as a wired and wireless unit. Meaning, you can use the WiFi and tether it to your phone, or if you don't want to drain you phone's battery use the LCD screen unit.
Either way that's some ingenuity!
In the products description LUCKY mentions that have been in the fishing business for over 10 years.
At a price point less than a couple hundred bucks, that's a heck of a deal!
Note: The package don't include power adapter and car charger. It comes with USB cable. so you can charge it with that USB via computer or other electrical device. or you need buy a power adapter US Plugs being available for wall outlets.
Average Retail Price – New: $169.99,  Used: $129.49
Best Under $150 - Lowrance - FishHunter 3D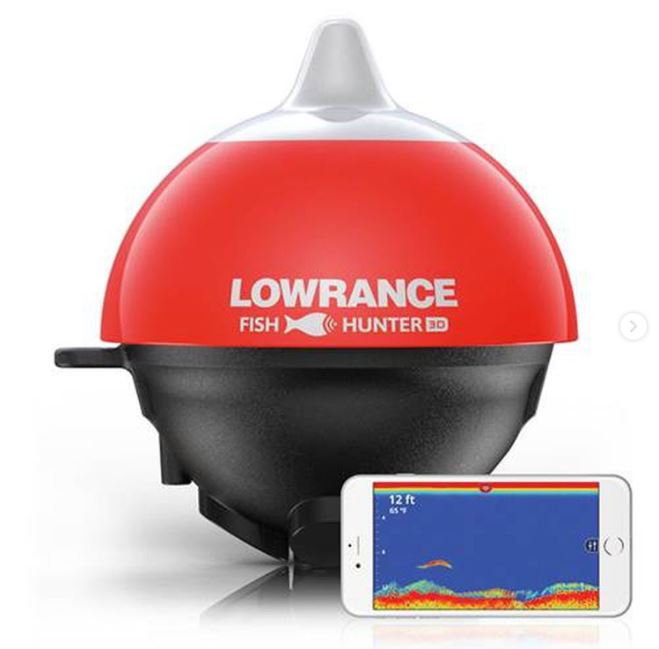 One of the newest editions to the Lowrance brands the FishHunter 3D offers any angler a unique experience of getting a 3D image underneath the water line.
The first thing you'll notice is the five directional transducers. Using five transducers allows the software to create its class-leading 3D images.
It also has an interesting buoy-like design.  The folks a Lowrance claim it will give the angler a more reliable WiFi connection with FishHunter 3D sonar. They also say it's difficult to submerge, preventing lapses in real-time viewing.
Like many of the other sonar units no data connection is required.
The FishHunter app also gives the angler to track catches, waypoints and make a basic fishing log.
Weighing in at 6.3 ounces it's one of th heaviest castable sonar units. And like the Deeper series castable fish finders, you'll have to use a stiff rod spooled with high-strength test line.  We recommend a 65-pound braided line because it floats, it's very strong, and it's small diameter makes it easy to cast.
Flaws but not deal breakers...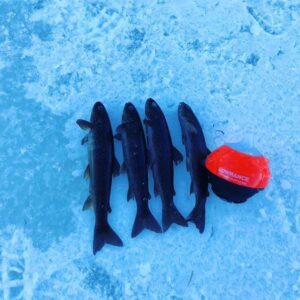 Some of the common problems is the GPS is inaccurate, often "tracking" the sonars position extremely off target.  While other complained of spotty service connection with Android devices.  Others have noticed their sonar leaked and took on water and when asked for assistance they received poor customer services.
While I did not have that problem, I did reach out the folks at Lowrance on their customer service line (1-800-628-4487. "Monday through Friday 7am to 7pm central time") on a Thursday afternoon at 12:30pm Pacific time and waited approximately 25 minutes, then an automated message was offered for one of the techs to call me stating I would not lose my place in line.  So… about an hour later a technical assistant did call me back to help me answer some of the Tech Spec questions.
Average Retail Price – New: $99.99,  Used: $78.29
Best Castable Fish Finder Under $100 - iBobber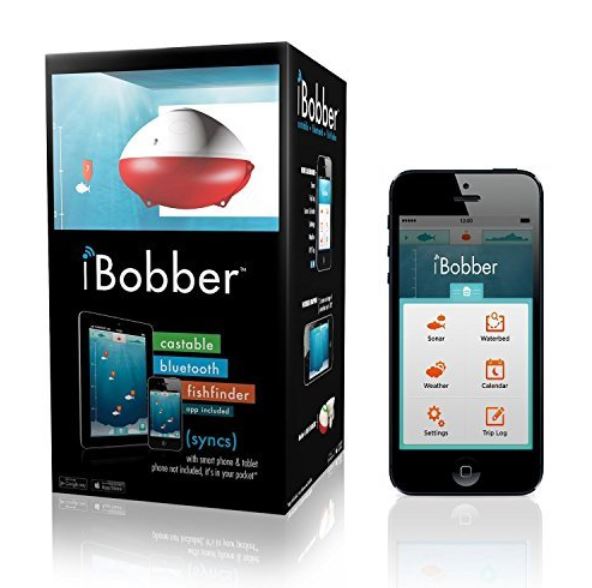 According to the iBobber website, it states they are a small American company and unfortunately there is very little additional information about the company behind the iBobber and what additional innovations they offer.
However, I did call the number listed on the website and was able to contact a representative.
Average Retail Price – New: $99.99,  Used: $52.22
Accessories You'll Need
Rod – The popularity of fishing is growing and people are becoming much more conscious of  different rods that can help them.
Fisherman want best technique specific rod for the money.
Luckily, I wrote several reports article that provides you with detailed information in order for you to make buy the rod for the money, and more importantly which rods to avoid at all costs.
Reel – Having the correct reel to match with your rod is just as important.  A good reel should be light and have a buttery smooth drag. There are several great reels on the market, but I recommend the Daiwa Tatula SV/TW baitbasting reel. It's a great reel packed with great features. So much so it could easily be priced in the mid $200 range.
Fishing Line – Having a good line is just as important as having a good rod. I recommend fishing with a good fluorocarbon line. Furthermore, it's super sensitive because it has little to no stretch, and underwater it's invisible to the bass!  If pride or money is on the line I would use Sunline Sniper FC.
Fishing Lures – It's pretty hard and darn near impossible trying to catch a fish without using some sort of lure or bait.  More importantly these baits you should never forget at home or it could lead to a horrible day on the water
Tackle Bag – You can't carry all your gear in your pockets, so you need a reliable tackle bag to transport it. I wrote a complete review guide, Best Tackle Bag for Fishing, check it out by clicking here.   But if you don't have the time to read the full guide then let me tell you I recommend the Lunker Bag by KastKing.
Fishing Pliers – Nothing will ruin a day quicker than getting a hook embedded in your hand, or worse your eye.  That's why I always recommend having good set-up pliers that won't rust and won't slip out of your hand.  I recommend that KastKing Cutthroat 7" Fishing Pliers.
Landing Net – As you are reeling in that monster fish, you don't want to injure yourself or knock the fish off the hook by trying to grab it. That's why I recommend a dependable telescopic landing net.
Fishing Weight Scale – Whether if you're going to keep your catch or just take a photo of it and brag to your friends it's important to have an accurate scale. I recommend a scale that has a large LED display like this one fishing scale here.
Wide Brim Fishing Hat – Nowadays, you have to protect yourself against the sun's harmful rays. Wearing a wide brim hat not only gives you UV protection, but it also keeps you cool.  I recommend the Columbia Unisex Bora Bora Booney hat. It fits any size head and it feels really comfortable.
Fishing Sun Shirt – Don't you stop at only getting head protection, you also need to protect your chest, back, arms, and torso. According to the researchers finding skin cancers on the shoulders and forearms rank within the top-5 locations to get skin cancer*. Avoid any unnecessary UV exposure and stay cool by wearing a UV protective PFG Fishing Shirt by Columbia.
Fishing Gloves – Fishing gloves allow your hands to stay covered from the sun's harmful rays and stay dry by using a special material. These gloves by Fishaholic offer UPF50+
Other Bank Fishing Related Aricles
Does the wireless device have a power on-off switch or do I have to remove battery when not in use?
If you have a wireless floating sonar I will self-detect when in water and only transmits when in water. However, if you don't trust fish finder's sensors, you can always remove the battery just to be safe.  If it has a control box (w screen) like the LUCKY fish finger it will come with a power on/off switch.
Is the battery in the base unit transducer replaceable?
It depends on the actual unit.  However if your transducer is the wireless kind,  most are not replaceable.
Does this work with Amazon Kindle?
Some have gotten their units to work on 2018 Kindles, but it really depends on the brand of your portable fish finder.
Can I use the fish finder while trolling?
It is not recommended for trolling more than 1-2 miles per hour and the water must be calm.
Does the wireless device have a power on-off switch or do I have to remove battery when not in use?
Does the castable fish finder tell you the water temperature, or have water temperature readings?
Does the wireless fish finders require a 4g service to work?
All of the wireless fish finders come with an app that is downloaded to your phone.  Then the fish finder links to your phone via Bluetooth. Therefore, it does not need any cell reception to work.