The 5 crucial baits you must have "on the ready" at all times! (Whether you want to catch your limit quickly... or... catch your personal best). Discover the baits that 90% (or more) professionals lean on when they must catch a fish!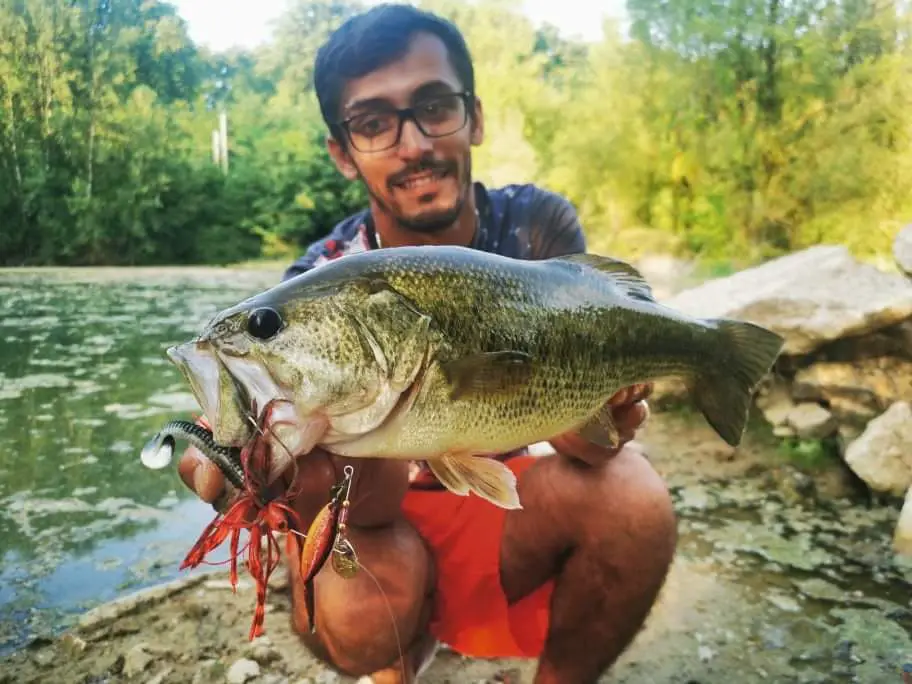 For a long time now, I have been connected to the "inside" of certain professional bass angling circles. (Including the B.A.S.S. Elite Series – the most prestigious professional bass tournament circuit on the planet.) My goal is to help you understand the super-effective fishing baits that have been developed that the majority of professional bass fishermen know, like, and trust. I want any of my friends and family to feel like they have the odds on their side when they go fishing, and I'm sure you want the same for your friends or loved ones too.
Anyway, through my years of studying, being mentored and learning from some of the best anglers in the world… and… I was even able to get some of them on tape for interviews… I was able to slowly piece together a list of the top 5 best bass lures that nearly any bass angler who is worth their salt relies on to have in their boat at all times, because the baits are that good – no joke. 
This means you get a rapid understanding… and you'll put yourself on a faster "learning curve" than even the other guys who attend seminars.
These are the no B.S. baits that when the Sh*t Hits The Fan (or SHTF for short) the pros reach for.  And make no mistake – they do not like talking about what works. They make their money from catching bass and I was slowly and painstakingly able to pry away this list on what makes them successful.
But I started this blog to help people out. When I first got started I was certainly overwhelmed, and don't like seeing others feel the same way. It sickens me to hear that someone quit fishing because they just don't know where to start… or what to start with.  That feeling just plain sucks. And I, for one, am damned glad to know a thing or two to allow me to feel confident when I go out fishing… and I believe you feel the same way.
So let's get started with the list of the top 5 best bass baits that you need to have ready to use all year long.
When you get into bass fishing you need to rely on the baits to make sure you have a great time on the water. It's even better when you have peace of mind that your lures are the highest quality and are built to last for many years to come. But do you know what lures work all year long? Out of all the hundreds of different styles of lures you may still need  to ask what is a good bait for bass? Luckily, I make a list of the following baits:
Jigs
Spinnerbaits
Texas Rig Worm and Soft plastic Swimbaits
Crankbaits
Drop Shot
Those lures can and will make your next outing or fishing trip a lot easier and more fun.
Remember, don't forget to add these baits to your tackle box for then the SHTF. No matter what the time of year or condition these lures will catch you fish – HANDS DOWN.
But be warned! Go through this blueprint slowly and carefully so you don't miss any suggestions that could cost you.
Fishing Jig
Spinnerbait
Soft Plastic Worm
Crankbait
Drop Shot Worm
Product
Mythik Lures Tungsten Football Jigs
Nichols Lures Pulsator Spinnerbait
Strike King Pro-Model Series 5 Crankbait
Roboworm Straight Tail Worm Bait
#ad / Images from Amazon Product Advertising API
Jigs are the quintessential do-everything bait. They can be crawled on the ground like crayfish or swam through submerged brush and timber like shad or bluegill.  They can also be used to conduct hand to hand combat with flipped and pitched. Always have a variety of watermelon, green pumpkin, and black-and-blue colored jigs.
I whole heartedly recommend Mythik Lures Rock Crawler Tungsten Football Jigs.
Read more: Check out all the reviews from real Amazon customers! 
Grinding and bulldozing over the submerged structure,  shell beds, or finding the transition areas from chunk rock to pea gravel, you need that extra sensitivity that only Tungsten can give you. 
The quality of these jigs is what you would get from a custom made jig. The collars are hand-tied with wire, the jig heads are powder coated and then baked on for extra durability, and the hook is a Mustad black nickel that is sticky sharp.
If you're still on the fence on choosing a great jig for bass fishing then head over to my report, Top 10 Best Jigs For Bass Fishing [Insiders Only]. You'll get all the information the Pros don't want you to know about!
Here a list of the top jigs for you to consider
#ad / Images from Amazon Product Advertising API
When the reaction bite is on you want to throw a spinnerbait.
Spinnerbaits shine when they are thrown through shad boils, schooling baitfish or when bass are protecting their fry after spring spawn. Also, you want to throw a spinnerbait parallel to bluff walls and intentionally bumped into the structure. 
Spinnerbaits work best if the conditions are breezy-to-windy. 
Here a list of the top spinnerbaits for you to consider
#ad / Images from Amazon Product Advertising API
3 – Texas Rigged Soft Plastic Baits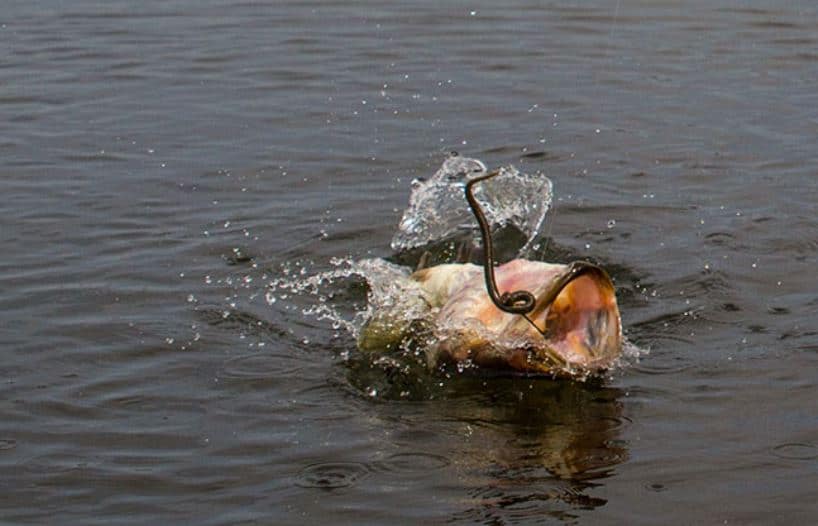 When the bite slows or you want to fish an isolated piece of structure, you want to throw a Texas-rigged soft plastic bait. It rarely fails as a lure which is why it's one of our best bass lures.  I break these down into 3 categories: Senko-style baits, lizards/hogs, worms, and fluke-style baits.
Depending on the time of year and what forage in the specific area will determine what you use. If you don't know what forage in the area is, then we recommended starting with a Senko-style stick bait in natural colors like green-pumpkin pepper.
Use a weight that works well with the depth you're fishing. 1 – 4 feet:  3/16 – 1/4 ounce5 – 8 feet: 1/4 – 1/2 ounce9 – 16 feet:  1/2 – 3/4 ounce 
If there's been one lure that has changed the face of fishing over the past five years it's the Yamamoto Senko. With its wide range of uses and subtle natural action, the Yamamoto Senko has quickly become a favorite with anglers all over the world.
When Gary Yamamoto designed the Senko in the early 90s, he had no idea he was changing the future of fishing. There's a Senko in the lineup for every possible application and for every angler, from the first-timer to the tour-level pro.
Whether you fish it weightless, wacky-style, Texas-rigged, on a Carolina rig, or on a shakey head or flipping jig, this simple slab of plastic will revolutionize your game and increase your catches.
Read more: Ask any angler, Senko baits work! Check out the reviews here.
Here a list of the top soft plastic worms for you to consider
#ad / Images from Amazon Product Advertising API
Crankbaits are amazing for covering water in a hurry, especially if the bass are feeding. Make sure you grind and bump the crankbaits along the submerged structure. Make sure you employ different retrieves as well as stop-and-go or burning and pausing work exceptionally well.
The Strike King Pro-Model Series 5 is a medium-sized body with a medium wobble and medium buoyancy. The Series 5 has a 2-degree diving plane to allow for lengthened casts and deeper depths. Dives to 12 feet One of the most popular crankbaits on the market! All Pro-Model Crankbaits feature free-floating rattles and lifelike 3D eyes.
Read more: If you're wondering if these crankbaits produce read some verified reviews here.
Here a list of the top crankbaits for you to consider
#ad / Images from Amazon Product Advertising API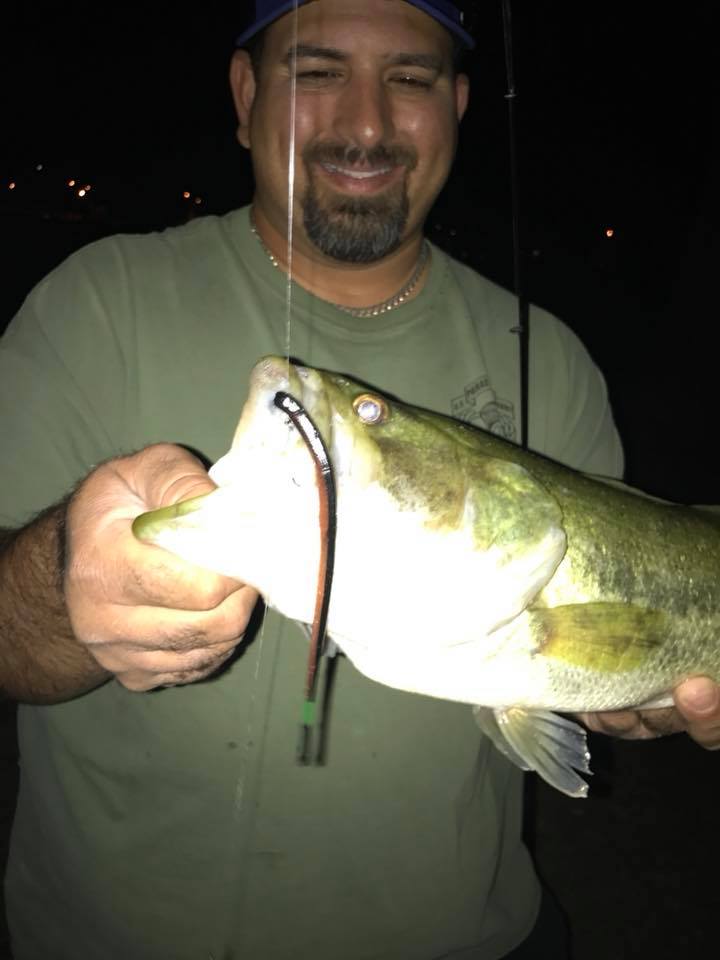 If the bite is tough, then you want to use a drop shot rig.  Known for its fishing catching ability the drop shot rig is very versatile and many different baits can be rigged. Baits like a straight-tail worm, fluke, lizard or brush-hog worm superbly. 
When someone talks about drop shot fishing baits, the Roboworm Fat Straight Tail Worm is always discussed as one of the premier options.
Read more: Check out the Roboworm reviews on Amazon.
The best thing I like about this bait is that it has a slightly larger head than most finesse style worms, yet it still remains incredibly soft.
Wait that's not all… I wrote a complete report on all the best drop shot baits. Some I'm sure you've never heard of! Click here to read all the detailed specifics that will catch you more drop shot fish.
Here a list of the top drop shot worms for you to consider
#ad / Images from Amazon Product Advertising API
Getting Started With Bass Fishing? Read These Articles...