Bass Fishing Summer Grass 101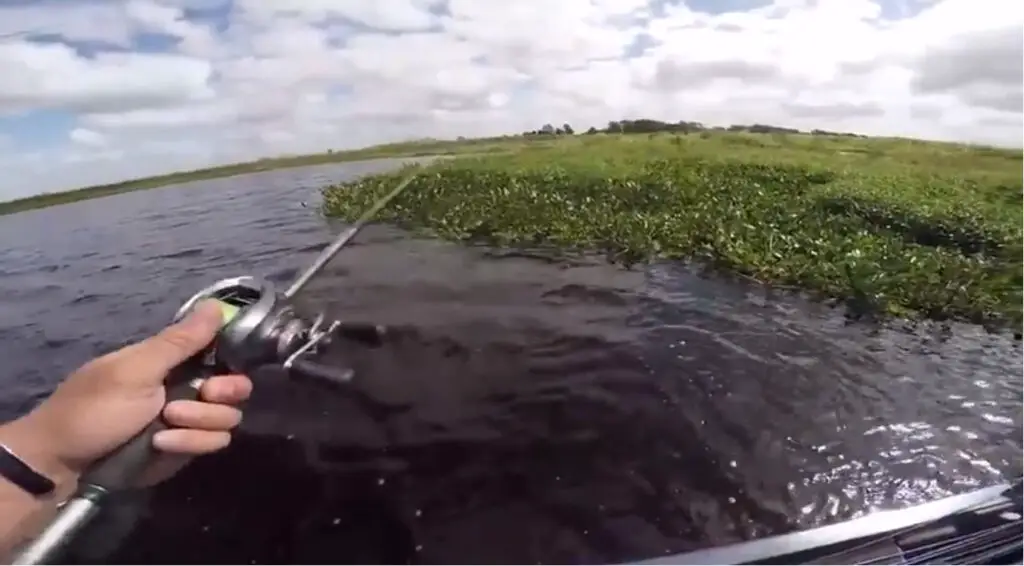 Like anything worth mastering, patience, understanding the process and practice and the means to the end. When it comes to catching bass in grass, celebrate even the smallest accomplishment.  Don't expect to be the Guru Grass Master anytime soon and don't throw caution to the wind. You want to do one thing until it becomes a habit. Take it slow, learn more grass fishing techniques as time goes on. In summary, this is what you need to do… so do the following:
Learn how water clarity affects grass
Determine what grass patches that will hold the best bass
Know best baits for grass fishing
Pitching grass for bass
Understand this Secret and you'll know more than 90% of other anglers.
Depending on your skill level it could take you months (maybe years) just to learn how to find bass and catch bass in weeds, especially if you're teaching yourself. And there is so much more to it!  But you're in LUCK, I'm going to give you all the important details so you can master how fish underwater grass like a pro and how to avoid any common mistakes in just a fraction of time!
Learning how to fish under water grass is probably one of the most important techniques to fishing for bass, but also the hardest to learn. It's not for the faint of heart, but for those who can master it, setting the hook and pulling out a Monster bass from a thick layer of heavy grass is exhilarating and is what keeps anglers like yourself coming back for more.
So it's time to get a little nerdy…What is a thermocline?
I know you didn't come here for a complete science lesson but I promise this is worth talking about.
The grass will grow best above the area called a thermocline. To make it easier for someone to understand, the thermocline is actually a separation within the water column into two layers, an upper and lower layer….
The area above the thermocline will have the most oxygen whereas the deeper levels of the lake will have less oxygen…
So naturally, we'll find more life where there is more oxygen (the upper layer). And this friend is the layer you want to target when fishing.
Why is knowing this important to you?  The next time when you're on your boat find out how to find the thermocline on your fishfinder.  Once you do that, fish everything about the thermocline for the rest of the day. It will save you a TON of time and increase your chances of landing a monster bass.
What are the types of grass found in most lakes?
For those that are not botanists, or really don't know the different types of grass, there are many types that we will see on the lake especially in deep water, hydrilla, milfoil, and coontail are some of the most common species of grass.
Milfoil and coontail you will see all around the country, however, hydrilla is typically found in the southern end of the United States.
How do I determine what grass patches that will hold the best bass?
Well, your answer is pretty simple when you think about it. The greenest grass produces the most oxygen and that attracts more small critters that the bass will feed on. And bass will always follow an easy meal.
So if you find a handful of patches some of which are very green versus some of which are brown and dying always, always, always fish the greenest grass patches.
So what if you're at a lake and there are literally miles of grass, where do you fish first?
Take a quick lap around your lake and identify and mark the following areas with your fish finder:
Points & Edges
Cuts, Holes, and Pockets
Hard Bottom /Contour Changes. 
In essence, there are three high-percentage areas where you need to fish first.
Points and irregularities
Just like if you were going to fish rocky points from a rocky bank, the same goes for fishing the same type of points that are naturally created by the grass.  Points create prime ambush areas even if the grass patch is deep.
First thing in the morning when the water temp is cooler, the bass will be hanging around the weed edge or grass line.  So target the edges first. 
As the temperature starts to warm up you start to notice the bass may migrate deeper in the vegetation or under floating or emergent vegetation.
Cuts and holes
Other great spot to focus on are inside cuts and holes of the grass patches.
Targeting cuts is like fishing a really small cove.  Take your lure (whether it be a chatterbait or jig), cast it to the back of the cut and slowly swim it back. Make sure you give it a few jerks to get the bass' attention.
Finding hard bottom within vegetation patches
If your lake is completely surrounded by grass hard bottom areas can be a gold mine. Bass prefer a hard bottom over a mud or sandy bottom. 
Unfortunately it can be hard to find small patches in hard bottom area within a thick grass patch.
Using a good sonar will allow you not only see the bottom hardness but will also show you contour changes.
Contour changes such as rises, dips, holes within a specific grass patch can yield a ton of bass. 
Then, turn the main motor off and use the trolling motor around these marked locations. If you hear bluegill "suck-popping" bugs off the surface or better yet see bass bass hitting topwater then you know that's a good area. Stop and fish it.  
A good pair of polarized sunglasses will allow you to easily see the deep dark holes where bass could be hiding in.
Typically, your schools will be in those best patches of vegetation, sometimes only a few feet wide. So take your time and don't spread out your casts.
Using your fish finder when fishing deep grass for bass
By dialing in the sensitivity setting on my sonar, I was able to find submerged grass that not only had baitfish in or around it but had bass relating to the area as well.  After some tweaking I concluded that the arks with more red than yellow were bass.
So make sure you can:
Tell the difference by what is a grass patch from what is not. 
How to find the schools of baitfish.
Play with the settings and remember what the larger arks look like, because when you start catching bass in this area, you'll then know what they look like on your graph next time. 
Helpful Tip: Preparing for summer grass fishing in the winter. In an interview, professional angler Seth Feider, describes this tip of taking his boat on the lake in late winter/early spring right when the ice off melts off the lake.

When all the grass for the most part is dead. With your boat, motor around through the same locations that would normally be packed full of thick grass during the summer.

Then look for all the high value spots like hard bottom areas, rocky bottom areas, and areas that have a dip or a rise. Mark those spots down because you are not going to be able see those areas come summer time.
Do you know when the best time to fish deep grass patches on any lake?
It is pretty easy when you think about it…
Keep in mind that healthy grass produces a ton of oxygen, and in order for the grass to produce a  massive amount of oxygen, it is going to need sunlight.
And when do we have the most sunlight? It's during the middle of the day where the sun is directly overhead.
This is why it's best to fish deep grass and weed beds during the middle of the day when the sun is at its brightest.
Keeping your spot without telling everyone else… 
I remember a frustrating day I was fishing a deep grass patch on a pretty crowded lake. I hadn't taken the time to learn my sonar to make way-points, but being a little old school I threw out an old marker buoy to visualize my spot. When I started catching some fish I started to get some attention from some of the other local anglers. Soon I started to get some unwanted company on that same grass patch!
That same evening, I broke out my owner's manual and read up on how to properly create and catalog way-points.
Being able to save your GPS way-points on your graph is awesome because if you have one of the new super high-tech fancy trolling motors that can actually keep you on that spot without having to have your foot constantly on the pedal!  Goodby low back pain!
Talking to some fishing guides around my local lakes they also told me that they will save seasonal way-points for grass patches!
Now I thought this was a super cool idea because throughout the year grass patches will grow as the weather gets warmer, or they'll shrink as the weather gets colder. So it's important to know where the green is.
When you're out on the lake fishing your favorite grass patch, make sure you come back to it throughout the year and mark it on your GPS. Just because an area works great during the summer, chances are, that the same area will not work during the winter.
Do bass like one type of grass in a single area or if there's multiple types of grass present?
Bass will typically hang around areas that have multiple types of vegetation present. The reason being it gives the bass a buffet of opportunities to eat different critters.
Depending on the type of grass, some grass can grow to be very tall, which would be a great little hiding place for shad and other baitfish.
Other species of grass that is short and thick will give shelter to other species of bottom-dwelling baitfish and crawdads.
This One Mistake Forced Me Miss 97% Of All Bites I Got...  
When I was just learning how to fish bass in grass, I can remember one of the biggest mistakes that I made was having this one wrong piece of equipment…  
When I would get a bite and try to set the hook it would feel like I would set the hook with a rubber band!  But, I was lucky enough to have my cousin take me out and we would flip into thick submerged grass.
And I would miss fish constantly!
It was so frustrating, in fact it was a little embarrassing. I thought I would never catch a bass in that deep grass. 
But, I was lucky enough to have my cousin take me out and we would flip into thick submerged grass.  He took one look and handed my something…
Sure enough… that was the difference maker…
What was the Secret to catching bass in grass?
The answer may surprise you… it's having the fishing specifically fishing rod designed to handle the rigors of fishing in and around vegetation. 
Many anglers will classify this rod as a flipping rod.
There are many factors that go into determining what a flipping rod will look and feel like. Some of those factors include practical uses as style, length, material, and sensitivity, which we will explore individually.
Most avid anglers who flip into vegetation will use a casting rod. A casting rod is a special type of rod that also must be paired with a baitcasting reel.
Using a casting rod will give you increased casting distance, and increased accuracy for close quarters fishing. Something a spinning rod cannot do.
The best flipping rods are made from ultra-heated graphite. This gives the rod lightweight feel and gorilla-strong features.
So what is the best overall flipping and pitching rod?
G.Loomis GLX Bass Jig & Worm Series Casting Rod
For those who don't know G.Loomis upgraded the GLX blank that is now 20% lighter, stronger, along with enhanced balance and ergonomics.
The rod feels feather-light, but when you set the hook it feels like it has a steel-rod backbone. It's that strong!
The tip action for this rod is fast will provider you with accurate casts and amazing sensitivity. 
Hand-feel is amazing.  The GLX is perfectly balanced and the contours of the reel seat are very ergonomic.  It feels like the rod was custom made for you own hand. 
Finally, the GLX rod is backed by an amazing warranty should anything happen to it. 
The Shimano Expride A Casting Rods is the PERFECT heavy jig and punch rod. These rods are built for the avid angler who doesn't mind investing a bit more, just as long as the rod produces, especially when money or pride is on the line.
First off, this rod feels and performs like a $400-$500 rod. But for this price… come on!
The sensitivity is sooo good.  We laughed when we were testing this rod because we would set the hook every time the jig would bump into a small rock.  You could also hear the 'tic, tic, tic' as the jig was being dragged over a shell bed.
Despite it's size, it's crazy light. If you have a GLX it's pretty close in weight.
Upgraded with Kigan SiC microguides for increase performance.
KastKing Royal Select Casting Rod
The look of the KastKing Royal Select really stands out with it's matte black and shiny red accents. 
Toray 24-ton carbon matrix graphite blanks to minimize weight while maintaining strength and responsiveness.
Stainless Fuji guides give this rod a sleek look for years of corrosion-resistant performance.
What's the best reel for fishing grass?
For a reel, most avid bass anglers are going to choose a high-quality real with a fast gear ratio, greater than 6.1:1. 
The higher gear ratio allows you to bring in more line per turn of the handle, so when that fish gobles your lure you can reel in the line fast!
You do not want that bass to further bury itself in the grass where it could gain the extra leverage to throw that bait.
Another important feature you need in a flipping reel for grass fishing is the reel must have an ultra strong drag system. 
By tightening the drag as tight as it can go it prevents the fish from running. That means you can peg the fish to the grass and it stays pinned as you reel it in. 
This reel fills in the gap if you're searching for a reel that is gorilla-strong and will never let you down. 
Perfect for fishing floating mats and submerged vegetation, the REVO Toro Beast has a drag system that will pull any bass out of the thickest, nastiest matted weeds anywhere.
This reel feels like you can pull a dump truck up a hill… it's that strong.
Using upgraded components the Duragear Heavy Duty and DuraClutch design that promotes silty smooth casts and silent retrieves.  
One of the best reels on the market the Daiwa Tatula Elite Pitch/Flip Casting Reel has a quick 7.1:1 gear ratio and comes with the flip casting assistance system Daiwa call the "Magforce system". 
Company representatives say the reel will change the magnetic pressure on the spool based on how fast you cast it. This gives your lure a soft and quiet entry that avoids spooking nearby fish.
Good palm feel, low profile that fits in your hand. 
The Megajaws is a good option for those on a budget.  
What are the best baits for flipping in grass?
Whether you're fishing a floating vegetation may or flipping next to cattails, catching fish fast is the ultimate goal.
But all you have to do is choose the any lure in your box right?
Well, no. It's really not that easy to just pick any lure and expect to catch bass quickly. There is plenty to consider even before you leave for the lake.
For many of you this may be grass fishing in heavy grass 101, but it never hurts to review, and there are always new bass fisherman joining our ranks every year.
Not too long ago I wrote a full article on the best baits for fishing submerged grass and heavy vegetation. The information given here is definitively slanted toward flipping in vegetation, but it apples to flipping other structure as well like docks, bridge pilings, bluff walls.
Read More: 7 Secret Flipping Lures You Don't Know About But Should!
What line do you use for flipping and pitching?
Far and away braid is the top choice of lines for flipping dense vegetation mats. Flourorcarcon can also be used for flipping in clear water or around rock or bridge pilings.
I've written a complete hands-on review on the best bass fishing line, where I outlined benefits each line has to offer and where I go over the durability issues that I ran into.  If you want to learn about top bass fishing lines then click on the link below.
Read more: 21 Tips To Choose The Best Bass Fishing Line
What's the best fishing knot for flipping and pitching?
How To Tie A Snell Knot: The Best Knot For Flipping Heavy Cover
BONUS TIP: Avoid casting out too far…
One of the biggest things professional bass anglers said to avoid is casting out too far.
When you cast out too far, it gives an unnatural presentation.
Also if you get a bit and you cast too far out, many times you wound feel the bass is actually swimming to you because you line is bent over that vegetation. 
Try to keep your presentation as vertical as possible, flipping out only a 20 feet or so.
FAQ
How do I fish grass when it's windy?
Wind can either be your friend or foe depending on if you use it to your advantage.
Windy conditions will actually push the bait into a certain area. That will attract bass who are looking for an easy meal.  Give mother nature a high-five because she just made your life a heck of a lot easier, you won't have to go as far to search for those mouthy predators.
Strong winds also stir up the vegetation which puts more oxygen in the water, which causes the baitfish to go into a feeding frenzy which triggers the bass to feed.
Areas that are irregular such as pockets, points, bluff walls, steep banks or isolated clumps of submersed grass all act as great corralling areas.
Look on your map and look around when you're on the water to find small areas that could possibly corral the small baitfish when it's really windy.
What is the best time of year to flip for bass in the grass?
The best time of year to target bass grass or vegetation would have to be in the summertime and early fall. By then the vegetation will be at it's fullest growth
Is it hard to flip in shallow grass?
Not at all. Depending on how thick the vegetation is you may need to downsize the weight you're using. Most of the time, if you're shallow the vegetation will not be as thick so you could get away using a lighter bait.