A Complete Buyer's Blueprint On The Best Deep Diving Crankbaits for Bass, Walleye, or Striped Bass On The Market Today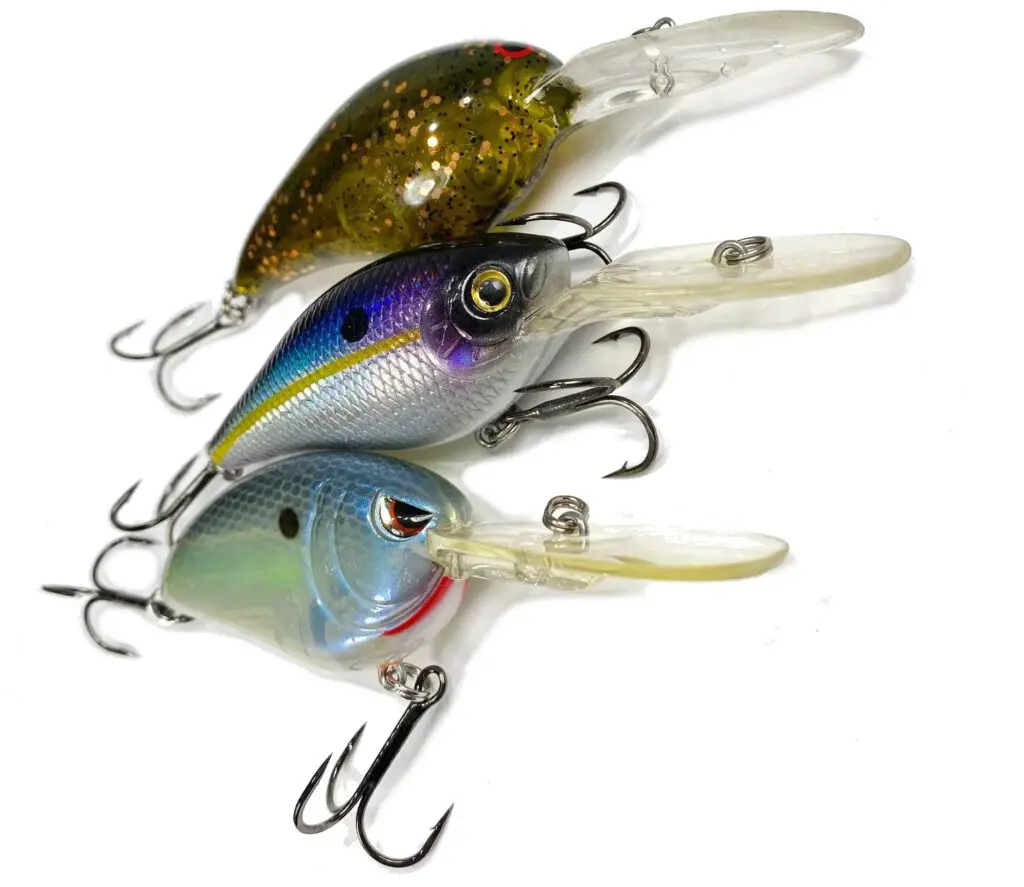 Fishing deep diving crankbaits can be pretty intimidating, especially when the stakes are raised because the bass are deep and you're forced to fish off shore. 
Like some of you, I didn't know where to start. I still had a lot of unanswered questions like, what does a deep diving crankbait even look like? What is a good crankbait brand for deep water? What is the best size for a deep diving crankbait? What are the best colors for deep diving crankbait? And finally, how can I make my crankbait dive even deeper?  
Like I said, I had a lot of questions! LOL…
In a situation similar to when I first stared fishing with shallow diving crankbaits, I only chose one style and got used to it.
After I started catching a couple of bass here and there I stared to make notes on it.
Then after I became familiar the that lure I would move on and try a new lure and repeated the process. 
Pretty soon I was comfortable many different deep diving crankbaits.
My plan was again to start making a list of the shallow running crankbaits that caught me fish and start keeping track on why it was such a good crankbait.
Once my notes were complete, I went back and deleted all the nonsense and kept all the best tips that I know would help the most.
I then challenged my team to do the same. Once complete we put all our information in a graph and list format so anyone can easily compare the different crankbaits. 
So I hope this list helps you as much as it helped me!
WARNING:  There's a lot of information about this subject you'll probably want to come back to. No one expects you to remember all these tips. We know your time is precious, so we really tried to over-deliver in value for you. Additionally, we frequently update reports like this, so you'll want to stay up to date with any changes or additional tips we include for you. 
We found that the easiest way to save and bookmark this report so you can come back to it later is to share it on your favorite social media platform, especially if you use your phone to get important tips like the ones in this report here…
Click on your favorite social media buttons to remember this page now!
If you don't have much time to read the detailed reviews, simply use the links below to quickly find the best drifts socks for your boat on Amazon. You can be assured I only chose the best products…
Best Overall: Strike King 6XD
Best Budget: Norman Deep Little N
Editors Choice: Rapala D-10
Best Deep Running Crankbaits Roundup
Winner: Best Overall
Best Budget
Editors Choice
Best Summer
Best Winter
Tournament Ready Out Of The Box?
Best Seasons To Fish This Lure
Winner: Best Overall
Tournament Ready Out Of The Box?
Best Seasons To Fish This Lure
Best Budget
Tournament Ready Out Of The Box?
Best Seasons To Fish This Lure
Editors Choice
Tournament Ready Out Of The Box?
Best Seasons To Fish This Lure
Best Summer
Tournament Ready Out Of The Box?
Best Seasons To Fish This Lure
Best Winter
Tournament Ready Out Of The Box?
Best Seasons To Fish This Lure
#ad / Images from Amazon Product Advertising API
Why You Should Trust This Report?
We used our experiences with the products and looked over hundreds of customer reviews, watched tons of video reviews, and analyzed what the professionals and experts had to say from popular sources like BassMaster Magazine.
We scrutinized the data from the product catalog pages of nearly a dozen manufacturers, and we even tried to interview some of the company representatives to talk shop and get their take.
Winner: Best Overall Deep Diving Crankbait
Strike King 6XD Crankbait
But, why did the Strike King 6XD crankbait win the best overal award?
The Best Overall Award goes to the Strike King 6XD crankbait. 
The Strike King 6XD is probably the most universal crankbait that an angler should own. 
Whether you're using the 5XD or 6XD, it seems to be working nearly anywhere you go in the country. This is a bait for finding out if there's a bite. 
Cover the water with it and you'll know if they're going after crankbaits, it just doesn't fail. The 6XD is probably the easiest bait to use because you simply throw it out and reel it back in. 
In the summertime, opt for the rattling version and reel it just as hard as you can while banging into cover.
Professionals and serious anglers all have said these are the five most important features of a quality shallow running crankbait:
You need the bait to to hunt at modest speeds while staying on track.

You want it to quickly float (fast buoyancy).

You need it to be able to deflect off cover and avoid getting hung up.
The manufacturer must offer a good variety of color choices to match the local baitfish and forage species.
You require it to be tournament ready right out of the box. You won't have to worry about changing out the hooks after catching a couple of fish.
Needless to day the Strike King 6XD has all of those features.
For the wintertime, go to the silent version; slow your retrieval and move your way through c cover. It truly is just a do everything, catch everything, easy to fish bait. 
To top it off, they're fairly inexpensive compared to some of the crankbaits on this list.
Unlike the Strike King 6XD, the higher costs are from the tackle on the other baits, making them a little more expensive to lose on hang-ups.
With the Strike King 6XD, you can justify breaking them off and tying on another one.
The Strike King 6XD crankbait can do nearly everything and is well worth the investment.
Pros:
Simple to fish.
Class leading lure action.
Unique rattle sound.
Great color options.
Upgraded sticky sharp

 hooks.

Upgraded stainless steel split rings.
Bait comes ready to be fished out of the package, no tuning required.
Proven Winner.
Will works in both in spring, summer, and winter.
Hang up but not deal-breaker:
Infrequent reports of lures need to be tuned.
Paint can chip of knocked against hard structure.
Best Budget Deep Diving Crankbait
Norman Deep Little N Crankbait
About the Norman Deep Little N Crankbait...
The Norman Deep Little N (or DLN) is one of the baits I used as a kid and still continue to consistently catch fish on. Although it's a deep diving crankbait, it's a bit smaller, leaving it running in depths of about 8 to 12 feet.
Not only is it a proven fish slayer, but it's also really inexpensive making it an easy addition to your tackle box.
If your lake has spotted bass, the parrot color is an absolute must-have.
Pros:
Great for beginners and veterans.
Easily fished with a spinning or a casting rod setup.
Large color selection.
Quality paint job
Great price.
Hang up but not deal breaker:
Some require tuning out of the package
Cheap hooks and split rings.
Rapala DT-10 Deep Diving Crankbait
But, why is the Rapala DT-10 Deep Diving crankbait a great choice?
Listen, if you're just getting started fishing shallow diving cranks, then you need the Rapala DT-10 deep diving crankbait in your box.
The DT (Dives-To) Series tells you right on the bill what the bait will dive to. No need to take a sharpie and try and memorize how deep baits run it says right there on the lure.
This lure will travel down surprisingly fast, and it can make plenty of commotion when used with a medium speed retrieval. 
It's rattle system produces deep thud that resonates underwater and its quick movement the bass can feel it's invaded their ambush area. 
This bait was a complete secret for being a tournament-winning lure, but once word got out it's popularity exploded!
The lure has relatively good hooks and split rings. 
Rapala doesn't skimp on building materials at all, so DT-10 is extremely durable. 
Although I think the color variety could be improved for baitfish species found in the southern states.
The 1.5 is a small lure, however, the wide body on it provides additional mass so you can cast out really far. 
I have used it over deep humps and points large tops of brush, as well as parallel to shellbeds and grasslines. 
This crankbait can do nearly everything and is well worth the investment.
Pros:
Simple to fish.
Fairly inexpensive.
Proven winner, especially if you live in the northern or eastern section of the States, and if you fish in  rivers.
Will work in both in spring, summer, fall, and winter.
Hang up but not deal-breaker:
Frequently needs to be tuned.
Complaints of frequent  paint chipping and hook rash.
Hooks are sharp out of the box but can dull quickly.
Best Summer Deep Diving Crankbait
Strike King 10XD crankbait
About the Strike King 10XD crankbait...
The 10XD is definitely one of the largest crankbaits available. They were released a few years ago and have since revolutionized the entire deep crankbait industry. 
The Strike King 10XD works great if you're throwing crankbaits down to about 25 feet. Once it gets to the bottom it will deflect off cover and will have a crazy erratic action that bass at that depth haven't seen before.  This bait has a reaction type action in depths that weren't really seen before. Because it was so new to the market it seemed to produce a lot of fish early on, and still does today.
Due to the nature of this bait, you'll need to work with a heavier rod, line, and reel. It gets a little hard to throw and can be wearing on your elbows and shoulders. However, if you want to get a big crankbait down to those 25-foot depths, the 10XD is your best option. It really doesn't matter if you're after smallmouth, largemouth, or striped bass, they all take an interest in it.
Pros:
Massive bait that dives insanely deep and produces huge bass.

Wide wobble.

Can be fished through the thickened wood and deflects like crazy.

Durable paint job. Upgraded hooks – stays sharp
Hang up but not deal breaker:
Arm and wrist fatigue is common when fishing this size of bait.
Best Winter Deep Diving Crankbait
Megabass Deep-Six crankbait
About the Megabass Deep-SIX crankbait ...
Most anglers say that The Megabass Deep-SIX is a "ballers crankbait" or a "high-end crankbait". I should have said before (excuse my poor manners), but Megabass as a whole produces perfectly-tuned nearly flawless baits and the Deep-SIX is no exception. 
Tuned right out of the box, the Megabass Deep-SIX has amazing quality with upgraded hooks and split rings. It's perfect as is, just toss it on a line and start reeling them in! 
An added benefit is that it has hardened thin walled plastic, allowing the sound from the rattles to travel a bit further. To top it off, the Megabass Deep-SIX has a very steep diving plane. Once it hits the bottom, it will bounce to the side in an awesome hunting action. Overall, the Deep-SIX has a very tight wobble, perfect for cold weather deep crankbait fishing.
So keep this bait in mind when the shad start dying off in the wintertime.

This is what I call a finesse crankbait. You can get away using this with lighter line, a slightly lighter rod, and lighter hooks.  This one gets down a little bit deeper and has a smaller profile than the 300.  
Helpful Tip: If your lake has green tint to it use a crankbait that also has a green hue to it! 
The Deep-Six comes in some amazing colors. You'll notice the typical colors but see it has some great colors you normally will not see, like Ghost Craw and some metallic patterns that will blow your mind.  
Not only will this catch a lot of big largemouth, but smallmouth will hammer this bait. 
If you're fishing deep and there are both largemouth and smallmouth in your lake you'll need to pick up a few of these baits. 
If it's winter and your lake is clear, then this is one of the best wintertime finesse crankbaits of all time.
Pros:
Perfect for deep cold water crankbait fishing.
Tight wobble.
Loud rattle.
Excellent for stained water clarity.
Extremely high quality.
Comes armed with upgraded hooks and split rings.
Great color options.
Hang up but not deal breaker:
Pricy.

Situation specific.

Reports of inconsistent diving depths to an average of 15-17 feet using 12-pound fluorocarbon.
Best New Deep Diving Crankbait
River2Sea – Tactile Bassin' DD crankbait
About the River2Sea – Tactile Bassin' DD crankbait...
River2Sea Tactical Bassin' DD crankbait is a very unique bait. 
In my opinion, it's similar in design to the Megabass Deep-Six, but a slightly pronounced wobble. This makes it even more versatile, because now I can be used in the summer and winter for my deep water crankbait fishing. 
It's arrow-like design quickly dives deep and stays in the strike zone. 
The Tactical Bassin' DD has an incredibly steep dive angle, diving very hard when you reel. When the bait hits an obstacle, it just bounces off and keeps moving. 
When I learned how to use it to bump into a rock and use its tendency to cut left or right, you can create a real hunting action. 
This is a bait that will hit a bump, then run two feet, four feet, even 10 feet to the side! 
The River2Sea Tactical Bassin' DD is a bait you can move all over the place, which is not a bait that fish have seen before. It's a little bit harder to use in the beginning, but once you have a feel for it, The Goon becomes an all-time favorite. 
Throwing this lure in colder waters is especially fun because of its tight action and quick dives.
Pros:
Very wide hunting action.

Incredible paint job quality.

 Decent color selection..

Great for fishing around rocks and grass.
Fantastic hooks.
Hang up but not deal breaker
Lack bright color patterns for heavily stained or dirty water conditions.

Pricey.
Hard to find in stock.
DIY - Create & Paint Your Own Crankbait
If you don't want to buy a premium deep running crankbait, but rather think it's the best idea to paint and build your own, then check out this YouTube video below.
How to Build Or Replace Jig Skirts
Where is the best place to find pre-spawn bass?
What is the best way to set the hook with a crankbait?
A smooth sweeping hookset. You don't need to set the hook hard (like you would with a jigs) because the hooks are such a thin gauge. Be reeling down and a firm smooth sweep to the side will often set the hook.  
Most most crankbaits this hook setting technique works just fine, however, if you're fishing with a larger crankbait with larger hook you will need to set the hook harder. 
What type of line is best for fishing crankbaits for bass?
Most crankbaits should be fished with fluorocarbon, especially with soft tipped crankbait rods.
Reguardless if you don't have access to fluorocarbon line you can fish a crankbait with braided line or monofilament, 
It's important to know crankbaits will perform differently depending on the different type of line.
Fortunately, I wrote a thorough article that goes in to much more detail of what are the best lines for bass fishing and more importantly what lines you must stay away from! 
Read more: 21 Tips To Choose The Best Bass Fishing Line
What happens if the body of the crankbait cracks or breaks?
If you really like your crankbait and you don't want to throw it away do this…
Set it out in the sun until it's completely dry.
Sand down the broken area with fine grit sand paper.
Apply super glue over the crack.
Then mix some slow-cure Devcon 2-Ton 2-part clear epoxy and apply over the crack extending over the superglue approximately 1/4-inch.
Allow to cure for at least 24-hours.
Other Crankbait Fishing Articles For You...
Checkout These Other Summer Fishing Articles...
Other Bass Fishing Related Articles...
A Complete Buyer's Blueprint On The Best Early Summer Bass Lures On The Market Today! When it comes to bass fishing, choosing the right lure
Read More »