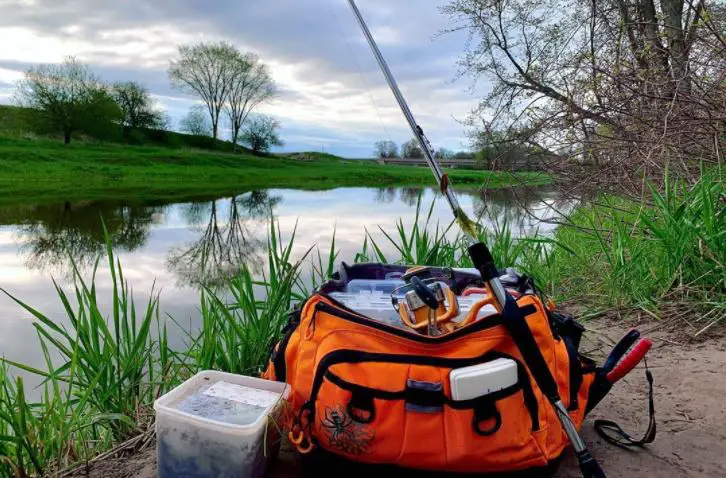 Over the last ten years the tackle bag has exploded in popularity, replacing the old and awkward tackle box. 
In the beginning, fishermen were forced to use tackle boxes which were heavy, uncomfortable to transport, but were also prone to tipping over on uneven surfaces, resulting in spilled tackle all over the ground.
Then tackle bags hit the scene, with thousands of anglers every year quickly realizing the benefits of owning a tackle bag.  
The perfect tackle bag gives the fishermen a portable and effective organizational system that creates a complete balance between efficiency, mobility and comfort.
WARNING:  There's a lot of information about this subject you'll probably want to come back to. No one expects you to remember all these tips. We know your time is precious, so we really tried to over-deliver in value for you. Additionally, we frequently update reports like this, so you'll want to stay up to date with any changes or additional tips we include for you. 
We found that the easiest way to save and bookmark this report so you can come back to it later is to share it on your favorite social media platform, especially if you use your phone to get important tips like the ones in this report here…
Click on your favorite social media buttons to remember this page now!
KastKing Lunker Tackle Bag
Sparing no expense, KastKing debuts their top-of-the-line portable tackle bag with the  fish finder series the KastKing Lunker series.
KastKing blends technology and functionality into one seamless product…
If you don't have much time to read the detailed reviews, simply use the links below to quickly find the best tackle bag for the money on Amazon. You can be assured we only choose the best products…
Best Overall Features – KastKing Lunker Bag
Runner up – Plano Z-Series 3700 Bag
Best Budget – Spiderwire Wolf Bag
Best In Class Winner
Best Budget
Editor's Choice
Best Under $100
Product
KastKing Large Lunker Bag
Plano Z-Series 3700 Size Bag
Plano KVD Signature 3700 Series Tackle Bag
Size
19.7" x 13" x 10.6" - hold (8) 3700 size tackle box trays vertically​
15.75 x 10.8 x 8.2 inches, holding (4) tackle trays​
Size - 18" X 10" X 11" – Holds (5) 3700 size tackle box trays
Size - 14.5"L x 10"w x 11"H. Capable of holding (6) 3700 size tackle box trays
External Pockets
10 external zippered and slip pockets ​
Upgraded Padded Shoulder Strap
Warranty
Yes, limited lifetime warranty​
Yes, limited lifetime warranty
Yes, limited lifetime warranty
Best In Class Winner
Product
KastKing Large Lunker Bag
Size
19.7" x 13" x 10.6" - hold (8) 3700 size tackle box trays vertically​
External Pockets
10 external zippered and slip pockets ​
Upgraded Padded Shoulder Strap
Best Budget
Size
15.75 x 10.8 x 8.2 inches, holding (4) tackle trays​
Upgraded Padded Shoulder Strap
Warranty
Yes, limited lifetime warranty​
Editor's Choice
Product
Plano Z-Series 3700 Size Bag
Size
Size - 18" X 10" X 11" – Holds (5) 3700 size tackle box trays
Upgraded Padded Shoulder Strap
Warranty
Yes, limited lifetime warranty
Best Under $100
Product
Plano KVD Signature 3700 Series Tackle Bag
Size
Size - 14.5"L x 10"w x 11"H. Capable of holding (6) 3700 size tackle box trays
Upgraded Padded Shoulder Strap
Warranty
Yes, limited lifetime warranty
#ad / Images from Amazon Product Advertising API
Best Tackle Bag For Kayak Fishing
Best Backpack Style Under $100 
Best Shoulder Sling Style Tackle Bag
I used my experiences with the products and looked over hundreds of customer reviews, watched tons of video reviews, and analyzed what the professionals and experts had to say from popular sources like BassMaster Magazine.
I scrutinized the data from the product catalog pages of nearly a dozen manufacturers, and I even tried to interview some of the company representatives to talk shop and get their take.
Together I developed seven key metrics to base our final decision of that the best portable fish finder for bank fisherman is.  Here are the metrics we evaluated: scanning sensitivity/accuracy, scanning depth, battery life, battery recharge time, warranty, user experience, accessories
What Makes A Great Tackle Bag?
There are many factors that go into determining what the great tackle bag should look and feel like.  Some of those factors include internal organization, external organization, zipper quality, bottom of bag reinforcement, tool storage, strap and handle quality, and last but not least – warranty. 
Internal Organization – The tackle organization system is one of the most important features of a good bag. The interior should be separated by having plenty of room to hold three Plano tackle boxes and some extra internal zipper panels under the lid flap is also really helpful. 
External organization – Externally, tackle bags should over offer side pockets to put extra tackle, bags of soft plastics, and tools such as a scale or pliers. 
Zipper quality – Strong and durable large size zippers are a must to prevent shifting tackle accidentally opening up a closed bag. 
Bottom of bag reinforcement – The bottom of the tackle bag also needs to be reinforced to resist water, mud, rocks, and anything else Mother Nature decides to throw at it. 
Tool storage – Having a separate area for tool storage (such as area to hold your pliers) that is quick and easy to get to, without having to dig through you bag or pockets to find them is very important.
Strap and handle quality – We evaluated the material of the straps and handles, but also evaluate the pads of the handles and straps to provide comfortable transport.
Zipper quality – Having a quality zipper helps give you peace of mind that in the even you're in a hurry and you need to pack up quick your zipper won't fail leaving you to potentially spill the entire contents in the bag all over the ground.
How many tackle trays are included – Some tackle bags are quite an investment and have a manufacturer include a few tackle trays is a nice feature.
Best Overall: KastKing Fishing Lunker Tackle Bag
But, why is the KastKing Lunker the best tackle bag for fishing?
If you're looking for a well designed, BIG storage bag that is water resistant, then look no further. 
This bag feels study, but not overly heavy. It offers a TON of space allowing you to eight 3700 series tackle box trays!
Thousands of anglers, including myself love all the storage options this bag has to offer.  Just to give you a sense of what I'm talking about, the Lunker has 20 inside and outside pockets to hold nearly anything you need. 
Created using sturdy 420D rip-stop nylon fabric for extremely long lasting performance and dependability. 
Water resistant coating shacks off water from the exterior while the inside PVC layer provides dual protection to safeguard your fishing gear from getting broken or ruined by the weather.
KastKing Fishing Tackle Bags | Lunker Tackle Bag MEDIUM
The Lunkers series uses sturdy 420D rip-stop nylon fabric for extremely long lasting performance and dependability. 
Water resistant coating is a great benefit because water quickly beads off water from the exterior, while the inside PVC layer provides dual protection to safeguard your fishing gear from getting ruined excess moisture.
The exclusive Neo-grip fabric the shoulder strap is one of the highlights of the bag for me. It's  made from ultra-tough ripstop nylon and best of all it comes with a thick neoprene shoulder cushion-pad to keep it comfy for transporting large loads or heavy tackle. 
The only drawback is the bag does not come the 3700 series tackle box trays. Which is fine because I already have my tackle in specialized trays already.
I feel that I made the right choice to give the KastKing Lunker the Best Bag Award!
The Spiderwire Wolf's design makes it possible to bring this bag right to where the fish are at, making you ready for a day of success.
The molded bottom, tough PVC backing and polyester construction make it protected overall, plus it's resistant to the elements. 
The partition inside has moveable dividers, which are great to organize reels, tackle boxes, and more.
The two outside pockets in the front are organized for the perfect fishing trip: 2 plier compartments, dispensers to give out fishing line, and a big mesh rubberize pocket on the back.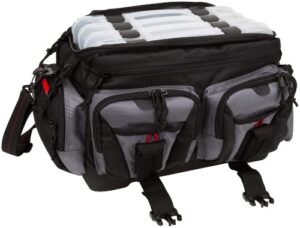 Plus a variety of top notch buckles, latches and zippers.
The Spiderwire Wolf bag does everything but put your line in the bag for you!
However, there are negative posts that report breakage of the strap after only a brief usage, as well as reporting that the snaps holding Some of the negative reviews where the strap broke only after using the bag short a short period of time and the fishing line reel snaps aren't very strong.
Backed by a class leading lifetime warranty.
Plano Z-Series 3700 Size Bag
Why did the Plano Z-Series Tackle Bag win the Runner Up selection?
The Plano really came out swinging with their Z-Series tackle bag.  Its construction feels sturdy and dependable and gives you plenty of space for at least five 3700 size tackle trays. 
This bag has no zippers. The primary pockets and bucket close with locking clasps or velcro making it neat and secure.  If you do any type of salt water fishing or experience any crazy sea conditions, this bag will take a licking and keep on ticking.
Plano' s Z-Series bag features a unique utility-tackle rail system with a molded base that's waterproof even in saltwater, so your tackle stays dry and safe.
Ultimate Fishing Tackle Bag – PLANO Z series 3700
Another cool thing about the base is it's provided with rubberized strips so it can't slide around in the bottom of your fiberglass boat, kayak, SUP, or canoe.
The only drawback of this bag is that Plano advertises this bag as being waterproof. Based on what I evaluated I feel this feature is exaggerated for marketing purposes. I would say it is 'water resistant'
In summary, like many of you I'm a tackle junky and I can say without a doubt the Plano Z-Series tackle bag hold all the tackle I need for the day (and then some), my gear is easily accessible, and it's comfortable to transport around.
Click Here to read the REAL reviews from Amazon customers!
Best large tackle bag under $100: Plano KVD Signature 3700 Series Tackle Bag
About The Plano KVD Signature 3700 Series Tackle Bag...
Created by anglers for anglers. 
The Plano KVD tackle bag is a great design. It's so simple… it's a large tackle bag that also gives the angler the option to hold a tackle tray on the top of the box. 
This is a phenomenal feature. It allows you to rapidly get to your fishing supplies without digging through your bag.  Best of all, the external tray is held securely by a thick bungee cord.  So when you're on the move from one place to the next it's held locked in place, yet still quite accessible when needed.
The KVD bag contains (5) #3700 Plano stowaways, but can hold up to 6.
It has a molded bottom and raised rubber feet keep your things dry, no matter if your deck or carpet is wet.
For extra storage availability, there are MOLLE attachment points.
In addition, it has an external plier holder with Velcro fastener which is a helpful feature
It has a big mesh pocket in the back, as well as a portioned pocket in the front. And the cellphone pocket protects your phone from Mother Nature.  
The Plano KVD tackle bag boats a "waterproof" design, however after evaluating the bag we feel the bag is more 'water resistant'. 
In summary, a TON of customers raved about the Plano KVD Signature 3700 Series Tackle Bag and its waterproof features, it's storage capability, and that it didn't slide around in their watercraft. Many also said it's great for using in a kayak or small boat.
Best Kayak Fishing Tackle Bag: Plano Drop Zone Guide Series Tackle Bag
I selected the Plano Drop Zone 3700XL tackle bag for our Best Kayak Fishing Tackle Bag Award.
In short, this bag is freaking amazing and offers everything you want in a tackle bag that you want with you on your kayak, standup paddle board, canoe, or jon boat.
The overall quality is amazing and the Denierfabric feels very durable and stable. 
The footprint is similar to the Kast King Lunker bag but does not hold as many lure trays, however pocket space and tool slots more than make up for this.
What qualified this bag as the best bag for kayak fishing was the build in rod holders and it's ability to hold a TON of tackle.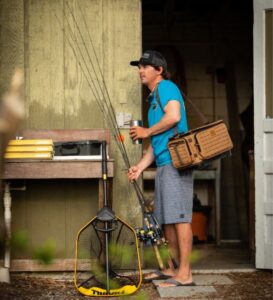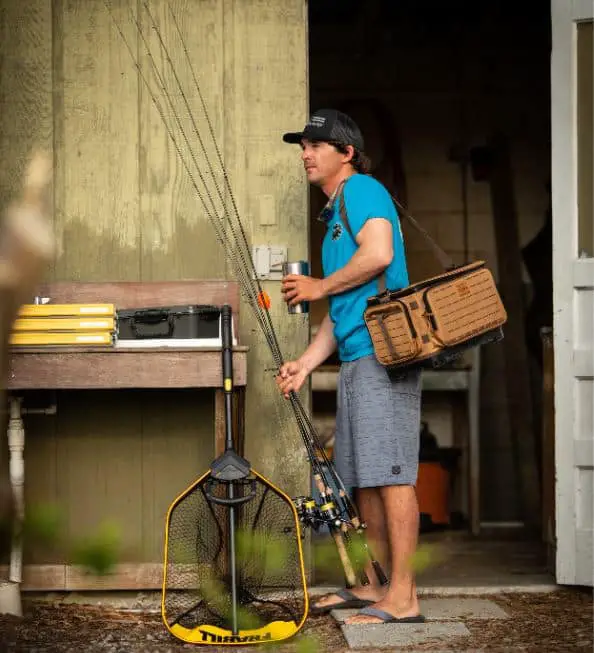 If you don't want to utilize the rod holder section fit pliers or other tools.
The built in MOLLE webbing allows kayak anglers to use bungie hooks is an excellent way to secure the bag to the kayak without fear of it falling out. 
Plano also added some additional touched to the their Drop Zone tackle bag, like adding a waterproof (non-floating) phone holder.
Along with that, the tackle bag has a magnetic top that locks lures and tools in place! Super cool. 
Waterproof TPR molded base is rigid and has good gripping power. It really prevents this from slipping around on wet surfaces of your kayak, SUP, canoe, or small boat. That why the Plano Drop Zone bag won Best Kayak Fishing Tackle Bag
Best Backpack Tackle Bag: Wild River Custom Leathercraft TackleTek Bag
Match up a tackle bag with a tackle box and voila! This bag is the final result!
The Wild River Custom Leathercraft Backpack Tackle Bag is an angler's delight. It features a handlebar with a rotating grip and integrated LED lighting that lets you fish twilight to morning light. It takes (2) AAA that are not included with the bag.
It holds as many as five big #3700-style trays and sports dividers that can be customized.
There's a plier holder you can take from the bag to your belt, and the outside mesh pockets make it simple to see what's inside.
Base pads lessen the wear and tear, and aid in making sure the bag stays dry and never gets dirty, even when it's wet outside.
Avid anglers and those who do it as hobby both will enjoy the innovative thinking that helped to design and create the Wild River TackleTek bag.
Best tackle backpack under $100: Piscifun 3600 Series Tackle Backpack
About the Piscifun 3600 series tackle backpack...
The Piscifun 3600 series tackle backpack is a big multi-tackle backpack. It gives you a TON of room and pockets to hold everything you would need for a day of fishing.
This tackle bag has nearly 18 separate tackle organization spaces. The bottom compartment can easily hold four 3600 series tackle box trays.
The bag is very well made, feels heavy duty and has good quality zippers.
The padding does not feel too bulky, and when worn it feels snug.
The addition of the sunglasses compartment is really cool.  It's the hard case-style that you would get with a high end pair of Costa glasses.
The external pockets open up easily and will allow you to dig out bags of soft plastic easily especially if you have big hands.
At the top of the bag you will see an upper compartment that is nearly 8-inches deep! This is perfect for holding a lunch, more miscellaneous tackle, extra spools of line, or a spare reel.
Last but not least is the innovative rain cover.  I personally think this is a brilliant feature. The cover feels light an durable and it covers the bag like a molded glove.
I noticed a couple of flaws, but not deal breakers. First, this bag would not be good for kayak fishing, as it may fall into the water due to the vertical design because it lacks MOLLE attachment points.  Also, the bag holds the smaller 3600 series tackle box trays which could be a problem if you also like using large lures for pike, musky, or use if or large saltwater fishing lures.
Other than that, the Piscifun 3600 Series tackle backpack is a really good bag for being one hundred bucks!
Finally, Pisifun boasts a "One Year Incredible Total Peace of Mind Warranty".
Best Sling Style Tackle Bag: Piscifun Shoulder Sling Bag
About The Piscifun Shoulder Sling Tackle Bag...
The Piscifun exclusive ergonomic, lightweight, crossbody design make this your go-to bag for mixing a day of fishing with a hike, a bike ride or a camping trip. 
When I tested this bag, I used it on my lunch break and it was perfect for it!
It's not too small and not too big. Anything larger would defeat the purpose of being a fishing sling pack.
The standard size that was tested was able to fit in two Plano 3650 size tray boxes in it.
It has the convenient MOLLE grid on the front, allows you to stack extra packs if you're going out for an extended time or just need the extra space. 
Because of its unique design, if you have trouble walking or have any type of disability that would prevent you from carrying a tackle bag, then this shoulder sling is the PERFECT choice if you are disabled.
Plus it comes in several stylish colors. So, if you're on the go or can't hold a lot of tackle I recommend the Piscifun Shoulder Sling Bag. 
About The Ugly Stick Fishing Bag...
The Ugly Stik Medium Tackle Bag is inexpensive, tough and has lots of room. This soft-sided bag features several kinds of partitions and pockets for keeping your basic fishing items well-organized so you can get to them easily. 
The main section is large, holding 4 medium utility containers. There are 3 outside pockets that zip, as well as a holster with a belt clip for holding tools. The holster works with the majority of two-inch belts.
Additionally, the bag features a slip proof bottom that is compression-molded. Its texture is tough and durable. A mesh handle on the top, as well as a padded shoulder strap make it comfortable to carry.
A few customers gave the bag negative marks, saying the compartment sections are too small for storing angling lures.  This bag is also very similar in design to the Spiderwire bag, which I like the way that bag looks more.
Okeechobee Fats Fisherman Deluxe Tackle Bag
About The Okeechobee Fats Fisherman Deluxe Tackle Bag​...
This is a modest no-frills type of tackle bag that also includes a few improvements. The main compartment's top loading section has four big utility containers, a place to safely store a pair of sunglasses where you can get to it easily, an accessory pocket in the front that has a zippered closure, as well as two pockets on the exterior of the bag that also zip.
You can use the dual tool holders in the front for stowing fishing line, as well as your gloves, knives, any other tools, and there's room for plenty more items.
The carrying handle is wrapped in Velcro-secured handle pad, making it easy on your hands. Plus, there's a shoulder strap that's also padded that will help you distribute your bag and carry it more comfortably.
If you're looking for a great entry tackle bag this is a good choice. Just remember it won't have all the bells and whistles and upgrades the other tackle bags will have.
Accessories You'll Need
Rod –The popularity of fishing is growing and people are becoming much more conscious of  different rods that can help them.
Fisherman want best technique specific rod for the money.
Luckily, I wrote several reports article that provides you with detailed information in order for you to make buy the rod for the money, and more importantly which rods to avoid at all costs.
Reel – Having the correct reel to match with your rod is just as important.  A good reel should be light and have a buttery smooth drag. There are several great reels on the market, but I recommend the Daiwa Tatula SV/TW baitbasting reel. It's a great reel packed with great features. So much so it could easily be priced in the mid $200 range.
Fishing Line – Having a good line is just as important as having a good rod. I recommend fishing with a good fluorocarbon line. Furthermore, it's super sensitive because it has little to no stretch, and underwater it's invisible to the bass!  If pride or money is on the line I would use Sunline Sniper FC.
Fishing Lures – It's pretty hard and darn near impossible trying to catch a fish without using some sort of lure or bait.  More importantly these baits you should never forget at home or it could lead to a horrible day on the water
Tackle Bag – You can't carry all your gear in your pockets, so you need a reliable tackle bag to transport it. I wrote a complete review guide, Best Tackle Bag for Fishing, check it out by clicking here.   But if you don't have the time to read the full guide then let me tell you I recommend the Lunker Bag by KastKing.
Fishing Pliers – Nothing will ruin a day quicker than getting a hook embedded in your hand, or worse your eye.  That's why I always recommend having good set-up pliers that won't rust and won't slip out of your hand.  I recommend that KastKing Cutthroat 7" Fishing Pliers.
Landing Net – As you are reeling in that monster fish, you don't want to injure yourself or knock the fish off the hook by trying to grab it. That's why I recommend a dependable telescopic landing net.
Fishing Weight Scale – Whether if you're going to keep your catch or just take a photo of it and brag to your friends it's important to have an accurate scale. I recommend a scale that has a large LED display like this one fishing scale here.
Wide Brim Fishing Hat – Nowadays, you have to protect yourself against the sun's harmful rays. Wearing a wide brim hat not only gives you UV protection, but it also keeps you cool.  I recommend the Columbia Unisex Bora Bora Booney hat. It fits any size head and it feels really comfortable.
Fishing Sun Shirt – Don't you stop at only getting head protection, you also need to protect your chest, back, arms, and torso. According to the researchers finding skin cancers on the shoulders and forearms rank within the top-5 locations to get skin cancer*. Avoid any unnecessary UV exposure and stay cool by wearing a UV protective PFG Fishing Shirt by Columbia.
Fishing Gloves – Fishing gloves allow your hands to stay covered from the sun's harmful rays and stay dry by using a special material. These gloves by Fishaholic offer UPF50+
Other Bank Fishing Related Articles
Do all bags come with utility tackle trays?
Yes, we found that most do, however some do not.  Be sure to read out description on the Tech Specs section to learn more.
What are the Velcro straps on the bags for?
Most of the time they are for tools like pliers. However, sometimes they can store an extra fishing rod.
Are the bags truly "waterproof"?
Most of the time the answer is 'no'. However some manufactures like KastKing and Plano use ultra-dense water resistant material. 
Where the these bags made?
All the bags we tested were imported from China, just like everything else. However you can really tell the workmanship apart when comparing our top-rated bags to the others that didn't make the cut.
No, not to our knowledge. In order to make it float manufactures would have to build in a bulky foam section. Luckily, of the makers of the bags we tested were relatively light weight, yet still very sturdy.
Do the bags offer a waterproof pocket for a cellphone?
After evaluating the bags, I would caution against using the word water "proof".  The pockets are more "water resistant", and only some of the bags offer this feature. Plano Drop Zone 3700XL Series Bag, Wild River Leathercraft Tackle Backpack, Plano KVD Signature 3700 Series Tackle Bag, and Pasifun Shoulder Sling Bag offer it.
Do the tackle bags come with dividers?
Yes, with some bags dividers are included based on manufacturer.