How To Easily Catch Fish Easily At Night Without Dealing With Psychotic Recreational Boaters, Sizzling Heat, And Excessive Fishing Pressure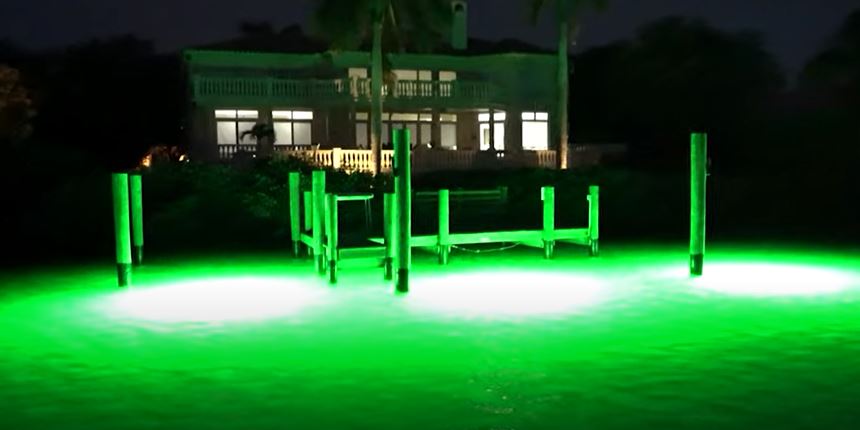 I used to go out fishing in the middle of summer and hated it. The scorching heat, recreational boaters, and excessive amount of daytime fishing pressure just made it too much.
Then, I found a quick and easy way for summertime fishing. Now I never have to worry about sunburn or dehydration.  Best of all I bring the fish to me all from one spot!
It may sound a little crazy, but it's true. 
The technique I'm talking about using a green light for fishing. 
What I didn't realize is night fishing is gaining immense popularity globally. People love to escape after a hard day of work and try to do some fishing before the sun sets.
However, after the sun has dipped under the horizon fishing can get pretty hard. And one of the biggest problems is visibility.
During the night, it isn't easy to spot the fish. Not only that, it is challenging and downright dangerous navigating on a dark lake.  
This is where the green light fishing comes into the picture.
Why fish with a green light you ask?  Well I'm here it tell you it undoubtedly has it's benefits.
Underwater green fishing lights instantly attract baitfish which in turn attract the predator fish you'll want to target.
Set up is quick and easy.
You can fish with a green LED fishing light from a boat, kayak, dock, or from the bank.
Stay put – Avoid navigating in dark conditions could cause damage to your boat, personal injury, or worse!
WARNING:  There's a lot of information about this subject you'll probably want to come back to. No one expects you to remember all these tips. We know your time is precious, so we really tried to over-deliver in value for you. Additionally, we frequently update reports like this, so you'll want to stay up to date with any changes or additional tips we include for you. 
We found that the easiest way to save and bookmark this report so you can come back to it later is to share it on your favorite social media platform, especially if you use your phone to get important tips like the ones in this report here…
Click on your favorite social media buttons to remember this page now!
LED Fishing Light Comparison Table
Table could not be displayed.
What Exactly Is A Green Light For Fishing?
Green fishing light, as the name itself suggests, it's a green light on the water or the surface of the water. It has been proven that plankton (tiny water dwelling animals) and fish are attracted to this green light. That is why fishes will come to your lure, and after that, it becomes easier for you to have a huge catch.
Still wondering about what exactly is the principle behind green fishing light?
We will highlight that below.
How Are Fish Attracted To Green Light?
Through extensive studies on plankton (called zooplanton in the scientific community) fish, has demonstrated in several lab tests[1] that plankton most attracted to light underwater. More so, green light especially.
The green color has the shortest wavelength, therefore it can travel farther and penetrate into a deeper water as well. Meaning the light isn't absorbed very well in the water. When that happens, more phytoplankton will notice the green light and get attracted to it.
Once they get attracted to the light, it triggers the rest of the food chain to be stimulated as well. 
First, the light attracts the plankton.
Then, tiny bait fish such as glass minnows, shad, or herring will also be attracted to the light and their food source the plankton. In time the bait fish will start to swim around light and form a bait ball.
Lastly, the larger predator fish will follow the bait fish and congregate around or beneath the light edges. Eventually, they'll start to eat up any bait fish that strays too far from the light.
Quite often you'll see lightning fast silver streaks darting through the bait ball. That's the predatory fish eating the forage fish!
What Are The Advantages & Disadvantages Of Using a Green Light for Fishing?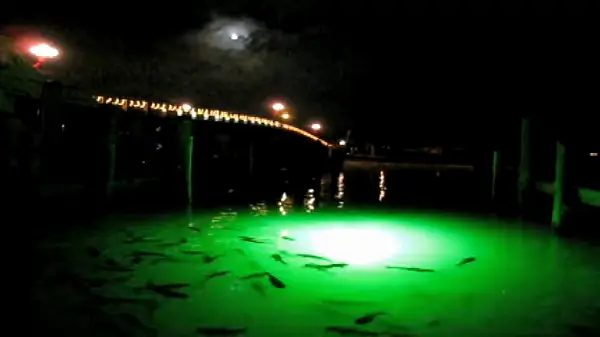 Once you are aware of the advantages and disadvantages of green light for fishing, you can make a more accurate buying decision.
1. Bring the fish to you making fishing easier:
For those who opt for night fishing many don't want to try to navigate the lake when it's dark. So by using a green light for fishing you actually bring the fish to you!
Unlike other lights or fishing gear, there is no learning curve when it comes to green fishing light.
Whether you use the submersible one or whether you use the floating one, all you need to do is just turn on the light. Once you turn on the light, you have to dip it into the water. If it is a submersible one, you have to lower the rope up to a certain length.
Either way, you need not do a lot of things to make it work.
You have to just turn it on, and the fish will get attracted to it.
Thus, green fishing lights are the easiest to operate. Also, their effective results ensure that there is no reason why you shouldn't use them.
Fishing lights are now more portable than ever.  In the past night fishermen were only given the option of a floating light.
Now since the LED have come around fishing lights are smaller, lighter, and brighter than ever before.
Most fishing lights are quite compact, and some of them even come with their case or carry bag.
A green fishing light paired with lithium-iron batteries makes for a pretty light rig that you can even carry in your backpack..
The primary aim of the green fishing light is to attract more fish. Once the bait fish get attracted, getting a the predator fish to bite undoubtedly possible.
There is, however, a secondary benefit of green fishing lights as well.
They increase your visibility as well. Better visibility can allow you to move your boat around. Not only that, it can increase your situational awareness as well.
Whichever way you look at it, the higher visibility can certainly benefit you during night fishing.
So, there are advantages of green lights for fishing.
There is, however, a disadvantage as well. Before you make up your decision, look at the disadvantages well.
1. Can attract insects and other pests as well:
The downside to using these lights (especially a floating light) sometimes, pesky mosquito, gnats, or other bugs can get attracted to the light.
In that case, you have to be more careful while fishing.
However, if you're using a submersible light just lower it down another 3-5 feet and it should take care of that problem.
Investing in a large green LED fishing light and battery can be relatively expensive.
Luckily you can avoid that by buying a smaller light, making your own LED fishing light, and buying multiple smaller batteries.
Another point to remember is you can buy a portable car jumper battery kit that gives you multiple uses for the same product.
Did You Know There Are Quite A Few Types Lights For Fishing?
We will cover the 2 most common types below so that you can know more about such fishing lights.
1. Floating green LED fishing light:
Floating fishing light, as the name itself suggests, will float on the surface of the water.
Since the light is penetrating, it will reach greater depths as well. It means that the fishes will notice it easily.
Here are some advantages of using a floating LED fishing light:
Here are some disadvantages of using a floating LED fishing light:
2. Underwater green LED fishing light:
Most underwater fishing lights are made from LED light strips wrapped around PVC pipe.
One of the ends are weighted down, while the other end has the power cord.
All pipe-style lights are required dropped below the surface and illuminated.
Most of the time the best depth keep the light at is 5-10 feet below the surface using a long with a long rope or extension cord.
Here are some advantages of using a underwater LED fishing light:
Here are some disadvantages of using a underwater LED fishing light:
Thus, when planning to use green lights, it is essential to find out about the types. Only when you are aware of the types can you make the right decision.
Before we share the best green light for fishing with you, it is time to look at the advantages and disadvantages of the same.
Fire Water Marine 25" MAXX LED Green Underwater Submersible Night Fishing Light
But, why is the Fire Water Marine 25" MAXX LED Light is so awesome?
This light can do nearly everything and is well worth the investment.
For those who want a premium underwater fishing light the Fire Water Marine 25″ MAXX LED Light is by far the best choice – here's why…
Beginning with the main unit…
Let's start out by saying this fishing light could easily be sold between $300-$400 and it would be worth every penny.
I had the opportunity to speak with a Fire Water representative. 
He explained, the company took a hard look their own best-selling product and asked themselves how can they make the light even better?
So after months of reengineering, Fire Water built the 25″ MAXX LED fishing light. 
Taking advantage of ever improving technology Fire Water upgraded the LED lights to the brightest lights on the market.
Furthermore, they were able to fit more lights into same area increasing brightness. 
Then they upgraded external light cover to a crystal-clear tube and sealed the unit with improved salt water resistant sealant. 
Not stopping there, Fire Water switched out the cord to a heavy duty all-weather electrical cord. 
Next they gave anglers peace of mind adding alligator strong clamps with a 5 amp fuse included at no additional cost.
Clean up is a snap, simply remove the claps from the battery and wind up the cord and your done! 
Lastly, the skinny tube profile design fit's snug in your boat's storage compartment or gym bag without any sharp edges that could damage something.
Lightingsky 180 Submersible LED Fishing Light
About Lightingsky 180 Submersible LED Fishing Light...
If you're on budget and you want get into bass fishing with a baitcaster, you may want to consider the Lightingsky 180 Submersible LED Fishing Light. 
The Lightingsky 180 Submersible LED Fishing Light has been the starting light for thousands of anglers. 
The rod is not as bright as the Fire Water Marine 25″ MAXX LED Light, but it's still bright enough to attract fish.
The light is small, light and very compact.
In fact, this fishing light is the lightest weight that was tested, so if you're having to carry all your gear to your fishing spot you should consider this light. 
The overall construction could be a little beefier and the wire feels a little flimsy, but overall acceptable. 
In summary: Although this is clearly an entry level LED fishing light it's still a good choice that seems very dependable.
Green Blob Outdoors High Power 15000 Lumens New Fishing Underwater Light
But, why is the Green Blob Underwater Light a great choice?
The Green Blob Underwater LED Fishing Light have been one of the most sought after and relyable submersible fishing lights on the market, that's why it made the Editor's Choice. 
The Green Blog offers all the bells and whistles any night angler demands from fishing light.
This light boasts a 15,000 lumen output! Now that is BRIGHT! 
You'll be given over 50,000 hours of continuous use and since it's made from premium super bright LED lights it will not over heat. 
Researching this light revealed that the Green Blob is preferred by fishing guides across the US. 
Lastly, is this light isn't cheap. You'll be paying a little more for this professional grade light that will give you years of fish catching fun.
Traditional Floating Fishing Light
NightBlaster Floating Fish-N-Lite
Waterproof plastic won't corrode with long-term use.
Designed for salt or freshwater use.
8' cord with battery clips.
Fully submersible.
#ad / Images from Amazon Product Advertising API
What's The Best Battery For Your LED Fishing Light?
To power whichever fishing light you pick, you have a few alternatives.
Understandably, you'll need a battery that is light weight and will last you a full night of fishing regardless if you're fishing from a boat, kayak, or from the shore. 
Therefore, I strongly recommend buying a lithium-iron battery.
Here is a brief chart outlining why lithium-iron batteries are better than lead acid batteries
Here are some lithium-iron batteries for you to consider...
What Fish Are Attracted To Green Light?
Whether you go fishing in freshwater or saltwater, the types of fishes attracted to green light are different.
We will highlight the species of fishes in both these types of water below.
Saltwater
Pacific coast: surfperch, corbina, jacksmelt, bonito, mackerel, halibut, bass, croakers
East coast – gulf side: mackerel, kingfish, tarpon, cobia, bluefish and sharks
East coast – Atlantic side: redfish, whiting, pompano, tarpon, snapper, wahoo, sheepshead, flounder, jack, bluefish, sea trout, black drum, croaker, and grouper.
Freshwater
Crappie, walleye, perch, catfish, trout, bass (stripped bass)
These are just some of the fish types which are attracted to the green fishing light. There are quite a few more as well.
Where Is The Best Place To Night Fish With Submersible Light?
The versatility of green light for night fishing is that you can use it in freshwater and saltwater.
You can use it in a pond, lake, river, or sea if you want to use it in any of these places. It is also great for use in bays as well as backwaters.
The applications of such a light are endless.
Off all the places to use your light, shallow areas that quickly transition to deep water are great. 
Even more so, if you can find a location that normally would have some sort of manmade or natural current (like a) is going to further increase your chances of choosing a great fishing spot.
Here is a list of great locations you should consider using your green light for fishing:
Docks
Piers
Channel swings
Main lake points
Ledges
Bluff walls
Main lake or off-shore humps
When Is Best Time of Year For Fishing With Green Submersible Light?
Summer is the preferred time to use your fishing light, but you can nearly catch using a green light all year round.
In the summer fish have the highest metabolism when compared to any other time of the year and therefore are the most active.
In addition, moonless nights or nights with a breeze will also increase the chances of having a great fishing night.
So be sure to anchor down over one of these high-production spots that was mentioned in the previous section so it can yield non-stop action.  
What Are The Best Lures To Use For Underwater Green Fishing Lights?
Green fishing lights can attract the fish to the lure. However, if the lure is not up to the mark, you cannot get a great catch.
For night fishing NOTHING beats live bait. Using live minnows, shiners, and baby bream can catch your limit within an hour!
Real bait or frozen bait (chicken livers, squid, clams, or frozen sardine chunks) will also work phenomenally.
However, if you do not have any (or if you run out of) live bait or frozen bait, then you need to resort to using artificial lures.
Below I created a list of artificial baits that have been proven to work.  But BE WARNED this is a very partial list, there are other lures that are great but I just can list every bait that works! 
Before you go out and buy any of these products, check your state and local laws for using artificial lures.
Saltwater Night Fishing Lures
Crappie Night Fishing Lures
Trout Night Fishing Lures
#ad / Images from Amazon Product Advertising API
Striped Bass Night Fishing Lures
#ad / Images from Amazon Product Advertising API
Walleye Night Fishing Lures
Catfish Night Fishing Lures
How Long Do You Wait Before Moving Spots?
It depends on what you're seeing below the surface.
Typically you should start seeing glass minnows within the first 10-15 minutes.
Then, within the first 30-45 minutes you should start to see shad, herring, and other larger bait fish starting to circle the green light.
Finally within an hour you should start to see some predator fish swimming through the light if not attacking the bait fish. 
When Would You Want To Use A Green Fishing Light Over A Light Up Bobber?
If you're fishing cut bait or live bait you'll quickly notice they don't light up on their own.  So naturally, you'll want to draw attention to your bait. 
Night fishing with a light-up bobber will show you if you can a bite, but it won't call in the fish like a LED fishing light.
So, if you want to catch fish during the night, green light fishing is the best option for you.
With our guide above, you can buy the best green fishing light and know how you can get a huge catch as well. 
Other Night Fishing Related Articles Listed Below!
Checkout These Other Summer Fishing Articles...
Accessories You'll Need
Fishing Rod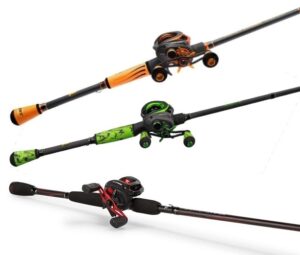 Rod –The popularity of fishing is growing and people are becoming much more conscious of different rods that can help them.
Fishermen want the best technique-specific rod for the money.
Luckily, the report I wrote provides you with detailed information in order for you to make buy the rod for the money, and more importantly which rods to avoid at all costs.
Fishing Reel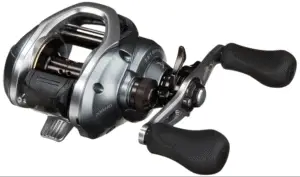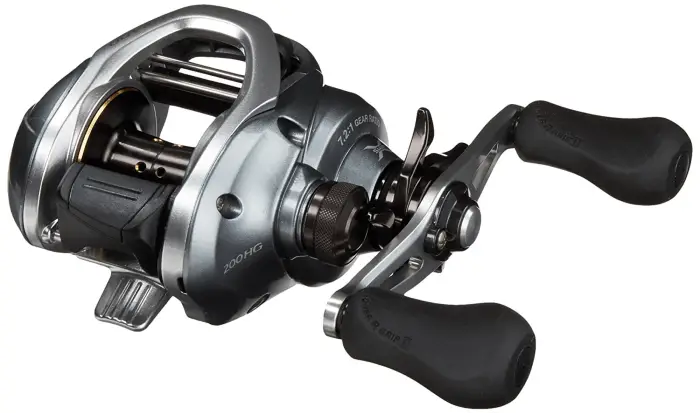 Reel – Having the correct reel to match with your rod is just as important.  A good reel should be light and have a buttery smooth drag. There are several great reels on the market, but I recommend the a quality Shimano  baitcasting reel. It's a great reel packed with great features. So much so that it could easily be priced in the mid $200 range.
Fishing Line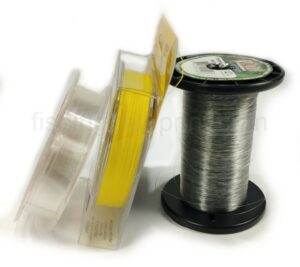 Fishing Line – Having a good line is just as important as having a good rod. I recommend fishing with a good fluorocarbon line. Furthermore, it's super sensitive because it has little to no stretch, and underwater it's invisible to the bass!  If pride or money is on the line I would use Sunline Sniper FC.
Fishing Lures & Baits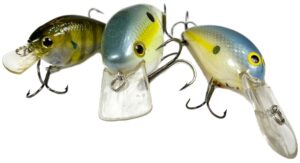 Fishing Lures – It's pretty hard and darn near impossible trying to catch a fish without using some sort of lure or bait.  More importantly these baits you should never forget at home or it could lead to a horrible day on the water
Tackle Bag
Tackle Bag – You can't carry all your gear in your pockets, so you need a reliable tackle bag to transport it. I wrote a complete review guide, Best Tackle Bag for Fishing, check it out by clicking here.   But if you don't have the time to read the full guide then let me tell you I recommend the Lunker Bag by KastKing.
Sunglasses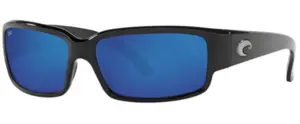 Sunglasses – Do you find yourself fishing in variable light and water conditions? Fishing in open water? Fishing in the bright hot sun? Then, only to leave the lake with eye strain and a splitting headache?
If so, I strongly recommend investing in a pair of Costa Sun Glasses. Thousands of anglers, charter guides, and tournament professionals put their trust into Costa, and so should you. Here's why…
Costa's co-injected bio-based nylon frame material is robust and durable, as well as extremely comfortable to wear for all-day use. TR-90 nylon is an excellent material for sports and performance frames since it is heat and cold-resistant.
Costa builds their glasses with class-leading technology. Their 580G glass lens sets them apart from the competition. These lenses are ideal for long days on the lake or sea since you won't have to worry about scratches on the lens when you wipe the saltwater off. Needless to say they're Costa's most durable lenses.
Anyone who spends time outside, especially on the lake, needs polarized lenses. However, not all polarized sunglasses are the same. Costa is 99.9% polarized, giving it the most effective possible in blocking reflecting glare, and minimizing eye strain and headaches.
Sunscreen
Sun Screen – Skin cancer is a very real threat and it's only getting worse. That is why you need a powerful sunscreen that is personally used and endorsed by hundreds of dermatologists from around the world. 
That is why you should put your trust in Neutrogena Sheer Zinc Sunscreen. The state-of-the-art Purescreen Technology absorbs, reflects, and scatters harmful sunrays in this specially designed water-resistant sunscreen lotion – and it's created with 100 percent organically derived zinc oxide. Not some test tube concoction the other competitors are trying to sell you. 
Neutrogena's sheer body sunscreen lotion is fragrance-free, paraben-free, phthalate-free, dye-free, and chemical-free. Dry-Touch technology aids in the non-greasy drying of this thin sunscreen.
For effective protection against the sun's damaging rays, this hypoallergenic, non-comedogenic, and oil-free lightweight sunscreen is the number one dermatologist-recommended suncare brand.
This zinc-based sunscreen lotion has received the National Eczema Association Seal of Acceptance and is mild enough for sensitive skin. It is suited for everyday use.
Fishing Pliers
Fishing Pliers – Nothing will ruin a day quicker than getting a hook embedded in your hand, or worse your eye.  This tool is more than simply a pair of pliers; it's jam-packed with functionality.
It's not only a pair of pliers is a lure tuning tool, a split shot crimper, and a side cutter for cutting tiny wire leads and hooks.
The split ring tool on the nose makes replacing or upgrading hooks in the field a breeze. Soft grip handles provide a comfortable and secure grip. With an adjustable hand lanyard to hold them tight, the leaf spring opens the pliers for one-handed usage.
That's why I always recommend having good set-up pliers that won't rust and won't slip out of your hand.  I recommend the new & improved Rapala Fisherman's Pliers.
Landing Net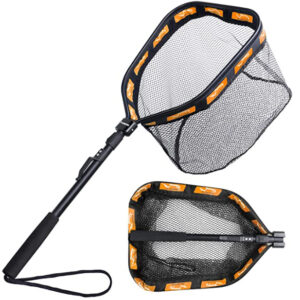 Landing Net – As you are reeling in that monster fish, you don't want to injure yourself or knock the fish off the hook by trying to grab it.
The PLUSINNO floating landing net is designed with foam padding on the hoop and provides buoyancy for fishermen. Now, If the net is dropped or blown overboard, the floating design makes it simple to retrieve – so you won't have to be concerned about losing it! The rubberized net cannot be snagged. It keeps the fish safe for catch-and-release, and the non-absorbent covering avoids waterlogging and odor absorption in the net.  It's collapsing design allows for easy storage.
That's why I recommend a dependable telescopic landing net.
Fishing Weight Scale & Culler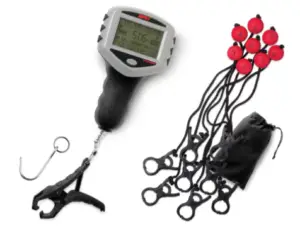 Fishing Weight Scale – Whether you're going to keep your catch or just take a photo of it and brag to your friends it's important to have an accurate scale. The Rapala Tournament Model Touch Screen Scale makes weighing and logging your catch easier and more convenient. The large digital scale has a lot of functions and is easy to use. simply keep track of your current catch and its place in your overall weight. To see the weight, just suspend the catch from the heavy-duty composite clamp or the accompanying stainless steel hook.  Adding the important details to your catch couldn't be easier – simply input your catch's weight and tap on one of the eight storage places. The culling process makes it simple to identify fish that should be released for the greatest overall weight.
I recommend a Rapala Tournament Scale that has a large LED display like this one fishing scale here.
Fishing Scissors
Fishing Line Scissors – Designed with sharp serrated cutting edge and oversized finger and thumb holes, these scissors actually grip and hold braided line for easy non-slip cutting.
These heavy-duty scissors are top-notch and are razor sharp for effortless cutting. The stainless steel construction and large finger holes allow ease of use – even for guys with big hands!
If you're looking into quality fishing line scissors that can fit in your pocket, fishing vest, or fit comfortably in your jeans, these are the scissors you want. Many anglers like yourself use them to cut braid, mono, and even abandoned fishing lines that your lures have gotten stuck in.
In summary, this is a good investment for a serious fisherman.
Fishing Hat
Wide Brim Fishing Hat – Nowadays, you have to protect yourself against the sun's harmful rays.  That's why I recommend the SA Straw hat. It fits any size head and it feels really comfortable.  Now you can keep the sun off your face while you enjoy your outdoor activities with UPF 50+ sun protection. Rest assured these lightweight and stylish hats give you 360-degrees of sun coverage. Both men and women can wear these hats.  As an added BONUS, these hats also include three face shields for UPF neck protection, which protects your skin from dangerous UV rays.
This hat is well worth the money, and the craftsmanship is excellent.
Fishing Sun Shirt
Sun Shirt For Fishing – Don't stop at only getting head protection, you also need to protect your chest, back, arms, and torso. According to the researchers finding skin cancers on the shoulders and forearms rank within the top-5 locations to get skin cancer.  That's why the UV protective PFG Fishing Shirt by Columbia is strongly recommended.
Nowadays, it's so important to be safe at all times. Omni-Shade helps prevent sunburns and long-term skin damage by blocking UVA and UVB radiation. UV absorbent yarns and a tight weave architecture prevent the whole spectrum of damaging UV radiation. This is the finest in outdoor moisture control technology. Omni-Wick technology absorbs moisture from the skin and transfers it to the fabric, where it spreads throughout the surface and evaporates rapidly, keeping you cool and your clothes dry.
I'm 6'0″ and 200 pounds, and I wear size XL. I ordered a size L and it fits well. Darker shirts provide a more subdued appearance. FYI.
Other Bass Fishing Articles Just For You...
Failsafe 5-Step Blueprint To Fishing Walking Baits – Your Fast Track Short Cut That Increases Your Cast-to-Land Ratio Nearly 400%! Fishing with a topwater walking
Read More »