Night Dock Light Fishing For Beginners
Dear fellow angler,
Does this sound like you?
You're someone who loves fishing but just wants to escape the heat of the day, avoid the crazy recreational boaters, and hates to pack up everything and move from spot to spot only to come up short and not catch a thing?
Maybe you thought about fishing off a dock at night but didn't quite know where to start…
Maybe you even considered getting a dock light for night fishing because you heard it was a great way to call in and catch fish fast… 
Unfortunately, you'd still had to sort through all the advice from those so called YouTube or social media "gurus" before you can even get a sense of what you need to get started, only to be left with more questions than when you originally started! 
You're also probably really frustrated by the fact that you can't find a step-by-step blueprint to give you the details to everything you need for nighttime fishing with a dock light.
If this sounds like you, you're in good company. 
I know how that feels because I've been there myself… lots of times!
In fact, I struggled for a long time trying to answer this one question: What is the best way to fish off my dock at night?"
I'm here to tell you that adding dock lights for night fishing is going to give you the best chances to catch a fish quickly and easily – hands down!
I used to struggle with the idea that I needed to invest a lot of money into my dock (which is was really bumming me out).
Luckily, I was pleasantly surprised of how easy and budget friendly setting up a dock for night fishing really is. All you need to do is chose the correct dock light, place it in the best location, and prepare all your fishing gear and tackle before the sun sets and you literally start catching fish!
If this sounds at all like you and your situation, then I'd like to invite you to check out this full report on about adding dock lights for night fishing – everything you need to know from start to finish.
WARNING:  There's a lot of information about this subject you'll probably want to come back to. No one expects you to remember all these tips. We know your time is precious, so we really tried to over-deliver in value for you. Additionally, we frequently update reports like this, so you'll want to stay up to date with any changes or additional tips we include for you. 
We found that the easiest way to save and bookmark this report so you can come back to it later is to share it on your favorite social media platform, especially if you use your phone to get important tips like the ones in this report here…
Click on your favorite social media buttons to remember this page now!
What is a Dock Light for Fishing?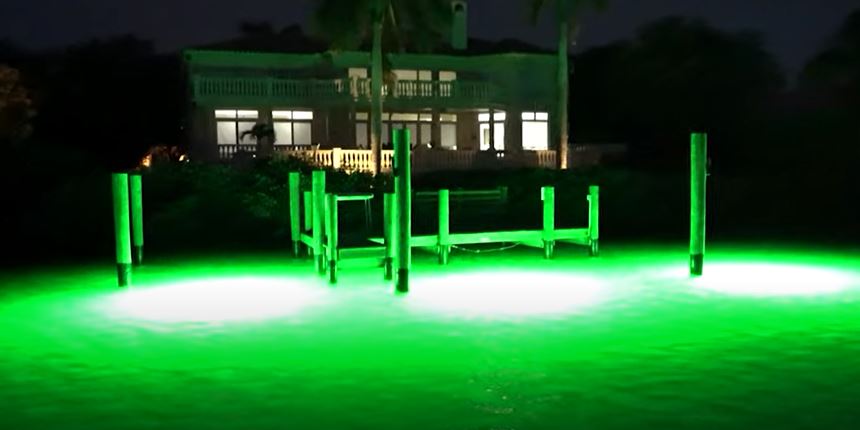 A dock light is used in fishing at night to attract fish from a distance.
These lights can be fixed to the side of a dock or pier and will be submerged in water.
The best part about these lights is that they will draw fish to your area without you even having to do anything else other than placing them in the water.
Fishing Dock Light Comparison Table
Best Overall Winner!
Editor's Choice
Best Bulb Style (Plug-In)
Product
Green Blob OutdoorNew Underwater Fishing Light
Fire Water Marine 25" MAXX LED Light
Deep Glow Green Underwater Dock Fishing Light
Power Supply
110v household 3 prong plug
110v household 3 prong plug
Warranty
"6-month repair/replace warranty", with receipt of proof of purchase. Made in Texas USA.
1-Year Warranty and American Made! - BEST IN CLASS
Manufacturer warranty for 1 year from the date of purchase against manufacturing defects.
Best Overall Winner!
Product
Green Blob OutdoorNew Underwater Fishing Light
Power Supply
110v household 3 prong plug
Warranty
"6-month repair/replace warranty", with receipt of proof of purchase. Made in Texas USA.
Editor's Choice
Product
Fire Water Marine 25" MAXX LED Light
Warranty
1-Year Warranty and American Made! - BEST IN CLASS
Best Bulb Style (Plug-In)
Product
Deep Glow Green Underwater Dock Fishing Light
Power Supply
110v household 3 prong plug
Warranty
Manufacturer warranty for 1 year from the date of purchase against manufacturing defects.
#ad / Images from Amazon Product Advertising API
What are the Advantages of Using a Dock Light for Fishing?
Using dock lights for nighttime fishing is the perfect solution for anglers who…
Want to escape the sizzling daytime temperatures.
Desires to stay clear of insane recreational boaters.
Enjoy peace and quite.
Don't want to be bothered moving from spot to spot in the dark
Prefer to attract the fish to their location, not the other way around.
Unlike traditional nets and traps, no fish will be harmed.
These lights will act as an artificial lure that can bring fish closer to your location.
The lights will then illuminate the water in such a way that it looks like you are the only place for miles where food is available.
This will cause the fish to swim towards you in a frenzy. Here's how it works:
How do Dock Lights Work to Attract Fish?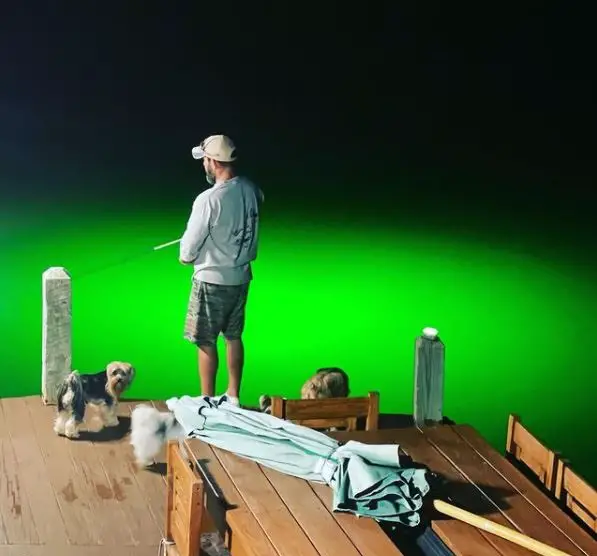 When you have numerous types of these lights on your dock or pier, then there is an increased chance that different species of fish will be drawn to the location.
When you can control where fish are going then this will make it far easier for you to get your hooks in them and reel them in for a great catch.
Time to get a little nerdy...
Several lab tests[1] have shown that plankton (called zooplanton in the scientific community) is most drawn to light underwater, according to numerous studies on plankton (called zooplanton in the scientific community). Green light, in particular, is more so.
Because the green hue has the shortest wavelength, it may travel further and penetrate deeper into the water.
In other words, the light isn't adequately absorbed in the water. As a result, more phytoplankton will detect and be drawn to the green light.
When they get drawn to the light, the remainder of the food chain is also stimulated.
The light, for starters, draws the plankton.
Tiny bait fish like glass minnows, shad, and herring will then be drawn to the light and their food supply, plankton. The bait fish will eventually begin to swim around the light and create a bait ball.
Finally, the larger predator fish will follow the bait fish to the light margins and gather around or underneath them. They'll eventually devour any bait fish that gets too far away from the light.
Occasionally, you'll notice silver streaks racing through the bait ball at breakneck speed. That's the forage fish being devoured by the predatory fish!
What Are The different types of Fishing Dock Lights?
There are many different types and styles of dock lights, which range from being fixed to the side of a dock or pier and submerged in water, equipped with a LED fishing light with variable settings and battery power, and requiring no attachment whatsoever.
There are TWO main types of dock lights. Fixed lights, and movable lights.
Fixed dockside fishing lights
Fixed dockside lights are designed so they are directly attached to the dock.
They are either secured by screws or use some type of stainless steel tube clamp or heavy-duty zip ties. 
The lights range in size and shape.
Normally, they are powered by a 110-volt plug, but can also be hard-wired in if desired.
This LED fishing light should have a sealed design that can be submerged in water.
Here are some advantages of using a fixed dock light for fishing:
Here are some disadvantages of using a fixed dock light for fishing:
Here are some fixed dock lights for you to consider...
Moveable Dock Lights For Fishing
Moveable dock lights for fishing are great because they give the angler an incredible amount of versatility.
All moveable dock lights for fishing are powered by battery.
Using a moveable dock light means you get to pick and chose where you want the light placed. You're not forced to use one single place. 
Additionally, since they are powered by battery, you can take it with you where ever you go.
Unfortunately, since it is moveable you'll need to carry the light and battery to and from the dock… and when you include all your fishing gear it can get pretty heavy. 
To address that problem, many nighttime fishermen will use a sturdy 4×4 cart to haul all of their gear. 
There are TWO many types of moveable lights – floating style fishing lights and submersible tube-style lights. 
Each have their pros and cons. 
1. Floating green LED fishing light:
Floating fishing light, as the name itself suggests, will float on the surface of the water.
Since the light is penetrating, it will reach greater depths as well. It means that the fishes will notice it easily.
Here are some advantages of using a floating LED fishing light:
Here are some disadvantages of using a floating LED fishing light:
2. Underwater green LED fishing light:
Most underwater fishing lights are made from LED light strips wrapped around PVC pipe.
One of the ends are weighted down, while the other end has the power cord.
All pipe-style lights are required dropped below the surface and illuminated.
Most of the time the best depth keep the light at is 5-10 feet below the surface using a long with a long rope or extension cord.
Here are some advantages of using a underwater LED fishing light:
Here are some disadvantages of using a underwater LED fishing light:
Thus, when planning to use green lights, it is essential to find out about the types. Only when you are aware of the types can you make the right decision.
Before we share the best green light for fishing with you, it is time to look at the advantages and disadvantages of the same.
What Is The Best Dock Light For Fishing?
Green Blob Outdoors High Power 15000 Lumens 12 v Plug-in Underwater Fishing Light
But, why is the Green Blob Underwater Light a great choice?
The Green Blob Underwater LED Fishing Light have been one of the most sought after and relyable submersible fishing lights on the market, that's why it made the Editor's Choice. 
The Green Blog offers all the bells and whistles any night angler demands from fishing light.
This light boasts a 15,000 lumen output! Now that is BRIGHT! 
You'll be given over 50,000 hours of continuous use and since it's made from premium super bright LED lights it will not over heat. 
Researching this light revealed that the Green Blob is preferred by fishing guides across the US. 
Lastly, is this light isn't cheap. You'll be paying a little more for this professional grade light that will give you years of fish catching fun.
Fire Water Marine 25" MAXX LED Green Underwater Submersible Night Fishing Light
But, why is the Fire Water Marine 25" MAXX LED Light is so awesome?
This light can do nearly everything and is well worth the investment.
For those who want a premium underwater fishing light the Fire Water Marine 25″ MAXX LED Light is by far the best choice – here's why…
Beginning with the main unit…
Let's start out by saying this fishing light could easily be sold between $300-$400 and it would be worth every penny.
I had the opportunity to speak with a Fire Water representative. 
He explained, the company took a hard look their own best-selling product and asked themselves how can they make the light even better?
So after months of reengineering, Fire Water built the 25″ MAXX LED fishing light. 
Taking advantage of ever improving technology Fire Water upgraded the LED lights to the brightest lights on the market.
Furthermore, they were able to fit more lights into same area increasing brightness. 
Then they upgraded external light cover to a crystal-clear tube and sealed the unit with improved salt water resistant sealant. 
Not stopping there, Fire Water switched out the cord to a heavy duty all-weather electrical cord. 
Next they gave anglers peace of mind adding alligator strong clamps with a 5 amp fuse included at no additional cost.
Clean up is a snap, simply remove the claps from the battery and wind up the cord and your done! 
Lastly, the skinny tube profile design fit's snug in your boat's storage compartment or gym bag without any sharp edges that could damage something.
Lightingsky 180 Submersible LED Fishing Light
About Lightingsky 180 Submersible LED Fishing Light...
If you're on budget and you want get into bass fishing with a baitcaster, you may want to consider the Lightingsky 180 Submersible LED Fishing Light. 
The Lightingsky 180 Submersible LED Fishing Light has been the starting light for thousands of anglers. 
The rod is not as bright as the Fire Water Marine 25″ MAXX LED Light, but it's still bright enough to attract fish.
The light is small, light and very compact.
In fact, this fishing light is the lightest weight that was tested, so if you're having to carry all your gear to your fishing spot you should consider this light. 
The overall construction could be a little beefier and the wire feels a little flimsy, but overall acceptable. 
In summary: Although this is clearly an entry level LED fishing light it's still a good choice that seems very dependable.
Other Great Options For You To Consider!
#ad / Images from Amazon Product Advertising API
What's The Best Battery For Your Moveable Fishing Light?
To power whichever fishing light you pick, you have a few alternatives.
Understandably, you'll need a battery that is light weight and will last you a full night of fishing regardless if you're fishing from a boat, kayak, or from the shore. 
Therefore, I strongly recommend buying a lithium-iron battery.
Here is a brief chart outlining why lithium-iron batteries are better than lead acid batteries
Here are some lithium-iron batteries for you to consider...
Salt Water Fishing Lights vs Fresh Water Lights
There are two types of saltwater and freshwater lighting.
Saltwater lights are typically made especially for rivers, piers, docks, and other places that have large amounts of salt in the water.
This is because salt has an effect on the metal surface which will cause it to corrode quickly.
To counter-act this corrosion, they use copper bronze (or nickel silver) as opposed to typical steel or wrought iron that would be used for freshwater options.
Additionally, these luminaires are usually more rugged or heavier or incorporate thicker material such as acrylics to protect against harsh weather conditions and tides.
On the other hand, freshwater lighting is typically used for areas with low to moderately murky water.
The reason why they use acrylics in these lights rather than glass is because of the flexibility and durability that it offers over the glass, which can shatter when hit.
What is the Best color for dock lights to attract fish?
Fishing with green light underwater may become the secret sauce for chasing fish.
The Blue color is in the wavelength range of 425-490nm while the Green is around 530nm.
Green can be described as having a higher wavelength.
It would give a better underwater light than blue would.
A true green LED color will run better than a sodium color with a warmer white tint. So, having a green light for fishing is the way to go!
How bright should a dock light be?
Green underwater fishing lights need to reach a minimum of 7,500 lumens to spread an effective light spread.
Most lightweight fishing lights have a circular beam that throws an ideal light beam during darkness.
Where is the best place to attach a dock light for night fishing?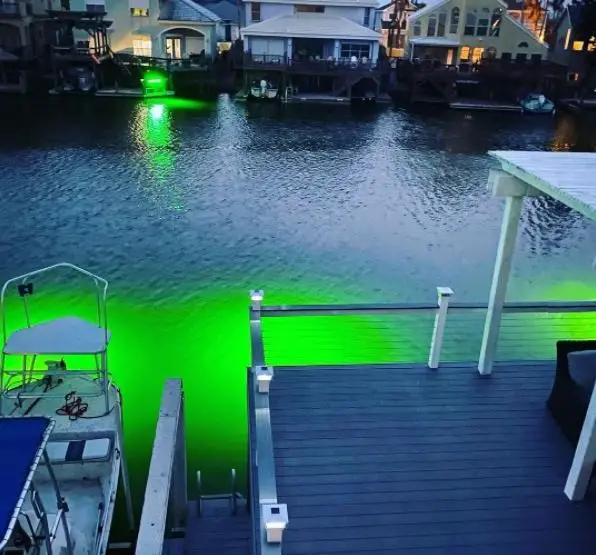 Unlike fishing lights that attach to a boat or kayak, these types of lights should be attached to the top of the pier at various intervals.
The best way is to set up 2-3 light points every 5 feet apart as this will help you cover more water and attract more fish in.
What month(s)/time of year Is best for night fishing off a dock?
Night fishing is usually best between March and October.
This is when the fish are most active, which means that it will make your job a lot easier if you are trying to catch them.
Some enjoy night fishing year-round, but this can be quite difficult during the winter months because of how cold the water can become.
What to bring for nighttime dock fishing?
Nighttime dock fishing is different from daytime fishing, especially because you will need more gear to help you be successful.
One of the first things that you should bring along with you as far as equipment goes is a good fishing headlamp.
Something that can provide intense illumination and will last for several hours on a single charge would be best.
A pair of gloves is also an important item to take just in case there is some equipment that you need to handle and one hand won't be enough, whereas something like a folding chair would simply be for comfort purposes.
Snacks – a good mix of sweet and salty munchies are always a good choice.
Here are some other items to bring:
–Pliers or fish hook removers.
–First aid kit.
–Cell phone.
–Jacket/sweater or emergency blanket.
–Pocket knife.
Finally make sure you have your green light for fishing in order to ensure success.
Do barnacles attach to LED dock lights?
The biggest problem that most people who have LED lights on their boats or docks have to deal with is the fact that barnacles and other types of marine growth will start growing over time.
Research has shown that when LED lights are exposed to the saltwater of the ocean, they actually create a micro-environment that is perfect for these types of marine life.
This means that it doesn't matter how much you try and clean them off, they will grow back as long as you continue using your dock light.
How do I prevent barnacles from growing on my dock light?
The good news, adhesives can be applied to the outside of your light that will kill any existing barnacles and prevent them from coming back for more.
But, if you want to completely remove the problem, then you simply need to find a way to keep the saltwater away from your dock lights in the first place.
General maintenance issues with Dock Lights
If you use dock lights regularly, then they will run into a lot of different maintenance issues that might be hard to handle on your own.
One example is the fact that many people who purchase these items tend to overlook the fact that they need to replace the batteries every so often for them to work properly.
It can also be difficult to figure out when you need to replace your dock lights because many of them come with an indicator that won't alert you until it's too late.
However, if there are any cracks or misses that develop on the exterior glass lenses then it would be a good idea to order new ones before they crack completely and become unusable.
Why is my dock light not working? (basic problems owners encounter + solutions)
Batteries are the biggest problem with most lighting products, including docks lights.
Because of how many hours they run at a time, there is a good chance that they will eventually die and need to be replaced.
When this happens it is recommended you replace them all at once instead of trying to put in only one or two at a time because the light intensity will decrease slightly.
It's also not recommended that you over-charge your batteries or leave them out of the product for extended periods of time because they do have a shelf life and will die eventually no matter what you try to do to prevent this from happening.
Another common issue that owners may come across is having to replace their dock light lenses.
This is usually a result of them being dropped onto a hard surface because they are very fragile, so you should try and take the time to handle them with care.
If your dock light does happen to have its lens cracked or damaged it is recommended that you order replacement lenses as soon as possible.
After making sure they are the correct size, you can unscrew them and switch out to a new one rather easily.
When would you want to use a dock light vs a light-up bobber for night dock fishing?
Dock lights are designed to be used whenever you are fishing, and instead just fishing at night.
This means that you would use these over light-up bobbers because they produce enough light for you to do other things while still being able to see what's going on down below your dock.
Other Night Fishing Related Articles Listed Below!
Checkout These Other Summer Fishing Articles...
Other Bass Fishing Articles Just For You...
A Complete Buyer's Blueprint On The Best Early Summer Bass Lures On The Market Today! When it comes to bass fishing, choosing the right lure
Read More »