Man…If you ever have been stuck bass fishing muddy water, then this article is for you.  Learn from my mistake! This simple easy to follow walkthrough blueprint for fishing in dingy water is perfect for any beginner or a seasoned veteran.
So to catch a bass in muddy water then? Find the right location such as runoffs into the lake this will attract the baitfish. Then target any large structure near this area. Bass will be using it as an ambush point. Use a bait that either bright in color, loud, large, or any combination of the three. If you use the three strategies you'll be sure to catch some big bass!   
But that's not all!  There's so much more...
I'm going to walk you through a real-life example of how easy to it is evaluate a muddy water situation and execute the best strategies.  Most other anglers get intimidated by fishing in ultra-dingy water, but you shouldn't be.  This blueprint that I wrote for you will give you the confidence to crush it the next time you hit the lake. 
WARNING:  There's a lot of information about this subject you'll probably want to come back to. No one expects you to remember all these tips. We know your time is precious, so we really tried to over-deliver in value for you. Additionally, we frequently update reports like this, so you'll want to stay up to date with any changes or additional tips we include for you. 
We found that the easiest way to save and bookmark this report so you can come back to it later is to share it on your favorite social media platform, especially if you use your phone to get important tips like the ones in this report here…
Click on your favorite social media buttons to remember this page now!
Let's Start With A Crappy Morning…
Man…. it was raining again!  To boot, it's been raining for over a week now!
I had plans to go fishing and take advantage of the spring spawn with the onset of the rains, the water gets muddy.
This presented me with a difficult situation…the silt stays suspended longer when the water colder.
As a result, I had no choice to make the best of it and to fish in the muddy/ chocolate mild colored waters during the spring season.
Being an angler who goes to a great extent to fish clear water, this time around there is no other option but to deal with murky madness.
Reluctantly, I'm forced to try my luck in catching muddy-water fish.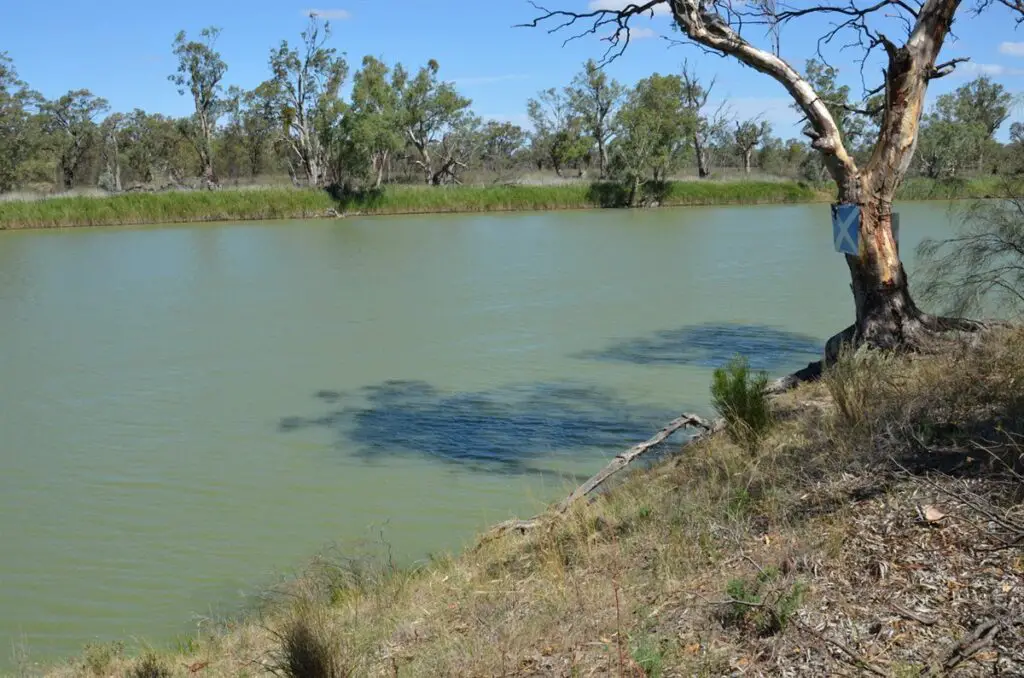 Spring Rains Create Muddy Water Runoffs…
Fishey Facts…
Luckily, the muddy water seems to be more of an issue with the fishermen than with the fish.
One irrefutable fact about the bass fish is that their vision is six times better as compared to that of humans.
Another cool fact (in case you're ever on Jeopardy) is their heightened senses are in the sense of smell that is 600 times better than that of humans and in addition to that, they can also sense the smallest of vibrations from 25 feet away.
Irrespective of whether they have impaired vision or not, they are able to feed and carry on with their daily routine in such conditions.
An Old Story, For A New Day…
Any time muddy water is present and I'm forced to fish in these conditions an old story comes to mind when I had a tournament in Lake Mead.
I was fishing as a co-angler and I didn't have the chance to pre-fish, but my partner had.
I called him up and he said that a cold front went through and reports coming in that it "stirred everything up" and the catch rates were really low.
On the day of the tournament, I met my partner, roughly an hour before the pre-tournament meeting.
I was tossed zip-lock bag filled a variety of lures. First thing I noticed was a half-ounce spinnerbait in a firetiger pattern coupled with a chartreuse single Colorado blade the size of a half-dollar.  Then he said, "Tie that spinnerbait on, and I gave you some other lures you're going to need.  Keep the rest of your tackle zipped up, cuz you won't need'em."
Tourney Time…
When the tournament started and we took off to a backwater cove.
When the daylight finally set in, and we couldn't tell the beginning of the clay-colored dirt bank ended and the dirty water started!
Being disheartened, I commented that, we were not going to catch anything except a sunburn since the water resembles chocolate soup!
But my partner simply told me to zip it up and keep fishing.
Needless to say, when the day came to a close, we had amassed more than 20 pounds of fish!
Here's how we did it…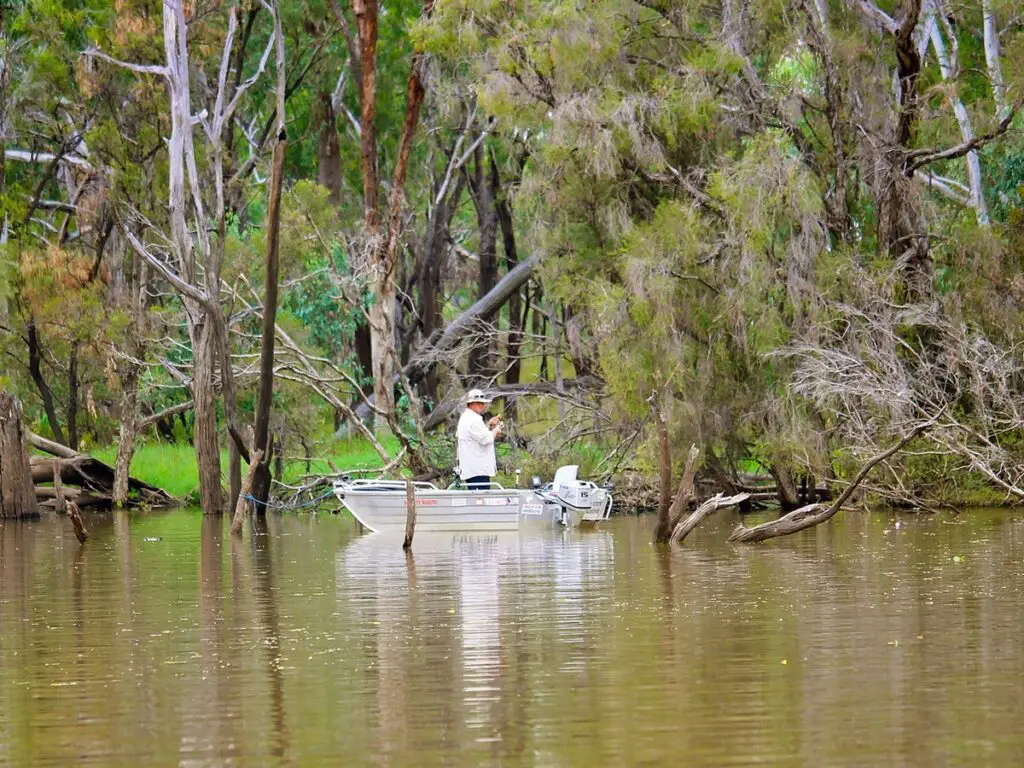 Locate the best spots
Listen, we hadn't gone beyond a 100-yard area from where we started.
That day I learned the trick to catching bass was pretty simple.
There are SIX main types of locations to target bass in this situation. 
Location 1 – Find runoffs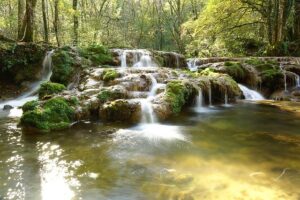 Weather and rain run-offs will more often than not stir up the bottom sediment.  This shakes up all the little critters that the smaller fish feed on, and the bass will be attracted to the feeding frenzy and pick off all the little prey fish!
This can be in the backs of coves or look for bluff walls where waterfalls occur.
Use your faster-moving baits and cast over, through, and parallel to the runoff area.
Keep the bait as close to the bank as possible and try to intentionally bump and deflect off any cover in the area.
The best lures to use when targeting runoffs:
Spinnerbaits with large Colorado blades.

Chatterbaits.

Squarebill crankbaits. 
Location 2 – Target large exposed structure


When the water is really stained, focus on anything that is near the bank, large, and sticking out of the water, especially if there is current!
This means, focus on timber laydowns, submerged brush, large boulders, bridge pilings, and docks.
Best lures targeting large exposed structure:
Moving lures such as spinnerbaits and crankbaits to bump into the structure as it's going by.

Jigs and Texas rigged curly tail worms also should be flipped and pitched as close to the biggest part of the structure 
For example: If you see an exposed tree, don't waste your time flipping that bait to the exterior branches first when the water is really muddy. Flip the bait as close to the trunk as possible. 
Location 3 – Boat docks and launch ramp
I call this area "Selfie Central" many times after tournaments or day trips anglers will take pictures of their catches and release them at the boat docks or launch ramps.  
Many bass will disperse after being released however some will stay in the area if food is plentiful enough*. 
Best lures targeting boat docks and launch ramps:
Slow rolling a spinnerbait or a crankbait often gets you bit. 

Flipping a jig or a creature bait between boat slips or next to large structures may also induce a strike.
Location 4 – Points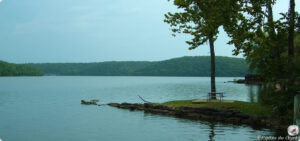 If there is any current or wind blowing over a point then this should be a spot to be investigated. 
Points with large structures such as boulders or stumps on or near the crest of the point often hold the most fish.
The key to fishing points when the water is muddy is to cast over the point with one of your moving baits, such as your spinnerbait, chatterbait, crankbait, and slowly work it over the crest. Make sure you bump and grind it as you go over.  If this doesn't work try paralleling the point working your bait up or down the point. 
Lastly, you can switch to a slower moving bait and hop a large jig or a Texas rigged worm or creature bait using the same casting pattern as you did with them moving baits.
Best lures targeting boat docks and launch ramps:
Spinnerbait.

Chatterbait.

Crankbait.

Large jig.

Texas rigged worm or creature bait.
Location 5 – Look for overhangs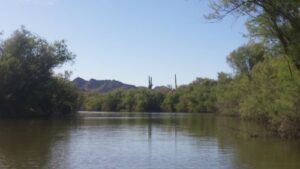 If you notice there are overhanging trees and it's sunny out, this is also a prime location to recognize and target. 
The key to fishing this location is to skip a bait like a jig or a big soft plastic swimbait underneath the overhanging structure. Slowly work it out feeling for bites.
Best lures for skipping under overhangs:
Jig.

Big soft plastic swimbait.
Location 6 – Areas with clear water nearby
Every once in a while you'll come across a patch of clear water next to muddy water. This is often found in special run-off situations. Muddy current water off the main lake will be flowing past a relatively clear water cove or a cut.  The two types water do not mix. 
This situation can possibly be a game-changer for you. Why, you may ask?
The reason is the baitfish and bream that live in the clear water will move out to the edge of the muddy water picking off any food that may be passing by. However bass will hide in the muddy water towards the bottom and will eat up any unsuspecting fish that gets too close to the muddy current. 
To fish this location, it's best if you use a moving bait. 
Best lures for clear to muddy water transition:
Standard crankbait.

Lipless crankbait.

Spinnerbait.

Chatterbait.
Muddy Water Bass Fishing Lures
Not every lure will help towards catching you fish in muddy water. With so many choices we narrowed it down for you to make packing your lures much easier. And think of the extra space you'll be saving!
This list of lures will give you the confidence you need when you're confronted with a muddy water situation.
Spinnerbait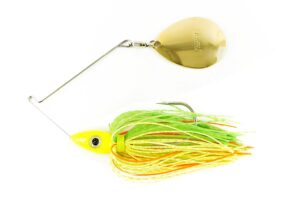 Regularly voted, "best-in-test", the spinnerbait paired with a Colorado blade creates a flashy, thumping action. It's easily fished slow and moves a lot of water. And with their record of catching large fish, it isn't hard to see why they're go-to bait.
In my situation, we used a large spinnerbait with firetiger pattern and the skirt's bright colors and the big thumping blade perfectly fit the bill.
Crankbaits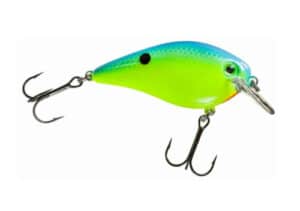 More specifically, squarebill crankbaits have a wide wobble that allows it to bounce off nearly any form of structure. The flat lip that is built in a squarebill makes it so it's not afraid to take on any laydown, rock, or brush. Loud rattles get the bait noticed and can be fished slow or fast.
Bladed Swim Jigs
Baits like the Z-Man Chatterbait Jack Hammer vibrate back and forth quickly to replicate a frantic baitfish as soon as you start your retrieve. Its signature blade and head design deflects easily off of cover making it possible to be skipped into tight places like under docks and tree limbs.
Jigs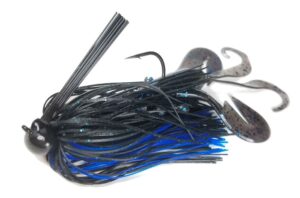 Use a dark-colored jig to grind and bulldoze over the submerged structure, shell beds, or finding the transition areas from chunk rock to pea gravel. It's highly recommended to use a Tungsten jig to give you that extra sensitivity. Using a jig with a rattle will also give your bait extra attention.
Texas Rigs
Using a Texas rig is like using a jig, but it opens up the variety of baits used and the bait has a different action underwater. 
Large bodied baits such as craw baits or creature baits move a lot of water and many of these baits have appendages that move and also create commotion when being worked. 
Coupled with using a weight with a bead it also draws in bass by making a knocking sound.
 Lipless Crankbait


Unlike the other squarebill crankbaits mentioned, these are meant to be fished faster than squarebill crankbaits primarily if you notice clear water butting up against muddy water current. Otherwise lipless crankbaits are not really utilized very often in muddy water fishing.
Large Soft Plastic Swimbaits

Incorporating these big baits in your arsenal is excellent if you need to skip under any structure. They also perform exceptionally well if they are grinded over any large structure like rocks or stumps over the crest of a point.
FAQ
Does scent work?
Abso-stinking-lutely! Using scent is a HUGE factor when you're bass fishing in muddy water.
You won't get more bites when you use scent, however, you'll get the bass to bite and hold on longer… which gives you an extra second or two to set the hook!
Do black lures work?
Sure does!  All black baits create a great silhouette in muddy water. All black creature baits or large curly-tail worms work really well.
Can you fish muddy water from the shore?
Yep! It's probably the best way too. It's really easy to fish from the bank. Remember the bass will most likely be pinned close to the bank. Make sure to be extra stealthy on your approach and casting out to your target.
Fishing in muddy water shouldn't hard. As you now see it's actually pretty easy.  Just make sure you follow the blueprint that was laid out for you. 
Also, don't forget to download the free checklist. It will totally help you out the next time you're on the water.  
>>Click here to download the Muddy Water Bass Fishing Checklist<<
More articles just for you...
A Complete Buyer's Blueprint On The Best Early Summer Bass Lures On The Market Today! When it comes to bass fishing, choosing the right lure
Read More »