How Do You Fish Paddle Tail Swimbaits? This Is What Professionals Do
How to Fish a Paddle Tail Swimbait for Bass?
If you haven't tried bass fishing with swimbaits, you're missing out! Swimbaits have become a popular approach to snagging large numbers of pressured bass and giant hogs as well. What began as a West Coast bass snagging staple has evolved into a year-round lure for hauling in bass around the country. 
You'll find that swimbaits come in two main categories: hard swimbaits constructed of wood, composite materials, or molded plastic, and soft plastic swimbaits (also known as 'paddle tail' swimbaits) made of malleable, molded plastisol. 
Our focus will be on soft paddle tail swimbaits. Paddle tail swimbaits come in a variety of sizes, shapes, designs, and colors. They are virtually as valuable as natural or live baits. 
Understanding how to fish the many types of paddle tail swimbaits you need to know: when to use each different type, how to rig your paddle tail swimbaits, how to properly set the hook on a paddle tail swimbait, what rods and lines work best for swimbait fishing, and how weather and seasonal changes impact how you should be fishing with paddle tail swimbait lures, will enable you to become the great swimbait angler you're destined to be!
WARNING:  There's a lot of information about this subject you'll probably want to come back to. No one expects you to remember all these tips. We know your time is precious, so we really tried to over-deliver in value for you. Additionally, we frequently update reports like this, so you'll want to stay up to date with any changes or additional tips we include for you. 
We found that the easiest way to save and bookmark this report so you can come back to it later is to share it on your favorite social media platform, especially if you use your phone to get important tips like the ones in this report here…
Click on your favorite social media buttons to remember this page now!
What Does a Swimbait Imitate and Why Would a Fish Bite it?
Fish strike at a lure for one of three reasons: the fish is hungry (feeding strikes), the fish is guarding its territory (territorial strikes), or the fish is feeling threatened or aggravated (reaction strikes). 
Paddle tail swimbaits are made to imitate a small prey fish moving through the water. Knowing the reasons fish strike at a bait, it stands to reason that a hungry bass will actively search out and strike a soft plastic swimbait because it looks like food. 
You wouldn't let a chocolate bar stroll past you without taking a little nibble, so why would a bass let its dinner pass it by?
What are the Best Swimbait Colors For Bass and Why
Choosing the color for your swimbait isn't as simple as picking the prettiest one in the pack. You need to consider a few things when selecting the color of your plastic swimbait, including water clarity, the geographic area you'll be fishing in, and the forage species found native to the lake you are fishing on. 
The water clarity impacts color choices. Darky, murky water calls for darker colored swimbaits such as blue, black, or Junebug, or brighter colored swimbaits such as chartreuse or bubblegum. 
If you're casting into clear water, you'll want to mimic the prey fish of the area and choose a more natural color, such as gray, white, or silver. 
The geographical area and native forage species go hand-in-hand when choosing a swimbait color. In some areas, you'll find that one or two colors perform much more effectively because it mimics the native forage species found in the region. 
Once you have put in the work to learn the feeding habits of the bass you are hunting and made adjustments for water clarity and the region you are fishing in, you'll be able to quickly choose the best color for your swimbaits.
Best swimbait color for clear water: Natural translucent
Bestseller No. 1
Tackle HD 8-Pack Swimmer Fishing Bait, 4" Soft Plastic Paddle Tail Swimbait, Freshwater, Ice, or Saltwater Fishing Lures, Bass, Crappie, Walleye, or Trout Lures, Crystal Shad
Unmatched Performance: Designed by fishermen for fishermen, this fishing lure was created with features necessary to generate a steady, realistic action proven to trigger strikes when conditions are difficult
Neutral Buoyancy: Our paddle tail swimbaits are made with proprietary, durable plastic formulation to attain neutral buoyancy and attract loads of attention with lifelike suspension underwater
Exceptional Versatility: Increase range and cover depth by using the fish bait standalone on a jig head, as a trailer on a spinnerbait, buzzbait, or bladed jig, or to cover depth with a Carolina or Alabama rig
Tried and True Colors: Our swim bait is available in different colors to accommodate different situations; great versatile bait for trout, crappie, walleye, catfish, or bass fishing
Made in the USA: Offered in an affordable pack without sacrificing quality, this fishing lure kit includes 10 soft plastic fishing lures that are a staple in your tackle box for landing that winning game fish
#ad / Images from Amazon Product Advertising API
Best swimbait color for stained water: Natural yet a bit brighter in color
Bestseller No. 1
#ad / Images from Amazon Product Advertising API
Best swimbait color for dirty water: Dark colored
Bestseller No. 1
Keitech FS48001 Fat Swing Impact Black, 4.8"
Two-tone color injection process uses several different types of salted plastics to achieve perfect balance and action
Maintain a perfect swimming motion at any retrieve speed
Tapered designed Ringed body makes the bait extremely weedless when Texas rigged
The center Rigging line provides the perfect position to ensure the bait is rigged correctly
#ad / Images from Amazon Product Advertising API
Types of Plastic Swimbaits
Different paddle tail swimbaits have steadily risen with the growing popularity of plastic lures. Although there are fewer varieties of swimbaits than there are fish in the water, there are plenty to assist you in landing one. The following are some of the most popular soft plastic swimbait types:
Hollow-Body Paddle Tail Swimbaits: These lures feature a round head with lifelike eyes, a slender rear section, a hanging round paddle tail, and a hollow soft plastic body. They range in size from three to eight inches and are great for just about all swimbait fishing situations.
Solid-Body Paddle-Tail Swimbaits: These swimbaits can feature a rounded or pointed head, a hanging boot- or paddle-shaped tail, and a solid soft plastic body. Some models feature flat faces to fit easily with a jighead. Their sizes range from two to nine inches. Solid-body paddle-tails can be used in a ton of different scenarios because of the wide range of swimbaits included in the category. 
Full-Body Swimbaits: These lures are just solid plastic baits with a straight tail where you connect treble hooks to the belly. You control the size of the hook this swimbait carries because the hook is not included. 
Line-Through Swimbaits: The most distinctive feature of the line-through swimbait is the hollow tube in the body for passing your line through. The belly hook will connect directly to the line running through the body of the lure. Tails will vary from paddle tails to V-shaped tails to flat tails. Their sizes range from 3 to 10 inches. 
Top Hook Swimbaits: These lures feature an internal weight, a paddle- or wedge-tail, lifelike profiles, and, most importantly, a single top hook. Some varieties will have bottom hook hangers, as well. Their sizes range from 4 to 14 inches. 
Swimbait Tails: Paddle tail swimbaits have a wedge-, paddle-, or boot-shaped tail. The tails enable your lure to get action on a retrieve. Wedge-shaped tails are designed to be a bit less active and mimic the delicate swimming action of a prey fish. Paddle- and boot-shaped tails move the water a bit more forcefully, giving the lure a bit more action and motion. No tail shape is superior to the others, but you'll find that there may be times when fish react better to one action over the other. 
Where to Fish Swimbaits? | When to Fish Swimbaits?
| Swimbait Type | Where | When |
| --- | --- | --- |
| Hollow-Body Swimbaits | Under docks, around grass, brush piles, laydowns, standing timber, ledges, bluff walls | Year round |
| Solid-Body Paddle-Tail Swimbaits | Used in shallow or deep waters, in grassy or wooded areas, under docks, or even on an umbrella rig | Year round |
| Full-Body Swimbaits | Deep points, ledges, humps, ridges | Spring, early summer, fall |
| Line-Through Swimbaits | Open water, deep points, ledges, bluff walls | Spring, summer, early fall |
| Top Hook Swimbaits | Top hook swimbaits aren't ideal for traversing heavy brush or grass, but they can clear moderate cover with little to no issue. They're great when hunting bass in the shallow weeds and bottom structures | Spring, summer, early fall |
| Small Swimbaits <4" | Clear water conditions, smaller forage present, umbrella rig, swim jig, underspin jig | Year round |
| Moderate Swimbaits 4-6" | Stained water conditions, moderate sized forage present, line-through, swim jig | Year round |
| Large Swimbaits >6" | Stained water, large forage present, line-through | Winter, spring, early summer |
How to Rig Swimbaits for Fishing Bass
Best Season to Fish a Paddle Tail Swimbait
Soft plastic swimbaits are pretty adaptable and versatile. You can use them in a wide variety of conditions and terrains. You can virtually use them all year long if you just adjust your terminal tackle and sizes to fit the seasons. 
It's as simple as switching up your presentations. Try slow-rolling along the bottom with a jighead rig during colder water temperatures. When warmer weather presents, rig up Texas-style with a weighted swimbait hook and quickly retrieve your swimbait through all types of underwater vegetation and cover. 
The only season that doesn't work for soft plastic swimbaits is when you don't fish them!
Best Time of Day to Fish a Paddle Tail Swimbait
Soft plastic swimbaits are a great go-to regardless of the time of day. You may find that the best times to get heavy strikes varies with the seasons. 
Early morning bites seem to hit most during the late spring, early summer, and early fall months. Midday bites seem to be seen most frequently during the colder temps of the winter months. Afternoon strikes often occur in late spring, early summer, and early fall. Evening strikes are most prevalent during the thick of summer. 
The best time of day to fish a paddle tail swimbait is when fish are most active. Remember, the activity level of bass depends on the temperature of the water.
How to Set the Hook When Fishing a Paddle Tail Swimbait for Bass
There is no set way to effectively set all types of soft plastic swimbaits. Every kind of swimbait requires a different hookset for a successful bass fishing session. 
A sweeping hookset is most efficient for top-hook swimbaits or a weedless setup. Whereas with weighted swimbait hooks, an upward hookset seems to work best. 
Bass tend to nip at soft plastic swimbaits before making a true strike. To avoid an empty hookset and subsequently spooked fish, you need to be confident that you feel the bass fully load up on your lure before setting the hook. 
Getting a solid hookset when swimbait fishing can be a little tricky. Sometimes a bass will play around with your bait, taking it in and spitting the lure back out, or just nip at your lure. When this happens, just play along a little until you feel a solid bite, hold off for just a second, and then set your hook with force!
With enough trial and error, you will find the hookset style that works most efficiently for you.
What Is the Best Rod You Need for Soft Plastic Swimbait Fishing?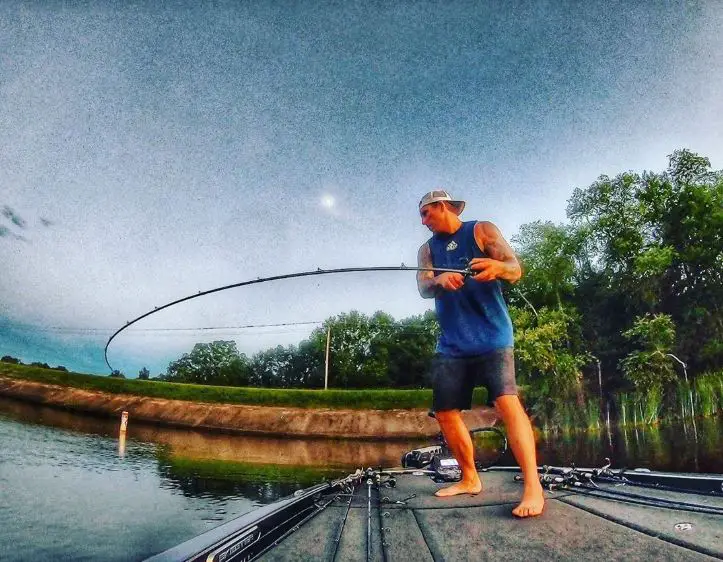 The style of rod you use for paddle tail swimbait fishing will ultimately depend on the type and size of swimbait you choose. 
Most of the time anglers will throw soft plastic swimbait on a 3/8- to 1/2- ounce jig head.  
Jumbo swimbaits necessitate special rods with heavy or extra-heavy power yet moderate action to make throwing the large swimbaits easy. The majority of these rods are around 7'10'' in length.
Medium-light rods are critical to fishing lighter-weighted or weightless baits on the lake, but this no longer means you're stuck fishing a flimsy trout rod that nearly bends itself in half (kinda like you are fishing with a rubber band). 
Luckily ever-advancing technology now gives anglers rod options made with extremely light materials that still offer a gorilla strong backbone, and insane sensitivity are by far the most popular options that serious anglers go for. 
Luckily for you we created a complete product round up on the the best casting rods for  medium-light swimbait fishing. 
What Is the Best Fishing Line You Need for Paddle Tail Swimbait Fishing?
Not to sound repetitive, but the type of line you choose to rig your rod with for fishing with soft plastic swimbaits will depend on the size and type of swimbait you decide to throw. 
The most popular line for soft plastic swimbaits seems to be fluorocarbon. Depending on the clarity of the water, you'll want to choose the heaviest line possible. 
For medium-sized swimbaits, 12- to 17-pound test fluorocarbon is generally sufficient. Many anglers opt for 20- to 25-pound test fluorocarbon or monofilament when using large swimbaits. Others favor braided lines in the 50- to 65-pound range coupled with a fluorocarbon or monofilament leader line.
Seasonal Factors to Consider When Fishing with Soft Plastic Swimbaits:
One key to becoming a successful swimbait angler is to know how to fish paddle tail swimbait lures depending on the changes of the seasons. 
Spring: Shallows with heavy vegetation are pre-spawn bass magnets thanks to the increasing water temps. Using weedless-rigged paddle-tail paddle tail swimbaits is the best way to land a hungry monster bass. 
Summer: Summertime paddle tail swimbait fishing can always be successful, but it's essential to understand that it's not the same as swimbait fishing during other seasons. Almost always, the majority of these variations are due to the color and size of your swimbaits.
During the summer, most bass eat shad. Glass minnows are a favorite of those that don't consume shad.
Your baits must be the exact dimensions as the shad that the bass are consuming. (This usually refers to a tiny lake.) A variance as slight as half an inch can often reduce your bite to naught. The head is included in the measurement. 
You want as much weight on the head of your swimbait as you can get away with, but you also want it to be as little as possible. Tungsten is my go-to metal. It adds weight without adding size. The best heads resemble the head of a fish — the more lifelike, the better. To us, detailed scales and eyes may appear useless, but they make all the difference to bass.
Then there's color. Make sure the color of your soft plastic swimbait matches the forage in the area. The back, sides, belly, and tail are all included. 
Keep an eye out for schooling bass in open water on the main lake. They'll strike anything that appears to be natural to them, especially early in the morning. Make a lot of lengthy casts. Wind your swimbait directly through the school's middle. Avoid jerking or snapping your rod. Slow and steady will land you that big bass.
Fall: When it comes to throwing a soft plastic swimbait in the late fall and early winter, it's a whole different experience than the rest of the year. It's no longer about luring large fish in from afar or getting them to respond to the bait. Instead, provide a large, slow lunch that appears to be very simple to eat.
Winter: When it comes to soft plastic swimbaits in winter, I tend to rig them on a jighead. Its falling action mimics dying shad so well, so a paddle tail swimbait rigged on a jighead is a lethal combination and one of the most productive methods to fish a paddle tail swimbait during the wintertime. Even on the poorest days, it's a terrific finesse method that will catch fish.
I opt for tones that resemble shades such as gray, light blue, and pearl white for wintertime colors.
I also switch up my retrieve when the water temperatures drop. I'll go with a yo-yo type retrieve where I'll hop the swimbait around cover or off the bottom, then allow it to fall back down before slowly reeling it back in.
How to store swimbaits: Should you leave soft plastic baits in the bag?
There are multiple ways to store paddle tail swimbaits. You can leave them in the original packaging or store them in hard-plastic bins. Regardless of how you choose to store your paddle tail swimbaits, you want to be sure to keep them laid flat so as not to inflict any sort of damage to the tail area. 
If you opt to store your swimbaits in a hard-plastic bin, staggering the lures in a tail-to-head pattern will keep the tails from getting jostled around and bent. When storing, it is also important to lay the boxes flat and not on their sides, which can push the lures together, resulting in tail damage.
Bestseller No. 1
Plano EDGE Flex Crankbait 3700 Premium Utility Box, Gray and Yellow with Clear Lid, Waterproof Tackle Box Storage for Small Crankbaits, Buzzbaits and Swimbaits
Plano Molding Company - the leader in premium tackle storage since 1952
The Edge Master Crankbait Small premium tackle box features a new and innovative design specific to small crankbait tackle with the same quality of Plano tackle boxes that fishermen trust : Silicone "Fingers protect the lures hooks and finishes
This Plano tackle organizer features an innovative labeling system with pre-cut vented dividers, enforced with water-absorbing desiccant material for effective and safe tackle organization
Functional tackle box kit includes Restrictor rust preventative in base, Dri-Loc watertight seal, a clear lid to quickly identify contents, oversized latch to open easily with one hand, super durable ribbed base and lid and heavy-duty steel pin hinges
Specially designed to stack multiple units : Sized for low-profile search and spin baits - Dimensions 14 L x 6. 25 W x 7. 28 H inches
#ad / Images from Amazon Product Advertising API
How do you keep soft baits from melting?
Melted baits can be a real headache during the hotter months. Here are a few tips to help you avoid turning your tacklebox into a big, gooey mess.
Never store your paddle tail swimbaits in direct sunlight.

Coat your lures with an oil-based attractant such as Pro-Cure or menhaden oil to help them stay moist. If your baits become overly dry, they can deform or crack.

Do not overpack your paddle tail swimbaits in whatever container you choose for storage.
Can you fish a paddle tail swimbait in dingy or stained water?
Absolutely! Just make sure the swimbait has a large tail that creates a lot of vibration and make sure the color is dark or bright such as white, black, chartreuse, or red. 
Furthermore, you want to fish a swimbait in this water clarity like a swim jig crawling over large structures, or you can cover water 
Sale
Bestseller No. 1
Tackle HD 2-Pack Crankhead Crankbait, Fishing Bait with 9 to 14 Feet Depth, Fishing Lures for Freshwater or Saltwater, Hard Swimbaits for Bass, Crappie, or Walleye, Firetiger
Unbeatable Value: This fishing lure kit contains two crankbaits that run at a depth of 9 to 14 feet and serves as a great addition to your tackle box to cover a huge range
Wide Application: With life-like swimming action and vivid colors, each fishing bait is great when trolling for large crappie, walleye, and whites, or casting for aggressive bass
Rounded Body: Designed with a fat rounded body, these fishing lures provide an extra-wide wobble and a loud rattle to excite fish and draw them in even in murky waters
Sharp Hook: Each deep diving, hard swimbait features two treble fishing hooks with sharp points to deeply penetrate the mouth of the fish and help secure your catch
Great Selection: Whether you're looking for freshwater or saltwater fishing lures, the crankbaits are available in different colors to accommodate various fishing conditions
#ad / Images from Amazon Product Advertising API
Other Swimbait Related Fishing Articles
More articles just for you...
A Complete Buyer's Blueprint On The Best Early Summer Bass Lures On The Market Today! When it comes to bass fishing, choosing the right lure
Read More »