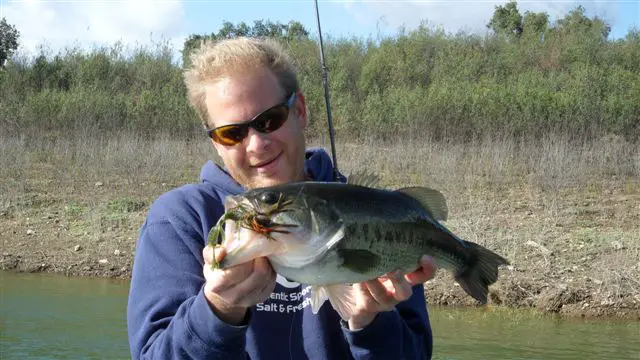 If you're looking to get into jig fishing or just want to get a sense of the different styles of jigs on the market today you could easily be overwhelmed by the shear number of styles and brands available.  To matters worse, the companies aren't lifting a finger to help you decide.  You're in luck, I'm going help you narrow it down.  I created this easy to follow guide for the best jig available in each category.
Finding The Best Bass Fishing Jig For The Money
In the early days there were only one or two different jigs so that is what you were forced to use. 
But as bass fishing has been steadily gaining popularity for the last 15 years, more and more people are becoming interested in bass fishing.  This increased fishing pressure has forced companies to make different styles of jigs to trick the fish into biting…
Soon the market was flooded with hundreds, if not thousands of choices…
This put the anglers at a disadvantage.  Some were fooled into believing that all jigs are created the same. But that couldn't be farther from the truth…
While there some companies only sell jigs to make a quick buck, other companies put their hearts into it and produce a quality jig they are proud to sell.  And this report will show you those companies who take pride in their product and sell only quality jigs.
WARNING:  There's a lot of information about this subject you'll probably want to come back to. No one expects you to remember all these tips. We know your time is precious, so we really tried to over-deliver in value for you. Additionally, we frequently update reports like this, so you'll want to stay up to date with any changes or additional tips we include for you. 
We found that the easiest way to save and bookmark this report so you can come back to it later is to share it on your favorite social media platform, especially if you use your phone to get important tips like the ones in this report here…
Click on your favorite social media buttons to remember this page now!
Strike King Hack Attack Heavy Cover Jig
Straight from the mind of Elite Series Bass Pro Greg Hackney paired with Strike King to develop the industry's leading bass jig. 
The Hack Attack jig was designed to be fished through the nastiest vegitation and over any structure put in its way.  This jig excels both shallow and deep. 
Strike King blends technology and functionality into one seamless product…
Best Overall Jig
Best Budget Jig
Editor's Choice Jig
Best Swim Jig
Product
Strike King Hack Attack Heavy Cover Jig
Rock Crawler Tungsten Football Jigs
Strike King Tour Grade Swinging Swim Jig
Skirt Collar Material
Coated stainless steel wire
Best Overall Jig
Product
Strike King Hack Attack Heavy Cover Jig
Best Budget Jig
Editor's Choice Jig
Product
Rock Crawler Tungsten Football Jigs
Skirt Collar Material
Coated stainless steel wire
#ad / Images from Amazon Product Advertising API
We used our experiences with the products and looked over hundreds of customer reviews, watched tons of video reviews, and analyzed what the professionals and experts had to say from popular sources like BassMaster Magazine.
We scrutinized the data from the product catalog pages of nearly a dozen manufacturers, and we even tried to interview some of the company representatives to talk shop and get their take.
What Makes The Best Jig For Bass Fishing?
There are many factors that go into determining what a great bass jig should look and feel like.  Some of those factors include style, construction material, hook size and gauge, skirt collar material, durability, and price. We'll explore each individually…
Style: Choosing The Right Jig 
Most jigs will feature a weighted "head" molded around a sharp hook.  The shape of the head reflects its style and purpose.  In this jig round up report we'll look at the most common styles of jigs. 
If you're still not sure what jig to get, then read this post on how to chose the right bass jig after you're done reading this report. 
Material: Lead or Tungsten. 
Lead jigs are the most common. They have been around the longest and are relatively cheap to buy. 
Unfortunately lead can be poisonous to the environment and some states are outlawing lead jigs to be used. 
Tungsten jigs are new to the scene. Tungsten offers something that lead cannot. Increased sensitivity. 
Tungsten is harder than lead and can reverberate changes in ground composition and detect bites earlier
Tungsten jigs are harder to find and are more pricey than a lead jig. 
Hook Size & Gauge
For most jigs a stout hook is needed to drive the hook into the fishes mouth.  Light wire hooks will tend to bend out. 
Skirt Collar Material
The skirt are rubber strands that helps give the jig extra color, bulk, lifelike appearance. The skirt is held on by a collar, which can be made of rubber or can be wire tied by hand. 
Rubber collars are the most common and are susceptible to cracking and corrosion. 
Jigs that have hand tied wire collars are less common. They are more pricey than the rubber band counter parts, but last much, much longer.
Durability
The best jig manufacturers have a process to "paint" the jig head by using a powder coating and then baking it on.  Baking on the powder coat increases hardness and durability. 
Price
Price per jig can vary due to materials used (lead vs Tungsten) and construction methods. 
Best All Around Jig - Strike King Hack Attack Heavy Cover Jig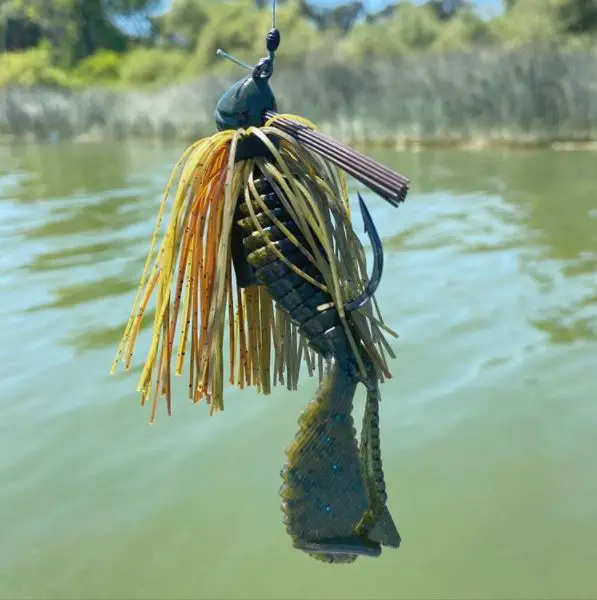 But, why is the Strike King Hack Attack Jig the best all around bass jig?
Produced by one of the most well-known and trusted manufacturers in the fishing industry the Strike King Hack Attack Heavy Cover Jig this jig can do everything from penetrate into heavy cover, bulldoze over rocks, and even be flipped into tight places which is why this jig won the Best Overall Jig.
The Hack Attack Heavy Cover Jig features a 30 degree line tie with streamlined head design and heavy duty weed guard that makes it a great option for penetrating grass mats and debris.
In addition to the specialized head design, these jigs also use an exclusive no-flex Gamakatsu hook that provides some extra backbone when setting the hook through heavy cover.
This jig is well made and specifically designed to be used on heavy fluorocarbon or braided lines and heavy action rods.
This jig can do nearly everything and is well worth the investment.
Pros:
Made to hold up in heavy cover

Exclusive heavy duty Gamakatsu hook

Streamlined head design

Multiple weights and color options
Hang up but not deal breaker:
No option for Tungsten weight

Heavy weed guard can make hooksets tricky.
Best Budget - BOOYAH Boo Jig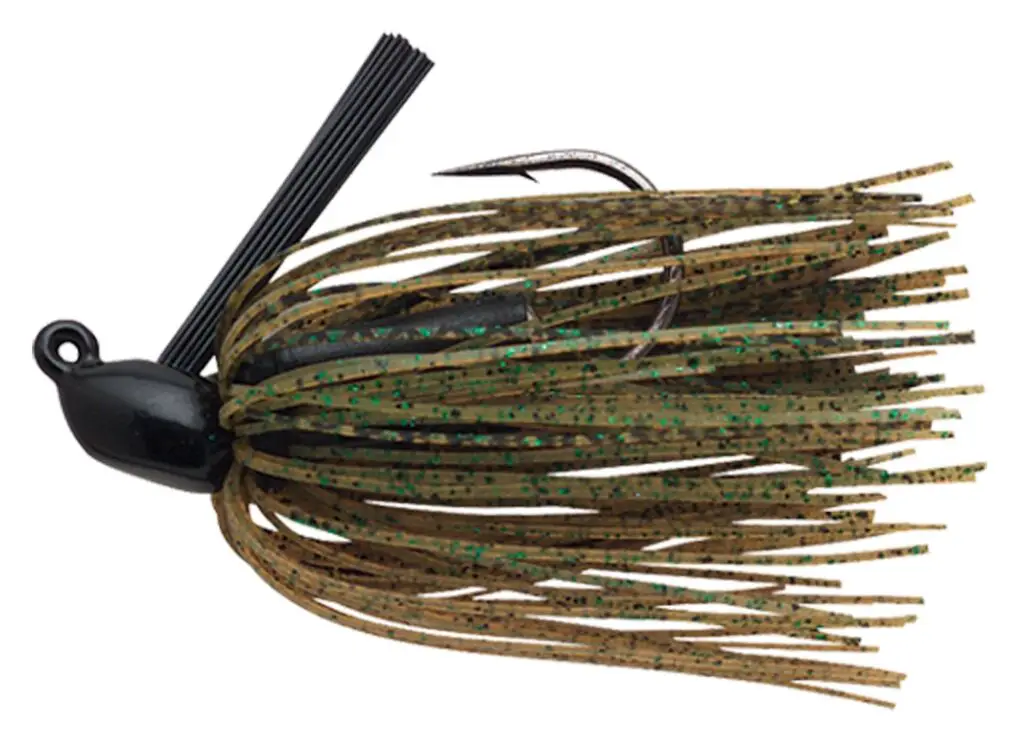 Designed for extreme bass fishing, the BOOYAH Boo Jig is ready to take on any environment while enticing a lunker out of the thickest of cover. 
Weighted with a flat bottom jig head, these jigs can be pitched or skipped with ease.
Another thing unique about these jigs is that they come already outfitted with a double barrel magnum rattle to help fish locate your bait quicker while also helping to trigger shy fish to strike.
The BOOYAH Boo Jig also holds one of the most realistic positions when at rest thanks to the 18 degree rise jig head.
Pros:
Versatile (flipping or skipping)

Comes with double rattle

Upgraded Mustad hook

Budget friendly
Hang up but not deal breaker:
Skirts can slip easily (can be remedied with a few drops of superglue)

Rattles can fall off after catching a big bass
Editor's Choice - Mythik Lures Rock Crawler Football Jig
About Mythik Lures Rock Crawler Tungsten Football Jigs...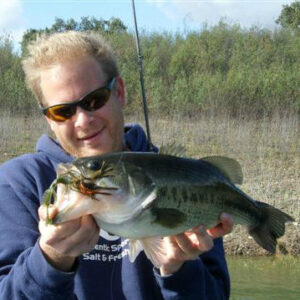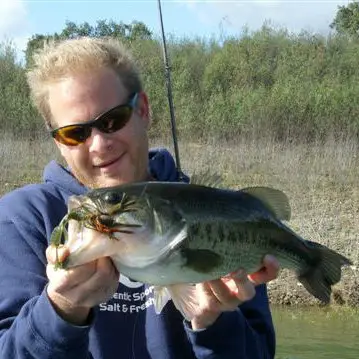 The Rock Crawler Tungsten jig by Mythik Lures made by this small company is some of the best quality we found.
One of the best reasons to own a Tungsten jig would be when you're fishing a football jig. 
Grinding and bulldozing over the submerged structure,  shell beds, or finding the transition areas from chunk rock to pea gravel, you need that extra sensitivity that only Tungsten can give you. 
The quality of these jigs is what you would get from a custom made jig. The collars are hand-tied with wire, the jig heads are powder coated and then baked on for extra durability, and the hook is a Mustad black nickel that is sticky sharp.
Another cool thing that's different from the other companies we listed here is Mythik Lures sells their jigs in bundle packs.  So now if you break a jig off on a big bass, you'll have a spare! No more being forced to use a subpar football jig!
The only hang up but not a deal-breaker is they sell out really fast. 
Pros:
Excellent construction
Ultra sensitive
Great custom colors
Hand-tied skirt collars
Mustad black nickel hook
Hang up but not deal-breaker:
Limited available sizes
Sell out quickly
Best Swim Jig – Strike King Tour Grade Swinging Swim Jig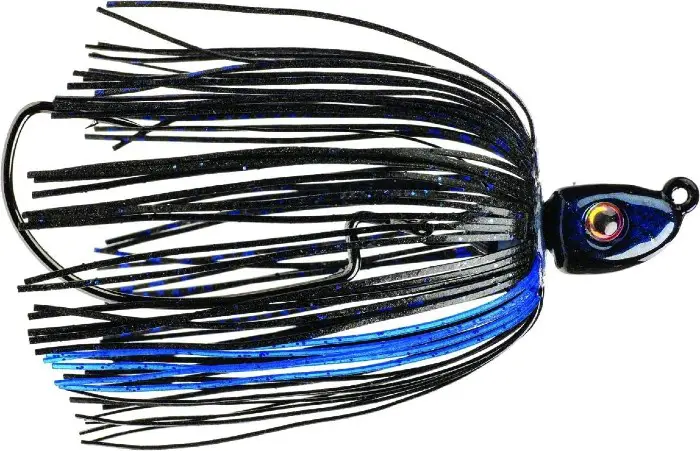 About Strike King Tour Grade Swinging Swim Jigs...
If you're looking for an innovative edge or a new option for swim jigs, Strike King has reimagined the traditional jig with this new product touting increased action.
The Strike King Tour Grade Swinging Swim Jig comes with a hook that is connected by an eyelet instead of fixed into the casting of the jig head.  This type of connection offers an increased overall swimming action of the jig.
Adding your favorite minnow style jig trailer to the free-swinging hook provides maximum swimming action that outperforms any other swim jig on the market. 
This swim jig's head was also professionally designed to ensure a sleek and balanced profile helping it to cut through the water with little resistance.
Pros:
Innovative swinging hook for "maximum action"

Highly durable premium paint

Black nickel needlepoint hook

Swinging action helps prevent fish from slinging the hook

Unique weed guard for fishing heavy cover
Hang up but not deal breaker:
Limited weight and color options

Pricier than standard jig styles
Best Punching Jig - Catch Co. Trashmaster Flipping Jig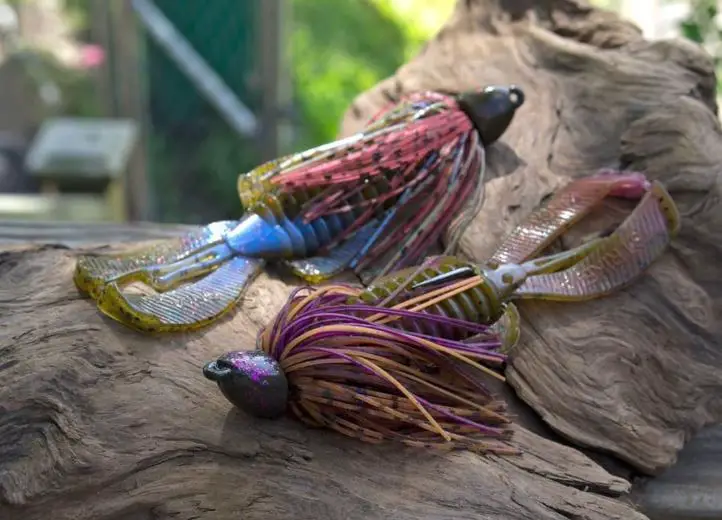 About Catch Co. Trashmaster Flipping Jigs...
A relative newcomer to the jig fishing scene Catch Co released their Trashmaster heavy cover flipping jig. This jig is very well designed with a massive amount of features that will help anglers catch more fish. 
One of the most striking features is the arrow-like pointed nose of the jig.  This allows the jig to quickly and easily penetrate any floating vegetation. 
Another feature that sets this jig a part is the swing head design.  I love the screwlock head design. I can basically rig the plastic trailer like a Texas rig. 
Even the heavier weighted jigs are smaller in size. It also seems that the skirt comes pre-trimmed which is also nice.
Pros:
Great mat penetration
Arrowhead profile
Easy to use screwlock keeper
Heavy duty 5/0 hook
Hang up but not deal breaker:
Difficult to pull out of mat due to head shape
Priced higher than most
Best Flipping Jig – Missile Jigs Ike's Flip Out Jig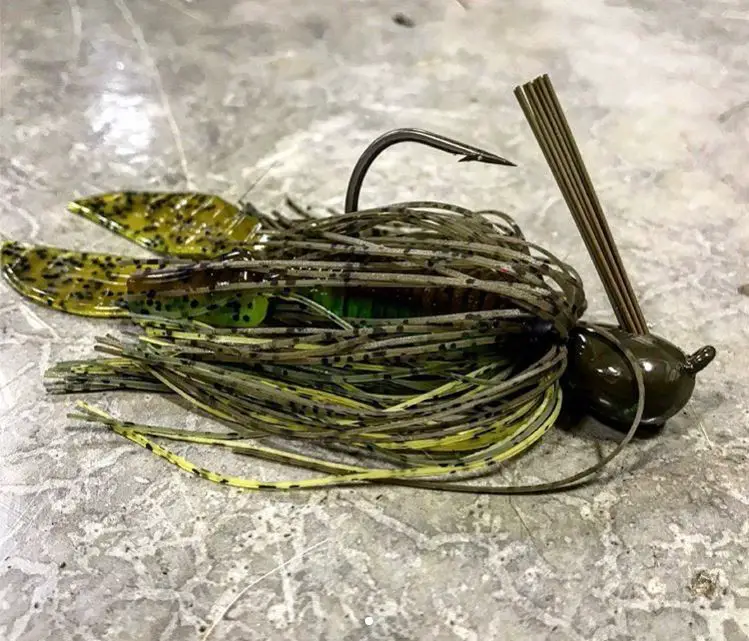 About Missile Jigs Ike's Flip Out Jigs...
Manufactured by a quality fishing gear company and designed by an iconic professional bass fisherman with multiple angler of the year awards under his belt, these jigs are sure to provide the performance and productivity needed when you hit the water.
With Mike Iaconelli's input, these jigs were designed with a "weight forward" feature that gives a more realistic dive with a faster fall rate. 
The weight is molded and balanced around the hook shank also allowing the jig to get into and out of cover with ease.
One thing I like about the Missile Jigs Ike's Flip Out Jig is that the hooks are heavy duty (5/0) and allow a larger gap if you want to run an oversized trailer.
Pros:
Fast fall rate
Realistic dive profile
Aggressive trailer keeper
Heavy duty 5/0 hook
Hang up but not deal breaker:
Limited weight options
A bit pricey
Best Skipping Jig – Strike King Tour Grade Skipping Jig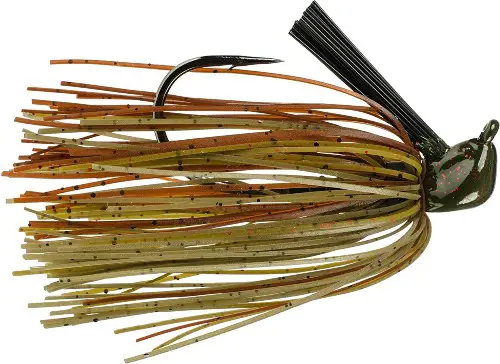 About Strike King Tour Grade Skipping Jigs...
Designed by pro angler Andy Montgomery, this tour grade skipping jig is meant to get your bait into areas other anglers wouldn't attempt.
With a customized flat sided head design, this jig can be skipped easily into tight spaces or under docks.  This head profile is meant to glance slightly over the water giving you a tightly controlled cast as it skips smoothly into your favorite honey hole.
The Strike King Tour Grade Skipping Jig also features a super strong Gamakatsu hook that can take the abuse of bouncing it off of docks and heavy structure.
The powder coated finish is also highly durable when fishing tight areas with lots of cover.
Pros:
Flat head design for ease of skipping

Gamakatsu hook

Corkscrew style trailer keeper

Color-coordinated weed guard
Hang up but not deal breaker:
Only 2 size/weight options

No Tungsten weight options
Best Bladed Jig – Z-Man Jack Hammer Chatterbait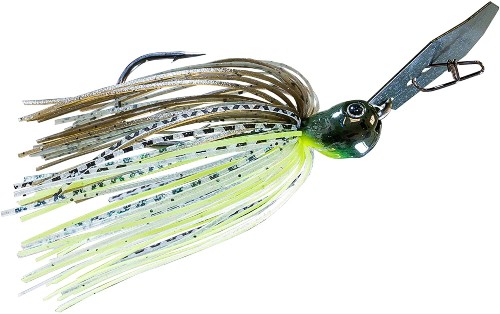 About the Jack Hammer Chatterbait jigs...
When it comes to bladed jigs, you can't go wrong with a bait that's designed by top professional anglers Brett Hite and Morizo Shimizu.  Together, they worked with legendary lure makers Z-Man and Evergreen International to come up with one of the best bladed jig on the market.
The Z-Man Chatterbait Jack Hammer vibrates back and forth quickly to replicate a frantic baitfish as soon as you start your retrieve.
Its signature blade and head design deflects easily off of cover making it possible to be skipped into tight places like under docks and tree limbs.
This chatterbait also features premium paint and 3D eyes for the most realistic presentation.
As the blade makes it's flashy presentation, it also knocks against the specially designed grooved jig head making a knock-knock noise off of Z-Man's patented "Chatterblade" setup.
Pros:
Low gravity head shape allows for skipping

Large range of colors and weights

Gamakatsu 5/0 hook

Dual wire trailer keeper

High-end paint scheme and 3D eyes
Hang up but not deal breaker:
Expensive

Skirt slides down too easily
Best Finesse Jig – War Eagle Heavy Finesse Jig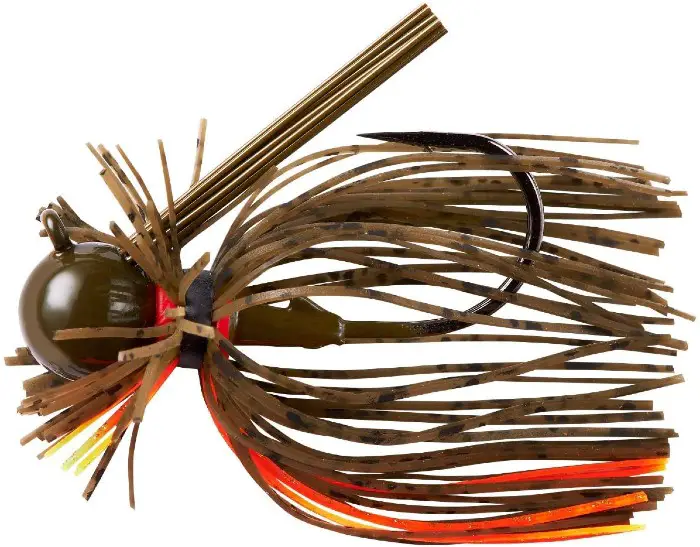 About War Eagle Heavy Finesse Jigs...
When it comes to finesse jigs, most guys think of small, light weight jigs with a minimalist approach.  However, the War Eagle Heavy Finesse Jig gives the best of both worlds.
A finesse fishing approach, but enough weight and action to be fished like a standard flipping jig.  This beefed up version of a finesse jig is perfect for fishing heavier line in deeper cover.
The oversized head and thick, heavy duty weedguard allows this jig to be fished into heavy habitat, but still offers a finesse style action.
With a 3/0 Gamakatsu flipping hook, these jigs are sure to stick monster bass and keep them pinned until you land them in the boat.
Pros:
Oversized head and beefier design

Heavy duty weedguard

Gamakatsu brand hook

Large range of color options

Excellent Value – 2 per pack
Hang up but not deal breaker:
Lacks ultra light options

No options for Tungsten weight
Best Hair Jig – Haggerty Lures Flippin Jig for Bass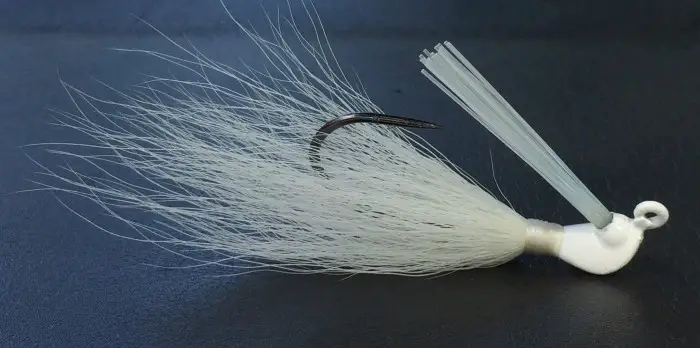 About Haggerty Lures Flippin Hair Jigs...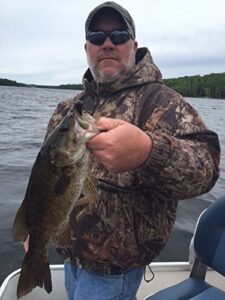 If you're looking for a quality hand-tied hair jig, Haggerty Lures Flipping Jig is one of the best.  With multiple color options, these natural looking bucktail jigs are sure to entice even the most hesitant lunkers.
Coming in three different weights/sizes, these hair jigs can be used in multiple fishing scenarios from finesse, to flipping, to swimming.
With it's heavy duty weedguard, these Haggerty Hair Jigs can get into and out of places that many other hair jigs wouldn't dare to tread.
Fitted with an eagle claw black nickel hook, you can count on consistent penetration when you set the hook.
Pros:
Natural hand-tied bucktail

Heavy duty weedguard

Eagle Claw brand hook

Small profile, but multiple weight options
Hang up but not deal breaker:
Skirt durability

Most colors are rather monotone
Honorable Mention - Nichols Lures Saber Swim Jig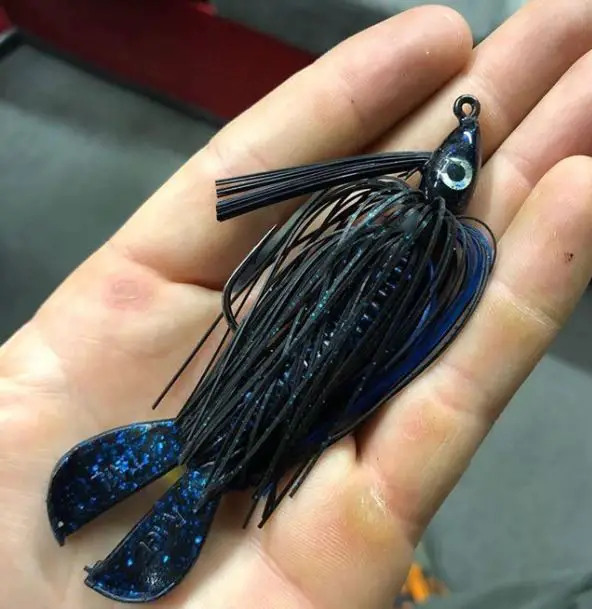 About Nichols Lures Saber Swim Jigs...
Handcrafted quality and patented design characteristics give this swim jig a leg up on much of the competition.
With an upswept head design delicately mimicking the head of a baitfish, this swim jig easily runs through thick cover and obstacles.  A heavy duty brush guard also ensures you won't get hung up very often.
Intricate paint jobs with metal flake heads and realistic eyes make the Nichols Lures Saber Swim Jig stand out amongst other baits.
The patented "toothpick" trailer keeper also ensures you will get as much life out of your jig trailers as possible.
Pros:
Premium paint and 3D eye designs

Mustad Ultrapoint 3X hook

Spinnerbait style head

Unique toothpick trailer keeper
Hang up but not deal breaker:
Only comes in 2 sizes

Pricey since is hand painted
If you don't want to buy a premium jig, but rather think it's the best idea to build your own jigs, then check out this YouTube video.
How to Build Or Replace Jig Skirts
So before you even think of making your own jig you have to understand how they are made up and what qualities they should carry. You have to ensure you are getting the best quality components to get you the best result, otherwise you're just wasting your time.
Here is what you need to get started:
Bulk Weedless Football Jig Heads – click here to learn more
Bulk Weedless Swim Jig Heads – click here to learn more
Jig Head Replacement Skirts – click here to learn more
Other Jig Related Articles Listed Below!
What is the best way to set the hook when jig fishing?
A hard upward hookset. You need to set the hook hard with jigs because the weedguard can present an obstacle for driving the hook into the fish's mouth. 
Depending on how heavily weeded the area is, you should fine-tune the weed guard to increase your hook-up chances. 
You can do this by cutting or spreading out the bristles, and/or trimming them down a little shorter.
If you're new to jig fishing, strongly recommend you invest in a rod specifically made for jig fishing since is such an important technique to master.  
Read More: Top 15 Jig Rods For Any Budget (Review & Buyers Guide)
Skipping a dock is the art of casting a lure (preferably flat) across the water (normally underhand/sidearm) that it skips and bounces off the surface, preferably many times! Think about skipping a rock. 
Anglers like to skip lures under docks and other structures because often larger bass will set up deep in the shadows to ambush prey.
To get the secrets on how to skip a jig in less time than it would take you to eat your lunch then click here. 
Read more: How To Skip A Bass Jig – Tips for Skipping Docks And Other Structures 
What type of line is best for jig fishing?
Jigs can be fished with braided, monofilament, or fluorocarbon line.   However, it's recommended to use a fluorocarbon line in clear water and braided line in murky water.  Fortunately, I wrote a thorough article that goes into much more detail of what are the best lines for bass fishing and more importantly what lines to avoid! 
Read more: 21 Tips To Choose The Best Bass Fishing Line
Can I swim a football jig?
Yes, you can. It's really all about presentation.  If you're in a pinch and don't have a dedicated swim jig available any type of jig can be retrieved on a "swim" action. 
Read more: How to Fish a Football Jig with Confidence
Should I use lead or tungsten weight jigs?
This is really a personal preference, but Tungsten jigs have a TON of advantages.  Tungsten is heavier, so it can provide you with more weight in a smaller profile bait.  Since the density is higher, it also provides better sensitivity to bottom composition.  The tradeoff is that Tungsten is significantly more expensive than lead.
Can I fish a jig year round?
Yes, jig fishing is extremely effective at any time of year.  Keep in mind that the size and action of your jig should vary depending on water temp, season, and the stage of spawning the fish may be in.
Can I use these jigs for saltwater fishing?
Yes, just made sure you rinse off all your fishing gear with fresh water and wipe after use. 
When I order a jig how big is the shipping package?
Your jig will be most likely shipped in small box or bag not bigger than your wallet.
Warranty? What happens if I brake my jig after a few trips to the lake?
I strongly recommend contacting the manufacturer as soon as possible. They are normally pretty good with warranties.
Explain to them what happened, provide pictures of the jig,  purchase information, and any other documentation they ask about.  I cannot speak for them, but typically they replace the jig at a massive discount, but be aware you may have to pay a small shipping fee.