Learn these closely guarded secrets early summer bass fishing ... and... dramatically boost your advantage over other anglers!
Late spring to early summer bass fishing is the time when the big ones start to move, and anglers need to be on top of their game. In this critical period, bass transition from the shallow spawning grounds to deeper waters as the weather heats up. We'll dive into the ins and outs of this seasonal shift and explain why understanding these changes is essential for any serious bass angler.
Late spring and early summertime the bass are wrapping up spawning and starting to look for their next meal. As the water temperature rises, their metabolism speeds up, and believe me, they get hungry and feed aggressively. 
Unfortunately for most anglers this time of year can be very frustrating to grasp… but why?
That's because there are A LOT of HUGE MONEY TOURNAMENTS that are being held this time of year and the Pros don't want to give you the secrets to fish this time of year.
That is until now… luckily for you I broke down this topic into two easy to follow parts. 
Part 1 in this Early Summer Bass Fishing series you'll be introduced to the changes in bass behavior and migration. Some will stay shallow and some will migrate to deeper, cooler waters. Regardless, if you play your cards right you'll experience some of the best action of the season.
Additionally you'll learn:
Identifying only the best transition zones

– helps you save time on the water, so you can pinpoint their likely whereabouts and focus your efforts on the most productive spots.

Improved location targeting

– helps you choose the right lures and presentations to entice those hard-to-catch fish.

Increased catch rate

– By understanding how bass move from shallow to deep water, you are finally able to grasp the seasonal shifts in bass behavior, you can tweak your tactics to match the conditions, ultimately leading to more catches and a better overall experience on the water.
Then, in Part 2, you'll given a detailed breakdown on the best bass baits for early summer conditions.
So stick around…
By the end you'll learn about the various seasonal changes, so you can adapt your tactics accordingly, only then you'll be able to catch more fish and make the most of this prime time of year.
Identifying Bass Transition Zones
Okay, ready to get started?  Great!
As the late spring to early summer bass fishing transition gets underway, one of the biggest challenges anglers face is figuring out where those elusive bass are hiding. Learning to identify the key transition zones can put you on the fast track to success. 
Let's dive into the two primary areas you'll want to focus on during this seasonal shift in the early summer months – shallow or deep.  So when you get the lake, you'll have to make the decision. 
A. Backs Of Coves (Shallow)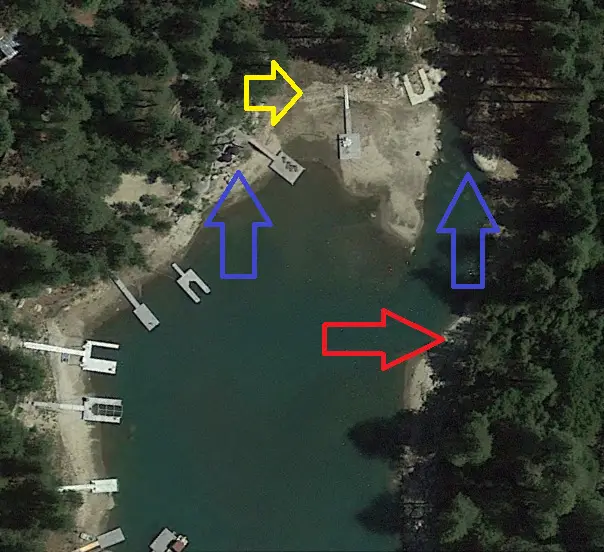 During the late spring, bass are often still hanging around their spawning grounds. These shallow areas are prime real estate for finding bass, but they won't stay there forever. 
But when you hear that bass are being caught in the backs of coves during the early summertime, what does that actually mean? 
The bass that are being caught are guarding their fry.
After the fry hatches the male bass will stick around for a few days to guard the fry. During this time they are ultra aggressive and will nearly strike at anything.  
 So who do you catch these bass? 
First, focus on the shade. 
Look for areas near spawning coves and pockets with fry-friendly habitat like shade. 
Second, look for cover.
Keep an eye out for overhanging trees, laydowns or boat docks.  bass hiding their fry in shadows of. 
Third, consult your lake map.
Look on your topographic map for any nearby dropoffs, ditches, channel swings really close (meaning a few yards) from to where you found the cover and shad. 
This triple combination structure and cover provides the bass fry the perfect cover to stay sheltered, and gives the bass the peace of mind there is deep water nearby to retreat to if it feels threatened.
Is this making sense yet? 
Listen up, if you get too close you're going to spook the bass – so you need to cast from a distance to cover a broad area.
So I strongly recommend the first bait you use should be a topwater bait. 
Use a popper or a walking bait if the water is calm, or a buzz bait if the water is breezy. 
The dish docks…
If you see docks that were used during pre-spawn staging and spawning activities the bass will use the shallow walkways to stash their babies on outer dock poles.
Not every fish goes for topwater bait.  Some are super finicky. What should you do then?
If the bass is timid, then reach for a wacky rigged Senko with a weedless hook. 
Using a wacky rig is also great if you see the bass with a good pair of polarized sunglasses.  
On the prowl…
When you're on the lookout for fry guarders, tuck in close to the bank and watch for the clouds of recently hatched bass. 
Remember to look for patterns, as bass in common areas tend to use the same types of cover to hide their fry. 
On grass lakes, focus on areas of patchy grass with channels or drains.
Don't be surprised when you see the  males putting their fry in the sunshine because they need sun to grow. 
As the sun comes up consider using a reaction style lure that is good for coving water.
Lures like a soft plastic swimbait or a fluke if the conditions are calm, or a spinnerbait or Chatterbait if there's wind.   
Last thoughts… 
Trolling motor tip: Keep your trolling motor at a steady, medium speed and avoid blowing out the area with sudden pulses.
Targeting beds:

Search for visible spawning beds in shallow water, usually found in protected areas like coves, pockets, and flats.

Look for cruisers:

Keep an eye out for bass cruising in the shallows, as they recover from spawning and start to feed more aggressively.
B. Transition routes and travel corridors (Going Deep)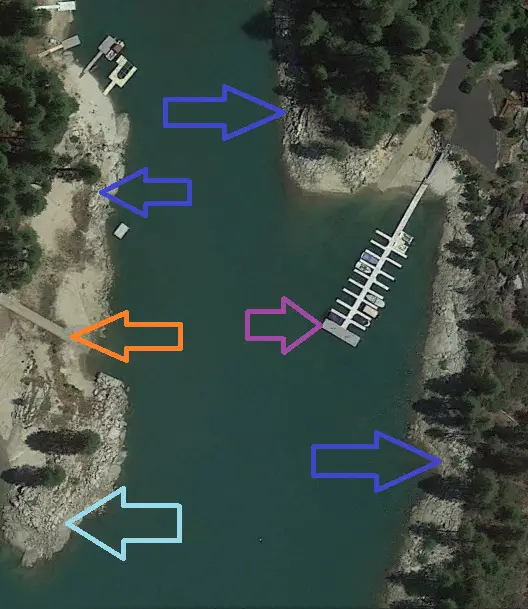 Bass don't just teleport from shallow spawning areas to their deep summer hideouts; they follow specific routes and travel corridors… 
So it's super important to identify these migration paths that can pay huge dividends.
But before we discuss some of the transition locations it's important to remember the best spots are the ones near spawning grounds. 
It doesn't make sense to fish in a spot that is far away from the spawning grounds… Bass want somewhere near to recuperate, rest, and feed.  Does that make sense?
Here's what to look for:
Secondary points:

Points are areas where land extends out into the water, and secondary points are smaller extensions of land off the primary point. These structures act as natural highways for bass, guiding them from shallow to deeper water. Target points with a gradual slope and cover such as rocks, stumps, or vegetation.

Creek channels and ditches:

Bass often follow creek channels and ditches as they move between spawning flats and deeper summer areas. These natural features create highways for bass, providing both a route to follow and access to various depths. Look for channels that intersect with other key structures, like points or flats, to find prime bass locations.

Submerged vegetation lines:

Submerged vegetation, like hydrilla, milfoil, or coontail, can provide bass with cover and a source of oxygen as they transition between depths. Look for distinct edges or lines of vegetation, as these can act as travel corridors for bass moving from shallow to deeper water.
C. Deeper Summer Haunts (Going Really Deep)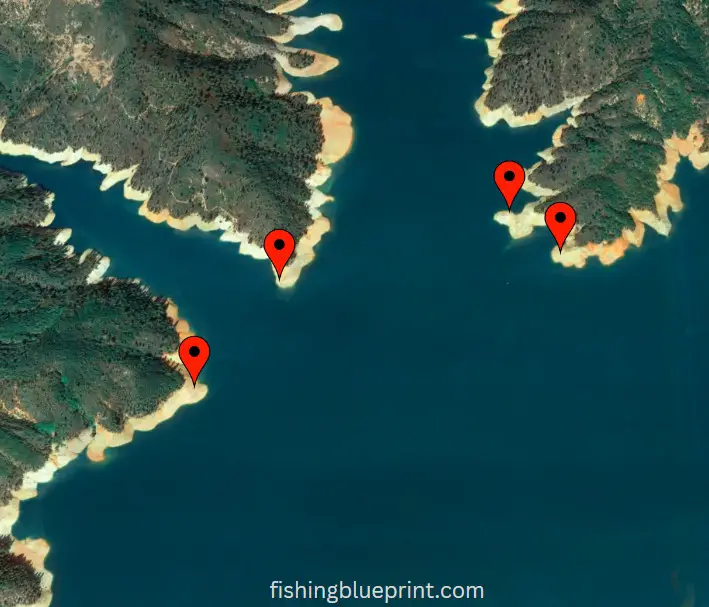 After the spawn, the famales retreat towards their deep-water summer hangouts. 
Identifying these spots ahead of time can help you intercept bass as they migrate. Consider the following when searching for deeper haunts:
Offshore structure:
Primary points:

Points are areas where land extends out into the water, and secondary points are smaller extensions of land off the primary point. These structures act as natural highways for bass, guiding them from shallow to deeper water. Target points with a gradual slope and cover such as rocks, stumps, or vegetation.

Underwater humps and ledges:

Bass will often use underwater humps and ledges as stepping stones when moving between depths. These structures provide bass with quick access to both shallow feeding areas and deeper, cooler water for refuge. Focus on ledges with cover or adjacent to other productive structures, such as points or channels.

River and creek channel bends:

If you think about it the bends in river and creek channels create  ambush points. These often have a steep change in depth and a bunch of different structure (like rock piles, brush piles, ect) that will give bass multiple options for feeding and resting.

Bluff walls:

These vertical structures are some of the best bass attracting locations when it gets hot. They offer shade, provide cover, and attracts nearly every critter the bass feed on. Focus on any irregularities, breaks, smaller stepdown-drop offs. The best bluff walls tend to be near points, channel swings, or submerged vegetation.
Utilizing electronics and mapping tools
I cannot stress this enough… it is so important that you have a quality fish finder that you know how to operate, especially for early summer bass fishing. 
The more and more you use them you'll quickly identify underwater structure, cover, schools of fish, and even identify what species that are!
Mapping – having the ability to quickly virtually identify different areas of the lake and analyze nearby fish attracting structure and depth changes.  Additionally, it allows you to create and save waypoints so you can save your favorite spots… then… you can return to them the next year and make your day even easier.
Side scanning – helps you rapidly identify key structures and cover from afar. 
Downward sonar and structure scan – helps you make that final decision to fish a specific spot. 
Live sonar – allows you to make the perfect presentation of your lure so you can see the strike right before it's going to happen.
Assessing Weather Conditions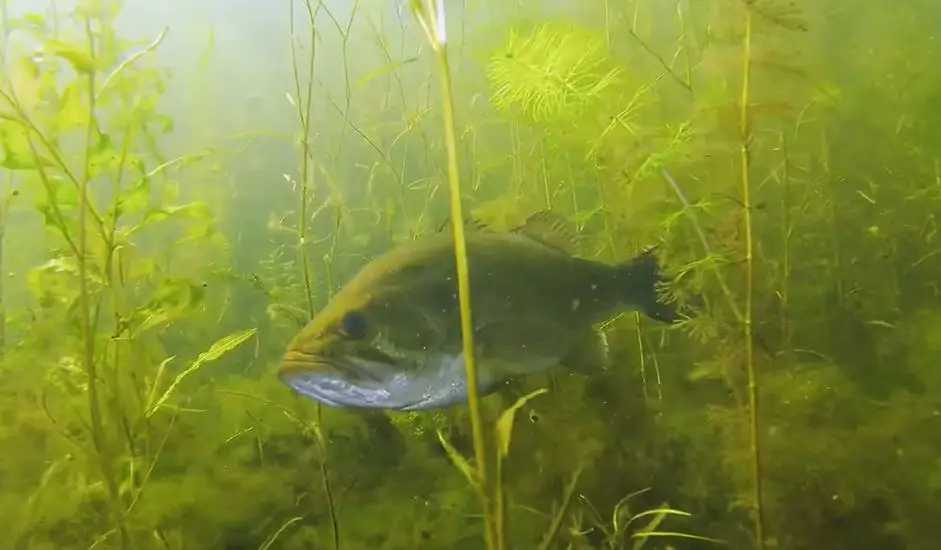 Reading the water and taking note of what's happening around you can give you valuable clues to where the bass are hiding. Pay attention to:
Weather patterns: Overcast days can keep bass shallow, while sunny days may push them to deeper water.
Water clarity: Bass may be more willing to venture into shallows when water is stained or off-color.
Water current:  In early summer, bass fishing can be heavily influenced by water current. Currents help concentrate baitfish and create ambush points for bass. Look for eddies, seams, and current breaks, as bass often hold in these areas to conserve energy and feed on passing prey.
Wind direction: Wind can create current, which can position bass on specific structure or cover.
Key Environmental Factors
When it comes to early summer bass fishing, understanding the key environmental factors is crucial. These elements play a significant role in how bass behave, where they'll be found, and which techniques will be most effective.
Let's break down the three primary factors that you'll want to keep an eye on while chasing those lunkers.
A. Water temperature fluctuations
Temperature is crucial for bass behavior. As water temperature rises, bass become more active but seek cooler waters. Consider:
Sweet spot:

Target areas with stable temperatures between 65-75°F, the preferred range during the transition.

Temperature drops:

Cold fronts or sudden changes can make bass sluggish. Use slower presentations and finesse techniques.

Fishing the thermocline:

 This separation of cold less oxygenated water from warmer oxygenated water will tell you the maximum depth the bass will be. Deep water bass will normally position a few feet above the thermocline. 
B. Changing water levels
Water levels can fluctuate, affecting bass location and behavior. Keep these tips in mind:
Rising water:

Bass move into flooded areas to feed. Target shallow cover like bushes, logs, and grass beds.

Falling water:

Dropping levels push bass to deeper water or structure. Focus on drop-offs, points, and ledges.
C. Food sources and availability
Food sources impact bass feeding behavior. Being aware of available forage helps choose the right lure and presentation:
Baitfish and other forage:

Note primary food sources like shad, bluegill, or crawfish. Choose lures that mimic these prey items.

Vegetation growth:

As vegetation thickens, bass use it for cover. Use weedless lures or topwater baits for bass hiding in vegetation.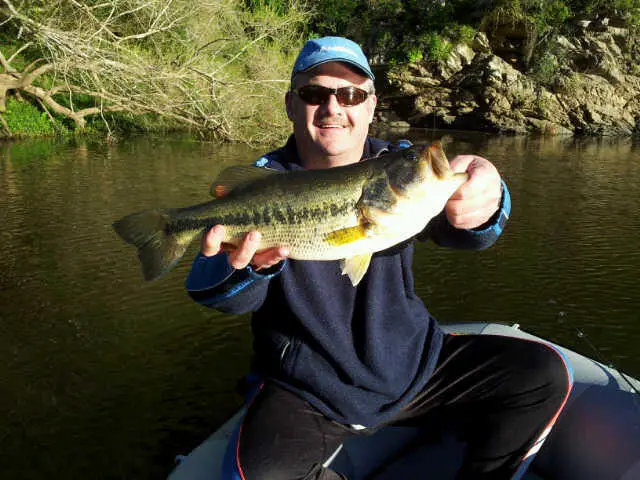 You've found the bass, now you have have to catch them. In the next report, you are going to be handed over the keys to unlock the secrets of what baits work the best and what baits to avoid at all costs ... (more)
Other Spring Fishing Related Articles