A Complete Buyer's Blueprint On The Best Early Summer Bass Lures On The Market Today!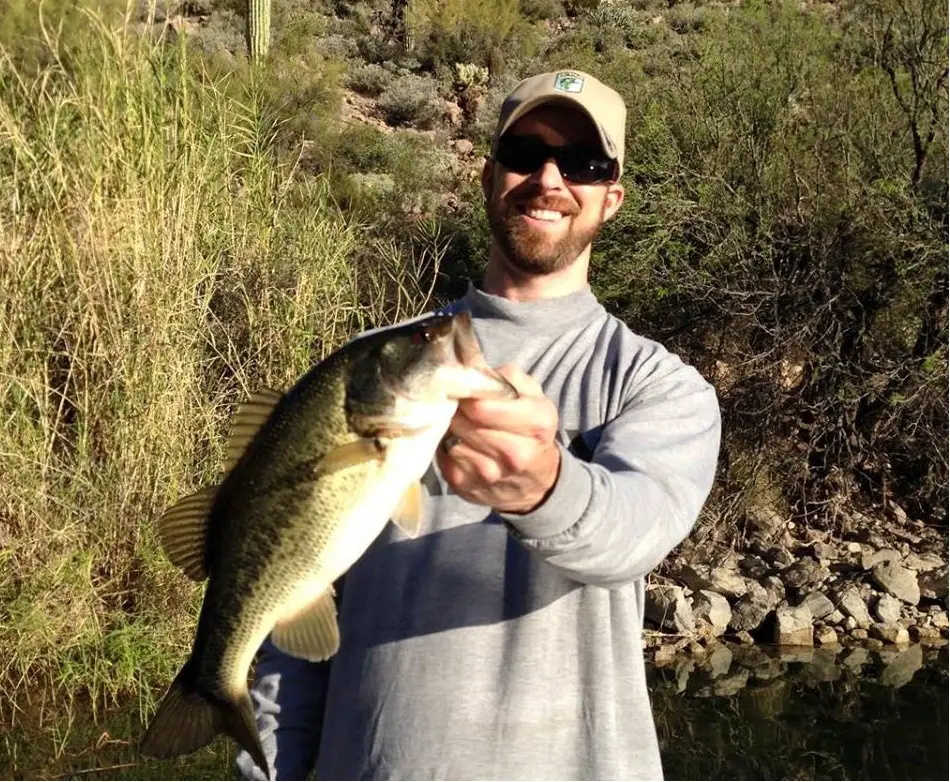 When it comes to bass fishing, choosing the right lure can be a daunting task, particularly during the late spring to early summer transition…
But what if I told you that, by using the right early summer bass fishing lures and techniques, you could significantly increase your catches and outperform your previous records? 
This comprehensive guide will introduce you to the top lures and tactics that have proven to be most effective during this critical period. You'll no longer feel overwhelmed, instead, you'll be equipped with the knowledge to make informed decisions and strategies to maximize your bass fishing success.
So, sit back and prepare to embark on a journey that will make your next fishing experience more exciting and fruitful than ever before.
But some of you may be asking, why does it seem like the whenever a Pro picks up one of these baits they know exactly where to go to catch a ton of fish with it? …  Right?…
To help you answer your question, I wrote a detailed fishing blueprint on early summer bass fishing. It goes over exactly where to go and why. Click HERE if you want to learn more.
With this in mind, my team and I published a quick-read review of 5 Best Bass Lures Every Angler Must Own, or you can opt to read the complete report, Bass Fishing Lures: A Complete Guide. Over the past several years my team and I also tested and reviewed a variety of products, including best bass fishing rod, best bass fishing line, best tackle bag and even best fish finder for bank fishermen!
Let's dive into some top lure choices and techniques that'll help you land more fish during this transitional period.
But be warned! Go through this blueprint slowly and carefully so you don't miss any suggestions that could cost you.
Listen, you've seen us all over the place from bait reviews to publishing lake breakdowns… we used our experiences with the products and looked over hundreds of customer reviews, watched tons of video reviews, and analyzed what the professionals and experts had to say from popular sources like BassMaster Magazine.
We scrutinized the data from the product catalog pages of nearly a dozen manufacturers, and we even tried to interview some of the company representatives to talk shop and get their take.
When and where to use topwater lures:

Topwater action heats up as water temps rise. Target early mornings, late afternoons, and overcast days when bass are most likely to be in shallow water and feeding aggressively.

Topwater lure types and techniques:

From poppers to walking baits, there's a topwater lure for every situation. Experiment with varying cadences and retrieves to figure out what the bass are craving.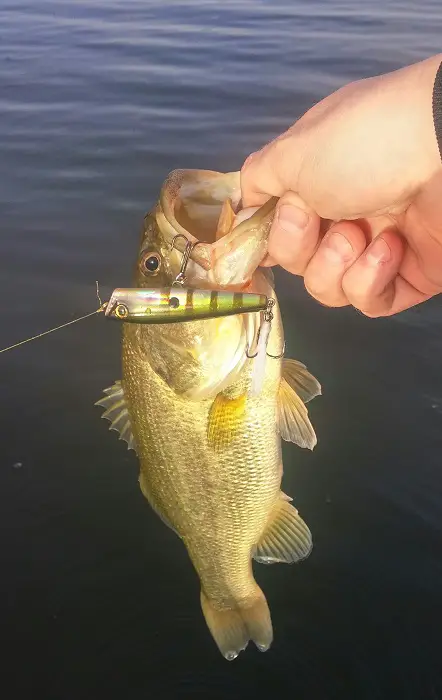 Poppers and chuggers are entice bass from hiding by mimicking injured prey. Recognizable by their carved mouths, they spit and pop when cast, attracting bass from beneath vegetation, laydowns, and overhanging trees.
Most effective in early morning or pre-sunset in warm weather, they're suitable for shallow or deeper waters where bass feed. Any angler can use them effectively with a simple cast and intermittent twitches. They float head-up, simulating a dying fish, and can even provoke strikes while stationary, reducing fish stress.
Check out: Rebel Pop R Popper
The Rebel Pop R, a topwater lure with a three-decade legacy, is highly effective at enticing bass to strike. Its distinct noise and shimmer draw bass from their hiding spots.
This lure performs optimally in low light conditions, such as early mornings or evenings before sunset, and is particularly effective in calm, summer waters with minimal wind.
Constructed to spit, pop, and chug, the Rebel Pop R can lure bass from grassy areas, beneath laydowns, or under lily pads. It features two treble hooks, with the rear one partially obscured by sparkly, flashy filaments. Unlike traditional wooden lures, the Rebel Pop R is crafted from plastic.
Check out these reviews from an actual customers! Click HERE!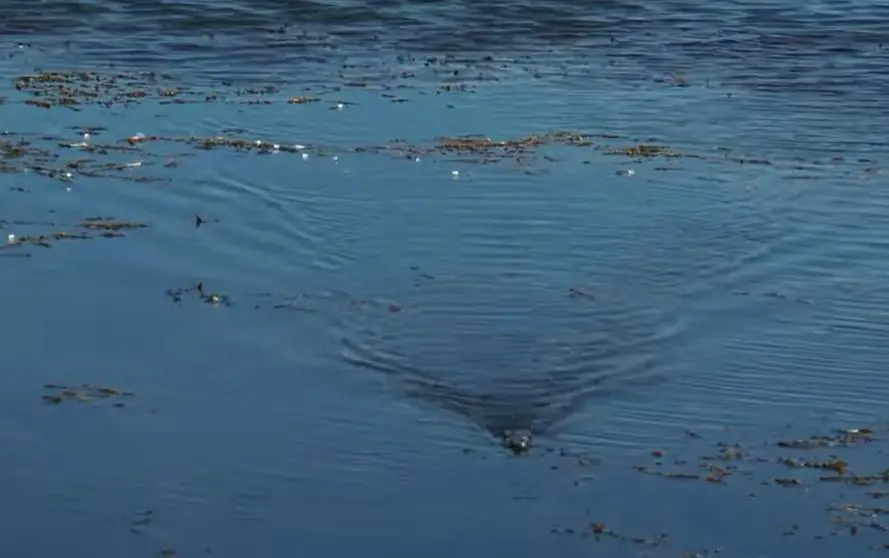 Walking and twitch baits are topwater baits that attract bass through their movements that are controlled by the angler. Although the walk-the-dog technique takes some practice, it seems easy to most anglers once they learn how to do it. 
Move the bait back and forth through the water while reeling up the slack in a rhythm to walk-the-dog. Twitch baits are especially great to use in the current because you can easily move them along with the water in an area where there are many bass.
A twitch bait can walk-the-dog underwater. It is similar to a jerkbait but has less vibration and a smoother glide.
Check out: Lucky Craft Sammy 105
The Lucky Craft Sammy is a topwater bait the perfect example of a walking bait.
It's interior glass beads providing popper-like sound, and it's slightly cupped mouth also provides a subtle spitting action.
The Sammy gives the angler something most other walking baits can't – a crisp real-to-life, fleeing bait fish action in a walk-the-dog rhythm that drives bass crazy. 
Its internal tail-weight design means you can cast this out a good 40 yards without breaking a sweat…
Best of all it's proprietary design allows it to maintain the perfect topwater orientation without diving underwater.
Check out these reviews from an actual customers! Click HERE!
Shallow and deep-diving crankbaits:

Match the crankbait's diving depth to the water column where bass are holding. Shallow divers work well around cover, while deep divers excel in targeting off-shore structure.

Crankbait retrieval techniques:

Mix up your retrieves, from slow and steady to fast and erratic. Don't be afraid to bounce your crankbait off cover to trigger reaction strikes.
Shallow Running Crankbaits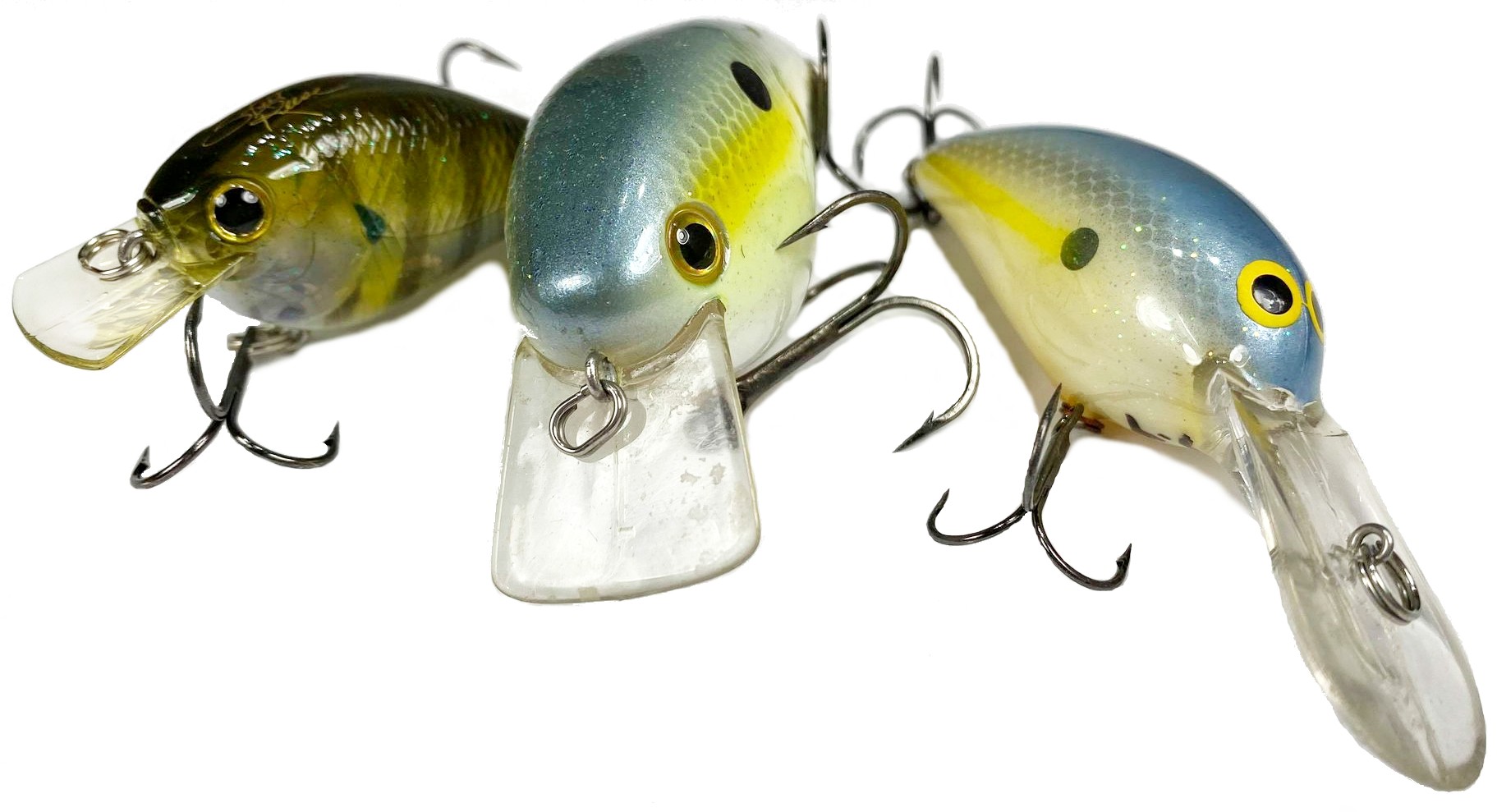 In the early summer some bass are in the backs of coves protecting fry. That's were these baits come in handy the best. 
Shallow running crankbaits are highly effective for bass fishing due to their ability to mimic the movement and appearance of small bluegill, bream, shad, crawfish or even frogs!
Created to dive shallow they can be used in a variety of environments, including areas with submerged vegetation, shallow flats, or near structures like docks and laydowns, where bass often reside.
As they grind, knock, and bounce off the structure, they trigger the bass into reactively stricking at the lure.
They broad, flay bill design provides helps them by avoiding snags and hang-ups in these areas.  And since also float, their buoyancy help to deflect off structures, minimizing the risk of loss or damage.
Check out: Strike King KVD Squarebill Crankbait
If you're new to using shallow diving crankbaits, the Strike King KVD Squarebill Crankbait is a must-have for your tackle box. Despite its short bill, this lure dives rapidly and creates significant disturbance with a medium-speed retrieve.
Its hard knock rattle system generates a deep thud that resonates underwater, and the swift motion alerts bass of an intruder in their ambush zone.
Like a bull in a china shop, this bait knocks around and gets noticed quick. 
Check out these reviews from an actual customers! Click HERE!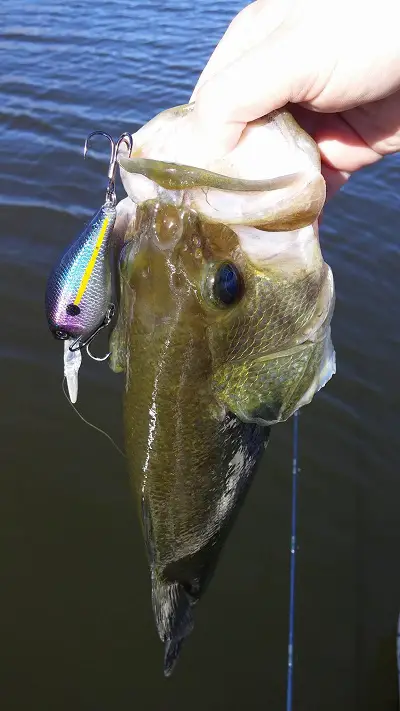 Check out: Strike King 6XD
The Strike King XD crankbaits are a family of medium-sized baits that have taken the moderate and deep diving crankbait fishing by storm. 
Without a doubt, The XD series probably has contributed to more checks cashed and tournament wins than any other deep diving lure on the market. 
All of the series offer exceptional body shape to not only to be cast 40-60+ yards, but all have amazing wobble that only this family of baits possess. 
So if you're looking for one crankbait to just get started in deep water crankbait fishing you would be smart to get started with a XD crankbait. 
6XD Crankbait Series
There are multiple reasons why this bait just outright catches more fish and that's what I'm going to go over with you. 
The overall bill design forces it to dive quickly and stay in the strike zone longer. The reason for this is (if you look closely) the bill is reinforced not to flex and the tip of it curves up. 
Additionally, the bill shape allows for a more aggressive 'tail wag' of the bait to get better action.
Check out these reviews from an actual customers! Click HERE!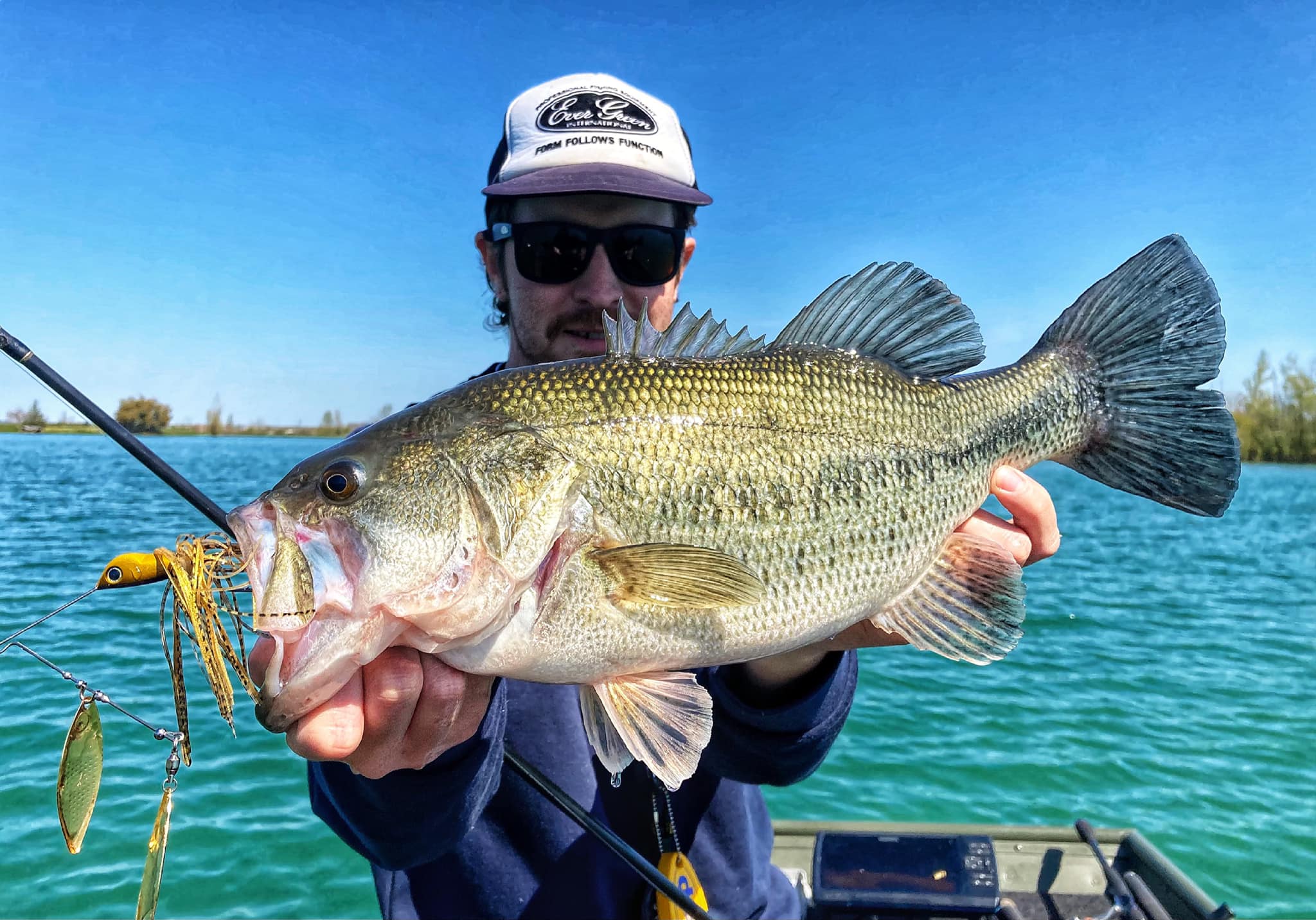 Blade types and sizes:

Willow leaf, Colorado, and Indiana blades each offer unique vibration and flash. Match the blade size to the baitfish in the area, and switch up blade colors to mimic local forage.

Spinnerbait tactics for various conditions:

Burn your spinnerbait in shallow water, slow roll it along the bottom, or try the "yo-yo" technique to cover various depths. Adjust your approach based on the current conditions.
Check out: War Eagle Double Willow Spinnerbaits
Designed for superior flash and shine, the War Eagle Double Willow Spinnerbait outshines its counterparts. Versatile, it can be fished slowly along lake bottoms or rapidly on the surface, making it ideal for clear waters.
Personally, I highly recommend it due to its high-quality components, vibrant colors, shiny and easily polished blades, and wallet-friendly price.
In terms of construction, the War Eagle Double Willow Spinnerbait is designed for optimal performance with a balanced build and a premium hand-tied silicone skirt. The frames are coated in either nickel or 24K gold for durability and extra shine to allure bass.
Offered in a variety of colors and three weight options, this spinnerbait caters to all fishing needs.
Check out these reviews from an actual customers! Click HERE!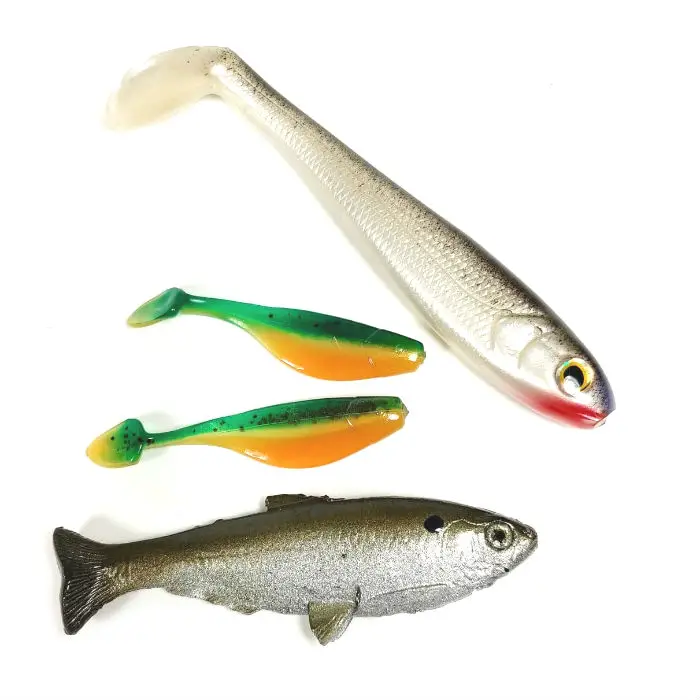 Swimbaits are great for covering water and imitating baitfish. Cast and retrieve, or slow-roll them through your target area.
For a unique presentation, try an umbrella rig, which simulates a small school of baitfish. It can be deadly when bass are keying in on forage.
Check out: Berkley Hollow Belly Swimbait
The PowerBait Hollow Belly Swimmer boasts a soft yet sturdy body that tempts bass into biting. Its swimming motion generates a substantial thumping vibration.
Versatile, this swimbait is suitable for various environments and can be used for both fast and slow fishing. In summer, for lakes with larger fish, consider the 5- or 6-inch variant. For waters with smaller baitfish, a 4-inch size is also available.
The PowerBait Hollow Belly Swimmer can be utilized with Texas or Carolina rigs. It's available in packs of either three or four, contingent on bait size.
Anglers frequently commend this lure. Its known effectiveness in bass fishing and multipurpose usability make it an excellent bait choice.
Check out these reviews from an actual customers! Click HERE!
5. Flipping and pitching techniques
Flipping and pitching are go-to methods for targeting bass in shallow cover. Both techniques involve making accurate, stealthy presentations, often in tight quarters. Perfect your skills, and you'll be rewarded with bass that couldn't resist your offering.
Check out: Missile Baits D-Bomb
For a soft plastic jig trailer to enhance your bass jig, look no further than the Missile Baits D-Bomb. They offer a wide range of actions and colors, ensuring a fit for every scenario.
Bassmaster Elite Series professional, John Crews, helped design this bait so much he nearly named his first born after this (just joking, that never happened about the naming part).  But he did validating its effectiveness. 
Specifically, the Missile Baits D-Bomb stands out for flipping and skipping techniques, thanks to its flat profile, which is perfect for shallow bass guarding those fry.
It's big enough to look like an enticing meal, yet remain compact enough to skip your jig into spaces often overlooked by other anglers.
Check out these reviews from an actual customers! Click HERE!
6. Carolina and Texas rigging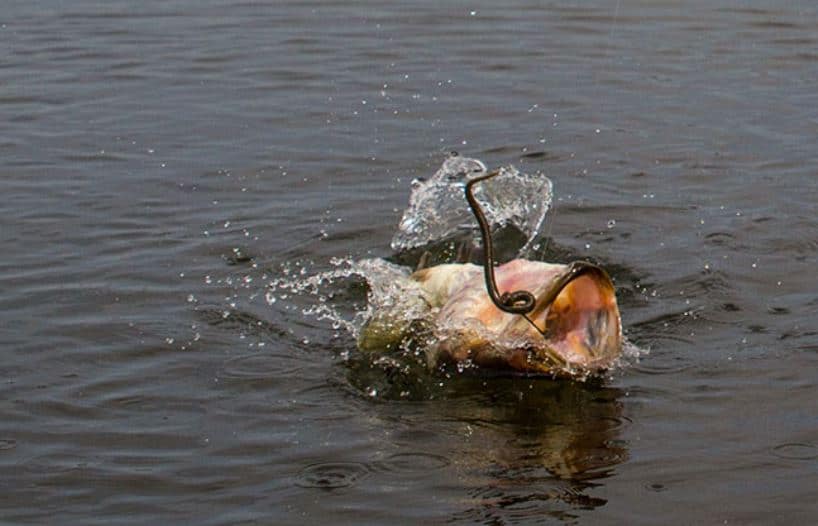 The Texas rig and the Carolina rig, while similar, have distinct differences that make them suitable for different fishing conditions in the early summer.
Texas Rig
Since the Texas rig has the bullet weight right up close to the bait it makes it perfect for navigating through heavy cover or shallow flats without getting snagged.
In the late, post spawn and early summer, some of the bass stay in the shallow protected coves to guard their newly hatched young…
Which means the Texas rig becomes a go-to setup for many anglers.
Carolina Rig
On the other hand, the Carolina rig is more suited for fishing in deeper water conditions like ledges, deep points, and humps.
This rig involves the weight 2-3 feet a head of the bait. This allows the bait to move more naturally at greater depths.
So if you're targeting deep water female in the early summertime this rig is excellent for locating those fish.
Check out: Zoom Brush Hog (for Texas Rig)
The Zoom Brush Hog combines elements of a worm, lizard, and crawfish into a single versatile creature bait. Its slender, realistic body brings plenty of action to the water. Like all Zoom baits, the Baby Brush Hog is impregnated with salt for added appeal.
The Brush Hogs are perfect for dragging along the lake bottom or for pitching and flipping. Their compact size allows them to access confined spaces like beneath grass piles or docks.
They're available in a wide range of colors, with some featuring glittery flakes for added underwater shine.
Check out these reviews from an actual customers! Click HERE!
Check Out: Berkley PowerBait 10 inch Worm (for Carolina Rig)
The Berkley 10" PowerBait Power Worms are made to be fished in all types of water including lakes, streams, ponds, and rivers. The worms are made with PowerBait, a special flavoring to attract bass and inspire them to swallow the worm. These worms are great to use for summer bass fishing and can also be used in the fall with twitching.
Fish tend to hold onto PowerBait 18 times longer than they hold onto regular soft plastic bait. This bait is soft and flexible, so it's easy for bass to hold onto.
Berkley scientists continually improve the PowerBait material that their 10" worms are made from. They are made in many different colors that are the same as their original Power Worms. They are not too soft, but soft enough for bass to nibble on and swallow.
Check out these reviews from an actual customers! Click HERE!
As we approach summertime, it's time to talk about a very effective fishing technique – using flutter spoons. This method is particularly useful for catching bass, especially in offshore locations like ledges, offshore points, humps, and areas where bass suspend 3-5 feet off the bottom.
Flutter spoons are known for their effectiveness in triggering inactive schools of bass and for their success on tough fishing days when the bass are suspended.
The tactics for using flutter spoons involve casting the spoon into deep water and letting it sink to the bottom. Once settled, give it a jerk to simulate a fleeing baitfish. The spoon's subsequent fall and shimmy to the side is what really attracts the fish.
Some tips to remember: cast at a 45-degree angle for better control, particularly in windy conditions.
Always keep an eye on your line for a small tick, which indicates a bite. If a fish tries to hit the spoon but doesn't get hooked, try a softer hop in place to entice the fish to bite again.
Lastly, don't be afraid to use heavier line (17-20 pound) with these spoons. It not only helps to swing the fish in once hooked but also avoids any break-offs. Happy fishing this summer!
Check out: Lake Fork Flutter Spoon
The Lake Fork Flutter Spoon is an exceptional tool for fishing enthusiasts, offering solutions to several common challenges faced by anglers.
One of its key features is the unique design and weight distribution that ensures long-distance casting even in windy situations… This minimizes "helicoptering" (having the lure flutter around and having the line get tangled in its treble hooks).
The lure's vibrant finish, which produces high underwater flash, further increases its effectiveness by attracting fish with its visibility.
In addition, the Lake Fork Flutter Spoon is designed to mimic the movement of fleeing baitfish when jerked off the bottom. This feature, coupled with its sharp treble hooks, helps to stimulate bites from inactive or suspended fish, and secure a strong hook-set, reducing the disappointment of lost fish.
For added durability, the Flutter Spoon boasts a robust construction that lessens the need for frequent lure replacements.
To further improve the lure, you might consider customizing it with a swivel to reduce line twists or adding a feathered treble hook to increase its attractiveness to fish.
Check out these reviews from an actual customers! Click HERE!