A Complete Buyer's Blueprint On The Best Crankbaits for Shallow Bass On The Market Today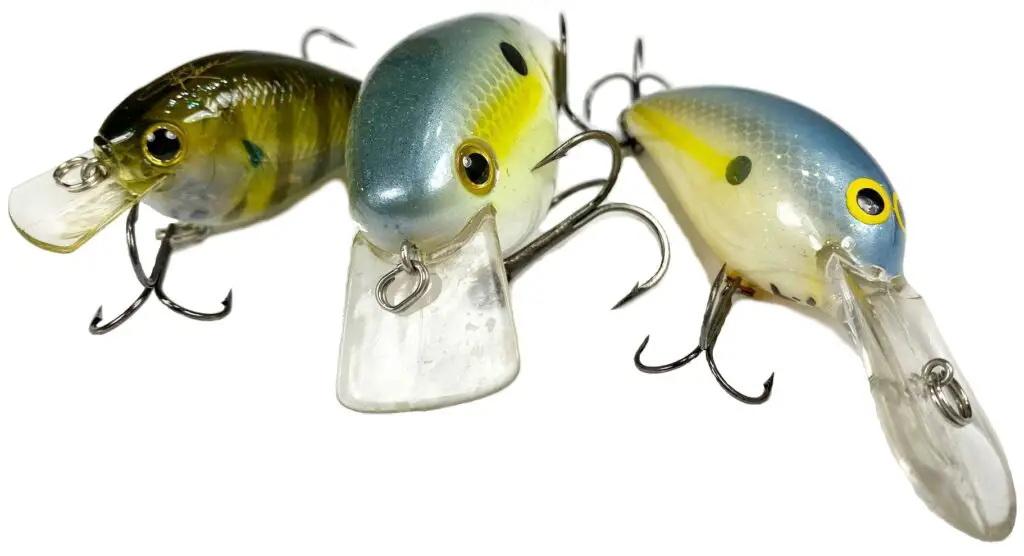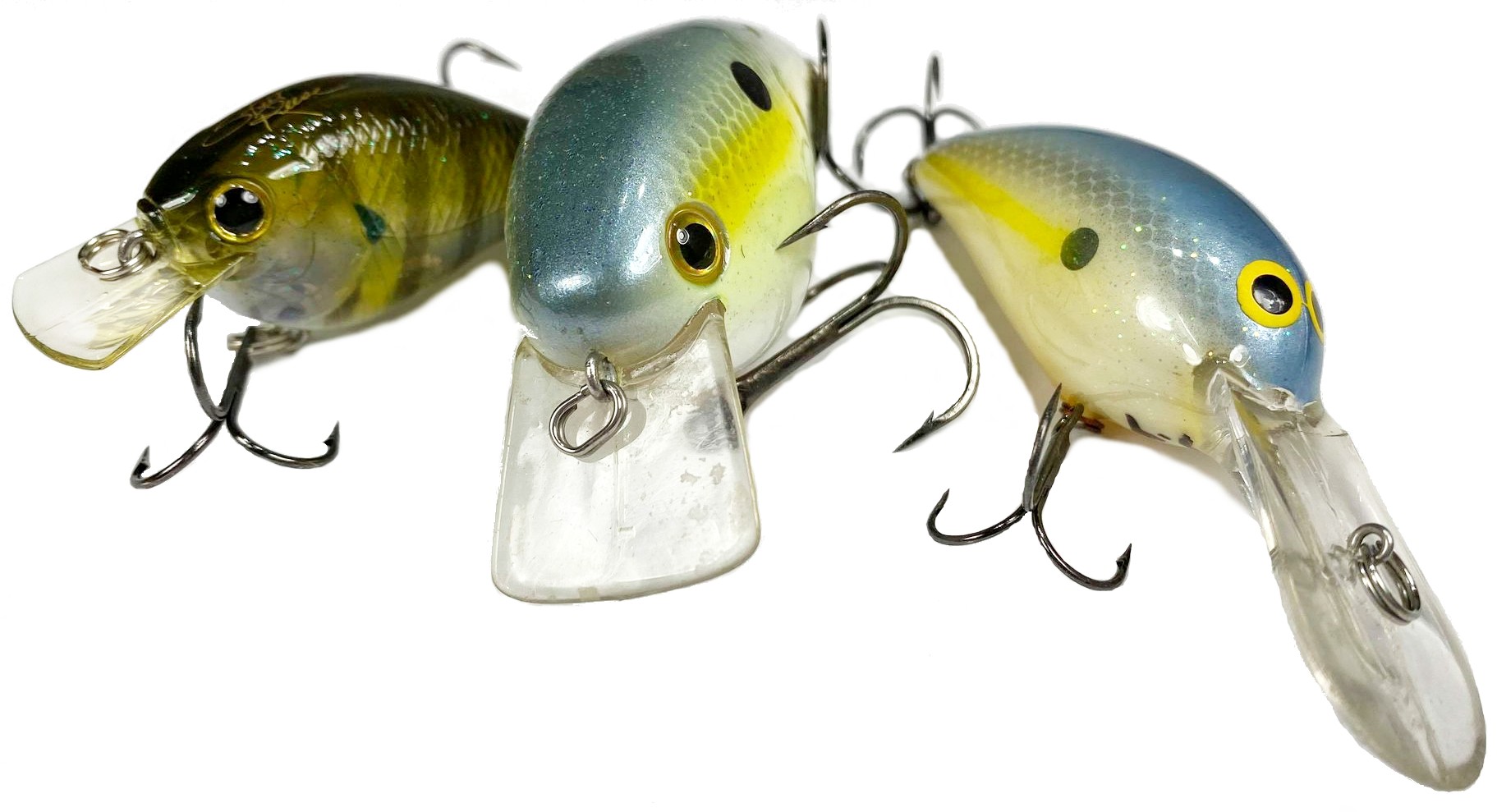 I was a broke college student trying to learn the art of crankbait fishing. I was seeing how all the other anglers were catching fish in the shallows using crankbaits. So naturally I wanted to learn so I wouldn't always rely on dragging a jig or a worm across a point.
But I still had a lot of unanswered questions like, what is a good crankbait for shallow water? What size crankbait for shallow bass? What are my options for all the different styles of crankbaits?  Furthermore, when should I use a shallow running crankbait for bass fishing? 
The thing is I was only using one style of crankbait, catching on a couple of bass here and there. And many days I actually didn't catch a single fish. To make things even worse, I felt horrible because I felt like I wasted a ton of money and time. 
But then something clicked. I started to notice that bass have a tendency to bite certain crankbaits better depending on the time of year and conditions. So I started to make some notes and do some research. 
My plan was to start making a list of the shallow running crankbaits that caught me fish.
So I started on that list. But I didn't stop there. 
I then added more specific details on what made that crankbait helpful. 
But there was still a problem… 
All of the details of each crankbait was getting more complex. On average I had over a page of notes per style of crankbait!  When I would go back to review the notes, I would often forget what was the most important details for that crankbait. 
In the end I went back and deleted all the nonsense and kept all the best tips that I know would help the most.  After that I put all that information in a graph and a list so I can easily compare the different crankbaits. 
So I hope this list helps you as much as it helped me!
WARNING:  There's a lot of information about this subject you'll probably want to come back to. No one expects you to remember all these tips. We know your time is precious, so we really tried to over-deliver in value for you. Additionally, we frequently update reports like this, so you'll want to stay up to date with any changes or additional tips we include for you. 
We found that the easiest way to save and bookmark this report so you can come back to it later is to share it on your favorite social media platform, especially if you use your phone to get important tips like the ones in this report here…
Click on your favorite social media buttons to remember this page now!
Best Overall Winner
Best Budget
Editors Choice
Best Newcomer
Best Summer Bait
Best Fall Bait
Product
Bandit 100 Series Crankbait
Strike King 1.5 Hard Knock squarebill crankbait
6th Sense Crush 100x squarebill crankbait
SPRO John Crews Fat John 60 Crankbait
Luhr Jensen Speed Trap crankbait
Tournament Ready Out Of The Box?
Best Overall Winner
Tournament Ready Out Of The Box?
Best Budget
Product
Bandit 100 Series Crankbait
Tournament Ready Out Of The Box?
Editors Choice
Product
Strike King 1.5 Hard Knock squarebill crankbait
Tournament Ready Out Of The Box?
Best Newcomer
Product
6th Sense Crush 100x squarebill crankbait
Tournament Ready Out Of The Box?
Best Summer Bait
Product
SPRO John Crews Fat John 60 Crankbait
Tournament Ready Out Of The Box?
Best Fall Bait
Product
Luhr Jensen Speed Trap crankbait
Tournament Ready Out Of The Box?
#ad / Images from Amazon Product Advertising API
We used our experiences with the products and looked over hundreds of customer reviews, watched tons of video reviews, and analyzed what the professionals and experts had to say from popular sources like BassMaster Magazine.
We scrutinized the data from the product catalog pages of nearly a dozen manufacturers, and we even tried to interview some of the company representatives to talk shop and get their take.
Winner: Best Overall Shallow Running Crankbait
Lucky Craft 1.5 DRS Squarebill Crankbait
But, why did the Lucky Craft 1.5 DRS squarebill crankbait win the best overal award?
The Best Overall Award goes to Lucky Craft and their DRS 1.5 crankbait. 
Many know about the deadly Lucky Craft 1.5 squarebill crankbait in 1.5 Silent version, but most recently they released the 1.5 Deep Rattle Sound (DRS) variation. And it's DEADLY!
Professionals and serious anglers all have said these are the five most important features of a quality shallow running crankbait:
You need the bait to to hunt at modest speeds while staying on track.

You want it to quickly float (fast buoyancy).

You need it to be able to deflect off cover and avoid getting hung up.
The manufacturer must offer a good variety of color choices to match the local baitfish and forage species.
You require it to be tournament ready right out of the box. You won't have to worry about changing out the hooks after catching a couple of fish.
Needless to day the Lucky Craft 1.5 DRS has all of those features.
The sound is very different from what the other companies are offering. It sounds sort of like a one-knocker type of noise – like a subtle dull click.  
It's been whispered that Lucky Craft uses their own patented ultra-hard ABS plastic they construct their baits with. Coupled with the new internal rattle system its no wonder the 1.5 DRS has such a unique sound that no other bait manufacture has been able to copy.  
Those two features guarantee you can cover the water in a quick fashion with good efficiency. 
The Lucky Craft DRS does both those things quite well. If you hit anything, and stop for a moment, it will float quickly over anything in its way and you can continue retrieving it and seldom get hung up.
That's why you'll be able to cover the water speedily using it, and haven't had more than one or two snags over the past few months.
The DRS 1.5 is best used fishing around vertical/exposed standing timber, bulldozed through thick brush, grinded over rocks and rip/rap. 
The Lucky Craft DRS 1.5 crankbait is one of my go to lures during the summer and fall, especially when the water is clear. It has an aggressive thumping and very wide wobbling action to boot..
I have been very lucky concerning the Lucky Craft lure paint jobs the past few years, and have seen no difference in all the crankbaits I own, barely any evidence of hook rash.
Plus there's no need for upgrading the hooks and hardware. All Lucky Craft hooks are Daiichi sharpened VMC hooks and strong split rings come standard. 
I think it offers a different kind of sound, much better actions, along with floating fast and hunting well. Plus it's very strong, and all anglers who fish in shallow waters will ever desire.
Needless to say this baby is constructed really well and super durable. 
This crankbait can do nearly everything and is well worth the investment.
Pros:
Simple to fish.
Class leading lure action.
Unique rattle sound.
Great color options.
Upgraded sticky sharp

Daiichi sharpened VMC hooks.

Upgraded stainless steel split rings.
Bait comes ready to be fished out of the package, no tuning required.
Proven Winner.
Will works in both in spring, summer, and fall.
Hang up but not deal-breaker:
Pricey.
Can be hard to find.
Best Budget Shallow Running Crankbait
Bandit 100 Series Crankbait
About the Bandit 100 Series Crankbait...
Coming in next is the Bandit 100 Series Crankbait. 
Lots of things make this an extremely popular crankbait for bass fishing.
I go fishing in shallow lakes and ponds most of the year. The lakes in my area stay pretty muddy too. I go for fish two to six feet down around 10 months of the year.  So that means I test out a lot of crankbaits for fishing in the shallows. 
These are my fav baits and with a few years of experience using them, and I am pretty fussy with my shallow water lures. 
So, firstly I love how simple it is. It's a workhorse since it can handle all kinds of abuse.  I've thrown a few really bad casts using it and likely can add up how many instances when I had to get some pliers to fix the line tie. 
It's plastic so it can take alot of abuse. The paint job holds up great, which is also nice. 
You may laugh, but nothing's gimmicky when it comes to this bait. 
Not a single crazy claim or feature; but boy can it catch loads of bass. There's no need to have to study up on how to use it the night prior to your fishing trip, and you don't have to worry about a need to tweak or otherwise mess with it. 
Admittedly, I don't think I'm a lure snob, but when it comes to the hooks, they tend to get dull so I often put on a different one, especially if I am using a heavy type of line. Besides that, you can use it right after taking it out of the box. 
This lure is on the lighter side so you may want to consider using a spinning rod to give it extra casting distance, or if you're fishing in windy conditions.
The Bandit 100 is an inexpensive crankbait for shallow water. These days many lures cost between $20-30 bucks, and this one is less than a Starbucks coffee. 
Pros:
Great for beginners and veterans.
Easily fished with a spinning rod setup.
Large color selection.
Great price.
Hang up but not deal breaker:
Some require tuning out of the package
Cheap hooks and split rings.
Prone to hook rash.
Strike King 1.5 Squarebill Crankbait
But, why is the Strike King 1.5 Hard Knock squarebill crankbait a great choice?
Listen, if you're just getting started fishing shallow diving cranks, then you need the Strike King 1.5 Hard Knock squarebill crankbait. in your box.
This lure will travel down surprisingly fast for being short-billed, and it can make plenty of commotion when used with a medium speed retrieval. 
It's hard knock rattle system produces deep thud that resonates underwater and its quick movement the bass can feel it's invaded their ambush area.  Like a ninja the Strike King 1.5 squarebill crankbait is a lure you can slip into that strike zone fast and then BANG! 
The lure has relatively good hooks and split rings, and the lips are durable. 
Strike King doesn't skimp on building materials at all and it's available in colors galore. I love the Chartreuse Sexy Shad, and the Green Gizzard Shad as well as the ones that have a Delta Red pattern. 
The 1.5 is a small lure, however, the wide body on it provides additional mass so you can cast out really far. 
In addition, the KVD 1.5 not only can be cast a long distance, it also comes through wood laydowns and brush piles really well.   
I have used it perpendicular over large tops of brush, as well as parallel to laydowns. 
It always bounces and backs off from branches great and if you use it along with a high tipped rod, this lure will crawl right through anything in its way.
This crankbait can do nearly everything and is well worth the investment.
Pros:
Simple to fish.
Fairly inexpensive.
Proven Winner.
Will work in both in spring, summer, and fall.
Hang up but not deal-breaker:
Frequently needs to be tuned.
Complaints of frequent  paint chipping and hook rash.
Hooks are sharp out of the box but can dull quickly.
Bagley Balsa B1 Squarebill Crankbait
But, why is the Bagley Balsa B1 Squarebill Crankbait so awesome?
The Bagley Balsa B Squarebill crankbait grabs the Best Balsa Award.
These lures have been controversial to say the least. 
Most anglers love them or hate them. Personally, I'm in the 'love them' category.
These lures have always been famous for showing natural, lively action when used, plus they are insanely buoyant, meaning they float to the surface fast!
When compared to a traditional plastic crankbait they truly don't match up when it comes to balsa's ability to float and move through the water
Bagley has created some of the top balsa baits for more than half a century.
Even more so, Bagley lures likely have won more times in the big contests than just about any type of crankbait produced, which includes 4 Bassmaster Classics.
It's insanely cool the way this lure totally worms its way into the wood, which lets it get over covered spots and deflect from any snagging a lot better than those made of plastic. It is perfect if you want to fish near brush areas, a stick up, boat dock, laydown or other places hard to reach.   
I can even reel it really slow and it will wake on the top of the water!
In addition, I love the fact Bagley is an example of one of the manufacturers of crankbait that's been around the longest. However, a lot of fishermen have forgotten that they exist. The bad thing is the colors they come in are out of date, yet still have been tested by time.
Well let's get into the more controversial topics… 
Of the biggest complaints I've read about (but haven't encountered) about how the balsa wood cracks if you slap it on the water to get off weeds or vegetation. Well Duh!…  IT'S BALSA! You don't slap balsa wood baits on the water.  You can't treat them like plastic crankbaits. 
Another complaint is the hardware will pull out if the crankbait is hung up. Again being a balsa lure you cannot treat it like a hard plastic bait.  Since it's a very shallow running crankbait it's not hard to get your lure back if it gets hung up, especially if you're fishing from a boat or kayak.   
Truth be told this crankbait is not for everyone, but that's okay.  is that if you want to crank the shallows in the summertime, this lure is a great marriage of fast floating balsa wood, square shaped bill, and a body that's short and fat.
It's an example of a bait with a distinct thumping wiggle which anglers have been using to catch fish for years all around the United States and around the world.
This shallow water crankbait can do nearly everything and is well worth the investment.
Pros:
Extremely versatile (can be used as a shallow crank or a slow wake bait).
Very Buoyant, has a fast rise that only. balsa can give you.
Thumping wiggle.
Hang up but not deal breaker:
Limited colors.

Can crack if you treat it like a hard plastic bait.

Hard to find.
Limited stock
Best Summer Shallow Running Crankbait
SPRO John Crews Fat John 60 Crankbait
About the SPRO John Crews Fat John 60...
Next on my list is the SPRO John Crews Fat John 60.
Not only does this look like a big crankbait, because it is a big crankbait. It's  2-1/3″ long and weighs over ½-ounce (5/8oz to be exact) and dives 1-3 feet and it's awesome during the summer.
Even though this has been out for a few years, it doesn't stop it from producing. 
It dives quickly and has a great hunting action to it as it's bumping and grinding the rocks on the floor of the lake. 
The wobble is nice and wide, so it's a must have lure for the summertime. 
This is the kind of lure you want when there is submerged grass in your lake.  Crank it down until you feel it tick across the top of the grass. And when it gets hung up, give it a shake (it's like ringing a dinner bell for the bass).  Wait for a few seconds and yank that sucker free. If there's a bass inspecting that lure chances are you'll trigger a bone crushing reaction strike!
As I've mentioned in previous posts, Spro makes a really nice product you guys. 
The baits come a variety of colors and they are equipped with larger #3 Gamakatsu hooks, so you know the fish will stay pinned to that bait!
Over the last couple years their price has also dropped. They used to be around $15 bucks, but now you can find them around $10 which for this bait is more than fair.
Pros:
Wide wobble.

Can be fished through the thickened wood and deflects like crazy.

Durable paint job. Upgraded hooks – stays sharp
Hang up but not deal breaker:
Bill can break when casted against a rock.
Best Fall Shallow Running Crankbait
Luhr Jensen Speed Trap crankbait
About the Luhr Jensen Speed Trap crankbait...
If bass are shallow in the fall, I'm fishing with a Luhr Jensen Speed Trap crankbait. 
This crankbait is definitely old school (even for me), and there hasn't been many updates to the design in it the past two decades. 
It's internal rattle is very loud and  swims with a tight wobble. It simply catches the fish.
I generally toss it when the water is cold in the late fall.
Helpful Tip: This is a sleeper bait if you're fishing in a river or where ever there is strong current, ever during the summer! 
The rattle in the Speed Trap is super loud, quite noisy, lots of vibrating, fish bite on it everywhere and it doesn't cost a lot. 
I remember when I talked about this lure in a previous post, many of my readers emailed me about how they didn't want their buddies discovering how great this bait is. 
Sorry guys, I'm here to tell you it works great and you should add it to your tackle box.
If you are trying to catch some giant bass, or the fish are hiding out in heavy covered areas, you'll need to put on a different hook prior to using this lure. I suggest using a hook one size bigger. 
My only knocks on the Speed Trap is the colors need to be updated, and the hooks are a little small for the lure.
Other than those fixable details, the Luhr Jensen Speed Trap crankbaits are a quality fall crankbait for shallow water bass fishing.
Pros:
Tight wobble.
Loud rattle.
Excellent for stained water clarity.
Phenomenal as a river or current crankbait.
Hang up but not deal breaker:
Color patterns need to be updated.

Hook dull quickly.
Best New Shallow Crankbait
6th Sense Crush 100x squarebill crankbait
About the 6th Sense Crush 100x squarebill crankbait...
The best new shallow running crankbait award goes to the 6th Sense Crush 100x squarebill crankbait. 
I really like how 6th Sense kept the classic squarebill crankbait design, while making a few improvements.
After doing some simple research, I learned 6th Sense re-engineered the internal weight system and internal rattles. Making these changes gives the crankbait even better performance. 
Per the 6th Sense website, "…Quickly rebounds off thick brush, trees, rocks or any other type of cover while maintaining position and trajectory."
This crankbait was built to crash through the thickest shallow cover and they rip out of grassy spots, crank rocks, and burn when I use them in open areas. 
Aside from great performance they offer a HUGE NUMBER of DIFFERENT COLORS. The quality of the paint job is top notch and they look extremely real with their 3D features on the gill plates, eyes, and scales. Those features truly make it come to life.
Each lure features incredibly sharp black nickle treble hooks.
The action is a classic aggressive wide wobbling movement. And it easily deflects of structure which produces ferocious strikes. 
The rattle has a lower sound, which is great if you fish this shallow water crankbait in clear to lightly-stained water.  This lure is an attention grabber, but doesn't spook any fish.
It's buoyancy is decent and is comparable to other hard plastic squarebill makers, so you still can pull it back and float it away from a snag. 
Pros:
Incredible paint job quality.

Massive variety of colors to match the hatch.

Great for fishing around rocks and grass.
Perfect for clear to lightly-stained water conditions.
Fantastic hooks.
Hang up but not deal breaker:
Dull rattle sound (however, it can be great for clear water conditions).

Lack bright color patterns for heavily stained or dirty water conditions.
Here's a list of the ones who didn't make the Winner's Circle they still should be strongly considered because they're still damn good products. Take a look below…
The Best Square-Bill Crankbait: The Rapala® BX™ Brat
Now I know there has been a buzz surrounding the new Rapala shallow running crankbaits, some good, some not so good. But this one bait completely stopped me in my tracks and earned it's honorable mention! 
Talk around the tackle shop and forums had got me curious, so I decided to get some and see what all the discussion was about. 
To start, I want to let it be known that if I'm fishing in shallow water, I love fishing balsa crankbaits.
However, there's one big downside: The crankbait may break if you accidentally forget you're fishing with a balsa bait and you slap in on the surface too fast and it breaks.
The Rapala BX Brat's core is made of balsa; however, the exterior shell is made of robust polymer plastic.  
Rapala reports, The Brat construction provides buoyancy and deflection like balsa bait, yet it's as strong as other crankbaits made of plastic.  
After running this crankbait into the ground for the last 3 weeks, I will truly agree that durability is for real. I bounced off banks full of rocks, as well as a few docks and it's only got a few scratches on its surface.
The lure body and its bill stayed completely intact without any splitting or cracking.
I got really shocked when I saw how small this lure was when my order got to me. Both models, the 03 and the 06, measure just two inches long and they both weight ⅜-ounce, so the difference in models is only the diving depth. 
The Model-03 dives three feet and the Model-06 dives six feet.
The bass where I fish locally get bombarded by angling all the time, so I know those fish see hundreds if not thousands of the same squarebills on the weekends. I strongly believe the smaller lures catch bigger fish, so it made me super happy to see the real BX Brat size.
This lure is equipped with VMC trebles that are extremely sharp. I have nabbed a few fish by the edge of their mouths and don't think I could have done that if not for those sturdy sharpened hooks. 
It is worth saying though that these hooks are very tiny. Both types have number six treble hooks. These appear a little small for the size of the body. Luckily, I have not experienced any big problems with the hookup proportions I have been using. 
Generally, I love the BX Brat's action and its small size. Once more, this lure is fantastic for pressured bodies of water, and the small fish like them also. As for me, I love the old-style balsa baits a tad bit more now.
Buoyancy was then tested, I compared it to both the Bagley Balsa B1 squarebill crankbait and to a Strike King 2.5 squarebill crankbait. 
To my surprise it had better buoyancy (it had a faster rise to the surface) than Strike King. Unfortunately, it had less buoyancy than the Bagley Balsa B1. 
In summary, this is a really cool lure with a very interesting design. The color combinations are great for nearly every situation and the hardware is good. 
It's buoyancy is better than a standard hard plastic crankbait, but less than a traditional balsa squarebill. 
#ad / Images from Amazon Product Advertising API
Using The SPRO RkCrawler For Shallow Crankbait Fishing
A few years back SPRO unveiled the RkCrawler. I am gonna tell you this first, if you plan to fish in the rocky areas at riprap shallow-middle depths, then this little lure is sure to be a total game changer!
I got a chance to try it in a few clear water reservoirs. It ended up being an example of one of my top performing crankbaits ever since then. 
Although SPRO never officially announced it, I think this lure was made to go head to head with the Wiggle Wart. And I can remember anglers were screaming for an  alternative.
Then once I saw this lure I truly believed it would be a huge contender all around the country. 
The SPRO RkCrawler was created to precisely target depths between four and eight feet.
I was completely wowed at how great this bait will deflect off rough cover. Just like its name suggests, the lure is fantastic when you want to crank across a pea gravel bank or over big chunks of rock. 
Quickly, this baby has become one of my chief weapons this season and onward when I plan to target those middle depth rocky areas. 
I've noticed that it will be able to dodge a snag while you target a laydown or a submerge stump field. 
The RkCrawler is able to dodge a snag and work around submerged cover such as a laydown or a stump. Its ability to deflect is better when compared to best squarebill crankbaits.
A top feature regarding this lure is the Spro doesn't forget about crawdad colors and shades. 
It seems that many crankbait manufacturers will produce a ton of baitfish color patterns and then add in two or three crawfish colors. 
SPRO gave anglers across the country a wide assortment of crawfish shades.
When taken from the box, the RkCrawler needs no tweaking at all. 
The Gamakatsu Round Bend Treble hooks and top notch split rings are standard (I buy tons of these as I truly love using them).
In summary, this high-quality niche specific crankbait I totally plan to buy lots more of these babies.
#ad / Images from Amazon Product Advertising API
GMAN's Prespawn Rapala DT-4 Crankbait Breakdown
I've fished this crankbait year round and in almost any scenario. 
If I need to fish super shallow, I know I'm going to think about tying on the Rapala DT-4.
I accidentally stumbled upon this lure when I was at my tackle shop looking for it's older brother the DT-6. 
Once I saw it I thought I'd give it the old college try.
After I started to play with this lure I discovered this is a great lure when I fish in shallow riprap areas or target a boat dock or flat.
The curved bill lets it deflect quite well from rocky areas, and that means extremely few snagging or hanging incidents during a day on the water. 
After some extensive research and conducting multiple interviews the Rapala DT-4 is a true 'ringer' bait for a lot of professional anglers and serious weekend anglers. For many this is their go-to shallow running crankbait, even if they have other crankbait sponsors!
Rapala suggests using twelve-pound fluorocarbon, it normally reaches down to about four feet, however, most of the time my casts end up nearer to three feet.   
It's durability is about the same as the others in the Rapala DT series. 
The lure handles lots of abuse under the water, however, it is vital to note it's core is made of balsa, so that means it's a little more vulnerable to breakage if you slap it onto the surface of the water if any grass or debris gets onto the hooks, it's not a good idea.  
This lure has a relatively tighter wiggle which is great for fall, spring and winter months. 
Finally, it's worth saying that I don't think I have ever purchased one that ran crooked.
I am extremely fussy when choosing crankbaits, however, I truly don't believe I have ever needed to tune a DT-4.
In summary, this is a great crankbait in cooler water conditions especially if there is grass or rock where you're fishing.
#ad / Images from Amazon Product Advertising API
DIY - Create & Paint Your Own Crankbait
If you don't want to buy a premium shallow running crankbait, but rather think it's the best idea to paint and build your own, then check out this YouTube video below.
Other Crankbait Fishing Articles For You...
Where is the best place to find pre-spawn bass?
What is the best way to set the hook with a crankbait?
A smooth sweeping hookset. You don't need to set the hook hard (like you would with a jigs) because the hooks are such a thin gauge. Be reeling down and a firm smooth sweep to the side will often set the hook.  
Most most crankbaits this hook setting technique works just fine, however, if you're fishing with a larger crankbait with larger hook you will need to set the hook harder. 
What type of line is best for fishing crankbaits for bass?
Most crankbaits should be fished with fluorocarbon, especially with soft tipped crankbait rods.
Reguardless if you don't have access to fluorocarbon line you can fish a crankbait with braided line or monofilament, 
It's important to know crankbaits will perform differently depending on the different type of line.
Fortunately, I wrote a thorough article that goes in to much more detail of what are the best lines for bass fishing and more importantly what lines you must stay away from! 
Read more: 21 Tips To Choose The Best Bass Fishing Line
What happens if the body of the crankbait cracks or breaks?
If you really like your crankbait and you don't want to throw it away do this…
Set it out in the sun until it's completely dry.
Sand down the broken area with fine grit sand paper.
Apply super glue over the crack.
Then mix some slow-cure Devcon 2-Ton 2-part clear epoxy and apply over the crack extending over the superglue approximately 1/4-inch.
Allow to cure for at least 24-hours.
Other Bass Fishing Related Articles...
A Complete Buyer's Blueprint On The Best Early Summer Bass Lures On The Market Today! When it comes to bass fishing, choosing the right lure
Read More »