How Do You Fish A Crankbait In The Fall? Expert Reveals How To Catch More Fall Bass With A Crankbait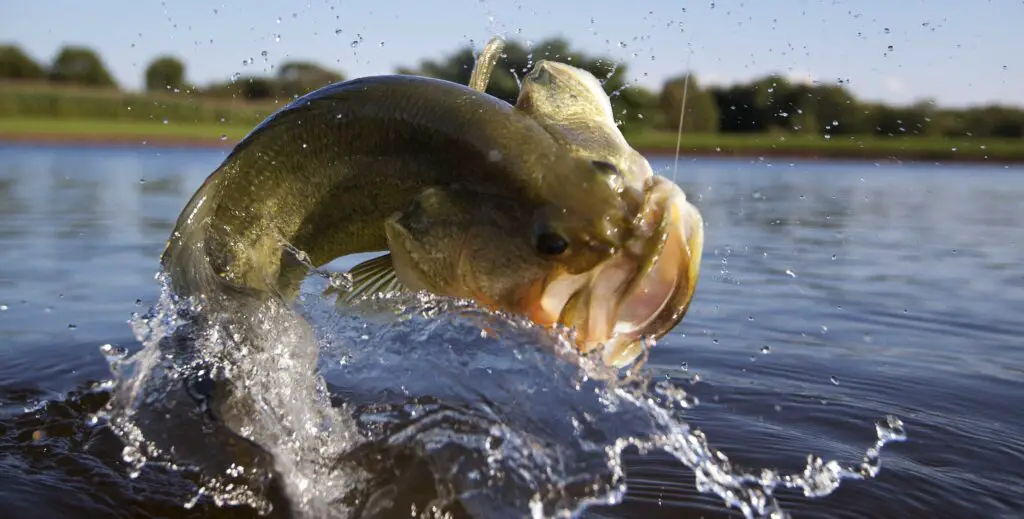 Are crankbaits good in the fall? First and foremost, crankbaits can be devastating in the fall.  
In order to be effective, you must know when and where to use specific styles of crankbaits. If it's early fall then a deep diving crankbait will work best. If the water is colder in late fall then a shallow to a medium diving crankbait will catch more fish.  
Some angler simply think that just because it's a crankbait it will catch fish in the fall. 
Unfortunately certain influencers online will promote just about anything, even if the lure is worthless. 
This report may ease some confusion as there are many crankbaits to choose from.
Before And After The Fall Transition
In early fall the lake will start to "turn over" or "transition". This phenomenon can make fishing in early fall very, very difficult.
If a bass lives in an area where the lake has started its turn over, the oxygen levels will decrease and the bass will become lethargic and hard to catch.
However, if you find areas that has not turned over, or has running water flowing into it (to provide additional oxygen), these will be the most productive locations in early fall, generally speaking. 
If you want to learn more about fall lake turn over and all stages in fall that all bass anglers absolutely must know about, then click here.  
Once the lake turn over finishes, the bass will go into a feeding frenzy.
Again, click here if you want to become a better angler in the fall and not struggle to locate and catch fish!
Bass will be seeking for schools of shad to eat on as they prepare for the winter, so a crankbait provides them a lure that looks like a shad but is a tad larger, and it's something different than what they're used to normally seeing.
In the early to mid-autumn, shad-colored crankbaits should be your go-to colors. Consequently, bass start eating on bluegill and crawfish later in the fall, a crankbait which tend to be more effective.
WARNING:  There's a lot of information about this subject you'll probably want to come back to. No one expects you to remember all these tips. We know your time is precious, so we really tried to over-deliver in value for you. Additionally, we frequently update reports like this, so you'll want to stay up to date with any changes or additional tips we include for you. 
We found that the easiest way to save and bookmark this report so you can come back to it later is to share it on your favorite social media platform, especially if you use your phone to get important tips like the ones in this report here…
Click on your favorite social media buttons to remember this page now!
How do you fish crankbaits in the fall?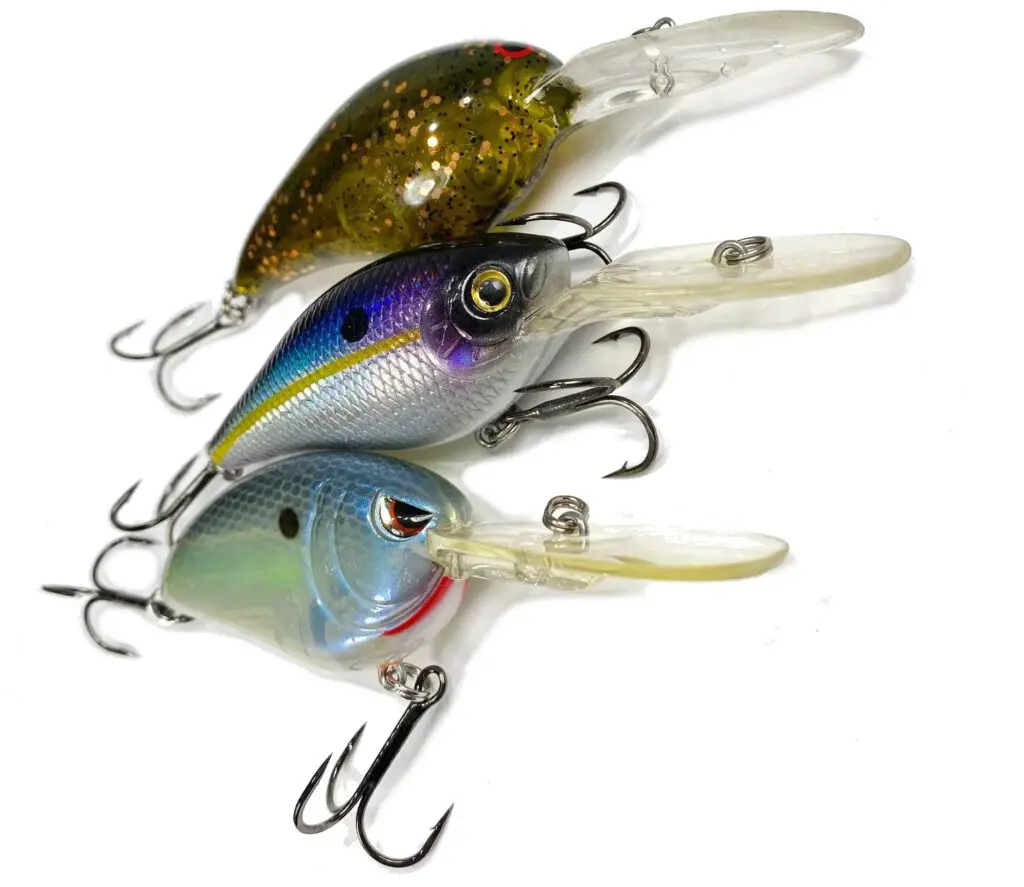 Finding the retrieve the bass prefer should be one of your biggest priorities, regardless of the location you're fishing. 
Change your retrieve based on the fish's aggressiveness. Start by winding it as quickly as you can, then gradually vary the speed until you reach the right balance for bass.
Work the crankbait down to deep structure (ie; stump or brush pile), then reel it slowly making sure you knock and bump it on the bush's branch and limbs, then pause for a second. Crankbaiting for autumn bass is a technique that will require some trial and error.
Whether you're using deep-diving crankbaits that can dive 12 to 15 feet deep grinding over deep points near drop-offs or using a squarebill crankbait bulldozing over brush piles. 
The retrieve is very similar as you would work a jig or a Texas rigged worm.
Crankbait fishing in early fall (water temp 70s)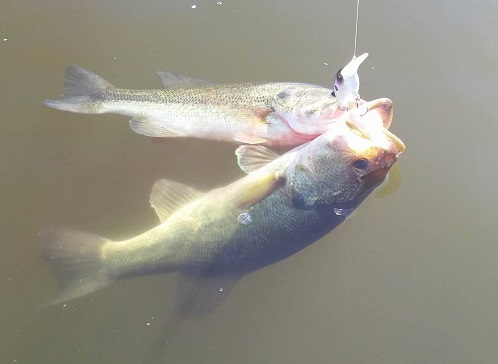 When you first get on the water the easiest strategy to find the bass is to find the shad first. 
Lets face it, it's easier to find a school of shad than it is to find a group of bass. 
Scan and explore the area keeping a lookout for any baitfish. If you don't see any shad, continue exploring until you do.
You see, bass will typically gather at the mouth of the cove first, next to open water, before making their way to the warmer water as fall progresses.
When you're scanning the area, you'll see bass stacked up on a deep creek channel or a ledge near the mouth of the cove. They could also be stacked on a single piece of structure like a stump, large boulder, submerged roadbed, old bridge piling, rock pile, a hump, or anything else that's a little larger.
These bass will hold approximately 15 to 30 feet, depending on the water clarity.  Or they'll be about the same depth as the shad that they are hunting … give or take a little bit.
Deep diving crankbaits for you to consider...
#ad / Images from Amazon Product Advertising API
Crankbait fishing in mid fall (water temp 60s)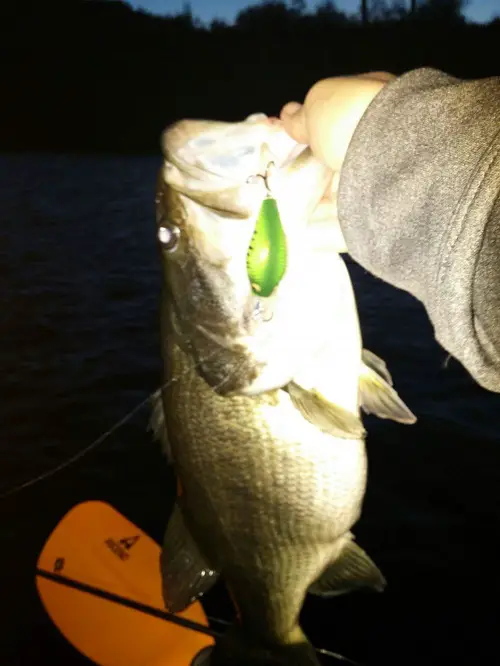 When the water temperature lowers into the low 60s, most bass move out to creek channels and drop offs in the 8- to 10-foot depth range.
Scan the backs of coves and pockets of creeks. 
More specifically, focus your time on either rock, solid wood, or residual green vegetation. 
Here bass will chase shad, bluegill, perch, baby bass and crawfish. 
So add crawfish or bluegill-colored crankbaits (dark greens and browns) as an option. 
On gloomy overcast days or off colored water, choose baits with a little chartreuse or neon orange in it.
Shallow diving crankbaits for you to consider...
#ad / Images from Amazon Product Advertising API
Crankbait fishing in late fall / early winter (water temp 50s)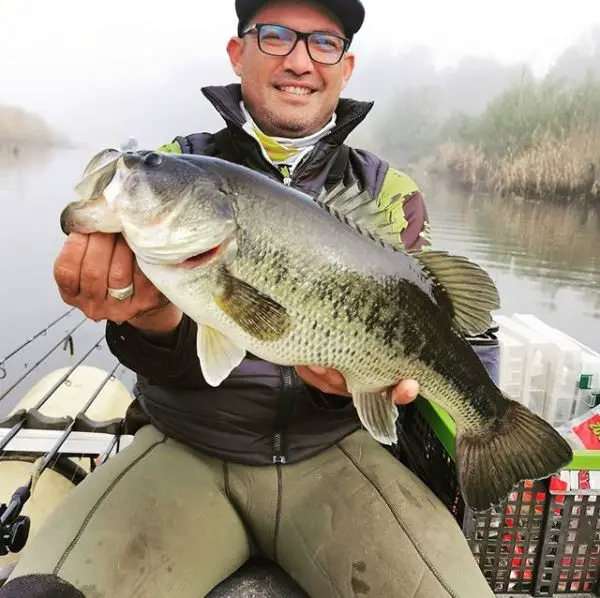 Slow down your retrieve when the water temperature drops to approximately 50 degrees, and be sure to creep and crawl the lure down the bottom and it grinds into the rocks.
Bass can be caught on both shad colored crankbaits or darker crankbaits close to the bank on sunny days in late October and November.
Look for bass heading back from the backs of creeks to secondary points and steep 45-degree banks that have either chunk rock, fallen or standing timber, or docks nearby.
Another location to check are inside bends of creek channels.
Medium diving crankbaits for you to consider...
#ad / Images from Amazon Product Advertising API
Fall crankbait fishing in post-frontal conditions (bluebird skies very little wind)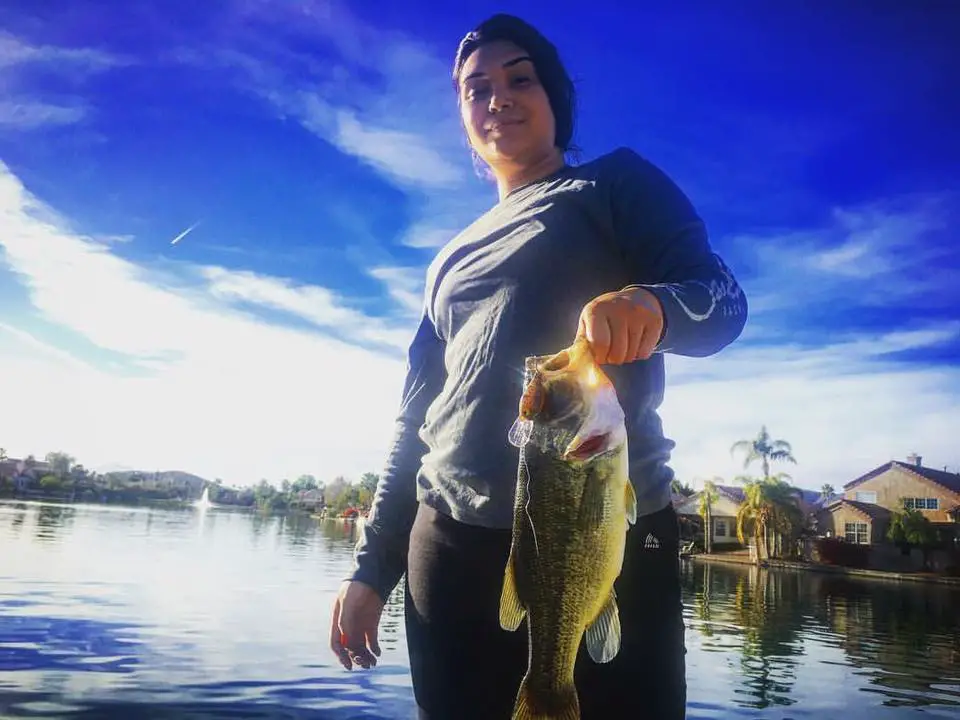 If the conditions are calm with blue-bird skies, or if a cold front just passed through… you'll want to slow your retrieve or choose a lure that has a tighter wobble.
That is where a heavy lipless crankbait will shine.  If you're having trouble finding heavy lipless crankbaits, click here to check out how I modify my lipless crankbaits. 
It's also strongly encouraged to find some current even if there is little to no breeze. 
Using the lipless lure while crankbait fishing for deep fall bass you'll probably want to change up your retrieve. A Lot of times you want to go with a "stop-and-go" retrieve works great, whereas, the "Yo-Yo" retrieve.  
The stop-and-go technique is when you cast out, start reeling in at any desired speed you want then suddenly stop, which makes the bait "die".  Many times the bass will chase down your bait and when you suddenly stop it the bass will strike it on the fall.
The Yo-Yo technique differs from the stop-and-go method by allowing the bait to fall immediately to the bottom (or whatever depth the bass are holding).  Then engage the reel and while pointing the rod tip towards your bait, lift the tip of the rod up to the 1-o'clock position.
One of the best crankbaits to fall fish on a bluebird sky is a Wiggle Wart crankbait. Here are some for you to consider...
#ad / Images from Amazon Product Advertising API
Checkout These Other Crankbait Fishing Articles...
Accessories You'll Need
Rod –The popularity of fishing is growing and people are becoming much more conscious of  different rods that can help them.
Fisherman want best technique specific rod for the money.
Luckily, I wrote several reports article that provides you with detailed information in order for you to make buy the rod for the money, and more importantly which rods to avoid at all costs.
Reel – Having the correct reel to match with your rod is just as important.  A good reel should be light and have a buttery smooth drag. There are several great reels on the market, but I recommend the Daiwa Tatula SV/TW baitbasting reel. It's a great reel packed with great features. So much so it could easily be priced in the mid $200 range.
Fishing Line – Having a good line is just as important as having a good rod. I recommend fishing with a good fluorocarbon line. Furthermore, it's super sensitive because it has little to no stretch, and underwater it's invisible to the bass!  If pride or money is on the line I would use Sunline Sniper FC.
Fishing Lures – It's pretty hard and darn near impossible trying to catch a fish without using some sort of lure or bait.  More importantly these baits you should never forget at home or it could lead to a horrible day on the water
Tackle Bag – You can't carry all your gear in your pockets, so you need a reliable tackle bag to transport it. I wrote a complete review guide, Best Tackle Bag for Fishing, check it out by clicking here.   But if you don't have the time to read the full guide then let me tell you I recommend the Lunker Bag by KastKing.
Fishing Pliers – Nothing will ruin a day quicker than getting a hook embedded in your hand, or worse your eye.  That's why I always recommend having good set-up pliers that won't rust and won't slip out of your hand.  I recommend that KastKing Cutthroat 7" Fishing Pliers.
Landing Net – As you are reeling in that monster fish, you don't want to injure yourself or knock the fish off the hook by trying to grab it. That's why I recommend a dependable telescopic landing net.
Fishing Weight Scale – Whether if you're going to keep your catch or just take a photo of it and brag to your friends it's important to have an accurate scale. I recommend a scale that has a large LED display like this one fishing scale here.
Wide Brim Fishing Hat – Nowadays, you have to protect yourself against the sun's harmful rays. Wearing a wide brim hat not only gives you UV protection, but it also keeps you cool.  I recommend the Columbia Unisex Bora Bora Booney hat. It fits any size head and it feels really comfortable.
Fishing Sun Shirt – Don't you stop at only getting head protection, you also need to protect your chest, back, arms, and torso. According to the researchers finding skin cancers on the shoulders and forearms rank within the top-5 locations to get skin cancer*. Avoid any unnecessary UV exposure and stay cool by wearing a UV protective PFG Fishing Shirt by Columbia.
Fishing Gloves – Fishing gloves allow your hands to stay covered from the sun's harmful rays and stay dry by using a special material. These gloves by Fishaholic offer UPF50+