These often used, rarely talked about jerkbaits is a lure the Pros trust… and now… you can learn and use immediately… no matter how new or clumsy you are!
Jerkbaits have been popular lures for generations. 
Some of the best wins and biggest fish caught are from fishing jerkbaits for bass… yet no one ever talks about it.  Everyone else likes talking about the latest and greeted lure fad. But truth be told, jerkbaits can catch giant bass in any season, in any condition even in the rain, cold, and snow. However, the optimal time to fish a jerkbait is anytime it's cool, cold, breezy or windy. 
We're here to help you by uncovering the secret that the pros don't want you to know about… and… to tell you about a bait you can use any time of the year.   
The key to your success is to be prepared with a correct jerkbait, which can sometimes feel difficult to find. There are hundreds of lures to choose from, each with special qualities and features. That's where we come in.
Are you looking for something that catches bass all year long? Do you want to catch big bass? Or are you looking for a great starter bait that is not hard to use?
The best jerkbaits depend on many factors, and we'll cover them all in this post. Let's get started in!
I personally brake down into two categories:
Shallow – Designed to be worked in 4-5 feet, these shallow lures are specifically designed to swim above any structure the bass may be hiding around.  Under the right conditions, the bass will think it's an injured or dying shad and will strike it from above.  These baits are approximately 4 inches in length and come with a short bill.
Deep Diving – Designed to an injured or dying small baitfish, these lures are specifically made to be used in deep water down to 16 feet! Great for clear bodies of water or in cold weather conditions. 
A jerkbait is one of the 5 cold weather bass lures that any serious bass angler must have ready to fish at a moment's notice.
But… just because it looks like a jerkbait doesn't mean it's great for fishing— a good jerkbait has to have crisp erratic movements, has to be made correctly for when the manufacturer says it's a suspending lure – it really a suspending lure, the hooks have to sticky sharp, have to turn even at the slightest pull of the rod, and finally the lure components have to be top quality to avoid rusting.
I've come to the conclusion, you would be wasting your time if the lure you're fishing it doesn't have these features.  Best of all, jerkbaits are really easy to learn and fish. 
Stop! Did you notice something? I didn't say good jerkbaits have to be expensive. There are some really quality jerkbaits that don't cost you an arm and a leg!
So listen… if you don't have much time to read the details we totally understand.  Simply use the links below to quickly find the best jerkbait for your fishing needs. You can be assured we only choose the best products for you…
Best Overall Jerkbait – Megabass Vision 110
Best Budget Jerkbait – Strike King KVD Jerkbait
Editor's Choice – Lucky Craft Pointer 100 SP
But be warned! Go through this blueprint slowly and carefully so you don't miss any suggestions that could cost you.
Best Overall
Best Budget
Editor's Choice
Honorable Mention
Product
Lucky Craft Pointer 100 SP
Best Overall
Best Budget
Editor's Choice
Product
Lucky Craft Pointer 100 SP
Honorable Mention
#ad / Images from Amazon Product Advertising API
1. Megabass Vision ONETEN
WINNER! Best All-Around Jerkbait!
But, why is the Megabass Vision ONETEN the best?
The Megabass Vision 110 jerkbait is one of those lures that every so often comes along that completely changes how we approach a specific technique in bass fishing.  
Despite the ever increasing competition from lure producers from all over the world, the Vision 110 is the lure that everyone else strives to be like or straight up copy.  
This is the best lure the market has to offer and is still one of the greatest jerkbaits available to get the larger fish to bite.
Construction
The Vision 110 has spearheaded the hunchback shape in which so many other companies now mimic. 
The Vision 110 is short lipped, narrow bodied with flat sides to emphasize flash and action. 
The Multi-Way Moving Balancer System, which distributes the small tungsten ball weights on the cast and subsequently provides the bait the proper position for unpredictable action.  This feature easily contributes to the Vision 110's ability to also suspend and stop on a dime.  When trying to catch bass in really cold water, this becomes very crucial.
The flat sides are decorated in a subtle scale texture that you would see on custom carved baits. 
It's difficult not to appreciate the Vision 110's superb paint job even before our lure touched the water. Every lure is expertly molded, weighted, painted, and finished, no matter what color you choose.
There are many different finishes available for The Vision 110 that you would be hard pressed to find at least a few colors that could work on your lake. For a comprehensive color chart, visit the Megabass website.
The lifelike eyes resemble a panicking baitfish struggling to evade its would-be predator.
Lastly, the lure is armed with three size #4 Megabass Katsuage thin-wire round bend hooks. These are insanely sharp, but have a tendency to bend if you try to horse the bass back to the boat. 
Fishing Experience
This is one of the lighter three-hooked jerkbaits that you'll find at your local tackle shop, weighing only 1/2 ounce.  
When compared to most of the competitors, the Vision 110 looks kinda dainty and small, in both length and width. But, don't let its small size fool you, it is just as easy to cast as any 1/2 ounce jerkbait.
Two tungsten weights placed inside the Vision's slim weight transfer system in the main body cavity roll down into the tail. This gives you a tail weighted lure to fish, making it nearly effortless to cast.
While this lure is lighter than most it's heavy enough to be thrown with almost any rod. With that being said, it's probably the best idea to use a medium action rod with a fast tip.
As the lure is being fish, the tungsten weights will move to the lure's belly while being worked, assisting with its erratic side to side action and suspending action.
Durability
While many have complained the bill can break easily.  While I personally have not had any issues with breaking a bill, I often read or see other anglers slapping the bait on the water to get off and weeds or grass.  
I've also witnessed other anglers cast this bait into hard structure such as dock pilings or against hard rock banks. 
So, if you're man-handling this bait, yet it can break. But my word of advice that I got from Jason Sealock from Wired2Fish was only use this bait over any deep structure or on any suspended bass. 
The Price
The price can be quite a shocker to those who aren't familiar with top-quality JDM baits. Yes, you'll probably shell out around $25-40 a bait, but there are some days when all the bass will eat is a Vision 110. 
Another thing to keep in mind most of the time you'll be fishing this bait over open water and in the rare event that you actually hang it up you can easily dislodge it with a lure retriever or the lightwire hooks will just bend out. 
The last thing about price is the way I justify it is I will easily pay $30 for a good burger and a couple of beers + tip. But I only get to enjoy that meal once.  At least with a Vision 110 I can use it over and over again. 
Summary
I strongly recommend you invest in at last a couple of Vision 110's.  To go even further, I recommend Pro Blue in clear water, Elegy Bone in stained water conditions, and finally Kohoku Reaction when it's stormy out. 
Check out these reviews from an actual customers:
"This jerk bait has caught largemouth, smallmouth, musky and I even caught a channel cat on the Susquehanna flats with. It worked very well on the Saint Lawrence this past spring. Highly recommend." — Gatrb8t via BassPro.com
"Great lure in one of my top colors. Caught my first 5 lber this year on it." — Les P via BassPro.com
"Catches consistently bigger fish, easy to control, has a great action." — 44BOOMER via BassPro.com
The Megabass Vision 110 flat out catches you fish!
2. Strike King KVD Jerkbait
After close to two years of designing and testing the KVD Jerkbait, Strike King released this jerkbait designed by professional angler Kevin VanDam. Strike King KVD Jerbait has become very popular among anglers who say that it… HANDS. DOWN. WORKS.
It is different from other jerkbaits because it has wild movements in the water that catch bass. It wakes up lethargic bass and notifies them that it is in the area with its rattle and bright, natural colors. 
The Construction Element
The KVD Jerkbait is made of synthetic material that genuinely mimics a bait fish. This lure has a transfer weight system for long, accurate casts.
Its premium black nickel hooks and lifelike profile are very realistic, and so are the 3D eyes. The bill is longer than most, and it has a spoon-like shape.
Two premium black nickel hooks are ready to hook into large bass not long after it enters the water. Larger versions of the jerkbait have 3 hooks. 
One difference in this bait is that it has a bottom hook that is perpendicular to the jerkbait for a bit more side-to-side movement when using a jerk, jerk, pause technique. The multitude of colors were designed by KVD himself.
The Fishing Experience Element
The Strike King KVD Jerkbait is great to use in cold water but it is also effective in other weather conditions. On a day when the bass are not biting, this bait often convinces them to go ahead and bite anyway. 
An angler can have a lot of confidence with this jerkbait because the fish just can't resist it. The Strike King KVD Jerkbait can turn a bad day into a productive day in any weather conditions, even days with clear skies and water and no wind.
The Price Element
If you're looking for a bargain, the Strike King provides a lot of positive features that are respected by many anglers. Best of all, it hooks into bass when other baits are not working.
The price of this jerkbait falls at the high end of the mid-range jerkbaits, but you are getting a lot of bait for the money. It has some features of higher priced jerkbaits such as an internal weight transfer system for long, accurate casts and premium black nickel hooks.
A Strike King KVD Jerkbait costs approximately $7.99 – $10.99 which is cheaper than comparable jerkbaits.
Check out these reviews from an actual customers
"Unbelievable action and great colors! – bamadon3, 9 years ago Via Pro Bass Shops
"Some models have a rattle. I used them on Lake Gaston. Very effective." – Hoyt J. Connell, December 1, 2020 Via Amazon.com
"This lure is 4" long and has 2 hooks. The 4-1/2" bait had 3 sharp hooks."–Jason: Unknown 10/4/21 Via TackleWarehouse.com
3. Lucky Craft Pointer 100 SP Lure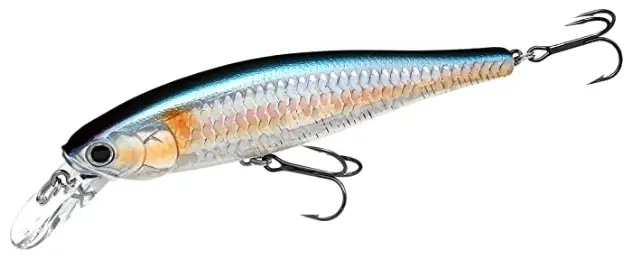 Why I personally like the Lucky Craft Pointer...
Even though the Vision 110 is a well-known and effective jerk/rip bait, another bait hangs next to it on the rod tips of some of the best professional anglers in the world. And that is the Lucky Craft Flash Pointer SP.
Construction
In my opinion this bait has a great mix of traditional minnow and shad features that any predator fish would be interested in. 
Each bait looks like it was hand carved with tiny scales along its lateral line. 
The head of the bait looks incredibly lifelike with accurate gill plates and vibrant eyes only add to the real-to-life features. 
I love the paint jobs and finish and I think they second to none. Lucky Craft uses several different alternating layers of paint, foil, and clear coat that can take hours to complete a single lure. 
Inside the body cavity you'll first notice two large brass ball bearings located on the weight transfer channel.  Secondly, you'll see a brass belly weight that is positioned near the throat versus the belly. This positioning gives it the head down – tail up attitude in the water. And lastly, there is a mix of glass and steel bearings and beads to give the bait multi-pitch sounds. 
Fishing Experience
The Lucky Craft Flash Pointer SP has fantastic action and holds itself deathly still in the strike zone seemingly forever.  You'll quickly see the action is awesome as  slices and darts from side to side as you flick your rod tip downward sharply.
For most serious anglers, they buy jerkbaits that can sit and stay in the strike zone.  Reason being is the longer this bait sits in the ideal strike zone it increases your chance of having a giant bass eat your bait.
You can truly wing this bait in all wind conditions thanks to the Pointer's slidable brass weights, which are located in the belly and rear of the bait. 
When you cast the weights roll down the channel and position themselves in the tail. Then when you start to work the bait the weights roll back into the belly aiding in action. 
You can cast the Pointer SP like a dart… so well you'll probably cast well beyond the target, regardless of any wind blowing.  One thing to know, although we are recommending the 100 size, the 128's increased weight makes it superior in breezy environments.
The Price
The price is upper tier pricing, but this shouldn't be a surprise considering the great quality of material you get from this bait. 
Summary
Hands down this bait is a great jerkbait option that is also reasonably priced. 
Check out these reviews from an actual customers
"Works great in cold water when fished slow .suspends good right out the box,no need to tune." — Yo Fish via BassPro.com
"Caught bass, walleye, and a catfish in August on Wisconsin dark, shallow water. Action is irresistible to hungry fish" — Katcher via BassPro.com
"Expensive – yes. Worth it – yes. Year in and year out most bass fisherman I know believe the LC Pointer to be the best jerk bait you can use. Hooks are sharp right out of the package. Best color is ghost minnow. I have other brand jerk baits, but have the most confidence in a Pointer." — DesertBass via BassPro.com
The Lucky Craft Pointer flat out catches you fish!
Mike McClelland, a seasoned B.A.S.S. tournament angler, created it specifically for competition use.   When the bite is tough the SPRO McStick Jerkbait is incredibly easy to use.  Even if you have no experience with jerkbait fishing it can be jerked, halted, reeled in gradually, or gently twitched. 
The McStick 110 is a suspending lure that works incredibly well to get those notoriously picky early and late season fish to commit when the water temperature is lower in the spring and fall.
The Construction
Like other stick baits, the McStick 110 has a built-in weight transfer mechanism that aids the bait's casting distance or accuracy. Even in crazy crosswinds that often throw your jerkbait off course or cause them to tumble in mid cast, this bait is simple to throw and really accurate.
The bait's sides featured a modest scale finish, and the head of the bait features the mean  narrowed eyes that you expect to see on SPRO baits.
Fishing Experience
The McStick glides and stops really well, however it doesn't outperform the popular Lucky Craft Pointer, in jerking sharp jerking movement from side to side, and although it stops relatively quickly, it won't stop on a dime. 
One thing we did notice was the McStick does a fantastic job of suspending steadily and maintaining its position.
The Price
The price is middle of the pack and that is what you would expect from this brand of bait. 
Check out these reviews from an actual customers
"This bait is off the chart , comes in some great colors and suspends true out of the pack every time . My hook up percentage has been very high thanks to the #5 Gama hooks." — leftty via BassPro.com
"Fished this bait last weekend in a tournament and won because of this baits production. It was a very tough bite, but if I was near the fish I could get bit on this when nothing else was working. This is my favorite model due to suspending factor. I can let it hang right in their face until they cant take it any more!" — every cast counts  via BassPro.com

"well tuned bait out of the box. casts well due to being 1/2 ounce with the internal weights. Great colors especially blue bandit and old glory" — Marty 72 via BassPro.com
5. Bass Pro Shops XPS Pro Series Suspending Minnow Jerkbait
One word best describes how I feel about these baits: impressed. 
Bass Pro is renowned for producing excellent lures at a fraction of the price of a premium bait, and the Bass Pro Shops XPS Pro Series Suspending Minnow Jerkbait is no exception.  Even the pickiest of fishermen won't be let down by the way they look.
First, we noticed how many color choices are available. There are plenty of options, and they are all vivid and exciting. Choosing a color that resembles the color of your local forage isn't too difficult because of all the options you have.
Construction
The profile resembles the Megabass Vision 110 in that it has a traditional hunchback bait fish form.  Listening to one of the Bass Pro reps he mentioned it has a relatively flat side of the body to increase flash and water disruption.
To add greater contrast and realism, the bait's sides featured a modest scale finish.
The head of the bait featured cool narrowed eyes that reminded me of the eyeballs on SPRO baits.
I can be sure that my "Skeleton" colored jerkbait has three chambers (two large, one little), each of which houses a single stainless ball after holding it up to the light. The balls' position in rather large cavities allows them to produce a lot of sound. I was very surprised by how loud the finished bait was.
Finally, it had a transparent tiny diving bill that allowed it to dive to a depth of around five feet.
Fishing Experience
The lure was really simple to cast. Regardless of the wind direction, it casts incredibly well especially since it doesn't have a weight-transfer system. I never had any problems with it toppling over (and having the hooks getting hung up on the line) because it's incredibly steady as it soared through the air.
The fact that this jerkbait weighs 5/16 ounces must be kept in mind because of how well it cuts through the wind and how far it can travel.
Similar to other jerkbaits, this one darts erratically and is simple to perform. It clearly has good action underwater, however it lacks the crisp cutting and darting you would get with some of the higher priced competitors
The Price
The prices are affordable for nearly everyone at any budget. 
Summary
The Bass Pro Shops XPS Pro Series Suspending Minnow Jerkbait is a great starter bait for anyone one budget or someone who is just getting into jerkbait fishing. 
Check out these reviews from an actual customers
"Great design, dives to 3-4 feet and slowly rises. Add a small lead strip to make it neutral. Great price and sharp hooks makes this a must have." — Captain JohnC via BassPro.com
"I bought this lure a few days ago and I went fishing today for the first time with this lure, love it ! Looks and swim like the megabass jerkbait, but is 5 times cheaper ! Caught tree 5 pounder pikes today with it, awesome lure, especially for this price, I recommend perch color, very realistic and got good reflections!" — Julien via BassPro.com
"Bass will eat this. Caught several Smallmouth on high mountain Reservoir" — M.K via BassPro.com
6. Berkley Stunna Jerkbait
Berkley wanted an improved jaerkbait for all anglers that would become the top jerkbait on the market. The Stunna was created by Hank Cherry, Back-to-Back Bassmaster Classic Winner along with Berkley.
The Construction Element
The Berkley Stunna Jerkbait was created by Hank Cherry Back-to-Back Bassmaster Classic Winner along with Berkley Fishing. Their goal was to design an improved jerkbait for all anglers that would become the top jerkbait on the market.
Their creation resulted in a hard plastic jerkbait with realistic-looking scales, 3D eyes, and detailed paints in 14 colors. The Stunna Jerkbait has a dual brass weight plus a single-weight tungsten system to allow for long casts.
The Stunna Jerkbait is durable and can usually be banged against the rocks without damage. The sides of this jerkbait flash when the angler jerks the line, so its attraction to bass is magnified.
The Fishing Experience Element
The Berkley Stunna Jerkbait has earned the respect of anglers because of its slow descent into the water and also for its lifelike looks and behavior. It feels great in your hand, giving you lots of control.
Three treble hooks are extremely sharp and the lure can turn its head 180 degrees to imitate a bait fish in a darting action like an injured prey fish. Anglers give the Stunna high ratings and some say that it gives them more confidence because it is so efficient.
The Stunna's slow sink often interests non-feeding fish who suddenly become interested when the Stunna makes its slow descent into the water column. 
The Price Element
This bait is a good jerkbait to try because its price falls at the high end of the mid-range jerkbaits. At $14.99, the Berkley Stunna Jerkbait costs more than some jerkbaits, but it is less expensive than others.
It is well worth the cost because of its durability and easy use that catches bass.
Check out these reviews from an actual customers
"Best lure for catching bass in Northeast Florida." – Samuel H Steen. Via Amazon.com

Rapala has been producing lures since 1936 and the X-Rap is a great new addition to their bait collection. It has a back-and-forth action to attract large bass. It perfectly mimics a prey fish due to its swimming movement that stops when it rests without floating or sinking.
 The X-Rap flashes because of the lateral line on the fuselage, and it's up to the angler whether to fish it fast or with a classic method.
The Construction Element
The Rapala X-Rap is a bait that bass love to pursue, probably due to its darting movement. It has a rattle to make it more appealing with an internal holographic foil and a unique tail that flashes in the water.
X-Raps are available in 21 colors in a created durable material which provides a translucent look in the water. It is completed with extra sharp VMC black nickel hooks.
This Rapala lure is made for long casts thanks to its weight transfer system. The inside weight moves to the back of the lure and this is what makes it so easy to cast a far distance.
Its realistic look with 3D holographic eyes will attract any bass, even those who are not actively feeding. This is true even on the coldest winter days.
Many different sizes of the X-Rap are made including 1/16-ounce, 1/8-ounce, 1/4-ounce, 7/16- ounce, and 3/4-ounce sizes. Lengths are from 1-1/2 inches to 4-3/4 inches.
The Fishing Experience
Some anglers who did not like jerkbait fishing have changed their minds after using the Rapala X-Rap. It is easy on the arm and does not cause arm fatigue.
Even cold, windy winter days do not stop the X-Rap from making a smooth, on-target cast. An angler can really feel in control when using this lure that stays in the strike zone for a longer time. 
The Price Element
The Rapala X-Rap fits into the mid-range of jerkbait prices. Judging from the reviews and comments from anglers who have used this bait, it is durable and well-worth the price of approximately $14.99.
It is one of a few baits that can be used right from the package, not needing different connecting pieces or hooks. 
Check out these reviews from an actual customers
"This lure is amazing. I was fishing in the cedar river and first cast I hooked up a northern." – Unknown via Bass Pro Shops
"Works great for stripers in California fresh water and large mouth bass. Caught both within 10 cast of each other.' – Tim H., February 9, 2021 Via Amazon.com
"They are sold in sizes from 2" to about 5 or 6". I like the x-10 size for bass. Good luck. – NCJACK, JANUARY 7, 2016 Via Amazon.com
Click here to read all of the Amazon reviews from real customers – Click Here!
Accessories You'll Need
Fishing Rod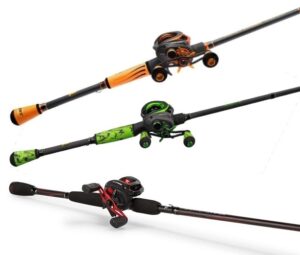 Rod –The popularity of fishing is growing and people are becoming much more conscious of different rods that can help them.
Fishermen want the best technique-specific rod for the money.
Luckily, the report I wrote provides you with detailed information in order for you to make buy the rod for the money, and more importantly which rods to avoid at all costs.
Fishing Reel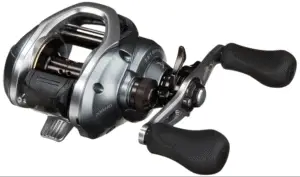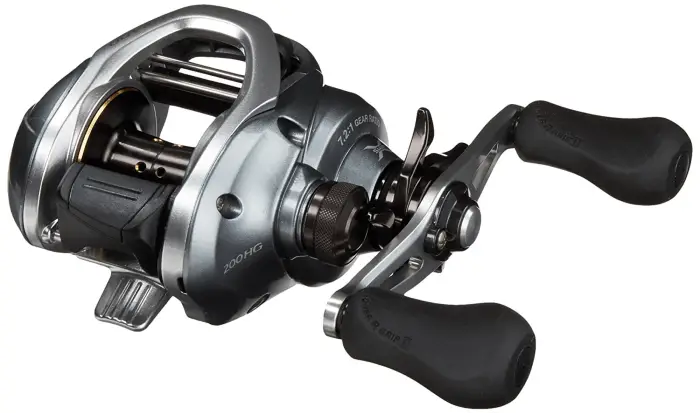 Reel – Having the correct reel to match with your rod is just as important.  A good reel should be light and have a buttery smooth drag. There are several great reels on the market, but I recommend the a quality Shimano  baitcasting reel. It's a great reel packed with great features. So much so that it could easily be priced in the mid $200 range.
Fishing Line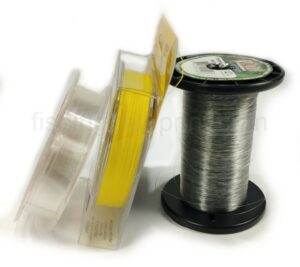 Fishing Line – Having a good line is just as important as having a good rod. I recommend fishing with a good fluorocarbon line. Furthermore, it's super sensitive because it has little to no stretch, and underwater it's invisible to the bass!  If pride or money is on the line I would use Sunline Sniper FC.
Fishing Lures & Baits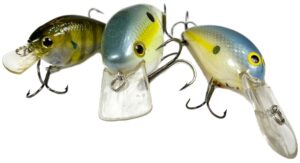 Fishing Lures – It's pretty hard and darn near impossible trying to catch a fish without using some sort of lure or bait.  More importantly these baits you should never forget at home or it could lead to a horrible day on the water
Fish Finder
Finding lunker bass has never been easier when using a fish finding sonar unit.  Packed with additional features to make your day on the water even easier.  Maps that can plan your day or help you find your way back even in the darkest of nights. Bright bold numbers and letters to make reading the maps easy even in the brightest of days, and colors that pop and make it quick and easy to identify fish. 
If you have a boat, kayak, canoe, or float tube, you need a fish finder. 
Here's our choice for the best fish finder between $299-$800:
Humminbird HELIX 7 CHIRP MEGA SI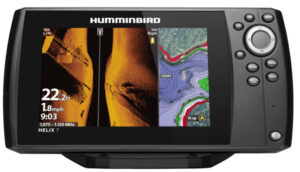 It has all the features for any serious fisherman whether you're an avid weekend warrior, or a tournament angler. This has all the bells and whistles you're looking for. 
>> Click HERE to Read The Reviews About Humminbird HELIX 7 CHIRP MEGA SI now
Here's our choice for the best economic fish finder:
Garmin Stryker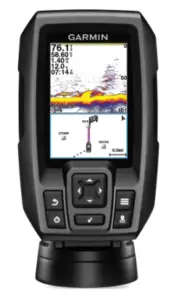 While others look for bites, your fishfinder and GPS plotter help you reach your daily limit. You can mark preferred docks, ramps, and hotspots to easily return to them later and even share waypoints.
Click HERE to Read The Reviews About Garmin Stryker now!
Life Vest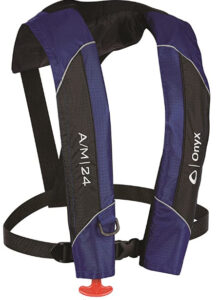 According to Statista, "In the United States, 658 people died as a result of boating accidents and 2,641 people were injured in 2021."
And it gets even worse… The National Safe Boating Council reported, "Where cause of death was known, 81% of fatal boating accident victims drowned."
And if that's not enough the incidence of deaths has climbed dramatically in recent years.
So if you're on the water you NEED to wear your life vest. Protect you, your friends, and your families lives by wearing a life vest every time you're on the water.
I recommend the ONYX PFD. It's comfortable for all day use and there is lots of room for the air to move around so you won't get sweaty.
>>Click HERE to read all the reviews actual customers!
Sunglasses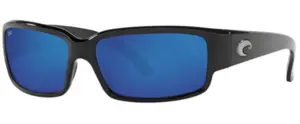 Sunglasses – Do you find yourself fishing in variable light and water conditions? Fishing in open water? Fishing in the bright hot sun? Then, only to leave the lake with eye strain and a splitting headache?
If so, I strongly recommend investing in a pair of Costa Sun Glasses. Thousands of anglers, charter guides, and tournament professionals put their trust into Costa, and so should you. Here's why…
Costa's co-injected bio-based nylon frame material is robust and durable, as well as extremely comfortable to wear for all-day use. TR-90 nylon is an excellent material for sports and performance frames since it is heat and cold-resistant.
Costa builds their glasses with class-leading technology. Their 580G glass lens sets them apart from the competition. These lenses are ideal for long days on the lake or sea since you won't have to worry about scratches on the lens when you wipe the saltwater off. Needless to say they're Costa's most durable lenses.
Anyone who spends time outside, especially on the lake, needs polarized lenses. However, not all polarized sunglasses are the same. Costa is 99.9% polarized, giving it the most effective possible in blocking reflecting glare, and minimizing eye strain and headaches.
Drift Sock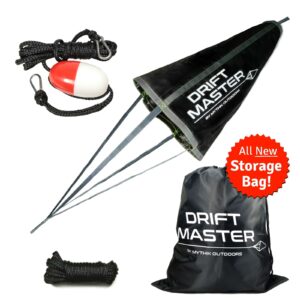 Simply speaking, a drift sock (also known as a drift anchor) is like a parachute for the water. It gives you the ability to silently troll without spooking the fish!
Anyone who fishes out of a boat, canoe, kayak, stand up paddle board, or any other type of floating vessel  should have a drift sock ready to use.
In addition to helping you catch more fish, recreational boaters also like to have 1-2 drift socks handy, just in case their motor goes out on them the drift sock will help slow their drift. This could be instrumental to allow rescuers to find that boat quickly and easily.
I strongly recommend the Drift Master Drift Sock by Mythik Outdoors.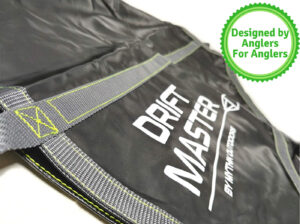 The construction is solid. Holding this in your hands gives you the peace of mind this feels durable and dependable.
I love that it's made from the gorilla-strong "RipStop" high density material, and I like that it's even paired with the high-density nylon strapping.
It's 30% stronger than other competitors who use a cheaper version of the RipStop material, so you never have to worry about his ripping.
Looking closely I can see they even triple stitched the high-tension points which is a good feature.
But best part… the Drift Master comes in a complete kit!
So get yours today and don't leave yourself adrift.
The last thing to note is the Mythik Outdoors Drift Master drift sock kits sell out fast, so make sure you get yours before they're gone!
Landing Net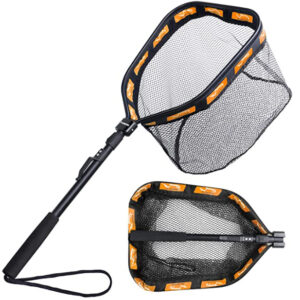 Landing Net – As you are reeling in that monster fish, you don't want to injure yourself or knock the fish off the hook by trying to grab it.
The PLUSINNO floating landing net is designed with foam padding on the hoop and provides buoyancy for fishermen. Now, If the net is dropped or blown overboard, the floating design makes it simple to retrieve – so you won't have to be concerned about losing it! The rubberized net cannot be snagged. It keeps the fish safe for catch-and-release, and the non-absorbent covering avoids waterlogging and odor absorption in the net.  It's collapsing design allows for easy storage.
That's why I recommend a dependable telescopic landing net.
Fishing Weight Scale & Culler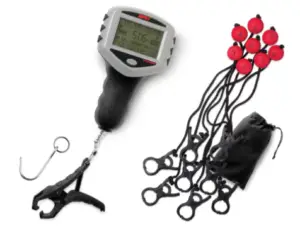 Fishing Weight Scale – Whether you're going to keep your catch or just take a photo of it and brag to your friends it's important to have an accurate scale. The Rapala Tournament Model Touch Screen Scale makes weighing and logging your catch easier and more convenient. The large digital scale has a lot of functions and is easy to use. simply keep track of your current catch and its place in your overall weight. To see the weight, just suspend the catch from the heavy-duty composite clamp or the accompanying stainless steel hook.  Adding the important details to your catch couldn't be easier – simply input your catch's weight and tap on one of the eight storage places. The culling process makes it simple to identify fish that should be released for the greatest overall weight.
I recommend a Rapala Tournament Scale that has a large LED display like this one fishing scale here.