Best Ledge Fishing Baits | Lures For Offshore Ledges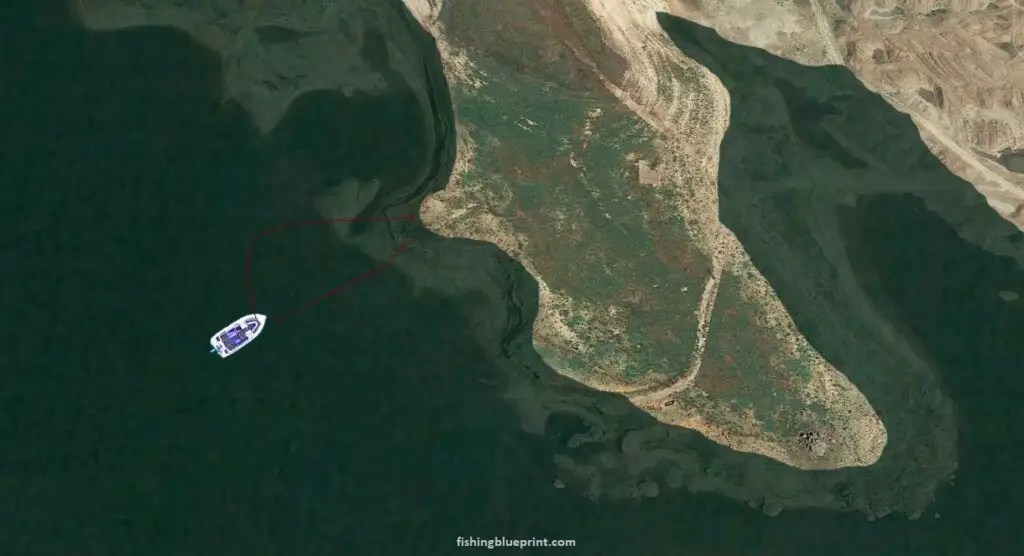 Are you tired of sore arms and a sore back from hours of casting, reeling, tying on new lures, and not catching anything when fishing offshore ledges? We've been in your shoes. We've tested over 35+ lures over the last few years. This is the buyers guide the professionals and the fishing guides don't want you to read.   Our team has spent hundreds of hours fishing, researching, and testing these lures across North America. We've also separated these lures into a system of three categories:
What lure works best to trigger a feeding frenzy… and… how to learn the "inside" secrets to keep the feeding frenzy going only the top 10% of anglers know. 
What lures work as the #2 and #3 "back ups" just when the bite starts to slow… almost no one ever shares these baits even with their closest friends 
What lures serve as the "mop up" baits to catch the rest that didn't bite the first time – you'll kick yourself for not having thought of it.
Learn the one-two punch for making

inactive or suspended bass bite

– even Mike Tyson would be proud! 
After all this hard work, we offer you our best recommendations to keep you catching fish on ledges, even if no one else wants to talk about it.
1 – Deep Diving Crankbaits
This ledge fishing lure makes the top of our list for successful ledge fishing baits.  Fishing a deep-diving crankbait on ledges is hands down one of the best reaction baits to fire up a school of bass.
Cast out your crankbait and dive it down to the bottom, you can burn it and pause. Try to fish it as aggressively as you can and get it deflecting off any structure down there to ignite those fish into biting. 
Here's the trick, you don't need to catch the largest lunker down there, your main goal for this first fish to trigger the school into a feeding frenzy.
Many anglers will have multiple rods with various deep diving crankbaits tied on to cycle through during the feeding frenzy.  Once the bites start to die off, cast out a different crankbait in a different color and you'll start catching them again. 
The Strike King XD crankbaits is a medium-sized bait and the best sizes are between the 6XD and 10XD. Its presentation is a moderate-to-aggressive and not too subdued. It has a wobble that attracts bass, and it dives quickly into deeper water down to 20 feet. 
This Strike King is 5-1/2-inches long and weighs 1.3-ounces. It has a realistic finish and makes a variety of sounds to attract bass.
It is sold in a pack of one crankbait and is available in 34 colors.
There are a ton of professionals who use the Strike King XD crankbaits even when they have other crankbait sponsors because it has been so successful on fishing bass on ledges.
It is designed to dive faster and deeper than most other crankbaits.
One concern is that they can become dull because of fading after some use. 
After this head over to the report: How To Fish A Crankbait [EXPERT REVEALS 17 Easy Crankbait Fishing Tips] where I go into more technical detail as to how to fish a crankbait that will actually get you bites… and avoid getting hung up all the time!
Check Out These Amazon Best Sellers...
This is downright a big hunk of metal but it catches a ton of bass on ledges. 
There are a lot of brands nowadays and come in different weights and sizes. But they all do nearly the same thing, they're all designed to look like a dying baitfish falling to the bottom. 
When those fish are suspended off the edge of the ledge or if you see them actively feeding on shad, then a flutter spoon is one of the best ways to catch them. 
I like fishing the Flutter Jack Casting Spoon. 
There are many advantages to the Flutter Jack Casting Spoon.  Our reviewers rate it very high, and it's especially effective to use in the summer and fall.
This spoon is available in either 5-inch or 7-inch lengths. The 5-inch spoon weighs 1-1/2-ounces while the 7-inch model weighs in at 2 ounces. 
They are sold in 1 spoon per pack and are made of solid brass. A spoon has a lot of flash as it falls into the deeper water.
Click HERE to get your Bass Pro Shops Flutter Jack Casting Spoon, today!
Many experienced anglers say that they have caught many bass with both sizes of this spoon. These spoons are available in various colors such as green shad, black shad, natural shad, white, or shad. 
Some common reasons to choose this brand of spoons is that bass LOVE it and the hooks are sticky sharp.
The spoon sinks downward at a steady rate, and it is a big lure made to catch big bass. This spoon looks like a wounded shad that will be easy for the bass to easily bite into.
If you're not sure how exactly to fish a flutter spoon and want more details that are being kept from you, then read this post: Fish a Flutter Spoon The RIGHT way… like the Pros… And Do It TODAY! Click HERE to learn more!
Check Out These Amazon Best Sellers...
3 – Berkley Powerbait Hollow Belly Swimbait
It is especially good for attracting bass near ledges because it looks like a real baitfish.
A larger hollow belly swimbait that has great action, can get some super aggressive strikes from bass. A good swimbait can be slow rolled and the tail still kick, or you can burn and give the bait an erratic side to side wobble.
Once the bite starts to slow down after fishing the crankbait or flutter spoon, if you start to slow roll a swimbait through the school, you'll often catch a couple more. 
It is great for spring and summer fishing.
This bait works great even if the bass are inactive or suspended off the ledge. 
Many anglers choose to go with a big 6-inch swimbait on a ¾- to 1-ounce jig head. They go on to say although the bass are not actively chasing little shad they will go for a big easy meal like the swimbait.
Berkley scientists have been working on this small plastic bait for years to ensure that it smells and tastes like a real minnow.
The PowerBait Hollow Belly Swimmer has a soft yet durable body that is attractive to bass who want to bite it. It makes a lot of thumping vibration as it swims in the water.
This swimbait can be used in many different environments and for fast or slow fishing.  
In the summertime, if your lake has larger fish you should consider choosing the 5- or 6-inch size. But if your lake has smaller baitfish it also comes in a 4-inch size. 
It can even be used with a Texas or Carolina rig. 
The PowerBait Hollow Belly Swimmer is sold in packs of 4 or 3, depending on the size of the bait.
Anglers have many positive comments about this bait. Some reasons to choose this bait is its proven success in bass fishing and because it is a multi-purpose bait.
There are anglers who want more color selection, otherwise are no big complaints about this lure.
If the subject of fishing soft plastic swimbaits frustrates you… or… everything you learned so far about swimbaits hasn't worked for you… you're not alone.
If you've ever dreamed of discovering all the little-known secrets of truly mastering how to fish swimbaits (less than 1 out of 10,000 people know about this)… well… if that's the case then… then you're in luck. Read about the NEW and truly "no brainer" (yet usually overlooked) way to MASTER SOFT PLASTIC PADDLE TAIL SWIMBAITS and increase the amount of bass you catch 100% or more… automatically! Click HERE to learn more!
Check Out These Amazon Best Sellers...
A hair jig is a great lure to entice a bite.  You can swim it, your you can lift and hop it.  Depending on the hair it's made from they have a different fall than when compared to a flutter spoon. 
It's strange, bass can be fickle about hair jigs. Some days they'll eat up the hair jig like it's their last meal, whereas on other days they won't even bat an eyelash towards it. 
Most of the time you'll want to use a shad-colored or white-colored hair jig, and it also helps if it has a little flash and sparkle as well. 
This is another bait that works great even if the bass are inactive or suspended off the ledge. 
Usually, all you need is a 1/2-ounce hair jig in some sort of white or shad color. As long as there is some white in it, it doesn't matter if it is white and blue or white and chartreuse.
And when you fish them one of my biggest suggestions is you cast them out on the ledge, reel your reel handle a few times fairly quickly while pointing your rod upward, and then let the bait fall in the semi-slack line back down to the bottom. As it's falling point your rod tip at it to allow it to fall straight down.
I strongly recommend a Haggerty Lures Hair Tail Jig. 
You may be wondering why not buy a regular hair jig that's cheap?  Well, you could but you would not get the quality and craftsmanship get in a product like this. 
The Haggerty Hair Tail Jig is loaded with upgraded components for just a dollar and change more.  
The hook is better so you can set the hook easier into the fish. The collar is better so you never have to worry about all the hair being pulled out… causing you to lose fish 
Lastly, the skirt hair material is better – being made from 100% real bucktail hair, it pulses and swims better, making it look more natural to the bass.
But, have you ever wondered, can someone new to bass fishing really learn how to fish a hair jig?… or… do hair jigs really work, or are the Pros lying to me?… is it a good idea or not?… or… how do I start fishing a hair jig without wasting a ton of time or money? 
In less time it takes to drink a cup of coffee you can discover how to fish a hair jig from some of the best anglers from around the world, so you can start catching a TON of bass and maybe cash in some HUGE tournament checks (if that is what you desire).  Want to learn more?
We've even put together a Meaty Free Report for you that explains the top 5 questions and challenges every about hair jig fishing… AND how to overcome common problems most anglers encounter (and then prematurely quit).  Click HERE to learn more!
Check Out These Amazon Best Sellers...
Many anglers throw football jigs as a "mop up bait".  After the bite slows, football jigs are excellent to pick up a couple more bites because they are very good for fishing the lake bottom especially since the football-shaped head moves easily through the rock and shell piles on the bottom. 
The best time of the year to use this bait is during the summer and fall. The skirt has a silicone or plastic skirt to attract bass.
Trailers can be attached to the jig for increased action and added vibration. One of the popular trailers is crawfish with big flapping claw appendages.  
Here are some great trailer colors for ledge fishing: black-blue flake, black-red flake, green pumpkin, or… my secret combo, green pumpkin jig-red plum trailer.   A bluegill colored jig works really well in clear water.
At this time I wholeheartedly recommend Rock Crawler Tungsten Football Jigs by Mythik Lures.
Read more: Check out all the reviews from real Amazon customers! 
Grinding and bulldozing over the submerged structure, shell beds, or finding the transition areas from chunk rock to pea gravel, you need that extra sensitivity that only Tungsten can give you. 
The quality of these jigs is what you would get from a custom made jig. The collars are hand-tied with wire, the jig heads are powder coated and then baked on for extra durability, and the hook is a Mustad black nickel that is sticky sharp.
If you're still on the fence on choosing a great jig for bass fishing then head over to my report, Top 10 Best Jigs For Bass Fishing [Insiders Only]. You'll get all the information the Pros don't want you to know about!
Check Out These Amazon Best Sellers...
Big worms that are 10+ inches get a ton of big fish bites.  This is also a "mop up bait" option after the feeding frenzy has slowed. Don't get freaked out by the size though, you'll catch everything from 1-pounders to 10-pounders on a big worm. 
It is best to use big worms from late spring to early fall. 
The Zoom Ol' Monster is made of flexible plastic that will last even when bass nibbles it and try to destroy it. 
The worms are slender and have a tail that flutters in the water. Every time you move your rod, the worm changes its movement. 
These Ol' Monster have an exit spot for easily removing the hook. They are 10.5-inches long and are sold in a pack of nine. 
Many colors are available such as Blueberry (black with blue flake), Green Pumpkin, June Bug,  Red Bug, and others. 
One reason why anglers who fish bass on ledges may want to buy this brand of worms is that they are so durable that they last a long time. Even after many uses, you will not need to replace them.
Some complain the plastic formula has changed, but I don't seem to notice any significant difference.
Before I forget… I know fishing a Texas rig worm can be a nightmare. All the details can be overwhelming.  If you want to be successful, you need to know… how to save money (and time) by choosing the right bait the first time… and… how long to fish a certain piece of structure before leaving… and… how to fill your live well within the first HOUR on the lake… and most importantly… how to avoid the frustration and pain of fishing all day and catching nothing but a stinging sunburn or WORSE!  Increase your Texas rig fishing expertise FAST! Click HERE to learn more!
Check Out These Amazon Best Sellers...
#ad / Images from Amazon Product Advertising API
Those are time-tested lures to catch bass on ledges.   I hope you did mind that we over deliverdered for you.  Honestly, we had a blast trying out these lures to help you in your fishing adventures. 
Checkout These Other Summer Fishing Articles...
Other Bass Fishing Articles Just For You...
A Complete Buyer's Blueprint On The Best Early Summer Bass Lures On The Market Today! When it comes to bass fishing, choosing the right lure
Read More »