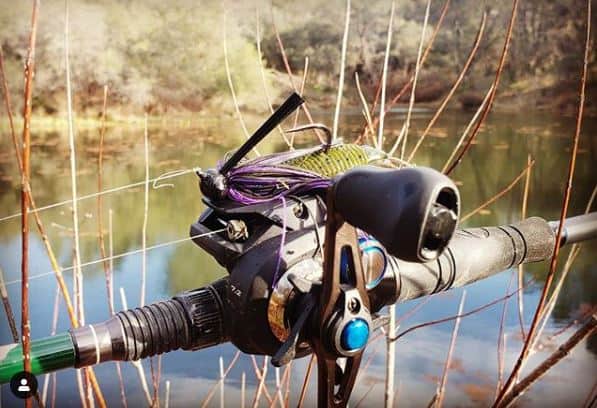 What Is A Jig Fishing Lure? | How To Choose Right Bass Jig?
Jig fishing requires a slightly higher level of skill and the fishing is done largely in moderate distances to close quarters. You'll mainly be making short casts, flipping, pitching or punching.  
However jig fishing, like crankbait fishing, can be utilized all year. And like fishing crankbaits, you just cast out the jig and reel it in.  Fishing swim jigs or a bladed jigs are a great example of this.  Long story short, fishing a jig can be very versatile. That's why it is ranked as one of the best bass lures!
If you're new to bass fishing and want to pick up the skill of jig fishing you'll need only a few items. You'll need a strong yet flexible rod, a dependable line that won't break, and of course an assortment of different jigs and soft plastic trailers to use for different situations. Many anglers will say jig fishing takes YEARS to learn. But that's just not true. We're giving you all the top helpful tips to make you successful now!
WARNING:  There's a lot of information about this subject you'll probably want to come back to. No one expects you to remember all these tips. We know your time is precious, so we really tried to over-deliver in value for you. Additionally, we frequently update reports like this, so you'll want to stay up to date with any changes or additional tips we include for you. 
We found that the easiest way to save and bookmark this report so you can come back to it later is to share it on your favorite social media platform, especially if you use your phone to get important tips like the ones in this report here…
Click on your favorite social media buttons to remember this page now!
A Pro's Answer To A Jig Question...
Most 'weekend warrior' anglers have flirted with a jig, some may have tried to use it for a day or so, but many will quickly ditch it if the bites aren't coming. 
In a recent poll, 200 professional bass anglers were asked what made them successful using a jig and their answer was overwhelmingly similar…
It was: practice, practice, practice. 
Why?  Because bass will seldom annihilate a jig like they do a crankbait. It's more of soft, mushy, weighted bite. So you have to develop a "feel" for the bite.
Once you learn to recognize a jig bite, you could turn a slow day into a day getting 30+ fish!
But first you need to learn what you're getting yourself into… Think of it as Jig Fishing 101. 
How to fish a Jig - For the Beginner
The overall design of the jig is having a lead or tungsten weight at the end of a hook.  The jig may have an add-on structure called a skirt. 
The skirt is strands of real or artificial hair that bulks up the appearance of the and gives it a life-like appearance.
What does a bass jig imitate?
Bass jigs will mimic the appearance of a crawfish, baitfish, bluegill, or shad.
The skirts will have a specific color pattern and will also be made to be paired with some type of soft plastic trailer. 
Therefore, trailers will further add to the lifelike appearance. 
Finally, some jigs will have a weed guard which prevents the jig from getting hung up.
Different Types Of Bass Jigs
Bass jigs can be broken down into two different types, fast or slow. Otherwise known as power or finesse. 
Jigs that are power fished, are known to fish fast and aggressively.  It's a style of jig fishing intended to trigger reaction strikes.
The jigs are often quickly hopped, stroked, or swam horizontally.
Bass jigs can be power fished vertically as well, in the form of flipping, pitching or punching.
Finesse fishing a jig really has a special place when fishing.  Normally, finesse jigs are fished slow and more methodically than power-fished jigs.  
For example, it's really cold out, or the lake has a ton of fishing pressure, or if the fish are smaller in size, you want to finesse fish a jig.  
As you'll learn there are different types of finesse jigs and each serves its purpose. 
How To Choose the Right Jig Head Style?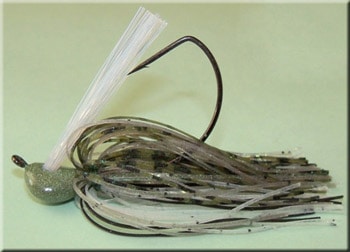 The casting jig (or known as the Arkie-Head jig) is the most commonly used jig head style. This is considered the perfect starting jig because it's such a great multi-purpose jig. 
Casting jigs are ideal for skipping under docks and low hanging trees.
If you're trying to establish a pattern and will be jigging in a bunch of different areas with different cover, then the casting jig is a great choice.
However, once you find that pattern, you'll want the jig that best fits that type of structure that you'll be fishing. 
Casting jigs should be ¼ to ½ ounce and also have a standard or wire weed guard of medium strength.
Line size: 12-20 fluorocarbon*. 
SUCCESSFUL CHOICES: 
Terminator Pro Series Jigs

Pepper Custom Baits Magic Craw Casting Jig

Haggerty Lures – Haggs Hellraiser Bugz – Candy Copper

Read more: Top 10 Best Jigs For Bass Fishing [Insiders Only]
These heads are, you guessed it, shaped like a football and are the second most popular style of jig.
The oblong shape will kick up more sediment versus their streamlined cousins. 
Football head jigs allow for maximum trailer action because of the position of the eyelet on the head. 
They have better balance and give a better presentation on the bottom than other heads.
Football heads are the best jig head for fishing rocky uneven bottoms. 
The disadvantage to football head jigs will quickly muck up with weeds or moss. 
Read More: How to Fish a Football Jig with Confidence
The ideal head weight for football jigs ranges from 3/8 to 1 ounce, and they should have a fuller skirt and a sharp wide gap hook.
The weed guards on most football jigs, will need to be trimmed down to just past the tip of the hook, any longer it could prevent a solid hook up. 
The best trailers for football are skirted grubs, twin tailed grubs, craws, and full-size creature baits.
Line size: 15-25 fluorocarbon*. 
SUCCESSFUL CHOICES:  
Strike King Tour Grade Football Jig

Eco Pro Tungsten 1/2 -Ounce Football Jig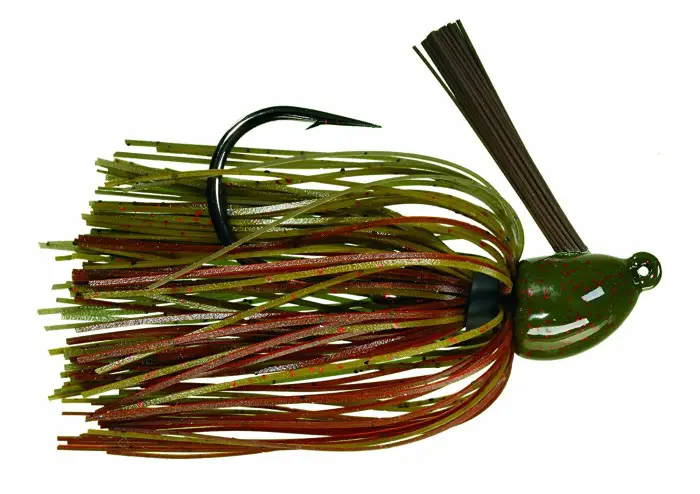 Flipping jigs are hardy and sturdy. They have been designed to crash down into the thickest brush and trees in order to pull out monster bass that relates to that type of structure. 
Think of these jigs like casting jigs on steroids.  
These jigs are normally on the heavier side and will weigh 3/8 – 1 ounce.
They will commonly come with a thick large diameter wire and have a brush guard to resist hang-ups. 
Read more: Top 10 Best Jigs For Bass Fishing [Insiders Only]
Line size: 17-25 fluorocarbon or 50-65 braided line*. 
SUCCESSFUL CHOICES:  
Booyah Boo Jig

Terminator Pro Jig

Haggerty Lures – Fall Flipping Hair Jigs – Crawfish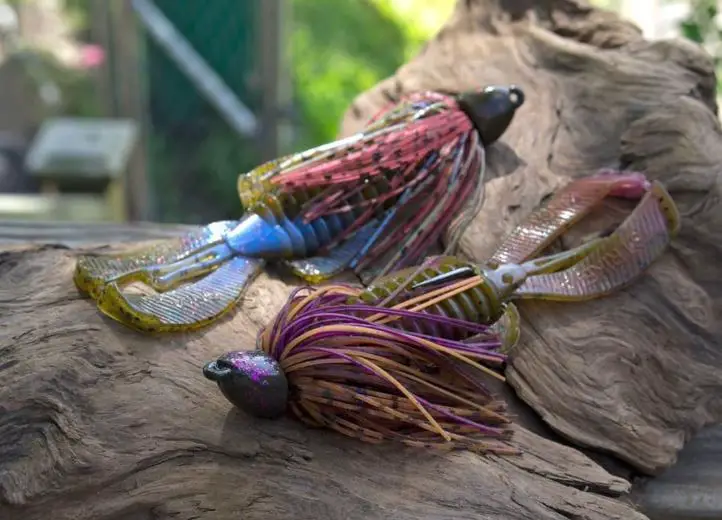 Punching jigs are specialized jigs to be fished on thick floating vegetation mats. Where you find thick mats chances are you'll find a bass hidden in the thick undergrowth waiting to ambush and unsuspecting bait fish.  Most punching jigs are weights 1-2.5 ounces shaped like a bullet, remember these need to crash through the mat canopy in order to get to the fish.  
Line size: 65-80 braided line*. 
SUCCESSFUL CHOICES:  
-Advantage Bait Company – Heavy Mat Jig
-Nichols Lures – Florida Hammer
-Strike King Jigs – Hack Attack
Swim Jig is perfect for fishing horizontally through the water column.
Fished just like a spinnerbait or a lipless crank, this remains one of the most dependable techniques that the touring Pros will utilize.
The head of the jig is typically a bullet or shad-shaped head that will cut through the flooded brush or vegetation much easier than other rounded heads. 
The top positioned eyelet gives the jig is keel so it won't list right or left during the retrieve. The head design will also prevent it from getting hung up on branches.
Unlike other jigs that are mostly designed to mimic a crawfish, these jigs are made to look like a swimming baitfish.
You never stop reeling these to keep them swimming and from sinking to the bottom, but while you're reeling you give your rod a light jigging action to make the bait go up and down as it swims.
Jig ranges from ¼ to ½ ounce and also paired with lighter weed guard
Line size: 15-25 fluorocarbon*. 
SUCCESSFUL CHOICES:  
Screwy Lewy Lures Swim Jigs

Strike King Tour Grade Swim Jigs

Lunkerhunt Skirted Swim Jigs
Bladed Jig Head (Chatterbait style)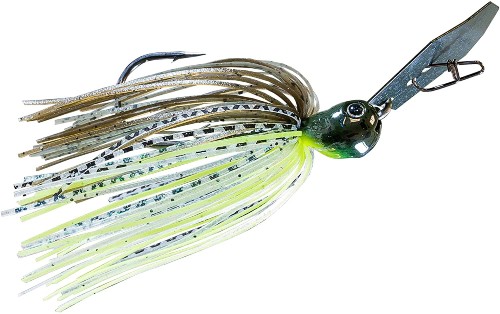 Are variants of the casting jigs with a front blade attached. This produces an immense amount of vibration during the retrieve. The bass feel this vibration on the lateral line and see the flashing blade in the water. Bladed jigs really shine during the spring, retrieving the jig through brush and when the water clarity is dingy. 
Unlike other jigs that are mostly designed to mimic a crawfish, these jigs are made to look like a swimming baitfish. You never stop reeling these to keep them swimming and from sinking to the bottom, but while you're reeling you give your rod a light jigging action to make the bait go up and down as it swims.
Jig ranges from ¼ to ½ ounce, most do not have a lighter weed guard
Line size: 15-25 fluorocarbon*. 
Read more: Top 10 Best Jigs For Bass Fishing [Insiders Only]
SUCCESSFUL CHOICES:  
Z-Man Chatterbait – Black and Blue

Z-Man Chatterbait Jackhammer

Pepper Custom Baits – Fred Roumbani's Signature Swim Jig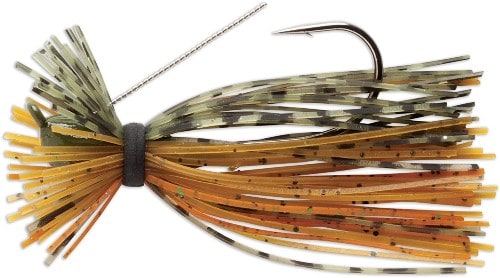 There is without a doubt that these little jig heads catch fish!  Even though they are small in stature they bag some giants.
They have a very natural appearance and bass will typically not feel too threatened or spooked when they see the jig come their way.
The best time to fish a finesse jig is during the winter, if the water is very clear, if the lake is highly pressured or most importantly you're fishing a lake that just had a cold front move through and the next day you're presented with calm bluebird skies.  
Normally finesse jig consists of a small ball jig (without or with the hook guards) in the ¼ to ½,ounce sizes.
You'll notice that the collar is typically trimmed off. This will allow the jig to parachute slowly down as it is descending.
Paired with the right trailer the finesse has the possibility to rule the water. 
Line size: 8-15 fluorocarbon*. 
SUCCESSFUL CHOICES:  
Terminator Finesse Jig

Strike King Tour Grade Football Finesse Jig

Mythik Lures Tungsten Finesse Jig 1/2-Ounce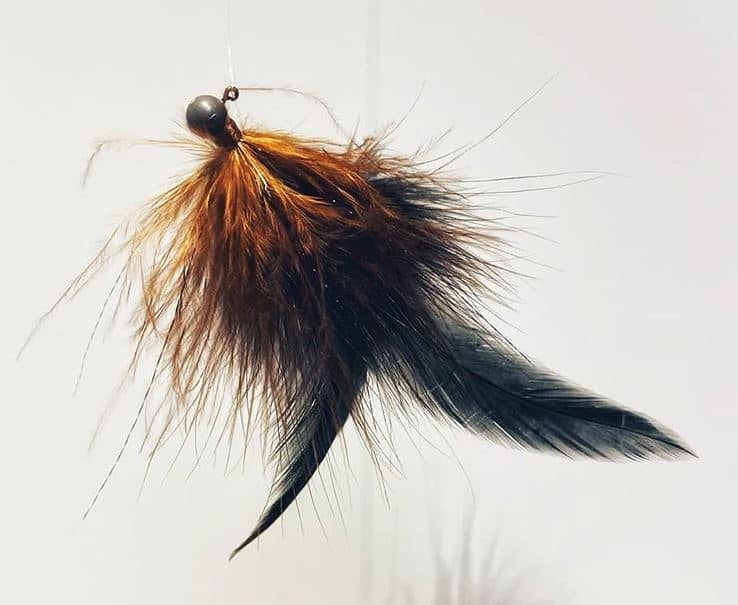 Hair jigs are similar finesse baits but above all, they are dressed with various natural or synthetic animal hair and made to look very natural.
By far… hair jigs have the absolute BEST action in calm or still water.  The natural hairs and feathers bring this style of jig to life.   
If you are having a tough day catching fish, tie on a hair jig and hold on!
Haggerty Lures – Bucktail Deceiver Jig – Natural Shad
Owner American – Natural Shad
Arkie – Muddler Collar Bucktail Bass Jig.
Read more: Top 10 Best Jigs For Bass Fishing [Insiders Only]
What is a bass jig trailer?
A jig trailer is a soft plastic bait that gets rigged to the hook and adds action to the tail end of the jig. It also completes the overall profile of the bait. 
You'll hardly ever see a bass fisherman use a jig without a trailer attached.
In short, there are endless varieties of jig-and-trailer combinations allows you to customize the bait to meet the conditions of the day.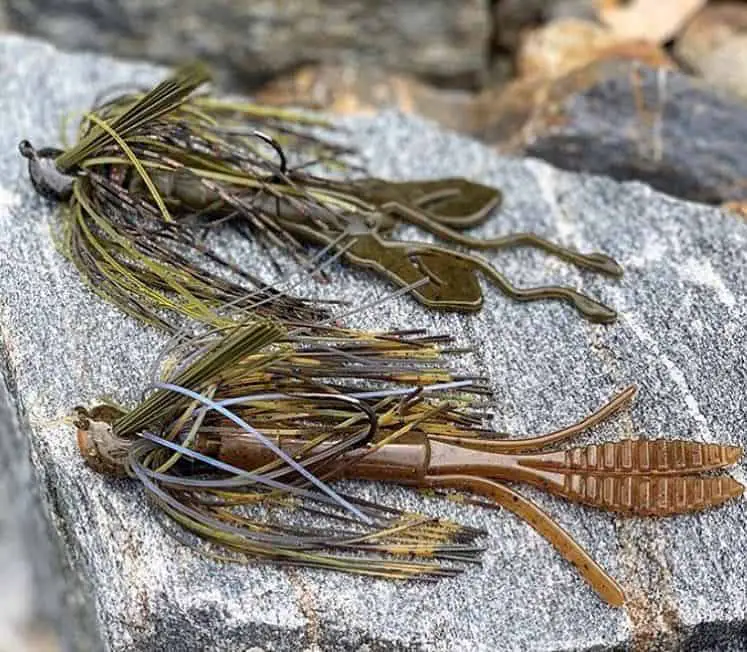 You may have heard older anglers refer to a "jig-n-pig" combo, which was a term used to refer to a jig with a pork rind attached to the hook. 
Nowadays, most bass fisherman use rubber trailers to get the same general effect, but with many more shapes and colors to choose from.
Most jigs have a keeper on the hook shank, just below the head, which helps to hold the trailer in place. 
Some popular types of jig trailers are twin ribbon tails, crawfish claws, shad/swimbait/flapping paddle tails, finesse/narrow/subtle chunk baits, and finally the larger creature baits. 
If you're looking to add more action in murky water, then ribbon tails are great. For a more realistic appearance in clear water, you might go with the crawfish claws.
A jig trailer also gives you the opportunity to add additional color to your jig. 
Jig Trailers 101: How To Pair Your Bass Jigs With The Right Trailers!
By simply switching out the trailer, you can change the color combination without even having to re-tie. 
And by switching trailer styles, you can change the bait's profile as well, making it quicker and easier to adapt and narrow down what the bass are looking for.
How to choose a trailer for your bass jig?
What size or weight for my bass jig?
Bass jigs come in a wide range of different weights measured in ounces, most commonly used jigs are designed to weigh a fraction of an ounce. 
Certainly, when selecting the best weight for a bass jig, your goal is to use the lightest jig head you can use to get it to sink to the bottom.
Bass Fishing: How to Pick the Right Weight Size for Worms and other Soft Plastics with Scott Martin
There are two factors you need to consider that affect how fast or if the jig will reach the bottom: wind speed and how thick the cover is.  A standard line size you'll want is 12-20 pound fluorocarbon or 30-60 pound braided line.  
If you're using heavy punching jigs it'll probably be best to choose a 65-80 pound braided line.  
Fierce winds can be tough on jig fishing. Heavier winds call for heavier jigs. 
If the wind is blowing your line and not allowing the jig to contact the bottom or sink at a good rate, then the jig is too light. 
You need the jig to be heavy enough to pull the line against the wind and get to the bottom in a straight shot.
Thick weeds are great for jig fishing, but if you're not getting through them you're going to have a tough time getting the bait within striking distance of a bass. 
If the jig isn't heavy enough to plunge through the cover and reach the bottom then you need to increase the weight. 
If you're using a pointed jig head, it will cut through the weeds much easier and won't need to be as heavy. 
That's why you choose the head style first, then adjust the weight.
What are weedless jig heads?
Most bass fishing jigs come equipped with a weed guard that allows you to fish them almost anywhere.
You can plunge them into thick cover or around heavy timber where bass are hiding with little risk of getting hung up. 
The only downside is that the weedguard can also make it harder for a jig to get stuck in a bass's mouth.
You need to set the hook hard with jigs because the weedguard can present an obstacle for driving the hook into the fish's mouth. 
Depending on how heavily weeded the area is, you should fine-tune the weed guard to increase your hook-up chances. 
You can do this by cutting or spreading out the bristles, and/or trimming them down a little shorter.
When to throw a jig for bass?
Jig Fishing 101: When To Fish Each Type of Jig
The greatest thing about fishing jigs is that they are highly effective all year long. From freezing cold waters to hot summer fishing conditions, these lures produce. 
However most anglers will tell you jig fishing excels during the winter and spring.
Where to fish a bass jig?
That depends on what type of forage prey you're wanting to imitate.
If you're wanting to imitate a crawfish, then find some rocky banks and points.
If you're wanting to mimic a bluegill, then find some weedlines, submerged brush, some sort of structure a little bluegill can hide in.
If you're wanting to make your jig look like a shad and swim it then you'll want to target points, bluff walls, vertical structure.
Adjustments need to be made from season to season, things like where you fish them, choices in style, and tweaks in the presentation and how you work the bait.
Luckily, I wrote an entire post for you on all different retrieval methods and how you can work your bass jig. 
Make sure to Click Here to learn all the jig retrieval secrets. 
What makes a good jig fishing rod?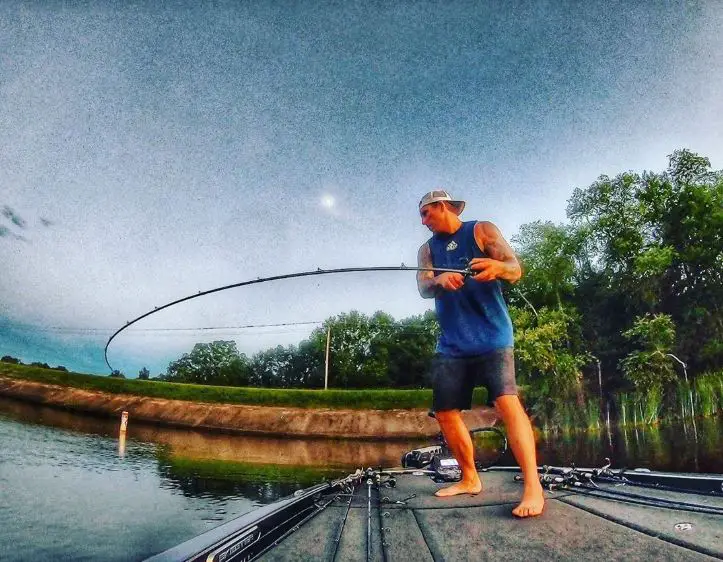 A great rod for jig fishing will be lightweight, heavy action rod with a fast action tip. 
You want the backbone to be strong enough to muscle the fish out of the cover yet you want the tip to be sensitive to detect soft bites and structure changes.
A rod with great parabolic bend allows you to maintain your hookset and prevents the bass from shaking your jig.
Many professional anglers will strongly suggest you buy a jig rod 7-4 to- 7-6 feet in length.  
To make sure you have the best hookset, it's important to have a longer rod.
We wrote an entire post about how to choose the best jig fishing for the money.
Read more: Best Jig Rod for Bass Fishing [Review Guide]
Choosing the right reel for jig fishing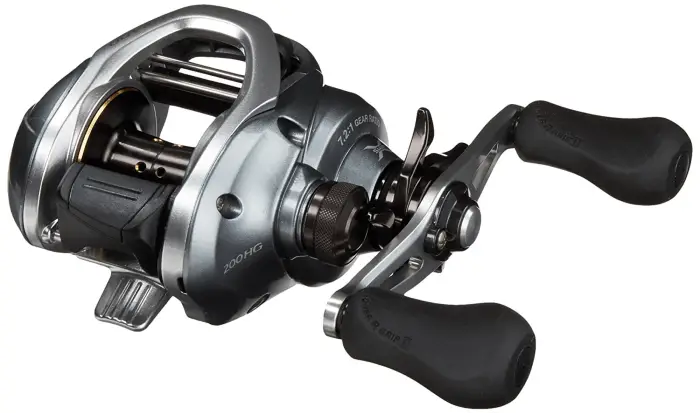 Most professional anglers will opt for a baitcasting reel. It allows for greater accuracy and dependability to handle large lines and even larger fish.
Secondly, you need speed – You need a reel with a high gear ratio, at least 7.1:1.  This will allow you to get that fish in the boat as fast as possible.  
Owning a high-speed reel will allow you to fish the bait quickly and will trigger aggressive fish to attack your bait.
The Shimano Curado is a great option. It has a super strong drag system that won't slip when you set the hook. 
On top of that it has the SVS Infinity braking system. 
I love it when I need to fine-tune the reel when the wind kicks-up or it's time to switch baits. 
It's slightly smaller than previous generations, and even the Shimano Curado 200K version is fitted with a longer handle and rubberized paddle grips for increased control and comfort.
Best fishing line for jig fishing bass
Is water clarity and brush dependent? The more the water is stained or higher the chances your jig will be fished over or through submerged brush/structure the stronger the line you want to avoid line breakage. 
Most of the time with jigs you're fishing in relatively closer proximity than you would when fishing a crankbait.  
Read more: Water Clarity Guide for Bass Fishing [Blueprint Revealed]
Often you'll fish a jig around structures that you can see (docks, bridge pilings), and structures that are submerged underneath the water (laydowns, creek channels, boulders).
With that in mind using a larger diameter line has a good abrasion resistance is key.
That is to say, if you were to choose one line to use when fishing a jig it should be a 17-lb test fluorocarbon line. 
It offers all the key features you need in a line – great abrasion resistance, good knot strength, very little stretch, highly sensitive and it's invisible to the fish.
If you're flipping into vegetation or punching mats, it's best to use a 50-65-pound braided line. It's super thin, has no stretch, and easily blends in with the vegetation.
Fortunately, I wrote a thorough article that goes in to much more detail of what are the best lines for bass fishing and more importantly what lines to avoid! 
Read more: 21 Tips To Choose The Best Bass Fishing Line
DIY - How to make a bass jig
How to Make PERFECT Fishing Jigs - Start to Finish!!!
How to fish a jig from the bank?
How to Fish a Jig For the Beginner - From the Bank
Fishing from the bank can be pretty tough. It can become even more difficult depending on the angle of the bank.
Working a jig up a bank required quite a bit more skill than most realize.
Here are some tips to help you avoid getting hung up.
Use the lightest weight jig. If possible use a larger soft plastic trailer, like a creature bait. This will give your jig a bigger profile
Swim jigs also work phenomenally when fishing from the shore.
12 best areas to target with you jig when fishing from the bank:
Steep banks

Points

Laydowns

Feeder creeks

Man-made flood washouts

Canals

Boat docks

Boat shadows

Seawalls

Dams

Grass lines

Floating vegetation

Read More: How to Catch Bass From the Bank [Secret Blueprint Revealed]
What color bass jig works best for clear water?
How To Catch Bass In Crystal Clear Water
Color has to be the most important factor for choosing a jig in clear water.  A natural color is hands down going to give you the most bites.
Natural colors such as green pumpkin, watermelons, peanut butter and jelly, black and red and black and blue.
So which of these colors work the best? 
Well you have to do some homework. Ask around at your local tackle shop to find out what jig colors work the best.
Do a Google search to see what species of crawfish you have your area. Then look at the pictures and find a jig that best matches that animal.
If you don't have the time to do all the homework, then just go with green pumpkin.
Skipping a dock is the art of casting a lure (preferably flat) across the water (normally underhand/sidearm) that it skips and bounces off the surface, preferably many times! Think about skipping a rock. 
Anglers like to skip lures under docks and other structures because often larger bass will setup deep in the shadows to ambush prey.
To get the secrets on how to skip a jig in less time than it would take you to eat your lunch then click here. 
Read more: How To Skip A Bass Jig – Tips for Skipping Docks And Other Structures 
Best colors for winter jig fishing in cold water
Bass Fishing with Jigs in Cold Water
Dark muted natural colors work the best hands down in cold clear water. Colors such as black and blue, all black, green pumpkin, and browns are by far the most reached for colors. 
What if the water is cold and stained? What then?
Then keep a dark color (like black) to give it a good silhouette, but also add in a little bit of bright color like chartreuse so it can get the bass' attention easier.
Read more:  The Ultimate Guide To The Best Clothing For Winter Fishing
Can I change the way my jig looks?
Absolutely!  Sometimes if you buy a new jig it will appear too big and bulky. 
Other times the weather and bite pattern will force you to make changes to your jig, so it's important to know what are all the different medications you can do on the fly.
The vast majority of avid jig anglers agree that bass will bite the jig better if it appears weathered and beaten up.  So they will do certain things to the jig to make is look like it's been eaten a hundred times. Trimming the skirt is one of many other ways to modify the way your jig looks like.  
Read more: 27 Best Bass Jig Modifications Made Easy (With Pictures)
When to fish a hair jig for bass?
How to fish the Hair Jig with Buddy Gross
Hair jigs will give you the most bites when mother nature turns the water cold. Water that is 55-degrees or less.
Bass tend to prefer small subtle baits that have a very natural appearance. 
Unfortunately soft plastic baits and rubber can stiffen up and do not perform as well.  
Lucky for you mother nature as a solution to your problem.  it's using God's own creations when making a lure.  Using animal hair to create a specialized jig. 
Jigs tied with a variety of hair such as bucktail, moose, fox, rabbit, and marabou. Some synthetic hair also can work really well. 
In cold water the hair will "breathe" and undulate and move with even the slightest current. This gives the angler the action that's needed even with little to no movement. 
Since the bass' metabolism decreases significantly in cold water, its best if you can give them something that appears alarmingly real and is small enough to be an easy snack.
When to use a white jig for bass?
Catching Bass With WHITE Jigs?!?
Jig fishing in shouldn't be hard. As you now see it's actually pretty easy.  Just make sure you follow the blueprint that was laid out for you.
Also, don't forget to download the free checklist. It will totally help you out the next time you're on the water.
>>Click

here

to download the Bass Jig Selection Checklist<<
Other Jig Related Articles Listed Below!
More articles just for you...
A Complete Buyer's Blueprint On The Best Early Summer Bass Lures On The Market Today! When it comes to bass fishing, choosing the right lure
Read More »