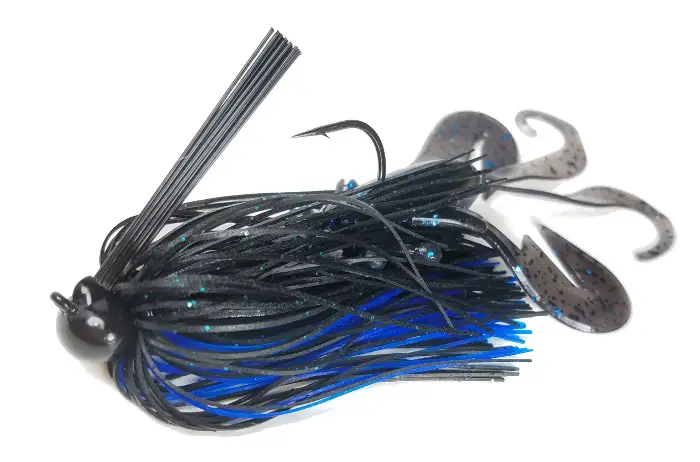 If you're looking to get into jig fishing or just want to get a sense of the different styles of jig trailers on the market today you could easily be overwhelmed by the shear number of styles and brands available.  To matters worse, the companies aren't lifting a finger to help you decide.  You're in luck, I'm going help you narrow it down.  I created this easy to follow guide for the best jig trailer available in each category.
Finding The Best Bass Fishing Jig Trailer For The Money
In the early days there were only the Uncle Josh Pork Trailer and that is what we were forced to use. 
But as bass fishing has been steadily gaining popularity for the last 15 years, more and more people are becoming interested in bass fishing.  This increased fishing pressure has forced companies to make different styles of jig trailers to trick the fish into biting…
Soon the market was flooded with hundreds, if not thousands of choices…
This put the anglers at a disadvantage.  Some were fooled into believing that all jigs trailers are created the same. But that couldn't be farther from the truth…
While there some companies only sell jig trailers to make a quick buck, however other companies put their hearts into it and produce a quality trailer they are proud to sell and flat out catch fish.  And this report will show you those companies who take pride in their product and sell only quality jig trailers.
Strike King Rage Tail Craw
Strike King spared no expense when designing the the Rage Tail Craw.  
It is rumored they had over 70 prototypes to make this bait work. And frankly Strike King hit it out the park when they settled on the final product.  The jig absolutely comes to life with with smallest of currents.  
The Strike King Rage Tail Craw blends technology and functionality into one seamless product…
Best Overall
Runner Up
Editor's Choice
Best Summer Bait
Product
Strike King Rage Tail Craw
Googan Baits Krackin' Craw
Berkley PowerBait Pit Boss
Best Overall
Product
Strike King Rage Tail Craw
Runner Up
Editor's Choice
Product
Googan Baits Krackin' Craw
Best Summer Bait
Product
Berkley PowerBait Pit Boss
Best Jig Trailer For Flipping Summer Bass
Best Football Jig Trailer
Best Skipping Jig Trailer
Best Paddle Tail Swim Jig Trailer
Best Minnow-Style Swim Jig Trailer
Best Jig Trailer For Cold Water
We used our experiences with the products and looked over hundreds of customer reviews, watched tons of video reviews, and analyzed what the professionals and experts had to say from popular sources like BassMaster Magazine.
We scrutinized the data from the product catalog pages of nearly a dozen manufacturers, and we even tried to interview some of the company representatives to talk shop and get their take.
Why Use A Jig Trailer For Bass Fishing?
A trailer is not a necessity when fishing a jig, but as professional outdoorsman, Bill Dance, puts it:
It would be hard to believe that a jig trailer actually hurts your chances of landing more or larger bass as the common arguments for using a trailer are heavily weighted to the "pro" column.
In addition to adding bulk and visual appeal to your skirted bass jig, a trailer adds buoyancy to your bait in order to help manage the rate of fall desired during the retrieve.
Bass tend to take action when your jig is falling through the water column, so slowing the fall rate keeps your bait in the strike zone longer.
Another strong argument for using a jig trailer is that it can provide additional action for your bait which can really be broken down into two advantages.
Ribbed jig trailers can push and disrupt more water as they are worked during the retrieve, thus making it easier for fish to locate your bait in murky water.
A second advantage of jig trailer action is that beyond just the pulsating rhythm of the skirt, the trailer's action can trigger a bass to strike as the movement can mimic a frantic creature trying to flee the scene.
Lastly, a jig trailer gives you additional color options.  Mixing and matching jig skirt and trailer colors can give your bait a two-tone presentation offering twice the opportunity for selecting a color that arouses a big bass's stomach.
Jig trailers are a bit of a trendy topic as everyone has their own theory and opinion on what works best for them, but the indisputable truth is that odds are undoubtedly in your favor when fishing a jig with a properly selected trailer.
As the options grow more and more overwhelming by the day, I'm going to provide you with details for the best jig trailers on the market that I recommend you have in your arsenal so you can start catching fish the minute you drop the trolling motor in the lake.
Best All Around Jig Trailer - Strike King Strike King Rage Tail Craw
But, why is the Strike King Rage Tail Craw the best all around bass jig trailer?
Strike King Rage Tail Craw Review (Underwater Footage!) – Tackle Review Tuesday
Strike King has been in the business for many years, and the classic rage tail line of baits gives a premium fishing experience with an unmatched following of endorsements.
If you follow anything to do with fishing, you will undoubtedly hear both professional and amateur anglers talk about a rage tail bait from time to time.
This company did not reinvent the wheel on jig trailers, but they have managed to take a highly successful soft plastic action and apply it to many different types of plastic bass baits.
This jig trailer can do nearly everything!
The Strike King Rage Tail Craw is one of those baits and is what I would consider "Best in Class" when it comes to looking for a jig trailer.
The realistic crawfish action followed by a simplistic slender body that's designed to provide additional turbulence makes this soft plastic lure one of the best options on the market for use as a jig trailer.
Perfect sizing and available in every color imaginable, the Rage Tail Craw is sure to become one of your favorite selections when choosing a jig trailer.
 Pros:
Classic and effective crawfish action

Multiple color options
Durable soft plastic bait
Other available rigging options (Texas or Carolina Rigged)
Hang up but not a deal breaker:
Pricier than many other soft plastics
Best Runner Up - Zoom Super Speed Craw
About Zoom Super Speed Craws...
With a history in the industry spanning over 30 years, Zoom Bait company is one of the major players in the soft plastic world.
The Zoom Super Speed Craw is an excellent option for budget minded fisherman as these baits produce great action at an exceptional value.
The large claws push a lot of water for added vibration during retrieves while the segmented body and additional tentacles provide a more life-like presentation.
In addition to the working characteristics of these baits when used as a jig trailer, they also hold an upright defensive posture to help draw strikes while the bait is at rest.
Pros:
Oversized claws

Excellent Value

Large color selection
Hang up but not deal breaker:
Editor's Choice: Googan Baits Krackin' Craw
Why is did Googan Baits win the Editor's Choice Award?...
Coming in at 4-inches and 10 amazing color choices, the Googan Baits is sure to be a great option when paired up with your favorite jig.
This plastic bait, from one of the most up and coming bait manufacturers in the business. The Krackin' Craw has a minimalist body profile to prevent snagging.
The slim and body helps to get your bait into some of the deepest cover possible.  However, its high-action craw flappers create a large amount of action under the water.
Overall, the Krackin' Craw is the best option for nearly any jig, because even when rigged alone as a creature bait, it's body is profiled to give a great weedless presentation.
Pros:
Slender body and minimal snag potential

Multiple sizes and colors

Weedless body highlights

Designed for punching scenarios
Hang up but not a deal breaker:
Softness leads to durability issues
Best Jig Trailer For Flipping Summer Bass– Berkley PowerBait Pit Boss
About Berkley PowerBait Pit Boss...
With a legendary name like Skeet Reese behind the bait's design aspects, there's no wonder it's known for catching bass.
The Berkley PowerBait Pit Boss is the best jig trailer on the market for flipping.  It's got a sleek and slender design, but packs a huge punch when it comes to action.
The Pit Boss is designed to mimic not only the action of a crawfish, but also baitfish.  Just choose the color you desire to make your jig trailer give the most realistic presentation possible.
This bait's shape will allow your jig to work through many different types of obstacles and cover without getting hung up and without ripping off appendages.
Berkley's "baked in" flavor adds additional bait holding power to give you more time to feel and react to bites.
Pros:
Professional design

Recreates both crawfish and baitfish actions

Cooked in flavor attractants

Comes in 3 different sizes
Hang up but not a deal breaker:
Limited color options for baitfish profiles
Best Football Jig Trailer - Gary Yamamoto Cowboy
About Gary Yamamoto Cowboy...
The Gary Yamamoto Cowboy is an extension of creature baits from the maker of the well-known Senko worm, Yamamoto Custom Baits.  These baits can be fished alone, but really shine when coupled with a football jig and used as a trailer.
Double action twirl tail legs ensure the trailer will have plenty of bass triggering action as it falls in any water condition.
The Gary Yamamoto Cowboy provides enough bulk to help slow the fall rate of your jig when fishing deep water, but it's still slim enough to work through heavy cover without getting snagged.
This bait works great as a football jig trailer as it can attract fish from extended ranges in clear rocky reservoirs, but upon closer look, the additional appendages appeal to a natural crawfish profile that won't turn away finicky fish.
Pros:
Larger dual action legs

Natural crawfish profile

Professional design

 

Natural color options
Hang up but not a deal breaker:
Pricey for no added durability
Best Skipping Jig Trailer – Missile Baits D-Bomb
About Missile Baits D-Bomb...
If you're looking for a soft plastic jig trailer to top off your bass jig, Missile Baits plastics can get the job done while offering an extensive line of actions and colors.
Bassmaster Elite Series professional, John Crews had extensive input into the design of this bait to make it a proven success. Needless to say each bait is uniquely designed and thoroughly tested to ensure it is just right. 
In particular, the Missile Baits D-Bomb is the best option for a skipping technique because of its flat profile. 
These specially formulated soft plastic baits bring a boat load of fish enticing action, but in a compact package that will enable you to skip your jig into those places where many anglers would just keep trolling.
Minimalistic design in the claws makes this a perfect bait for use as a jig trailer when skipping as it doesn't have lots of arms hanging off of it, but it can move enough water with it's classic crawfish action to draw strikes from even the most finicky bass.
You'll find the ribbed body displaces a ton of water resulting in easier skips. 
The final cool feature is the tail comes connected and can bed fished as either a beaver style bait or craw bait. 
Pros:
Larger profile with flat body design for ease of skipping

Multiple colors available

Tail appendage can be separated or kept together

Improved durability
Hang up but a not deal breaker:
The packaging is been said to be flimsy and has been known to leak then the coloring on the outside.

No smaller options
Best Bladed Jig Trailer – Gary Yamamoto Zako Swimbait
About the Gary Yamamoto Zako Swimbait...
When it comes to needing to pairing your bladed jig with a swimbait the Zako will get your lure noticed.
BASS Elite Series professional Brett Hite worked diligently with legendary bait maker Gary Yamamoto to design the Zako Swimbait. 
The Zako (or "little fish" in Japanese) fills the gap where other swimbaits fall flat – hands down.
The Zako swims back and forth quickly to replicate a frantic baitfish as soon as you start your retrieve.
The head design and hook slot in the belly allows the bait to deflect easily off of cover making it possible to be skipped into tight places like under docks and tree limbs.
Why I like this bait so much is the design does not pull the bait up into the water column like other swimbait or craw trailers will do.  The Zako keeps your bladed jig in the strike zone the entire time. 
Pros:
Frantic swimming action

Weedless design

Deep belly for a larger profile

Increased durability

No cutting or trimming necessary – ready to be fished right out of the package
Hang up but not a deal breaker:
Best Paddle Tail Swim Jig Trailer – Keitech Fat Swing Impact
About Keitech Fat Swing Impact...
Accurately named, this swimbait from Keitech Fat Swing Impact has an unbelievably realistic shad profile that's sure to pique the interest of most any lurking lunker.
Designed to catch bigger fish, but with several size options, there's sure to be a match for whatever size swim jig you may be running.
The Keitech Fat Swing Impact makes a great jig trailer by giving an unmatched baitfish action when retrieved slowly.
Its paddle-tail design also pushes a large amount of water and creates a wide range of disturbance that can attract fish from further distances.
Pros:
Ultra-realistic colors and finishes

Multiple size options to fit your jig

Unmatched swimming action

Extremely durable
Hang up but not a deal breaker:
Best Minnow-Style Swim Jig Trailer - Z-MAN Razor ShadZ Jerkbait
About Z-MAN Razor ShadZ Jerkbait...
Designed by tournament pros, this bait was invented to give the most realistic swimming action possible in a minnow style plastic bait.
The Z-MAN Razor ShadZ 4.5 Inch Soft Plastic Jerkbait beat out the Zoom Super Fluke because of its insane tight swimming minnow action. The small segments that are built in gives it the real-to-life movement that is perfect for pairing with your favorite swim jig.
Any type of retrieve you decide to go with, this bait will perform flawlessly under any condition.
The vast variety of colors are also sure to coordinate with any jig skirt you have in your tackle box.
Pros:
Segmented swim design

Belly hook slot

Realistic swimming action

Large variety of colors
Hang up but not a deal breaker:
Only available in one size
Best Finesse Jig – Zoom Salty Pro Chunk
About Zoom Salty Pro Chunk​...
Zoom plastics are known for their fish producing ability, but these salt-impregnated jig trailers not only attract fish, but they also make the fish hang on after the strike.
When it comes to a finesse jig, slim and simple is the key.  These traditional-styled chunk baits fit that bill with a slightly longer profile, but their slender tails recreate crawfish profiles easily.
Offered in the most popular fish producing colors, these Zoom Salty Pro Chunk baits are a great addition to any small finesse jig.
Pros:
Simplistic design

Slim and slender profille

Salt impregnated

Excellent value
Hang up but not a deal breaker:
Very limited color selection
Best Trailer For Cold Water / Winter Time – NetBait Paca Slim Craw
About NetBait Paca Slim Craw...
Cold weather fishing can be difficult, but pairing the Paca Slim Craw with a small to mid-size jig can unlock the secret of sticking large bass in cold weather.
A slender body and smaller claws than most creature baits, this new option from NetBait is perfect for winter time bass fishing. 
Realistic, natural action, without being flashy or bulky, give the Paca Slim Craw a subtle presentation that drives curiosity from sluggish bass.
As with all of NetBait's Paca Craw series baits, the claws on this one have enough buoyancy to stand up in a defensive posture when the bait is at rest which provides yet another realistic dynamic when using this bait as a jig trailer
Pros:
Slender design

Realistic crawfish presentation

Every color imaginable
Hang up but not a deal breaker:
Solid-body can cause hook-up issues if not rigged correctly
DIY - BUILD YOUR OWN BAITS
If you don't want to buy a premium trailers, but rather think it's the best idea to pour your own, then check out this YouTube video.
How to Pour Your Own Baits
I can tell you it's SUPER FUN to pour your own baits. One of the best and most obvious benefits is that I've come up with (more like stumbled upon) some great colors that I don't see anyone else pouring. Best of all, some of the colors work great for the lakes around me!
Here is what you need to get started:
Soft Bait Plastisol – click here to learn more
Pyrex Cup Set – click here to learn more
Injector – click here to learn more
Soft Plastic Worm Coloring – click here to learn more
Craw Mold – click here to learn more
Swimbait Mold – click here to learn more
Accessories You'll Need
Rod –The popularity of fishing is growing and people are becoming much more conscious of  different rods that can help them.
Fisherman want best technique specific rod for the money.
Luckily, I wrote several reports article that provides you with detailed information in order for you to make buy the rod for the money, and more importantly which rods to avoid at all costs.
Reel – Having the correct reel to match with your rod is just as important.  A good reel should be light and have a buttery smooth drag. There are several great reels on the market, but I recommend the Daiwa Tatula SV/TW baitbasting reel. It's a great reel packed with great features. So much so it could easily be priced in the mid $200 range.
Fishing Line – Having a good line is just as important as having a good rod. I recommend fishing with a good fluorocarbon line. Furthermore, it's super sensitive because it has little to no stretch, and underwater it's invisible to the bass!  If pride or money is on the line I would use Sunline Sniper FC.
Fishing Lures – It's pretty hard and darn near impossible trying to catch a fish without using some sort of lure or bait.  More importantly these baits you should never forget at home or it could lead to a horrible day on the water
Tackle Bag – You can't carry all your gear in your pockets, so you need a reliable tackle bag to transport it. I wrote a complete review guide, Best Tackle Bag for Fishing, check it out by clicking here.   But if you don't have the time to read the full guide then let me tell you I recommend the Lunker Bag by KastKing.
Fishing Pliers – Nothing will ruin a day quicker than getting a hook embedded in your hand, or worse your eye.  That's why I always recommend having good set-up pliers that won't rust and won't slip out of your hand.  I recommend that KastKing Cutthroat 7" Fishing Pliers.
Landing Net – As you are reeling in that monster fish, you don't want to injure yourself or knock the fish off the hook by trying to grab it. That's why I recommend a dependable telescopic landing net.
Fishing Weight Scale – Whether if you're going to keep your catch or just take a photo of it and brag to your friends it's important to have an accurate scale. I recommend a scale that has a large LED display like this one fishing scale here.
Wide Brim Fishing Hat – Nowadays, you have to protect yourself against the sun's harmful rays. Wearing a wide brim hat not only gives you UV protection, but it also keeps you cool.  I recommend the Columbia Unisex Bora Bora Booney hat. It fits any size head and it feels really comfortable.
Fishing Sun Shirt – Don't you stop at only getting head protection, you also need to protect your chest, back, arms, and torso. According to the researchers finding skin cancers on the shoulders and forearms rank within the top-5 locations to get skin cancer*. Avoid any unnecessary UV exposure and stay cool by wearing a UV protective PFG Fishing Shirt by Columbia.
Fishing Gloves – Fishing gloves allow your hands to stay covered from the sun's harmful rays and stay dry by using a special material. These gloves by Fishaholic offer UPF50+
Other Jig Related Articles Listed Below!
What is the best way to set the hook with a jig?
A hard upward hookset. You need to set the hook hard with jigs because the weedguard can present an obstacle for driving the hook into the fish's mouth. 
Depending on how heavily weeded the area is, you should fine-tune the weed guard to increase your hook-up chances. 
You can do this by cutting or spreading out the bristles, and/or trimming them down a little shorter.
If you're new to jig fishing, I strongly recommend you read the article Beginners Blueprint To Jig Fishing, where I give you 50 different tips that actually work!  Click here to find out what skills you are missing.
Read More: What is Jig Fishing For Bass? [A Complete Beginners Guide]
Skipping a dock is the art of casting a lure (preferably flat) across the water (normally underhand/sidearm) that it skips and bounces off the surface, preferably many times! Think about skipping a rock. 
Anglers like to skip lures under docks and other structures because often larger bass will set up deep in the shadows to ambush prey.
To get the secrets on how to skip a jig in less time than it would take you to eat your lunch then click here. 
Read more: How To Skip A Bass Jig – Tips for Skipping Docks And Other Structures 
What type of line is best for jig fishing?
Jigs can be fished with braided, monofilament, or fluorocarbon line.   However, it's recommended to use a fluorocarbon line in clear water and braided line in murky water.  Fortunately, I wrote a thorough article that goes into much more detail of what are the best lines for bass fishing and more importantly what lines to avoid! 
Read more: 21 Tips To Choose The Best Bass Fishing Line
Can I swim a football jig?
Yes, you can. It's really all about presentation.  If you're in a pinch and don't have a dedicated swim jig available any type of jig can be retrieved on a "swim" action. 
Read more: How to Fish a Football Jig with Confidence
Should I use lead or tungsten weight jigs?
This is really a personal preference, but Tungsten jigs haven their advantages.  Tungsten is heavier, so it can provide you with more weight in a smaller profile bait.  Since the density is higher, it also provides better sensitivity to bottom composition.  The tradeoff is that Tungsten is significantly more expensive than lead.
Can I fish a jig year round?
Yes, jig fishing is extremely effective any time of year.  Keep in mind that the size and action of your jig should vary depending on water temp, season, and the stage of spawning the fish may be in.
Can I use these jigs for saltwater fishing?
Yes, just made sure you rinse off all your fishing gear with fresh water and wipe after use. 
When I order a pack of trailers how big is the shipping package?
Your pack of trailers will be most likely shipped in a small box or a bag. 
Warranty? What happens if I brake my jig after a few trips to the lake?
I strongly recommend contacting the manufacturer as soon as possible. They are normally pretty good with warranties.
Explain to them what happened, provide pictures of the jig,  purchase information and any other documentation they ask about.  I cannot speak for them, but typically they replace the jig at a massive discount, but be aware you may have to pay a small shipping fee.
Last update on 2021-09-22 / Affiliate links / Images from Amazon Product Advertising API