Best Winter Time Clothing For Fishing | Best Rain Or Fishing Gear For Cold Weather
Fishing outside in the bitter cold or in the snow is probably one of the most exhilarating times to fish. But we all know fishing in the winter can be a little dangerous, and so it's vital to stay warm, dry, and safe. You never want your mind stray because your hands or feet are freezing. Therefore, I caught myself wondering, "What are the best winter fishing clothing that I can get for myself?" This is what I found:
The best winter fishing clothing set that has given me the best protection against the cold, while keeping myself warm and wicks away moisture has got to be:  the Simms ProDry Glove plus Liner, Stormr Typhoon – Waterproof & Windproof Beanie, Simms Challenger Bib, and the Simms Challenger Waterproof Fishing Rain Coat. Although a little pricey, this set of winter fishing clothes you can't beat the overall quality and protection.
The Scary Truth
After doing some research I found out the cost of the average angler's boat with all the fishing gear and electronics is nearly $47,000!
But nasty cold weather can render all that gear useless… That is a scary, but real fact…
9 times out of 10 the angler will only catch fish in that perfect location if they can concentrate on the conditions, gear, and graph.
I'm here to tell you it's near impossible to fish in cold weather conditions if you don't have the right winter clothing…
The vast majority of anglers fail at fishing while it's cold weather for a simple reason, they're not wearing the correct clothing for winter fishing!
BUT THAT'S NOT THE WORST OF YOUR PROBLEMS…
According to a 2017 report, operator inattention, and improper lookout were in the top three primary factors contributing to boater injuries and accidents…
The boater only spots the danger once it's too late… 
In 2017 alone, "49 million dollars of damage to property as a result of accidents"…
The old way was to just put on your generic jacket and some jeans and try to brave the elements…or not go out fishing at all. But more often than not, those other fishermen would just come home empty-handed, cold and wet, or worse.
This hits too close to home….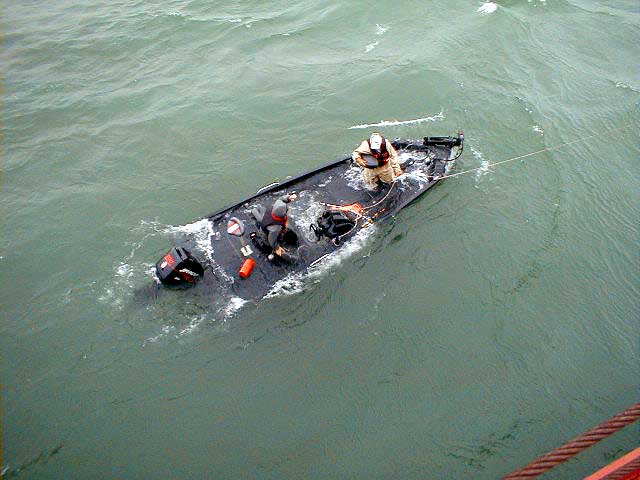 Because I was recently stranded last winter on the lake (34-degrees!)…
Luckily, I was prepared because I recently got a set of winter fishing clothes that was comfortable when I was out fishing, but more importantly kept me warm until help arrived.   
Don't forget to take a look at what you're wearing out before you put it on and walk out that door.
You just never know when your life hangs in the balance when you are outside in the winter.  It could happen in a blink of an eye – within a split second your life could change. 
That is why you need a set of winter time fishing clothes that is not only comfortable, but will protect you when you need it the most. 
So you need to think again if you're about to head out to go fishing in cold weather without the proper winter clothes for fishing.
The Importance of Wearing Layers
The utmost priority of winter time fishing is to keep your core warm and dry. 
Most of the time, the early morning will be bitter cold, and once the sun comes up it will add some much needed warmth. Meaning, in the morning you'll need the thickest, warmest clothing. 
Layers allow you to regulate your temperature by taking off or putting on different pieces of clothing throughout the day. If there is any change of weather you can quickly and easily adjust to the change. 
Then as you start to warm up you can remove any clothing that would be causing you to feel too hot or uncomfortable. 
Sweating is bad
Avoid overdressing or any excessive exertion. In below-freezing temperatures, you can overheat and start to sweat. 
In cold windy conditions, the sweat will quickly evaporate, instantly chilling you.  If your temperature drops too much you could go into hypothermia, coma, or death! Yikes!!! 
So that's why you want to limit sweating and keep it away from the cold outside air.
Gloves – Simms ProDry Glove
First, let's talk about gloves. I recommend the Simms ProDry Glove. I never realized they made gloves you wear while fishing.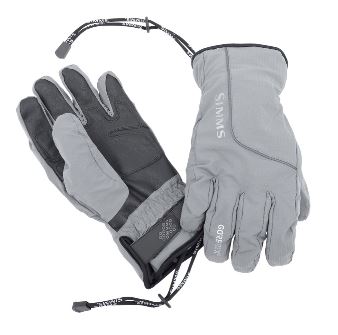 They might appear to be similar to ski gloves, but they are actually real fishing gloves. They're made by the Simms company and are made gorilla tough utilizing GORE-TEX® material and  goatskin. 
That combination not only makes them waterproof, but makes them incredibly insulated, warm and comfortable. Those things are vital no matter if you're out speeding across the water in your boat or getting set up to cast your lure in the water.
When you wear them while diving on the water the goatskin provides a better grip on the boat's steering wheel, and it does not slide around at all. They also have a Velcro strap that can be adjusted to whatever size you need.
 Many of you may be thinking, why not just buy some ski gloves, am I right? But when you buy clothing like this, you want items created specifically for fishing. The people at Simms understand that feeling! 
Take a look at these gloves closely. They have a liner in them that not only keeps your hands warm and comfy, it also exposes the fingertips of your thumb, index and middle fingers so you can still get a good grip on your rod and reel as you fish.
Plus you still have the necessary agility needed to tie knots or any other chore.
This makes them perfectly designed to fish while wearing them. Just take them out when you get on the lake and slip them on your hands.
They are a wonderful pair of gloves that you are sure to use every time you go fishing. Once you get a pair you'll never want to go without them again! 
The Simms ProDry Glove + Comfort Liner is very sought after and definitely hard to find. Even Amazon doesn't carry them! Luckily I was able to pick up a pair at TackleDirect.
Head Protection – Stormr Typhoon – Waterproof & Windproof Beanie
Some anglers like to wear a beanie at times when it's really cold out. While you can buy any brand of beanie, one of the best examples to get is the Stormr Typhoon fishing beanie.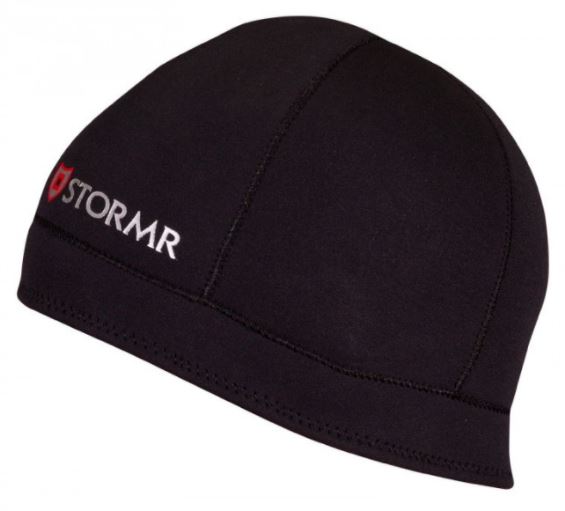 You may not have ever heard of them, but just like it says in their name, it truly can take on a Typhoon.  That's vital when it's cold and windy outside, which of course makes things even colder if the wind is strong.
The beanie cap is specifically designed to increase your peripheral vision and still maintain maximum head coverage.
Wool hats truly help to keep you toasty and warm, however, the Stormr Typhoon fishing beanie works just like a portable heater for the head to keep you feeling nice and warm. You'll love it.  
You are really going to love this beanie because it's made of 2-millimeter, premium micro-fleece lined neoprene so check it out! 
It's great for winter and quite perfect for fishing. It will even keep you warm, as well as dry when it's raining outside, as well as during the winter.
I found the Stormr Typhoon fishing beanie on Amazon.
Pant – Simms Challenger Bib
I used to just go someplace like Walmart and buy any old brand of raincoat and then wear it when I go fishing. But there's truly a huge difference when it comes to those raincoats and the ones created specifically for fishing trips. 
I found that out when I began purchasing gear meant for fishing trips, as there is a huge difference. A lot of fishermen buy gear from Simms, since they make the perfect gear for going fishing. 

Take these coveralls called the Simms Pro Challenger Bib.  
If you weren't already aware of it, Simms started off dealing in fly fishing. This material they call TORAY fabric is what they use to make waders. Therefore, that's going to keep you totally dry because they are 100% waterproof, as well as durable. They're fashioned so they can be pummeled and knocked all around. 
Most anglers aren't that hard on their gear, so it's likely these waders will last just about forever. They are 100% waterproof.
One of the things about them I love is they have an elastic waist you can use to adjust them right inside a hidden pocket. You merely pull it back and adjust it as needed. It goes all around your whole waist, so it helps you ensure the waders fit nice and tight and they won't just hang on your body.
Plus the suspenders are also totally adjustable and comfy too! They won't bind your shoulders like others I have used. 
Now, let's get to the part related to fishing with them. 
A few things to consider. They have a side pocket that's reinforced inside and made to hold your tools. Since it's got reinforced material, it's possible to place your fishing pliers inside it if you like.  
It also has a zipper at the bottom of the pants leg that is also reinforced and includes some Velcro bindings.
This helps you take the pants off and still keep your fishing boots on, which is quite convenient. It can really make a big difference in how your day goes.
The Velcro binders are on the pant cuffs, which makes it stay close fitting around your boots, yet still hot and feel too tight. 
We've all seen those rain paints that just hang down by the bottom of the pants and then you end up stepping on the bottoms, which causes them to get worn out and eventually get torn up.
And look at this! The bottom of these pants' legs is also made of reinforced fabric all the way around it. That means even if you accidentally step on the bottom,  it will not get ripped or torn. Plus it won't even fray or fall apart. These waders are created to last a long long time!  
The manufacturers at the Simms company know how rough fishermen are on their gear. So that's why they make their things well and why we love them. There's also some D-rings on the legs which allow you to hook up things like a kill-switch. 
Believe me, the Simms Pro Challenger Bib is a smart investment and is conveniently sold on Amazon.
Click here to see if they have your size and color.
Jacket – Simms Challenger Waterproof Fishing Rain Coat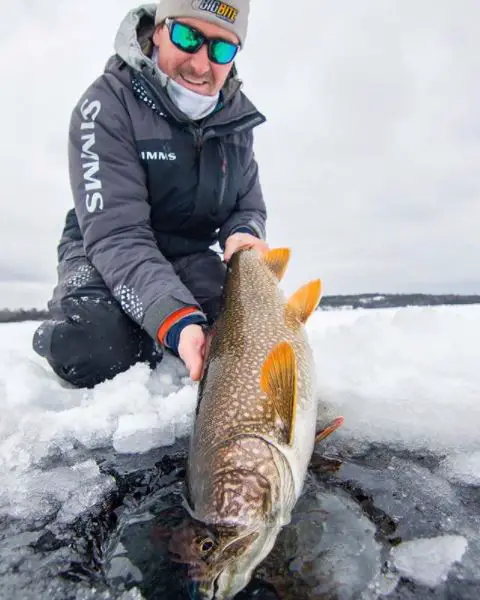 The best part of the Simms Challenger Fishing Jacket that I love is the inside pocket you can find in the inner liner of the jacket. It's great. You can store your gear there if you like, but there's also a pocket on the outside. I keep my phone there for fast access. That allows me to hear it if it rings. 
I love that it comes in a grey camouflage color and I adore it. When it rains out, the sky is grey, right? That way I'll blend in somewhat when those fish look up from the lake. And get this too, there's Velcro on the wrists. 
That's what sets it apart from regular rain jackets or other rain gear for anglers. The Velcro keeps your arms of the jacket right up tight against your arms. And then your fishing rod won't bang against your arm when you cast out your line.
Unlike with other brands of fishing rain jackets, you won't be catching your rod handle on it all the time, as it is fashioned so the sleeves stay tight on your arms, but it's still quite comfy.
The pockets are also fleece-lined on the inside. They're manufactured from Toray fabric, therefore you can be sure they are durable as well as totally waterproof. 
There's also a hood that's 3-way adjustable. That is great because you can tie it down so it'll stay tightly on your head and stay around the face. 
That way when you're heading out on the lake, it won't fall off at all. The adjustments for the hood can be found at the base of it on each side. Believe me, it holds tight every time!  
Some of the gear I've owned in the past merely had small clips on the hood which didn't keep it on very tight and they always pulled off.
But the adjustments on this hood stay down and I can assure you that they won't come loose! I've tried them out several times by wearing this jacket out on the lake myself!
Another cool thing is Simms put a small ring on the inside of that pocket. It has a clip on it to hold it there. You can use this piece of cloth to wipe off, for instance, your glasses if they get wet. Wow. The Simms people really think of some great stuff, huh?
I have not seen any other brand of rain gear with things like this. They think of everything when they design their products.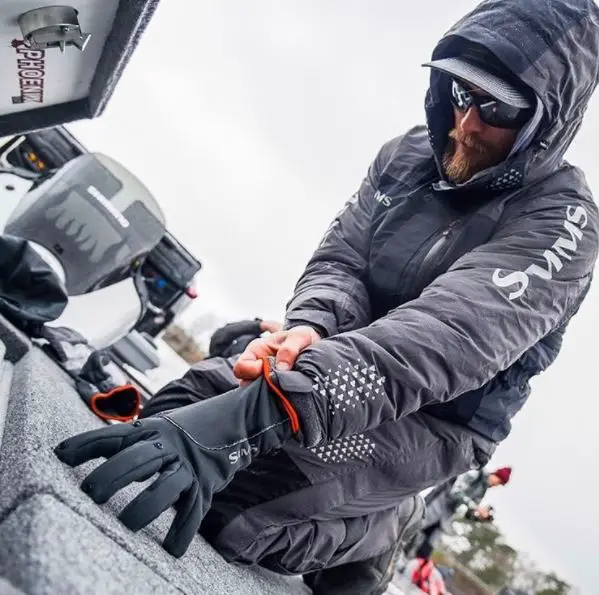 This rain outfit additionally features dual kill-switch anchors. That means you can hook it up to the rain gear, and you won't get that kind of thing with rain gear not created exclusively for fishing. 
Plus you can store away the hood in the collar when you're not using it, then it won't flap around on you. And the zippers on this gear are nylon, so they won't rust, and they will last a very long time frame since they are very durable.
This suit keeps you nice and dry and warm and comfy. It's quite lightweight and breathable. That means you can wear it in all seasons from spring to summer to winter or fall. It's fashioned so the arms of it will not make you all hot and sticky inside. 
So, if you are seeking some great outdoor gear, check out the products made from Simms! You will truly love them!
I was surprised how cheap I was able to buy The Simms Insulated Challenger Jacket, from the listing on Amazon. A top-quality jacket like this is also sold on Amazon, and I've even seen them sold used for $164.23!
Click here to see if they have your size and color.
Wool Socks by DANISH ENDURANCE 
Wool socks have been around for ages and known for both their cooling and warming features, as well as to wick moisture away.
Can be worn in the bitter cold winter or hot summer. 
What's great about these Danish Endurance wool socks is they offer ventilation areas to work even quicker. The cushion pad makes them feel even more comfortable and prevents blistering or chafing. 
A pair of these work socks will cost about $12.
Don't play games with your feet, click here to see if they have your size.
Waterproof Boots by Teva
Have you ever heard the term "happy feet, happy people"? It's an old term that summarized that it is incredibly hard to concentrate or even to have a good time when your feet are uncomfortable.
Outdoor activities like hiking, hunting, and camping need special footwear, and wintertime fishing is no different.
Wearing regular tennis shoes while fishing in cold weather shouldn't even be considered. Consequently, tennis shoes are very porous and allow moisture to easily come into the shoe. The moisture will cool down quickly and could cause frostbite to your toes and feet.
Since you could be fishing in either sun, rain, snow, or sleet you must make sure your feet are properly protected. It's so important to get a boot that is comfortable and waterproof.
I feel the Teva Grandview GTX does just that.
One of the first things you will notice about this boot is that it feels both sturdy and light. Teva touts this boot as being durable and waterproof. Its upper section is waterproof leather upper and it's lower section includes a GORE-TEX Leaf bootie.
I really like that the boot keeps my heel securely in place for when I bend down to pull out a fish or when I get out of my seat my foot stays secure.
It's clear that Teva also wanted to make this boot comfortable. The soft micro waffle knit innerboot feels like a warm blanket hugging your foot.
The sole of the boot is structured to provide maximum grip even if the surface is uneven.
You can find the Teva Grandview GTX on Amazon new for under a couple of hundred bucks, or used for around $142.44. Click here to see if they have your size.
Disposable Hand Warmers by Tundras  
We know that if you pick up the Simms Fishing Glove your hands will be warm and dry, however sometime you'll have a fishing buddy that has the cheap gloves and needs to keep their hands warm. 
That's why it's important to have a box of disposable hand warmers available on board. 
These hand warmers are top rated and will give you nearly 8-hours of hand warming pleasure.  
They're really easy to use, just open them up and shake. It's super cool, the hand warmer is actually air activated. To re-activate them, just take them out of the glove or boot and give them a shake in the outside air. It's that simple.  
What's really cool, these disposable hand warmers are environmentally friendly. And they're both safe for children and adults. 
Air Horn
If you're stranded if you just need to get someone's attention in an emergency, then you need to make sure you have at least one or two air horns stashed in your boat or truck.
The SeaSense air horn is specifically made for marine and outdoor use. It's easy to operate in cold weather and is push-button even if you're wearing gloves. This is so loud it can be heard from over a mile away! 
Click here to see if they still have any SeaSense marine-grade air horns left.
FAQ
Can the jacket and bib be used for sledding, snowboarding, or skiing?
Yes, absolutely. it can be used as an outer layer for most snow sports. Just be aware the jacket does not have a snow skirt, but it does run a little large so it makes up for that.
Will fishing related stains (blood) wash off easily on the jacket or bib?
Blood washes off easy. If the blood is dried on just a quick wash with a rag or sponge will clean it off.
Is the hood on the Simms Challenger Jacket removable?
No, it's not removable, however it is stowable so it's not in the way if you don't need it.
Can the wool socks be used as liners?
Yes, they can function as warm liners.
What's the actual weight of a pair of the wool socks?
I don't have a scale that will tell me the weight, but they are definitely lighter in weight. I normally wear Danish Endurance socks and my wife and I just came back from a fungus gathering trip. I wore the Endurance and she wore some off-brand from Walmart. She ended up with a large blister and I had no issues.
How many Tundra hand warmers per pouch?
One pouch contains two hand warmers which are good for eight hours of heat.
Tundra hand warmers heat up my food or a cup of coffee?
No, the hand warmers do not heat up enough to keep food safe. I also read the chemicals that make these warm are really unsafe to even be kept near food. So no, definitely not.
How would you clean the boots if they get dirty?
External cleaning, I searched the Teva site, this is what it says. "We recommend hand-washing our footwear with cold water and a gentle soap or detergent. A soft-bristled brush, such as an old toothbrush, can be used to scrub away caked on dirt. Allow the shoes to air dry away from direct heat or sunlight. A trusted, third-party leather cleaner and conditioner can be used to clean our leather shoes and boots. You will want to follow the directions printed on the cleaner."
Do the boots come in wide sizes?
At the time of writing this report, it appears they do.
Checkout These Other Winter Fishing Articles…