Cold Water Drop Shot Fishing | Best Winter Drop Shot Baits

Fishing in the winter can be difficult but if you employ the right approach and the right types of bait it can be incredibly productive. One of the best ways to get bites during the winter is to use the drop shot technique. So grab a pencil and paper because you'll want to remember these tips when you hit the water on the cold winter day.
So how do you catch drop shot bass during the winter? Being successful when on the water if you're drop shot fishing in the winter revolves around five key factors. Use a heavier weight for deep water fish. For your leader line tie on fluorocarbon. Avoid line twist by adding a swivel. Use drop shot baits that are crawfish colored. Finally, detect more bites by using a high-quality drop shot rod. 
WARNING:  There's a lot of information about this subject you'll probably want to come back to. No one expects you to remember all these tips. We know your time is precious, so we really tried to over-deliver in value for you. Additionally, we frequently update reports like this, so you'll want to stay up to date with any changes or additional tips we include for you. 
We found that the easiest way to save and bookmark this report so you can come back to it later is to share it on your favorite social media platform, especially if you use your phone to get important tips like the ones in this report here…
Click on your favorite social media buttons to remember this page now!
In A Hurry?
If you don't have much time to read the detailed article, simply download this helpful checklist and keep it with you before you go out! Click here do download your free helpful resource Catching Drop Shot Bass in the Winter. You can be assured we only included the most relevant content…
Before You Get On the Water…
But, depending on your skill level it could take you all winter to learn all the ins-and-outs of drop shot in cold wintery weather.   But, that's just the tip of the iceberg (no pun intended).
There's so much more to it!  But you're in LUCK, I'm going to give you all the important details so you can learn  the secrets to winter time drop shotting like a pro and how to avoid any common mistakes in just a fraction of time!
"Organize & Prepare"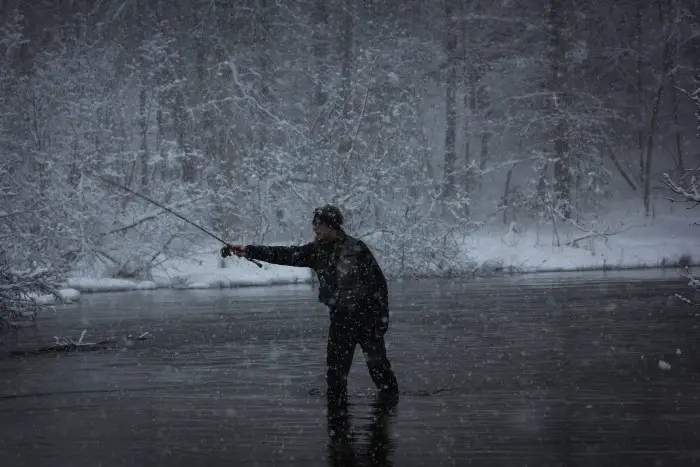 Remove the clutter in your boat or in your tackle box. Clean out all the bins to remove all the ripped up soft plastics and stripped off fishing line. This time of year you really need only a few types of baits. 
Prepare your vehicle and boat for the conditions in the snow or ice. 
Make sure your vehicle maintenance is current.
Make sure you have the appropriate tires on your vehicle and trailer.  As well as, make sure you carry a set of snow-chains.
Double check all fog/snow lights and break lights to both the vehicle and trailer.
Carry a set of traffic triangles in case your vehicle breaks down.
In case of emergency carry an extra set of clothes (including wool socks), a thick wool blanket, hand warmers, air horn and extra flashlight and batteries. 
Always tell someone exactly where you are going, the time you are leaving and the time you should be expected home.
What Makes The Best Rod For Drop Shot Fishing?
There are many factors that go into determining what a great drop shot rod  should look and feel like.  Some of those factors include material, length, sensitivity, price, and warranty. All of which you need explore individually.
Most anglers prefer a spinning rod that is 6'8″ – 7'4″ in length, medium action with a fast to extra-fast tip. In addition, the rod needs to have good parabolic bend.
Not only does it need that, it also needs to be light in weight, sensitive and have a comfortable hand feel. That way you can fish the rod all day long without getting a painful cramp in your arm. Ouch!
To help you choose the best rod, I wrote a complete hands-on review of all the best drop shot rods for bass fishing, where I choose a clear winner and outline all the durability issues I ran into.
Fishing Line for Cold Weather Drop Shot Fishing
We always recommend using braided mainline to a fluorocarbon leader, especially for winter drop shot fishing. Braided line casts very easily, has no stretch and has a very thin diameter. 
Furthermore, I strongly encourage you to use Power Pro Hi-Vis Yellow in a 20-pound test. The bright yellow color is much easier to detect small bites.  Don't worry about the fish seeing the line because you're going to put on a long fluorocarbon leader.  
Many anglers worry about braided line not having any stretch. However, there is no reason to be concerned because you should have a good drop rod with a long flexible tip and a strong backbone that can act as your shock absorber!  Do you see how this is all tying into each other! 
Fluorocarbon is a fantastic leader line.  One of the most defining qualities is that it is nearly invisible underwater.  It also has very little stretch and it sinks. Start Sunline FC Sniper with a 7-pound test line unless you find yourself fishing in an area that can easily snag or cut the line, then increase to a 10-pound test.
Our Recommendation – Main Line — Power Pro – Braided Line – Hi Vis Yellow – 20lb Test
Our Recommendation – Leader Line — Sunline FC Sniper Fluorocarbon
Best Winter Drop Shot Baits​
"Small, short and boring."
Smaller drop shot worms, soft plastic chunk baits, and small fluke-style baits are all you need.   In the winter the water is going to be most likely clear then chose natural-looking colors like green pumpkin, watermelon can work really well. Black-and-blue also works very well and remains our personal favorite for the wintertime.
Underwater Footage! Dropshot Worm Comparison – Which Would You Choose?
The best drop shot worms all have the same quality, they are less than five inches and have natural-muted coloring.  The diameter of the bait does not matter as much in this situation. Have a variety of baits ready to rotate through and bass will tell you what baits they want.
Our Recommendation – Roboworm 4.5 inch Straight Tail Worm
These worms are perfect for fishing in winter conditions. Each worm hand-poured by a robot leaving a perfect triple color layer.  Most of the worms have salt on the bottom or on the exterior coating the plastic. Roboworm impregnates the head of the worm allowing the salt to slowly permeate into the water during the retrieve of the worm.  When a fish bites down, the salt in the bait will release and will make the fish hold on longer…giving you an improved catch ratio. You can find plenty of Roboworm options on Amazon.
Runner Up – Strike King KVD Dream Shot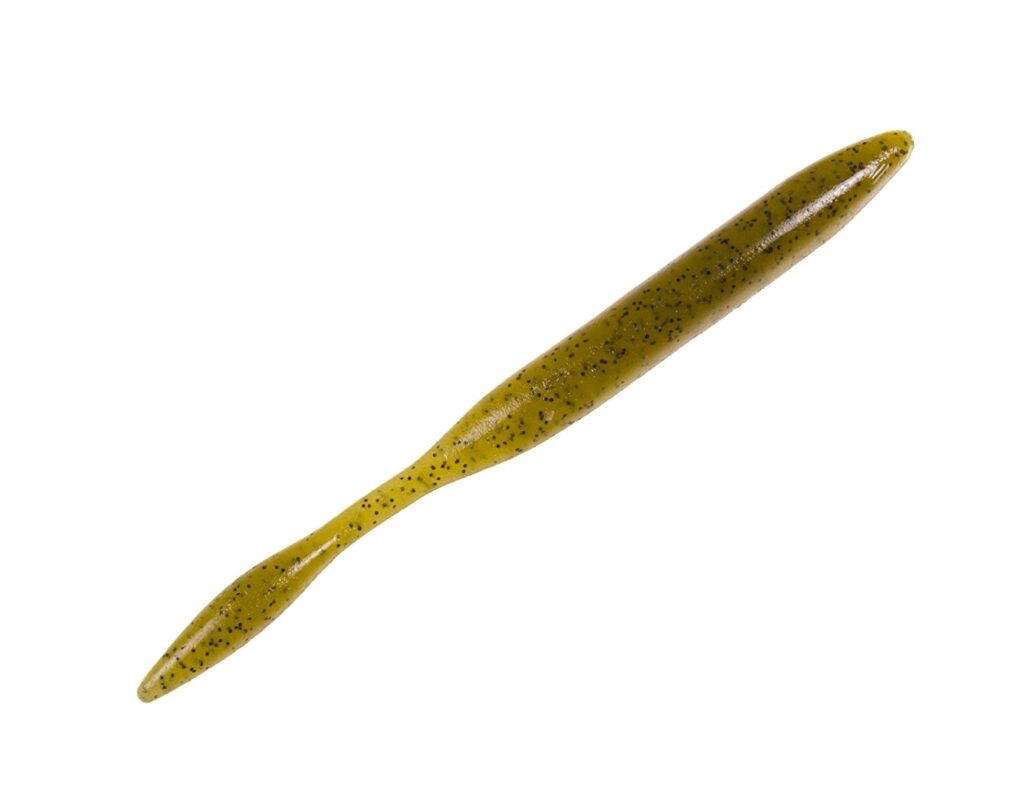 Strike King exploded on the drop shot bait market when they released their KVD Dream Shot. Each lure is perfectly poured and each lure has its proprietary blend of Coffee Scent which attracts fish to bite and will mask human scent as well.  The Dream Shot was designed to be the best all-around drop shot bait by hall of fame pro Kevin VanDam. Check For Best Price On Amazon.
Honorable Mention – Yamamoto Senko 
The Yamamoto Senko is known for its simplicity and its ability to catch a ton of fish. The 4 inch Senko performs the best in winter cold water conditions which is why it excels as a winter drop shot bait. These baits have a larger diameter and are loaded with salt. When the bait falls it descends with a natural shimmy action that cannot be beaten.  These are our runner-up choice because they are not transparent and some colors can be hard to find. Click here to read the reviews from real customers on Amazon.
Chunk Baits
Craw chunk baits were originally designed to be trailers for jigs and spinnerbaits. Their claw-like appendages are made to displace enough water to give the bait a realistic action that mimics a fleeing crayfish.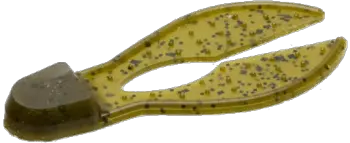 Some of the brands will even offer claws that float when the bait is stopped. This gives the bait a real-to-life action for a crayfish raising its claws trying to defend itself.
However, when used as a drop shot trailer you can give it a little extra action to raise the bait above the lake floor and allow it to slowly drift down. This gives the bait a very different presentation that the fish are just not used to.
Our Recommendation – NetBait Paca Craw Chunk
The NetBait Paca Craw Chunk was designed to have a soft meat-like texture that actually feels alive. The small body with its large claws create maximum drawing attention is important for winter drop shot fishing. It also has an incredibly solid body and will remind secured on your hook which is why it got our recommendation.
Runner Up – Zoom Super Chunk
The Zoom Super Chunk was given a minimalist design to have great action and to amplify its water displacement which is why it is such a great bait for winter conditions. Zoom adds salt into the plastic mixture to give it a realistic flavor to the fish that makes the fish hold onto the bait for that extra time that will increase your hookup ratio. This was our runner up because we liked the shape action of the appendages slightly more. Check for the best price for the Zoom Super Chunk on Amazon.
Underwater Bass Footage With Crazy Fluke Rigging Tricks
Most soft plastic jerk baits/ shad fluke baits are elongated and shaped like a minnow with a forked tail section. This gives it the lifelike action of a real baitfish especially when the presentation requires the angler to be subtle when winter drop shot fishing. These baits are phenomenal to mimic real forage such as shad, minnows, chubs, dace, shiners and suckers. During the winter, bass will feed on dying shad and juvenile bluegill that cannot handle the cold water temperature.
Our Recommendation – Zoom Salty Super Fluke
The Salty Super Fluke from Zoom Baits is one of the most sought after baits on the market. It also sports a natural fish shape that will attract fish if you're fishing fresh or saltwater.  The streamlined shape allows the bait to glide through the water when being worked which makes it appear like a fleeing baitfish. When drop shot fishing in the winter, the Zoom Super Fluke is offered in many different colors which is very important since it is vital to match the hatch which is why it edged out the competition. Click here to see if they have your favorite color.
Runner Up – Berkley GULP! Jerk Shad
The Berkley GULP! Jerk Shad is an absolute beast when targeting finicky, spooky or pressured fish. This bait works great over vertical cover like bluff walls or around docks. The real-to-life texture Berkley gave this lure is uncanny and when coupled with the proprietary GULP! scent it is absolutely dangerous. The only reason this was our runner-up is that this bait will dry out if you do not take it off the hook and place back in the GULP! scent reservoir.
Honorable Mention – Strike King Caffeine Shad Bait
The Strike King Caffeine Shad has a standout "bubble tail" to give this baitfish imitator a never seen before action in a jerk bait. Strike King lure is perfectly poured and each lure has its proprietary blend of Coffee Scent which attracts fish to bite and will mask human scent as well which is essential for winter drop shot fishing. Click here to read the reviews from real customers on Amazon.
Best Winter Drop Shot Weights
The best drop shot weight to start with would be lead skinny drop shot weight.  Nothing's more frustrating than having your fishing weight get snagged on the bottom. 
Use these Skinny Finesse Drop Shot Weights found on Amazon.com when you are fishing from shore and/or fishing around rocks and cracks. These resist snagging since the skinny shape tends to slip through better and can really make a difference between having a fun day or a frustrating day!  
Since you're fishing at a deeper depth, start with the ¼-ounce to ⅜-ounce. You want to feel the bottom but without getting snagged.
Cold Weather Fishing Clothing
Staying Dry, Comfortable, and Functional
Going fishing during the winter can be an exciting experience! If this is your first time, then there are some things you need to know about.
The best winter clothing for fishing needs to include a protective jacket, pants, headgear, footwear, sunglasses, and layers. There is a chance for you to be fishing during some inclement weather, so it's important to have the best clothes and gear to protect you from the bitter cold.
One of the most important pieces of clothing you must invest in is a quality winter jacket and pants (or bib). A quality jacket and bib keeps your core warm and protected. Since you're fishing in the winter it must also be waterproof and windproof. Furthermore, it's also important that the material is also "rip proof", which prevents the material from ripping in very windy conditions.
Keeping your feet warm and protected can also make or break your day on the water. You may have heard the term "happy feet – happy fisherman".
For that reason, it's best to get some boots and good water-wicking socks. Most good boots will be water-resistant or maybe even water-proof.
There is a lot to think about and be prepared for when it comes to choosing what clothing to wear for winter fishing. That is why I wrote the report, The Ultimate Guide To The Best Clothing For Winter Fishing, where I go over all the best tips for cold weather fishing clothing that you need to know – you will thank me later.
Other Drop Shot Fishing Related Articles
FAQ
How does cold water affect soft plastic lures?
Cold water will stiffen the soft plastic. Thats why thinner soft plastic drop shot worms and natural pork baits work so well because the cold water has little effect on them.
Does sound travel better in cold or warm water?
Warmer water allows sound to travel faster.
Do fish still eat during the winter?
Yes, however, the behavior will change drastically. Since they are cold-blooded animals, their metabolism is slow and they do not like to chase down food. That's why they'll eat baits you offer via your drop shot rig!
How many worms come in a pack of Senkos?
Depends on the size pack you buy, normally if comes in a pack of 8.
source [*]
More articles just for you...
A Complete Buyer's Blueprint On The Best Early Summer Bass Lures On The Market Today! When it comes to bass fishing, choosing the right lure
Read More »