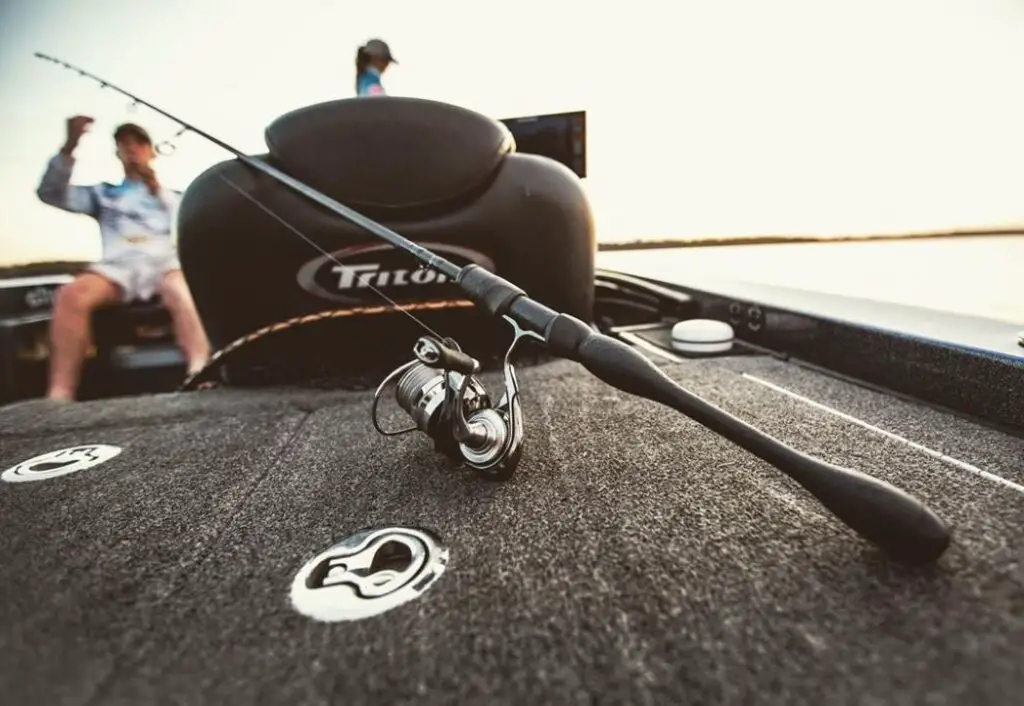 If you're looking into drop shot fishing or just want to get a sense of the different drop shot rods on the market today. We're going to assist you with choosing the best drop shot rod for every budget and skill level.  Because there is a lot of selection to go through and to help you narrow it down, this is your guide for the best drop shot rod available in each category.
Finding The Best Drop Shot Fishing Rod For The Money
In the early days you could get away with one or two fishing poles. 
Nowadays, specialized techniques requires specialized tackle and gear, like fishing rods. 
Drop shot fishing has been steadily gaining popularity for the last 15 years, especially since more and more people at becoming interested in bass fishing. Increase fishing pressure forces anglers to trick the fish into biting with this subtle finesse technique. 
Luckily, recent advances in technology has allowed some fishing rod manfactures to produce some of the most sensitive rods on the market. 
This post was written to specifically help you choose which drop shot rod is best suited for you and your needs.
WARNING:  There's a lot of information about this subject you'll probably want to come back to. No one expects you to remember all these tips. We know your time is precious, so we really tried to over-deliver in value for you. Additionally, we frequently update reports like this, so you'll want to stay up to date with any changes or additional tips we include for you. 
We found that the easiest way to save and bookmark this report so you can come back to it later is to share it on your favorite social media platform, especially if you use your phone to get important tips like the ones in this report here…
Click on your favorite social media buttons to remember this page now!
St. Croix Legend® Xtreme Rods
Sparing no expense, St. Croix debuts their top-of-the-line drop shot rod within their all new Legend Xtreme rod series.
St Croix blends technology and functionality into one seamless product…
If you don't have much time to read the detailed reviews, simply use the links below to quickly find the best drop shot rod for the money on Amazon. You can be assured we only choose the best products…
Best Overall Features – St. Croix Legend® Xtreme rod
Best Budget – Ugly Stik Elite
Editor's Choice – G.Loomis NRX
Best Overall
Best Budget
Editor's Choice
Best Under $200
Best Under $150
Product
Legend Xtreme Drop Shot Spinning Rod
Ugly Stik Elite Spinning Fishing Rod
G.Loomis NRX Drop Shot Spinning Rod
St Croix Premier Spinning Rod
Dobyns Rods Fury Series Spinning Rod
Best Overall
Product
Legend Xtreme Drop Shot Spinning Rod
Best Budget
Product
Ugly Stik Elite Spinning Fishing Rod
Editor's Choice
Product
G.Loomis NRX Drop Shot Spinning Rod
Best Under $200
Product
St Croix Premier Spinning Rod
#ad / Images from Amazon Product Advertising API
Best Telescoping Travel Rod
Best Drop Shot Rod/Reel Set 
We used our experiences with the products and looked over hundreds of customer reviews, watched tons of video reviews, and analyzed what the professionals and experts had to say from popular sources like BassMaster Magazine.
We scrutinized the data from the product catalog pages of nearly a dozen manufacturers, and we even tried to interview some of the company representatives to talk shop and get their take.
What Makes The Best Rod For Drop Shot Fishing?
There are many factors that go into determining what a great drop shot rod  should look and feel like.  Some of those factors include style, material, length, sensitivity, which we'll explore individually…
Style: Spinning. 
Spinning rods in bass fishing are primarily (but not always) designed around more finesse applications. They are on average lighter, more sensitive and have a hand feel that is more comfortable than using a baitcasting rod. 
Typically spinning rods will have a longer butt and will include a cork grip. 
Most of the time when you are drop shot fishing you're weight will rarely exceed ¼-ounce, so you need an rod and reel combo that can perform within these set parameters. 
Material: Graphite. 
Rods made from graphite started in the 1970's by the Fenwick rod company. Today, technology has allowed companies to take rod building to a whole new level…
Graphite rods are products in a two-part process. One to give the rod strength and the other to give it stiffness. The graphite is baked in an oven that sometimes exceeds 3000 decrees! WOW that's HOT!!!
The hotter that oven is the stronger and more sensitivity that rod will eventually have. And the rod will also be lighter because the manufacturer will need less material.
What does it mean when a rod has IM5, IM6, IM7, ect graphite?
When you see the verbiage IM-__ it means that rod manufacture is using a special type of graphite made by the Hexcel Corporation.  If a particular company uses IM graphite the higher the number the better quality graphite it will be. 
Some premium brands like G.Loomis (ex: GLX series) and St. Croix (certain lines will add SC4 graphite) will even add a secondary layer of graphite making it even stronger in certain sections of the rod all while keeping the weight down and maintaining the utmost sensitivity. 
Unfortunately, you'll also read about other rod brands that will offer "high-modulus" graphite rods with a really affordable price, but what they're not telling you is that they're not taking all the extra steps of adding the extra high-end graphite backing and will glue on fiberglass instead.  That means the customer will end up with purchasing an inferior, heavier, less sensitive rod.
You really do get what you pay for with the premium brands. And best of all, most of the premium brands have awesome warranties or rod replacement programs on their rods… just in case you close your truck door on your rod tip (speaking from experience)… moving on. 
Length: You'll need a longer rod. 
You may ask what size rod is best for drop shot fishing? Fish with a rod that is at least 6'10" in length. Having a longer rod will allow you to cast a lightweight rig farther and even into the wind. 
This rig is meant to be fished near over any type of structure without getting snagged, so having the right shape will play a big part of your success.
Having a longer rod will give you the ability to move, lift, and drag your drop shot rig over or around certain pieces of structure.
 Sensitivity:
Getting back to what you were learning about rod construction. Buying a rod that uses high end graphite can give you an extra sense of sensitivity that it's hard to describe. It's almost like gaining a 6th sense… you almost feel the fish is going to bite your lure.
Many anglers say the premium graphite allows the angler to feel when the fish is "breathing on the lure"
Best All Around Drop Shot Rod - St. Croix Legend® Xtreme rods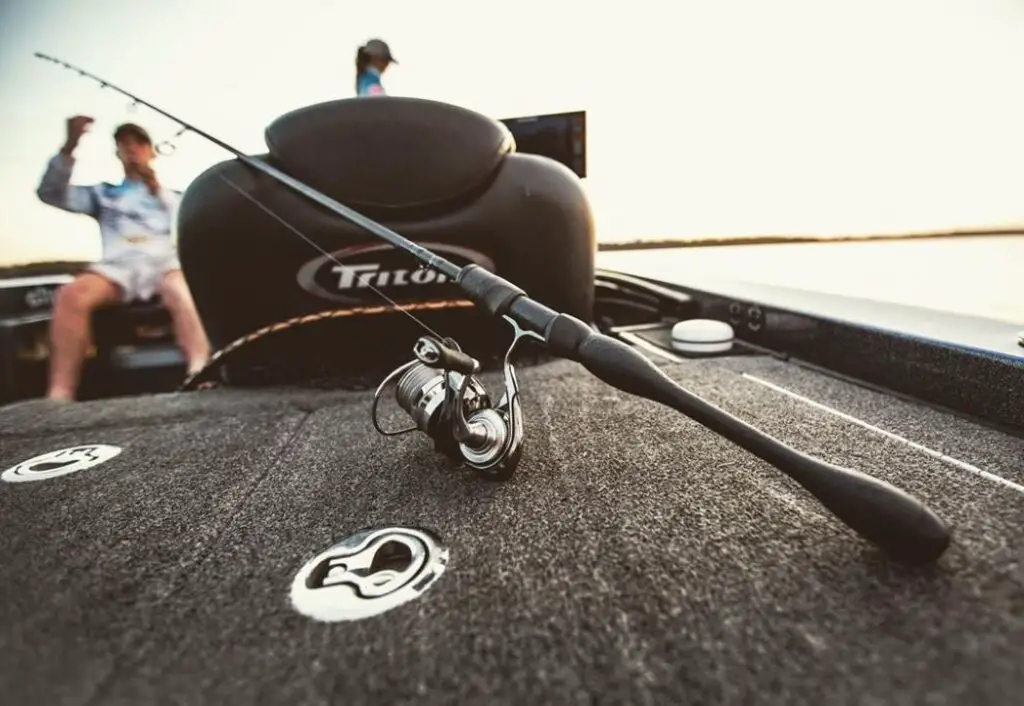 But, why are St. Croix rods the best spinning rod for drop shot fishing?
The St. Croix Legend Extreme Spinning Rods are absolutely an amazing piece of fish catching technology, especially for drop shot fishing.
St Croix uses the newest and some of the most advanced technology in order to give you a rod that out perform any drop shot rod on the market. 
Using proprietary high-modulus/high-strain SCV graphite and reinforced with super-high modulus SCVI graphite in the back end, this is the rod will you an insane amount of sensitivity, improved strength, and perfect reel seat balance that will allow you to catch fish for hours without getting the slightest bit fatigued.
St. Croix's TET (Taper Enhancement Technology) design provides curved patterns for enhanced action and boosts sensitivity as well!
But that's not all! St Croix also partnered with Daiwa to add their exclusive AGS guide system that gives your unmatched durability and longevity to your rod, so you can use it for years to come.
St Croix Xtreme Stories – Derek Hudnall
This rod will last you years and is well worth the investment.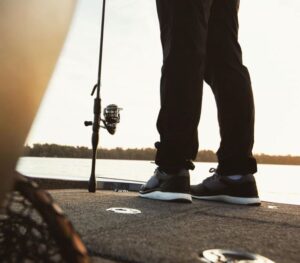 Feature 1: Integrated Poly Curve (IPC) – Breakthrough advances in technology allowed St. Croix to overhaul the rod manufacturing capability to remake the "mandrel".
The mandrel is a cone-like unit which the rod is made around.  St Croix uses a smooth continuous tapering mandrel.
All others in the industry use a "stair step" mandrel.  By eliminating the "stair step" approach to rod building it creates a uniform thickness of the rod blank which eliminates extra weight and gives the rod unparalleled action. 
Feature 2:  Insanely lightweight and strong – Each rod uses an exotic carbon fiber material that give the angler a magnitude (10X) of strength with virtually no increase in blank diameter or weight.
Feature 3: Advanced Construction Resins – Fortified super resin used in every blank consistently creates rods to be 33% stronger when compared to other manufacturers who build their rods with standard resins and curing methods.
Accolades: St Croix sas won over 20+ ICAST awards.  Most recently in 2018 St Croix was awarded three Best of Show awards. St. Croix Rods claimed this prestigious honor for three of its rods in the freshwater, saltwater, and fly categories. Not an easy feat!
If you're looking for that competitive edge owning a St. Croix Legend Xtreme Drop Shot Rod will give you that extra advantage. 
Best Budget Drop Shot Fishing Rod - Ugly Stik Elite
What Makes This Rod Great?
This rod manufacturer has been in business for generations. The Shakespeare Ugly Stik Elite Spinning Rod will give you a great rod for skipping docks especially if you're serious about catching fish but at a price-point that anyone can appreciate.
We chose this specific rod because Ulgy Stik Elite rod run a little on the stiff side. The medium light backbone is more than enough to set the hook in a wacky worm or a Texas rigged fluke bait.  The tip is more than soft enough to skip cast  
When compared to other entry level manufacturers Ulgy Stik designs their rod with 35% more graphite. This means you get a rod that is incredibly strong and still lightweight. 
The Ulgy Tuff stainless steel guides with a fiberglass tip means this economic rod will stand up to any nasty weather that Mother Nature can throw at it!
On a more personal note:  I bought my nephew this rod for general fishing. Overall it's a great rod at an beginner-level price.
Essential features you want
Out of this world durability – not only will this rod pull in a 10-pound bass. Other anglers also said this rod can easily pull in a 30+ pound catfish!
Incredibly versatile – Whether you want to skip docks, throw a spinnerbait or cast a small crankbait, this rod is built to handle it all. 
Cork handles – The ergonomic handles are designed for all day comfort.
Runner Up - G.Loomis NRX Spinning Rod
Why did the G.Loomis NRX Drop Shot spinning rod win the Editor's Choice Award?
The G. Loomis NRX spinning rods are considered to be the flagship of the G. Loomis spinning rod line up.  What makes this rod so special is the exclusive way that G. Loomis makes its rods. 
Proprietary construction methods allow G. Loomis to make this rod 15% lighter than even is GLX model.  
Why is that important?  Because G. Loomis gives you a drop shot fishing rod that is more durable, extremely sensitive, all while maintaining a strong backbone.   
Featherlight nibbles will now feel like a chomp, you'll easily feel if you're dragging a lure across sand or a shell bed… and will maintain sensitivity even if you're fishing over 40+ feet of water!  That's unheard of… up until now! 
This rod is very evenly weighted and will no wear out your arms during a full day of fishing.

On top of all the class leading technology packed into a single rod, G. Loomis spares no expense when adding accessories…
Loomis paired with Fuji guides and added their Fuji Titanium-Framed SIC Guides and REC Recoil Black Ion-coated, Nickel-Titanium Guides.  
Also small and incredibly lightweight, the guides assist in improved casting performance, giving the opportunity to keep your lure in the strike zone longer.
G. Loomis NRX Spinning Rod Review
Accolades: Best of Show in the Freshwater Rod Category at ICAST.  Remember, ICAST is one of the worlds most distinguished trade shows for the most innovative fishing gear, products and apparel.
Feature 1:  At least 20% lighter than competitors –  Uses state of the art composite blank to make a rod that is not only lighter but has insane sensitivity.
Feature 2: Perfectly Balanced –  Each hand crafted rod is made to be perfectly balanced in the anglers hands. This is said to reduce arm fatigue.
Feature 3: World class warranty – G.Loomis has the best warranty on the market.
About Dobyn's Fury rods...
Without a doubt the Dobyns rod company is one of the best manufacturers of spinning rods on the market.
The Dobyns Fury Rod would have earned it a higher spot however it is offered by few retailers and is relatively hard to find…
Luckily they also sell their rods on Amazon.com
I have owned a handful of these rods in the past and I will vouch for these rods hands down.
Dobyns Rods uses an ultra-high modulus graphite blanks create unmatched performance and give the angler a bite sensitivity that a $300 plus rod would give.
Each Dobyns rod Is paired with premium line guides that are even wrapped with Kevlar!
The reel seat is incredibly lightweight and the rod feels very balanced in your hand.
The Dobyn Fury spinning rod is a fantastic rod that is priced incredibly fairly. 
Best Drop Shot Rod Under $200 - St. Croix Premier Series Spinning Rod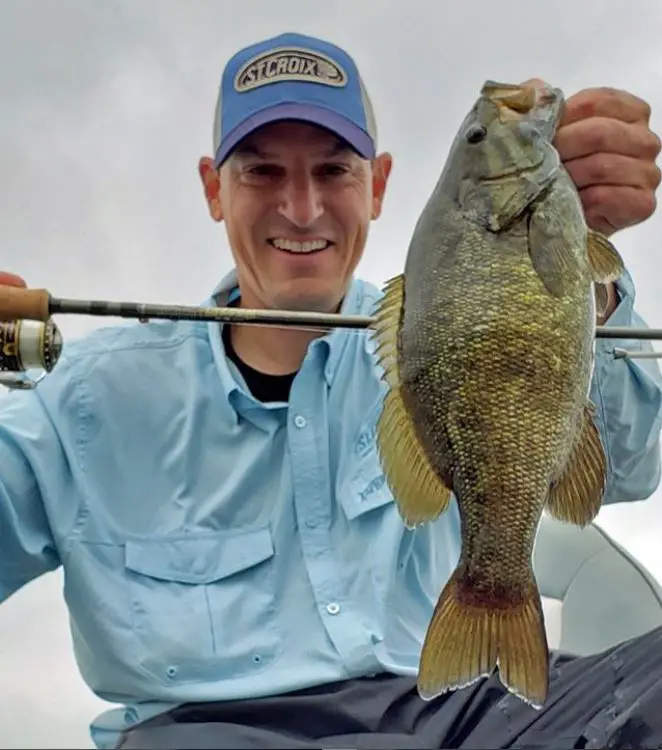 What Makes This Rod Great?
This US build rod is the perfect combination of being lightweight, strong and highly sensitive and at a price that fits most budgets.  Year over year the St. Croix Premier Series spinning rod is one of the most popular rods that is offered. 
This rod accels as a rod that can skip cast soft plastics without any difficulty. Built with St Croix's premium SCII graphite blanks and high quality components it gives anglers the perfect mix of sensitivity and power. 
The SCII blank uses hyper-responsive graphite fiber and is used and more importantly it has a  higher strain rate than fibers commonly used by other rod manufactures for increased sensitivity and power. 
Durable Kigan Master Hand 3D guides with slim, strong aluminum-oxide rings and black frames give you rugged performance.
The lightweight Fuji® DPS reel seat with frosted silver hoods provide a solid, comfortable base for your reel. Premium grade, full cork handles also provide a comfortable grip and plenty of fish fighting leverage. 
Offering the ideal blend of incredible performance and value, the St. Croix Premier Series Spinning Rods are handcrafted in Park Falls USA.
"OUTSTANDING CHOICE FOR ANGLERS WHO APPRECIATE HIGH-PERFORMANCE WITHOUT HIGH COST."
Essential features you want
We love this rod but you don't have to take our word for it!  After reviewing nearly 300 reviews from both Amazon.com and Bass Pro Shops we came up with the top three features why anglers love this rod. 
Durability – Over and over other anglers say this rod is light as a feather, but built like a tank. 
Versatility – This rod is great for skipping dock with senkos, but it also can excel in other techniques of fishing such as dragging a Texas Rig, jigging tubes, and jerking a weightless fluke. 
Most Bang For Your Buck – The most common review we saw was this rod is well worth the money.  Many anglers say this rod is just as good as their $300+ rod. 
Best Drop Shot Rod Under $100 - Fenwick HMG
What Makes This Fenwick Rod Great?
Best all around drop shot rod under $100 has to Fenwick HMG rod. 
It wins hit spot because it has extremely good casting quality and good sensitivity.  It's incredibly well balanced and the handle is super comfortable. Not big and bulky like some of the other rods in this market class. It does not feel awkward in your hand. 
Check out what these happy customers have to say about this rod...
"Fish comfortably all day. Fenwick really made a rod that's comfortable and won't hurt my hand when I'm done fishing for the day." – Amazon.com (certified review)
"I don't think there is a better rod in the market around $100. Aconite guide inserts in very small fuji guides. Casts like a dream. Lightweight rod with a very comfortable grip. I paired the 7′ medium light rod with a Shimano Nasci 2500 spinning reel. It's an awesome combo." – Amazon.com (certified review)
"I was looking for a solid finesse rod that would not cost me an arm and a leg. Being a fenwick guy, I purchased the 7 medium light HMG. I was a bit concerned about the sensitivity, but after a few times out I was ecstatic about how much I could feel. I have no problem slinging a weightless worm a good distance and the action is just right when fighting a lunker. I know there are super sensitive rods out there but I am willing to bet you would have to spend double to get a significantly more sensitive rod than the HMG. I'm glad I purchased this classic. Thanks Fenwuck!" – fenwickfishing.com
If you're looking for a decent drop shot rod under $100 then this is the ticket! But you don't have to take our word for it! 
Best Telescoping Rod - KastKing Blackhawk II
About KastKing Blackhawk II
The best telescoping rod has to go the KastKing Blackhawk II fishing rod.
Being a relatively new player KastKing has pushed the boundaries for delivering  innovative and interesting products.
This rod is ideal if you want to pack this under your car seat if you want to go fishing on your lunch break, or you can pack this into a small suitcase bag if you're traveling. 
One of the best features that the Blackhawk II has to offer is it comes in a variety of lengths and strengths. So you can choose the rod that best suits the style of fishing you're doing.
I recommend the KastKing Blackhawk II, 7-foot medium power with a fast tip rod caught our eye for its excellent drop shot features.  
Is It Worth It? Drop Shot Rod And Reel Combos?
Best Drop shot rod and reel setup
If you are a beginner and really don't know the small details that come along with pairing a specific style of rod with a specific style of reel. That's why this Pflueger President Spinning Reel and Fenwick Eagle Fishing Rod Combo makes so much sense!
Many times manufacturers will help out these new anglers by paring their products together that can help with the learning curve.
It really comes down to a handful of questions to help you determine whether or not you are going to purchase a rod and reel set or purchase it separately. Ask yourself: 
How much fishing experience do you have?

Do you have confidence that you can pair up the right rod to the right real? 

Are you going to use that combo for any other style of fishing?
DIY - BUILD YOUR OWN SPINNING ROD
If you don't want to buy a premium spinning rod and think it's the best idea to build your own specialty drop shot rod, then check out this YouTube video.
How to Build Your Own Fishing Rod
Therefore, before you even think of making your drop shot rod, you have to understand how they are made up and what qualities they should carry. You have to ensure that the blank rod is solid and powerful enough to set the hook, yet sensitive enough to detect even the smallest bites. 
Other Drop Shot Fishing Related Articles
What is the best way to set the hook with a drop shot rig?
A sweeping hookset. Bass anglers have been trained to set the hook as hard as they can fishing with large hooks. But in drop shot fishing, you're dealing with needle-sharp thin gauge wire hooks, so you don't need to reel down and set the hook as hard as you can.
If you see your line moving or if you feel a bite reel down and set the hook sideways with a sweeping hookset.  This will prevent the hook from being pulled out the mouth.  if you're new to drop shot fishing, I wrote the post, 15 Drop Shot Fishing Tips For Beginners, where I give you fifteen specific tips that actually work!  Click here to find out what skills you are missing.
I think Chris Zaldain (Bassmaster ELITE Pro) said it best, he doesn't even set the hook!  "…just reel down, take the slack out of the line and lean back into the fish. The hook will set itself!"
When I order a rod how big is the shipping package?
Your rod will be most likely shipped in a tube that is approximately 8-feet long. 
Can I use these rods for saltwater fishing?
Yes, just made sure you rinse off your rod with regular water and wipe after use. 
What type of line do spinning rods use?
Spinning rod for drop shot fishing are best used with braided, monofilament, or fluorocarbon line. 
Warranty? What happens if I broke my rod after a few trips to the lake?
I strongly recommend contacting the manufacturer as soon as possible. They are normally pretty good with warranties.
Explain to them what happened, provide pictures of the rod, and purchase information they would typically replace the rod at a massive discount and you may have to pay a small shipping fee.