What are the best drop shot baits?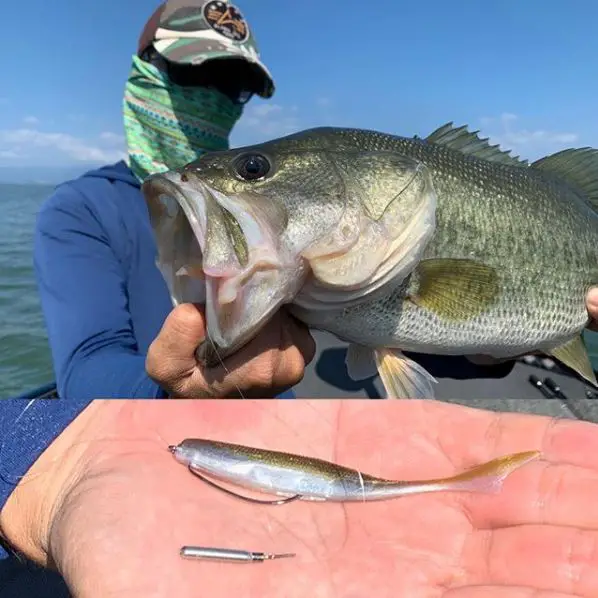 Choosing a drop shot bait can be overwhelming because there are so many choices, but it's so important to choose the right bait over the wrong one.
But have you ever asked yourself what are the best drop shot baits? How about the best for clear water… or… for largemouth and smallmouth bass? You mane also want to know about what's the best size for a drop shot bait? …or… What's the best action should a drop shot bait have?
I know that I have. But in summary, the best drop shot bait will be durable, gives you a TON of action even in the slightest of currents, and finally it matches the local forage perfectly.
I know this sounds slightly generalized, but luckily for you I'm going to narrow it down.
So before you commit to a specific drop shot bait or brand, you need to get to know your options better.
This report will provide you with the information you need to know before you jump into anything serious.
If you don't have much time to read the detailed reviews, simply use the links below to quickly find the best drifts socks for your boat on Amazon. You can be assured I only chose the best products…
Best Overall Drop Shot Bait: Roboworm Straight Tail Worm
Best Wacky-Style Drop Shot Bait: Senko 5-inch
Editors Choice: Zoom Super Fluke 5-inch
Best Overall
Best for Wacky Rig
Best Minnow Style
Best Overall
Best for Wacky Rig
#ad / Images from Amazon Product Advertising API
Best Drop Shot Baits On The Market Today
Rapid Navigation Section – Click on the bait below to quickly be take the appropriate section to learn more below
Soft Plastic Straight Tail Worms
Senko-Style/Fat Stick/Wacky Worm Baits
Minnows & Fluke style baits
Soft Plastic Swimbait & Gobies
Best Overall: Soft Plastic Straight Tail Worms
Roboworm Straight Tail Worm
Soft plastic straight tail worms –Typically very soft flexible worms are perfect worm for drop shot fishing.
They come in a variety of colors and sizes. Most straight tail drop shot worms are 6-8 inches in length and rarely have a diameter over 1/4 inch.
The Roboworm Straight Tail Worm and the Zoom Trick Worm just a couple of many options.
When someone talks about drop shot fishing baits, the Roboworm Fat Straight Tail Worm is always discussed as one of the premiere options.
The best thing I like about this bait is that it has a slightly larger head than most finesse style worms, yet it still remains incredibly soft.
The belly is embedded with salt. It is said, this is done because salt mimics the salty taste of blood. In turn the bass hang on longer, giving you a better catch ratio.
Even in cold winter time conditions this lure maintains its flexibility.
Best Rigging Option: Nose hooked or Texas rigged style.
Best colors: Aarons Magic, Oxblood Red Flk, Margarita Mutilator, Morning Dawn
Strike King KVD Dream Shot
The Strike King KVD Dream shot is one of the most absolutely amazing drop shot baits that has ever hit the market.
Thread it on and you'll quickly see that movement and action of the tail is unmatched.
Here's a funny story… my cousin will not fish anything associated with KVD, however the bite was tough and I busted out the Dream Shot and started to out fish him 4-to-1 that day. The next day he sent me a picture of a bagful of KVD Dream Shot packs he bought and asked me to promise not to tell anyone…hehehe.
As amazing as these are, the only knocks on this bait is the durability is not the best (because the worms are so super soft) and panfish love to eat the tails off.
Best Rigging Option: Nose hooked or Texas rigged style
Best colors: Morning Dawn, Sexy Shad, Pro Blue Neon, Magic, Green Pumpkin
The Zoom Finesse Worm is the little cousin of the uber-popular Zoom Trick Worm. However, just because it's smaller it has big action when threaded on a drop shot hook.
This worm is also made with salt mixed in, in which the bass refuses to give up once they bite.
The slightly enlarged tail allows the bait to quiver even with the slightest movement of the rod tip or in the current.
Zoom is one of the oldest plastic manufacturers in the nation. That being said, they know how to make their customers happy by putting out an excellent product and packaging each bag with 20 baits!
Best Rigging Option: Nose hooked or Texas rigged style
Best colors: Green Pumpkin Red, June Bug, Peanut Butter & Jelly, Watermelon Red Flake, Black
Berkley Powerbait 4″ Power Worms
The curly tail worm is an excellent drop shot bait because when that bass are aggressive and wants a little extra attraction.
Moreover, it doesn't take much to give life to curly tail worms. Any twitch or slight movement provides great swimming action. This really comes to life when being fished in a current.
Similarly, this lure is phenomenal when you're targeting any cabbage weeds, lily pads or ledges.
It's also really versatile, meaning you can make it look like a shad by using a white color, or make it look like a little bluegill or minnow by choosing a natural green or brown color.
Let me finish with this. Curly tail worms are one of the most overlooked baits to drop shot with. Even though they have been around for years it doesn't make them any less effective.
I really like how these worm tails will move even with really slow retrieves which makes them ultra efficient.
Last but not least, this worm is packed with Berkley Power Worm Scent which gives the bass even more reason to hang on longer.
Best Rigging Option: Nose hooked or Texas rigged style
Best colors: Green Pumpkin, Motor Oil, Black, Watermelon Red Glitter
Senko/Fat stick baits/wacky worm baits –  work well when rigged wacky style. (We'll get into that technique later). The larger size increases weight which in turn affects fall rate. 
The Yamamoto Senko, the Yum Dinger and the Strike King Ocho are phenomenal choices. 
When choosing the right bait make sure you just keep it simple: a green pumpkin pepper, watermelon with red flake, a transparent pink-colored worm ( such as a morning dawn color) or even an all black typically works the best.
In low light conditions black worms and pink worms work phenomenally. They give the bass a great silhouette of the bait. 
If there are smallmouth bass in the area small black worms work very well because they typically will resemble leeches on the bottom of the lake floor.
Yamamoto Senko
We asked in a poll, if you can fish with one soft plastic lure what would it be?
The Yamamoto Senko was the overwhelming winner. This bait completely changed that way bass fisherman catch bass and has become one of the most well-known brands all over the world.
The Senko is the perfect combination of salt and soft plastic. Making it a relatively heavy bait when compared to other soft plastic worms.
This works to its advantage because it can be casted a country mile, especially when fished on a drop shot!
Hands down the most effective feature about this lure is the seductive shimmy it produces when it falls on slack line. Bass cannot get enough on that fall. 
Best Rigging Option:  Wacky style
Best colors: Watermelon Red, Blue Craw, Junebug, Black Blue Flake
The Strike King Ocho fills in all the gaps where Senko falls short.
For instance, the fall is a little slower than a Senko. So when the bass are in a very finicky mood, they will outperform the Senko.
It's been said that if you rig this with a light-wire gauge hook it can make it look like the Ocho is completely suspended even on slack line… That's something a Senko can't do.
The octogonal shape allows it to skip effortlessly across the water and will reflect light off the flat side adding to attention getting features.
They are about as soft as a Senko, but priced better.
I also noticed that it has more action than a Senko when being shaken wacky style, but has less shimmy on the fall when compared to a Senko.
Best Rigging Option: Wacky style
Best colors: Watermelon Red, Blue Craw, Junebug, Black Blue Flake
Fluke style baits – resemble the shape of a small baitfish. 
These also come in many different colors, by far the most effective colors are those that mimic a shad or sometimes a bluegill or a small juvenile bass. 
The Zoom Super Fluke is loaded with salt and will trigger bass to bite and hold on.
The Berkley GULP! Jerk Shad has it's world-renowned bait scent that will attract fish and has been scientifically proven to work through 3rd party studies. 
Minnows & Fluke style baits
The Zoom Salty Super Fluke is an amazing drop shot bait because it's probably the easiest bait to learn how to use.
It can be used in so many different ways, and honestly, this is my go-to bait on a sunny slightly windy day in spring/summer.
The movement on these things is crazy and all you have to do is give your rod a flick or a twitch and will make your bait pop and jerk in erratic movements just like a small baitfish fleeing a bass.
The Zoom Fluke can be dead sticked. Not moving your weight, but just picking it up and letting fall slow to the lake bottom is absolutely deadly! 
Spring time sight fishing this bait is awesome.  Simply shorten the distance from your drop shot hook to your weight to approximately 4-6-inches max. This will make your bait look like a bluegill eating eggs.
In the summer evenings you can fish fast and you can slow "swim" it parallel to structure.  
Of all the retrieves, the "twitch, twitch, pause, (letting the bait fall), repeat (while reeling in the slack)" cadence is my go-to, especially if I have to cover a lot of water or when I'm trying to develop a pattern.  
Most of the bites came on the fall, or as the bait neared the bottom.
If it's cloudy out, here are the colors you want to use: baitfish, smokin shad, junebug.
Best Rigging Option: Nose hooked or Texas rigged style
Best Colors: White Pearl, Glimmer Blue, Baitfish, Watermelon Red, Green Pumpkin
Soft Plastic Swimbait & Gobies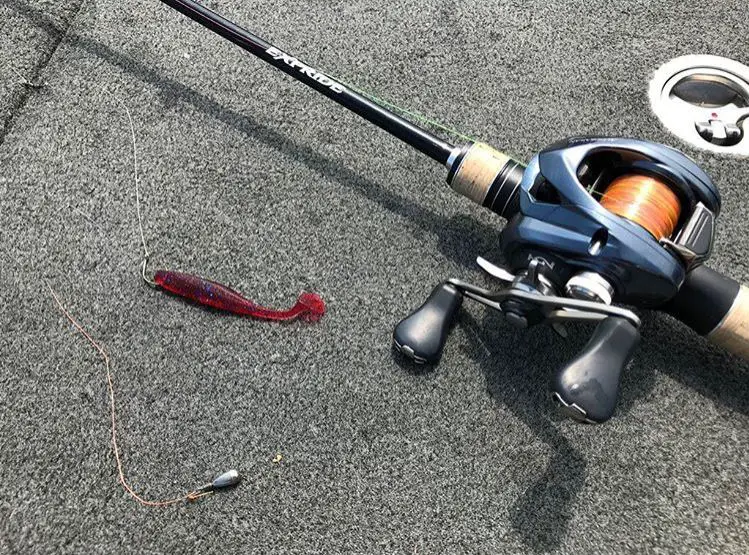 Fishing a soft plastic swimbait or goby bait on a drop shot makes perfect sense that is just starting to catch on with many anglers.
In the southern half of the country anglers will fish a soft plastic swimbait when the baitfish are really small or if the lake is very pressured.
Likewise, in the northern Great Lakes anglers will use soft plastic swimbaits to mimic the goby fish. The goby is an invasive species that other predatory fish love to gobble up due to its high nutritional content.
Smallmouth started to develop a taste for these little fish when they realized they lacked a swim bladder and these little fish could only "hop" from rock patch to rock patch.
Preferring a pea-gravel or rocky habitat, they burrow themselves into the gravel when they feel threatened or startled.
The goby bait is best used in the spring time and fall, but it's also fantastic bed-fishing bait.
Keitech Easy Shiner Swimbait 3.5″ Swimbait
The Keitech Easy Shiner Swimbait 3.5″ swimbait is great for drop shot fishing because the tail will start to kick even with the slightest of movement.
This little bait can be used around grass, vegetation, submerged brush, and timber. Just make sure it's Texas rigged.
Best Rigged: Nose hooked or Texas rigged style
Best colors: French Pearl, Sexy Shad, Threadfin Shad, Smallmouth Magic, Goby
Yamamoto Double Tail Hula Grub
Drop shotting crayfish soft plastic baits has been one of my most effective deep summer fishing catching methods that both largemouth and smallmouth will eat up.
The key to fishing this bait is to use a shorter leader, 4-6-inches from the weight, and less twitching, wiggling or shaking the rod tip. Instead, think of this more like drag and deadstick.
I was asking about this a while back when I first heard of it and it was described to me this way. You need to fish soft plastic crayfish baits like it was 'live bait'. All you cast it out and leave it alone. Move it a foot or two, leave it. The less you move it, the more you'll get bit.
Unfortunately, bass are not the only fish that each crayfish. Pike, walleye, or any other tooth predator fish will readily take a bite out of this craw bait.
Yamamoto Double Tail Hula Grub
The Yamamoto Double Tail Hula Grub will hands down catch fish all year long. It doesn't matter if the fish are shallow or deep.
What makes this bait a great drop shot bait is the free flowing rubber tentacles at the tail end, which is where you need to hook the bait, not the "nose".
The pincers are curved and move like grub would at the slighted movement.
The only flaw I've seen in this bait is that the plastic is very durable, so when you're catching fish, you'll go through one bait for every one or two fish. So make sure you buy 2-3 packs of these Hula grub baits and hang on!
Best Rigged: Nose hooked or Texas rigged style
Best colors: Green Pumpkin Black Flake, Watermelon Black Flake, Black, Pumpkin Red Flake
The tube bait is an amazing bait for your drop shot rig..
Once the tube touches the water, the tails or tentacles are always moving even with the slightest current.
The tube will represent anything living in the water whether it's a shad, bluegill, or crayfish. All you have to do is match the hatch!
The hollow design of the tube bait gives it unique action. As the air leaves the tube it will fall with a spiral.
If you want to keep the bait suspended, place a small piece of styrofoam inside the bait.
Another cool idea is to put a small piece of sponge inside the tube and squirt some bait scent in it.
Gitzit Fat Tube
Don't let the name confuse you, the Gitzit Fat Tube is not really fat, but the walls of the bait are said to be a tad thicker to give you a more durable bait.
What I like about Gitzit is they are the original tube bait maker and never stop spot producing innovative in colors or improving their products.
With this in mind, I've used may different brands of tubes, and I feel Gitzit's tubes have a better fall/spiral action than the competition.
In addition, I'm impressed that Gitzit goes through great lengths to make sure all the tube tentacles are completely separated and not stuck together like the other brands.
Best Rigged: Nose hooked or Texas rigged style
Best colors: Olive Smoke Red, Brown Craw, Green Craw/Salt & Pepper, White Sparkle, Bluegill Trap
In general, reapers are leech looking soft plastic baits and tend to be very buoyant. And just after a few shakes of the rod tip the bait will pop up and will glide back down. On the drop shot, the reaper tends to glide down in a gentle arc making it look very natural.
Don Iovino Reapers
Don Invino's reapers have the ability to appear to have a life of their own when worked slowly.
The wide yet thin tail gives the reaper a chance to quiver and move at the slightest twitch of the rod or any current.
The texture is soft, yet not too soft.
The reaper will mimic anything that lives in the water. When gliding it can look like a crayfish gracefully moving from rock to rock. When suspended it will look like a bluegill shivering, too scared to move.
The reaper will not only catch bass, but will catch pike, walleye, perch and pickerel. Perfect when you just want to catch anything that bites!
Many anglers do not like to talk about the reaper because for many it's an ace in the hole.
When the bite is touch and the you need to slay some bass, you need to break out your pack of Don Invino's reaper baits
Best Rigged: Nose hooked or Texas rigged style
Best colors: Liver, Green Crawdad, Oxblood
Read all the reviews from real Amazon customers – Click Here!
DIY – Pour Your Own Baits
If you can't find a particular color bait you may want to consider pouring your soft plastic drop shot baits. Check out this youtube video to see how easy it is.
If you want to get your hands a little dirty and are feeling a little crafty, you may think the best idea to make your own soft plastic lures then you know there are a ton of youtube videos and blog posts online to instruct and teach you everything you need to know in pouring your own baits.
But here is what you need to get started, the Do-It Wacky Worm Starter Kit – here
Here is what comes in the kit:
Aluminum Injection Mold (6″ Skinny Carrot)
Medium Plastic Injector (please be careful)
Pint of Crystal Clear plastic (soft or medium)
(2) – 5 oz containers of plastic colorant (your choice)
(2) – 2 oz containers of glitter (your choice)
Nitrile Gloves
Get yours at Do-It Molds website, click here to learn more.
Other Drop Shot Fishing Related Articles
FAQ
Does it matter what color I choose for bass?
If your water is clear choose a natural color like green or browns. If your water is dirty or stained choose a brighter color or dark colors.
How much does each worm weigh?
I don't know, it would depend on the worm. However, I would not use a worm weight over 1/4-ounce for drop shot fishing.
Do all baits have an odor?
Most baits have scent mixed into the plastic as it's being made. Even if the manufacturer decides not to add a scent "plain" soft plastic baits will still have a mild order.
What is the best way to set the hook with a drop shot rig?
A sweeping hookset. Bass anglers have been trained to set the hook as hard as they can fishing with large hooks. But in drop shot fishing, you're dealing with needle-sharp thin gauge wire hooks, so you don't need to reel down and set the hook as hard as you can.
If you see your line moving or if you feel a bite reel down and set the hook sideways with a sweeping hookset.  This will prevent the hook from being pulled out the mouth. 
If you're new to drop shot fishing, I wrote the free report, 15 Drop Shot Fishing Tips For Beginners, where I give you fifteen specific tips that actually work!  Click here to find out what skills you are missing.
I think Chris Zaldain (Bassmaster ELITE Pro) said it best, he doesn't even set the hook!  "…just reel down, take the slack out of the line and lean back into the fish. The hook will set itself!"