Getting ready for the fishing season that is fast approaching in Arizona, I wanted to make sure I had my fishing license. I don't like being on the Law's bad side, and want to be able to head to the lake without worrying about being stopped by the game warden and getting an avoidable ticket.  But, I wasn't sure how much it was to buy one. After doing some research, this is what I found. 
So, how much does an Arizona fishing license actually cost?  Simple answer is that it depends. Based on what type of license that person needs, combination packages, and the duration of the license are the main factors that determine the cost of the license.  However, for the average adult resident of Arizona the average cost of an annual fishing license is $37.00.   
As mentioned before, there are various types of fishing license based on your needs. In the article below you'll learn about the different types of license for residents and non-residents, where you can purchase your license, different combinations available, and much, much more.
Disclaimer
The prices, types of licenses, and various available packages listed are accurate at the time of writing this report for you. However, this can change at any time and the State doesn't give us any heads up when changes are made. So be sure to verify what exactly you're purchasing before you pay for anything.
WARNING:  There's a lot of information about this subject you'll probably want to come back to. No one expects you to remember all these tips. We know your time is precious, so we really tried to over-deliver in value for you. Additionally, we frequently update reports like this, so you'll want to stay up to date with any changes or additional tips we include for you. 
We found that the easiest way to save and bookmark this report so you can come back to it later is to share it on your favorite social media platform, especially if you use your phone to get important tips like the ones in this report here…
Click on your favorite social media buttons to remember this page now!
Arizona Fishing License Prices
In Arizona you're given the opportunity to choose between fishing license types and packages, some of which can save you quite a bit of money.  If you're a disabled veteran, child/youth, or senior offers significant price reductions! 
Below you'll find a list of all fishing licenses offered in Arizona for both residents and non-residents.
Cost of Fishing Licenses in Arizona
| LICENSE | RESIDENT FEE | NON-RESIDENT FEE |
| --- | --- | --- |
| General Fishing | $37 | $55 |
| General Hunting | $37 | Not Available – See Combination |
| Combo Hunt & Fish | $57 | $160 |
| Youth Combo Hunt & Fish | $5 | $5 |
| Short-Term Combo Hunt & Fish | $15/day | $20/day |
| Community Fishing | $24 | $24 |
| Migratory Bird Stamp | $5 | $5 |
Where Can You Purchase Your Arizona Fishing License?
You can purchase your fishing license at a variety of locations and it's really easy and convenient too!
Below you'll get all the details about the variations offered. 
Buy online fishing license

Buy fishing license at authorized License Dealer stores
In Arizona you may qualify to get a complimentary license. Per Game & Fish website:
Pioneer License –

A person must be 70 years of age or older, plus 25 consecutive years as a bona fide Arizona resident immediately preceding application for the license.

Additional information.

Disabled Veteran –

A person must show certification from the Veteran's Administration confirming permanent service connected disabilities rated as 100 percent disabling, plus one or more consecutive years as a bona fide Arizona resident immediately preceding application for license.

Additional information

.
Lifetime License
Only available to Arizona residence the cost will differ based on type and age. Link.
Arizona Fishing Regulations
Since you're wanting a fishing license there are some things as a holder you must be aware of.  It's not as easy as buying fishing license and fishing where ever you want for any species of fish. There are laws, guidelines, and regulations you need to follow. 
Below are some listed guidelines that must be followed.
General Fishing Regulations
Fishing in any lake, river, creek, stream, or even pond a Arizona fishing license must be owned. Unless you own or get explicit permission to fish a private body of water such as a private farm pond.
In Arizona, you may fish with two poles or lines in all fishing license types.  Unfortunately it does not change the daily limit you're allowed to keep.
How old do you have to be to need a fishing license in Arizona?
Children older than 10, must own a valid fishing license in order to be legally fish in the state of Arizona.
Free Fishing Day
Arizona offers a Free Fishing Day once a year in June.  This is designed to introduce someone to fishing and have an enjoyable time outdoors even if it's for a day.
Where to purchase a fishing license in Arizona?
Arizona allows you to purchase your license online, but it also allows you to store your license as a digital copy on your phone, tablet or other electronic device.
Daily Bag Limit
In Arizona the daily bag limit is defined as "The daily bag limit is the maximum number of fish that may be legally caught and reduced to possession in one day. Once you catch a fish and do not release it, it now counts toward your daily bag limit.". The duration of the limit lasts for 24-hours (midnight–to-midnight).
Arizona allows anglers to have different types of fish in their possession.
Most fishing waters in Arizona do not have a length limit. However, in the event a length limit is require it is also defined as the tip of the closed mouth to the tip of the tail.
In Arizona, fish can be caught by bow and arrow, crossbow, snare, gig, spear or spear gun, or snagging are valid methods for taking the following fish (unless specific laws prevents it). Below you can catch the following fish by these methods:
Carp

Buffalo fish

Catfish

Mullet

Tilapia

Goldfish

Shad
Fishing Closures
From time to time you may encounter a fishing closure in Arizona. A fishing closure means it is illegal to fish in that given area during the closure period.
Common closures could be due to:
Restocking

Habitat restoration

Local wildlife breeding programs

Other studies or programs
Transporting Live Bait & Fish
Transporting live fish or bait that you caught in Arizona is illegal.  This includes livewells or other containers, with the exception for licensed/authorized bait dealers.
Directly from Arizona's Game and Fish website, it is illegal to:
Release live baitfish or other live fish into any Arizona waters.

To use or possess any restricted live baitfish while fishing waters prohibiting use of that baitfish.

To sell live baitfish (or waterdogs) without a Live Baitfish Dealers License.

To keep or harm any game fish or aquatic wildlife incidentally taken while capturing live baitfish with seines, dip nets, traps or cast nets.

It is illegal to transport live fish (that you caught), including in live wells or other containers. All fish must be killed or released before transportation from the body of water.
***This does not apply to some live bait or fish that are transported from licensed bait dealers, it also excludes those who bought live bait from an authorized dealer (like a tackle shop) and you're driving to the lake.
Can I use live worms as bait in Arizona?
Yes, it is legal in Arizona to use worms as live bait.
Is it legal to use corn as bait in Arizona?
Yes,  It's legal to use corn as bait on a hook. Other common baits that are legal to use is salmon eggs, cheese, bread balls, and hotdogs.
Is chumming in Arizona legal?
There was no information found whether it's legal or illegal. I tried calling the main number listed and a regional office to get my question answered and no one picked up on a Tuesday afternoon at 3:22pm. Grrrrrr.    However some forums say it's legal so take that for what it's worth.
NOTE:  This are just some of the important laws, regulations and guidelines. To get the rest of the details visit Arizona fishing regulation online at: https://www.azgfd.com/fishing/regulations/
Fish You Can Catch in Arizona
Wow, there are a TON of fish you can go after in Arizona! Here's a list I made up to help you out.
Popular Game Fish/Legal Species and Bag Limit
DAILY BAG LIMITS
LEGAL FISH
DAILY BAG LIMITS
Trout (includes rainbow, cutthroat, brown, brook, tiger, Gila and Apache, trout; grayling)
6 Any combination
Bass (including largemouth and smallmouth)
6 Any combination
Striped Bass
10
Walleye
6
Northern Pike
Unlimited. Immediate kill or release
Catfish (including channel and flathead)
10 Any combination
Crappie (white and black)
Unlimited
White Amur (grass carp) minimum size 30 inches
1
Roundtail Chub
Catch and release only
Sunfishes (includes bluegill, redear sunfish, green sunfish and hybrid sunfish)
Unlimited
All Other Species (except protected native fish): including, but not limited to, white bass, yellow bass, carp, suckers, buffalofish, bullhead, yellow perch and tilapia
Unlimited
COMMUNITY FISHING PROGRAM WATERS DAILY BAG LIMITS
FISH SPECIES
LAKES
PONDS
Trout (includes rainbow, cutthroat, brown, brook, tiger, Gila and Apache, trout; grayling)
4
2
Bass (including largemouth and smallmouth). 13-Inch minimum length
2
1
Catfish (including channel and flathead)
4
2
White Amur (grass carp) minimum size 30 inches
1
Sunfishes (includes bluegill, redear sunfish, green sunfish and hybrid sunfish)
10
5
Protected Species Of Fish in Arizona
"The following native fish are protected statewide and may not be angled for, taken, possessed, pursued or captured":
Beautiful shiner

Bluehead sucker

Bonytail chub

Colorado pike minnow

Desert pupfish

Flannelmouth sucker

Gila topminnow

Gila trout (except Frye Mesa Reservoir, Goldwater Lake and West Fork of Oak Creek)

Humpback chub

Little Colorado sucker

Little Colorado spinedace,

Loach minnow

Mexican stoneroller

Quitobaquito pupfish

Razorback sucker

Sonora chub

Spikedace

Virgin spinedace

Virgin roundtail chub

Woundfin

Yaqui catfish

Yaqui chub

Yaqui topminnow

Zuni bluehead sucker
Other Arizona Related Fishing Articles
Accessories You'll Need
Fishing Rod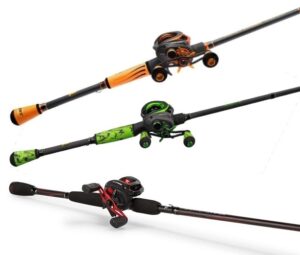 Rod –The popularity of fishing is growing and people are becoming much more conscious of different rods that can help them.
Fishermen want the best technique-specific rod for the money.
Luckily, the report I wrote provides you with detailed information in order for you to make buy the rod for the money, and more importantly which rods to avoid at all costs.
Fishing Reel
Reel – Having the correct reel to match with your rod is just as important.  A good reel should be light and have a buttery smooth drag. There are several great reels on the market, but I recommend the Daiwa Tatula SV/TW baitcasting reel. It's a great reel packed with great features. So much so that it could easily be priced in the mid $200 range.
Fishing Line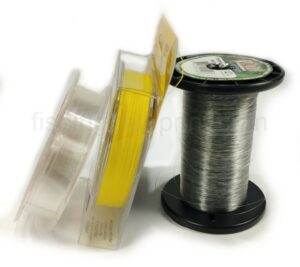 Fishing Line – Having a good line is just as important as having a good rod. I recommend fishing with a good fluorocarbon line. Furthermore, it's super sensitive because it has little to no stretch, and underwater it's invisible to the bass!  If pride or money is on the line I would use Sunline Sniper FC.
Fishing Lures & Baits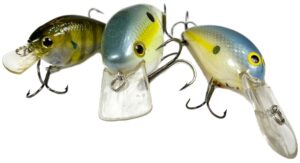 Fishing Lures – It's pretty hard and darn near impossible trying to catch a fish without using some sort of lure or bait.  More importantly these baits you should never forget at home or it could lead to a horrible day on the water
Tackle Bag
Tackle Bag – You can't carry all your gear in your pockets, so you need a reliable tackle bag to transport it. I wrote a complete review guide, Best Tackle Bag for Fishing, check it out by clicking here.   But if you don't have the time to read the full guide then let me tell you I recommend the Lunker Bag by KastKing.
Sunglasses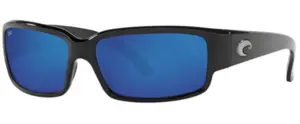 Sunglasses – Do you find yourself fishing in variable light and water conditions? Fishing in open water? Fishing in the bright hot sun? Then, only to leave the lake with eye strain and a splitting headache?
If so, I strongly recommend investing in a pair of Costa Sun Glasses. Thousands of anglers, charter guides, and tournament professionals put their trust into Costa, and so should you. Here's why…
Costa's co-injected bio-based nylon frame material is robust and durable, as well as extremely comfortable to wear for all-day use. TR-90 nylon is an excellent material for sports and performance frames since it is heat and cold-resistant.
Costa builds their glasses with class-leading technology. Their 580G glass lens sets them apart from the competition. These lenses are ideal for long days on the lake or sea since you won't have to worry about scratches on the lens when you wipe the saltwater off. Needless to say they're Costa's most durable lenses.
Anyone who spends time outside, especially on the lake, needs polarized lenses. However, not all polarized sunglasses are the same. Costa is 99.9% polarized, giving it the most effective possible in blocking reflecting glare, and minimizing eye strain and headaches.
Sunscreen
Sun Screen – Skin cancer is a very real threat and it's only getting worse. That is why you need a powerful sunscreen that is personally used and endorsed by hundreds of dermatologists from around the world. 
That is why you should put your trust in Neutrogena Sheer Zinc Sunscreen. The state-of-the-art Purescreen Technology absorbs, reflects, and scatters harmful sunrays in this specially designed water-resistant sunscreen lotion – and it's created with 100 percent organically derived zinc oxide. Not some test tube concoction the other competitors are trying to sell you. 
Neutrogena's sheer body sunscreen lotion is fragrance-free, paraben-free, phthalate-free, dye-free, and chemical-free. Dry-Touch technology aids in the non-greasy drying of this thin sunscreen.
For effective protection against the sun's damaging rays, this hypoallergenic, non-comedogenic, and oil-free lightweight sunscreen is the number one dermatologist-recommended suncare brand.
This zinc-based sunscreen lotion has received the National Eczema Association Seal of Acceptance and is mild enough for sensitive skin. It is suited for everyday use.
Fishing Pliers
Fishing Pliers – Nothing will ruin a day quicker than getting a hook embedded in your hand, or worse your eye.  This tool is more than simply a pair of pliers; it's jam-packed with functionality.
It's not only a pair of pliers is a lure tuning tool, a split shot crimper, and a side cutter for cutting tiny wire leads and hooks.
The split ring tool on the nose makes replacing or upgrading hooks in the field a breeze. Soft grip handles provide a comfortable and secure grip. With an adjustable hand lanyard to hold them tight, the leaf spring opens the pliers for one-handed usage.
That's why I always recommend having good set-up pliers that won't rust and won't slip out of your hand.  I recommend the new & improved Rapala Fisherman's Pliers.
Landing Net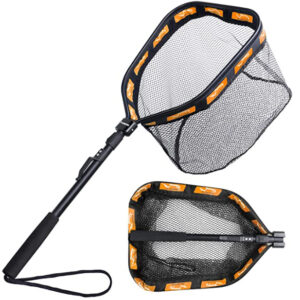 Landing Net – As you are reeling in that monster fish, you don't want to injure yourself or knock the fish off the hook by trying to grab it.
The PLUSINNO floating landing net is designed with foam padding on the hoop and provides buoyancy for fishermen. Now, If the net is dropped or blown overboard, the floating design makes it simple to retrieve – so you won't have to be concerned about losing it! The rubberized net cannot be snagged. It keeps the fish safe for catch-and-release, and the non-absorbent covering avoids waterlogging and odor absorption in the net.  It's collapsing design allows for easy storage.
That's why I recommend a dependable telescopic landing net.
Fishing Weight Scale & Culler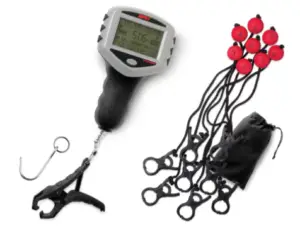 Fishing Weight Scale – Whether you're going to keep your catch or just take a photo of it and brag to your friends it's important to have an accurate scale. The Rapala Tournament Model Touch Screen Scale makes weighing and logging your catch easier and more convenient. The large digital scale has a lot of functions and is easy to use. simply keep track of your current catch and its place in your overall weight. To see the weight, just suspend the catch from the heavy-duty composite clamp or the accompanying stainless steel hook.  Adding the important details to your catch couldn't be easier – simply input your catch's weight and tap on one of the eight storage places. The culling process makes it simple to identify fish that should be released for the greatest overall weight.
I recommend a Rapala Tournament Scale that has a large LED display like this one fishing scale here.
Fishing Scissors
Fishing Line Scissors – Designed with sharp serrated cutting edge and oversized finger and thumb holes, these scissors actually grip and hold braided line for easy non-slip cutting.
These heavy-duty scissors are top-notch and are razor sharp for effortless cutting. The stainless steel construction and large finger holes allow ease of use – even for guys with big hands!
If you're looking into quality fishing line scissors that can fit in your pocket, fishing vest, or fit comfortably in your jeans, these are the scissors you want. Many anglers like yourself use them to cut braid, mono, and even abandoned fishing lines that your lures have gotten stuck in.
In summary, this is a good investment for a serious fisherman.
Fishing Hat
Wide Brim Fishing Hat – Nowadays, you have to protect yourself against the sun's harmful rays.  That's why I recommend the SA Straw hat. It fits any size head and it feels really comfortable.  Now you can keep the sun off your face while you enjoy your outdoor activities with UPF 50+ sun protection. Rest assured these lightweight and stylish hats give you 360-degrees of sun coverage. Both men and women can wear these hats.  As an added BONUS, these hats also include three face shields for UPF neck protection, which protects your skin from dangerous UV rays.
This hat is well worth the money, and the craftsmanship is excellent.
Fishing Sun Shirt
Sun Shirt For Fishing – Don't stop at only getting head protection, you also need to protect your chest, back, arms, and torso. According to the researchers finding skin cancers on the shoulders and forearms rank within the top-5 locations to get skin cancer.  That's why the UV protective PFG Fishing Shirt by Columbia is strongly recommended.
Nowadays, it's so important to be safe at all times. Omni-Shade helps prevent sunburns and long-term skin damage by blocking UVA and UVB radiation. UV absorbent yarns and a tight weave architecture prevent the whole spectrum of damaging UV radiation. This is the finest in outdoor moisture control technology. Omni-Wick technology absorbs moisture from the skin and transfers it to the fabric, where it spreads throughout the surface and evaporates rapidly, keeping you cool and your clothes dry.
I'm 6'0″ and 200 pounds, and I wear size XL. I ordered a size L and it fits well. Darker shirts provide a more subdued appearance. FYI.
Best time to fish in Arizona?
Fishing in Arizona can be done all year long! But the best time of day to fish is early morning (start 1-hour before sunrise until 2-hours after sunrise), in the early evening (start 1-hour before sunset until 2-hours after sunset), and between 12midnight-2am.
Can I use waterdogs as bait?
Yes, waterdogs work great as bait! Several species of fish will gobble these up!
Can I fish for free in Arizona?
Yes, Arizona offers a Free Fishing Day once a year in June. 
Is there a Arizona fishing report available?
Is it hard to fish from the shore?
More articles just for you...
Crazy Fishing Laws That Will Blow Your Mind! #7 is INSANE! Strange Fishing Regulations and Laws As silly as hook and rod limits may seem,
Read More »