Where's The Best Fishing Store Near Me? Use This List To Choose The Best Tackle Shops In Phoenix!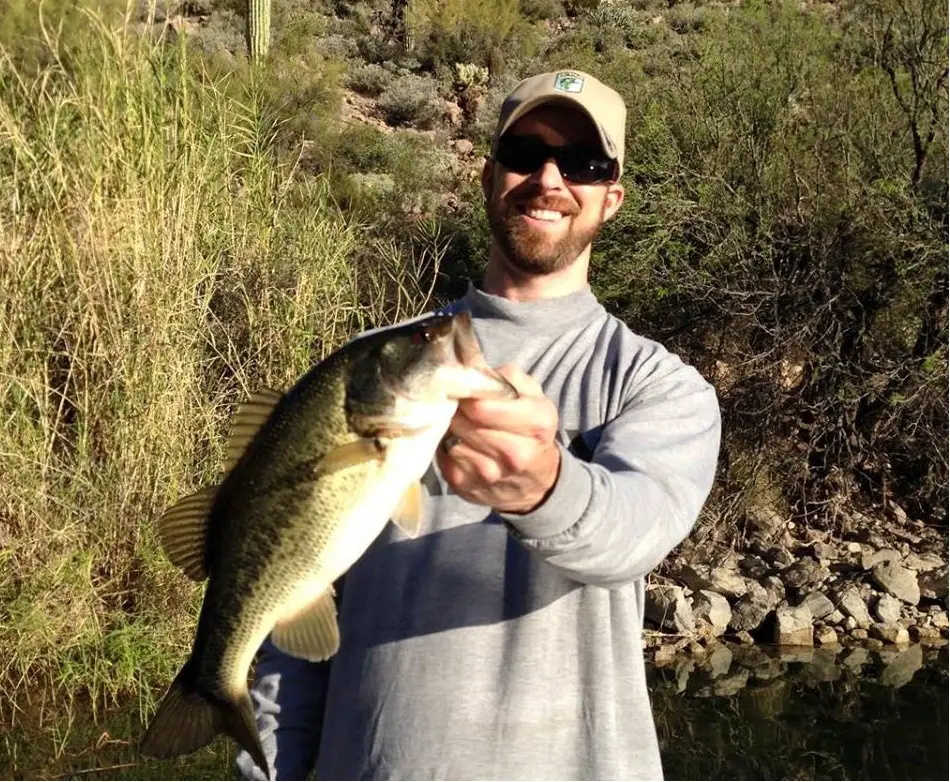 When shopping for fishing gear, bait, or tackle a customer always needs a smooth experience.  There have been sooo many times you walk into a store and the sales associate doesn't know the answer to a basic question, seems uninterested in helping out, or does not carry what you're looking for.
So finding a good tackle shop for the first time can be tricky. If you are looking for a good tackle shop to trust you might not even know where to start.
So what qualifies as being one of the best fishing tackle shops are open near Phoenix, Arizona? The best tackle shops in Phoenix should offer a wide selection of tackle or every skill level of angler. They should staff the shop with experienced sales associates who can point you in the right direction to help you choose the right products for any budget.  Willingness to answer all questions with a friendly explanation so no matter how basic the questions are is also a trustworthy characteristic.  Quality tackle shops should also be well-stocked and be open on the weekends. It is also very helpful if a tackle shop carries a variety of baits to cater to all anglers.
WARNING:  There's a lot of information about this subject you'll probably want to come back to. No one expects you to remember all these tips. We know your time is precious, so we really tried to over-deliver in value for you. Additionally, we frequently update reports like this, so you'll want to stay up to date with any changes or additional tips we include for you. 
We found that the easiest way to save and bookmark this report so you can come back to it later is to share it on your favorite social media platform, especially if you use your phone to get important tips like the ones in this report here…
Click on your favorite social media buttons to remember this page now!
Why You Should Trust Us
Below we listed several tackle shops in the Phoenix area.  Several important factors were evaluated in what makes a reliable tackle shop.  The tackle shops were called on multiple occasions. One as a "Spy Shopper" (so we would get a non-biased response) and the other as the owner of this blog (so we could get more detailed information).   Polls were also taken on local Facebook groups to give a sense of where the overall opinion of the different tackle shops.  
This is what we found…
Best Tackle Shops In Phoenix
2. Phoenix Fishing Supply
3. Liar's Korner Fishing Bait & Tackle
Other Arizona Tackle Shops
But, why is The Hook Up Tackle a great tackle shop?
Located in Northwest Phoenix, The Hook Up Tackle offers a massive amount of gear, tackle, and accessories for any budget. Opening in 2008, The Hook Up Tackle has everything you need especially if you're into bass fishing.  They even offer hard to find bait and products from Japan.
If you're visiting or if you don't live in the west valley or you don't want to travel to get your fishing supplies you can conveniently order online and have it quickly delivered to your door. 
Finally, The Hook Up Tackle is paired with The Hook Up Outfitters and will arrange a stress free guided trip fishing for bass, stripers, or trout at some of the best locations Arizona has to offer.
Bottom line, if you're into bass fishing you need to check this place out.
The Hook Up Tackle Details
Hangups, but not deal breakers:
But, why is Phoenix Fishing Supply a great tackle shop?
Located in central Phoenix, Phoenix Fishing Supply has been around since the 1980's! Even before the big-box stores came into town Phoenix Fishing Supply has been catering to all types of anglers and offers a huge selection of products. 
The staff was incredibly patient with our Spy Shopper and answered questions that were easy to understand for any beginner. This is one of the only saltwater tackle retailers found in Phoenix. 
What really makes this shop stand out is Phoenix Fishing Supply is a friendly family owned and operated business. Gouty, the owner also carries a wide assortment of local and made custom baits, lures, and terminal tackle. They offer a  large amount of frozen baits such as liver, and sardines. Better yet, he even offers frozen mackerel, shrimp, and ballyhoo for the serious striped bass or saltwater anglers. Finally they an excellent selection of saltwater tackle and gear. 
You may be asking yourself… why sell saltwater gear in Arizona?  Because Arizona is conveniently close and hours away from both the Gulf of Mexico and San Diego, California.  Not surprisingly, anglers want to get all their supplies from a vendor they know and trust. 
Phoenix Fishing Supply Details
Hangups, but not deal breakers:
Liar's Korner Fishing Bait & Tackle
But, why is Liar's Korner Fishing Bait & Tackle a great tackle shop?
Liar's Korner Fishing Bait & Tackle is nestled in the far east side of metro Phoenix. This tackle shop is proudly run as a small family business that is serious about giving you the right gear to help you catch fish. It doesn't matter if you're fishing bass, crappie, walleye, or trout.  They have what you need. They carry all the name brands of tackle and gear, and frequently offer better prices than the big-box companies. 
Talking to the staff at Liar's Korner you immediately get a sense of passion for what they do.  They have an amazing reputation for honesty and is a place you'll feel like a local the moment you walk in the door.
Liar's Korner Fishing Bait & Tackle Details
Hangups, but not deal breakers:
But, why is Bass Pro Shops a great tackle shop?
Located on the east side Phoenix, Bass Pro Shops caters to very type of angler who wants to get their line wet.  Founded in 1972 by angler Johnny Morris in Springfield, Missouri Bass Pro Shops combines a massive tackle shop with their hunting, boating, conservation, and guide trips into a comprehensive outdoor and fishing retailer.
Talking to several associates in the fishing department on different occasions revealed most employees were very friendly but lacked knowledge to answer more advanced fishing questions.
Hangups, but not deal breakers:
But, why is Sportsman's Warehouse a great tackle shop?
Sportsman's Warehouse feels like a combination of a small outdoor outfitter shop with the capacity to hold a large amount of tackle, gear, and other outdoor accessories.  The staff is friendly, patient, and knowledgeable.  Sportsman's Warehouse carries a wide variety of gear for every bass, catfish, trout, crappie, walleye, and pike to get you started. 
What sets Sportsman's Warehouse apart from Bass Pro Shops or Cabela's is they offer a better variety of regional baits and products that are proven to be more effective.  They can also cater to your complete outdoors trip by selling you everything from comfortable chairs, snacks, and other accessories you'll need when you're at the lake.  Every type of angler will feel comfortable in Sportsman's Warehouse.
Sportsman's Warehouse Details
Hangups, but not deal breakers:
But, why is Cabela's a great tackle shop?
Located on the west side of Phoenix, Cabela's is a large outdoor retailer that offers a large fishing section within the store.  Cabela's offers everything to someone who wants to get started in fishing, however will lack in stocking some of the more specialized bait and tackle some of the more advanced anglers rely on.  Staff are friendly, often seemed overworked and busy. On several occasions it was really hard to find anyone that worked in the department to answer a question.
Similar to Bass Pro Shops, the Cabela's staff are knowledgeable to answer basic fishing and tackle questions. In 2017 Cabela's and Bass Pro Shops had a merger now carrying the same tackle and gear.
Hangups, but not deal breakers:
But, why is Orvis a great tackle shop?
Located in two convenient places in Phoenix, Orvis is a well known national brand that is a premiere supplier of fly-fishing, hunting, dog related goods, as well as a massive selection of outdoor clothing, luggage, and travel accessories. 
Orvis also sells their ultra-dependable Helios H3 fly rod made at the Orvis factory in Manchester, Vermont.
Free In-depth fly fishing classes are offered to beginners. Instruction series will start in the Orvis classroom and will end in White mountains
Privately owned since 1965 Orvis not only is a phenomenal outfitter, but also offers guided adventures spanning from fishing trips, hiking trips, photography trips and so much more.
Hangups, but not deal breakers:
Other Arizona Tackle Shops
Bass Addict Tackle & Coffee Shop (New)
The Hideaway Fishing Tackle
Lake Mary Country Store & T Park and Lake Mary Fishing Boat Rentals
Lees Ferry Anglers Fly Shop and Guide Service
It's so important to find a quality tackle shop that you can trust. And the list we provided gave you several options in Phoenix that will most likely help you out.
Other Arizona Related Fishing Articles
If you don't want to buy a premium jig, but rather think it's the best idea to build your own jigs, then check out this YouTube video.
How to Build Or Replace Jig Skirts
So before you even think of making your own jig you have to understand how they are made up and what qualities they should carry. You have to ensure you are getting the best quality components to get you the best result, otherwise you're just wasting your time.
Here is what you need to get started:
Bulk Weedless Football Jig Heads – click here to learn more
Bulk Weedless Swim Jig Heads – click here to learn more
Jig Head Replacement Skirts – click here to learn more
Where is the best place to find pre-spawn bass?
What is the best way to set the hook with a jig?
A hard upward hookset. You need to set the hook hard with jigs because the weedguard can present an obstacle for driving the hook into the fish's mouth. 
Depending on how heavily weeded the area is, you should fine-tune the weed guard to increase your hook-up chances. 
You can do this by cutting or spreading out the bristles, and/or trimming them down a little shorter.
If you're new to jig fishing fishing, strongly recommend you read the article Beginners Blueprint To Jig Fishing, where I give you 50 different tips that actually work!  Click here to find out what skills you are missing.
Read More: What is Jig Fishing For Bass? [A Complete Beginners Guide]
What type of line is best for bass fishing?
Most can be fished with braided, monofilament, or fluorocarbon line.   However, different types of baits perform best using different types of line.  Fortunately, I wrote a thorough article that goes in to much more detail of what are the best lines for bass fishing and more importantly what lines you must stay away from! 
Read more: 21 Tips To Choose The Best Bass Fishing Line
Should I use lead or tungsten weights?
This is really a personal preference, but like Tungsten jigs the weights have game changing advantages.  Tungsten is heavier, so it can provide you with more weight in a smaller profile bait.  Since the density is higher, it also provides better sensitivity to bottom composition.  The trade off is that Tungsten is pricier than lead.
Can I fish a drop shot rig from shore?
Accessories You'll Need
Fishing Rod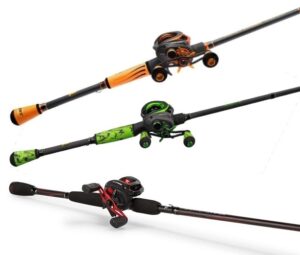 Rod –The popularity of fishing is growing and people are becoming much more conscious of different rods that can help them.
Fishermen want the best technique-specific rod for the money.
Luckily, the report I wrote provides you with detailed information in order for you to make buy the rod for the money, and more importantly which rods to avoid at all costs.
Fishing Reel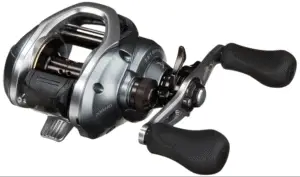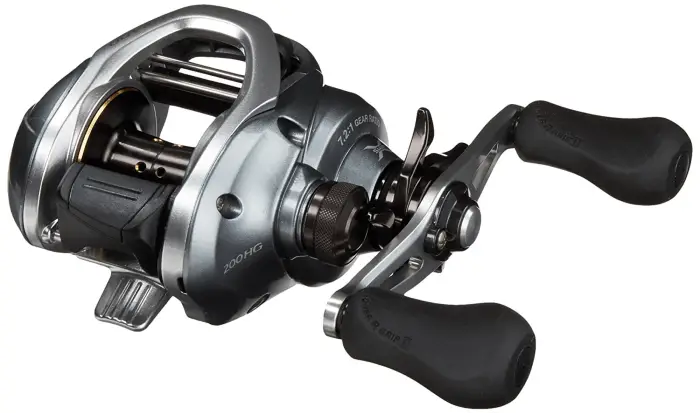 Reel – Having the correct reel to match with your rod is just as important.  A good reel should be light and have a buttery smooth drag. There are several great reels on the market, but I recommend the a quality Shimano  baitcasting reel. It's a great reel packed with great features. So much so that it could easily be priced in the mid $200 range.
Fishing Line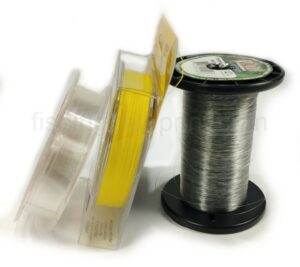 Fishing Line – Having a good line is just as important as having a good rod. I recommend fishing with a good fluorocarbon line. Furthermore, it's super sensitive because it has little to no stretch, and underwater it's invisible to the bass!  If pride or money is on the line I would use Sunline Sniper FC.
Fishing Lures & Baits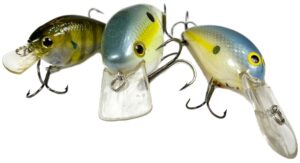 Fishing Lures – It's pretty hard and darn near impossible trying to catch a fish without using some sort of lure or bait.  More importantly these baits you should never forget at home or it could lead to a horrible day on the water
Fish Finder
Finding lunker bass has never been easier when using a fish finding sonar unit.  Packed with additional features to make your day on the water even easier.  Maps that can plan your day or help you find your way back even in the darkest of nights. Bright bold numbers and letters to make reading the maps easy even in the brightest of days, and colors that pop and make it quick and easy to identify fish. 
If you have a boat, kayak, canoe, or float tube, you need a fish finder. 
Here's our choice for the best fish finder between $299-$800:
Humminbird HELIX 7 CHIRP MEGA SI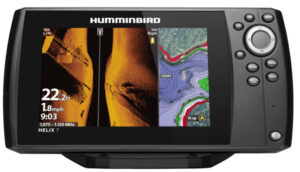 It has all the features for any serious fisherman whether you're an avid weekend warrior, or a tournament angler. This has all the bells and whistles you're looking for. 
>> Click HERE to Read The Reviews About Humminbird HELIX 7 CHIRP MEGA SI now
Here's our choice for the best economic fish finder:
Garmin Stryker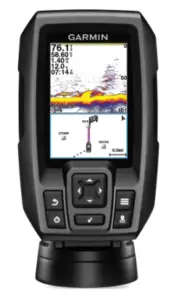 While others look for bites, your fishfinder and GPS plotter help you reach your daily limit. You can mark preferred docks, ramps, and hotspots to easily return to them later and even share waypoints.
Click HERE to Read The Reviews About Garmin Stryker now!
Life Vest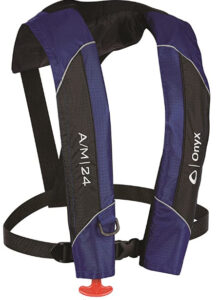 According to Statista, "In the United States, 658 people died as a result of boating accidents and 2,641 people were injured in 2021."
And it gets even worse… The National Safe Boating Council reported, "Where cause of death was known, 81% of fatal boating accident victims drowned."
And if that's not enough the incidence of deaths has climbed dramatically in recent years.
So if you're on the water you NEED to wear your life vest. Protect you, your friends, and your families lives by wearing a life vest every time you're on the water.
I recommend the ONYX PFD. It's comfortable for all day use and there is lots of room for the air to move around so you won't get sweaty.
>>Click HERE to read all the reviews actual customers!
Sunglasses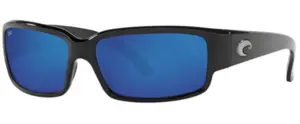 Sunglasses – Do you find yourself fishing in variable light and water conditions? Fishing in open water? Fishing in the bright hot sun? Then, only to leave the lake with eye strain and a splitting headache?
If so, I strongly recommend investing in a pair of Costa Sun Glasses. Thousands of anglers, charter guides, and tournament professionals put their trust into Costa, and so should you. Here's why…
Costa's co-injected bio-based nylon frame material is robust and durable, as well as extremely comfortable to wear for all-day use. TR-90 nylon is an excellent material for sports and performance frames since it is heat and cold-resistant.
Costa builds their glasses with class-leading technology. Their 580G glass lens sets them apart from the competition. These lenses are ideal for long days on the lake or sea since you won't have to worry about scratches on the lens when you wipe the saltwater off. Needless to say they're Costa's most durable lenses.
Anyone who spends time outside, especially on the lake, needs polarized lenses. However, not all polarized sunglasses are the same. Costa is 99.9% polarized, giving it the most effective possible in blocking reflecting glare, and minimizing eye strain and headaches.
Landing Net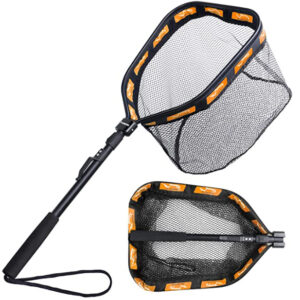 Landing Net – As you are reeling in that monster fish, you don't want to injure yourself or knock the fish off the hook by trying to grab it.
The PLUSINNO floating landing net is designed with foam padding on the hoop and provides buoyancy for fishermen. Now, If the net is dropped or blown overboard, the floating design makes it simple to retrieve – so you won't have to be concerned about losing it! The rubberized net cannot be snagged. It keeps the fish safe for catch-and-release, and the non-absorbent covering avoids waterlogging and odor absorption in the net.  It's collapsing design allows for easy storage.
That's why I recommend a dependable telescopic landing net.
Fishing Weight Scale & Culler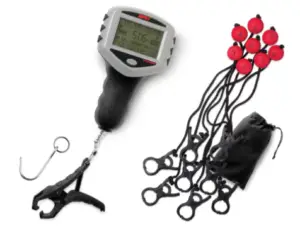 Fishing Weight Scale – Whether you're going to keep your catch or just take a photo of it and brag to your friends it's important to have an accurate scale. The Rapala Tournament Model Touch Screen Scale makes weighing and logging your catch easier and more convenient. The large digital scale has a lot of functions and is easy to use. simply keep track of your current catch and its place in your overall weight. To see the weight, just suspend the catch from the heavy-duty composite clamp or the accompanying stainless steel hook.  Adding the important details to your catch couldn't be easier – simply input your catch's weight and tap on one of the eight storage places. The culling process makes it simple to identify fish that should be released for the greatest overall weight.
I recommend a Rapala Tournament Scale that has a large LED display like this one fishing scale here.
Fishing Hat
Wide Brim Fishing Hat – Nowadays, you have to protect yourself against the sun's harmful rays.  That's why I recommend the SA Straw hat. It fits any size head and it feels really comfortable.  Now you can keep the sun off your face while you enjoy your outdoor activities with UPF 50+ sun protection. Rest assured these lightweight and stylish hats give you 360-degrees of sun coverage. Both men and women can wear these hats.  As an added BONUS, these hats also include three face shields for UPF neck protection, which protects your skin from dangerous UV rays.
This hat is well worth the money, and the craftsmanship is excellent.
Fishing Sun Shirt
Sun Shirt For Fishing – Don't stop at only getting head protection, you also need to protect your chest, back, arms, and torso. According to the researchers finding skin cancers on the shoulders and forearms rank within the top-5 locations to get skin cancer.  That's why the UV protective PFG Fishing Shirt by Columbia is strongly recommended.
Nowadays, it's so important to be safe at all times. Omni-Shade helps prevent sunburns and long-term skin damage by blocking UVA and UVB radiation. UV absorbent yarns and a tight weave architecture prevent the whole spectrum of damaging UV radiation. This is the finest in outdoor moisture control technology. Omni-Wick technology absorbs moisture from the skin and transfers it to the fabric, where it spreads throughout the surface and evaporates rapidly, keeping you cool and your clothes dry.
I'm 6'0″ and 200 pounds, and I wear size XL. I ordered a size L and it fits well. Darker shirts provide a more subdued appearance. FYI.
Sunscreen
Sun Screen – Skin cancer is a very real threat and it's only getting worse. That is why you need a powerful sunscreen that is personally used and endorsed by hundreds of dermatologists from around the world. 
That is why you should put your trust in Neutrogena Sheer Zinc Sunscreen. The state-of-the-art Purescreen Technology absorbs, reflects, and scatters harmful sunrays in this specially designed water-resistant sunscreen lotion – and it's created with 100 percent organically derived zinc oxide… it's definitely not some test tube concoction the other competitors are trying to sell you. 
Neutrogena's sheer body sunscreen lotion is fragrance-free, paraben-free, phthalate-free, dye-free, and chemical-free. Dry-Touch technology aids in the non-greasy drying of this thin sunscreen.
For effective protection against the sun's damaging rays, this hypoallergenic, non-comedogenic, and oil-free lightweight sunscreen is the number one dermatologist-recommended suncare brand.
This zinc-based sunscreen lotion has received the National Eczema Association Seal of Acceptance and is mild enough for sensitive skin. It is suited for everyday use.
More articles just for you...
Get Ready For The Spawn Now When bed fishing, stealth is of the biggest essential tip. Instead of racing forward with a trolling motor, anglers
Read More »