These Amazing Bass Lures For Cold Weather Fishing Gives You The "Shortcut" To 10x Your Catch Rate Without The Pain And Expense Of Hiring An Expensive Guide
If you want to leave your house with a box of lures that give you the best chances to get bass in the winter, then you're probably going to want to continue reading…
Of course, you probably already know this. But bass grow to giant size after the fall feeding frenzy… and… knowing what lures to buy may be confusing. There seem to be a zillion (approximately) options out there… I understand… I've felt that way too. 
Unfortunately, I can't tell you what one single lure is the best… I wish I could, because let's be real, bass can change their preference to what lure they want to eat from day to day. 
Unfortunately, there is no such thing as the "best" bait for winter bass fishing because every day is different…  but… after my years of learning from some of the best anglers in the country I've developed a list of lures that perform really well in the winter!  Now you can narrow down a list of lures from the hundreds to around 10. Sounds good, right?
So, in this guide, we're going to walk you through what I've learned are the best baits for winter bass fishing.
Cold weather bass lures can differ from lures that you would typically use in the summer by size, action, color, and vibration. 
But… not all lures should be fished during the winter. 
A good winter bait should have the following characteristics:
Have crisp erratic movements or…
Compact
I've come to the conclusion, you would be wasting your time if the lure you're fishing it doesn't have these features.  Best of all, most of these lures are rally easy to learn and fish. 
Stop! Did you notice something? I didn't say good winter baits can't be flashy. A lot of anglers will feel that all good winter lures must be dull colored…
While that can be true – sometimes.  Whereas, other baits catch a ton of big winter bass by being flashy.  We'll get into that later.
So listen… if you don't have much time to read this entire report I totally understand.  Simply use the links below to quickly find the winter bait that you're missing… buy a few and give them a try the next time you're out on the water. You can be assured we only choose the best products for you…
But be warned! Go through this blueprint slowly and carefully so you don't miss any suggestions that could cost you.
Quick Navigation | What Would You Like To Learn About?
Football jigs are the quintessential do-everything bait in the winter. They can be crawled on the ground like crayfish or swam through submerged brush and timber like shad or bluegill.  They can also be used to conduct hand to hand combat with flipped and pitched. Always have a variety of watermelon, green pumpkin, and black-and-blue colored jigs.
Our Recommendation
We whole heartedly recommend Mythik Lures Rock Crawler Tungsten Football Jigs.
Grinding and bulldozing over the submerged structure,  shell beds, or finding the transition areas from chunk rock to pea gravel, you need that extra sensitivity that only Tungsten can give you. 
The quality of these jigs is what you would get from a custom made jig. 
The collars are hand-tied with wire, the jig heads are powder coated and then baked on for extra durability, and the hook is a Mustad black nickel that is sticky sharp.
Here a list of the top football jigs for you to consider
#ad / Images from Amazon Product Advertising API
Flat sided crankbaits are amazing for covering water in a hurry, especially if the bass are feeding.  The narrow, flat sided body creates a compact wobble that bass seem to love in the winter.
Make sure you grind and bump the crankbaits along the submerged structure such as rocky banks when it's windy. Make sure you employ different retrieves as well as stop-and-go or burning and pausing work exceptionally well.
Our Recommendation
The SPRO Little John MD Crankbaits are known for being a great medium diving crankbait. SPRO was one of the first manufacturers to implement a soft tungsten weight transfer system. This helps anglers like you cast your flat sided baits without it helicoptering and having the hooks tangle up in the line. 
Another feature with the Little John MD is you'll quickly see how fast it deflects off cover… Well, the reason is simple. It has a fortified composite lip. The lip is extremely spring'y and the lure practically bounces away from hard cover and to resist getting hung up. 
The Little John MD also gets more bites because of the tungsten weight it gives it a slow rise. 
Check out these reviews from an actual customers:
"Spro makes good baits. Great colors and awesome action." — Ms Bass via BassPro.com
"These things are not anatomically correct nor are they politically correct. But and I mean but, they do catch fish. Just look at all they other reviews. Did you know these things are guilty of catching some prodigious and bodacious trout? Bassthird would not kid fellow fisherman or fisher woman. I know it's important to not be gender exclusive. Man or woman,boy or girl, you should get some and may all your fishing be gender neutral and fun." — Bassthird via Cabelas.com
"what an awesome crankbait! I've caught more bass on this lure than all the other crankbaits I've used. Its weighted for long casts, has a tight wiggle for springtime bass, really good hooks, and runs very deep for a small crankbait…..you gotta' try this one!!" — reelkraz via BassPro.com
Here a list of the top flat sided crankbaits for you to consider
#ad / Images from Amazon Product Advertising API
Some of the best wins and biggest fish caught are from fishing jerkbaits for bass… yet no one ever talks about it.  Everyone else likes talking about the latest and greeted lure fad. But truth be told, jerkbaits can catch giant bass in any season, in any condition even in the rain, cold, and snow. However, the optimal time to fish a jerkbait is anytime it's cool, cold, breezy or windy. 
Our Recommendation
The Megabass Vision 110 jerkbait is one of those lures that every so often comes along that completely changes how we approach a specific technique in bass fishing.  
Despite the ever increasing competition from lure producers from all over the world, the Vision 110 is the lure that everyone else strives to be like or straight up copy.  
This is the best lure the market has to offer and is still one of the greatest jerkbaits available to get the larger fish to bite.
I strongly recommend you invest in at last a couple of Vision 110's.  To go even further, I recommend Pro Blue in clear water, Elegy Bone in stained water conditions, and finally Kohoku Reaction when it's stormy out. 
Check out these reviews from an actual customers:
"This jerk bait has caught largemouth, smallmouth, musky and I even caught a channel cat on the Susquehanna flats with. It worked very well on the Saint Lawrence this past spring. Highly recommend." — Gatrb8t via BassPro.com
"Great lure in one of my top colors. Caught my first 5 lber this year on it." — Les P via BassPro.com
"Catches consistently bigger fish, easy to control, has a great action." — 44BOOMER via BassPro.com
Here a list of the top jerkbaits for you to consider
#ad / Images from Amazon Product Advertising API
Typically drop shot worms are very soft flexible worms are perfect this application of fishing.
They come in a variety of colors and sizes. Most straight tail drop shot worms are 6-8 inches in length and rarely have a diameter over 1/4 inch.
A really cool aspect of these types of worms is the amount of action you put into the worm you'll get the same out. Meaning, the if you shake the worm like crazy, it makes the worm looking like it's freaking out under the water…
But here's the cool part more anglers don't know… If you completely dead stick the worm (meaning don't move your rod tip) the worm will still move!  BUT HOW!!!?  From any subtle current that is moving around your worm. So cool, right?
Since the worms are so soft any current naturally will create movements in the worm, making it look insanely real to the bass. 
Our Recommendation
When someone talks about drop shot fishing baits, the Roboworm Fat Straight Tail Worm is always discussed as one of the premiere options.
The best thing I like about this bait is that it has a slightly larger head than most finesse style worms, yet it still remains incredibly soft.
The belly is embedded with salt. It is said, this is done because salt mimics the salty taste of blood. In turn the bass hang on longer, giving you a better catch ratio.
Even in cold winter time conditions this lure maintains its flexibility.
Best Rigging Option: Nose hooked or Texas rigged style.
Best colors: Aarons Magic, Oxblood Red Flk, Margarita Mutilator, Morning Dawn
Check out these reviews from an actual customers:
"I have caught dozens of Largemouth and Spotted Bass with the FAT Worm. My go-to FAT Worm color is the Bold Bluegill. I rig the FAT Worm Neko style (google: Neko rig for ideas). After a few hook ups, the top of the worm tends to tear, but I have been able to reuse the same worm by simply moving the hook further back toward the tail of the worm saving both bait and money." — Kamaki via BassPro.com
"Great product, I use this on a dropshot rig on lakes in pa,nj,ny. Works every time, smallmouth and largemouth bass." — jnixnutz via BassPro.com
"Good Worm, I purchased these worms, in the Warmouth, and it was an instant success. The Bass tore them up, and I had to reorder more and even went to the 7″ and glad I did. The bass hit them hard and fast, almost before they hit the water." — jrobhill via BassPro.com
Here a list of the top drop shot worms for you to consider
#ad / Images from Amazon Product Advertising API
Here a list of the top drop shot rig accessories for you...
#ad / Images from Amazon Product Advertising API
photo cred: FatherreeFishing
The most common spoon used for winter fishing has to be the jigging spoon 1/2-to-1 1/2-ounce.  Jigging spoons are best used when the bass are lethargic, when post-frontal bluebird sky days, mid-day, days with calm water. 
Jigging spoons are not known for their wide wobble like their flutter spoon sibling, however are known for falling quickly with a very tight shimmy and have a fast fall rate.  
As a result, jigging spoons are meant to be fished vertically and more than likely the bass with strike the spoon on the fall. 
Our Recommendation
The Cotton Cordell jigging spoon is a quality spoon with amazing tight flutter action. 
Whenever there are smaller sized baitfish around the large predator fish will gobble these up year-round.
Being so streamlined these spoons fall quickly. No more waiting 5+ minutes to allow the lure to fall to the correct depth.
Best of all these come 2 per pack!
Recommended colors: Chrome, gold
Check out these reviews from an actual customers:
"Caught a variety of fish. I saw other people using a spoon so I bought one. I caught several skipjack and striped bass! The fish will chase it like a shiny minnow." — Southernsaver99 via BassPro.com
"Spooning. Excellent spoon for jigging for black, brown, white and yellow bass very deep 25-35 feet." — Razorback via BassPro.com
"Awesome bait, super value! I purchased the in advance of the Cabelas World Walleye Chamlionships, out of Green Bay Wisconsin. These lures along with a few others helped us secure a 7th place finish. These jigging spoons have a great action and awesome flash. The price is very appealing, being cheaper than comparable spoons, yet the quality is second to none." — PapaScott via Cabalas.com
Here a list of the top jigging spoons for you to consider
#ad / Images from Amazon Product Advertising API
This small worm requires a lighter jig head will also slow down it's descent, giving it an incredibly effective and tantalizing shimmy that will keep the bait in the strike zone for a longer period of time.
On most days I've learned to rely on a 1/10th ounce jig head.  However, if the bass are really shallow (especially great during spawn) I will go even lighter such as Ned Rig jig head in a 1/15oz. In the fall when they are a little deeper I will switch to a heavier jig head 1/8- 1/6 ounce.
Our Recommendation
Baits such as Elaztech TRD Worm by Z-Man  are perfect for this because they are made out of floating material, and they are incredibly flexible.
Check out these reviews from an actual customers:
"Deadly For Bass. It's a great bait the whole Z man TRD line is my favorite bass fishing line of lures. Literally caught thousands of fish this season alone with there 1/10th oz shroom jig head and ned trds. If someone asked me a lure guaranteed to catch bass this would be it. Coppertreus has been the best all around." — Andy boy via BassPro.com
"BEST OF THE BEST. I first got a Z-Man Finesse TRD from another fisherman when I noticed I wasn't getting any bites, while he was reeling in fish after fish. Its insanely tough, and I haven't had a single one need replacing in over a year of heavy use!" — CR918 via BassPro.com
"Great Baits. Great bait a must have in every tackle box and they have plenty of colors." — Delta wrap via BassPro.com
Here a list of the top Ned rig worms for you to consider
#ad / Images from Amazon Product Advertising API
Here a list of the top Ned rig jig heads accessories for you...
This technique started in the 1990 when a couple of fishing buddies started to catch some monster smallmouth when they were fishing for crappie.
The couple was fishing a small hair jig under a bobber and they called it a "float 'n' fly".
The end result is a phenomenal strategies to fish for suspended smallmouth, largemouth, spotted bass, stripped bass, and yes, crappie.
The colder the water gets the better this technique works. Anything less than 55 degrees really proves to be the best time.
Our Recommendation
Designed by legendary bass angler Bill Siemantel helped SPRO design the Phat Fly. Specifically created to sit perfectly balanced under a bobber the Phat Fly is made from synthetic hair that won't break down after a season of use.
Lastly, the SPRO Phat Fly is armed with a sticky sharp Gamakatsu hook.
Here a list of the top Float & Fly for you to consider
#ad / Images from Amazon Product Advertising API

A lipless crankbait attracts bass by appearing to be a fleeing shad or baitfish. 
Good lipless cranks has to have a tight wobble, has to have loud, crisp rattles, the hooks have to be sticky sharp, and finally the lure components have to be top quality to avoid rusting in order to give you years of use.
I've come to the conclusion, you would be wasting your time if the lure you're fishing it doesn't have these features.  Best of all, lipless crankbaits are really easy to learn and fish. 
It's best to fish this over any submerged grass in the winter. Cast out and allow the crank to tic the tops of the remaining grass stems. If it gets snagged on the vegetation (which will feel like you're snagged on a rubber band) simply reel down and rip it out with a firm jerk and normally a bass will attack it. 
Our Recommendation
The Lucky Craft Lucky Vibration Lipless Crankbait is recognized as one of the best, if not the best, lipless crankbaits available. It is made in various models and sizes. 
Personally, this is my go-to lipless crankbait.  I really like the LV-500 because it's a large lipless crankbait and is the largest in this series of lipless crankbaits made by Lucky Craft.
The Lucky Craft Lucky Vibration Lipless Crankbait is available in 10 colors, 2 lengths, and 2 weights. It makes a lot of rattling noise to attract large bass thanks to the glass and brass interior rattles. 
The glass beads and brass beads make a loud sound clicking together. It is designed to look natural since it moves like a real fish with a controlled fast wiggle.
Check out these reviews from an actual customers:
"These lures in Ghost Minnow and American Shad are very effective in my lake." – Captain Crappie: 2,000 via Bass Pro Shops
"The best lipless crankbait I have used. I definitely recommend this lure." – Juan R:  July, 2021, via Amazon.com
"Caught multiple bass using these on a recent trip. I have to say they're very durably made and I think worth the extra that you pay." – Benjamin Jon Phillips: March, 2020, via Amazon.com
Here a list of the top lipless crankbaits for you to consider
#ad / Images from Amazon Product Advertising API
An underspin jig includes a jig head with a hook extending from the back and a swivel on the bottom that connects to a blade. The blade sits below the jig head and spins as it passes through the water. 
While they do not provide as much vibration as a typical spinnerbait, they are compact and offer plenty of flash to get the attention of nearby bass. 
While these jigs are often used in clear water, you can use them in a variety of situations with the right techniques. 
An underspin jig can also cut through weeds, making it excellent for use around the cover. 
Underspin jigs are often used to fish in deep water applications and over the tops of trees where the bass would hold in the wintertime. 
Our Recommendation
Our recommendation is the Strike King Tour Grade Spin Head Jighead.  It gets high praises not only because of the natural fish shaped jig head, but also of the bait keeper and the super sharp 4/0 hook. 
It gives off more than enough flash with his unique thin cut Raz-r-Blade willow blade… This means that it spins and flashes even at the slowest of retrieves. 
Even better, they come in a variety of sizes from ⅜ to ¾ in size if you need to target the giant lunkers that hold in 20+ feet of water.
Check out these reviews from an actual customers:
"Amazing Bait. Used it for the first time when the bite was tough. Caught a 6 pounder after a few casts." — Bm2021 via BassPro.com
"Good have have a few in the box… I put a 5 inch swimtail on these and use it as a search bait. It's nice to have a few just in case. The hit bottom so fast and run really deep with is nice. They will barrel roll if you try to burn them back, so stick to a spinner bait if you want something to move fast. I don't fish these as a go to, I just have them as a catch all when nothing else is getting hit. I normally rig with a zoom pulse or a kietech impact shad.  The hook is super stout, needs a little hand honing, blade is great and stays true. Overall a solid piece of tackle.  I've caught some big smallies, largmouth, pike, and the occasional walleye on these." — The Loose Moose via BassPro.com
"Solid. Works as it should. Hook is super sharp and heavy duty. As with all underspin jigs thread the plastic on as straight as possible or it will swim sideways." — 3No via BassPro.com
Here a list of the top underspin jigs for bass for you to consider
#ad / Images from Amazon Product Advertising API
A Neko rig is an amazing soft plastic fishing technique where an angler typically uses a long soft plastic wacky-style worm that is threaded through an o-ring that is positioned at the mid section of the bait. A small weight is then inserted into one side of the bait. A hook is then threaded through the o-ring parallel to the bait.  
I know this may sound a little confusing. I know when I first heard about the Neko rig I was doubtful it would work.  But after reading dozens of articles and watching countless videos I put the Neko rig to the test. 
By golly it works amazing!  I soon realized why numerous professional bass anglers are ditching other finesse techniques and going with the Neko rig.
Our Recommendation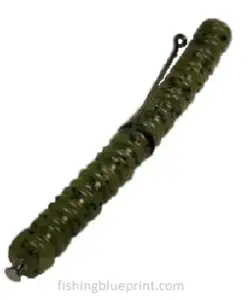 We recommend the Zoom Centipede. The length of these little stickbaits are 4.5  inches, which make them a perfect size for wintertime Neko rig fishing.
On the way down, the buoyancy allows for a slower, more horizontal, and occasionally whirling descent.
Zoom Centipedes are made with ultra fine bait salt to make striking fish hold on longer giving you extra time to set the hook.
The Neko weight will encourage these little baits to stand up on their own even on a slack line.
These are great for clear and semi-stained water conditions.
Check out these reviews from an actual customers:
"Best bait ever made for numbers of bass. I have been using centipedes for 28 years. First learned about them from pro on Sam Rayburn Lake. Rigged Texas style, it can't be beat for catching big numbers of bass. In a season, I will go through 120 to 150 of these worms. Thank you Zoom Company." — Willet via BassPro.com
"Go to bait. Have used centipedes for years as a spring-time bass catcher." — HJDR via BassPro.com
"The bass can't resist….it's like candy. When I throw it, I can only imagine what the bass think. As it darts side to side, falls, glides back up, slizers through the weeds. It is a snickers to the bass. They can't resist striking. It is pretty durable, And a great variety of colors. I prefer to fish it weedleas Texas rig. I use a 1/0 worm hook." — BassAngler77 via BassPro.com
Here a list of the top Neko worms for you to consider
#ad / Images from Amazon Product Advertising API
Here a list of the top Neko rig accessories for you...
#ad / Images from Amazon Product Advertising API
An umbrella rig imitates a small school of fish swimming in unison. The typical umbrella rig has five wires extending from the connection point, allowing you to add five baits.
Using more baits also increases your chances of getting a bite. Umbrella rigs are often set up with one to three hooked baits and the rest being dummy baits. 
The array of baits is easier for bass to detect and more likely to lure them. Going after a small group of fish increases their odds of catching a bite. 
The rig is also visible from a greater distance, helping to draw bass in from further away.
A basic steady retrieve can catch fish while fishing the umbrella rig, but adding some variety will dramatically boost your results.
Use a steady retrieve by slowly reeling the rig for 10 to 15 seconds. Pause for a second or two and resume reeling in the line. 
Our Recommendation
We like the YUM Yumbrella Flash Mob Junior because it's the perfect size to get the attention of any bass. When the bass are ignoring the big, bulky umbrella rigs this one gets noticed in a hurry.
The construction is bulletproof. Although the wires are shorter they are super strong and can easily handle any strike. It has four ultra-spin willow blades to provide the flash.
Check out these reviews from an actual customers:
"great bait, lots of action. Good things happen with this bait. lots of action and reaction." — Sweat Heat via BassPro.com
"It works. My friends said this thing is amazing. I can't wait to try it this spring. It was ready to use, just buy your favorite swim bait and 1/4 oz heads. In CA. You are only allowed 3 hooks, not 5. FYI." — Shermanator_sr via BassPro.com
"Used it for years best catch yet!!!! First musky 26+pounds , fun catch helped to warm the morning temp 29 degree." — Old Man or old bean via BassPro.com
Here a list of the top Umbrella rigs for you to consider
#ad / Images from Amazon Product Advertising API
Checkout These Other Winter Fishing Articles...
Accessories You'll Need
Fishing Rod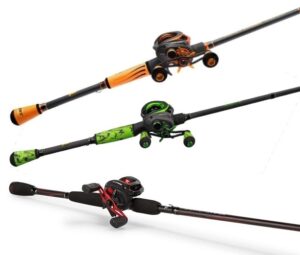 Rod –The popularity of fishing is growing and people are becoming much more conscious of different rods that can help them.
Fishermen want the best technique-specific rod for the money.
Luckily, the report I wrote provides you with detailed information in order for you to make buy the rod for the money, and more importantly which rods to avoid at all costs.
Fishing Reel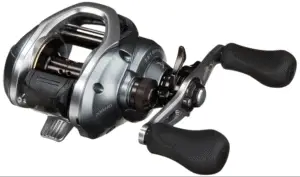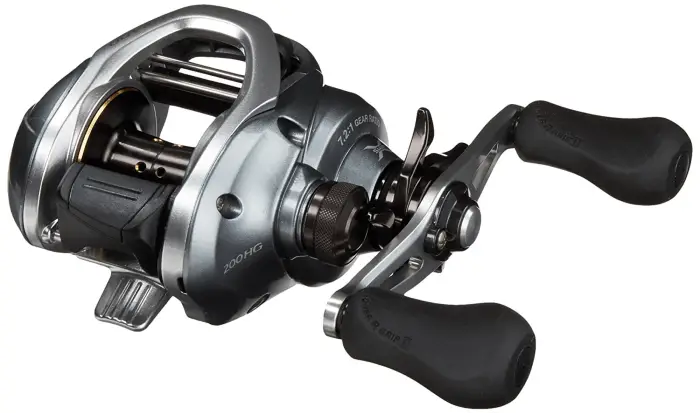 Reel – Having the correct reel to match with your rod is just as important.  A good reel should be light and have a buttery smooth drag. There are several great reels on the market, but I recommend the a quality Shimano  baitcasting reel. It's a great reel packed with great features. So much so that it could easily be priced in the mid $200 range.
Fishing Line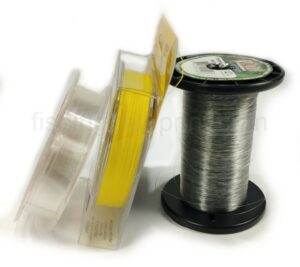 Fishing Line – Having a good line is just as important as having a good rod. I recommend fishing with a good fluorocarbon line. Furthermore, it's super sensitive because it has little to no stretch, and underwater it's invisible to the bass!  If pride or money is on the line I would use Sunline Sniper FC.
Fishing Lures & Baits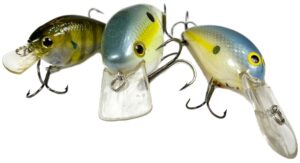 Fishing Lures – It's pretty hard and darn near impossible trying to catch a fish without using some sort of lure or bait.  More importantly these baits you should never forget at home or it could lead to a horrible day on the water
Fish Finder
Finding lunker bass has never been easier when using a fish finding sonar unit.  Packed with additional features to make your day on the water even easier.  Maps that can plan your day or help you find your way back even in the darkest of nights. Bright bold numbers and letters to make reading the maps easy even in the brightest of days, and colors that pop and make it quick and easy to identify fish. 
If you have a boat, kayak, canoe, or float tube, you need a fish finder. 
Here's our choice for the best fish finder between $299-$800:
Humminbird HELIX 7 CHIRP MEGA SI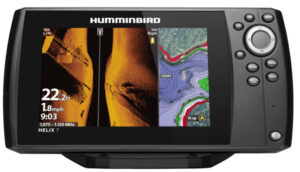 It has all the features for any serious fisherman whether you're an avid weekend warrior, or a tournament angler. This has all the bells and whistles you're looking for. 
>> Click HERE to Read The Reviews About Humminbird HELIX 7 CHIRP MEGA SI now
Here's our choice for the best economic fish finder:
Garmin Stryker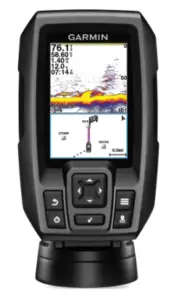 While others look for bites, your fishfinder and GPS plotter help you reach your daily limit. You can mark preferred docks, ramps, and hotspots to easily return to them later and even share waypoints.
Click HERE to Read The Reviews About Garmin Stryker now!
Life Vest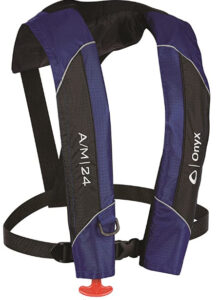 According to Statista, "In the United States, 658 people died as a result of boating accidents and 2,641 people were injured in 2021."
And it gets even worse… The National Safe Boating Council reported, "Where cause of death was known, 81% of fatal boating accident victims drowned."
And if that's not enough the incidence of deaths has climbed dramatically in recent years.
So if you're on the water you NEED to wear your life vest. Protect you, your friends, and your families lives by wearing a life vest every time you're on the water.
I recommend the ONYX PFD. It's comfortable for all day use and there is lots of room for the air to move around so you won't get sweaty.
>>Click HERE to read all the reviews actual customers!
Sunglasses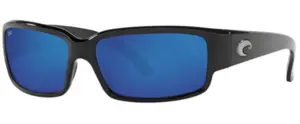 Sunglasses – Do you find yourself fishing in variable light and water conditions? Fishing in open water? Fishing in the bright hot sun? Then, only to leave the lake with eye strain and a splitting headache?
If so, I strongly recommend investing in a pair of Costa Sun Glasses. Thousands of anglers, charter guides, and tournament professionals put their trust into Costa, and so should you. Here's why…
Costa's co-injected bio-based nylon frame material is robust and durable, as well as extremely comfortable to wear for all-day use. TR-90 nylon is an excellent material for sports and performance frames since it is heat and cold-resistant.
Costa builds their glasses with class-leading technology. Their 580G glass lens sets them apart from the competition. These lenses are ideal for long days on the lake or sea since you won't have to worry about scratches on the lens when you wipe the saltwater off. Needless to say they're Costa's most durable lenses.
Anyone who spends time outside, especially on the lake, needs polarized lenses. However, not all polarized sunglasses are the same. Costa is 99.9% polarized, giving it the most effective possible in blocking reflecting glare, and minimizing eye strain and headaches.
Drift Sock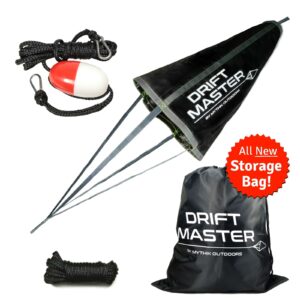 Simply speaking, a drift sock (also known as a drift anchor) is like a parachute for the water. It gives you the ability to silently troll without spooking the fish!
Anyone who fishes out of a boat, canoe, kayak, stand up paddle board, or any other type of floating vessel  should have a drift sock ready to use.
In addition to helping you catch more fish, recreational boaters also like to have 1-2 drift socks handy, just in case their motor goes out on them the drift sock will help slow their drift. This could be instrumental to allow rescuers to find that boat quickly and easily.
I strongly recommend the Drift Master Drift Sock by Mythik Outdoors.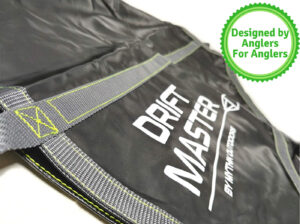 The construction is solid. Holding this in your hands gives you the peace of mind this feels durable and dependable.
I love that it's made from the gorilla-strong "RipStop" high density material, and I like that it's even paired with the high-density nylon strapping.
It's 30% stronger than other competitors who use a cheaper version of the RipStop material, so you never have to worry about his ripping.
Looking closely I can see they even triple stitched the high-tension points which is a good feature.
But best part… the Drift Master comes in a complete kit!
So get yours today and don't leave yourself adrift.
The last thing to note is the Mythik Outdoors Drift Master drift sock kits sell out fast, so make sure you get yours before they're gone!
Landing Net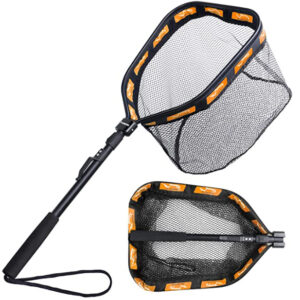 Landing Net – As you are reeling in that monster fish, you don't want to injure yourself or knock the fish off the hook by trying to grab it.
The PLUSINNO floating landing net is designed with foam padding on the hoop and provides buoyancy for fishermen. Now, If the net is dropped or blown overboard, the floating design makes it simple to retrieve – so you won't have to be concerned about losing it! The rubberized net cannot be snagged. It keeps the fish safe for catch-and-release, and the non-absorbent covering avoids waterlogging and odor absorption in the net.  It's collapsing design allows for easy storage.
That's why I recommend a dependable telescopic landing net.
Fishing Weight Scale & Culler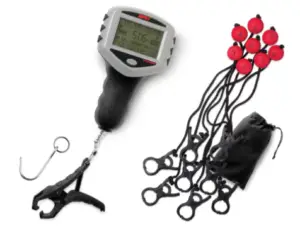 Fishing Weight Scale – Whether you're going to keep your catch or just take a photo of it and brag to your friends it's important to have an accurate scale. The Rapala Tournament Model Touch Screen Scale makes weighing and logging your catch easier and more convenient. The large digital scale has a lot of functions and is easy to use. simply keep track of your current catch and its place in your overall weight. To see the weight, just suspend the catch from the heavy-duty composite clamp or the accompanying stainless steel hook.  Adding the important details to your catch couldn't be easier – simply input your catch's weight and tap on one of the eight storage places. The culling process makes it simple to identify fish that should be released for the greatest overall weight.
I recommend a Rapala Tournament Scale that has a large LED display like this one fishing scale here.