How to fish a spoon for winter largemouth bass by vertical jigging.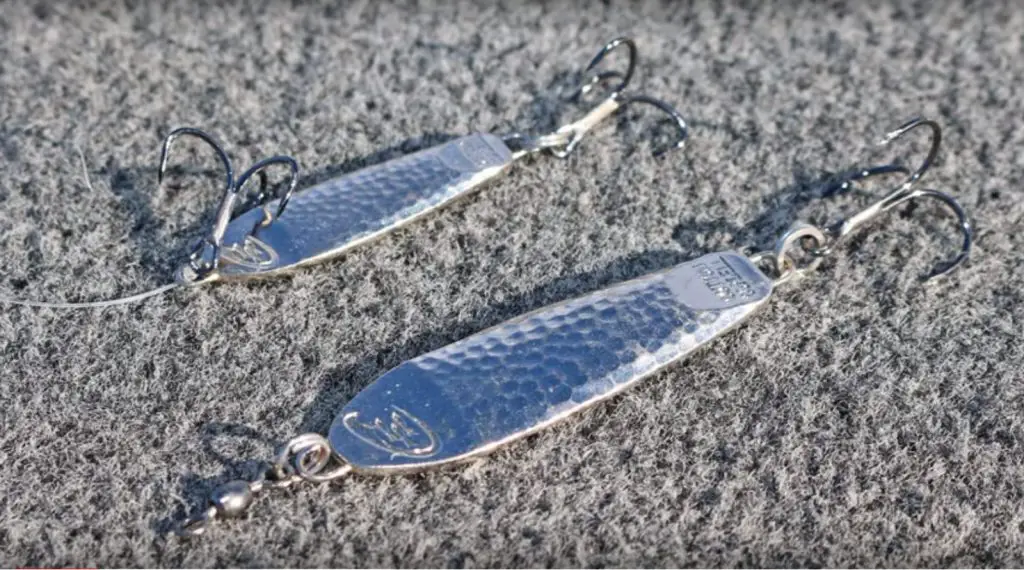 If there is one time of year that can be the most frustrating time to fish, without a doubt will be winter fishing.   Gone are the days of raw and torn up "bass thumb", catching fish after fish, or insane topwater action. What it's replaced with is a frigid and often undesirable realization that the bass are incredibly lethargic, the skies are dark, the wind stings, and the water is colder than my ex-girlfriend.  But WAIT!…
You can still catch bass by spoon fishing even when it's winter! First, you need to do is get a variety of spoon sizes. Second, you need to use a quality rod that can be comfortably used all day. Third locate the fish by using your sonar, Finally, present the spoon in a way they will take it. 
But there is so much more to it to just that. 
'But how?' you ask…  I'm going to show you…
Today we'll go over an often overlooked technique that many anglers will snicker at… Vertically jigging spoons for winter bass.
Using some simple but tried and true strategies, you can easily learn how to vertically jig for winter bass. No special equipment needed. Check out the simple tutorial, from FatherreeFishing, below.
WARNING:  There's a lot of information about this subject you'll probably want to come back to. No one expects you to remember all these tips. We know your time is precious, so we really tried to over-deliver in value for you. Additionally, we frequently update reports like this, so you'll want to stay up to date with any changes or additional tips we include for you. 
We found that the easiest way to save and bookmark this report so you can come back to it later is to share it on your favorite social media platform, especially if you use your phone to get important tips like the ones in this report here…
Click on your favorite social media buttons to remember this page now!
As you'll quickly learn this is an absolutely great way to catch bass in the winter time.
First thing you'll observe, is winter bass will follow schools of bait in order to feed all winter.
Typically, bass will set themselves up offshore, so you better focus on main lake humps, points, or flattened areas that have creeks channels.
Submerged main lake islands are also a great location to find winter bass.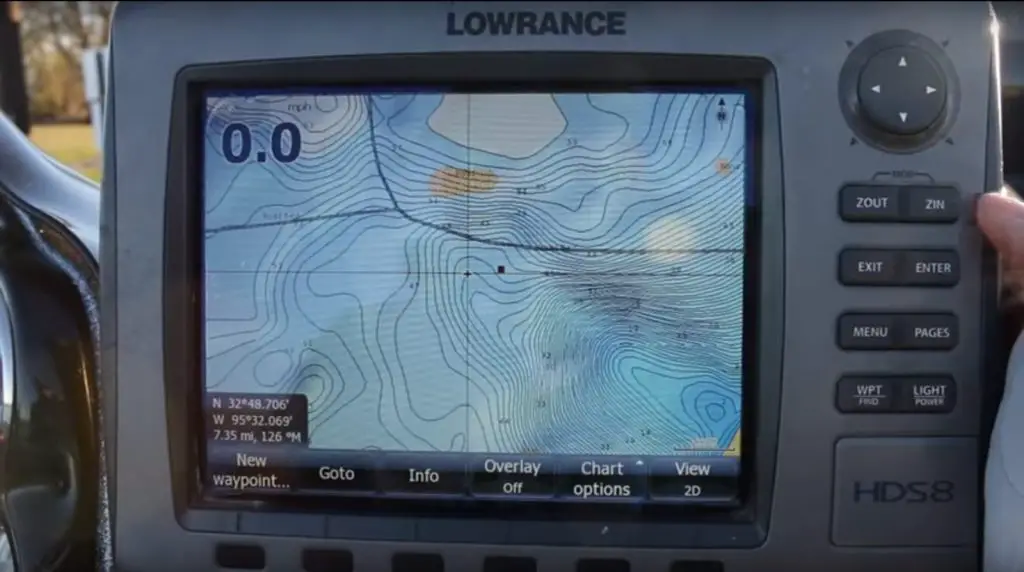 When you start to look at your electronics while you are idling over these locations, you're going to look for mainly two different layers of fish.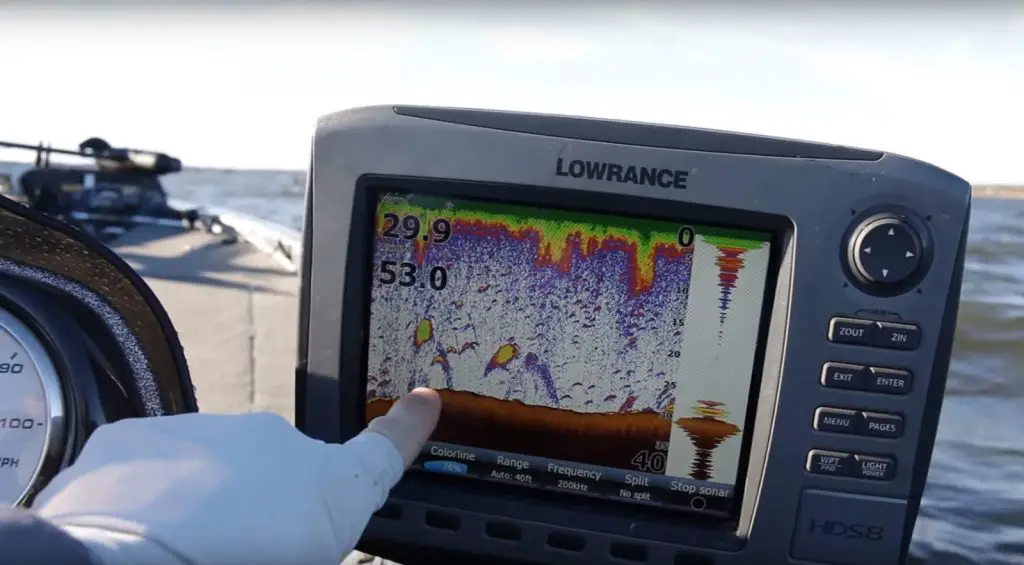 When you start to look at your electronics while you are idling over these locations, you're going to look for mainly two different layers of fish. The majority of the time the bait fish will be about halfway down in the water column, and the bass will be will be the larger marks below the schools of bait fish. The reason why they're hanging out underneath the schools of shad is the bass are waiting for the struggling and dying baitfish to flutter down. 
If you're using a light  ½-ounce spoon it's going to take forever to slowly flutter its way down to the school. Whereas, if you use a heavy 1 ½-ounce spoon, you could be catching bass lightning fast because the weight of the spoon will get to the bass in record time.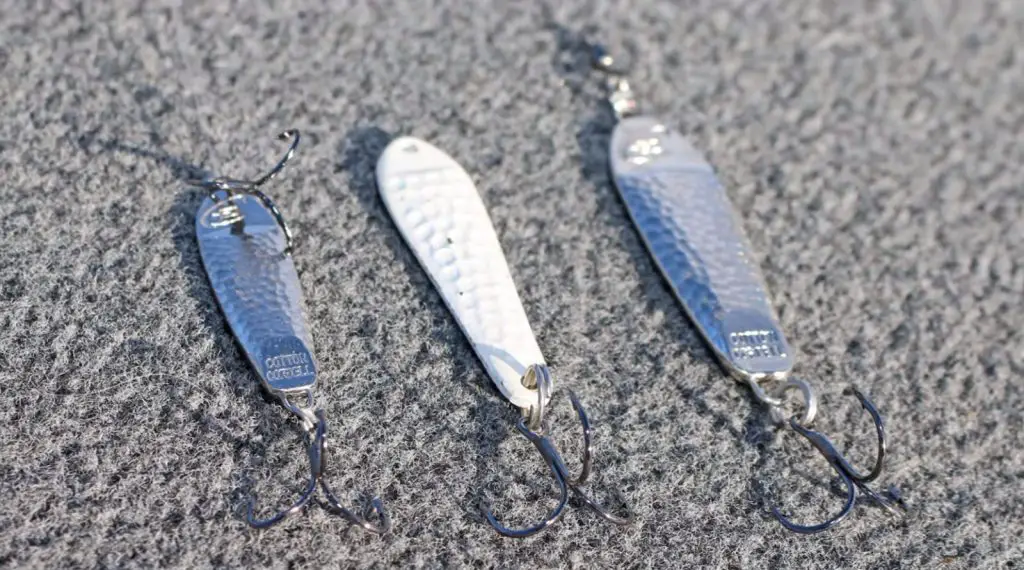 Depending on the depth of the lake, typically you'll need  ½-ounce to 2-ounce spoon is recommended.
On bright and sunny days, use shiny colors such as chrome or gold colored spoons.
If there is overcast, then go with a bright white spoon.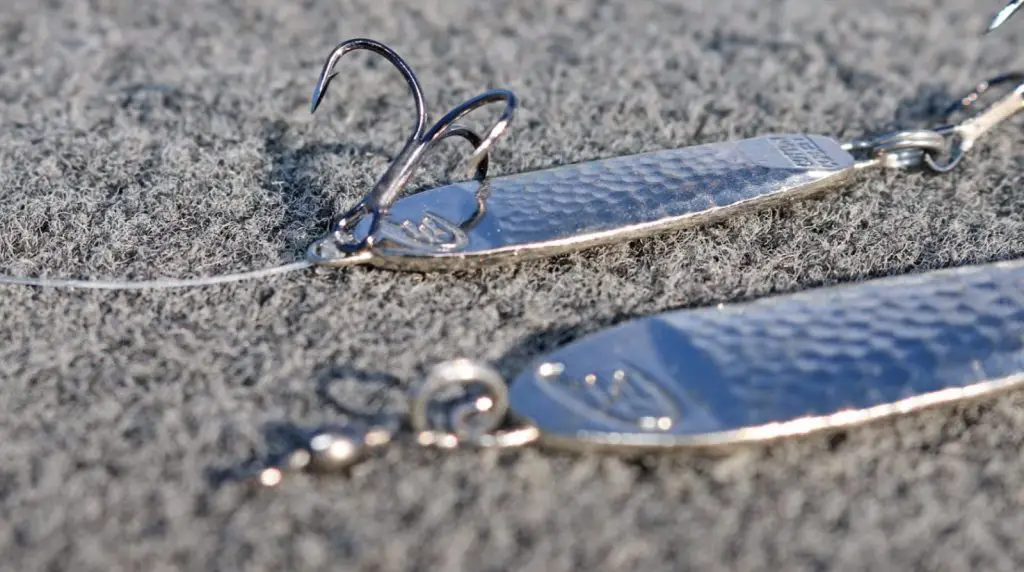 You can set up and regular spoons several different ways.
First, you can tie directly on the split ring that is a patch to the top of the spoon.
Second, you can add a swivel to the split ring and tie your line onto the swivel. The swivel helps to avoid any unnecessary spinning in the line which avoids any line tangling.
Lastly, thread your line through the line tie and tie off a separate treble hook. This will give you a second hook to catch those bass that will only attack the head of a spoon.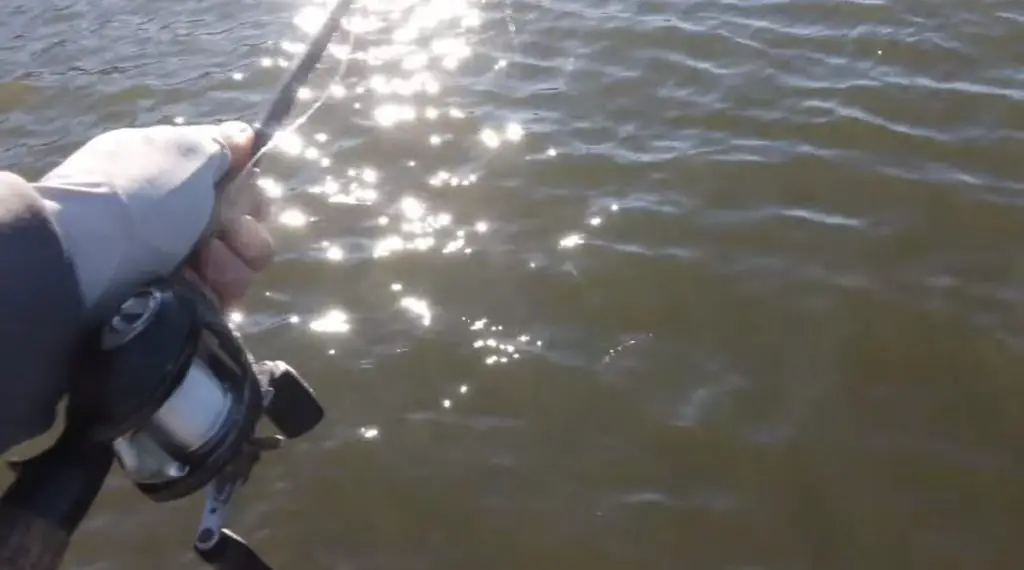 When you find your fish, drop your spoon directly down beneath your boat and let that spoon fall all the way to the bottom.
Once it hits bottom, turn the rod sideways and grab the top section of the reel seat. This avoids any wrist and arm fatigue, so you can avoid any unnecessary injuries.
Then engage your reel and give it a pop.
You should only pop the spoon off the bottom about a foot. Now slowly follow the spoon back down to the bottom with just a little bow in the line.
Remember, you always want a little bit of slack in the line.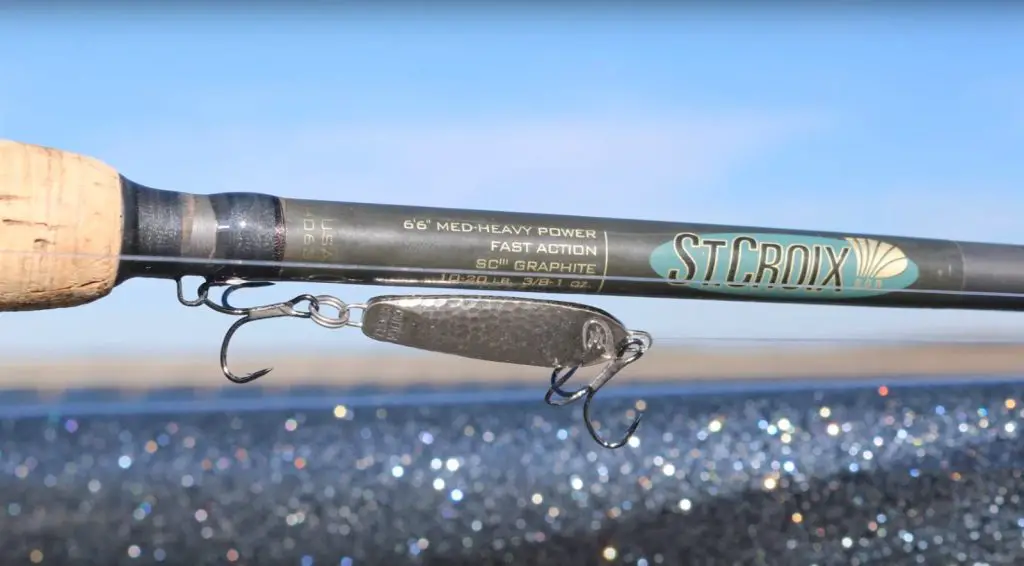 Eventually, the bass will tell you how they want the bait presented.
If they don't want a single pop, sometimes they will want you to lift it up and shake it a little bit and then drop it back down period or other times they will respond if you let it fall to the bottom shake it on the bottom and then just dead stick it for a few seconds.
The bass will bite the spoon almost always as it's falling.
Never allow your line to straighten because it will give the spoon a very unnatural appearance.
You also never want too much slack in the line, then you'll never detect when the bass bite.
There are many types of retrieves you just have to test to see which variation they want the most.
A shorter rod is best for this type of technique. A 6-6 medium-heavy power rod with a fast-action tip is perfect. St. Croix Avid series rods are phenomenal for this type of technique. And they are made in the USA.
You definitely want to match this up with a 14 to 17-pound fluorocarbon line.
What Size Spoons For Bass?
When spooning for bass you're left with two primary choices for spoon lures. A jigging spoon or a flutter spoon.  Each have their purpose and need a place in your tackle bag. 
Jigging Spoons
The most common spoon used for winter fishing has to be the jigging spoon 1/2-to-1 1/2-ounce.  Jigging spoons are best used when the bass are lethargic, when post-frontal bluebird sky days, mid-day, days with calm water. 
Jigging spoons are not known for their wide wobble like their flutter spoon sibling, however are known for falling quickly with a very tight shimmy and have a fast fall rate.  
As a result, jigging spoons are meant to be fished vertically and more than likely the bass with strike the spoon on the fall. 
Flutter spoons
The flutter spoons are an amazing fish catching lure when used in the right application.  Because of their spoon-shaped design, the flutter spoon will have a wide side-to-side wobble on the fall.  best sizes would be 3/4-to-1 1/2-ounce.
The fall rate is determined by the length and width of the flutter spoon, but overall they have a slower fall rate than a jigging spoon. 
Along with a wide fall, flutter spoons also produce the most flash.  In clear water sometimes I can even see the flash in 40+ feet of water!
When bass are actively feeding a flutter spoon works great, and also work great when used a search bait.  
Since the small lure has a slower fall you can cast it out, count it down, and pop it back up just before the spoon encounters any structure avoiding any hangups. 
Finally, flutter spoons are ideal winter jigging lures when there is any cloud cover, rainy, windy conditions. 
Best Spoons For Winter Bass
The Cotton Cordell is a quality spoon with amazing tight flutter action. 
Whenever there are smaller sized baitfish around the large predator fish will gobble these up year-round.
Being so streamlined these spoons fall quickly. No more waiting 5+ minutes to allow the lure to fall to the correct depth.
Best of all these come 2 per pack!
Nichols Lake Fork Flutter Spoon is a great wide wobble/flutter spoon on warmer winter days.
Sometimes after a warm front bass just perfer a wider wobble and the Nichols Flutter Spoon fills that void perfectly. 
The spoons come in about a dozen different colors, so it's easy for you to match the hatch. 
Most of all I like that Nichols increased the durability of the finish by adding a protective coating over the painted and foiled spoons. 
All treble hooks are sticky sharp and come standard with Spro swivel to prevent line twisting. 
Recommended colors: Shattered Glass Scale, Chrome, Bombshell Shad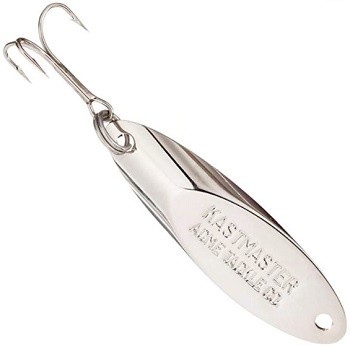 Acme Kastmaster Fishing Lure
This little spoon is incredibly aerodynamic and be cast into the wind with ease. 
This lure has a tight flutter on the fall and but will "swim" when raising your rod or on the retrieve. 
The flash of this lure will sure to call in fish especially in clear or murky water. 
Acme has nearly ever color pattern of bait fish available. 
Recommend colors: Chrome, Chrome/Neon Blue, Gold
Best Rod For Winter Jigging
In addition to having the right lures, it's strongly recommended that you use a rod that is specifically made for jig fishing.  You simply cannot get away with using a standard bass fishing rod, you'll just end up losing too many bites. 
I recently updated an article where I go over all the technical details on the best jig fishing rods that the top of the line companies have to offer, as well as some of the reliability issues that I found will definitely surprise you. Click here to learn more. 
Read more: Best Jig Rod for Bass Fishing [Review Guide]
Best Line For Winter Jigging
When spooning for deep winter bass I recommend using 15- to 17-pound fluorocarbon line. However, if you use a heavier jig, you may want to consider increasing your line to a 20-pound test. 
Read more: 21 Tips To Choose The Best Bass Fishing Line
Best Wintertime Clothing for Fishing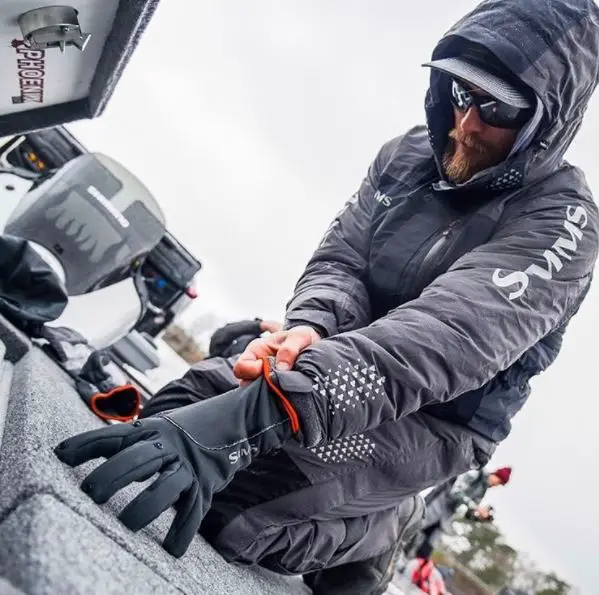 Before I end this article, I need to ask you a question?
When was the last time you inspected your winter clothes, like your jacket and pants?
You would be completely surprised at how many people just assume their protective wintertime clothes are "probably okay". 
It blows my mind! Hands down the most important survival tool you have when you're on the frigid cold water is the clothes you are wearing.
This hits close to home because I was recently stranded last winter on the lake (34-degrees!)…
Luckily, I was prepared because I recently got a set of winter fishing clothes that was comfortable when I was out fishing, but more importantly, kept me warm until help arrived.   
Click here to see the outfit I got…
Don't forget to take a look at what you're wearing out before you put it on and walk out that door.
You just never know when your life hangs in the balance when you are outside in the winter.  It could happen in a blink of an eye or within a split second. 
That is why you need a set of wintertime fishing clothes that is not only comfortable but will protect you when you need it the most. 
Read more: The Ultimate Guide To The Best Clothing For Winter Fishing
Spoon Bass Fishing Tips – How to Fish a Spoon for Winter Largemouth Bass – Vertical Jigging Tips
Can the spoons be used in saltwater fishing?
Yes. They absolutely can.  I've had success in with these fishing off the coast of Florida and in the Gulf of Mexico!  However, be sure to change you the split ring, hooks to a stainless steel version and switch to saltwater hooks. Also be prepared to loose a few to the toothy predator fish that often found on those waters.
Can spoons be used in rivers?
Yes.  Depending on the speed of the current you may need to choose a slightly heavier size.  
Will these spoons work for both largemouth and smallmouth bass?
Yes. These spoons will work great for species. 
Does spooning for bass work in the early spring?
Checkout These Other Winter Fishing Articles...