Are you trying to figure out what jig is good for flipping and... has a great hookup ratio? Here's your quick start guide buyers to get you started fast!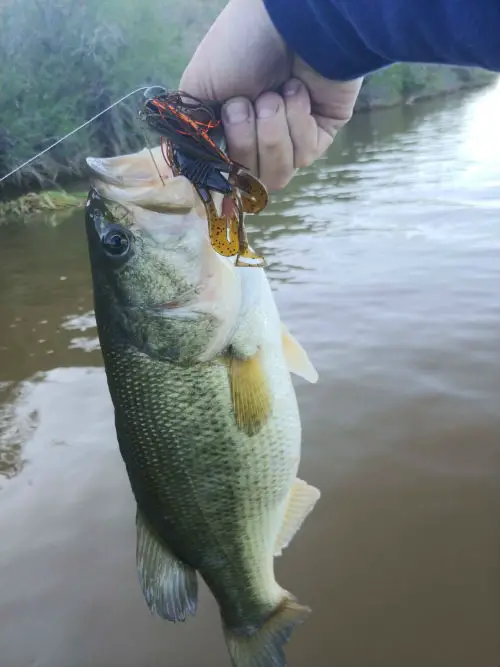 The best flipping jigs in this guide all pack fantastic-hook up ratios, excellent color options, and have a compact shape that allows them to come through any environment that you cast to. 
We've tested hundreds of flipping jigs over the years, so we know what we're looking for. Each of the flipping jigs you see in our guide below were hand selected based on a few key factors, including quality, durability, hook up ratio and added features, like color options. The result is a solid list of flipping jigs that are sure to put more fish in your boat.
This list below will offer you unbiased and helpful recommendations to help you get the best possible lure for your needs and budget.
While fishing with a flipping jig may be the answer to your needs, sometimes you'll need to switch to other lures. With this in mind, my team and I published a quick-read review of 5 Best Bass Baits Every Angler Must Own, or you can opt to read the complete report, Bass Fishing Lures: A Complete Guide. Over the past several years my team and I also tested and reviewed a variety of products, including best bass fishing rod, best bass fishing line, best tackle bag and even best fish finder for bank fishermen!
Flipping Jigs are a type of bait that is designed to fit under and into small areas such as docks, laydowns, and vegetation. Jigs should have little damage after fishing them because they are designed for some abuse.
These jigs should be heavy and are usually 3/8-ounce to 1 ounce in weight. Most popular flipping jigs have rattles to attract bass.
Let the bait descend once it hits the target, hop it a couple of times, and then reel it back in for the subsequent flip.
But… just because it looks like a flipping jig doesn't mean it's great for fishing— a flipping jig has to be Mike Tyson tough and be willing to take a ton of punishment, the hooks have to be surgical-quality sharp… and… as strong as an ox, it has to come in a variety of colors to better "match-the-hatch" to entice more bites.
I've come to the conclusion, you would be wasting your time if the lure you're fishing it doesn't have these features.  Best of all, flipping jig are really easy to learn and fish. 
Stop! Did you notice something? I didn't say good flipping jigs have to be expensive. There are some really quality lures that don't cost you an arm and a leg!
So listen… if you don't have much time to read the details we totally understand.  Simply use the links below to quickly find the best flipping jig for your fishing needs. You can be assured we only choose the best products for you…
Best Overall Flipping Jig – Strike King Hack Attack Fluorocarbon Flipping Jig
Best Budget Flipping Jig – BOOYAH Boo Jig
Editor's Choice – Missile Jig's Ike's Flip Out Jig
But be warned! Go through this blueprint slowly and carefully so you don't miss any suggestions that could cost you.
Best Overall
Best Budget
Editor's Choice
Honorable Mention
Shallow Cover
Product
Strike King Hack Attack Fluorocarbon Flipping Jig
Missile Jig's Ike's Flip Out Jig
Z-Man CrossEyez Flipping Jig
Hook Size
4/0 or 5/0 premium Mustad Ultra Point black nickel hook
5/0 VMC Heavy Duty Flipping Hook
5/0 VMC Heavy Duty Flipping Hook
Best Overall
Product
Strike King Hack Attack Fluorocarbon Flipping Jig
Best Budget
Hook Size
4/0 or 5/0 premium Mustad Ultra Point black nickel hook
Editor's Choice
Product
Missile Jig's Ike's Flip Out Jig
Hook Size
5/0 VMC Heavy Duty Flipping Hook
Honorable Mention
Hook Size
5/0 VMC Heavy Duty Flipping Hook
Shallow Cover
Product
Z-Man CrossEyez Flipping Jig
#ad / Images from Amazon Product Advertising API
1. Strike King Hack Attack Fluorocarbon Flipping Jig
WINNER! Best All-Around Flipping Jig!
But, why is the Strike King Hack Attack Fluorocarbon Flipping Jig the best?
Anglers typically use braid line when flipping under a dock or walkway, but in clear water, it is often best to have a line that is less visible to bass. The Strike King Hack Attack Fluorocarbon Flipping Jig is designed to be used with fluorocarbon line in clear water. 
Construction
The Hack Attack Fluorocarbon has a compact head and a custom Siwash head. It is made to glide through weeds and heavy cover. 
This jig allows for a stealth approach to cover where fish may not see your line. Trailers will not slip due to its corkscrew wire.
The Hack Attack Flipping Jig features a 0-degree line tie with streamlined head design and heavy duty weed guard that makes it a great option for penetrating grass mats and debris.
In addition to the specialized head design, these jigs also use an exclusive no-flex siwash hook that provides some extra backbone when setting the hook through heavy cover.
This jig is well made and specifically designed to be used on heavy fluorocarbon or braided lines and heavy action rods.
This jig was designed by Pro Greg Hackney to approach cover without spooking the bass. 
Fishing Experience
The first thing we noticed was how compact the bait was. 
The synthetic skirt material trimmed to the perfect size to allow you thread on your favorite soft plastic. Additionally, it's small size allows you to flip it in places where bass may be hiding without them even realizing that a bait is near. 
You will probably never need to untangle this jig because of its weedless ability.
Price
The price of the Hack Attack Fluorocarbon Jig ranges from low to mid-range prices for jigs. Considering its unique design makes it worth every penny.
Summary
This is a jig that no one is talking about… and… those who do know about it are having tremendous success using it.
Any angler who has experienced disappointment with flipping will want to try this jig.  It is able to use fluorocarbon line that bass probably will not see. 
It has a premium beefed up hook and it won't bend out when fished with a bigger rod.
A great addition to your jig collection that can be used year-round!
Here are some REAL reviews from actual customers:
"Another great product from Strike King! Always happy with their stuff!" – Scott: July 15, 2020 Via Amazon.com
"Great awesome most weedless jig there is! Solid hook as well!" – Aaron Shaughnessy: February 17, 2021 Via Amazon.com
"Good lures! Work well!" – William Southgate: April 5, 2021 Via Amazon.com
The BOOYAH Boo Jig is great for catching big bass with its flat bottom. It is easy to control even when it's far away because of the 18-inch rise.
Construction
The BOOYAH Boo Jig is designed with 2 rattles to attract bass who have trouble resisting them. It is made with a Bio-Flex 60-strand skirt and is sold with a 1-year warranty. 
The Boo Jig also has a Mustad Ultra-Point black nickel hook. Hook sizes of 4/0 or 5/0 complete the jigs according to their weight.
Fishing Experience
Anglers who have fished the BOOYAH Boo Jig say that you can definitely feel the bass hook onto your bait when the hook in occurs. The weed guard keeps the Boo from getting stuck under a laydown or in vegetation, so you will feel confident when using this jig.
Price
The price of this jig is in the low end-range for jigs, and when these go on sale it's always a bargain!
Summary
The BOOYAH Boo Jig is appreciated by many anglers because of its durability. It has extra-durable painting so it won't get scraped by rocks or cover.
Its noisy double-barrel rattle notifies fish that you are nearby.
Here is a REAL review from an actual customer:
"I love these jigs and the color selection, but the rattles are held on with soft rubber rings on the skirt band and have an annoying tendency to fall off when bass jump and especially with surface head shakes at the moment you land a bass. I like them enough that I still use them frequently, but suggest that you buy extra rattles if you plan to use them a lot like I do. They really do catch bass, especially when coupled with a good craw trailer."  –Bass Pro Shops Customer: 2012 Via Bass Pro Shops
3. Missile Jig's Ike's Flip Out Jig
The Missile Jig's Ike's Flip Out Jig is a compact plastic jig that was designed by B.A.S.S. Elite Series Anglers. It features a recessed line tie and balanced head. 
Available colors have been proven to work, and jig heads match or are coordinated with their skirts. It also has a natural fall due to having the same weight forward design that is balanced around the hook shank.
Construction
Ike's Flip Out Jig is made with an angled weed guard that prevents it from getting snagged in vegetation or other cover. This jig is designed to have a faster fall since its skirt does not flutter as it descends.
Fishing Experience
You will notice a difference as soon as you cast this jig and it hits the water. It will attract even hesitant bass to investigate this jig.
It has a custom 5/0 heavy duty VMC hook that is easy to set the hook into large bass. It will not get stuck in heavy or sparse cover and is especially efficient in fishing docks.
The Flip Out Jig is especially effective in heavy current or when the fish are pressured. It has a weight forward design that allows you to flip and pitch in heavy cover. 
Price
The Price of Missile Jig's Ike's Flip Out Jig is priced in the mid-range of jigs.
Summary
The Missile Jig's Ike's Flip Out Jig is a lot like the mini version of the jig made by Missile. It has many good points such as good, durable construction except that the skirt is not hand-tied.
This jig is good for fishing on rocky points, on rip rap, and near cover of all types.
Here is a REAL review from an actual customer:
"Love this jig! I bought this on a member's night and took it out the next day. I knew that Missile Jigs was a great company and I needed a compact jig. I have enjoyed flipping this into flooded timber as well as just casting and retrieving it. This jig delivers! It is great for times when bass don't want something big and this fits that niche perfectly. I was so happy that I went back to Bass Pro and bought several more in different colors!" – Saltwater Sean: 2016 Via Bass Pro Shops
4. Z-Man CrossEyez Flipping Jig
The Z-Man CrossEyez Flipping Jig is just right for fishing shallow cover for big bass. Its compact design is made for flipping, pitching, and swimming. This jig can reach tight areas where the big boys hide. 
It is very durable and has a hand-tied silicone skirt that has strands cut in different lengths. This finesse jig has a wire keeper and is made to last a long time.
Construction
This Z-Man Jig was designed by B.A.S.S. Elite David Walker to flip under docks, walkways, laydowns, and weed piles. It has a unique head and is painted to match the silicone skirt. 
Each Z-Man CrossEyez Flipping Jig is matched with a VMC Flipping Hook for an easy hook set. This jig has a wide head that is actually easier to get under cover of all kinds.
Fishing Experience
This jig is loved by anglers, especially when flipping under cover. It is rated 5 out of 5 and experts say that it's one of the best jigs made.
You will appreciate how the CrossEyez attracts large bass and how it will hook into fish as you use it. The skirt will not fall off because it is tied with copper wire by hand.
Price
The price of this Z-Man Jig is lower at some websites than others. It falls within the medium-price range to upper-price range. Most anglers will gladly pay the higher price because this jig is so effective.
Summary
The Z-Man CrossEyez Jig is an effective jig designed for flipping under cover. You can knock it against cover without damage.
Many anglers love this jig and use it exclusively when they are flipping and pitching. It is available in 3/8-ounce size and 1/2-ounce sizes.
This jig is well-known among angers because it is so good at flipping.
"Z-MAN CROSSEYED FLIPPING JIG. THIS IS A GREAT FLIPPING JIG ! Weedless and nice action on a jigging retrieve." — od175ss via Cabalas.com
5. Strike King Tour Grade Skipping Jig
The Strike King Tour Grade Skipping Jig was designed by Pro Andy Montgomery. This jig has a unique flat-sided head shape for smooth skipping.
It helps anglers get into the tight spots where huge bass hold. This Tour Grade Skipping Jig was made to help anglers hook into more large bass that they may have trouble reaching without using it.
Construction
Andy Montgomery designed the Strike King Tour Grade Skipping Jig for Strike King. It is great for skipping to docks and other hard-to-reach spots. The flat-sided head is easy to skip as it glides across the water.
This skipping jig has a screw keeper to hold your trailer in place and is good to use on laydowns and heavy cover. A super-strong Gamakatsu hook jaw jacks the large bass that are attracted to your Tour Grade Skipping Jig to allow you to set the hook and get that lunker in your boat.
Fishing Experience
When you skip this Strike King jig into hard-to-reach places or under wood piles or laydowns, you will feel confident about hooking into a large bass. Anglers love this jig and rate it highly because they know it works.
The Gamakatsu hook won't bend when you bang it on rocks or on cover. It can be used at any depth.
Price
 You can buy the Strike King Tour Grade Skipping Jig at some outlets for a good price that falls into the upper level of low-priced jigs. There are other websites that charge higher prices.
Summary
The Strike King Tour Grade Skipping Jig is a productive jig that bass can't bypass. It has a full skirt of 60 strands that has a special blade, and it is made of tungsten.
This jig is not only effective in fishing under docks and wood, but it can also be used under heavy weed piles, laydowns, and other cover.
Here are some REAL reviews from actual customers:
"name says it all. great skipping jig I also use it as a swim jig the screw lock head holds the trailer on better than any jig I've thrown" — Ldog62, via basspro.com
"Skips. Easy to skip and seem to get a little extra distance" — Multiman, via basspro.com
"Easier to skip. From being able to get my hands on a couple of these already they do seem to skip easier than a normal jig. I normally have been using a swim jib to skip with, but this jig seems just a bit better." — rangerray300, via basspro.com
6. Strike King Denny Brauer Premier Pro-Model Jig
Denny Brauer designed the Strike King Denny Brauer Premier Pro-Model Jig to improve on his Pro-Model Jig. His efforts resulted in the Premium Pro-Model Jig. 
It has a new head design and a one-of-a-kind rattle. The rattle works even when the jig moves to side-to-side. 
Construction
The Strike King Denny Brauer Premium Pro-Model Jig has all of the benefits of the Pro-Model, and is even better since its redesign. 
It is sold with an upgraded hook, and other anglers have had many positive results with it. It hooks into bass and doesn't get snagged on cover such as heavy vegetation or wood.
Fishing Experience
This jig is very good for flipping under heavy vegetation or other cover. It rattles even when you move it back and forth with your rod.
Other anglers love this jig and have caught lunkers under docks and other places with it.
Price
The price for this flipping jig is about average for this type of jig, but some websites charge more for the same model.
Summary
This upgrade of the Pro-Model by Denny Brauer and Strike King has a lot of great features, and it's specifically made for pitching and flipping. Improvements include a redesigned head, a loud removable rattle, and a trailer keeper to keep your trailer from slipping off.
This compact jig works when fish are not responding to anything else on your rod. Anglers have broken their personal records with this Strike King jig.
Here are some REAL reviews from actual customers:
"This is one of the best jigs on the market right now, and it comes in several great colors. It has a super-sharp hook and has nice loud rattles. The head design slips through weeds and the 3D eyes are an outstanding finish! Pair up this jig with a Strike King 3X chunk trailer and you'll have yourself a jig that outperforms any others!" – RBKing: 2018 Via Bass Pro Shops
 "I'm not going to tell you that it's the best one out there, but it's pretty dang close! I use the 1/2-ounce with a matching Zoom Super Chunk. This past year, I landed a 6-pound bass! If the results I've had don't convince you, do yourself a favor and buy one of these jigs."  – BazzBustr: 2019 Via Bass Pro Shops
7. War Eagle Jiu Jigsu Jig
The War Eagle Jiu Jigsu Jig is an effective jig to use in the springtime before the spawn. It was designed and tested by War Eagle and this powerful Jiu Jigsu Jig can handle the lunkers you jaw jack.
It has a 4/0 Owner Zo-Wire Flipping Hook. This jig was designed to have all of the features that pros ever wanted in a flipping jig.
Construction
This War Eagle Jig has a powder-coated modified head with recessed eyes that will not get snagged on heavy cover. It also has a recessed line tie that enables you to drag this jig through the heaviest cover.
Complete with a weed guard and a wire keeper to hold your plastic trailers on tightly, this jig is made to catch large bass hiding under thick cover or laydowns.
Fishing Experience
You will feel confident flipping the War Eagle Jiu Jigsu Jig because you'll know you're using a top-rated flipping jig. Other anglers have raved over it and have rated it 5 out of 5 stars.
You might be surprised at how easy it is to retrieve this jig because it works smoothly and efficiently, not getting caught.
Price
This jig cost more than a lot of others, but you can count on it when you need a great flipping jig. It falls within the upper-price range of jigs.
Summary
It took over a year for War Eagle and their professionals to design the Jiu Jigsu Jig. They thought of every aspect of the jig before releasing it. 
The jig has an upgraded Owner Zo-Wire hook and a customized powder-coated head with recessed eyes and a recessed line tie. Another feature is the weed guard and wire trailer hook plus the unique Hole-in-One hand-tied skirt.
Here is a REAL reviews from an actual customer:
"jigs. liked them and they are what I was looking for! thats all I wanted to say!" — via basspro.com
The Buckeye Lures Mop Jig is designed to have qualities that the best flipping jigs have. It is made with high quality living rubber, and it has a strong 5/0 Mustad Ultra-Point hook.
This Mop Jig has a hand-tied skirt that is very long and gives it the appearance of a mop in the water. 
Construction
This Buckeye Lures jig is hand-tired with wire wrap, and it makes a lot of noise since it has double-barrel rattles. The jig's rattles imitate crawfish and are not artificial-sounding.
It is very durable since its skirt made with heavy living rubber spreads out like a mop in the water.
Its specially designed head enables it to stand up as the skirt spreads out.
Fishing Experience
You can be sure that the jig you're flipping is one of the best when you fish this jig. The Buckeye Lures Jig reaches under heavy vegetation and into tight spots.
You won't experience any snags or problems retrieving this jig.
Price
This Mop Jig falls within the mid-price to upper-price category for flipping jigs, depending where you buy it. 
Summary
The Buckeye Mop Lures Jig is designed to catch larger bass under heavy cover. It has a strong Mustad Flipping Hook and anglers say that it works like no other jig. 
The Mop Lures Jig is a large size jig that is as long as a grown man's palm. It gets even bigger when it is wet, so it attracts large aggressive bass. 
Here are some REAL reviews from actual customers:
"I tied one on and caught a big one after 2 casts. I started catching fish on it the whole day and never picked up another rod. Awesome lure that really works well! I love the action of the jig! I trailer it with a Zoom Critter Craw." – bwin: 2014 Via Bass Pro Shops
"I usually use the regular Mop Jig and I don't have to trim it at all because this is a great size out of the package. I like the rubber on it because it flares out differently than most jigs and it falls slowly." – Meshuggah: 2011 Via Bass Pro Shops
Check Out These Amazon New Releases...
Accessories You'll Need
Fishing Rod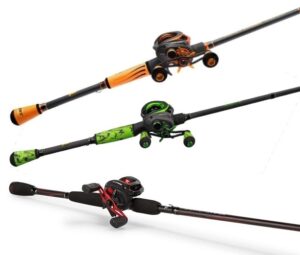 Rod –The popularity of fishing is growing and people are becoming much more conscious of different rods that can help them.
Fishermen want the best technique-specific rod for the money.
Luckily, the report I wrote provides you with detailed information in order for you to make buy the rod for the money, and more importantly which rods to avoid at all costs.
Fishing Reel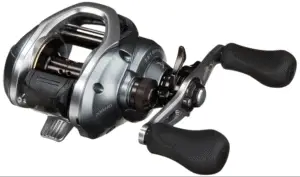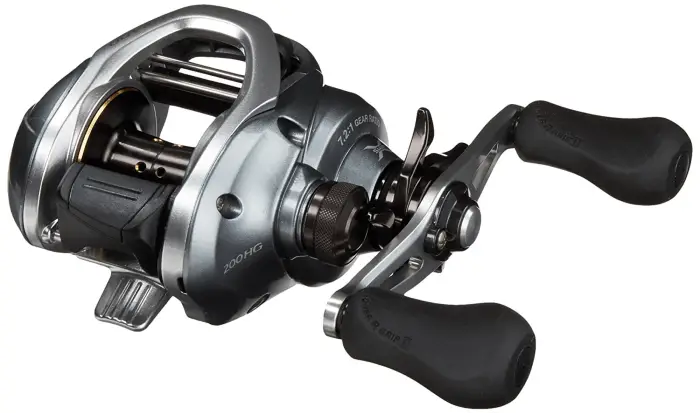 Reel – Having the correct reel to match with your rod is just as important.  A good reel should be light and have a buttery smooth drag. There are several great reels on the market, but I recommend the a quality Shimano  baitcasting reel. It's a great reel packed with great features. So much so that it could easily be priced in the mid $200 range.
Fishing Line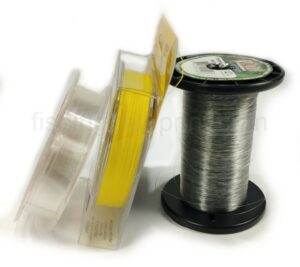 Fishing Line – Having a good line is just as important as having a good rod. I recommend fishing with a good fluorocarbon line. Furthermore, it's super sensitive because it has little to no stretch, and underwater it's invisible to the bass!  If pride or money is on the line I would use Sunline Sniper FC.
Fishing Lures & Baits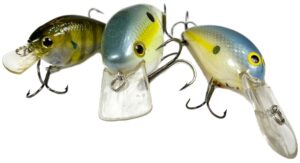 Fishing Lures – It's pretty hard and darn near impossible trying to catch a fish without using some sort of lure or bait.  More importantly these baits you should never forget at home or it could lead to a horrible day on the water
Fish Finder
Finding lunker bass has never been easier when using a fish finding sonar unit.  Packed with additional features to make your day on the water even easier.  Maps that can plan your day or help you find your way back even in the darkest of nights. Bright bold numbers and letters to make reading the maps easy even in the brightest of days, and colors that pop and make it quick and easy to identify fish. 
If you have a boat, kayak, canoe, or float tube, you need a fish finder. 
Here's our choice for the best fish finder between $299-$800:
Humminbird HELIX 7 CHIRP MEGA SI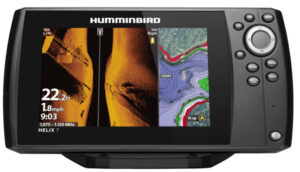 It has all the features for any serious fisherman whether you're an avid weekend warrior, or a tournament angler. This has all the bells and whistles you're looking for. 
>> Click HERE to Read The Reviews About Humminbird HELIX 7 CHIRP MEGA SI now
Here's our choice for the best economic fish finder:
Garmin Stryker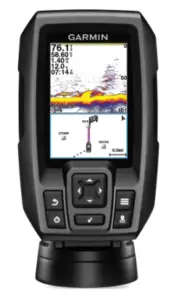 While others look for bites, your fishfinder and GPS plotter help you reach your daily limit. You can mark preferred docks, ramps, and hotspots to easily return to them later and even share waypoints.
Click HERE to Read The Reviews About Garmin Stryker now!
Life Vest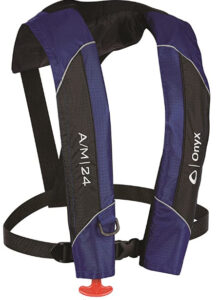 According to Statista, "In the United States, 658 people died as a result of boating accidents and 2,641 people were injured in 2021."
And it gets even worse… The National Safe Boating Council reported, "Where cause of death was known, 81% of fatal boating accident victims drowned."
And if that's not enough the incidence of deaths has climbed dramatically in recent years.
So if you're on the water you NEED to wear your life vest. Protect you, your friends, and your families lives by wearing a life vest every time you're on the water.
I recommend the ONYX PFD. It's comfortable for all day use and there is lots of room for the air to move around so you won't get sweaty.
>>Click HERE to read all the reviews actual customers!
Sunglasses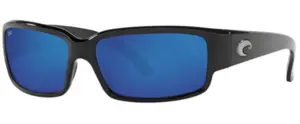 Sunglasses – Do you find yourself fishing in variable light and water conditions? Fishing in open water? Fishing in the bright hot sun? Then, only to leave the lake with eye strain and a splitting headache?
If so, I strongly recommend investing in a pair of Costa Sun Glasses. Thousands of anglers, charter guides, and tournament professionals put their trust into Costa, and so should you. Here's why…
Costa's co-injected bio-based nylon frame material is robust and durable, as well as extremely comfortable to wear for all-day use. TR-90 nylon is an excellent material for sports and performance frames since it is heat and cold-resistant.
Costa builds their glasses with class-leading technology. Their 580G glass lens sets them apart from the competition. These lenses are ideal for long days on the lake or sea since you won't have to worry about scratches on the lens when you wipe the saltwater off. Needless to say they're Costa's most durable lenses.
Anyone who spends time outside, especially on the lake, needs polarized lenses. However, not all polarized sunglasses are the same. Costa is 99.9% polarized, giving it the most effective possible in blocking reflecting glare, and minimizing eye strain and headaches.
Drift Sock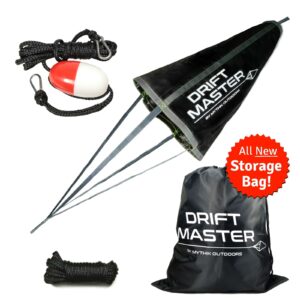 Simply speaking, a drift sock (also known as a drift anchor) is like a parachute for the water. It gives you the ability to silently troll without spooking the fish!
Anyone who fishes out of a boat, canoe, kayak, stand up paddle board, or any other type of floating vessel  should have a drift sock ready to use.
In addition to helping you catch more fish, recreational boaters also like to have 1-2 drift socks handy, just in case their motor goes out on them the drift sock will help slow their drift. This could be instrumental to allow rescuers to find that boat quickly and easily.
I strongly recommend the Drift Master Drift Sock by Mythik Outdoors.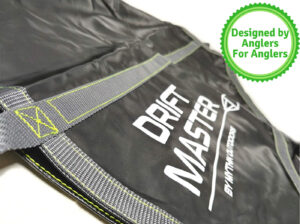 The construction is solid. Holding this in your hands gives you the peace of mind this feels durable and dependable.
I love that it's made from the gorilla-strong "RipStop" high density material, and I like that it's even paired with the high-density nylon strapping.
It's 30% stronger than other competitors who use a cheaper version of the RipStop material, so you never have to worry about his ripping.
Looking closely I can see they even triple stitched the high-tension points which is a good feature.
But best part… the Drift Master comes in a complete kit!
So get yours today and don't leave yourself adrift.
The last thing to note is the Mythik Outdoors Drift Master drift sock kits sell out fast, so make sure you get yours before they're gone!
Landing Net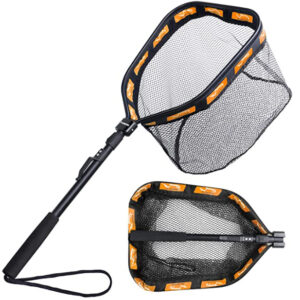 Landing Net – As you are reeling in that monster fish, you don't want to injure yourself or knock the fish off the hook by trying to grab it.
The PLUSINNO floating landing net is designed with foam padding on the hoop and provides buoyancy for fishermen. Now, If the net is dropped or blown overboard, the floating design makes it simple to retrieve – so you won't have to be concerned about losing it! The rubberized net cannot be snagged. It keeps the fish safe for catch-and-release, and the non-absorbent covering avoids waterlogging and odor absorption in the net.  It's collapsing design allows for easy storage.
That's why I recommend a dependable telescopic landing net.
Fishing Weight Scale & Culler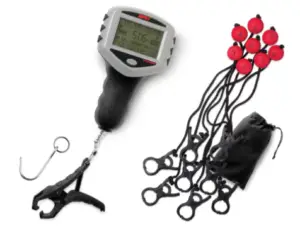 Fishing Weight Scale – Whether you're going to keep your catch or just take a photo of it and brag to your friends it's important to have an accurate scale. The Rapala Tournament Model Touch Screen Scale makes weighing and logging your catch easier and more convenient. The large digital scale has a lot of functions and is easy to use. simply keep track of your current catch and its place in your overall weight. To see the weight, just suspend the catch from the heavy-duty composite clamp or the accompanying stainless steel hook.  Adding the important details to your catch couldn't be easier – simply input your catch's weight and tap on one of the eight storage places. The culling process makes it simple to identify fish that should be released for the greatest overall weight.
I recommend a Rapala Tournament Scale that has a large LED display like this one fishing scale here.