These often used, rarely talked about blade jigs is a lure the Pros trust… and now… you can learn and use immediately… no matter how new or clumsy you are!
Over the last 10 years, we've tested over dozens of the best blade jigs. This review features 6 of the market's top baits. These lures go head-to-head and were put through real-world tests in all types of weather and water conditions. I've identified what I feel are the pros and cons of each model, what applications they are best suited for, uncover the fishing experience and select the best overall. 
In addition to fishing with each under bright and sunny days, heavy rain storms, and even snow I talk about their performance. I even talk about their price point and where it stacks up with the rest. 
I offer you unbiased and helpful recommendations to help you get the best possible lure for your needs and budget.
While fishing with a blade jigs may be the answer to your needs, sometimes you'll need to switch to other lures. With this in mind, my team and I published a quick-read review of 5 Best Bass Baits Every Angler Must Own, or you can opt to read the complete report, Bass Fishing Lures: A Complete Guide. Over the past several years my team and I also tested and reviewed a variety of products, including best bass fishing rod, best bass fishing line, best tackle bag and even best fish finder for bank fishermen!
A bladed jig is one of the best sprig and stained water bass lures that any serious bass angler must have ready to fish at a moment's notice.
A bladed jig is a metal blade attached to the hook. It causes the jig to wiggle back and forth as it is retrieved. 
This movement looks like a real bait fish and is very attractive to nearby bass.
Blade jigs are commonly also commonly referred to as vibration jigs or by the industry first, a Chatterbaits.
But… just because it looks like a blade jig doesn't mean it's great for fishing— a good blade jig has to have a blade that creates a thumping retrieve at the slightest turn of the reel, come in a variety of colors, the hooks have to be surgical-quality sharp, and finally the lure components have to be top quality to avoid breaking off when a giant fish crushes the lure, and to prevent rusting in order to give you years of use.
I've come to the conclusion, you would be wasting your time if the lure you're fishing it doesn't have these features.  Best of all, blade jig are really easy to learn and fish. 
Stop! Did you notice something? I didn't say good blade jigs have to be expensive. There are some really quality lures that don't cost you an arm and a leg!
So listen… if you don't have much time to read the details we totally understand.  Simply use the links below to quickly find the best blade jig for your fishing needs. You can be assured we only choose the best products for you…
Best Overall Bladed Jig – Z-Man/Ever Green Jack Hammer ChatterBait
Best Budget Bladed Jig – Original Chatterbait
Editor's Choice – Chatterbait Elite
But be warned! Go through this blueprint slowly and carefully so you don't miss any suggestions that could cost you.
Best Overall
Best Budget
Editor's Choice
Honorable Mention
Product
Z-Man Jack Hammer ChatterBait
Berkley Slobberknocker Bladed Jig
Best Overall
Product
Z-Man Jack Hammer ChatterBait
Best Budget
Editor's Choice
Honorable Mention
Product
Berkley Slobberknocker Bladed Jig
#ad / Images from Amazon Product Advertising API
1. Z-Man/Ever Green Jack Hammer ChatterBait
WINNER! Best All-Around Bladed Jig!
When it comes to bladed jigs, you can't go wrong with a bait that's designed by top professional anglers Brett Hite and Morizo Shimizu.  Together, they worked with legendary lure makers Z-Man and Evergreen International to come up with one of the best bladed jig on the market.
The Z-Man Chatterbait Jack Hammer vibrates back and forth quickly to replicate a frantic baitfish as soon as you start your retrieve.
Construction
Its signature blade and head design deflects easily off of cover making it possible to be skipped into tight places like under docks and tree limbs.
The Jack Hammer features premium paint and 3D eyes for the most realistic presentation. Additionally it's armed with a Gamakatsu 5/0 hook and a dual wire trailer keeper.
As the blade makes it's flashy presentation, it also knocks against the specially designed grooved jig head making a knock-knock noise off of Z-Man's patented "Chatterblade" setup.
Pricing
Admittedly this bait is the highest priced lure on the list, however overall it's easily affordable compared to some other lures such as large swimbaits in the market. 
Summary
Before purchasing a Zman Jackhammer, I debated the purchase for a very long time. I'm very glad I did! This lure is an effective bass-catching tool!
In the spring and in back dingy water is where I caught the most fish, and I can say it catches multiple 5 pound fish on the regular.
Since I buying a handful, I haven't noticed any dulling of the hooks and hadn't needed to sharpen the Gamakatsu hooks since they're wicked sharp.
The skirts are holding up well and seem to be of good quality. I did add on a wire wrap for each of the baits and cut out the rubber collar. 
Overall, it seems incredibly sturdy and long-lasting. Hold on to your rod if you want a bass catching lure like this one—a it's great product!
Recommended Colors: Green Pumpkin Shad, Hite's Hot Craw, Brett's Bluegill, Clearwater Shad
"Excellent bait for for South GA! Tried several different trailers with success. Fished over grass." – Bell72 via Bass Pro Shops
"The BEST bladed jig on the market! I've been fishing bladed jigs for years now and have always favored the ZMan products as they seem to be designed a little better and have overall greater durability. When the Jackhammer came on the market, the price initially turned me off. Then I bought one and tried it. You simply CANNOT find a better bladed jig. This one has the perfect action to attract and catch fish. Don't take my word for it – just try ONE and you'll see. You'll be as hooked on them as the fish you catch, guaranteed!" – LIVE 2 FISH via Bass Pro Shops
"Z man jackhammer… The absolute best chatter bait on the market!! Bass destroy this thing at all times of the year." – Anonymous via Bass Pro Shops
This lure flat out catches you fish!
The Original Chatterbait is loved by many anglers who have caught lunkers with it more than once. It is easy to fish and won't get caught in the weeds or high grass.
This bait doesn't have any hooks on the underside, so there is nothing to get snagged on as it is jerked out of the weeds. This can save you a lot of time because you don't need to deal with snags and tangles.
It is very durable and many anglers have used the same Chatterbaits for years. You can bang them against rocks and laydowns without causing any harm to the bait.
Construction
The Original Chatterbait is a swim bait with a skirt. It also has a blade that bumps against the jig's head, resulting in the clicking of this bait. Its trademark hex-shaped blades have flash and vibration and they attract bass anywhere near the bait. 
This bait combines the vibration of a spinnerbait, and the flash and water displacement of a crankbait.
Fishing Experience
A lot of anglers love fishing the Original Chatterbait because of its features, but mostly because it hooks into bass after bass. The Original Chatterbait is easy to fish, and there is really no wrong way to fish it. 
Murky and muddy water are both great for this bait because the noise of the water moving and vibration lets the bass know where it is. It often gets reaction strikes once they find your bait.
Price
The Original Chatterbait falls within the low-priced category for bladed jigs. Considering their durability, this price is a bargain.
Summary
The Original Chatterbait was designed to mimic an injured prey fish and this, along with its flash and vibration, can't be resisted or ignored by bass. This bait changed the way that a lot of anglers previously fished with a spinnerbait, crankbait, or jigs.
Many types of trailers are made for the Original Chatterbait, and these make this bait even more attractive to the fish.
Here are some REAL reviews from actual customers:
"This lure has been around for years and for a good reason. It works year-round in clear, stained, or muddy water. You can swim it at 8 inches down to as far as it drops. Mostly all that is needed is a steady retrieve – the bass will determine the speed they want. I have no problem crashing them into grass, cover, and structure as it doesn't easily snag. Using a Chatterbait is like throwing half of your tackle box at the water with one cast."  – GumboDrums: 2006 Via Bass Pro Shops
"Good lure!" – Eric: June 27, 2017 Via Amazon.com
"Awesome!" – TamaTonga: December 8, 2018
The Chatterbait Elite is an upgraded version of the Original Chatterbait. It has a few changes that make it more productive in hooking into bass.
Some of these are a hand-tied skirt with a lower profile, a trailer keeper, and a thicker blade. The Elite's also have painted heads that coordinate with the skirt colors to get the attention of bass.
Construction
The Chatterbait Elite was designed to be more durable and stronger with a sharp Gamakatsu hook and a stronger connection of the head to the blade. The blade is thicker on the Elite than on the Original Chatterbait.
It also features a molded-in trailer keeper to keep soft plastic trailers from sliding, and the skirt is made of silicone with a copper wire hand-tied material.  
The thicker blade puts out more vibration, extremely similar to the Jack Hammer!
Fishing Experience
The Elite is versatile and can be fished in shallow, medium-column, or deep water over 10 feet deep. This is one of those go-to baits that you know will works, so you will probably want to fish it often. 
You can match the colors of the Chatterbait Elite to the environment in the fall, and experienced anglers use blue/black in murky or muddy water. Bright colors are often used in clear water.
Price
The Chatterbait Elite falls within the mid-range of prices for jigs. Many anglers love it and think it's worth every penny.
Summary
The Chatterbait Elite has the features of the Original Chatterbait but it has been improved by Z-Man. This version has a premium hook, a hand-tied skirt tied with copper, and a trailer keeper.
Other improvements in the Elite are a stronger head-to-blade connection and a thicker blade. There are many choices of colors for all environmental conditions in the Chatterbait Elite.
Here are some REAL reviews from actual customers:
"First time using these Chatterbait Elites. Great vibration! Didn't have faith in the lure but it has definitely made me a believer! I need one in every color. The best I have ever used!" – Amazon Customer: June 25, 2021 Via Amazon.com
"Great product! I have them in several different colors. Never had any problems with the hook bending on fish or with a hard hook set."  – Jeff: December 12, 2019 Via Amazon.com
"A better, improved Chatterbait! Just like the original but more durable and a better-quality skirt. Great for muddy water and will catch all sorts of fish depending on color and application. Good stuff!" – BigMouthNW97: 2004 Via Bass Pro Shops
4. Berkley Powerbait Slobberknocker Bladed Jigs
The Berkley Powerbait Slobberknocker Bladed Jig is Berkley's new addition to its bladed jigs which was released in 2022. It has several improvements that Berkley hopes will lead anglers to more hook ins.
A scented silicone skirt is the biggest change to jigs. Scent has been available, but not in skirted jigs until now.
Construction
The Berkley Powerbait Slobberknocker Bladed Jig has a Powerblade infused skirt with flavoring fish love. Research shows that they hold onto the bait 18 times longer with this flavoring. 
It also has a head-to-blade connection to avoid blade breakage and a weed guard that prevents snags. Berkley's Powerbait Slobberknocker Bladed Jig also has a premium paint job that prevents chipping even when the bait is knocked against structure and cover.
Fishing Experience
You will appreciate the way that the Slobberknocker displaces lots of water and has a great vibration. This bait can be fished fast or slow in shallow or deep water, so you will want to use it in various water depths.
Bass hear a hard knocking sound and will investigate it. 
Price
Berkley's new Powerbait Slobberknocker Bladed Jig is more expensive than some bladed jigs and falls within the upper priced bladed jigs.
Summary
The Powerbait Slobberknocker Bladed Jig is unique in its design. It has a scented skirt and a very durable paint job.
This bait also has a weed guard that makes it easy to fish because it won't get snagged on tall grass or weeds. Its trailer keeper holds your craw or bug on securely so it doesn't slip off.
The improvements in the Berkley Powerbait Slobberknocker Bladed Jig make it an improved way to fish bass and other fish.
"I got these cause of the quality they were made. Looks like they will be a great asset to arsenal jog bladed baits" – iamski  via purefishing.com
"Superior Bladed Jig. These helped me to a 15th place finish in the BFL super tournament on the Potomac on the co angler side. Boosted me to 20 overall in the points earning a spot in the Regional Championship for the Shenandoah Division." – Curtis V  via Cabalas.com
"Slobberknocker. Excellent bait great quality and with the scent infused in the skirt makes the fish hold on longer" – burgey via purefishing.com
5. Strike King Thunder Cricket
The Strike King Thunder Cricket is a powerful bladed jig that hooks into bass. It is available in 4 sizes and in many different colors. It has a thinner diameter hook for less drag and so the bait can swim horizontally.
Anglers who have fished the Thunder Cricket say that its hook is easier to set. It is an Owner Hook made from high-carbon steel that is stronger than others.
Construction
The Thunder Cricket has a molded and wire hook bait keeper and a painted eye that coordinates with various silicone skirts. Skirts can be changed in a few minutes to create your own customized look.
This bait has lots of vibration and the blade begins to vibrate as soon as you start to retrieve it. The blade shape is made of stainless steel and is smaller and rounder than a Chatterbait. 
A narrow profile and flat head make the Thunder Cricket even more special.
Fishing Experience
This bait gives you a lot of confidence because other anglers who have used it have caught bass after bass with it. The bait's flipping hook with Zo-Wire construction is stronger than most, and you can set your hook easily with the Thunder Cricket. 
You can be assured of putting that fish in your boat because hooks won't rust or become dull to allow your catch to escape.
Price
The Strike King Thunder Cricket falls at the low-end of the most expensive baits in its category. 
Summary
Strike King has had success with their Thunder Cricket for several reasons. Their vibrating jig has a screw lock bait keeper and a hinged line tie that make them easier to use and more efficient.
The most important feature of the Thunder Cricket is the Owner Hook that's made of Zo-Wire and is stronger than traditional steel wire.
Here are some REAL reviews from actual customers:
"I love the Thunder Cricket! The thing that makes it stand out from competitors is how the blade is attached to the jig head. The water displacement and movement are great and will make an incredible addition to anyone's tackle arsenal."  — Brian Harris: January 31, 2021 Via Amazon.com
"Worth the money! Bought this about a month ago to replace a Thunder Cricket lost to a pike. Even though it's on the high price end, I think it's worth the money! Strong hook and blade run great. It's like a kid at Christmas opening a box from Bass Pro!" – Bonte: 2021 Via Bass Pro Shops.com
"I used it with a Keitech swimming tail. Bass tore it up! I also caught a flathead catfish of all things. Like this and the white/chartreuse color!" – Rodger H. Easley: August 11, 2021 Via Amazon.com
This lure flat out catches you fish!
6. Bass Pro Shops Enticer Shudderlicious Swim Jig
The Bass Pro Shops Enticer Shudderlicious Swim Jig was designed to hook up more bass and other fish. It has great swimming ability when you retrieve it thanks to the jointed connection between the jig head and hook.
It also has a pivoting EWG hook and premium silicone skirt. 
Construction
This Bass Pro Swim Jig is made in two sizes of 3/8-ounce and 1/2-ounce weights. It has an EWG hook that can easily be changed by simply removing the skirt. 
Fishing Experience
You'll be amazed at how the Enticer Shudderlicious Swim Jig swims when it hits the water and when you retrieve it. It makes a wide swing each time you wind it in, attracting bass in the area.
Price
The price is reasonable and is at the bottom of the mid-range jigs.
Summary
Many anglers love the Bass Pro Enticer Shudderlicious Swim Bait because of its action in the water and because it catches fish. Some anglers upgrade the hook, but the Shudderlicious will work as it is from the package.
Here is a REAL review from an actual customer:
"This Chatterbait is really good! I love the EWG hook! You can make it completely weedless by Texas rigging the hook. Change the hook to a small one or to a different brand if needed. I love the way it starts shuddering quickly and shudders on a slow retrieve. The swinging hook lets your swimbait wobble and move much better than a fixed hook." – AppleJack221: 2021 Via Pro Bass Shops
Accessories You'll Need
Fishing Rod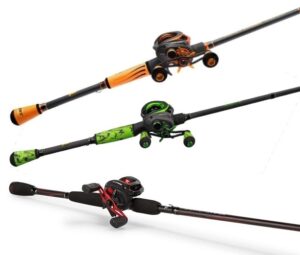 Rod –The popularity of fishing is growing and people are becoming much more conscious of different rods that can help them.
Fishermen want the best technique-specific rod for the money.
Luckily, the report I wrote provides you with detailed information in order for you to make buy the rod for the money, and more importantly which rods to avoid at all costs.
Fishing Reel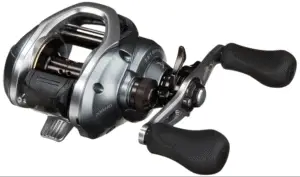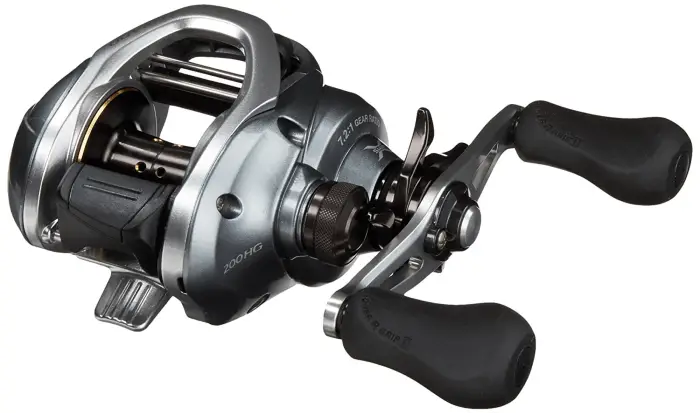 Reel – Having the correct reel to match with your rod is just as important.  A good reel should be light and have a buttery smooth drag. There are several great reels on the market, but I recommend the a quality Shimano  baitcasting reel. It's a great reel packed with great features. So much so that it could easily be priced in the mid $200 range.
Fishing Line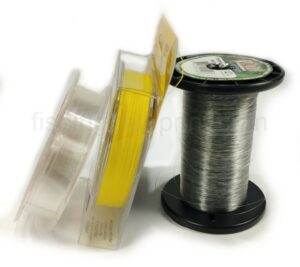 Fishing Line – Having a good line is just as important as having a good rod. I recommend fishing with a good fluorocarbon line. Furthermore, it's super sensitive because it has little to no stretch, and underwater it's invisible to the bass!  If pride or money is on the line I would use Sunline Sniper FC.
Fishing Lures & Baits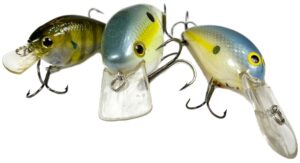 Fishing Lures – It's pretty hard and darn near impossible trying to catch a fish without using some sort of lure or bait.  More importantly these baits you should never forget at home or it could lead to a horrible day on the water
Fish Finder
Finding lunker bass has never been easier when using a fish finding sonar unit.  Packed with additional features to make your day on the water even easier.  Maps that can plan your day or help you find your way back even in the darkest of nights. Bright bold numbers and letters to make reading the maps easy even in the brightest of days, and colors that pop and make it quick and easy to identify fish. 
If you have a boat, kayak, canoe, or float tube, you need a fish finder. 
Here's our choice for the best fish finder between $299-$800:
Humminbird HELIX 7 CHIRP MEGA SI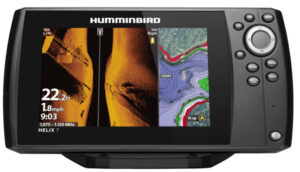 It has all the features for any serious fisherman whether you're an avid weekend warrior, or a tournament angler. This has all the bells and whistles you're looking for. 
>> Click HERE to Read The Reviews About Humminbird HELIX 7 CHIRP MEGA SI now
Here's our choice for the best economic fish finder:
Garmin Stryker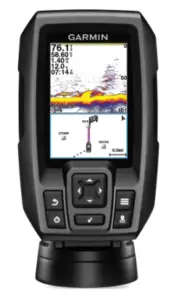 While others look for bites, your fishfinder and GPS plotter help you reach your daily limit. You can mark preferred docks, ramps, and hotspots to easily return to them later and even share waypoints.
Click HERE to Read The Reviews About Garmin Stryker now!
Life Vest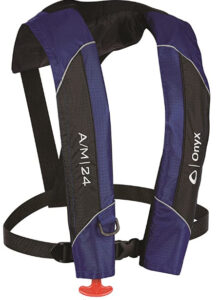 According to Statista, "In the United States, 658 people died as a result of boating accidents and 2,641 people were injured in 2021."
And it gets even worse… The National Safe Boating Council reported, "Where cause of death was known, 81% of fatal boating accident victims drowned."
And if that's not enough the incidence of deaths has climbed dramatically in recent years.
So if you're on the water you NEED to wear your life vest. Protect you, your friends, and your families lives by wearing a life vest every time you're on the water.
I recommend the ONYX PFD. It's comfortable for all day use and there is lots of room for the air to move around so you won't get sweaty.
>>Click HERE to read all the reviews actual customers!
Sunglasses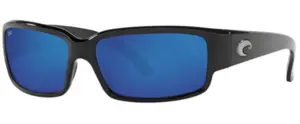 Sunglasses – Do you find yourself fishing in variable light and water conditions? Fishing in open water? Fishing in the bright hot sun? Then, only to leave the lake with eye strain and a splitting headache?
If so, I strongly recommend investing in a pair of Costa Sun Glasses. Thousands of anglers, charter guides, and tournament professionals put their trust into Costa, and so should you. Here's why…
Costa's co-injected bio-based nylon frame material is robust and durable, as well as extremely comfortable to wear for all-day use. TR-90 nylon is an excellent material for sports and performance frames since it is heat and cold-resistant.
Costa builds their glasses with class-leading technology. Their 580G glass lens sets them apart from the competition. These lenses are ideal for long days on the lake or sea since you won't have to worry about scratches on the lens when you wipe the saltwater off. Needless to say they're Costa's most durable lenses.
Anyone who spends time outside, especially on the lake, needs polarized lenses. However, not all polarized sunglasses are the same. Costa is 99.9% polarized, giving it the most effective possible in blocking reflecting glare, and minimizing eye strain and headaches.
Drift Sock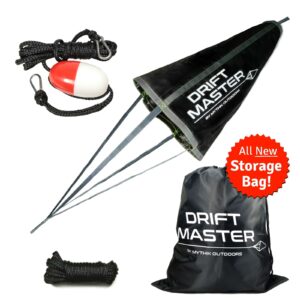 Simply speaking, a drift sock (also known as a drift anchor) is like a parachute for the water. It gives you the ability to silently troll without spooking the fish!
Anyone who fishes out of a boat, canoe, kayak, stand up paddle board, or any other type of floating vessel  should have a drift sock ready to use.
In addition to helping you catch more fish, recreational boaters also like to have 1-2 drift socks handy, just in case their motor goes out on them the drift sock will help slow their drift. This could be instrumental to allow rescuers to find that boat quickly and easily.
I strongly recommend the Drift Master Drift Sock by Mythik Outdoors.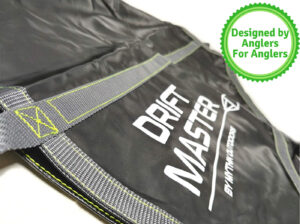 The construction is solid. Holding this in your hands gives you the peace of mind this feels durable and dependable.
I love that it's made from the gorilla-strong "RipStop" high density material, and I like that it's even paired with the high-density nylon strapping.
It's 30% stronger than other competitors who use a cheaper version of the RipStop material, so you never have to worry about his ripping.
Looking closely I can see they even triple stitched the high-tension points which is a good feature.
But best part… the Drift Master comes in a complete kit!
So get yours today and don't leave yourself adrift.
The last thing to note is the Mythik Outdoors Drift Master drift sock kits sell out fast, so make sure you get yours before they're gone!
Landing Net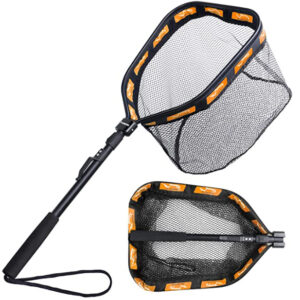 Landing Net – As you are reeling in that monster fish, you don't want to injure yourself or knock the fish off the hook by trying to grab it.
The PLUSINNO floating landing net is designed with foam padding on the hoop and provides buoyancy for fishermen. Now, If the net is dropped or blown overboard, the floating design makes it simple to retrieve – so you won't have to be concerned about losing it! The rubberized net cannot be snagged. It keeps the fish safe for catch-and-release, and the non-absorbent covering avoids waterlogging and odor absorption in the net.  It's collapsing design allows for easy storage.
That's why I recommend a dependable telescopic landing net.
Fishing Weight Scale & Culler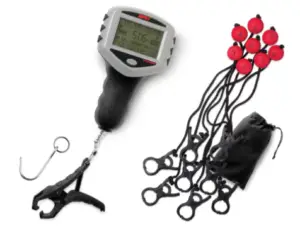 Fishing Weight Scale – Whether you're going to keep your catch or just take a photo of it and brag to your friends it's important to have an accurate scale. The Rapala Tournament Model Touch Screen Scale makes weighing and logging your catch easier and more convenient. The large digital scale has a lot of functions and is easy to use. simply keep track of your current catch and its place in your overall weight. To see the weight, just suspend the catch from the heavy-duty composite clamp or the accompanying stainless steel hook.  Adding the important details to your catch couldn't be easier – simply input your catch's weight and tap on one of the eight storage places. The culling process makes it simple to identify fish that should be released for the greatest overall weight.
I recommend a Rapala Tournament Scale that has a large LED display like this one fishing scale here.