How To Fish Whiskeytown Lake | Your Whiskeytown Lake Fishing Report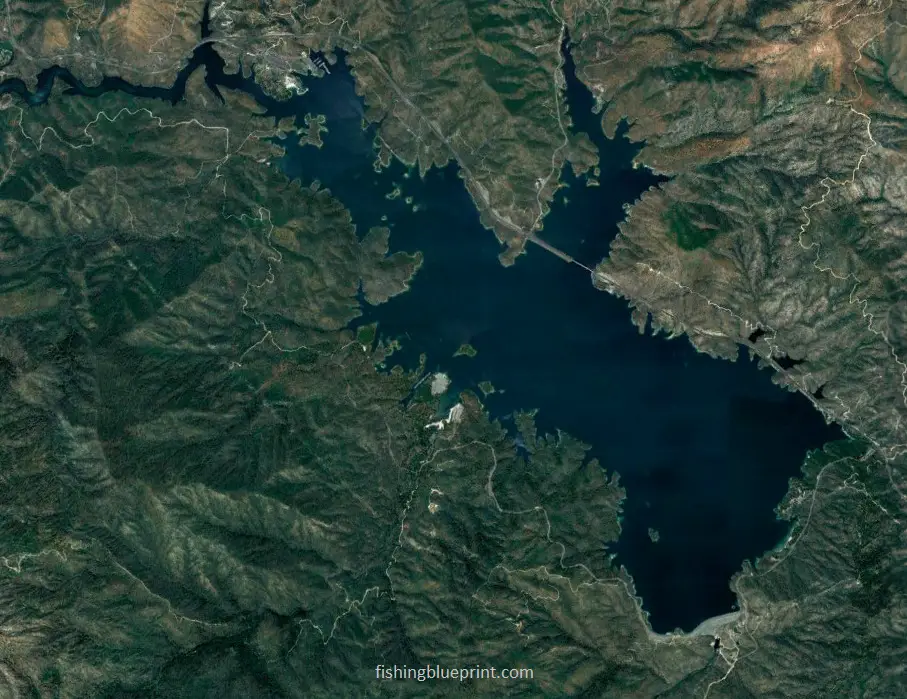 Whiskeytown Lake is a small reservoir in California that just 9.5 mils from Redding, 266 miles away from San Francisco, or 555 miles away from Los Angeles. 
Overall it's a relatively quiet lake for its size and is known as the "locals lake" in California. During the summer it can get pretty popular on the weekends. Although it's closer to Redding, it's not as busy as some of the other lakes in this area, such as Trinity Lake or Shasta Lake. In this post you're going to be given the blueprint to fish this lake.
So what are the best tips for fishing Whiskeytown Lake?  There are three important factors you must know  if you want to know how to fish Whiskeytown Lake successfully. First, you need to know what kind of fish is in Whiskeytown Lake. Second, it's important for you to know which part of the lake each species can be found. Lastly, knowing what are the best baits that work on Whiskeytown Lake is vital.  However, tactics, baits, and locations will be different for each type of fish that you target. So let's talk about the steps you need to take in order to give you the best chance of catching a fish on Trinity Lake.
This lake gives locals and visitors the opportunity to test their luck in catching one of the many game species this lake has to offer, such as trout, salmon, bass, catfish, bluegill, and much, much more!
Here's the most recent and updated Whiskeytown Lake Fishing Report – it gives you a quick and easy list of some really good fishing spots. If you're looking for more detail on how to fish each spot scroll down into the article. 
Whiskeytown Dam
Whiskeytown Bridge
Midlake Ridges
The Bluffs
Oak Bottom
Here are some additional fast and helpful tips just for you: 
The easiest way to fish this lake is by boat, but there are areas to fish from the bank, or by kayak or float tube.
There are public boat ramps to use.
Camping and RV parking is available.
You can buy tackle and groceries at the lake or at one of the tackle shops in Redding.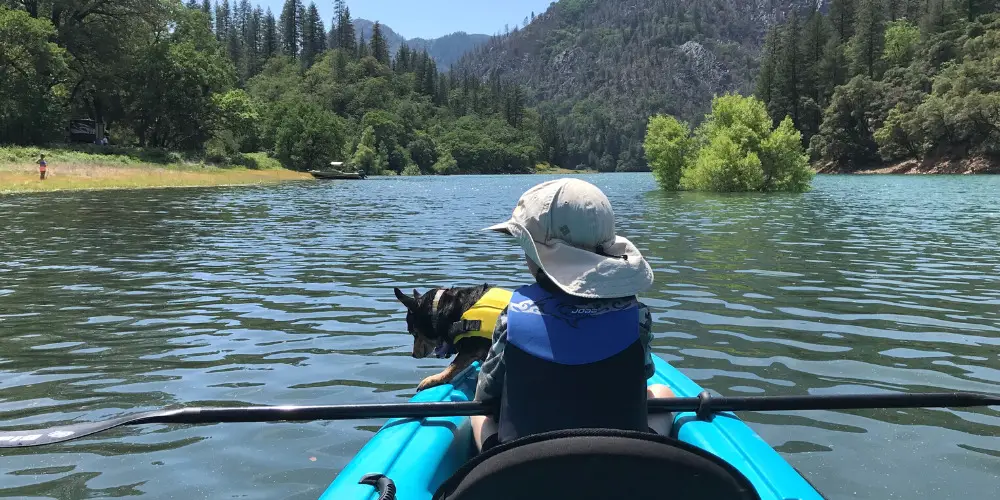 Whiskeytown Lake's main function is a part of California's Central Valley Project, which supplies water for agriculture and generates hydroelectric power in the Central Valley.
Whiskeytown Lake is a deep body of water with the average depth being 120 feet and a maximum depth of 240 feet when the lake is completely full.
Fishing Whiskeytown Lake can be incredible when you have over over 3,400 acres to fish.
The lake offers a variety of recreational opportunities, including camping, swimming, boating, water skiing, and fishing. Personal watercraft (such as jet skis) are not permitted in the lake, though.
Due to excessive mercury levels, the California Office of Environmental Health Hazard Assessment has issued a safe eating advisory for any fish taken in Whiskeytown Lake.
Algae blooms may be present which may affect fishing, swimming, and water contact in general. 
According to parks.ca.gov, "every one of California's new laws requires boat operators to have a California Boating Card. The card is required for anyone under the age of 41 to operate a boat in California's waters."
If you are fishing and camping, fire bans may be in effect due to the ongoing drought conditions.
What Kind Of Fish Are In Whiskeytown Lake
Largemouth Bass
Smallmouth Bass
Rainbow Trout
Brown Trout
Kokanee (landlocked Sockeye Salmon)
Chinook Salmon (aka King Salmon)
White Catfish
Bullhead Catfish
Sunfish
Whiskeytown Lake Fishing Tips & General Strategies
Located in the heart of northern California, Whiskeytown Lake is well-known for its outstanding bass bite. This body of water is home to a healthy population of largemouth bass, smallmouth bass, and even the elusive spotted bass.
It can be a challenge to break down this body of water… So that's why I created this Whiskeytown Lake Fishing Report to help you to easily start catching fish fast! 
The lake can be broken down into several sections:
The main lower lake

Clear Creek Arm

Whiskey Creek Arm.
There are smaller coves and creeks that are featured on this lake, however the majority of fishing will be in one of those general locations. 
Water Clarity: 
Whiskeytown Lake boasts a gin-clear water clarity, giving anglers the upper hand in sight fishing. This crystal-clear water allows you to spot your quarry with ease, which means you'll need to be stealthy and use your best finesse techniques to lure those bass in.  
At around 50 to 100 feet, the thermocline forms in the summer, and turn over happens late in the fall.
Structures and Fishing Cover: 
Whiskeytown Lake offers a variety of fishing structures and cover to satisfy even the most experienced anglers. Some of the key features include:
Rocky Points:

With plenty of rocky points scattered around the lake, you'll have a ton of choices to target those aggressive smallmouths. Be ready to

rip some lips

with crankbaits or jigs.

Submerged Timber:

The submerged timber in this lake makes the perfect hideout for largemouth bass. Grab your favorite flipping stick and

pitch

your jigs or Texas rigged creature baits to entice those lunkers out of their lairs.

Weed Beds:

This lake have a ton of weed beds and offers prime cover for spotted and largemouth bass. Work your way through the greenery with spinnerbaits or topwater frogs, and you'll be

hooking hawgs

in no time.

Creek Channels:

You and I got to know that bass love creek channels. Use your electronics to locate schools of baitfish, and you'll find bass lurking nearby, ready to

chow down

on nearly any lure you toss at them.

Deep Water: Cold water fish love to suspend over deep cold water, and this lake cirtainly has it. 
Cold water fishing
Whiskeytown Lake is quickly being known to be one of the best kokanee salmon fisheries in the state.
You can also catch giant King (Chinook) Salmon by testing your luck by finding these beautiful fish suspended over deep water primarily by the dam. Luckily they also share the same water as the kokanee, so who knows what species you'll catch! 
Many Anglers say the best time to fish for king salmon is in the middle to late spring.
There is a common saying on this lake that if you want to catch a King salmon then you need to find the thermocline first, then the bait – the salmon will be close by.
Big rainbow trout also inhabit Whiskeytown Lake. They can be found near the dam and over deep water in the multiple river arms of Whiskeytown Lake.
There are also brown trout in this Lake as well. Unfortunately they are very hard to catch even for  experienced fishermen.
When the water cools especially during the fall and winter brown trout are the easiest to be caught. You can also catch them in the early to mid fall when they run up the rivers to spawn. 
These trout also suspend around the thermocline, so it's not uncommon to catch both species of fish the same day while fishing the same location.
Springtime Fishing update
Hey there, fellow anglers! Here's the scoop on Whiskeytown Lake this spring. You're gonna want to grab your gear and hit the water once you read this report.
Water Temperature:
Low 60's, heating up as the season progresses
Water Clarity:
Clear, with 4+ foot visibility
Stained (2-4 foot visibility) in some areas
Wind and Weather Conditions:
Expect calm mornings, with wind picking up in the afternoon
Weather warming up, ideal for active fish
Species Report:
Rainbow Trout & Brook Trout:
Head out to the powerhouse, just to the left of Carr Powerhouse
Find a big school of rainbows and brookies waiting to be caught
Light rod and 4 lb. test line recommended
Cast into the school and let it sink, jigging it up a few times before reeling in
Work the bait close to the bottom, as that's where the fish are hiding
Keep an eye out for bird activity, as they often indicate a feeding frenzy below the surface
Hot baits: Any color power bait (use a tiny split shot right on the treble hook), white rooster tail spinner, small spoons, or micro jigs
Largemouth Bass:
Shoreline fishing can be challenging, but rewarding
Fish the tules at the north end in a paddleboat or float tube for better access
Focus on submerged structures, weed beds, and drop-offs for the best results
Early morning and late afternoon are prime time for topwater action
Slow rolling a spinnerbait or swimbait around cover can also produce solid bites
Hot baits: 5″ red lizard, smoke w/black and blue lake grub, 1/8 oz. chartreuse buzzbait, homemade 7″ rainbow trout lure, jigs, swimbaits, and frogs
Spotted Bass:
Whisky-creek area for consistent action
Red muddy points become hotspots as the water warms
Look for spots with a mix of rock and vegetation, as they hold more baitfish
Don't be afraid to switch up your retrieval speed to find the most effective pattern
Hot baits: Jig in trees, T.D. minnow in coves with laydowns, floating worm, Pointer minnow, drop shot rigs, and shaky head jigs
Smallmouth Bass:
East of the Whiskey Creek Bridge at 299W, along the bank
Fish surface lures slowly in the early morning for explosive strikes
Target rocky banks and points, as they provide ideal habitat for smallies
As the day heats up, move to deeper water and work your baits slowly along the bottom
Hot baits: 3″ Rapala, 4″ Oxblood/Blue Magic Worm (Texas-rigged) fished at 20 feet, tube baits, ned rigs, and jerkbaits
So there you have it, fellas. Whiskeytown Lake is heating up this spring, and you don't want to miss out. Pack your gear, grab your favorite lures, and hit the water! Tight lines, and good luck!
Lake Oroville – Summer Fishing update
Hey there, fellow anglers! It's time to get stoked about summer fishing at Whiskeytown Lake here in California. I've been chatting with some buddies who've been out there recently, and they've shared some pretty rad intel. So, here's the lowdown on what's been working for them this season.
Water Temperature: 
Expect it to be around 70-ish degrees – perfect for the fish to be active and feeding.
Water Clarity: 
You'll be fishing in clear water with 4+ foot visibility. So, stealth mode is key here, dudes.
Wind and Weather Conditions: 
Be prepared for those typical summer conditions – a mix of calm and breezy days. Remember, early morning and evening are prime time for topwater action.
Species & Techniques:
Trout & Kokanee:
Trolling is the way to go when the weather is hot. Guys have been going Koke-a-nuts for Kokanee and trout behind a sling blade dodger and a blue and chrome Cripplures, Kastmaster (gold for overcast days, and silver for sunny days), or an inline spinner.  Guys have been slaying trout first thing in the morning by keeping their lures close to the surface and troll at a steady pace.

Key spots include in front of Whiskeytown Dam, Whiskeytown Bridge, Oak Bottom Marina, and around the powerhouse area. Keep an eye on where the 299 curves towards the powerhouse, and make sure to explore both shallow and deeper water.
Bass (Smallmouth & Largemouth):
Topwater action is on fire early in the morning before the sun comes up. Heddon Spooks and Lucky Craft Sammies have been the ticket. Focus on areas from the Whiskey Creek bridge and to the east.

Small plastics like 4-inch Senkos, Yamamoto grubs, and drop shot worms in green weenie and ox blood colors are solid choices. Drag 'em Texas-rigged or use a drop shot setup. You can also try weightless 6" worms in green ghost and pink/green laminate colors. Purple grubs can also work wonders in tempting those elusive, easily spooked fish.  Be patient and let the bait sit on the bottom for a minute before moving it.

Cranking flat sided crankbaits in the mornings and right after sundown have been producing 2-3 pound smallmouths, and sometimes even bigger ones if you're lucky. Focus on grass banks, steep banks, and main lake points south of Whiskey Creek. 

The first pond off Highway 299 heading west can be another good spot, especially for smallmouth bass.
Bluegill:
Hit the salad-filled coves for some fun-sized action. You'll find plenty of these feisty fighters eager to strike. Throw small jigs or live bait like worms and crickets to entice them.

Focus on areas where the water is only a foot below the surface, especially in and around the small coves. You'll have a blast catching both large and small bluegill, with some reaching up to 3/4 of a pound.

When the action slows down for bass, switching to bluegill can keep the fun going.
But Where Are The Best Places To Fish At Whiskeytown Lake?
And in no particular order here is that list of the best fishing spots at Whiskeytown Lake.
DISCLAIMER:  The material provided is for general information purposes only. It's important to understand that any information provided in this article can change at any time. Any maps or graphics featured are not to be used as navigational aids. Fishing Blueprint will not be responsible for any personal injury or property damage from any misuse of the maps or graphics provided.   It's completely impossible to give you every single spot where you can potentially catch a fish.  But, what this list does do is to give you a helping hand and narrow down to the most productive fishing spots.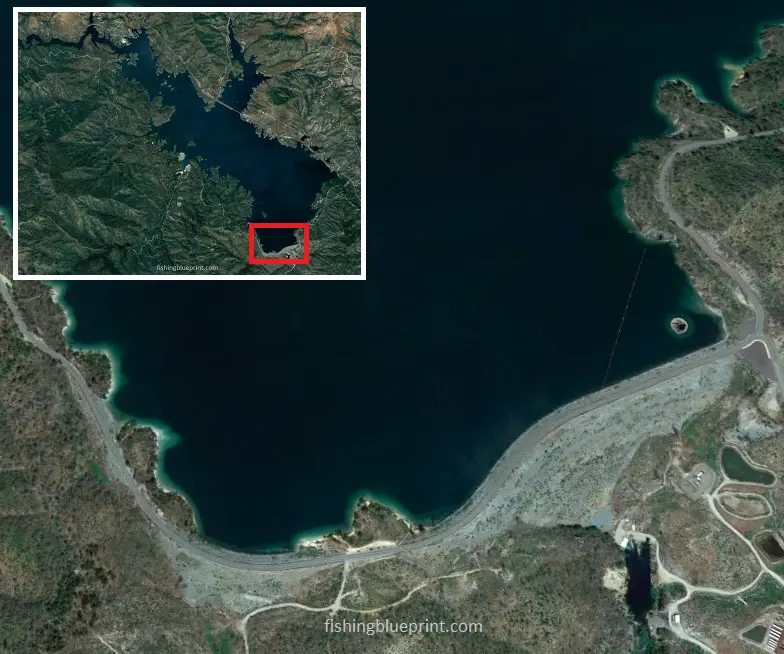 Fishing just outside the buoy line of Whiskeytown Dam can catch you an abundance of salmon, lake trout, rainbow trout, and even some brown trout.
This section of the lake can get very windy. And even with the best trolling motor the wind can quickly blow you off your spot which will significantly decrease your chances of catching a fish..
That is why we strongly suggest buying a quality drift sock. For those who don't know, a drift sock is like a parachute for the water. If it's breezy to windy, you need to slow your drift otherwise your lure will not be in the strike zone long enough to catch a fish.
By the way, we found a really good quality drift sock made by Mythik Outdoors, and best of all they're sold on Amazon.com. Go here to learn more about drift socks and read the reviews from actual customers.  
Look carefully at this spot using a topographic map…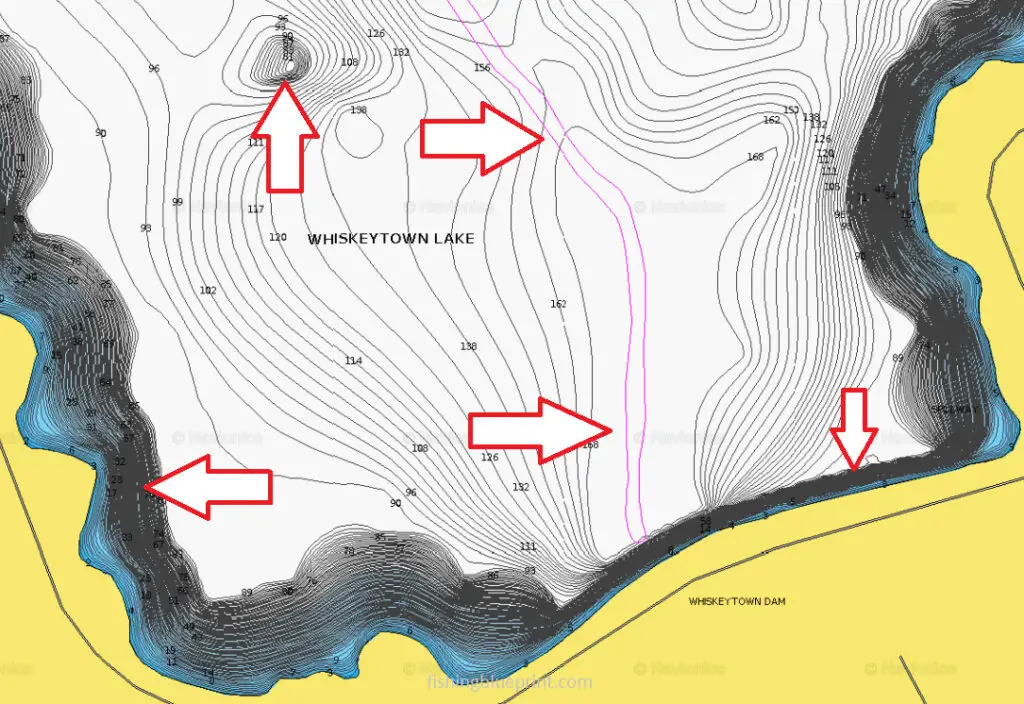 The above picture will show you some of the structure the fish love to hold around; points, steep walls, and shelves with steep ledges.
Oh, before I forget, did you know that there is an article about how to troll for salmon, trout, and kokanee the right way? Go here to find out more. 
Located: south end of lake
Structural features: deep open water, ledges, and drop offs 
Best species to target: King salmon, lake trout, kokanee salmon, rainbow trout
Most effective way to fish this spot: Boat, kayak, float tube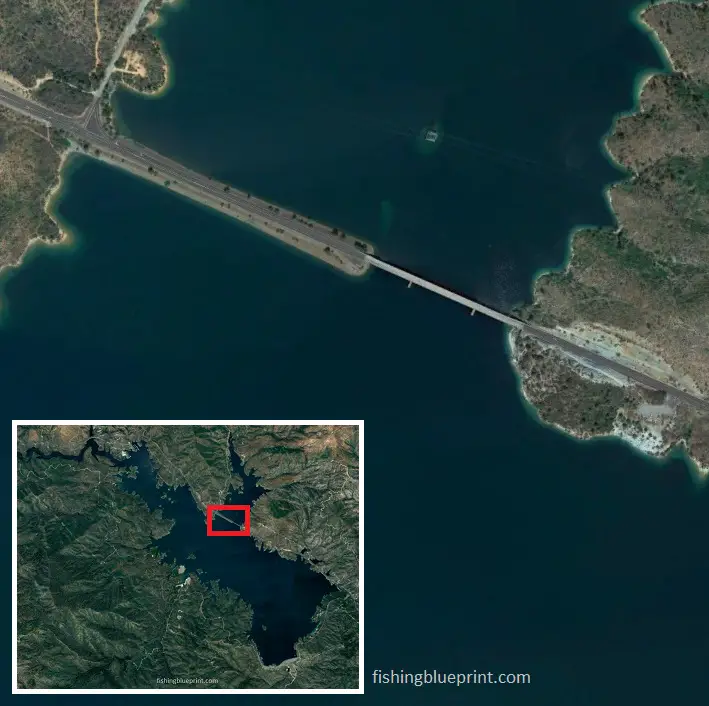 This narrow section of the lake is home to trout, salmon and bass. 
Trout and salmon are most commonly caught offshore or near the dropoffs, humps, and near the deep section of the dam. 
Look carefully at this spot using a topographic map…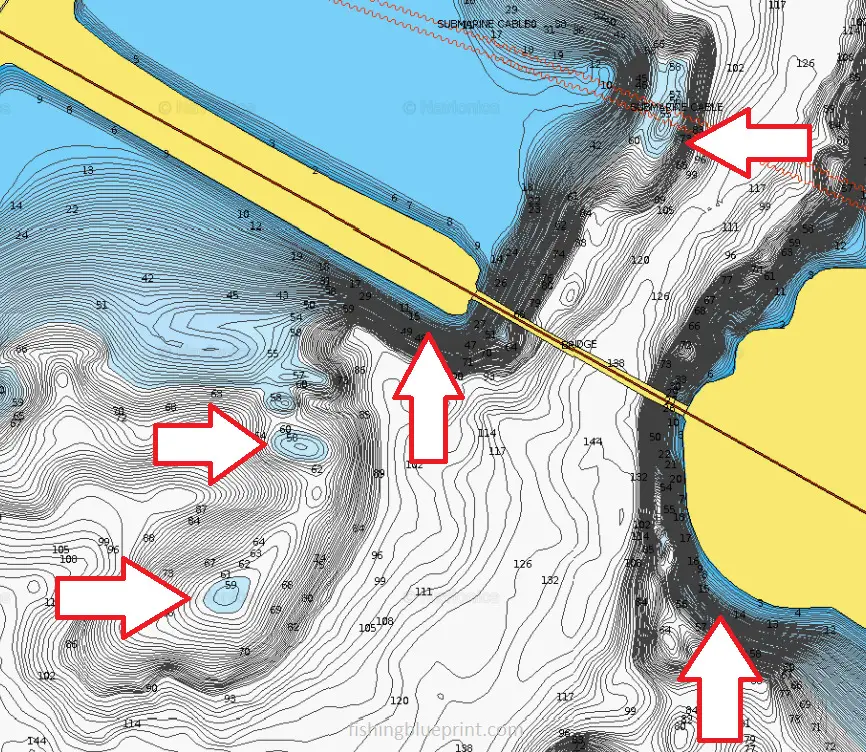 Located: north section of the lake
Structural features: steep cold river channel, boulder piles, ledges, points and cuts.
Best species to target: Trout, kokanee and salmon
Most effective way to fish this spot: boat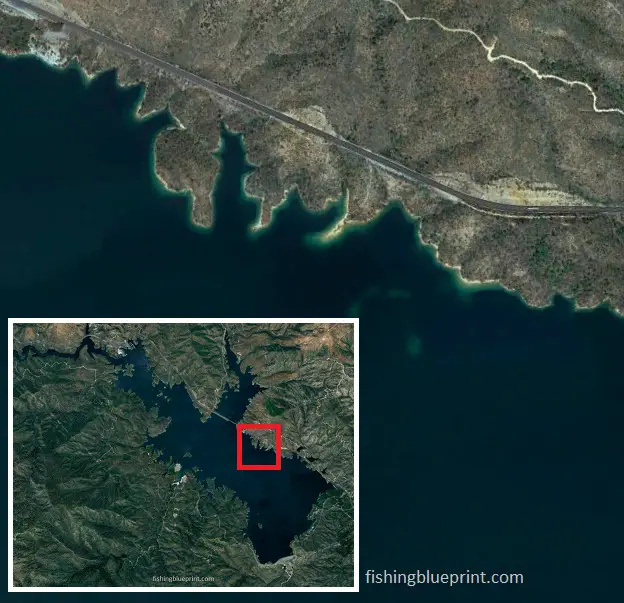 This section of the lake has a line of submerged structure the trout, kokanee, or salmon love to hunt around. 
The structure is best described as steep drop offs, humps, and ridges. 
Fishing closer to the banks (ie over the boulder piles and ledges) are great during the late spring and early summer. Otherwise they will migrate to the main lake and suspend deep in 80-100-feet of water, so trolling with a good downrigger is a must in order to catch them. 
In the winter and late spring trout will suspend between 20-40 feet in the middle of the river channel, so you can get away trolling without a downrigger. 
Look carefully at this spot using a topographic map…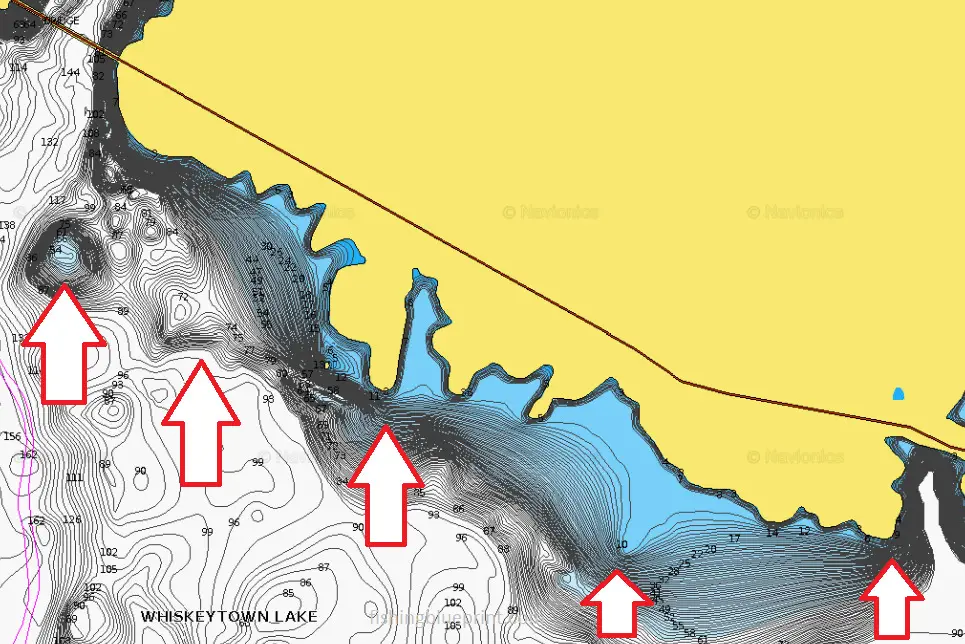 adsfasdfasdfasdfadsfasdfasdfasdfadsfasdfasdfasdfadsfasdfasdfasdfadsfasdfasdfasdfadsfasdfasdfasdfadsfasdfasdfasdf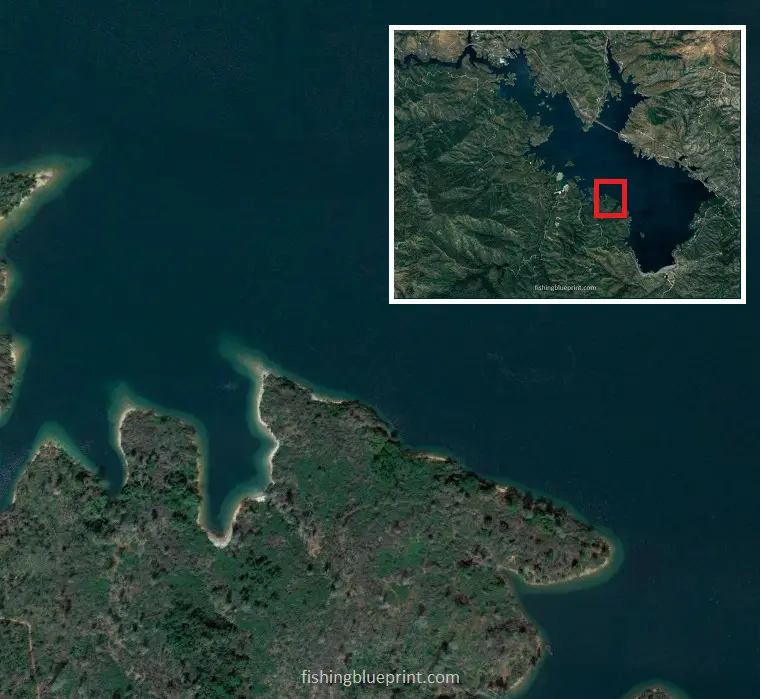 The Bluffs is located between Dows Gulch and Whiskeytown Dam. 
One of its defining features is it is incredibly steep and drops into 180+ feet of water which makes this an excellent place to troll for cold-water fish like kokanee, lake trout, and king salmon. 
Closer to the shore this area is phenominal for smallmouth and spotted bass. 
Look carefully at this spot using a topographic map…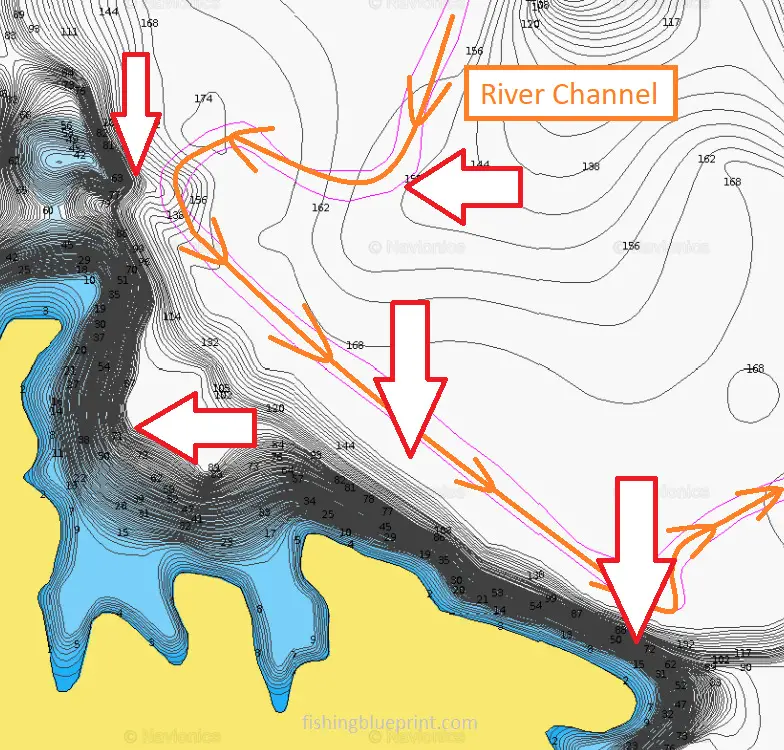 Located: between West Bay and South Bay. 
Structural features: Steep clay and rocky banks, deep channels and drop offs.
Best species to target: Trout and salmon
Most effective way to fish this spot: Boat and trolling.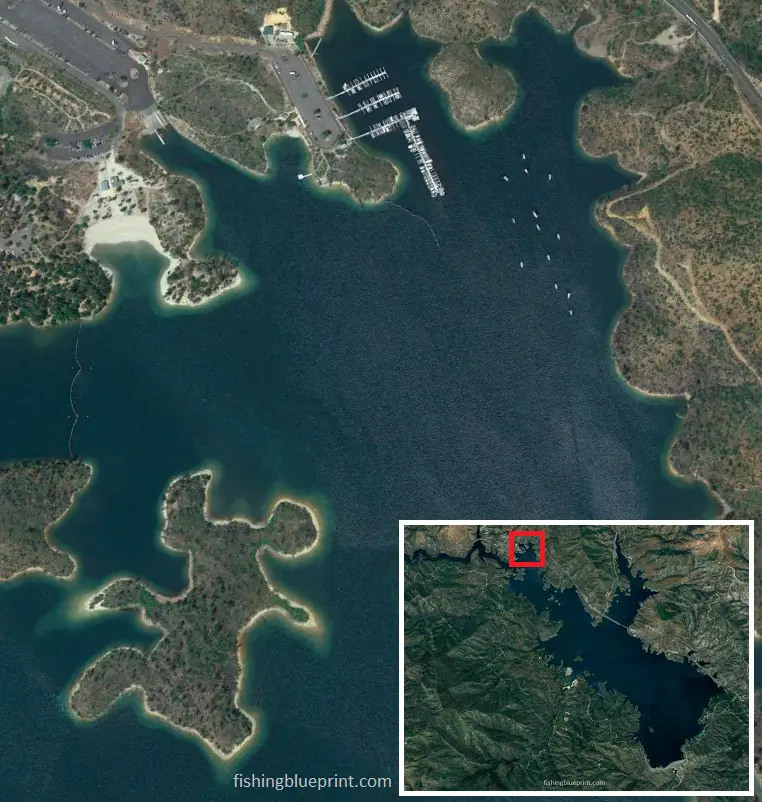 This section of the lake offers anglers submerged natural humps and ridges that are created by sharp channel turns of Clear Creek.
largemouth bass will be caught in the backs of the bays, whereas smallmouth and spotted bass will be frequently caught along the rocky shoreline. 
This area is targeted primarily for trout and salmon in deeper water, however the fish can be caught shallow in winter and early spring. 
In the winter and spring this area can be great and trout will hold between 20-40 feet so you can get away trolling without a downrigger. 
However, during the summer these fish will be holding deep in 80-100-feet of water, so trolling with a good downrigger is a must in order to catch them. 
Look carefully at this spot using a topographic map…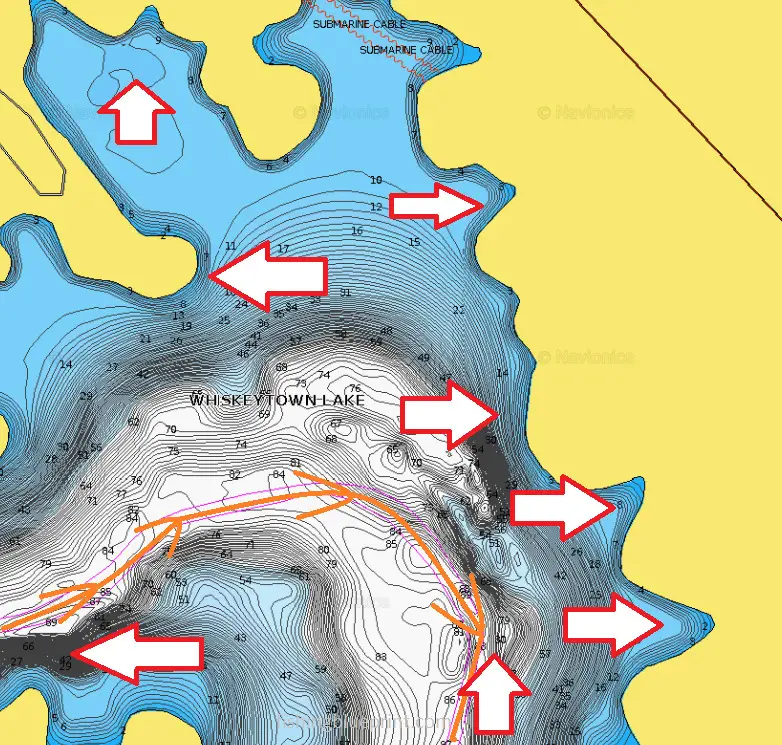 Located: south section of the lake
Structural features: natural humps, bars and ridges
Best species to target: Trout, kokanee, and salmon
Most effective way to fish this spot: boat, kayak
Boat Ramps at Whiskeytown Lake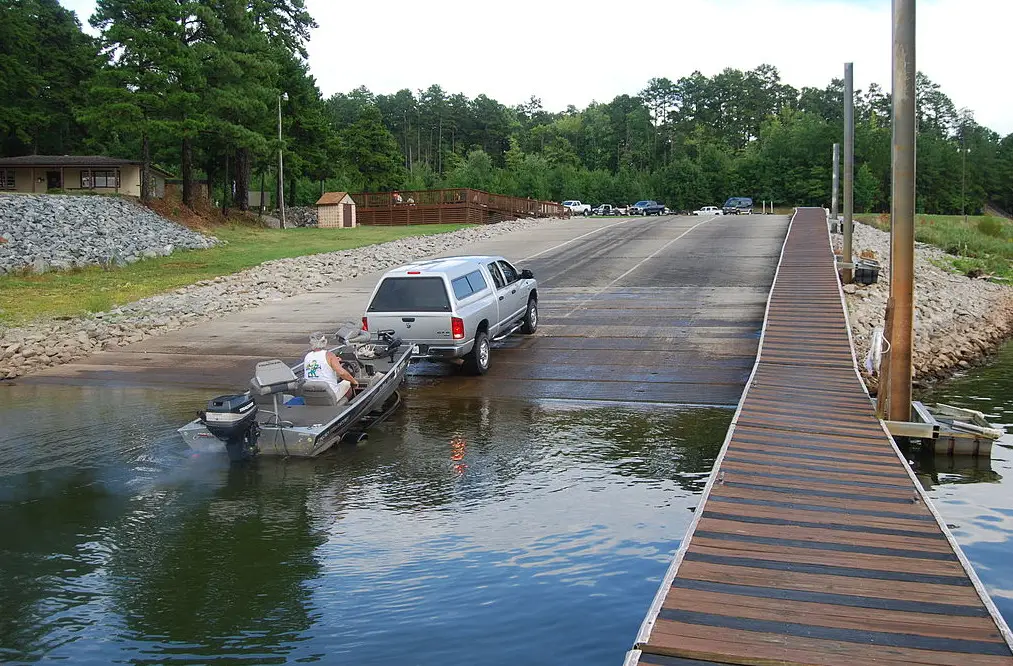 Oak Bottom Boat Ramp
Whiskeytown, CA 96095
Brandy Creek Boat Ramp
Whiskeytown-Shasta-Trinity Nra, Whiskeytown, CA 96095
Whiskey Creek Boat Ramp
Whiskey Creek Rd, Whiskeytown, CA 96095
Marinas at Whiskeytown Lake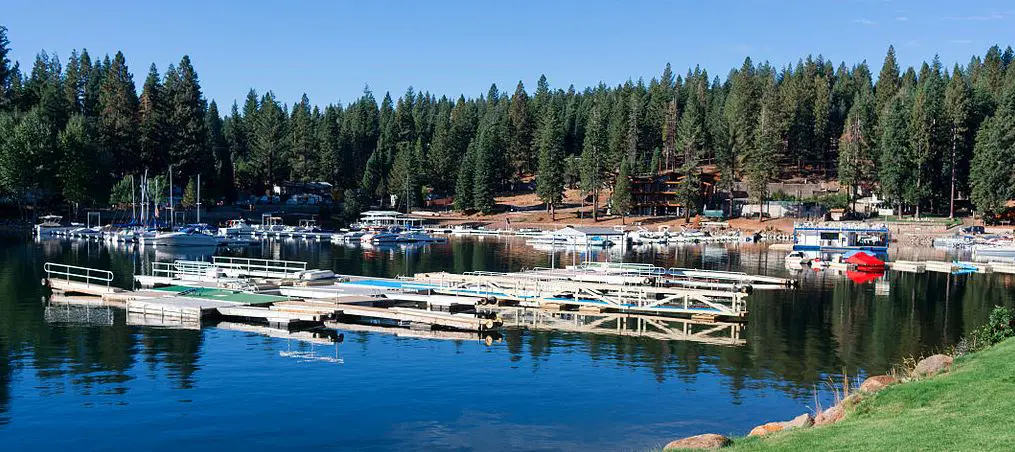 Brandy Creek Marina
Whiskeytown-Shasta-Trinity Nra, Whiskeytown, CA 96095
(530) 359-2008
Oakbottom Marina Llc
13124 Kennedy Memorial Dr, Whiskeytown, CA 96095
(530) 359-2671
Whiskeytown Marinas, LLC – Oak Bottom Campground – Marina & Brandy Creek Marina
12485 CA-299, Whiskeytown, CA 96095
(530) 359-2008
Tackle Shops Near Whiskeytown Lake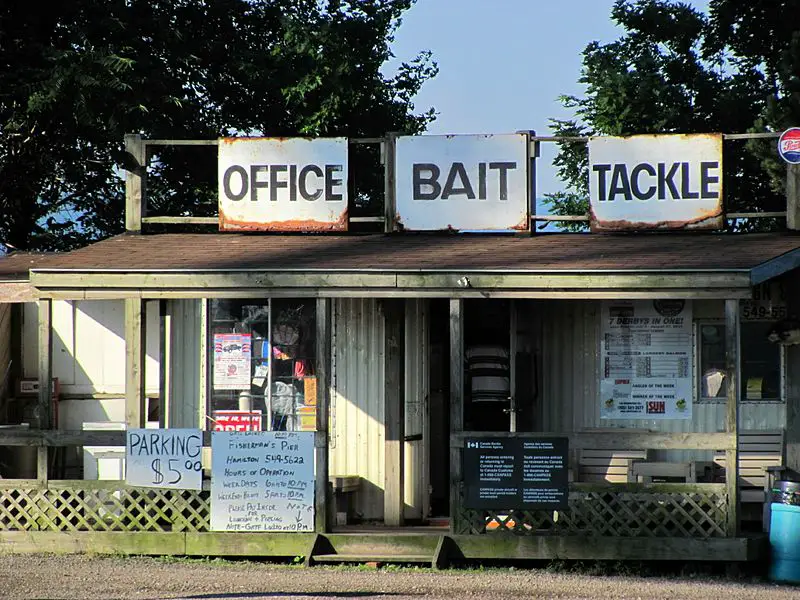 You can buy tackle at any of the marinas near the lake.
Hinkle's Market & Sporting Gds
1084 Market St, Redding, CA 96001
(530) 243-2214
Western Bait Farm
3211 Veda St, Redding, CA 96001
(530) 246-0270
Phil's Fishing Tackle
3037 Twin View Blvd, Shasta Lake, CA 96019
(530) 275-4939
Redding Sports Ltd
950 Hilltop Dr, Redding, CA 96003
(530) 221-7333
Sportsman's Warehouse
1659 Hilltop Dr, Redding, CA 96002
(530) 222-5500
Big 5 Sporting Goods
2500 Hilltop Dr, Redding, CA 96002
(530) 223-2006
Shasta Lake Bait & Tackle LLC
3915 Shasta Dam Blvd, Shasta Lake, CA 96019
(530) 356-5575
Fishen Hole
3844 Shasta Dam Blvd, Shasta Lake, CA 96019
(530) 275-4123
As you now can see Whiskeytown Lake fishing can be tough at times, but it's not impossible and with the help of the Whiskeytown Lake Fishing Report… It definitely helps you get started on the right foot quickly and easily, so you can avoid wasting hours wondering where and how to get started.
As fellow fisherman and content creator I thrive on helping others… I feel like I can do the most good by helping others… And frankly… I would feel like I did something wrong if you didn't walk away feeling a little better about this lake.
I truly want to over deliver for you…
So Let Me Ask You Another Question… 
After reading this helpful report:
Can you see how this could change the way you would fish this lake?… To make it easier, faster… and… with less headache, less frustration?
If nothing else, do you now have a better sense of where you can get started, even if you have have been here?
Do you feel that you have a good grasp of what species to expect in this lake?
Do you have a good understanding what baits are needed to catch each of the different species of fish?
Earlier we came up with some helpful spots to catch more fish, can you see yourself considering any one of those spots? Which ones are you the most excited about implementing when you get to the lake?

Is it fair to say that using these spots would give you a significant advantage over someone else who's fishing this lake? 
I Need To Ask A Favor From You And It's Not Going To Cost You A Single Dime… 
If you have gotten anything out of this free report; whether its knowing where to get started, what kinds of fish are in this lake, what baits to use, where to launch your boat, where to buy a frosty beverage, where to camp, and other things to do when you're at this lake…
Then I need you to do something that is going to help you your fellow angler…
And that is share this report.  Please share it to as many people as you can.  It's free to you and it really helps me out as a creator. 
Lastly… thank you for spending your time reading through this report and I hope you have a luck on the water.  
THIS IS WHERE YOU CAN HELP ME THE MOST:  There's a lot of information about this subject you have found helpful, and I'm sure you'll be able to put some of the knowledge bombs to use.  But sharing this report helps drive traffic which in turn helps me at absolutely no cost to you.  I love creating reports like this for you, and you like reading these types of reports please share this with your friends, family, and fellow anglers.   
Click on your favorite social media buttons to share this page now!
Other California Related Fishing Articles
More articles just for you...
A Complete Buyer's Blueprint On The Best Early Summer Bass Lures On The Market Today! When it comes to bass fishing, choosing the right lure
Read More »