How To Troll For Deep Trout Using Downriggers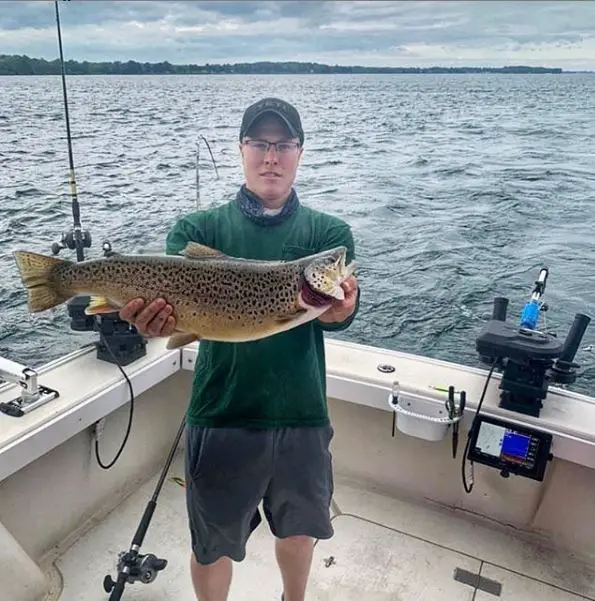 Being able to troll for trout with a downrigger on the first try may be a little difficult, but with the right information that I'm gong to give you, you'll be trolling for trout with downriggers  in no time.
When I was getting started I had a ton of questions on trolling for trout with downriggers. Such as; Is it hard to troll with a downrigger? Can beginners use downriggers?  How to use a downrigger for trout? What size downrigger weight is best? The big problem was that I didn't know what is a downrigger, let alone  how to use the downrigger, which killed my desire to troll for trout in deep water. Then I ran into a friend who sat down with me and walked me through all the details. In a nutshell I needed to learn how to set up the downrigger the right way, how to use the downrigger, understand how deep to troll for trout, how fast to troll for trout, and finally understand what are the best lures for trolling for trout. 
It sounds easy enough, but there is a lot to it. In the article below I'm going to give you all the information you need to get started smoothly. 
WARNING:  There's a lot of information about this subject you'll probably want to come back to. No one expects you to remember all these tips. We know your time is precious, so we really tried to over-deliver in value for you. Additionally, we frequently update reports like this, so you'll want to stay up to date with any changes or additional tips we include for you. 
We found that the easiest way to save and bookmark this report so you can come back to it later is to share it on your favorite social media platform, especially if you use your phone to get important tips like the ones in this report here…
Click on your favorite social media buttons to remember this page now!
Advantages of Downriggers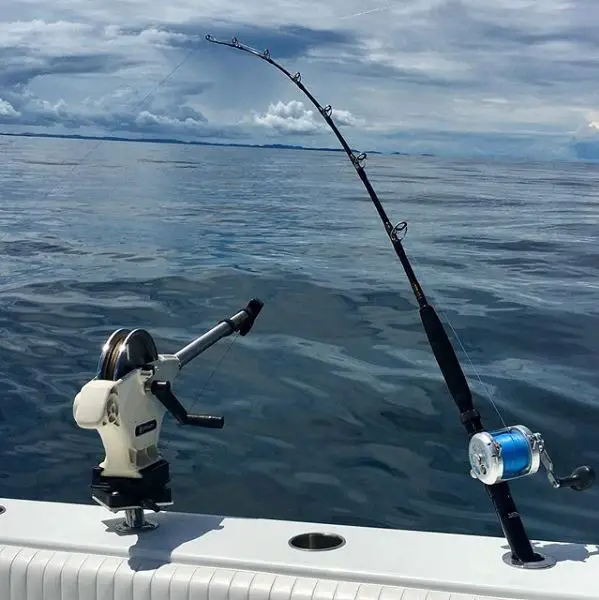 One of the first questions anglers have when considering the use of downriggers is "why?". This is a valid question. After all, many trout are caught year-round, even in deep summer hides, without downriggers.
The answer is simple. Downriggers not only allow you to reach deep, but they also provide the ability to control that depth more precisely.         ` 
As summer temperatures rise trout head to deeper, colder water. Traditional trout lures will not reach deep enough to target these fish. Jigging or other methods of trolling will allow you to reach some of these trout but not all of them.
By using downriggers, you can reach deeper, run lines at different depths, and use lighter tackle. This increases your ability to locate trout, provides a more natural presentation, and lets you fight the fish in a more sporting manner.
Of course, you are not limited to only fishing deep with downriggers. Many anglers will continue to use downriggers throughout the year, the following fish through the water column with continued success.
The Downrigger Comparison Table​
Best Overall
Best Budget
Editor's Choice
Best For Small Boats/Canoes
Product
Cannon Optimum Electric Downriggers
Scotty Laketroller Manual Downrigger (#1073DP)
Scotty Depthpower Electric Downrigger w/30-inch Boom
Scotty Depthmaster Clamp Mount Manual Downrigger (#1050MP)
Automatic Boat Speed Adjustment
Stainless Steel Construction
Includes Downrigger Cable
#ad / Images from Amazon Product Advertising API
Downrigger Set-Up for Trout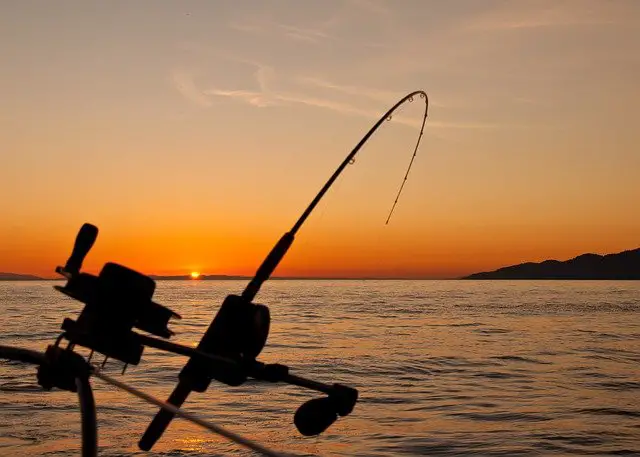 There are two sets of equipment that need to be considered: the downrigger and the rod/reel combination. While they are used in conjunction each is a separate set up. Let's look at each.
The downrigger itself consists of 7 main components, although the specifics may vary based on the manufacturer:
Rod holder – connects your rod to the downrigger
Spool – holds the cable in the same way the spool on your fishing reel holds the line
Crank or motor – you have the option of a manual or electric motor. 
Cable – this is what connects the downrigger to weight and your fishing line
Boom – allows you to position rod(s) and can be extended for greater distance from the boat
Trolling weight – connected to the cable this is what allows your line to reach deeper water
Line release – a quick release clip that connects the cable to the fishing line and releases when fish strikes.
One of the benefits of using downriggers is the ability to troll with lighter tackle. Due to the extra strain of trolling you may not be able to use your traditional trout rig but can certainly use other rigs you already have on hand. No need to purchase heavy-duty reel or stiffer rods as you would when lead lining or flat-lining. Here are some examples of typical trout trolling gear by species:
Rainbow – 6 ½ to 8 ft. medium-power spinning or casting rod. Medium capacity spinning or baitcasting reel spooled with 8-12 lb. test line.
Browns – 7 to 7 ½ ft. medium-power, fast-action spinning or casting rod. High capacity spinning or casting reel spooled with 15-20 lb. test line.
Lake – 7 to 9 ft. medium-power, moderate or slow action spinning or casting rod. High capacity spinning or casting reel spooled with 18 – 30 lb. test line.
Kokanee – 7 ½ to 8 ft. medium-light action spinning or casting rod. Medium capacity spinning or casting reel spooled with 4-8 lb. test line.
Of course, if you want to catch fish there is one final component that needs to be considered – the lure or bait. Your final selection will depend on two factors: species you are targeting and what they are naturally feeding on where you will be fishing. Here are some tips for each season:
Spring – early season trout are closer to the surface and prefer highly active lures.

Rapalas (2″ – 3 ½"), spoons (#1, #0), and spinner (#3, #4) are the top choices. Adding a flash of bright color works well this time of year.

Summer – as temperatures rise the trout are deeper and conserving energy. Wedding ring lures, large spoons, and needlefish lures in gold or silver resemble large tempting meals. When trolled at a slower speed they imitate an easy meal.
Fall – trout will start aggressively feeding as they prepare for lean winter months. They will also move closer to the surface with the cooling temperatures. Use this to your advantage by selecting large Rapalas or plugs in natural patterns.
If nothing else is working switch to curly-tailed grubs in various colors. This will often turn on otherwise lazy fish.
Manual vs Electric Downrigger
A common question for anglers who are considering using a downrigger for deepwater fishing is what is the best downrigger to buy?
There are two types of downriggers, manual or electric. 
It's important to know the features of both.
If you already know about downrigger types then just skip to the next section.
A manual downrigger has a crank that is used to lower and raise your downrigger weight on manual downriggers.
Manual downriggers don't require a battery, making them ideal for smaller boats or as a backup.
Also, they are less expensive.
Whereas, an electric downrigger has a powered crank that raises and lowers the downrigger weight quickly and easily at the push of a button. 
These are very conveiceint especially if you are fishing alone or if you have arthritis in your shoulder or back. 
Unfortunately, these tend to have a higher price tag, so keep that in mind. 
Here's a list of the best selling fish manual downriggers for you to consider...
#ad / Images from Amazon Product Advertising API
Here's a list of the best selling electric downriggers for you to consider...
#ad / Images from Amazon Product Advertising API
Downriggers for Beginners
Using a downrigger is simpler than many anglers understand. They work in a manner very similar to a rod & reel and are almost as easy to master.
Attach & lower – attached the trolling weight to cable and clip cable to the fishing line via. quick release. Place the rod in the holder, open bail, and lower weight to the desired depth.

Line placement – depending on the number of lines deployed and species targeted you will need to feed out between 25 – 75 ft. of line. When running multiple lines consider using varying depths.

Line release – once a fish takes the lure the quick release will allow the fishing line to separate from weight. Cable and weight can later be reeled in for continued use.

Fight your fish – when you see the weight has released it is time to fight your next trophy. Remove the rod for the holder and fight the fish as you normally would.
Downrigger Fishing For Lake Trout
Here's the best initial strategy when you get to the lake…
Start by heading to the deepest coldest part of the lake, normally by the dam
Get your rods set up by rigging up a sling blade attractor to a 2-foot fluorocarbon leader tied onto a quality lure like a 1-3/4-inch Mack's Lure Cripplure Spoon or a Humdinger Lure.
Here's a quick decision table to help you choose the right spoon lure for the right conditions.
| | |
| --- | --- |
| Condition | Color |
| Clear blue skies | Silver – blue UV fish scale |
| Overcast | Brass – neon orange or neon red |
| Partially cloudy (light mostly sunny) | Silver – pink or red |
| Partially cloudy (light mostly cloudy) | Brass – neon orange or neon red |
If you run multiple spoons, choose different colors first. Then when the trout or kokanee start biting a single color simply switch your lures out to that same color after a few bites. 
Once you have your spoon chosen it's strongly recommended you add on some scent like Pro-Cure. 
Spoons like these are extremely versatile because they will swim at very slow speeds (as slow as 1.5-mph – ie; during the winter when the water temp is <55-degrees) or fast speeds (2.5-3-mph – ie; during the late spring and summer when the water is 65-69-degrees).  
At higher speeds, lures like the Cripplure will swim more erratically and will create a ton of vibration, this means you'll get a better reaction bite, so you can catch more fish.
Run your lure about 75-100-ft back. 
One of the biggest questions we get asked is what's the best way to attach your downrigger clip to your fishing line?
When clipping the lure line to the downrigger clip, we noticed several fishing guides tie a simple overhand loop knot first, then use your clip to fasten itself to the loop knot you just created…
If you clip the downrigger clip without a loop directly to the fishing line directly it may probably allow the line to slide up and down the clip and not disengage itself when you have a bite 
The great thing about using an attractor like the sling blade is you can troll up to 4-mph if you don't bend it.   Once you start putting bends in it (to increase the action) then you need to fish it slowly (1.5-2-mph). 
In the morning expect to see the fish between 5-20 feet of water. 
Then as the sun comes up, they'll start to hold deeper. 
Here's a list of the best selling fish attractors/dodgers for you to consider...
#ad / Images from Amazon Product Advertising API
Here's a list of the best selling fish attractor scents from Pro-Cure for you to consider...
#ad / Images from Amazon Product Advertising API
What is the best trolling rig for trout or salmon?
The best way to catch a big trout, kokanee, or salmon is to use the following setup:
Attractor: 6in attractor, like the Shasta Tackle UV sling blade (blue, silver in clear water, chartreuse, bright pink in stained water)
Leader: 18-24-inch leader. The more active the fish are, the shorter the leader you want. The attractor will also shake and wobble the lure as it wobbles back and forth.  The longer the leader is, the less action your lure will have.
Lure option #1: Mack's Peewee Hoochie or Wiggle Hoochie in green, blue, pink, or  +/- a Mack's Smile blade in front of the hoochie.
Lure option #2: Tie on a wedding ring spinner size 2, or trolling spoon (like a KastMaster or a Dare Devil spoon). 
Lure option #3: Tie on a #2 straight shank light wire Neko rig hook (hook that bass anglers will use), then thread on a 1.5-inch Berkley Power Minnow on a size 2 light wire finesse hook behind your sling blade +/- a Macks Smile blade in front of the hoochi.  This is a great option in really clear water too! 
What to do if you're not getting bites: (1) small piece of cured anchovy or cured shad to the hook and cover with bait scent. (2) change the lure color based on the water clarity. (3) If water clarity is the same, then change to a lure with either more action (wiggle hoochie) or less action (Berkley Power Minnow on a 24-inch leader).  (4) go to a different spot
You'll have the best results if you troll 1.5-2.0 miles per hour. 
Many times trout or salmon will just follow the lure being trolled, sometimes up to 5-10 minutes and not strike! So to create a reaction strike, you want to either speed up or slow down your troll every few minutes. Another good way to get a reaction strike is to make a sharp turn of the boat. 
Common items you'll need for trolling trout...
#ad / Images from Amazon Product Advertising API
How Deep Do You Troll for Trout?
An important point to remember is that trout will not expend more energy than necessary to feed. Even if cruising the lake looking for food, they will select the meal which is easiest to catch. This means that getting your lure as close to where the trout are will increase your success.
If you have fished a lake enough to learn the fish behavior you can start by setting downriggers to depth(s) that were previously successful. Otherwise, you will need to set downriggers as different depths until fish are located, then adjust rigs accordingly.
To save you time here is some general tips for locating trout during each season:
Spring – cool water will allow trout to be in shallow, nearshore areas. As the trout move about the lake, they will most likely be found in the top of the water column.

Summer – trout will seek cooler water, moving away from shore and into deeper water. Depending on the species this will be anywhere between 20 – 35 ft.

Fall- cooling temperatures will draw trout back to shallower areas or higher in the water column. They will naturally try to migrate to spawn so focus on the areas near the mouth of rivers or streams.

Winter – initial drops in temperature cause trout to scatter. There is simply so much water that is comfortable they are no longer confined. Once temperatures stabilize, they follow the bait with most in the 10 – 15 ft. depth.
When is the Best Time to Troll for Deep Trout?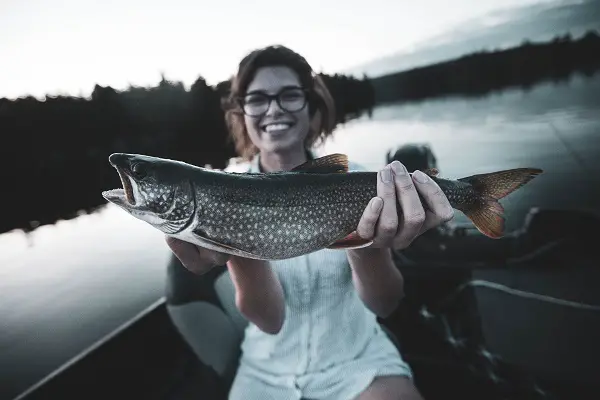 Weather – In early springtime, you'll have the best luck in the most northern section of the lake. This tends to warm up the quickest and trout seem to feed most aggressively in the early morning at first light to around 10am. 
Whereas in the summer, trout you'll have the easiest time catching trout 45 minutes before and after sunrise and sunset. However, trout will feed all throughout the day if given the opportunity.
Where to Troll for Deep Trout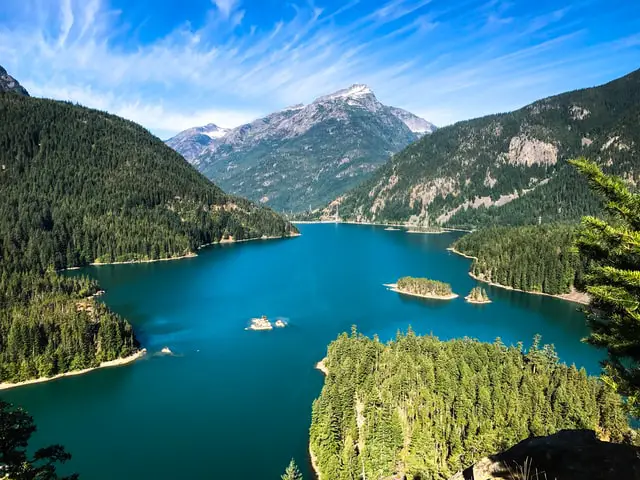 Before hitting the water, be sure to look at as many maps of the lake as you can.
Navionics Hotmaps is an excellent way to find all the best spots! It comes in the form if a SD card so you can even look at all the lake maps on your PC and fish finder in amazing detail! 
 Plus, you can add notes, waypoints, and other visualizations. 
Check out if they have your favorite state to fish for trout!
Before hitting the water, besure to look at as many maps of the lake as you can. Navionics has a great lake maps software that you can even use on your PC!
If not there, call your local tackle shop and ask if they sell old-school topographic maps of the lake you're fishing on. 
Then look for the following structures and mark them on your map:
reservoir dams

steep shorelines

bluff walls

main lake points with deep water nearby

channel swings close to shore

string of islands

long submerged ledges
Then when you get to the lake start your scanning of these areas with a quality fish finder and create a 'milk-run', or a gameplan of trolling from spot to spot so you can best optimize your time. 
You should definitely invest in a quality fishing sonar to scan the surrounding sonar of the lake.  
Trout will suspend at different depths near these areas (depending on a variety of conditions) and can be found 30-90 feet from the given structure.
Bluff walls, steep shorelines, and channel swings close to shore are a given that there is deep water nearby. 
Long submerged ledges and strings of islands also harbor drop offs and deep water.  Make it a point to fish parallel to these areas, not over them.
Trolling For Trout In The Wind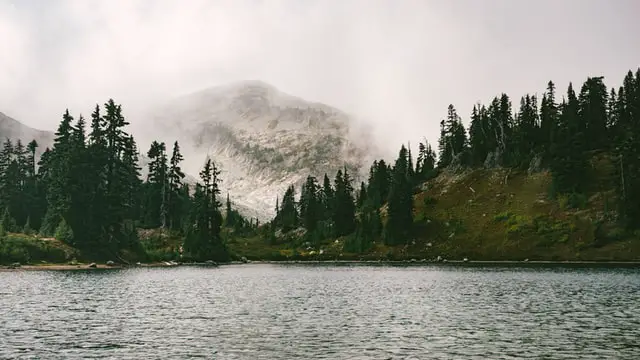 Windy conditions can make or break your day when you're trolling. 
however sometimes the wind is just too strong, or coming in from the wrong direction. It makes trolling seem more like an unpleasant chore. 
Recently I stumbled across a amazing new item that helps me slow my boat while maintaining a ninja silent presentation and keeps my lure in strike zone loner. 
This product is called a drift sock!
It's really easy to use and you attach it to the aft or the side of the boat. 
Best of all since its not electric, it doesn't use up all my battery!
Even if you never used a drift sock before, the job of deploying one is easy once you learn a few basics. If you have no idea what a drift sock is and would like to learn more more – start here… I wrote the complete blueprint report on Drift Sock Basics – What It Is & How To Use It [2021 Quick Start Guide]. Where I go into more detail on What Does A Drift Sock Do and Why Use A Drift Sock?
The drift sock we highly recommend is made a company called Mythik Outdoors. They won the best overall quality award and can be used on the vast majority of boats or kayaks.
The drift sock comes in a complete kit. Meaning, you get a insanely durable drift sock, a floating harness, a collapsing cord and a water resistant storage bag.  – It's really cool.
If you're interested in this you can read all the reviews from actual Amazon customers. Click here!
Where to troll in windy conditions?
There is some debate on where to troll for deep trout in windy conditions. 
Some say, it doesn't matter where you troll for deep trout because the wind doesn't have a major effect on their positioning or feeding habits. 
On the other hand some anglers say just the opposite.  Their argument is the wind is typically warmer than the water and that can not only warm the water (which the trout don't like), but also deprive that water of oxygen (because warmer water does not have enough oxygen).
Personally, I find that logic slightly flawed.
It would have to be very windy for several days of the same warm conditions and never change direction in order to possibly have the effects of changing the oxygenation of deep water. 
Many times wind will change direction and there are high-pressure and low-pressure systems that roll through any given lake where I feel it doesn't have that much of an effect.
I guess, if you're struggling at one end of the lake and you're faced with windy conditions, head over the opposite side of the lake and see if the water temperature is cooler… who knows, it may work!
How Fast Do You Troll for Trout?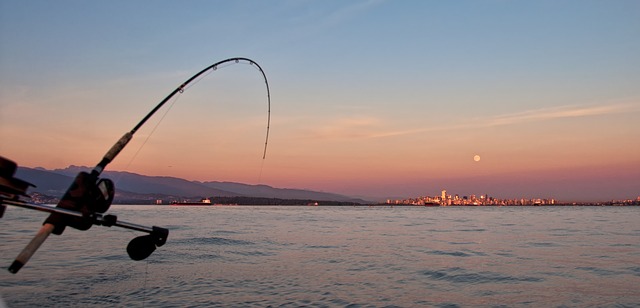 Finding the perfect speed is often the most difficult aspect of trolling. In general, the best trolling speed is between 1 ½ mph and 2 ½ mph. However, several factors including species targeted, water conditions, wind speed, and lure choice will impact the best speed on a given day.
The largest factor in determining trolling speed is lure choice. Each lure is designed to provide peak performance at a given speed. Too fast or too slow and the lure will fail to perform and not attract fish as intended.
For example, crankbaits will perform well at higher speeds than bladed spinners. Likewise, troll a dodger too fast and it will spin. Troll a flasher too slow and it will not spin as intended. Here are some steps to help determine the best speed for your lure(s):
Use a trolling speed chart to determine the ideal speed range for target species (we have provided a chart below) and maintain that speed.
Lower lure into the water, just below the surface, and observe its action.

Increase speed slightly and observe lure again.

Decrease speed slightly and observe the lure again.
Once you have determined the best speed throw in a few "s" turns to determine how lure will react during turns.
As mentioned early, different species require slight variations in speed. This is where a trolling speed chart comes in. It is almost impossible to remember what the preferred speed for each species is so keeping this speed chart handy will help establish a starting point.
Trolling Speed Chart for Trout
| SPECIES | Speed Range | Ideal Speed |
| --- | --- | --- |
| Lake Trout | 1.0 – 3.0 mph | 1.7 mph |
| Brown Trout | 0.8 – 2.5 mph | 2.2 mph |
| Rainbow Trout | 0.6 – 2.5 mph | 1.5 mph |
| Tiger Trout | 0.8 – 2.5 mph | 1.2 mph |
| Kokanee | 0.8 – 2.0 mph | 1.8 mph |
| Coho Salmon | 2.0 – 4.0 mph | 3.3 mph |
| Chinook Salmon | 1.5 – 3.5 mph | 2.5 mph |
Because you are traveling at slow speeds almost any type of motor is suitable when trolling for trout. Small gasoline, 2-5 hp, or the electric motor will provide plenty of power. 
You have a greater chance of being overpowered than having a motor that is too small. Trying to run your 150 hp outboard at less than 1 mph may be difficult. Luckily, there are alternatives.
Many anglers outfit their boat with two motors – a larger gasoline motor for running and smaller gasoline or electric trolling motor. This is especially useful on larger boats (greater than 14′) that may be too large for an electric motor only.
If you will be using an electric trolling motor be sure to charge it fully before each use. When on a multiple day fishing trip it is recommended you have a charge, and even a spare battery, on hand to ensure full power.
Bonus Tip – The "S" turn: Altering Direction When Trolling for More Trout
Trolling Trout with Carolina Rigs BBZ Style
You may think that trolling is nothing other than back and forth passed across the lake, waiting for a bite. While it is true this is a common method and often results in fish in the cooler, it is not the most effective.
Every angler knows that adding a little extra action to a lure can make it stand out to hungry trout. This is why anglers twitch a rod tip, speed up a retrieve, or allow a lure to stop mid retrieve. But how do you add action when trolling?
Instead of running in a straight line add a few "s" turns to your path. A gentle, rolling turn rather than one with sharp movements are preferred. The added action can be just what is needed when the action turns off.
Other Trout Trolling Related Articles...
Can you use downriggers on a kayak?
Yes. Thanks to the increase in popularity of fishing kayaks many companies have developed smaller, more compact downrigger systems designed specifically for kayaks. Most will require some modification to your kayak, and you should check with the manufacturer before installation to make sure it is safe.
Can you troll for trout in a river?
Yes, it is possible to troll for trout in either almost any body of water. Of course, the water needed to be deep enough to permit trolling and it is important to watch for potential snags that can damage gear. Larger, deeper pools may allow the use of downriggers, but many areas will be better suited for lead lining or flat-lining.
What trout species can you catch by trolling?
Almost any species of trout, even stocked trout, can be caught by trolling. As long as the trout have access to a deeper, cooler body of water they will seek deeper depths as the season progresses.