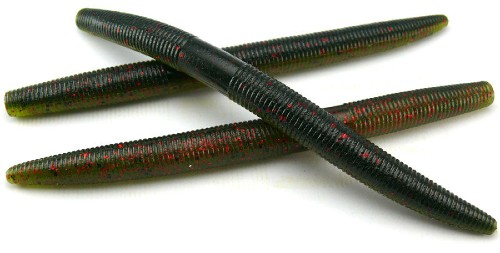 Bass anglers looking for the perfect bait would be wise to go with a Senko worm to catch bass, crappie, trout, and lots of other fish. Why? 
First of all, bass love it, and it could be because of the Senko worm's simple, basic design. 
In fact, when you first look at the Senko worm, you'll be amazed at how much it looks like a real live worm, which is perhaps its biggest advantage. 
Senko creator Gary Yamamoto has stated in multiple interviews, not only does this worm help you catch bass more often, but it helps you catch better bass as well. 
While simply made, the company uses top-notch science to make Senko worms, which is one of the reasons they are so good at what they do.
For most anglers wonder what Senko worms are and why do bass love to eat them?  Here is a quick and easy to follow list to help you get started fast!
In an interview, the creator of the Senko, Gary Yamamoto claims the Senko worm was originally designed at a soft plastic jerkbait and to look like fleeing or a wounded baitfish. 
Some fishing enthusiasts claim the Senko worm can mimic anything… even… crawfish and leeches!

It is the perfect size – not too small, not too large – to attract bass and make them want to eat it.

The true magic is from the "shimmy" the lure action has as its slowly falling to the bottom. 

Its incredibly easy to use… even for kids and other people who are not used to fishing for bass. 
In the end, most people don't care what it was originally designed for… because.. it flat out catches

so

many

bass

!
Winner - Best Overall
Best Budget
Editor's Choice
Honorable Mention
Product
RUNCL ProBite Wacky Worms
Action Rating 1-10 (10=best)
Winner - Best Overall
Action Rating 1-10 (10=best)
Best Budget
Product
RUNCL ProBite Wacky Worms
Action Rating 1-10 (10=best)
Editor's Choice
Action Rating 1-10 (10=best)
#ad / Images from Amazon Product Advertising API
What Are the Other Brands Similar to Senko, and How Are They Different?
Senko worms were created by Gary Yamamoto in 1997 and are now considered one of the best stick baits on the market.
In fact, they are so good that lots of fishing enthusiasts now call all stick baits "Senkos," and with good reason.
This being said, Senko worms can also be very expensive, costing a dollar or more per worm, which can get expensive when you're going through a lot of them in a tournament or a long day at the lake.
For this reason, many bait manufacturers are trying to come up with alternatives to the pricey Senko worms, and many of them have succeeded. While some are better than others, here are a few options when you love the Senko worm but want something a little less expensive:
If you're curious about how good they are when compared to Senko worms, you'll have to do your research on each brand to make sure it's a good one. 
All brands mentioned above all have 4+ star ratings on sites such as Amazon and others. Many of these alternatives are made out of materials similar to the Senkos and provide the same results, or close to the same results. 
The only difference, in many cases, seems to be the price of the worms.
What Does a Senko Imitate?
While some fishing enthusiasts claim the Senko worm doesn't imitate anything in nature, others believe it has the color and size that mimics bait fish or even a wounded fish. 
It is the perfect size – not too small, not too large – to attract bass and make them want to eat it. The Senko worm resembles a slug or live worm, which is one of the things that bass fish love to eat. 
Still other enthusiasts say that bass will eat anything it can find, including Senko worms. 
But in the end, most people think it looks just like a real live worm, and that's the reason it is able to catch so many bass.
When Is the Best Time of Year to Fish with a Senko, and Why?
Fishing is not usually a sport people participate in all year long, even when they live in an area that has mild weather most of the year. 
If you like fishing with a Senko worm, you might wonder what the best time of year is to fish with this type of bait.
While it can vary depending on the fish and even the fishing enthusiast, most of them agree that the spring is the best time to use Senko worms, and there's a simple reason why.
In the springtime, fish can be a bit skittish. They come close to the water but will swim away quickly if there is any sudden movement nearby. 
For this reason, Senko worms are good because they're a subtle type of bait. When you cast it, it lands softly. 
Another advantage of using Senko worms in the spring is that it's a great bait to drop close to weeds or underneath docks, where fish often swim to that time of year. 
The fall into the water is a subtle one and therefore, the fish don't get scared when they see it. 
The fish will easily see it and practically attack it, making it a great bait to use.
There are so many ways to fish a Senko or any other stick worm for that matter. 
You can fish it fast like a jerkbait, or slow on a Texas or Carolina Rig. 
You can fish it vertically when it's wacky rigged. 
Anglers often fish a Senko as a topwater bait! (No really, I'm not kidding)…
Just cast it out and give it a couple shakes right after it hits the water and it mimics a dying bug or bait fish. Before to hold your rod tip high at the 10-11-o'clock position.
There are sooo many ways to fish the Senko it requires it's own article…
In fact that's exactly what we did for you. We creased the ultimate guide on how to fish the Senko. Then you choose what topic interests you the most!  See you there
Best Rod for Fishing a Senko
When you're choosing your rod for your next fishing trip with your Senko stick bait, a lot will depend on how you're going to rig the bait once you get out on the water. Different rods do better with certain rigging options, and if you choose the right rod, you'll notice a big difference in how successful your outings become.
Below are some very general guidelines for the type of rod you might want to choose if you're planning to fish with Senko bait.
If you're planning to wacky-rig a Senko: use a rod with a softer tip. This softer action means it's easier to give the bait a little twitch. If you're going to leave the hook exposed, you won't need a big hook set. All you have to do is reel-set into the fish to hook it every time.

If you're planning to Texas-rig either weightless or with a weight: use a medium-action rod, such as the BPS Carbonlite bait-casting rod, or the BPS Johnny Morris bait-casting reel and spool it with a 10-pound XPS fluoro-carbon.
If you're looking for specific brands of rods when fishing with Senko bait, here are a few you can consider:
6'8" St. Croix Mojo Medium Jerkbait Casting Rod

7'1" St. Croix Mojo Bass Spinning Rod

Champion 703 (or 733)

Dobyns Rods SA 703SF Sierra Series

Duckett White Ice 7'1" Medium Heavy

G. Loomis BCR803 GLX (some say the older version of this rod is preferred)

KastKing Perigee II 7'1" casting rod

LEGEND XTREME spinning rod

Megabass Orochi XX Extreme Mission Type F (or Diablo Spec R)

Phenix M1 Swimbait casting rod

The 6'6" or 7' rods from Team Lews, which are usually found at American Legacy Fishing
There are other rods as well, and you shouldn't have problems finding them considering how easy Senko worms are to fish with.
If you need to learn even more about what rods work best fishing a Senko read our full buyer's guide on the best Senko Rods on the market for any budget. 
Best Reel for Fishing Senko Baits
The best rods for fishing with Senko bait need to be paired with the best reels. Otherwise, you may not get the results you were hoping for. The best way to determine which reel to use, be it a spinning or a casting reel, is to research the issue and learn what the pros use.
The pros have success with various types of reels when using their Senko bait, so you can get some great tips and suggestions for finding the perfect reel for yourself by checking with them. Many fishing enthusiasts have said that there is no "best" reel, but that you should use the one that is most comfortable to use.
The reason for this is simple. Most often, you'll be waiting for a while for your bait to hit the bottom, so both rod and reel have to be comfortable in your hands. There is less worry about picking up the line quickly since bass tend to hold onto the bait for a long time.
Because of this, going for comfort when choosing the rod and reel is very important. Nevertheless, if you want some suggestions regarding the type of reel you should choose, below are some highly rated ones that you can consider.
Abu Garcia Max X spinning reel

Alphas Ito

Shimano Curado 100D

Daiwa Millionaire Classic UTD round casting reel

Daiwa Steez 2500

Lews KVD LFS casting reel

Quantum Energy Pti-a-20

Shimano Calais 201

Shimano Calcutta 251

Shimano Sedona 2500FB

Shimano Spirex FG spinning reel

Stella 3000
It is also interesting to note that most fishing enthusiasts use a spinning reel, not a casting one, when using the Senko bait. That being said, there are no hard-and-fast rules when it comes to this scenario. As mentioned earlier, many enthusiasts simply think you should use a rod and reel that is comfortable above all else.
The best thing for you to do is read out research post about the various spinning reels that have performed the best in our tests.
>>> Click HERE to learn more about Buying The Right Spinning Reel For Senko Fishing <<<
Since Senko bait can be on the expensive side, taking good care of them when they're not being used is a must. While many fishing enthusiasts leave their bait on the hooks when they're not using them, this usually isn't recommended because of the possibility of rust.
If you research what real enthusiasts do, you'll likely find that most of them keep their Senko worms in the original bag they came in, or a similar type of closable bag. Most people don't do anything special with the bait, they just make sure they are kept in some type of plastic bag and that it's closed tight afterward.
This makes storage of your Senko bait a lot easier to do than most people realize.
Below is a list of great ways to store your soft plastic baits!
#ad / Images from Amazon Product Advertising API
What Is the Most Popular Way to Rig a Senko?
Senko worms can be rigged in many different ways, but the two most efficient ways, according to most experts, are the wacky rig and the Texas rig.
The wacky rig is a very simple method because it essentially involves just piercing the worm with the hook right in the middle of the worm. The term "wacky rig" almost always refers to rigging soft worms, such as the Senko worms, and it's a super-easy method to follow. There are also several advantages with the method.
For one thing, if the hook is in the middle of the worm, the worm will wiggle a little once it's placed in the water. This helps it look like a real worm to the bass fish. It is also a super-easy method that is great for beginners.
The Texas rig is a bit different. This rig requires three parts in addition to the worm: bullet-shaped sinker, hook, and a pegging device (often a bead of some type). Thread the sinker first, place the bead next, then secure the line to a hook. 
Insert the hook into the worm's head and let it exit about 1/4 inch. Move the worm up the hook and rotate it so it is "locked" on the shank. Then, take the point of the hook and thread it back into the body. 
It may sound complicated, but it's super easy once you do it just one time.
Not only can a Senko worm be modified, but it is usually imperative that it be modified before you put it into the water. Most fishing enthusiasts do this by "rigging" it, and there are several rigging methods you can use, depending on the results you're after.
The different methods are there because the best modifications depend on how deep the bass are, the time of year, and even how clear the water is. Most enthusiasts use one of the following rigging modifications:
Texas rig (weightless)

Wacky rig (weightless)

Texas rig (weighted)

Shaky head

Ned rig
There are other ways to modify your Senko worm, of course, so you'll want to do your due diligence to find the method that works best for you.
Other Senko Fishing Related Articles Just For You...
Other Bass Fishing Related Articles...
A Complete Buyer's Blueprint On The Best Early Summer Bass Lures On The Market Today! When it comes to bass fishing, choosing the right lure
Read More »