A Complete Buyer's Blueprint On The Best Swim Jigs On The Market Today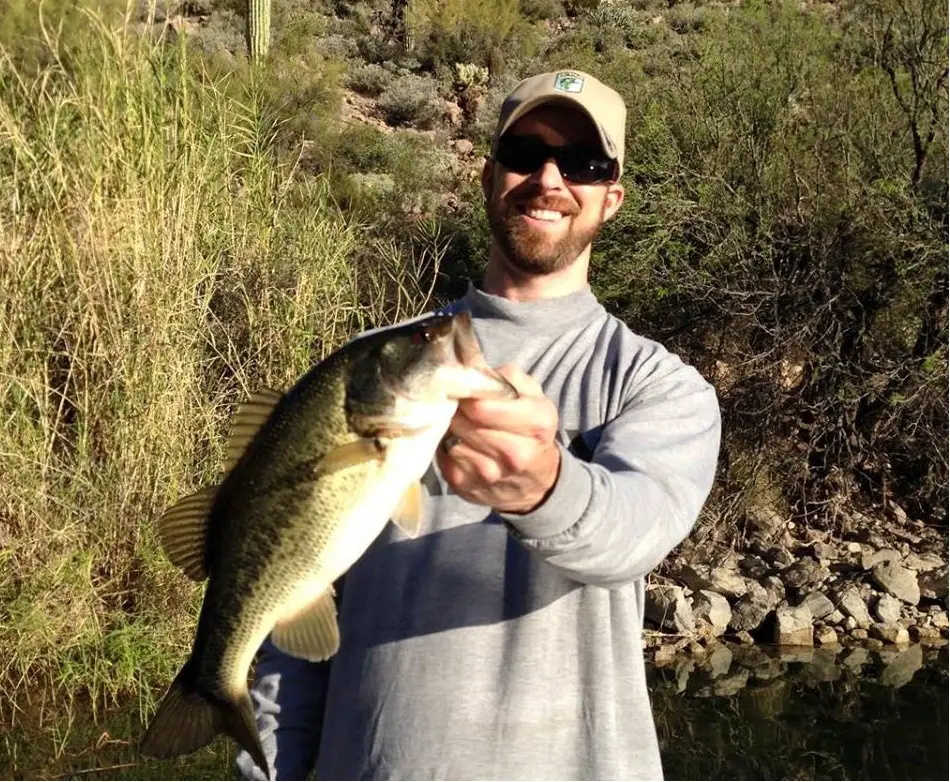 Imagine fishing in dense cover, surrounded by tangled vegetation, reeds, and mats. It's a bass angler's paradise, but also a challenging battleground, so one of your buddies tosses you a swim jig. Navigating through these obstacles, avoiding snags, and choosing the right equipment can be daunting. However, that's not the end of your problems…
Many anglers have problems using the wrong lures that constantly snag, which costs you money (having to replace the lure) and time (having to re-tie all the time).  It's a pain having to untangle, reposition, and navigate… that flat out takes up precious fishing time that you just don't have!
Your solution is right in your hands – the swim jig.
In this article, we'll explore weedless swim jigs, revealing their features and tactics. From hook stability to efficient weedless performance, we'll equip you to confidently fish in thick cover.
By the end, you'll have the knowledge to conquer the hurdles and catch elusive bass. So, grab your gear, tie on the best swim jig, and revolutionize your bass fishing experience. Let's dive in!
If you're looking for a specific brand and what to know what are the specific details to fit your needs, then this is the article for you..
However some of you may be asking, why does it seem like the whenever a Pro picks up one of these baits they can catch a ton of fish with it, right?…
To help you answer your question, I wrote a detailed fishing blueprint on how to catch fish using a Swim Jig. Click HERE if you want to learn more. 
With this in mind, my team and I published a quick-read review of 5 Best Bass Lures Every Angler Must Own, or you can opt to read the complete report, Bass Fishing Lures: A Complete Guide. Over the past several years my team and I also tested and reviewed a variety of products, including best bass fishing rod, best bass fishing line, best tackle bag and even best fish finder for bank fishermen!
For more information, see the comparison table and buying advice below.
But be warned! Go through this blueprint slowly and carefully so you don't miss any suggestions that could cost you.
Listen, you've seen us all over the place from bait reviews to publishing lake breakdowns… we used our experiences with the products and looked over hundreds of customer reviews, watched tons of video reviews, and analyzed what the professionals and experts had to say from popular sources like BassMaster Magazine.
We scrutinized the data from the product catalog pages of nearly a dozen manufacturers, and we even tried to interview some of the company representatives to talk shop and get their take.
1. Strike King Hack Attack Heavy Cover Swim Jig
But, why is the Strike King Hack Attack Heavy Cover Swim Jig the best?
Designed for fishing in and around the heaviest cover, Strike King's Hack Attack Heavy Cover Swim Jig is built around an exclusive Gamakatsu extra-strong Siwash hook for extra bite.
A heavy weed guard helps it to negotiate the heaviest cover, and a Perfect Skirt™ adds a more lifelike action.
If you're hauling big fish out of grass or wood, this is the jig for you!
2. Strike King Tour Grade Swinging Swim Jig​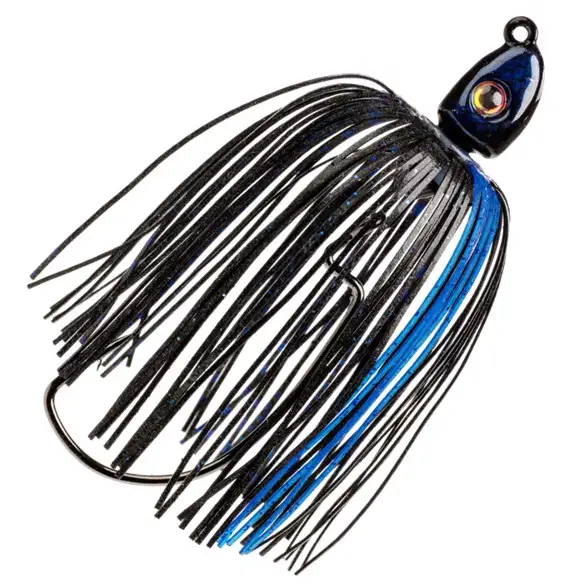 If you're looking for an innovative edge or a new option for swim jigs, Strike King has reimagined the traditional jig with this new product touting increased action.
Look closely at the Strike King® Swinging Swim Jig, and you'll see that unlike other jig styles, it's not built on a fixed hook.  The Strike King Tour Grade Swinging Swim Jig comes with a hook that is connected by an eyelet instead of fixed into the casting of the jig head.  This type of connection offers an increased overall swimming action of the jig.
Adding your favorite minnow style jig trailer to the free-swinging hook provides maximum swimming action that outperforms any other swim jig on the market. 
This swim jig's head was also professionally designed to ensure a sleek and balanced profile helping it to cut through the water with little resistance.
Recommended Colors: Black/Blue, Green Pumpkin, Bluegill, White
Handcrafted quality and patented design characteristics give this Nichols Lures Saber Swim Jig a leg up on much of the competition.
This meticulously built bass jig is built with an upswept head for super realism as it courses through the undergrowth, with its super soft skirt pulsating and flaring with every movement.
With an upswept head design delicately mimicking the head of a baitfish, this swim jig easily runs through thick cover and obstacles.  The metal flake head features 3D eyes and is molded on a premium Mustad® UltraPoint® 3X hook with 30° bend for maximum control; sturdy fiber brush guard handles the thick stuff with ease.
Intricate paint jobs with metal flake heads and realistic eyes make the Nichols Lures Saber Swim Jig stand out amongst other baits.
The patented "toothpick" trailer keeper also ensures you will get as much life out of your jig trailers as possible.
Recommended Colors: Gizzard Shad, Bluegill, Bombshell Shad, Bull Frog
4. 6th Sense Divine Swim Jig
The 6th Sense Devine Swim Jig swims through rock, trees, shrubs, and grass with ease.   one may drag, swim, stroke, or flip and retrieve.
We were really impressed with the head of the bait, it's kinda shaped like a triangle (if you were to cut it in half).   This head shape practically guarantees this swim jig to be skipped under docks and willows; as well as provide a subtle wobbling swimming action. 
The angular shape of the head aids in deflecting off cover and preserving upright posture, enabling the hook to stand vertically off the bottom (which makes it awesome for bedding bass in the spring).
Your plastic trailers are kept securely fastened in position by the Screw Lock keeper. When compared to traditional keepers, minimal trailer changes result in considerable cost savings thanks to a straightforward "slide-on" function that strips the trailer.
All swim jigs have realistic 3D eyeballs, natural appearing gill plates, and intricate eye sockets. Each Divine head has a 5/0 black nickel hook and is individually hand-painted.
#ad / Images from Amazon Product Advertising API
#ad / Images from Amazon Product Advertising API