How To Fish Irvine Lake | Your Irvine Lake Fishing Report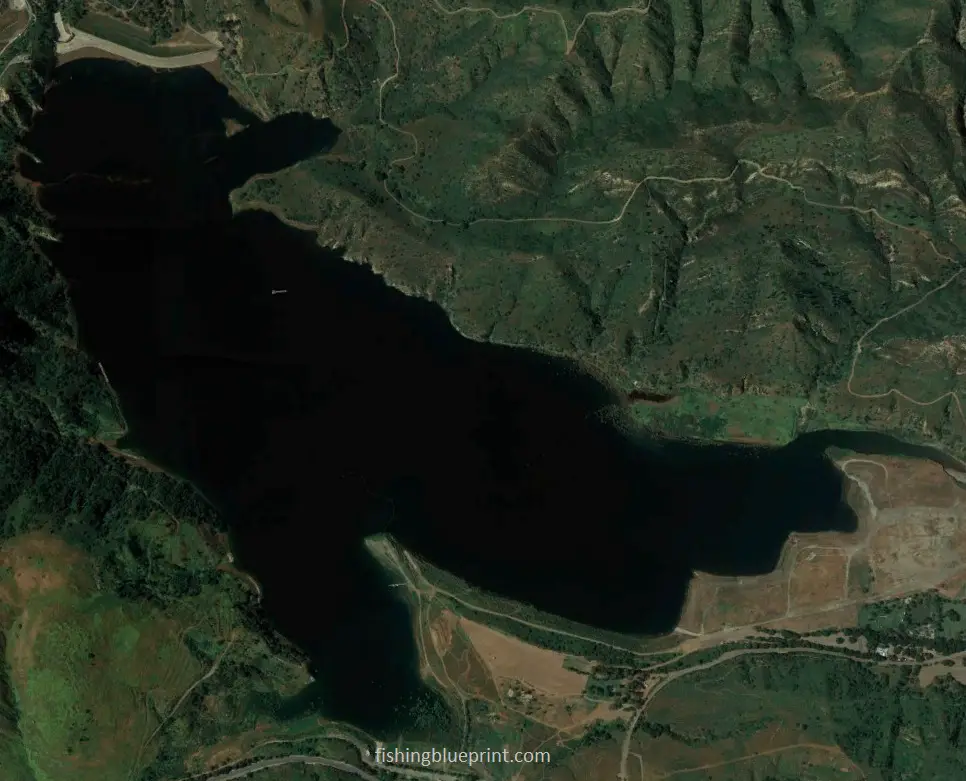 In this fishing report you're going to be given the blueprint to fish Irvine Lake.
So what are the best tips for fishing El Capitan Reservoir ? There are three important factors you must know if you want to know how to fish El Capitan Reservoir successfully. First, you need to know what kind of fish is in El Capitan Reservoir . Second, it's important for you to know which part of the lake each species can be found. Lastly, knowing what are the best baits that work on El Capitan Reservoir is vital. However, tactics, baits, and locations will be different for each type of fish that you target. So let's talk about the steps you need to take in order to give you the best chance of catching a fish on El Capitan Reservoir.
It has been my experience that this lake lake can give locals and visitors the opportunity to test their luck in catching one of the many game species this lake has to offer, such as bass, catfish, bluegill, and much, much more!
Here's the most recent and updated Irvine Lake Fishing Report – it gives you a quick and easy list of some really good fishing spots. If you're looking for more detail on how to fish each spot scroll down into the article. 
Shoreline Fishing
Park Entrance Cove
Catfish Cove
Crawdad Point
Here are some additional fast and helpful tips just for you: 
The only way to fish this lake currently is by shoreline.
You can buy tackle and groceries at the lake or at one of the tackle shops in the outer edges of Santa Ana.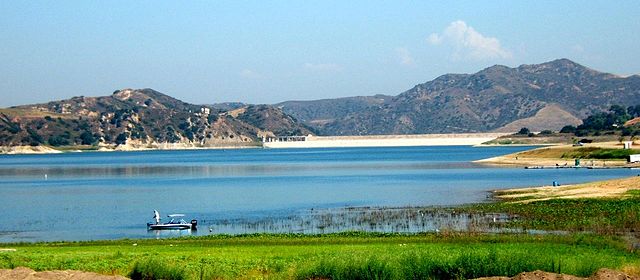 Ordinally called the called the Santiago Reservoir, Irvine Lake is now owned by the Serrano Water District and the Irvine Ranch Water District and operated by Serrano Water District in conjunction with OC Parks.
Aside from recreation, the lake provides drinking water and provides supplementary irrigation water.   
Luckily for the locals sits 48 miles away from downtown Los Angeles, however even closer if you live in Anaheim, Irvine, or Santa Ana!
As per OC Parks, "Irvine Lake is open to shoreline fishing only, Fridays through Sundays. Note that Red Flag wind warnings or other hazards may lead to closure."
Additionally, on the OC Parks website, no license required. California Department of Fish and Wildlife fishing regulations regarding fish limits apply.
Additionally as per the OC Parks website, the following fishing regulations also apply:
Five fish limit.
Bass is catch-and-release only.
Catfish larger than 24 inches must be released.
One rod per person maximum.
Approved baits only: worms, mackerel, dough baits, or artificial lures. No live bait allowed (except worms).
Shoreline fishing only. No boats, float tubes or other recreational activities available.
Bait and light snacks available to purchase.
No alcohol permitted.
No access to Irvine Ranch Open Space.
Parking opens at 6:30 a.m. Gates to lake open at 7 a.m. No re-entry.
ADA transportation to the lake can be scheduled by calling 714-649-9111 with at least 24-hour advance notice.
Absolutely no access to lake prior to opening. Please do not stop or park anywhere along Santiago Canyon Road. Anyone stopped or parked along Santiago Canyon Road prior to the opening will be subject to citation. Thank you for your cooperation with regards to the safety of everyone on the road. Please plan your drive accordingly.
What Kind Of Fish Are In Irvine Lake
Rainbow Trout

Largemouth Bass

White and Black Crappie

Bluegill and Sunfish

Perch

Catfish

Sturgeon 
Irvine Lake Fishing Tips & General Strategies
It can be a challenge to break down this body of water… So that's why I created this Irvine Lake Fishing Report to help you to easily start catching fish fast! 
Many bass anglers will avoid this lake because of all the trout anglers lining the banks, but big bass are frequently caught here, you just need to know where to go and what to expect when you fish this lake. 
Water Clarity: 
The water at Irvine Lake is known for its remarkable clarity, making it ideal for fishing.

Most days, you can expect visibility of 4-6 feet.
Irvine Lake Fishing Structures: 
Irvine Lake offers a diverse range of structures and fishing cover, providing an engaging experience for every angler. Here are some of the top fishing spots you'll find:
Rocky Banks:

The reefs at Irvine Lake are home to a variety of fish species, making them a great place to cast your line.

Drop-offs:

The deeper waters near drop-offs can be home to larger fish, presenting an opportunity for a bigger catch.

Floating Debris Mats:

Floating debris mats are common after a few days of wind where leaves and other floating debris will float in the backs of pockets. Bass and crappie love to hang out under these mats, and are often overlooked areas for fishing. 

Floating Vegetation Mats:

When the water is high bass often will seek shelter beneath the floating vegetation mats that are commonly found in the backs of shallow pockets like the Park Entrance Cove.

Weed Beds:

Although fishing in weed beds can be challenging. But fishing with a weedless lure can be just the ticket trying to catch a big bass hiding in the grass.
But Where Are The Best Places To Fish At Irvine Lake?
And in no particular order here is that list of the best fishing spots at Irvine Lake.
DISCLAIMER:  The material provided is for general information purposes only. It's important to understand that any information provided in this article can change at any time. Any maps or graphics featured are not to be used as navigational aids. Fishing Blueprint will not be responsible for any personal injury or property damage from any misuse of the maps or graphics provided.   It's completely impossible to give you every single spot where you can potentially catch a fish.  But, what this list does do is to give you a helping hand and narrow down to the most productive fishing spots.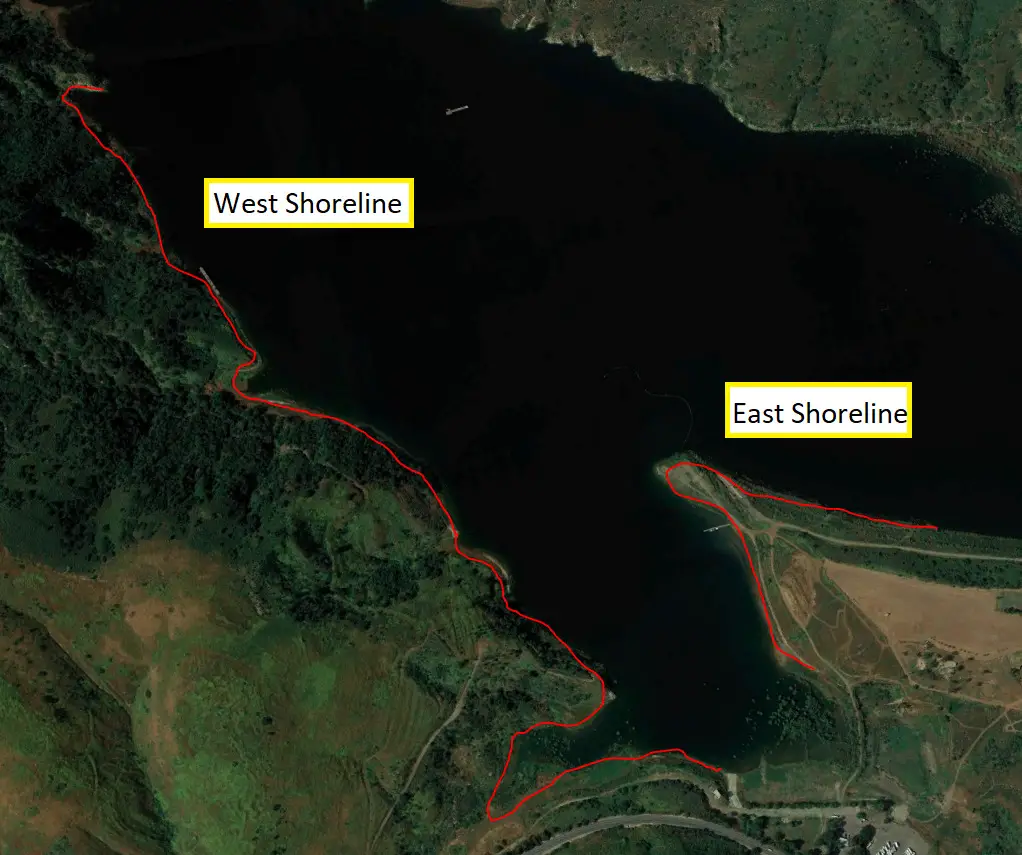 Along the west and east shore there is a lot of areas to fish (red lines).  However below I chose my favorite locations to fish from.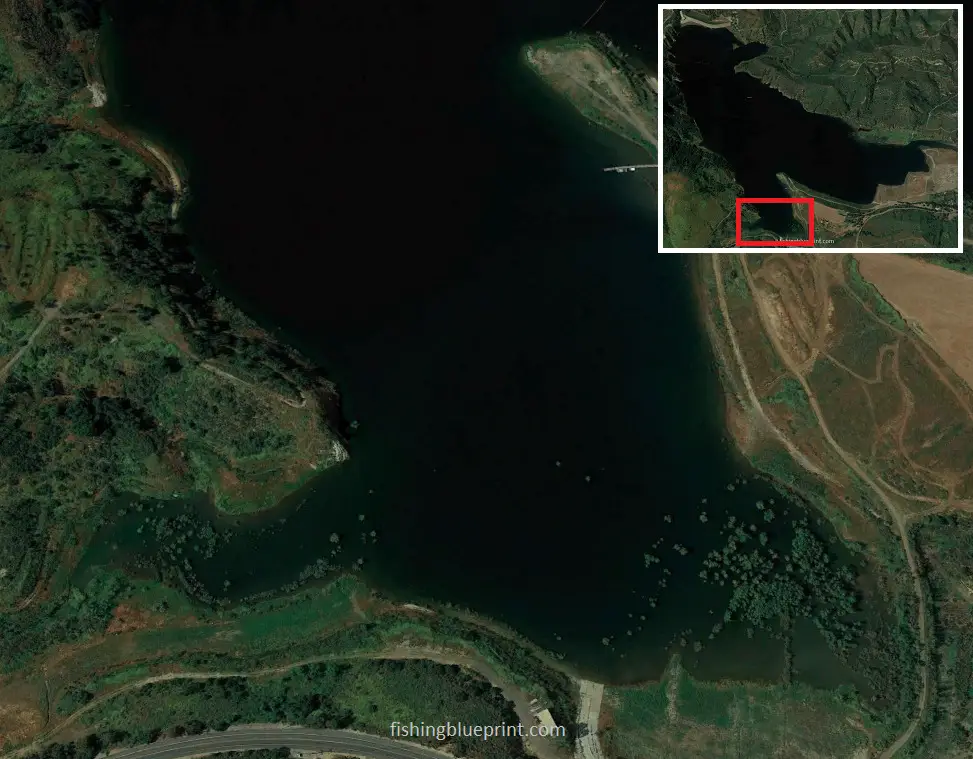 Look carefully at this fishing spot under lower water conditions…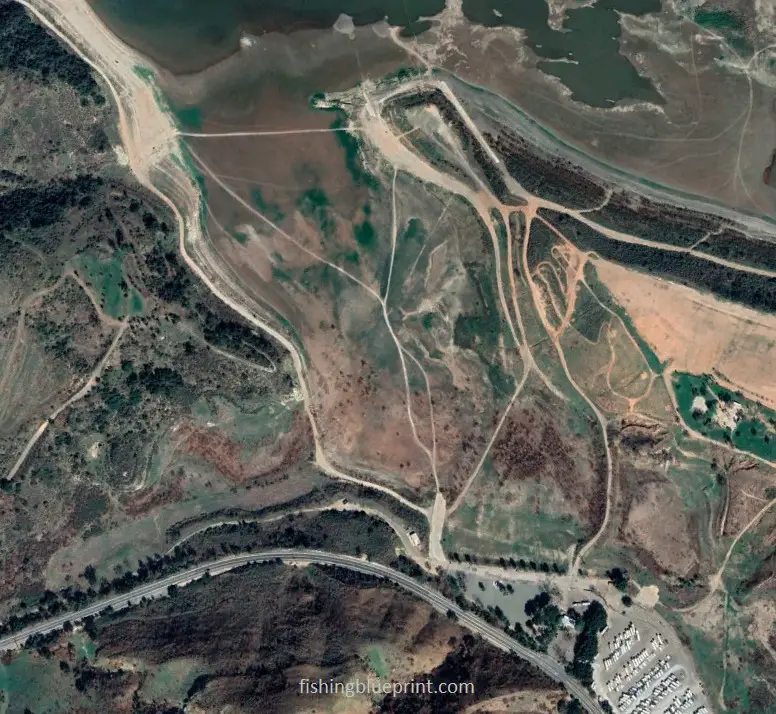 This spot is great when the water is high.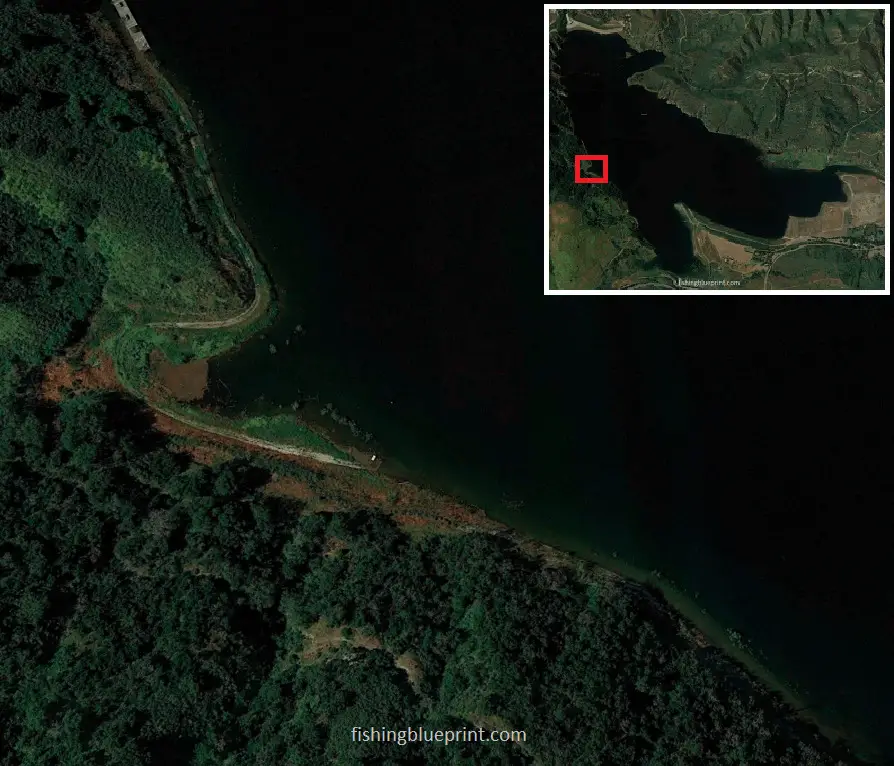 Look carefully at this fishing spot under lower water conditions…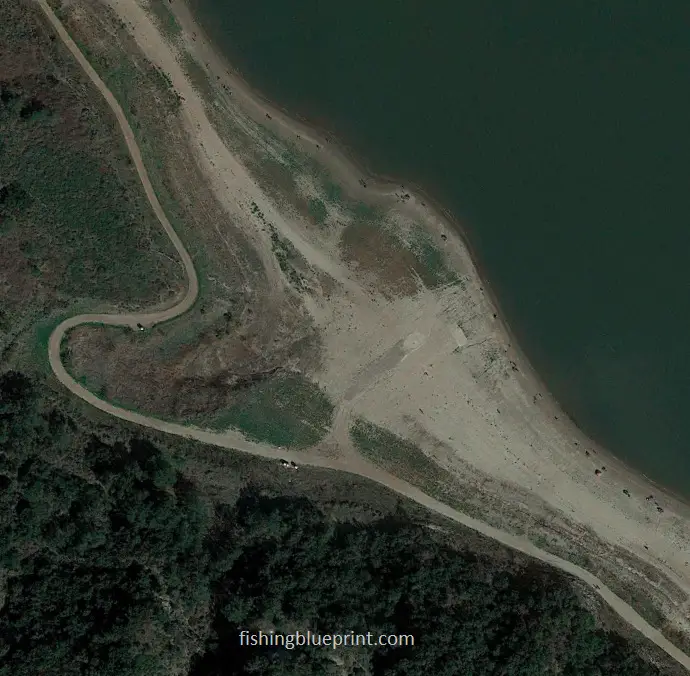 This spot is great high or low.  When the water is low you can see it forms a point.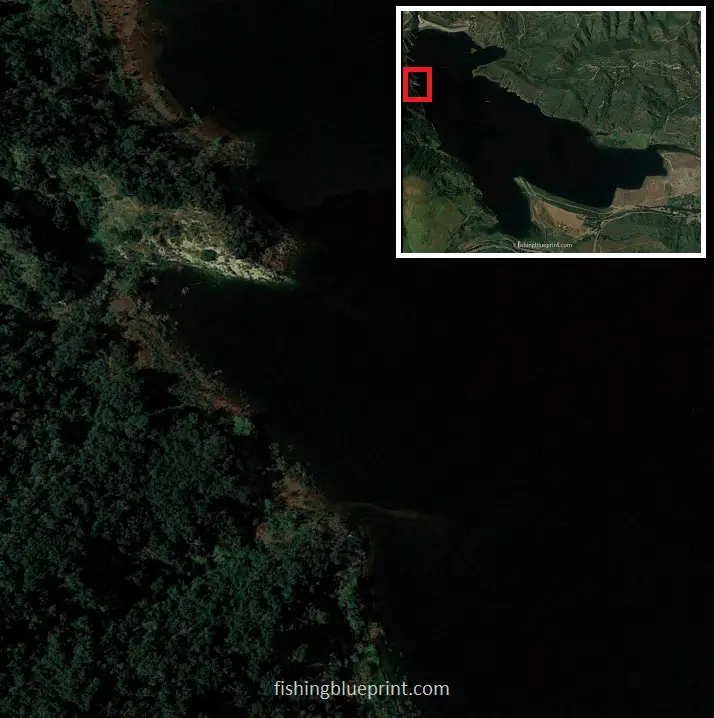 Look carefully at this fishing spot under lower water conditions…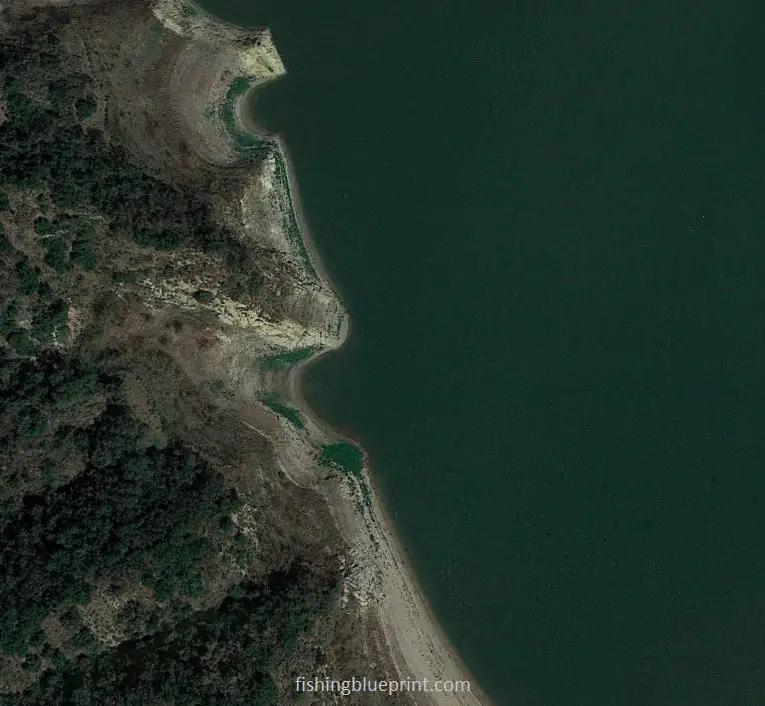 This spot gives you quick access to deep water great for summertime trout, bass, and crappie.
As you now can see Irvine Lake fishing can be tough at times, but it's not impossible and with the help of the Irvine Lake Fishing Report… It definitely helps you get started on the right foot quickly and easily, so you can avoid wasting hours wondering where and how to get started.
As fellow fisherman and content creator I thrive on helping others… I feel like I can do the most good by helping others… And frankly… I would feel like I did something wrong if you didn't walk away feeling a little better about this lake.
I truly want to over deliver for you…
So Let Me Ask You Another Question… 
After reading this helpful report:
Can you see how this could change the way you would fish this lake?… To make it easier, faster… and… with less headache, less frustration?
If nothing else, do you now have a better sense of where you can get started, even if you have have been here?
Do you feel that you have a good grasp of what species to expect in this lake?
Do you have a good understanding what baits are needed to catch each of the different species of fish?
Earlier we came up with some helpful spots to catch more fish, can you see yourself considering any one of those spots? Which ones are you the most excited about implementing when you get to the lake?

Is it fair to say that using these spots would give you a significant advantage over someone else who's fishing this lake? 
I Need To Ask A Favor From You And It's Not Going To Cost You A Single Dime… 
If you have gotten anything out of this free report; whether its knowing where to get started, what kinds of fish are in this lake, what baits to use, where to launch your boat, where to buy a frosty beverage, where to camp, and other things to do when you're at this lake…
Then I need you to do something that is going to help you your fellow angler…
And that is share this report.  Please share it to as many people as you can.  It's free to you and it really helps me out as a creator. 
Lastly… thank you for spending your time reading through this report and I hope you have a luck on the water.  
THIS IS WHERE YOU CAN HELP ME THE MOST:  There's a lot of information about this subject you have found helpful, and I'm sure you'll be able to put some of the knowledge bombs to use.  But sharing this report helps drive traffic which in turn helps me at absolutely no cost to you.  I love creating reports like this for you, and you like reading these types of reports please share this with your friends, family, and fellow anglers.   
Click on your favorite social media buttons to share this page now!
Other California Related Fishing Articles
More articles just for you...
A Complete Buyer's Blueprint On The Best Early Summer Bass Lures On The Market Today! When it comes to bass fishing, choosing the right lure
Read More »