Drift socks can be a massive asset when your faced with current, either by a river, or a tidal system.
Manmade currents can also be produced from reservoir dams. Power companies will release or pump in water to make electricity and that will create a current.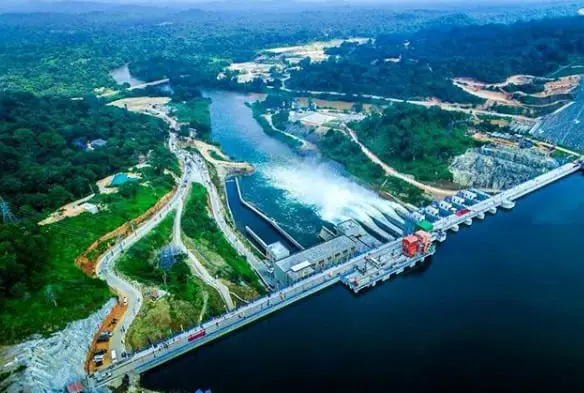 Drift socks can provide you with a silent brake because they inflate with water as you are drifting, which slows down your movement.
Whether you're doing some fishing or just want to take in more of the beatiful scenery, having something to decrease your drift speed can be truly priceless.
If you plan on using a drift sock in this situation there are some things you need to know before you attempt the task.
So, how to use a drift sock in rivers or currents? The answer depends on what your end goal is. There is a special strategy for slow-trolling/drifting (or "Strolling) and a separate strategy if you are anchored and you want to completely eliminate your boat or kayak from swaying back in forth in the current (or "pinning"). Therefore we strongly recommend following both suggestions so you can get the most out of your drift sock.
WARNING:  There's a lot of information about this subject you'll probably want to come back to. No one expects you to remember all these tips. We know your time is precious, so we really tried to over-deliver in value for you. Additionally, we frequently update reports like this, so you'll want to stay up to date with any changes or additional tips we include for you. 
We found that the easiest way to save and bookmark this report so you can come back to it later is to share it on your favorite social media platform, especially if you use your phone to get important tips like the ones in this report here…
Click on your favorite social media buttons to remember this page now!
Starting at the Beginning
Even if you never used a drift sock before, the job of deploying one is easy once you learn a few basics. If you really no idea what a drift sock is, or if you would like to have more detailed background into drift socks then start here… I wrote the complete blueprint report on Drift Sock Basics – What It Is & How To Use It [2021 Quick Start Guide]. Where I go into more detail on What Does A Drift Sock Do and Why Use A Drift Sock?
Where should I attach the drift sock on my boat or kayak?
The most common questions that anglers will ask is 'where should they attach the drift sock harness?'… Does it need to be on the side, front, or back?
As a general rule, the most common placement for a drift sock would be at the back (aka the aft) of your kayak or boat. If you're fishing on a boat or a tandem kayak this gives both anglers the opportunity to target the same structure.
However, there are exceptions to every rule…
If the current is slow and safe enough you can consider placing the drift sock in the middle of the boat. This should point you directly at the bank giving you good casting angles
It's really not recommended to drift downstream in a current backward.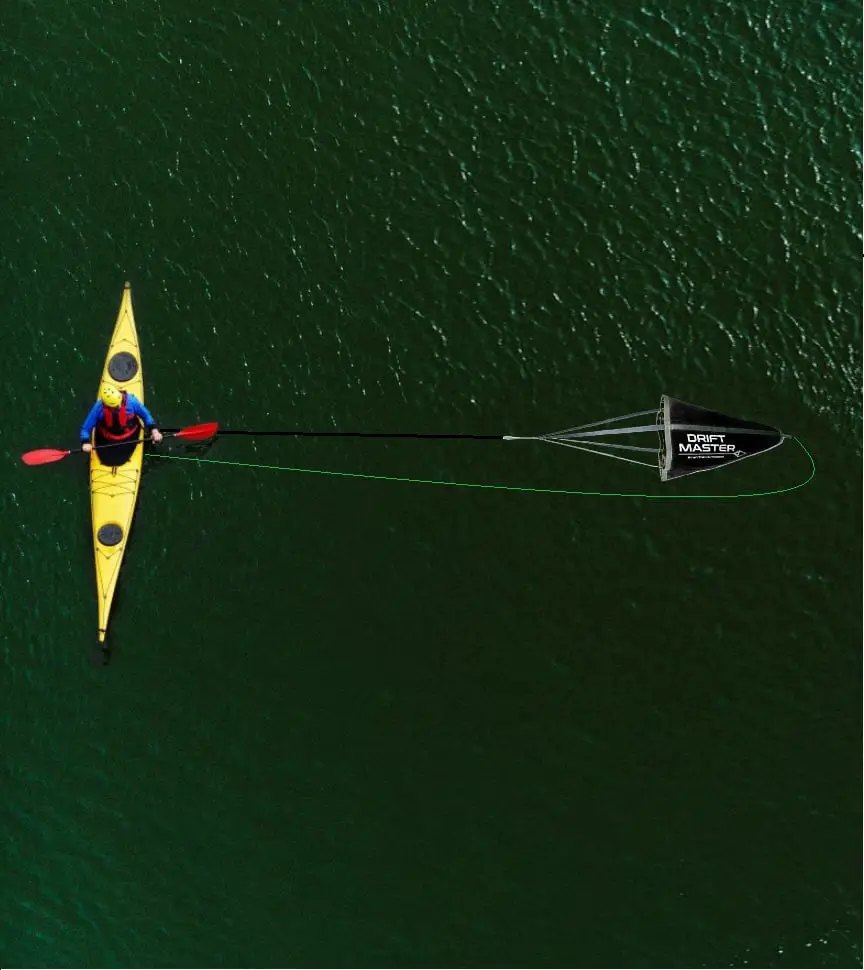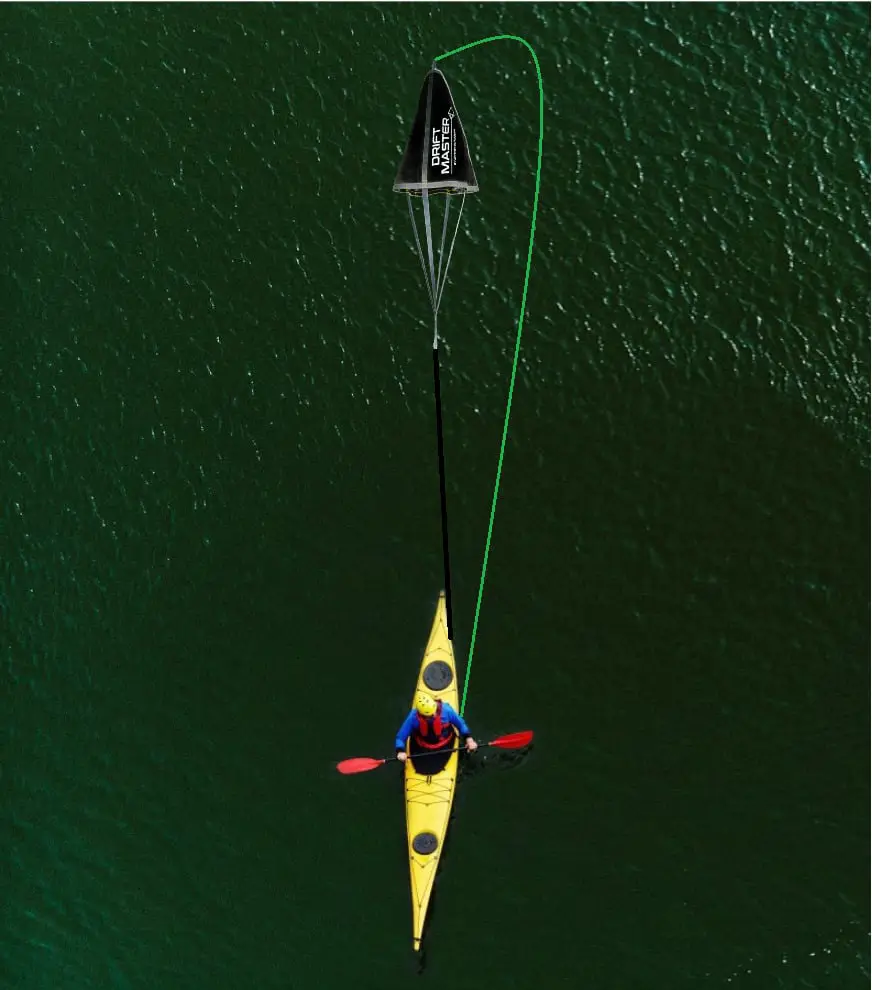 Importantly, if you do happen to attach it to the aft of your boat make sure you keep the collapsing cord where you can reach it. It will make your life easier when you need to retrieve it.
For some larger boats, you might want to use multiple drift socks, but again, this is not a requirement. If face, the majority of the time, you'll only need a single drift sock.
Drift Sock Installation – Floating Harness or Plain Rope?
Most drift socks are made out of either a polyester/vinyl material or durable material called 'Rip-Stop'. Rip-Stop is a material that blends the strength and durability of plastic sheeting over a flexible, UV resistant, interlocking cotton lattice weave. 
Naturally, it is important to determine if you have all the required accessories that you need to operate a drift sock, because the last thing you want is to purchase one that requires additional accessories that need to be purchased separately.
For the most part, all drift sock will sink, so the overwhelming majority of anglers would suggest on buying a drift sock that comes in a kit with a floating harness…
That way if it detaches itself, you will never worry about it sinking. It will simply stay afloat! Then you'll have to go out and buy a new one!
Essentially, if you don't have a floating harness, you're risking to lose your drift sock forever, as opposed to having peace of mind that you could always go back and snatch it out of the water if it comes loose. 
You just have to make sure you know what you're buying ahead of time, whether you want it mounted central or not. 
"Stroll"
Fishing in current will force the fish to be close to the bank or hiding behind larger rocks and dips.
If the current is brisk, you could be missing out on targeting a lot of potential targets!
So to even the playing field you need a drift sock to slow down your drift or troll (i.e. "stroll") by deploying your drift sock. You will instantly If you want to slow your drift down to a crawl, deploy your drift sock system so you can really pick apart all spots that you come across. 
Adjust your distance and casting angle from the bank by using your trolling motor (or paddle if your kayak fishing).
Pinning is a technique is utilized by avid saltwater anglers and cat-fisherman all over the world.
This is how you do it…
Approximately 30-50 feet upstream drop an anchor from the

 

bow

 

of your boat.
Slowly let out the line and allow the current to take you to the location you want to fish over or parallel to.
Once you are at the desired location tie down the anchor line to a cleat to stop your downstream drift.  
Next you need to deploy your drift sock off the

 

aft

 

of the boat… yes, the aft of the boat!
The drift sock will inflate in the current and will straighten out your boat and literally "pin" it into position. 
This strategy will also works well with kayaks.
Drift Socks in All Price Ranges
If you're shopping around for drift socks, you'll be surprised of how many designs, sizes, and price ranges they come in… which means everyone should be able to find one that perfectly suits their needs. 
If you're curious about some of the best rooftop carriers on the market, consider the following products:
In A Hurry?
If you don't have much time to read the detailed reviews, simply use the links below to quickly find the best drift socks for your boat, kayak, SUP, or canoe on Amazon. You can be assured we only choose the best products…
1. Mythik Outdoors Drift Sock Kit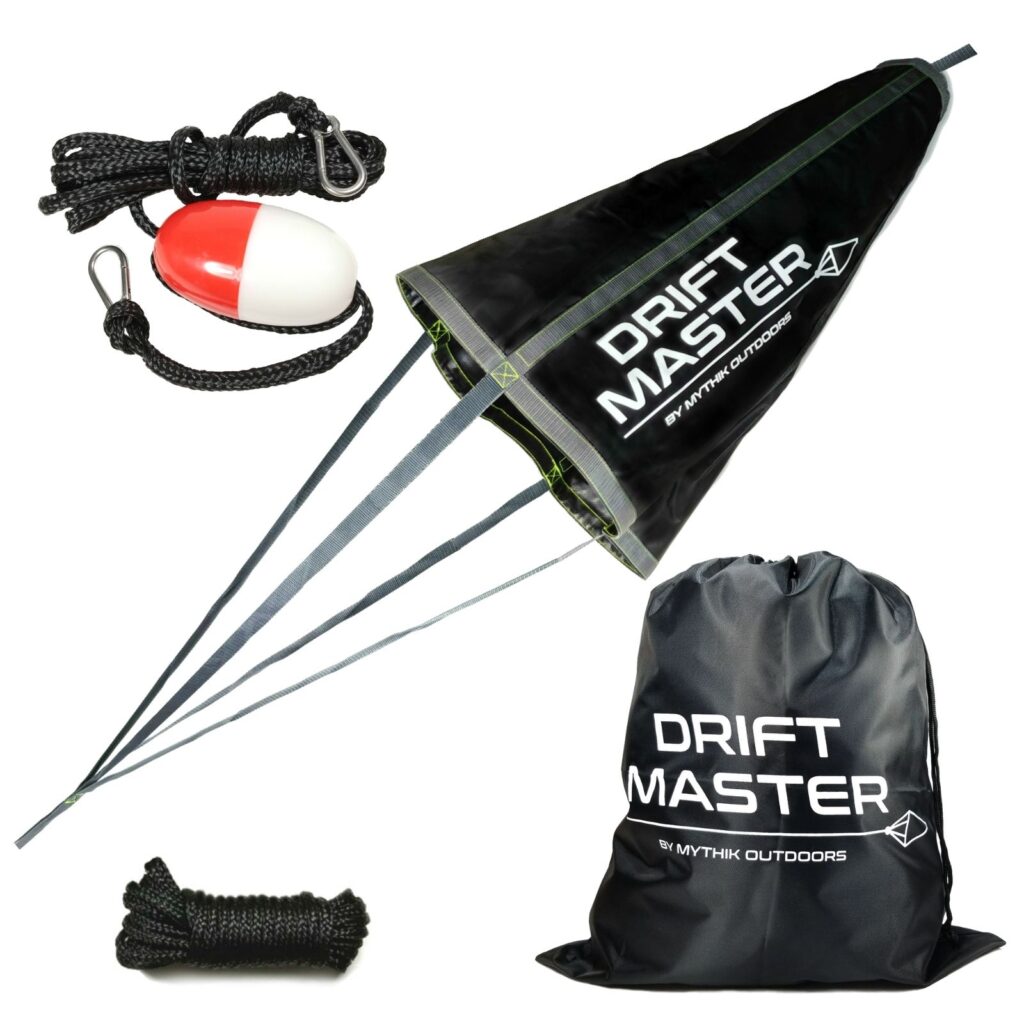 Made by the Mythik Outdoors, this high-quality drift sock fits all the vast majority of boats or kayaks. They come in a complete kit. You get a insanely durable drift sock, a floating harness, a collapsing cord and a water resistant storage bag. 
It's since it comes with everything you need it's very easy to install. The water-repellant straps that are super-strong and long-lasting, and it comes with a UV resistant marine-grade 1/2-inch polypropylene cord! That is a AWESOME feature! That collapsing will prevent you from throwing out your back and making bringing in your drift sock a breeze. 
Weighing a mere 3 pounds, the Drift Master Drift Sock Kit is a steal at around $60 and is both mold-resistant and easy to store away when you're not using it. Using this drift sock will give you ninja-like stealthiness thanks to its design, and has no moving parts to make any loud noise. It can help you save a ton of money because you wont have to invest in multiple batteries if you were to only use your trolling motor to slow your drift.
If you're interested in this you can read all the reviews from actual Amazon customers. Click here!
2. Best For Large Boats - Cabalas 78" Pro Drift Sock

With a massive 78-inch drift sock you can practically stop the titanic… well maybe that being a little dramatic. The Cabela's Advanced Anglers Pro Series is 100% upgraded reinforced nylon and made out of military-grade materials that will keep it working great for many years to come. 
You can attach the sock anywhere on your boat and it will perform. whether you have a roof rack or not, and it fits vehicles of all sizes and designs. It is also one of the most reasonably priced cargo carriers on the market and costs under $60.
The Cabela's Advanced Pro Series Drift Sock has a built-in float in a small section of the bucket rim, and conversely, on the opposite side, it has a series of small weights sewn in. 
This is critical in order to help the drift sock open up quickly.
If you're interested in this you can read all the reviews from actual Amazon customers. Click here!
3. Best Budget - MOOCY 32" Drift Sock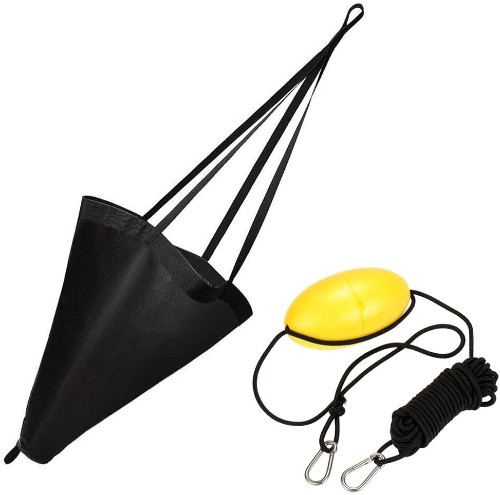 While MOOCY drift sock uses a lighter density nylon tear-prevention material it is nowhere near as heavy-duty as the Rip-Stop material that is used on the Mythik Outdoors Drift Master. 
Of the few times using it held up and worked as expected. 
A convenient floating harness is included when you buy a MOOCY drift sock which is a nice feature, but it lacks the collapsing cord or the storage bag. 
The MOOCY 32-inch drift sock would excel for someone who is on a budget, who is not going to be doing a large amount of drift fishing or doesn't mind buying extra needed accessories like the collapsing cord or a storage bag. 
If you're interested in this you can read all the reviews from actual Amazon customers. Click here!
Other Drift Fishing Related Articles
Accessories You Need
Bait board – Bait Boards are an excellent multi-purpose workspace that allows you to cleanly cut any bait or fillet your catch. I also highly recommend getting a Scotty bait board because it can also help store and organize all your tools, tackle, and bait prep items. The Scotty board also comes with a universal post base.
Filet knife – Having a surgically sharp fillet knife is an absolute must have when you're prepping bait or filleting your catch. I really like this Rhinoreto fillet knife because it stays consistently sharp even after you cut through the thickest scales. There is good reason this is the number one best seller of fillet knifes. Click here to check availability.
Planer Boards – Designed specifically to assist anglers to cover more water when trolling. Planer boards, are vertical board-like products that are built with an angled leading edges. The board is then pulled behind a boat or kayak. The movement of the boat causes the board move your line and lure away from the boat. That way your lure is presented to the fish quietly, away from the sound of any motor.
If you're serious about trolling you need a planer board set like the Krazywolf Planer Board system. I've used other planer boards in the past. And unlike the competitors, the Krazywolf planerboard just seems more rigid. I really like that I can adjust the flag spring when I decide to use larger baits.
Fish Finder – Discovering the best fishing spots could mean the difference between an action-packed day catching nonstop fish over a day of utter boredom. The fish finger is a necessary tool for drift fishing whether you're just getting started or if you're a seasoned angler. Having a quality fish finder tells you what is underwater, help you locate hidden habitat that is not found on any map.
Fish Finder – Discovering the best fishing spots could mean the difference between an action-packed day catching nonstop fish over a day of utter boredom. The fish finger is a necessary tool for drift fishing whether you're just getting started or if you're a seasoned angler. Having a quality fish finder tells you what is underwater, help you locate hidden habitat that is not found on any map.
Best Fishfinder For A Experienced Seasoned Fisherman – I highly recommend the Lowrance HDS-9 LIVE – 9-inch Fish Finder.
I use this on my 21′ Ranger. All I can say is IT. IS. AWESOME!
This fish finder definitely gives you the best bang for your buck. The high-definition 3D Structure Scan is a really cool feature that shows you all the underwater features and fish in the front, back, and sides of your boat.
Lastly, having the shortcut keys is a phenomenal idea that allowed me to customize my unit for my needs.
For example, I like to drop waypoints as I'm trolling. Now I can push a single button and the Lowrance HDS-9 LIVE quickly and easily assigns a waypoint to that exact spot!
In contrast, having an advanced fish finder may be a little overwhelming and may not be suitable for everyone.
Best Budget Fishfinder For Small Boats – I strongly recommend the Garmin Striker ClearVu Scanning Sonar with built-in Quickdraw Contours Mapping Software.
This Garmin is great if:
You're on a budget
Perfectly sized for kayaks or small aluminum boats
Just getting into fishing and don't want to spend a lot of money.
I actually own two of these units…
For the first one, I use it on my kayak. The Striker is small, lightweight, and compact. It displays a TON of information that in need when I'm on the water.
Personally, I like the mapping feature that best. When I'm on a small farm pond or deep in a cove that hasn't been mapped I can chart out all the features and structure that has never been seen before.
My other Striker I own I use on my father's small 14′ aluminum v-hull boat we use for trout fishing.
The screen stays bright and offers a crisp definition, even in blue-bird skies at high noon. And unlike others, the screen won't fade.
The unit comes with everything you need. Garmin doesn't nickel and dime you by forcing you to buy hidden accessories. Just hook it up to a power source, add water, and off you go.
One of the hang-ups about this unit is that it doesn't come with an owner's manual. But luckily I solved that problem. Now you don't have to search high and low for it, you can download it free right here.
These Garmin Striker units are super popular and fly off the shelves especially this time of year. If you're interested in a powerful, small, compact fish finder then head on over to Amazon to see if they have any left. You'll definitively be catching more fish if you do.
Trolling rod holder – If I'm trolling I need my rod in a holder that is easy to get to when I have a fish at the other end of the line. The Atwood rod holder can even be locked into place if I'm expecting to a giant fish.
Installation was really easy and you can even swap out other products Atwood makes into the same mount.
Tackle Bag – You can't carry all your gear in your pockets, so you need a reliable tackle bag to transport it. I wrote a complete review guide, Best Tackle Bag for Fishing, check it out by clicking here.   But if you don't have the time to read the full guide then let me tell you I recommend the Lunker Bag by KastKing. 
Fishing Pliers – Nothing will ruin a day quicker than getting a hook embedded in your hand, or worse your eye.  That's why I always recommend having a good set of pliers that won't rust and won't slip out of your hand.  I recommend that Cutthroat 7" Fishing Pliers.  
Landing Net – As you are reeling in that monster fish, you don't want to injure yourself or knock the fish off the hook by trying to grab it. That's why I recommend a dependable telescopic landing net. 
Fishing Weight Scale – Whether if you're going to keep your catch or just take a photo of it and brag to your friends it's important to have an accurate scale. I recommend a scale that has a large LED display like this one fishing scale here. 
Wide Brim Fishing Hat – Nowadays, you have to protect yourself against the sun's harmful rays. Wearing a wide brim hat not only gives you UV protection, but it also keeps you cool.  I recommend the Columbia Unisex Bora Bora Booney hat. It fits any size head and it feels really comfortable. 
Fishing Sun Shirt – Don't you stop at only getting head protection, you also need to protect your chest, back, arms, and torso. According to the researchers finding skin cancers on the shoulders and forearms rank within the top-5 locations to get skin cancer*. Avoid any unnecessary UV exposure and stay cool by wearing a UV protective PFG Fishing Shirt by Columbia.
Fishing Gloves – Fishing gloves allow your hands to stay covered from the sun's harmful rays and stay dry by using a special material. These gloves by Fishaholic offer UPF50+