How To Fish Castaic Lake | Your Castaic Lake Fishing Report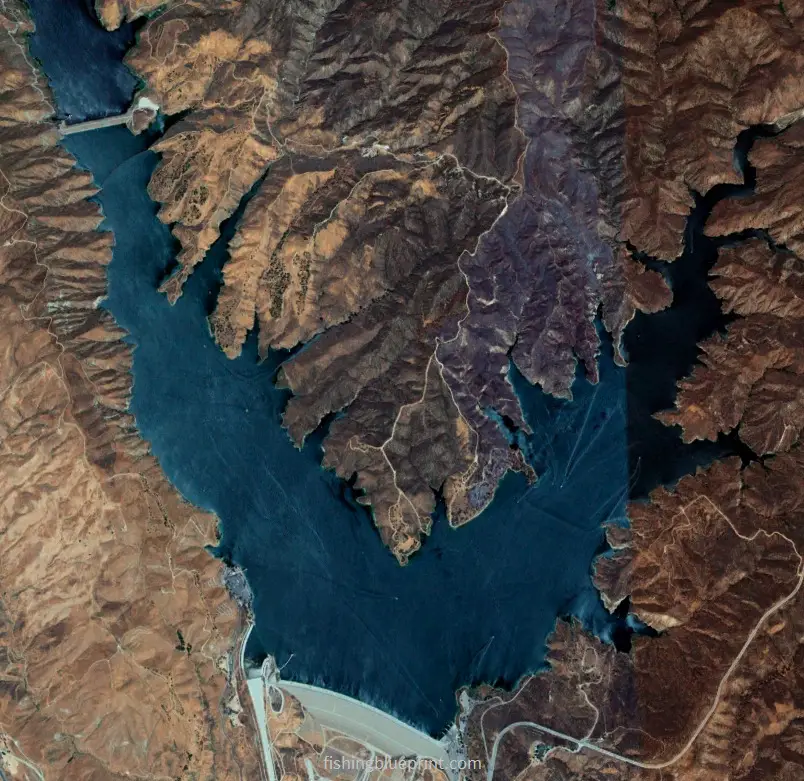 Castaic Lake is a relatively large lake that sits 42 miles away from Los Angeles, 169 miles away from San Diego, and 344 miles away from San Francisco.
Overall it's a popular being located on the northeast edge of Los Angeles. In this post you're going to be given the blueprint to fish this lake.
So what are the best tips for fishing Castaic Lake? There are three important factors you must know if you want to know how to fish Castaic Lake successfully. First, you need to know what kind of fish is in Castaic Lake. Second, it's important for you to know which part of the lake each species can be found. Lastly, knowing what are the best baits that work on Castaic Lake is vital. However, tactics, baits, and locations will be different for each type of fish that you target. So let's talk about the steps you need to take in order to give you the best chance of catching a fish on Castaic Lake.
This lake gives locals and visitors the opportunity to test their luck in catching one of the many game species this lake has to offer, such as Florida Strain Largemouth Bass,  Smallmouth Bass, Striped Bass, Bluegill, and much, much more!
Here's the most recent and updated Castaic Lake Fishing Report – it gives you a quick and easy list of some really good fishing spots. If you're looking for more detail on how to fish each spot scroll down into the article. 
SKI ARM
The Cliffs
Owl Canyon Cove
Slalom Cove
The Ridges
FISHING ARM
Old Outhouse Cove
Red Clay Cove
Dry Creek Gulch
Here are some additional fast and helpful tips just for you: 
The easiest way to fish this lake is by boat, but there are areas to fish from the bank, or by kayak or float tube.
There are public boat ramps to use.
Camping and RV parking is available.
You can buy tackle and groceries at the lake or at one of the tackle shops in Castaic, Santa Clarita or Sylmar.
Castaic Lake is a deep body of water with the average depth ranging from 40-150 (out in the middle of the channel). It has a maximum depth of approximately 310 feet when the lake is completely full. Castaic lake is approx 5 miles long, however being shaped like a "V" each arm of the lake is just over 2 miles in length and ⅓ of a mile wide. Castaic Lake has 29 miles of shoreline; the lake spans over 2,235 acres. 
This is part of the West Branch California Aqueduct and supplies power and drinking water to the city of Los Angeles. Castaic Lake gives locals and visitors the opportunity to test their luck in catching one of the many game species this lake has to offer..
Algae blooms may be present which may affect fishing, swimming, and water contact in general. 
According to parks.ca.gov, "every one of California's new laws requires boat operators to have a California Boating Card. The card is required for anyone under the age of 41 to operate a boat in California's waters."
If you are fishing and camping, fire bans may be in effect due to the ongoing drought conditions.
The park is open from sunrise to sunset. Closed on Christmas
According to parks.lacounty.gov there are new restrictions for the lake, "Beginning Thursday, July 1, 2021, the Personal Water Craft (PWC) Area at Castaic Lake Recreation Area will be closed to the public for the remainder of the 2021 season. This is due to the drawdown of the lake water, which is being done for the tower bridge seismic improvement project, overseen by the Department of Water Resources (DWR). This closure will create an overall safer environment for all users of Castaic Lake. We will continue to keep you up-to-date on the latest information on when PWC can return to the Castaic Lake Recreation Area."
There are two sections of the lake, the "Fish Arm" on the upper lake to the north east offers multiple bays and plenty of structure for fish to hide in. The "Ski Arm" lies to the north west, where power boats, water skiers, and wake boarders may spend a day on the lake. 
Personal watercraft, such as jet skis and sea doos, have a designated location just in front of the main launch ramp on the dam's side, where no private or fishing boats are allowed.
The upper lake is closed to swimming; however, the approved beach areas on the lower lagoon are open to swimming.
You can gain access to the lake by buying a permit for your car and boat. When you click the link, type in CAST into the search bar and it will bring up various permits for Castaic Lake  – link. 
What Kind Of Fish Are In Castaic Lake
Rainbow Trout

Florida-strain Largemouth bass

Smallmouth Bass

Striped Bass

Channel catfish

Black crappie

Bluegill/ Sunfish
Castaic Lake Fishing Tips & General Strategies
This lake has been a prime fishing destination for anglers looking to hook themselves some trophy-sized bass. So, let's dive right in and learn what makes this lake a bucket-list spot for bass fishing fanatics.
Water Clarity:
Expect the water to be gin-clear at Castaic Lake. In other words, visibility is typically top-notch, allowing you to spy those elusive bass lurking beneath the surface.

However, watch out for seasonal fluctuations; storms and runoffs can temporarily churn up the water, making it slightly more challenging to spot those hawgs.
Structures and Cover
Castaic Lake boasts a diverse range of structures and cover perfect for bass fishing. Here's a rundown of some common spots to find those lunkers:
Rocky Points
These are the go-to spots if you're looking to wet a line here.

The rocky points create excellent bass havens, providing plenty of places for the fish to ambush bait fish.

You can often find bass cruising the edges of these points, so be prepared for a fierce battle when you hook into one!
Laydowns and Timber
This place is filled with submerged timber and laydowns, making it a bass fishing dream come true.

These underwater forests are where the slaunches love to hide out, waiting for their next meal to swim by.

Don't be afraid to pitch your bait right into the thick of it – that's where the big girls like to hang out.
Weed Beds
The lake is also home to numerous weed beds that serve as prime real estate for bass.

These underwater jungles offer plenty of protection and create a feeding frenzy environment for bass on the prowl.

Get ready to rip some lips when you cast your bait into the heart of these weed beds.
Drop-offs and Ledges
Last but not least, this lake has its fair share of drop-offs and ledges that bass absolutely adore.

These underwater cliffs create perfect ambush spots for bass to hide and wait for passing prey.

Use your electronics to locate these prime areas, and you'll be sure to hook up with a toad in no time.
If you want to catch rainbow trout, focus your efforts on the areas along the following:
Numerous boat ramps
The main lake ledges off

C Point and Juliana Point (during the summer)

Up river into Elizabeth Canyon (when the water is flowing during the spring).

 
Springtime Fishing update
Hey there fellow anglers, we've got a dope spring fishing report for you from the Castaic Lake in California. A few buddies have shared their recent experiences, and it's time to get you up to speed on what's biting and where!
Water Temperature:
Temperatures are fluctuating between 54 and 77 degrees, so you can expect some activity in the water.
Water Clarity:
A mixed bag: we've got clear (4+ foot visibility), stained (2-4 foot visibility), and even some muddy (0-2 foot visibility) conditions. Adapt accordingly!
Wind and Weather Conditions:
This season's weather has been a rollercoaster, fellas. From strong storm fronts with heavy rain and intense wind to calm, almost summer-like days with flat water, the conditions are all over the place. Morning fog is common, so expect it to burn off as the day progresses. The trick is to stay flexible and ready to adjust your tactics on the fly.
Techniques and Baits by Species:
Largemouth Bass:
Drop-shotting: Purple and ox-blood colored worms have been producing bites in 10-18 feet of water. Remember to finesse these bad boys.

Split-shot: Using a reaper or 4-inch worms on 4-6 lb. fluorocarbon line has been effective in tricking those stubborn fish into biting.

Carolina rig: Ox-blood worms have been the go-to bait for anglers looking to entice a big bite. Cast towards drop-offs, cover, and transitions.

Buzzbaits: For the angler looking for some topwater action, buzzbaits are a reliable choice for shallow water near the shore.

Small plastics: In stained water with 2-4 foot visibility, small plastics have been the ticket for smaller, male bass. Focus on coves, secondary points, and channels.
Striped Bass (Stripers):
Trolling: Pull deep diving crankbaits or swimbaits along main lake points and channels, focusing on areas holding baitfish.

Live bait: Live shad or anchovies can be deadly when presented correctly. Rig them on a Carolina rig or drop-shot rig, and fish them near schools of baitfish or stripers.

Jigging: Try vertically jigging spoons or swimbaits near drop-offs and underwater structure. Locate a school of stripers on your fish finder and drop the jig down to their depth.

Topwater: When you see surface feeding activity, it's time to break out your favorite topwater plugs, swimbaits, or poppers. Cast into the fray and hold on tight for an explosive strike.
Hotspots by Species:
Largemouth Bass:
Upper lake, close to the shore, is where the bass are in full spawn activity. Just be stealthy, and you'll find some monster schools. Look for protected coves and pockets with minimal boat traffic.

North side of Wadleigh Arm, especially in shallow waters near the shore, is prime territory for bass. Work your baits parallel to the shoreline and around any visible cover.

Old outhouse cove and secondary points in the ski arm are holding some quality fish. Start shallow and work your way deeper, making sure to cover different water columns.

Large canyon next to the island in the ski arm has been a hot spot for Carolina rigging. Focus on transitions and drop-offs, and be ready for those aggressive strikes.

For anglers without a boat, the shoreline around the ramp has been producing, but be prepared to work a little harder to find those hungry bass.

If you're searching for the big girls, focus on deeper water and structure, as they might be holding just a bit further out and deeper than the smaller males.
Striped Bass (Stripers):
While there were no specific striped bass locations in the submitted reports, traditionally the main lake points, drop-offs, and deeper channels can hold schools of stripers.

The dam area and adjacent deep water can be prime territory for trolling and live bait fishing. Keep an eye on your fish finder for signs of baitfish and stripers.

If you're looking for some topwater action, focus on the wind-blown points and coves early in the morning and late in the evening. Be ready to cast your topwater plug or swimbait when you see surface activity.
Remember, fellas, the key to a successful day on the water is adapting to the conditions and staying persistent. Castaic Lake is known for its quality fish, so get out there, have fun, and tight lines!
Castaic Lake – Summer Fishing update
Hey there anglers, I've got the lowdown on the summer fishing scene at Castaic Lake, California. We're talking about water temps, clarity, weather, and the hottest baits and techniques to catch those fish. So, let's dive right in.
Water Conditions:
Water temps have been fluctuating between 62°F to 79°F.

Water clarity varies from

stained

(2-4 foot visibility) to

clear

(4+ foot visibility).
Weather & Wind:
Expect some windy days with white caps on the lake, especially in the ski arm.

High-pressure systems and hot weather are expected for the summer months.

Early mornings and late evenings are prime times to avoid the heat and catch more fish.
Largemouth Bass:
East and West Walls:

Steep rocky walls with clear, deep water are prime spots for targeting bass. Cast spinnerbaits, jigs, or drop shots close to the wall and work your way down to deeper water.
Main Lake Points:

Fish main lake points with a mix of rocks and vegetation. Crankbaits, topwater plugs, or Texas-rigged plastics can produce solid bites.
Backs of Coves:

Head to the backs of coves where you'll find shallow flats, flooded timber, and pockets of vegetation. Throw weightless Senkos, frogs, or flukes around cover or flip/pitch jigs and creature baits into pockets.
Striped Bass:
Ski Arm:

Cruise around the Ski Arm area and keep an eye out for baitfish schools or breaking fish on the surface. Cast topwater plugs, lipless crankbaits, or bucktail jigs to entice aggressive stripers.
Fishing Arm:

Target points, humps, and drop-offs in the Fishing Arm with umbrella rigs, deep diving crankbaits, or vertical jigging bucktail jigs. Watch your electronics for signs of schooling fish and bait.
Island Top:

In the main lake, there's an island top that can hold schools of stripers. Slow-troll live baits, throw lipless crankbaits, or jig vertically to draw strikes.
Catfish:
Dam Area:

The area around the dam offers deep water and various structures, making it a prime spot for catfish. Use cut bait, dough baits, or chicken liver, and focus on fishing near the bottom.
Inflow Channels:

Check out the inflow channels where nutrient-rich water and baitfish are abundant. Cast your baits upstream and let them drift down to catfish hiding in ambush.

Cove Mouths:

Target the mouths of coves, particularly where channels swing close to shore. Fish with live bait, cut bait, or dough baits on a Carolina rig, targeting the edges of structure or drop-offs.
But Where Are The Best Places To Fish At Castaic Lake?
And in no particular order here is that list of the best fishing spots at Castaic Lake.
DISCLAIMER:  The material provided is for general information purposes only. It's important to understand that any information provided in this article can change at any time. Any maps or graphics featured are not to be used as navigational aids. Fishing Blueprint will not be responsible for any personal injury or property damage from any misuse of the maps or graphics provided.   It's completely impossible to give you every single spot where you can potentially catch a fish.  But, what this list does do is to give you a helping hand and narrow down to the most productive fishing spots.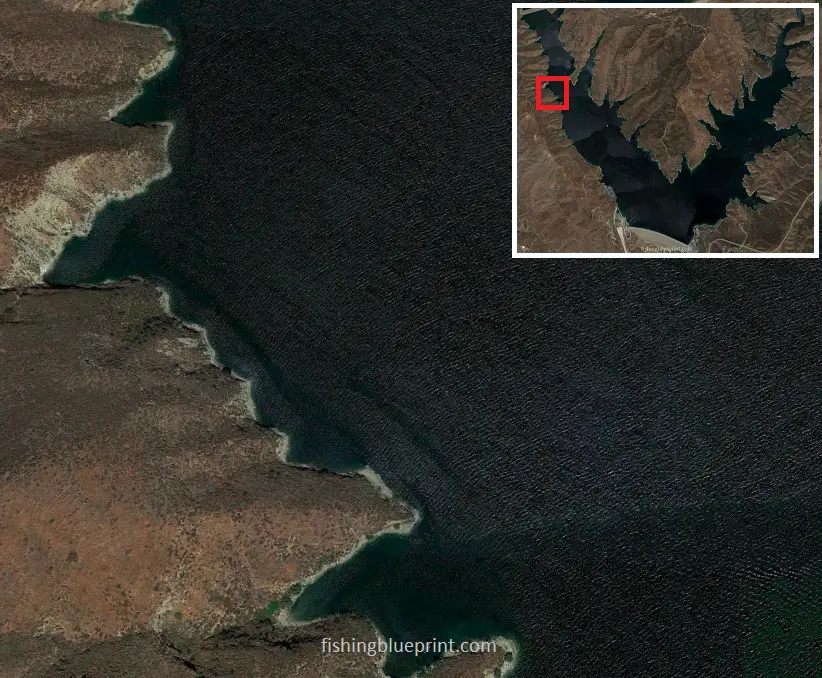 The Cliffs is located on the Ski Arm of the lake. 
One of its defining features is it is incredibly steep and drops into 160+ feet of water which makes this an excellent place to troll for cold-water fish like trout. 
Closer to the shore this area is phenomenal for smallmouth and spotted bass. 
Look carefully at this spot with low water level…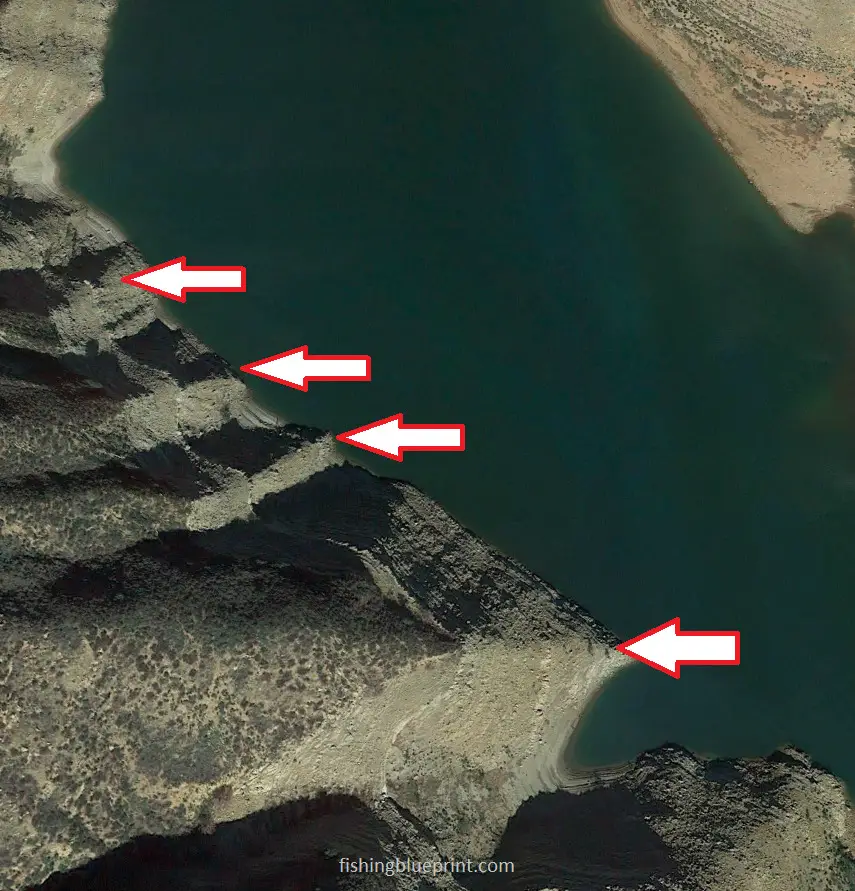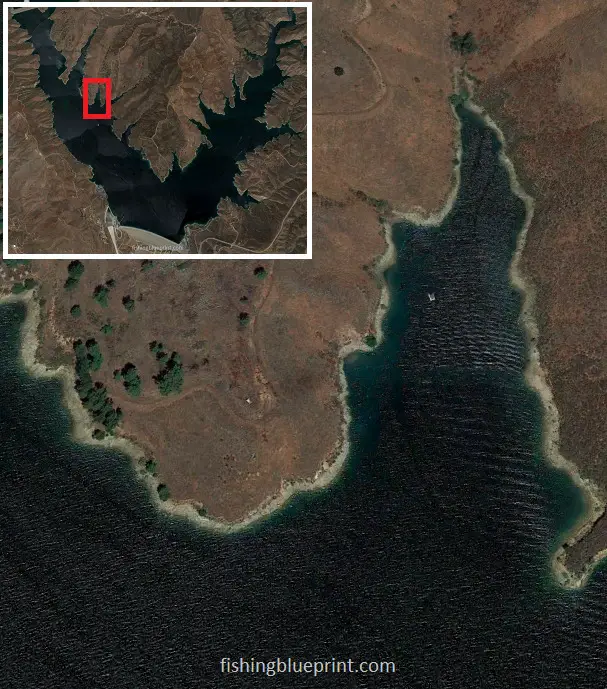 Look carefully at this spot with low water level…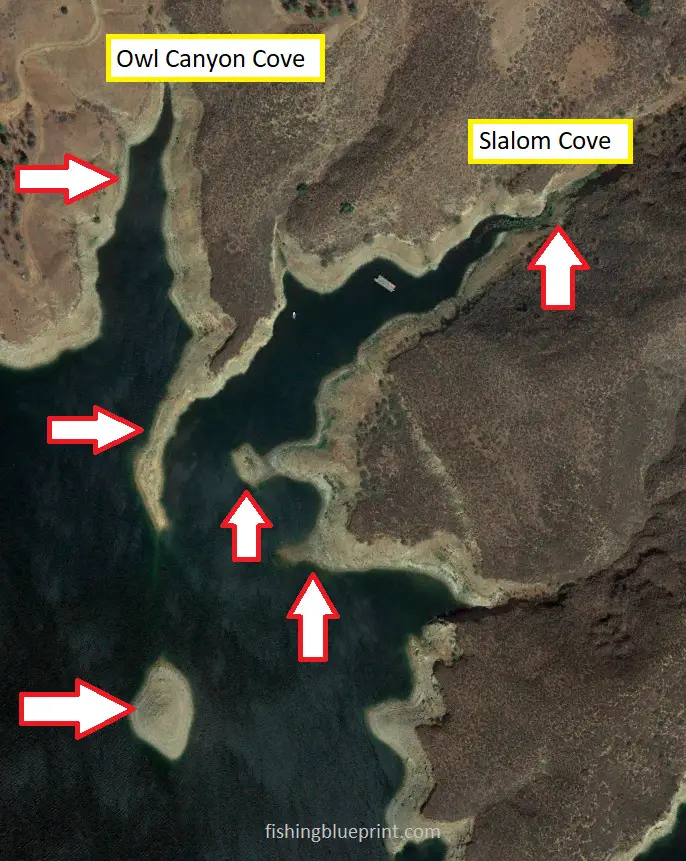 This cove ain't too deep and lacks a proper channel at the back, but it's got a sweet mix of floating vegetation mats and sizable chunk rock banks.
Give the area a good look-see with your fish finder for any "secret" artificial habitats dropped by other anglers (nudge-nudge).
Scope out the cove's mouth, where you'll find submerged humps and ledges dropping into the deep blue, making it a killer spot for summer fishing.
With so many structures and fishin' spots in this zone, local guides strongly recommend scannin' with your fish finder to pinpoint shad or bluegill hangin' around a piece of structure before wetting a line.
Located: West lake in Ski arm
Structural features: vegetation flat with floating and submerged vegetation, natural and artificial submerged structure, large chunk rock banks, offshore humps, and high spots.
Best species to target: Largemouth bass, striped bass, smallmouth bass, crappie, and catfish
Most effective way to fish this spot: Boat, kayak, shoreline fishing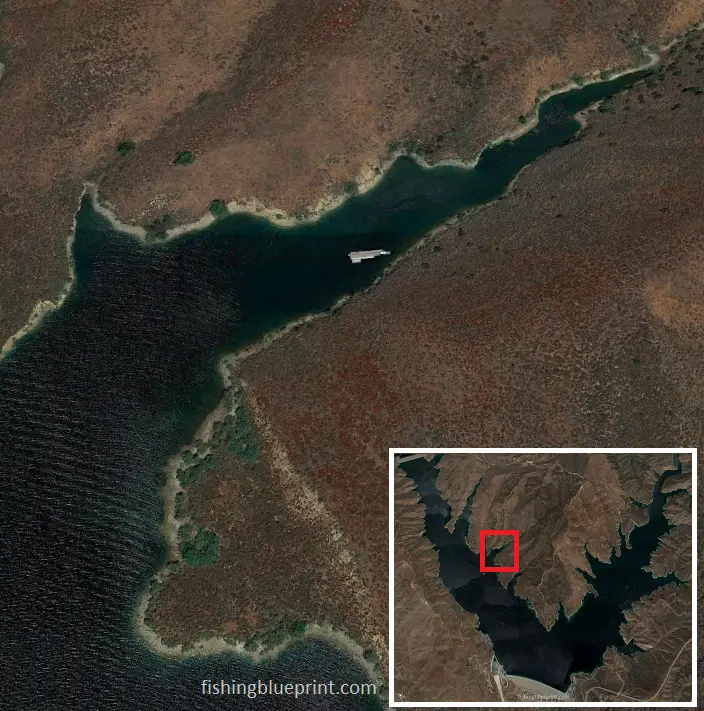 Look carefully at this spot with low water level…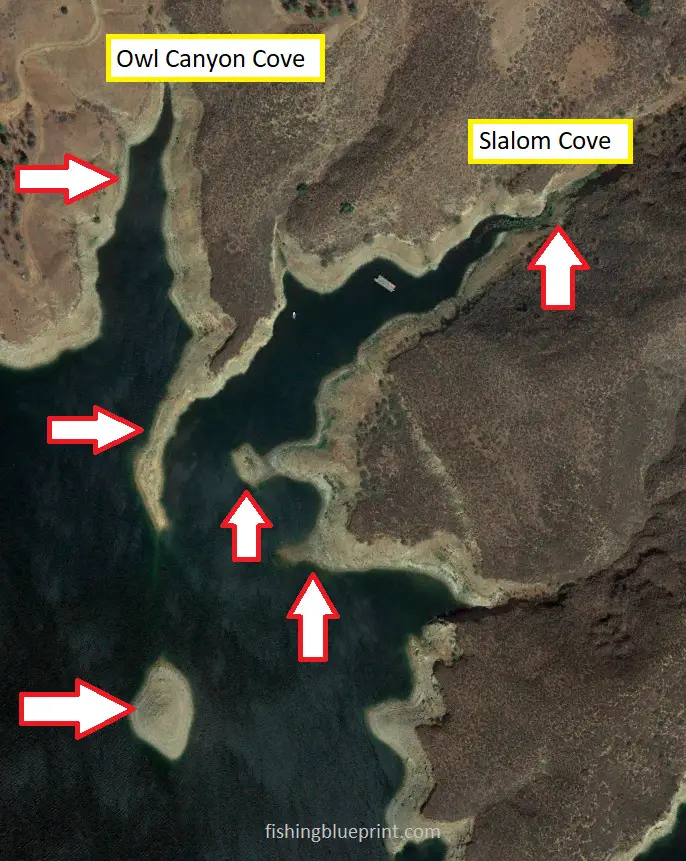 Right next to Owl Canyon Cove, you'll find this gem of a cove.
She's a bit deeper with a twisty-turny channel.
Fishin' here's prime all year long.
Got main lake humps and points droppin' into the deep…
A channel turn ridge that fish just can't resist…
The channel starts north-to-south, then swings east. That combo makes it a top-notch spawnin' cove.
Just like Owl Canyon Cove, give this area a thorough scan… it's a bangin' spot.
Located: West lake in Ski arm
Structural features: Winding channel with floating and submerged vegetation, natural and artificial submerged structure, large chunk rock banks, offshore humps, and high spots.
Best species to target: Largemouth bass, spotted bass, smallmouth bass, crappie, and catfish
Most effective way to fish this spot: Boat, kayak, shoreline fishing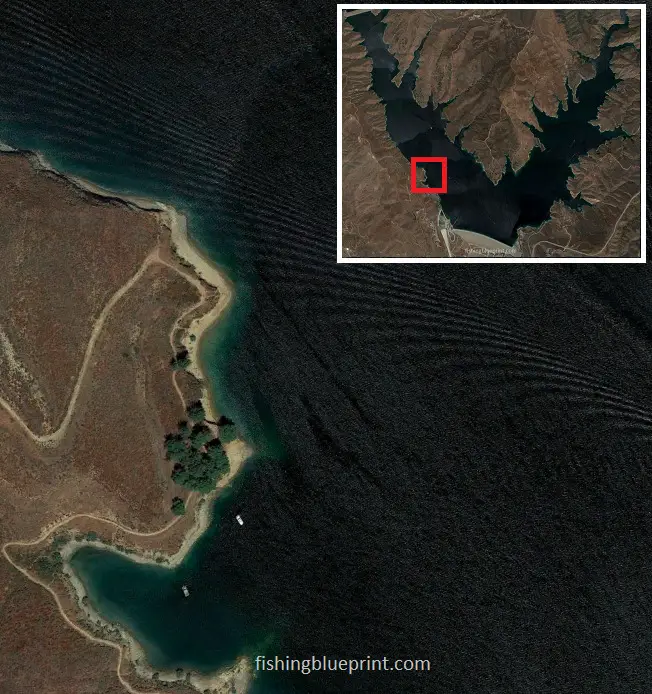 If you analyze the topography you'll notice the two long submerged main lake points.  Next to it are steep banks that strewn with chunk rock banks. 
Look carefully at this spot with low water level…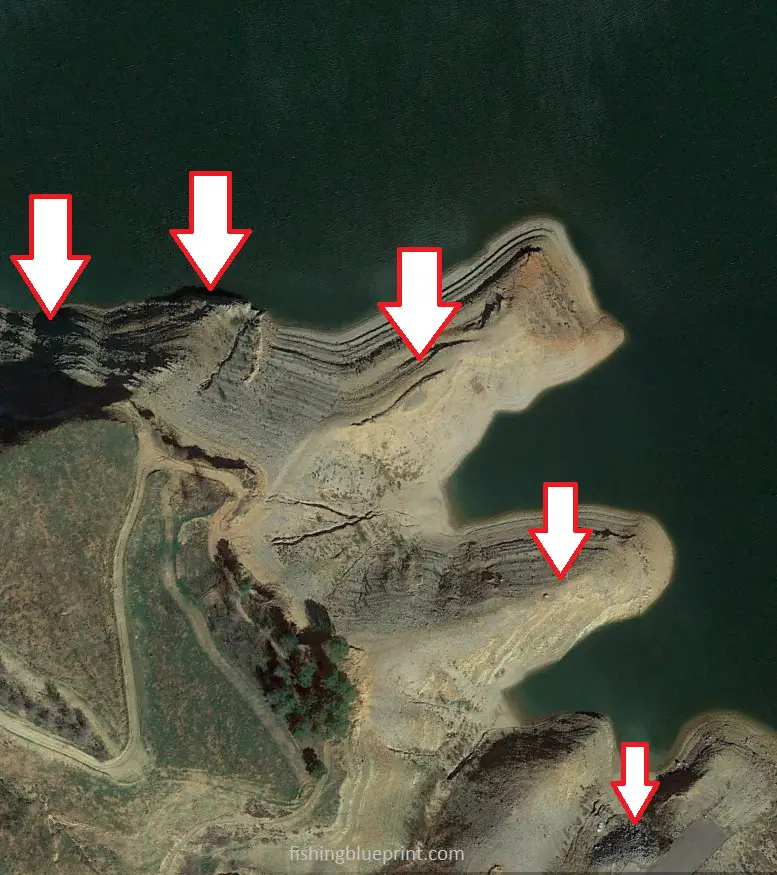 You can spot ridges on the point and a hump at its end. Plus, you'll find multiple shelves and drop-offs on each point.
These spots are fish magnets. Give the area a careful scan with your sonar and fish smart.
Side-scanning for active fish like trout and smallmouth bass is a must if you're hittin' this lake.
Shockingly, this area stays pretty chill for rec fishin' traffic, since most anglers tend to focus on the lake's north or south end.
Located: Mid-lake, Ski arm
Structural features: Steep rocky banks, drop offs, and ledges
Best species to target: Bass, trout
Most effective way to fish this spot: Boat, kayak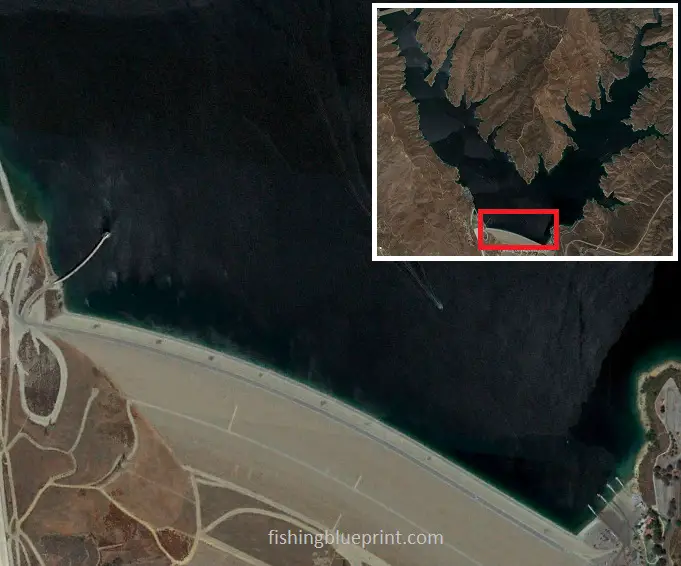 The lake's southern part is where you'll find the water retention dam.
This dam's got chunk rock galore, ranging from small boulders to basketball-sized stones (that's what we call "rip rap").
Expect steep banks with a roughly 45-degree downward slope.
Crawfish, bluegill, minnows, and shad love this hideout, which means bass and other predators ain't far behind.
Keep an eye out for cuts, rock piles that create a 'point on the point', the biggest boulders around, and transitions from larger to smaller rocks.
Summer's prime time for topwater baits, especially an hour before and after sunrise or sunset.
Midday, head back and scan the area with your fish finder, lookin' for the thermocline. Bass will likely hold just above it. Once you spot it, target those rip rap points with a lure that'll work at that specific depth.
Located: east side
Structural features: rip rap banks
Best species to target: bass, crappie, sunfish
Most effective way to fish this spot: boat or kayak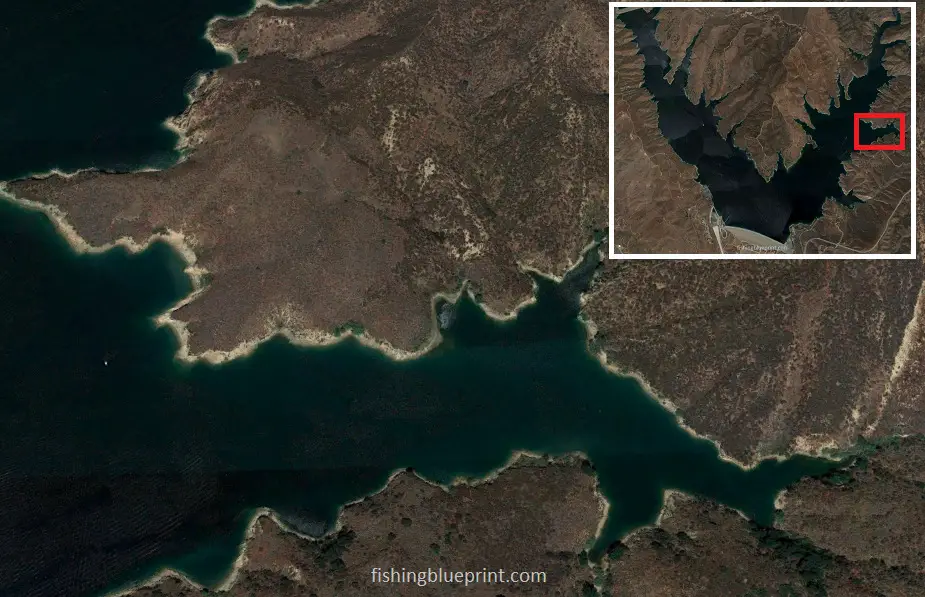 Look carefully at this spot with low water level…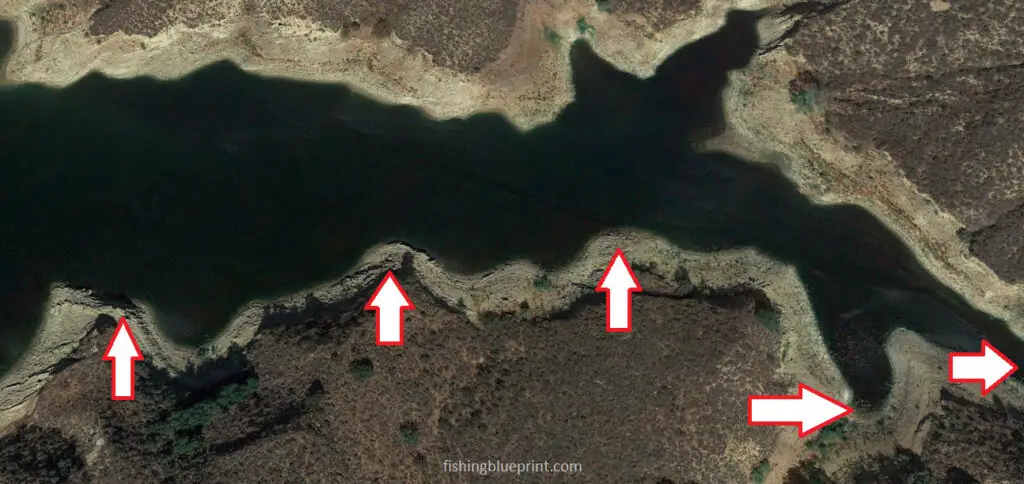 Old Outhouse Cove is best characterized by its channel swing, accompanied by scattered chunk rock banks, drop-offs, and ledges.
Bank slopes can vary from moderate to fairly steep, featuring an assortment of large boulders, chunk rock, and pea-sized substrate.
This spot is a pretty popular destination for anglers looking to reel in some fish.
Located: East lake, Fishing arm
Structural features: Steep rocky banks, drop offs, humps and ledges
Best species to target: Striped, largemouth bass, smallmouth bass, crappie, catfish
Most effective way to fish this spot: boat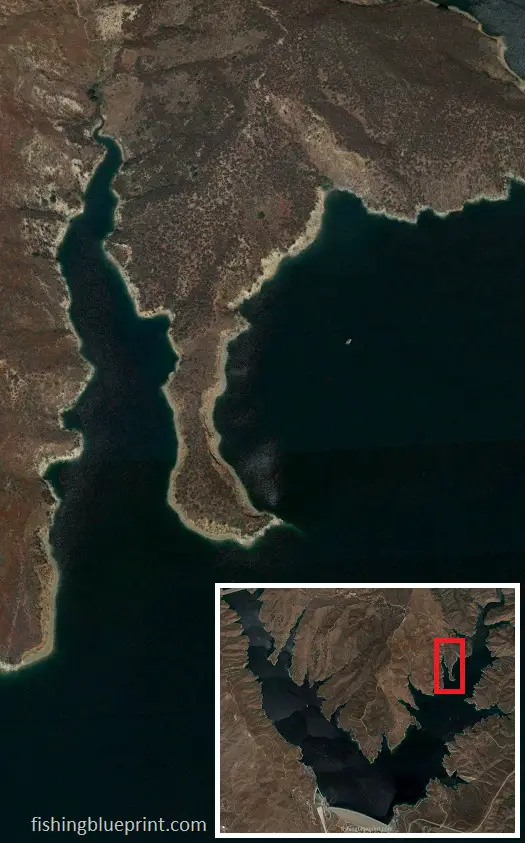 This cove features a fairly straight layout, surrounded by dense brush and occasional standing timber. Large ridges and rock piles adorn its sides.
Fishing is promising in this arm of the lake all year round.
During summer, focus on main lake points, humps, and ridges to find bass and crappie. In fall, target the channel bends in the lake arm, where bass are likely to be pursuing shad.
Look carefully at this spot with low water level…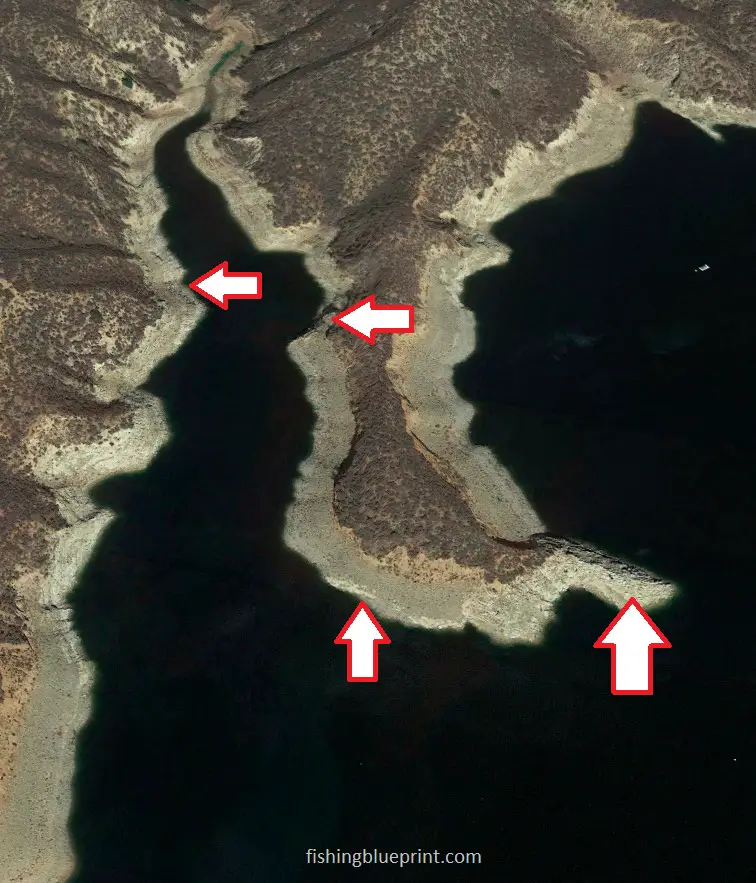 Located: southwest section of the lake
Structural features: Steep walled lake arm with several sharp creek channel bends, submerged brush and standing timber, large rock piles. 
Best species to target: Bass, crappie, catfish
Most effective way to fish this spot: Boat, kayak, float tube, shoreline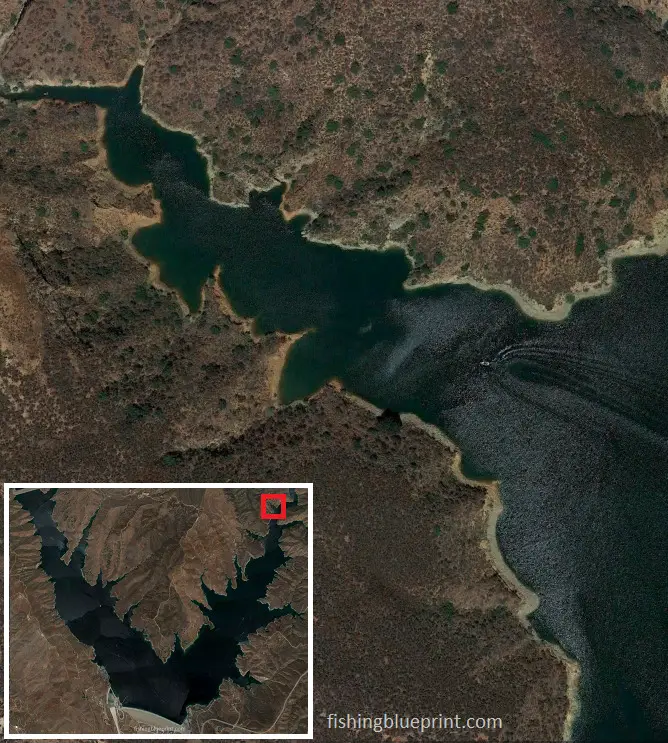 Look carefully at this spot with low water level…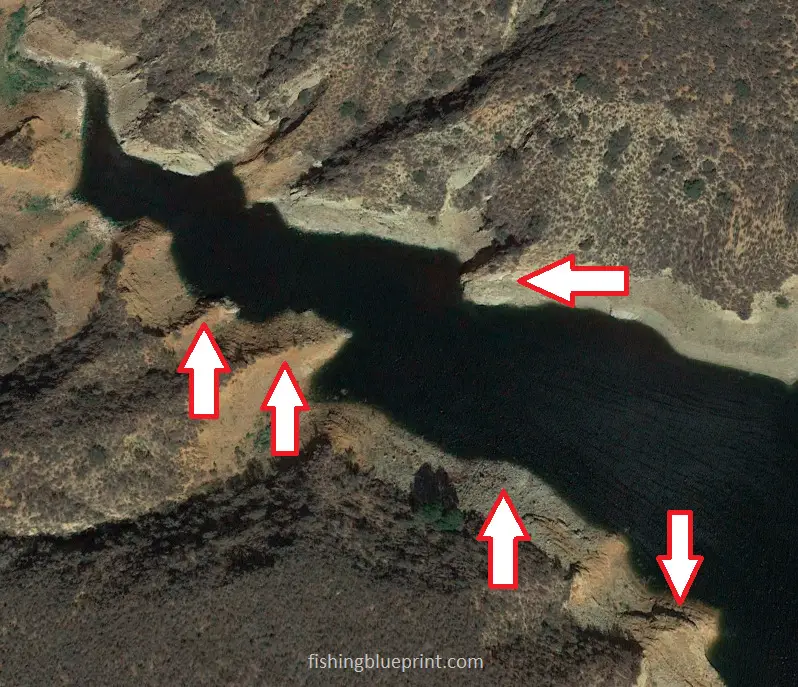 Red Clay Cove, the shallowest among all coves in the Fishing Arm, is also the warmest. You'll often spot bass spawning here a month before the rest of the lake.
A unique feature of this cove is the main creek channel running down its center, with several smaller secondary creek channels (ditches) feeding into it, resembling a leaf pattern.
The outer edges boast scattered rock piles, submerged brush, and laydowns.
With numerous options available, the prime spots for catching bass usually have some type of structure (such as a rock pile, laydown, or brush pile) adjacent to a ditch or the main creek channel.
Located: Fishing Arm
Structural features: shallow cove, thick, scattered rock piles, submerged brush, and laydowns.
Best species to target: Spotted bass, largemouth bass, smallmouth bass
Most effective way to fish this spot: boat, 
Boat Ramps at Castaic Lake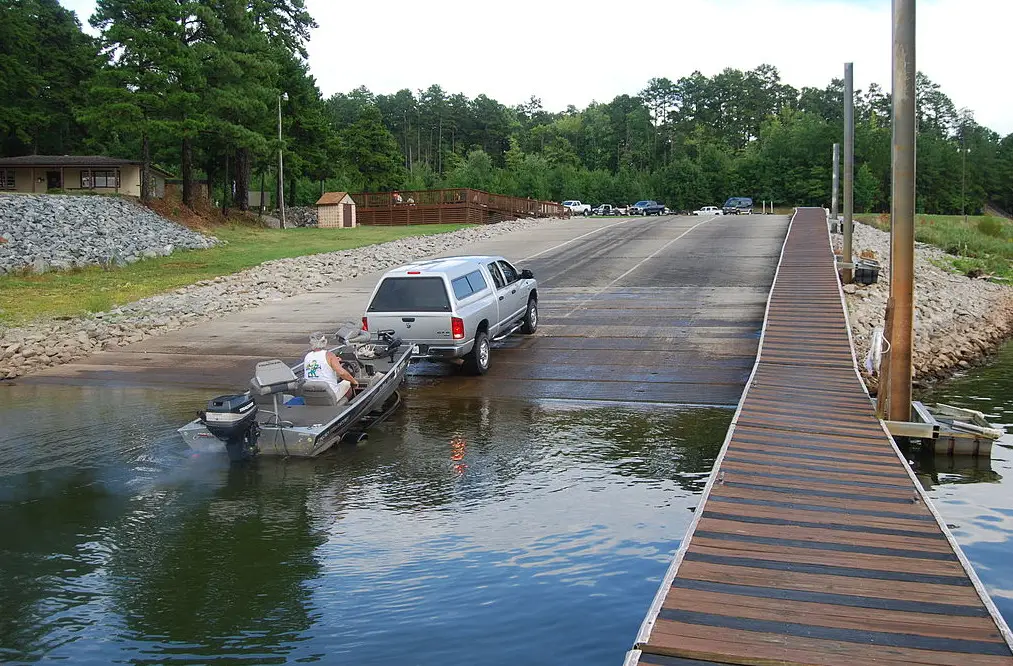 Castaic Lake Boat Launch Ramp
Location: Southend of the lake, next to Castaic Landing Boat Rentals
Address: 32839 Lake Hughes Rd, Castaic, CA 91384
Website: none
Phone number: none
Lanes: 9
Restrooms: Yes
Showers: No
Gas: No
Camping nearby: No
Castaic Lake West Ramp
Location: westside of lake
Address: not given
Website: none
Phone number: none
Lanes: 3
Restrooms: Yes
Showers: no
Gas: No
Camping nearby: No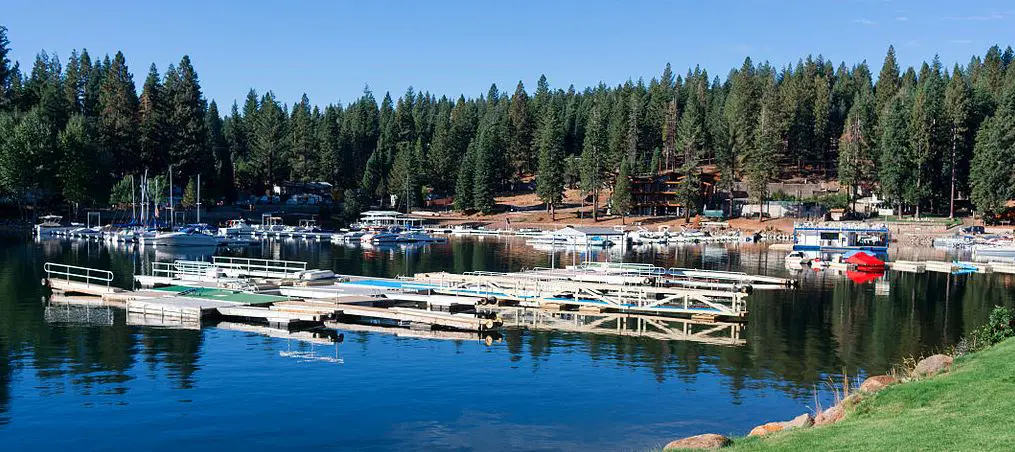 Castaic Landing Boat Rentals
This is not an actual floating marina, more like a small shop that offers boat rentals. Unfortunately, this is the only business on the lake that comes close to functioning like a marina. Although small, they have the pulse of the lake and can often tell you what the fish are biting on at the given time.
Address: 32839 Lake Hughes Rd, Castaic, CA 91384
Phone number: (661) 775-6232
Nearby boat ramp: Yes, 9 lanes available to use
Restrooms: Yes
Showers: no
Gas: Yes
Groceries/snacks available: No
Electric: No 
Camping nearby: No
Tackle Shops Near Castaic Lake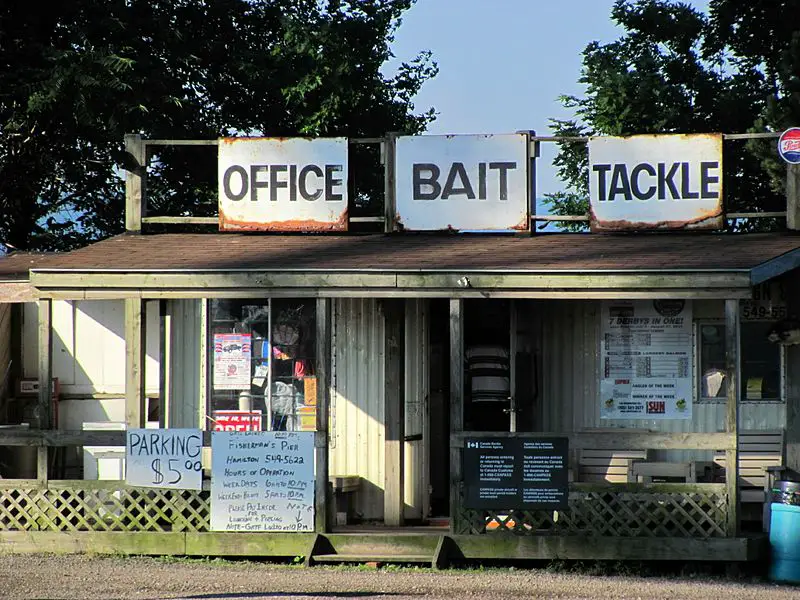 Tackle Express
22941 Soledad Canyon Rd, Santa Clarita, CA 91350
(661)2518700
Gallions Castaic Corner
31515 Ridge Rte Rd, Castaic, CA 91384
(661) 257-3523
Pyramid Lake Store
43100 Pyramid Lake Rd, Castaic, CA 91384
(661) 294-9403
Tackle Shack USA
12061 Foothill Blvd Unit A, Sylmar, CA 91342
(747) 274-1081
Camping Near Castaic Lake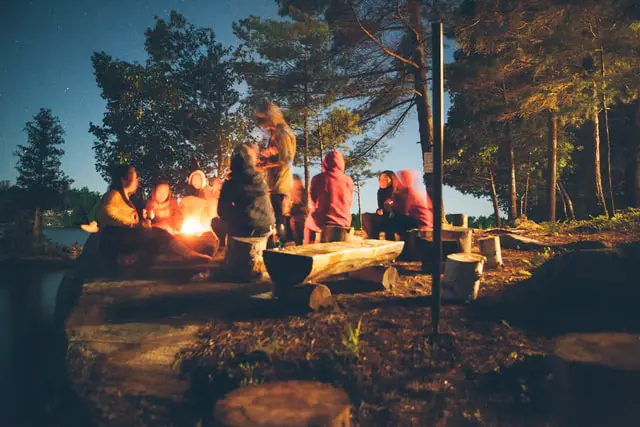 Castaic Lake Campgrounds – 
https://www.campsitephotos.com/campground/ca/castaic-lake/
Castaic Lake has a total of 65 campsites spread over 3 different lots, A, B, and C. The lots are actually located adjacent to Castaic Lake Lagoon 
Sites – 65 total. 

RV – some have hook ups, some don't

Standard sites/ tent sites available

Availability – Year round

Dump station available: Yes

Fish cleaning station available: Information not available

Low season: October – March

High season: April – September 

Pets welcome: Yes, not allowed in water

Fire ring – Yes

Grill – Yes

Drinking water – Yes

Flush toilets – Yes

Showers – Yes, coin operated 
Reservations – To reserve a campsite, please call (661) 257-4050
As you now can see Castaic Lake fishing can be tough at times, but it's not impossible and with the help of the Castaic Lake Fishing Report… It definitely helps you get started on the right foot quickly and easily, so you can avoid wasting hours wondering where and how to get started.
As fellow fisherman and content creator I thrive on helping others… I feel like I can do the most good by helping others… And frankly… I would feel like I did something wrong if you didn't walk away feeling a little better about this lake.
I truly want to over deliver for you…
So Let Me Ask You Another Question… 
After reading this helpful report:
Can you see how this could change the way you would fish this lake?… To make it easier, faster… and… with less headache, less frustration?
If nothing else, do you now have a better sense of where you can get started, even if you have have been here?
Do you feel that you have a good grasp of what species to expect in this lake?
Do you have a good understanding what baits are needed to catch each of the different species of fish?
Earlier we came up with some helpful spots to catch more fish, can you see yourself considering any one of those spots? Which ones are you the most excited about implementing when you get to the lake?

Is it fair to say that using these spots would give you a significant advantage over someone else who's fishing this lake? 
I Need To Ask A Favor From You And It's Not Going To Cost You A Single Dime… 
If you have gotten anything out of this free report; whether its knowing where to get started, what kinds of fish are in this lake, what baits to use, where to launch your boat, where to buy a frosty beverage, where to camp, and other things to do when you're at this lake…
Then I need you to do something that is going to help you your fellow angler…
And that is share this report.  Please share it to as many people as you can.  It's free to you and it really helps me out as a creator. 
Lastly… thank you for spending your time reading through this report and I hope you have a luck on the water.  
THIS IS WHERE YOU CAN HELP ME THE MOST:  There's a lot of information about this subject you have found helpful, and I'm sure you'll be able to put some of the knowledge bombs to use.  But sharing this report helps drive traffic which in turn helps me at absolutely no cost to you.  I love creating reports like this for you, and you like reading these types of reports please share this with your friends, family, and fellow anglers.   
Click on your favorite social media buttons to share this page now!
Other California Related Fishing Articles
More articles just for you...
A Complete Buyer's Blueprint On The Best Early Summer Bass Lures On The Market Today! When it comes to bass fishing, choosing the right lure
Read More »