These Are The Best Baits To Skip – Hands Down…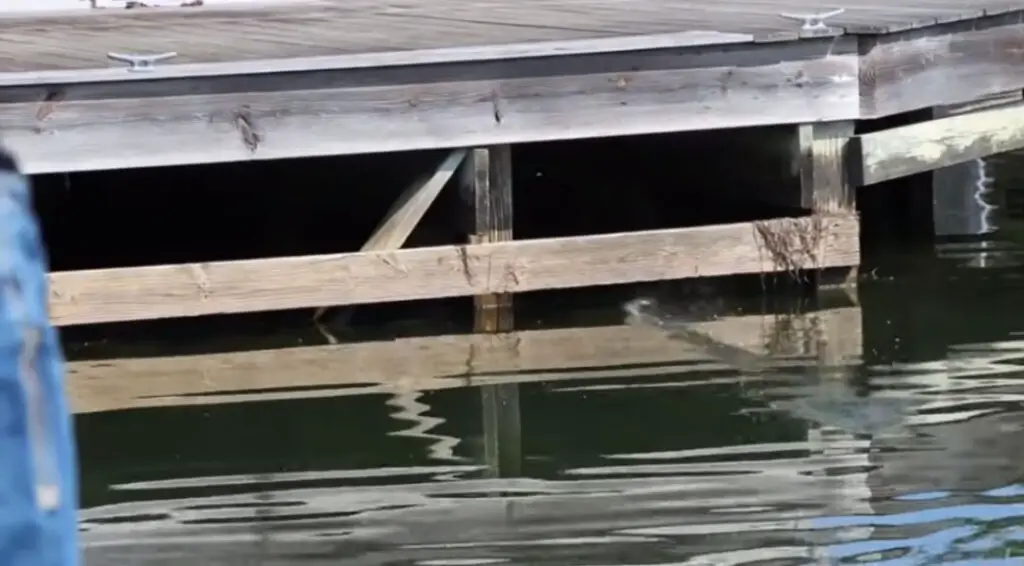 If you're looking to advance your fishing skills, then skipping a bait will definitely propel your abilities to catch monster bass. Some of you already know what it takes to skip a bait, but for those of you who don't really know how please read this post first to get a sense of what it takes to skip a jig and other baits. When I was getting started I quickly realized there were so different styles of baits on the market today and looking back it's not a surprise that I was overwhelmed by all the styles and brands of baits out there. 
Ya, there were a couple of places I found that only gave me a small amount of information, but it truly didn't help me address my problem. It seemed that no one was lifting a finger to help anglers like myself give me all my options.
Frustrated, I created this helpful list that's going to assist you to narrow down all your choice. That way you can focus on what baits will work for you, all while not having to second guess to wonder if those baits will even work in the first place.
So, as you so below I created this easy to follow guide for you outlining the best baits for skipping. I hope you find this helpful…
WARNING:  There's a lot of information about this subject you'll probably want to come back to. No one expects you to remember all these tips. We know your time is precious, so we really tried to over-deliver in value for you. Additionally, we frequently update reports like this, so you'll want to stay up to date with any changes or additional tips we include for you. 
We found that the easiest way to save and bookmark this report so you can come back to it later is to share it on your favorite social media platform, especially if you use your phone to get important tips like the ones in this report here…
Click on your favorite social media buttons to remember this page now!
If you don't have much time to read the detailed reviews, simply use the links below to quickly find the best finesse rod for the money on Amazon. You can be assured we only choose the best products…
Best All-Round Skipping Bait – Strike King Skipping Jig
Best Soft Plastic Frog For Skipping – Z-Man Hard Legz Frogs
Best Stick Bait For Skipping – Yamamoto Senko

Jigs are probably the oldest of skipping baits. But not all jigs are created the same because there are so many styles…
The best style of jig for skipping is going to be a casting jig. Casting jigs have a relatively cupped jig head that allows the bait to be skipped with ease.
The best trailers for skipping are going to be flat creature baits like the Reaction Innovations Sweet Beaver.
Helpful Tip: If you're using a beaver style trailer, bite off the front 1/3rd of the bait (the area away from the appendages), then thread it on the hook. It makes the bait ultra-compact and still keeping a very flat profile.
Recommended Product: Strike King Skipping Jig
Best Colors: Falcon Lake Craw, Black/Blue, Candy Craw, Texas Craw
Tech Specs:
Size – 3/8, 1/2, 3/4, 1-ounce
Quantity/pack – 2 jigs
Recommended line – fluorocarbon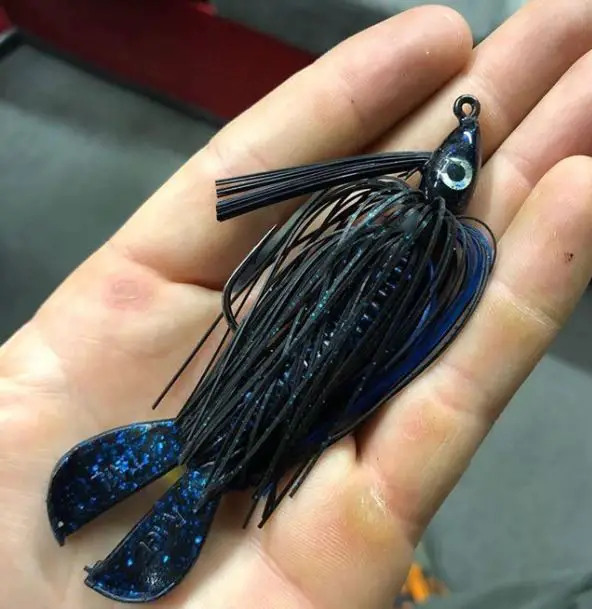 Like the casting jig a swim jig also offers the angler a vertically flat profile.
Likewise, swim jigs can be large or small depending on the size of fish you're targeting or who aggressive you think they are.
Larger swim jigs work the best in the end of the summer and early fall. Whereas, smaller sizes work best in the spring and early summer.
If you chose a swim jig to skip use a tall and narrow soft plastic swimbait trailer. The shape of the trailer work in sync with the swim jig head to give a very flat profile.
The Keitech Easy Shiner 3.5″ Swimbait, or the Skinny Bear Shad Eye Kicktail 3.45″ Swimbait work equally great because not only to they have a flat vertical profile, they also will kick very easily.
Recommended Product: Nichols Lures Saber Swim Jig
Best Colors: Gizzard Shad, Bluegill, Bombshell Shad, Bull Frog
Tech Specs:
Size – 1/4, 3/8-ounce
Quantity/pack – 1/pack
Recommended line – fluorocarbon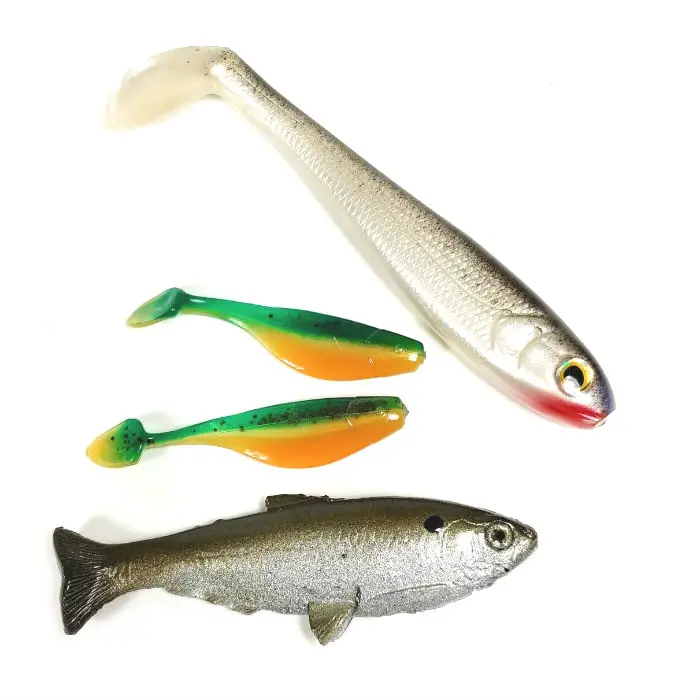 You can attach a small soft plastic swimbait as a trailer or you can use a larger swimbait all along.
Sticking to the flat vertical theme I had the best success with hollow belly swimbaits and top-pour swimbaits like the Optimum Boom Boom Weedless 6″ Swimbait
Skipping larger size swimbaits on a baitcasting rig is actually one of the easiest ways to practice and learn.
A little bit about best hooks to use for larger swimbaits…
When skipping this style of swimbait, you need to also it's always important to use a specialized swimbait hook.
When skipping these large lures, you are putting a ton of pressure where the hook of the bait and it will be at risk of ripping out. Therefore, I strongly recommend using a swimbait hook that has a screw-lock feature. Screw-lock attachments will "grab" on to more of the plastic and creates a much better hold
I have used Owner Beast Hook TwistLOCK with great success and the hooks come with a large screw-lock attachment.
Below I created a swimbait hook size chart to better help you decide what size hook to use.
Swimbait Hook Size Chart

Size Of Swimbait
Style of Hook
2.5″- 3.8″
#1 Offset EWG hook
3″- 3.8″
#2/0 EWG Hook Weighted or Unweighted

4″- 5″

#4/0 Swimbait Hook Weighted or Unweighted
5.25″-5.8″
#6/0 Swimbait Hook Weighted or Unweighted

6″+

#10/0 Swimbait Hook Weighted or Unweighted
Recommended Product: Optimum Boom Boom Weedless 6″ Swimbait
Best Colors: Light Rainbow, Ghost Minnow, Shad
Tech Specs:
Size – 6-inches
Quantity/pack – 2/pack
Recommended line – fluorocarbon

A stickbait like a Senko or a Strike King Ocho are great baits to skip under docks. You many not think it would be a great bait to skip, but it's density and lack of external appendages allow it to skip with ease.
It should be noted that when you skip a Senko, you need to make sure to watch your line the entire time. Often it will tell you if there is one bass under the dock or multiple bass present.
If you see your line jump and moves away rapidly from the area you're skipping under (like a dock) it's a sure sign there are multiple bass in the area. However, if your line just stops mid-fall, then there is probably only a single bass under.
Spinning rods are the rod of choice for slipping these baits.
Recommended Product: Yamamoto Senko
Best Colors: Watermelon Black Red, Junebug, Black Blue Flake
Tech Specs:
Size – 5-inches
Quantity/pack – 10/pack
Recommended line – fluorocarbon

Tubes are a bait that are not even thought of as a good bait for skipping. The round bulbous shape makes it really easy to skip.
Tubes are also considered one of the easiest bait to learn how to skip.
When rigging the tube it's recommended that you use a EWG hook to make it weedless and compact.
Recommended Product: Zoom Salty Super Tube
Best Colors: Green Pumpkin, Watermelon Red, Disco Candy
Tech Specs:
Size – 4.5-inches
Quantity/pack – 10
Recommended line – fluorocarbon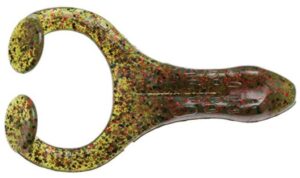 Frogs are a great bait to skip but some of the soft body frogs are sink which makes it difficult to fish. But if you have a bait that floats like the it makes skipping these soft body frogs really easy.
If you're going to fish a soft body frog use the Z-man Hard Leg Frogz. They are made with Elaztech plastic so not only does it float it's also super durable.  The best thing I like about these baits is that once you skip it under the dock you just let it sit and the slowly work it out, or stop it dead in its tracks.
Recommended Product: Z-man Hard Leg Frogz
Best Colors: Watermelon Red, Black Neon, Black/Blue Flake, White
Tech Specs:
Size – 4-inches
Quantity/pack – 3/pack
Recommended line – Braided line
Hollow Body Frogs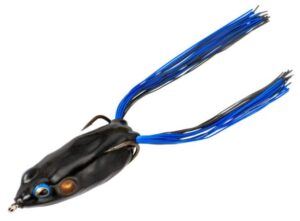 Hollow body frogs like the floating soft body frogs are an extremely popular bait to skip.
The construction of the body allows for easy skipping and will also float.
Furthermore, hollow body frogs can come in different sizes and shapes to give you the freedom to choose what is best for lake.
Recommended Product: Booyah Pad Crasher Bullfrog
Best Colors: Bullfrog, Dart Frog, Albino Frog
Tech Specs:
Size – 2.5-inches (body only)
Quantity/pack – 1/pack
Recommended line – braided line

Anglers often forget or are very hesitant about hard plastic baits the treble hooks. But often the reward far out weights the risk.
Poppers are compact and small and skip incredibly well. Their smaller treble hooks rarely catch enough water to affect the skip.
You'll quickly find that you'll get the most bites:
Nearest to the bank
If you popper deflects off a post or piece of structure
Right at the end of the dock shadow-daylight transition area.
Recommended Product: Rebel Lures Pop-R 
Best Colors: Chartreuse Shad, Baby Bass, Silver Back
Tech Specs:
Size – 3-inches, 0.5-ounce
Quantity/pack – 1
Recommended line – mono or braided line

If you're looking to trigger some massive bites, then skipping a squarebill crankbait can do it for you.
The squarebill's small lip rarely catches any water making it one of the only crankbaits that is recommended to be skipped.
This lure also has the ability to bulldoze over structure makes it a great choice around sunken brush, fallen trees with overhanging limbs.
Recommended Product: Strike King KVD Square Bill Crankbait
Best Colors: Chartreuse Blue Black Splatterback, Bluegill, Chartreuse Sexy Shad
Tech Specs:
Size – 2.5-inches
Quantity/pack – 1
Recommended line – fluorocarbon or monofilament

Last but certainly not least is the lipless crankbait.  As you can already imagine the profile of a lipless crankbait makes it an great choice for skipping.
There are several retrieval methods you can employ if you decide to skip one of these baits.
First, you can "hop" it out. Skip it under the structure, then lift your rod tip up slightly and then let it sink on semi-slack line.
The second method is to skip it under the structure and reel it in back to you as fast as possible.  This method forces the bass to make a split second decision and often you'll get a bone crushing strike.
As a whole, this method works great in the late spring and summer the bass seek shaded shelter yet have a faster metabolism to chase down a fast moving lure.
Recommended Product: Lucky Craft Fishing Lure LV-500 Crank Bait
Best Colors: Ghost Minnow, Chartreuse Shad, MS American Shad
Tech Specs:
Size – 3-inches, 3.4-ounce
Quantity/pack – 1/pack
Recommended line –
Finding The Best Skipping Bait For The Money
Back when anglers were just starting to pick up on skipping baits, there was really only one type of bait they would be forced to use.  
But as bass fishing has been steadily gaining popularity for the last 15 years, more and more people are becoming interested in bass fishing.  This increased fishing pressure has forced companies to make different styles of baits to trick the fish into biting…
Soon the market was flooded with hundreds, if not thousands of choices…
This put the anglers at a disadvantage.  I can speak from experience that I knew first hand some companies would a product, say it was great for skipping knowing all along it was junk. I became so frustrated after I was fooled into believing that all lures were great for skipping. But that couldn't be farther from the truth…
After hundreds of hours of fo trial and error over the years I created this report for you that will show you those companies and jigs who actually make quality baits that are great for skipping. No fluff. No BS. Just the truth.
In the end I hope you can take something away from this report to help you catch you that monster fish. Enjoy…
Skipping Bait and Rod Chart
| Style of Skipping Bait | Style of Fishing Rod |
| --- | --- |
| Jigs | Casting Rod |
| Swim Jigs | Casting Rod |
| Swimbaits (<4") | Spinning Rod |
| Swimbaits (>4") | Casting Rod |
| Stickbaits/Senko | Spinning Rod |
| Tubes | Spinning Rod |
| Soft Body Frogs | Casting Rod |
| Hollow Body Frogs | Casting Rod |
| Topwater Poppers | Casting Rod |
| Squarebill Crankbaits | Casting Rod |
| Lipless Crankbaits | Casting Rod |
Other Skipping Related Articles
FAQ
What baits are bad for skipping?
Spinnerbaits
Buzzbaits
Umbrella rigs
Medium and deep diving crankbaits
Soft plastic baits that are long or have multiple appendages (long curly tail worms, brush hog-like baits)
Drop shot rig
What is the best way to learn to skip?
Skipping bait under a dock or other structure on the first try can be very difficult, but with the right information, you'll be able to start skipping docks in no time. There is the right way to start and there is a wrong way to learn. Fortunately, I wrote an article that covers everything you need to learn on how to skipping your baits.
Read more: How To Skip A Jig And Other Baits
How can I practice skipping docks at home?
It's hard to spend time on the water only learning to skip docks, plus it's expensive just with the cost of gas alone! There is an easier way. All you need to do is set up a pseudo-dock and home. But before you go and do that do not waste your good lures!
I set up a system where you can practice skipping docks at home and it's really easy.
Read more: How to Practice Skipping Docks At Home (In 5 Easy Steps)
What is the best rod to skip a Senko?
The best rod for skipping a Senko or any other lightweight bait would be a spinning rod. Likewise, if you're just learning to skip lures I strongly recommend starting with a spinning combo.
But not any spinning rod would do, you need a spinning rod with a special backbone and tip flexibility that can easily skip the bait a long distance, yet can handle a pulling out a huge bass.
Unfortunately, there is a lot to cover on what goes into a great spinning rod for skipping baits. However, I took the time to write a complete report on the best skipping spinning rods for the money.
Read more: 11 Best Spinning Rods For Skipping (Our Top Picks)
What is the best baitcaster for skipping baits?
Skipping bait with a baitcaster can be a little scary at first, but you need the right rod. A casting rod with heavy power and fast action. A stiff backbone adds to dependable hooking power and will give you the peace of mind when you're bringing the bass back to the boat. The fast action tip helps with immensely with casting accuracy, sensitivity, and also helps with a fast hook set.
If you're looking to upgrade your skipping rig or if you are just getting into it, I wrote a comprehensive report on the best baitcasting rod for skipping for any budget or skill level. Because there is a lot of selection to go through, the report will help you narrow it down and to show you the best rod available in each category.
Read more: Best Casting Rod For Skipping Baits Reviewed & Revealed (Hands-on Guide)
Top Photo Cred: CBSsports.com