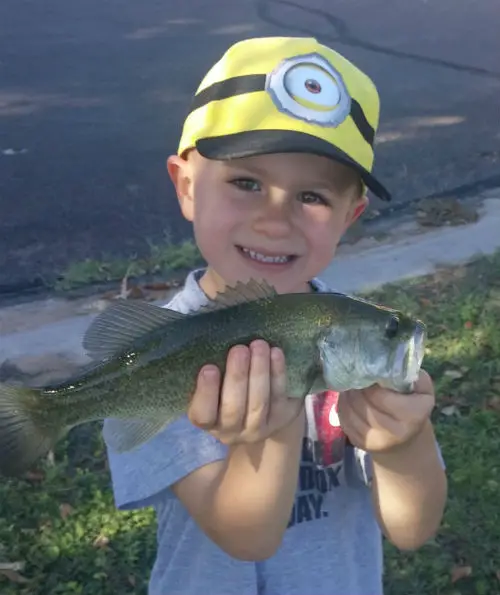 A story about a Dad and his boy and what "fishing" really means.
"Go fishing on their terms."
The Noob approach…
Speaking as a first time Dad, I wanted to teach my boy's the value of the outdoors.  I always dreamed of taking my boy out for a day of fishing. When my oldest boy Jarren turned six, I decided that it was time for me to teach him the art of fishing. 
I really didn't know where to start. I really wanted to have a good time taking my kid fishing while spending quality time together
I wanted to be able to pass on fun and useful skills and I could create memories that would last a lifetime.
Thinking that he would be completely into it, I was met with a wall of impatience and frustration.  I consider myself a really good teacher and I felt that I did really well with explaining things.  
However, if we did not catch a fish within the first ten minutes Jarren would be mentally "checked out" and started throwing things into the water.  In turn, this would frustrate me on many different levels, and fishing was not fun for either of us.
To make things worse, I felt terrible because I knew my kids were looking up to me. I felt even worse about the situation because we both got frustrated easily. I felt like a failure.
The problem was that if I didn't give my boy a positive experience he would hate fishing forever. Which meant I was on the verge of losing out on the opportunity of a lifetime, which meant I was on the clock to give my boy a positive first impression or he would never have fun fishing.
Then, as if by chance, something amazing happened…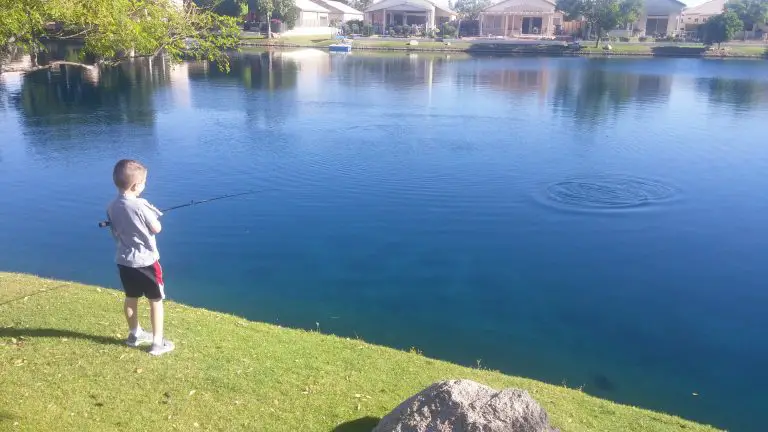 That's when I ran into a friend who told me a secret all about understanding my boy's definition of "fishing" is different than mine!
Over the next hour, he described how he developed a love for the outdoors by just being outside.  He explained that "fishing" when he was a child was much different than fishing as an adult.  
He emphasized as a child his father would bring him to the water to go "fishing".  What that really meant is that his father would just bring him to the water and let him be outdoors. 
Furthermore, he gave me multiple tips on other things we could do after my boy was done with fishing for the day.
The rubber hits the road…
I decided to put his advice to practice.  I decided to take my boy fishing on his terms.  Since then I noticed a complete change in the way he views "fishing" and now loves to go whenever I have a day off. 
Yes, I did bring our rods and continued to teach him small lessons, but I would tell him, the minute he gets bored and he was to let me know. 
I would bring lures that were easy to fish and don't get hung up too often. 
He loves fishing a drop shot rig and using a small topwater popper, especially during the spring and summer.   Just the other day he had six solid bites while he landed TWO bass!  Not bad for a 6-year-old!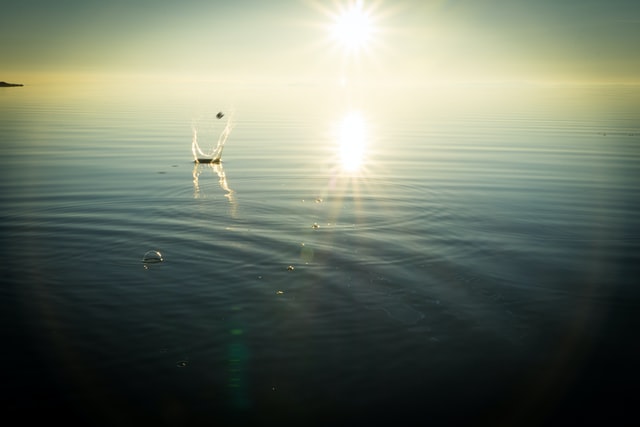 Once he told me that he was through fishing (usually we fished about 10-15 minutes), I would immediately pack up and we would go "exploring".  Then over the next hour or two, we would walk around the lake and skip rocks.   
The end result…
I came to terms with what his definition of "fishing" was. And as a result it completely removed the stress and frustration that I was experiencing before I made the mental pivot. 
After I did that, I started to see that we both were having a great time.
Suddenly, I was asked every week when the next time we were going to go "fishing".
But there was still a problem…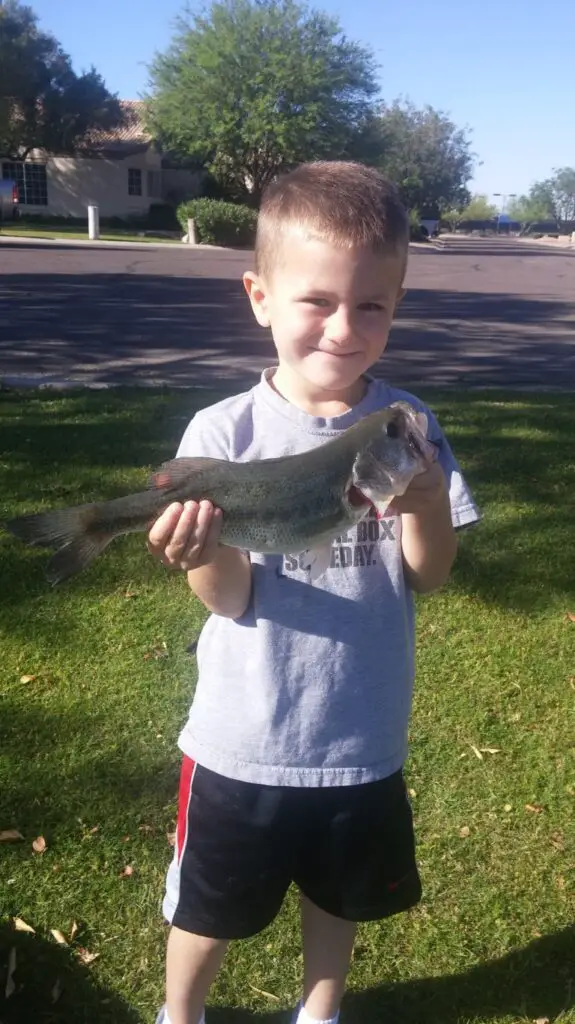 Living in Arizona it can get pretty hot, so you also have to plan when you're going to be outside. So I had to take extra precautions to make sure I had sunscreen and plenty of water, otherwise, we could both get really sick.
We quickly found out that we had a small window of time that we could comfortably be outside.
We chose to call it our "Fishing Hour".
A race against the heat, end it sweet…
Since we had a limited time on the water before it was unbearably hot, we came with a plan to get up really early, go fishing and finish with exploring.   
Then as the heat intensified we called it quits, packed everything up, and hit up the local doughnut shop to indulge ourselves.
Our transformation…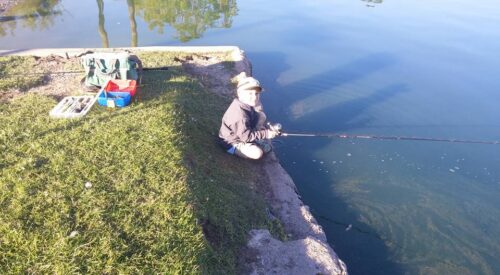 Over a 4 month period,
we hit the lake nearly every weekend for just an hour. I'm not sure whether he liked going fishing more or the thought of getting doughnuts to end our morning
We successfully created a bond that we both value and look forward to spending quality time together on the weekends. 
Not only did he learn how to fish, he learned to appreciate the beauty of nature, learn how to read a lake, even how to be a master rock-skipper. He must have caught 40+ bass all on his own. 
Bottom line: It was much easier to teach him to fish when it was on his terms. I just had to be patient and enjoy the time together
In summary…
And in the end, our "Fishing Hour" is not about fishing. It's about spending quality time that is fun, enjoyable and something that we'll both remember forever.
This transformation truly allowed me to stop worrying about the end result, but to cherish the journey and see his growth and enjoyment in the outdoors and with fishing.