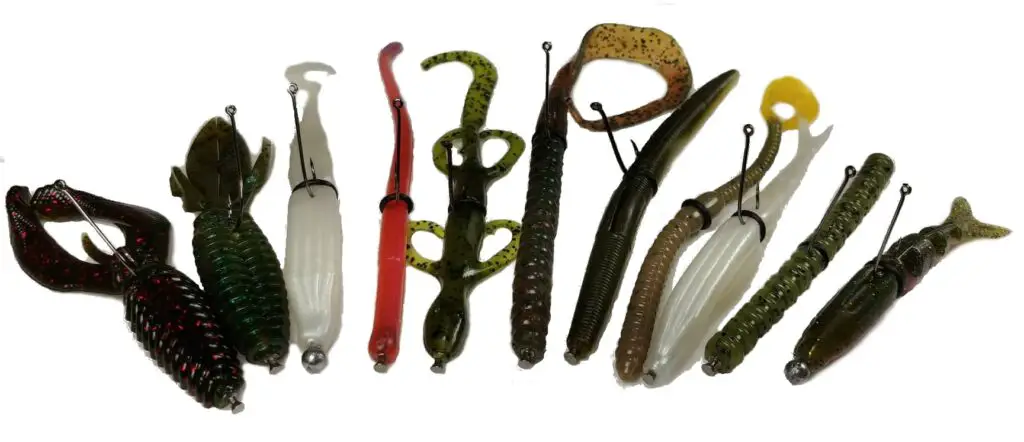 Finally! Here Are The Best Neko Rig Setup - All Baits You've Been Waiting For And They're Not What You Think!
The Neko rig can introduce a new fishing technique to anglers.
A Neko rig is created when a wacky rig hook is thread into the middle of the bait wacky-style and a small weight is inserted into the nose of the bait.
When the bait is being fished, worked over an area, or being reeled in, the lure will bend at the middle of the bait where the hook is inserted.
Additionally, the bait will fall "nose-down" when a slack line is given.
The Neko rig can be fished over open water or on the floor of the lake.
However, choosing the right lure can be frustrating for some. And it's not your fault…
Many anglers are very resistant to talk about some of the Neko rig worms and baits that work the best.
Selecting the right bait for the Neko rig can be challenging, especially if you are unfamiliar with all your options.
I created this buyer's guide because I was sick and tired of being told there were only a couple of lures that are used for a Neko rig…
And I believed the lies until I reviewed and inspected live-stream tournament footage of a prominent professional angler (unnamed) who consistently preaches those falsehoods…
Although he clearly tried to hide the lure used on his Neko rig, it certainly was not a worm!
That spurred me to do more research and launch my own investigation.
For additional guidance, I have provided a useful blueprint where my research has uncovered some Neko rig bait options that may blow your mind!
If you are in a hurry, I've selected the top picks for you below.
Neko Bait Comparison Table
Best Overall
Best Action
Editor's Choice
Best Deep Water
Product
Roboworm Fat Straight Tail Worm
Senkos that are Neko rigged are known to attract a high number of bites, as well as a high number of big bites.
It's the perfect bait for a beginner especially since the  baits are quite simple to use.
Senko style stick baits gain their action as it's falling in the water and will have a faint shimmy even when Neko rigged.
The majority of the time, a bass will consume your bait as it falls to the ground. If it doesn't, toss it out, count to 30 seconds, and wait for it to land on the bottom. Give a few more hops and pause for a few more seconds.
More than likely, you'll probably feel a couple of taps on your line, or perhaps you'll see it moving away. That's when you'll know you have a fish on the line!
Here are some pictures of the baits I was talking about...
Neko Rig Roboworm or A Drop Shot Worm
Drop shot worms catch so many bass (especially on a Neko rig) that they should be in every angler's tackle box. 
Fishing a Neko rig with a drop shot worm is a great way to produce a large number of large bass and get your limit quick.
They work well in any location where you wish to go bass fishing. The undulating movement of most other drop shot baits entices fish to bite. 
Supple straight-tail worms, especially the Roboworms, are at the top of the list. They are the softest, most flexible, and most active straight tail worms on the market right now.
Here are some pictures of the baits I was talking about...
The trick worm is remarkable since it floats. And when it's Neko rigged, you can make it fall very slowly especially if you use a very light weight.  In cold water applications, this is critical.
Otherwise, a regular 1/16-ounce Neko weight works perfectly. Best of all, your bait will stand vertically and move with the smallest current or twitch in the rod.
It's a bait that should be kept in your boat at all times. It may capture large bass in all four seasons on shallow flats or beneath vertical cover.
It's undeniably one of the most popular and versatile soft-plastic finesse baits available.
Here are some pictures of the baits I was talking about...
The length of these little stickbaits ranges from two and a half to four inches. Neko rigged french fry worms work so well because of their small size.
On the way down, the buoyancy allows for a slower, more horizontal, and occasionally whirling descent.
The Neko weight will encourage these little baits to stand up on their own even on a slack line.
These are great for clear and semi-stained water conditions.
Here are some pictures of the baits I was talking about...
Neko Rig Curly Tail Finesse Worms
If you are fishing around cover, a Neko rigged finesse curly tail worm is excellent for pitching and flipping. The curled tail allows the worm to have a swimming movement as it sinks to the bottom. 
If you lift it a few times and then let it fall, you'll most likely receive your bites on the way down. 
Most anglers do not swim them, although it does not exclude you from doing so. 
Curly tail worms in the finesse size (4-6-inches) will work incredibly well for clear water conditions.
For warmer water, remember that baits with undulating tails are ideal.
Here are some pictures of the baits I was talking about...
Neko Rig 7-10-inch Ribbon Tail Worm
Using a Neko rig with a large ribbon tail worm is great for deep water presentation, especially if the fish have been pressured. 
I can almost guarantee you the bass has never seen this presentation before.!
Instead of fishing the rig on a finesse rod, it's best to use your standard baitcasting jig and worm rod. 
For the weight, a ½-¾-ounce tungsten jig head with the hook section snipped off. 
Using a tungsten jig head also allows you to "feel" the bottom much better. 
Here are some pictures of the baits I was talking about...
Crawfish are a significant source of food for all bass species, and the crawfish's location and behavior influence the bass's location and behavior.
Because crawfish are such a valuable food source and may survive in a variety of locations and habitats, a variety of lures have been developed to imitate their profile, motion, and/or color patterns.
When using a Neko rigged craw lure you can add a light 1/16th-ounce weight for a slow fall, or opt for a heavier weight for a faster fall. 
You'll most likely get 60% of your bites on the cast as the bait is falling to the bottom. 
Craw baits such as a Berkley Chigger Craw, Strike King Rage Craw, or the Googan Krackin' Craw all have great action on the fall. 
Here are some pictures of the baits I was talking about...
To put it another way, creature baits imitate a little bit of everything. And when they're used on a Neko rig the creature bait will stand upright. 
The Neko rig creature bait performs great in any fishing situation. They catch fish in clear or stained water, and you'll get bites in both heavy cover and open water.
It's important to remember to use a weedless hook with fishing around heavy cover.
Here are some pictures of the baits I was talking about...
There's a reason why lizards have long been one of the most popular soft-plastic baits on the market… without a doubt, they catch monster bass!
Soft plastic lizards are a little bigger and heavier than typical worms, making them excellent for shallow water fishing with a light Neko weight.
Both smallmouth and largemouth fish enjoy lizards and salamanders as food.
Now with a Neko rig lizard you can present it to the bass with a head-down tail-up orientation, perfectly mimicking a real lizard trying to eat critters on the lake floor.
Here are some pictures of the baits I was talking about...
Fluke fishing for bass is an excellent approach to catch those elusive or pressured bass. And when you make a Neko rig minnow bait it's insanely effective. 
Because of its ideal size, it constantly attracts bites. This bait has a fast lifelike dashing and darting movement and a very modest fall.
As the lure is being worked on the lake floor it looks like a real baitfish foraging for food!
Here are some pictures of the baits I was talking about...
When it comes to having the ability to pull bass out of clear water conditions, a swimbait is an essential weapon in your arsenal.
In clear water a Neko rig swimbait looks like a wacky rigged swimbait, but when the bait is falling the tail will kick. 
Most of the bites will come in the fall. It's also a great bait for catching suspended fish!
Rule of thumb, if you don't know what size fluke to use, try your best to match the size and color to the shad on your local lake. 
Here are some pictures of the baits I was talking about...
Grubs are soft plastic baits with a short body and wider swimming tail.
Then fished Neko style the grubs will have a similar action to a swimbait fished the same way. 
The tail produces a ton of vibration when it's swimming and can be fished very slowly. 
Neko rig grubs are best fished in stained water, but can also be fished in clear or even dirty water conditions.
Here are some pictures of the baits I was talking about...
Last but definitely not least is the Neko rig tube. A standard tube can mimic anything. You name it… It can mimic a crawfish, shad, bluegill, or even a waterbug!
Now combine a tube's versatility with the subtle head-down presentation of the Neko rig and you have a lure that is unstoppable. 
A little 1/8-ounce weighted tube hook is perfect for shallow water fishing for if you're bed fishing in spring.
Here are some pictures of the baits I was talking about...
Other Senko Related Articles Listed Below!
Accessories You'll Need
Rod –The popularity of fishing is growing and people are becoming much more conscious of  different rods that can help them.
Fisherman want best technique specific rod for the money.
Luckily, I wrote several reports article that provides you with detailed information in order for you to make buy the rod for the money, and more importantly which rods to avoid at all costs.
Reel – Having the correct reel to match with your rod is just as important.  A good reel should be light and have a buttery smooth drag. There are several great reels on the market, but I recommend the Daiwa Tatula SV/TW baitbasting reel. It's a great reel packed with great features. So much so it could easily be priced in the mid $200 range.
Fishing Line – Having a good line is just as important as having a good rod. I recommend fishing with a good fluorocarbon line. Furthermore, it's super sensitive because it has little to no stretch, and underwater it's invisible to the bass!  If pride or money is on the line I would use Sunline Sniper FC.
Fishing Lures – It's pretty hard and darn near impossible trying to catch a fish without using some sort of lure or bait.  More importantly these baits you should never forget at home or it could lead to a horrible day on the water
Tackle Bag – You can't carry all your gear in your pockets, so you need a reliable tackle bag to transport it. I wrote a complete review guide, Best Tackle Bag for Fishing, check it out by clicking here.   But if you don't have the time to read the full guide then let me tell you I recommend the Lunker Bag by KastKing.
Fishing Pliers – Nothing will ruin a day quicker than getting a hook embedded in your hand, or worse your eye.  That's why I always recommend having good set-up pliers that won't rust and won't slip out of your hand.  I recommend that KastKing Cutthroat 7" Fishing Pliers.
Landing Net – As you are reeling in that monster fish, you don't want to injure yourself or knock the fish off the hook by trying to grab it. That's why I recommend a dependable telescopic landing net.
Fishing Weight Scale – Whether if you're going to keep your catch or just take a photo of it and brag to your friends it's important to have an accurate scale. I recommend a scale that has a large LED display like this one fishing scale here.
Wide Brim Fishing Hat – Nowadays, you have to protect yourself against the sun's harmful rays. Wearing a wide brim hat not only gives you UV protection, but it also keeps you cool.  I recommend the Columbia Unisex Bora Bora Booney hat. It fits any size head and it feels really comfortable.
Fishing Sun Shirt – Don't you stop at only getting head protection, you also need to protect your chest, back, arms, and torso. According to the researchers finding skin cancers on the shoulders and forearms rank within the top-5 locations to get skin cancer*. Avoid any unnecessary UV exposure and stay cool by wearing a UV protective PFG Fishing Shirt by Columbia.
Fishing Gloves – Fishing gloves allow your hands to stay covered from the sun's harmful rays and stay dry by using a special material. These gloves by Fishaholic offer UPF50+
Last update on 2021-09-22 / Affiliate links / Images from Amazon Product Advertising API